ODELL VILLAGE NEWS
July/ August 2001
Odell Village Fete 16th June 2001
In spite of the worst possible weather imaginable, Odell Village Fete 2001 was boldly declared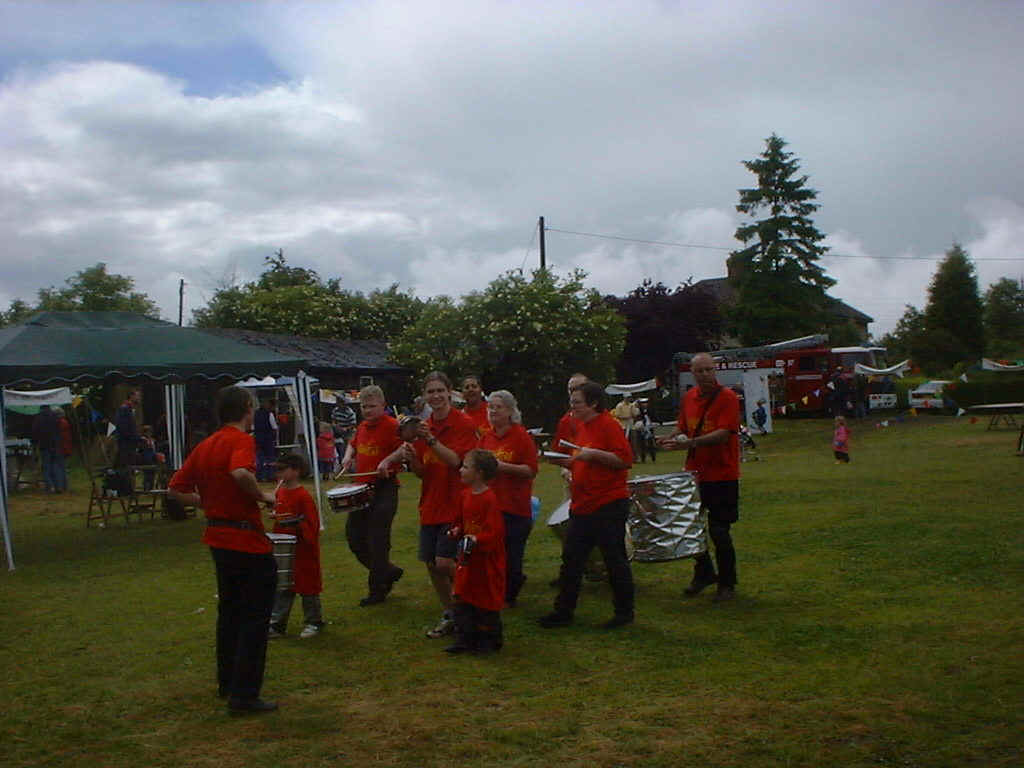 "open" at 2.00pm Saturday 16th June, to a small but resilient crowd determined to enjoy themselves, which they certainly did! Indeed the determination of visitors and stall-holders alike paid off at about 3.00pm when the rain clouds finally moved away and some watery sun brightened up the afternoon, helped by the cheerful mesmeric beat of "Sambanistas", a brighly-clad Bedfordshire samba band. The event was finally rounded off at about 5.00pm, with competitions judged and bargains snapped up. A huge thank you goes out to all the people who supported the fete so cheerfully in spite of the downpours, whether as visitors or stall holders. Special thanks go to all who helped to set up and clear up afterwards and of course to all the residents of Horsefair Lane who so graciously suffered the invasion of their peace and privacy. Thanks, too, to everyone who contributed to the barbecue on Sunday, which was a great success by all accounts. Initial estimates suggest that around £1500 was raised in total.

Click here for more pics of Odell Fete 2001

Some results:

The raffle:

1st prize: Mrs Allen of Wellingborough

2nd (over £36) Sarah Clorley of Bedford

3rd (over £18) Mrs Johnson of Harrold or Carlton

The Lucky Programme:

1st (hamper) - number 119 (a resident of Bedford)

2nd (meal at the Bell) - number 28, members of the Slim family.

3rd (Milton Ernest Garden Centre token) – number 136, Albert Beardow of Tannery Lane.

Best Carnival Hat: Barbara Corley (prize - a bottle of wine).

The children's hat competition was so hard to judge that all six competitors were given a prize of £1.

19th Harrold Pit Run - Saturday 15 September

This time the Pit Run will definitely take place unless the whole of the Country Park is closed again. If the water meadows remain closed, there will be a modified course, perhaps with runners going round the field at the Odell end of the park. Sponsorship forms will be available from Michael Bliss in Harrold and the Post Office and Stores in Carlton from mid-August on payment of the entry fee of £2 for the Main Race. The entry fee on the day will be £5. Entry for the School and Wheelchair races is free. So get your sponsorship forms and get your sponsors! Don't forget half your sponsorship money goes to the organisation you choose from those listed.

The Main Race starts as usual at 3.00 pm, with the Lower and Middle School races and the Wheelchair race starting from 2.00 pm. There will stalls and, we hope, a band on the Green during the afternoon, so come along, support the runners and enjoy the atmosphere!.

Liz Dodwell hopes to be running for Aid for Romania, and as usual will be looking for sponsors!

Round and About

Sugar and Spice

In this modern day and age we learn that sweetmeats must now be politically correct and that the gingerbread-man has to give way to the gingerbread-person! On this subject I will say no more - but it did give me the idea to look into the background of this little character.

Like so many of our early spicy foods, gingerbread seems to date back to the time of the Crusaders. These Holy Wars kept many of the country's men folk in the Middle East for a great number of years and when they returned they brought with them many new and wonderful foods with which to ease the monotony of the average English diet of that time. The first recorded mention of gingerbread was in 139O.

The gingerbread-man, however, did not arrive on the scene until much later. In the l6th century a courtier anxious to amuse and entertain his Queen caused a gingerbread-man to be made and presented this to Elizabeth. She was delighted with it, demanding to know who it represented. Before you could say Ginger Spice her pastrycook was creating them in the shape and guise of her various suitors and favourite courtiers. These would then be set out on the banqueting table and amidst much hilarity, the revellers would guess at who it was being represented and how they would dispose of them, when they would bite off their heads before devouring the rest.

By the 17th century gingerbread-men were on sale everywhere. They were particularly popular at the many large fairs held across the country and became known as fairings. In 1614 Ben Johnson was to write his play 'St. Bartholomew's Fair' featuring a gingerbread seller. In the North East of England it became a tradition for young girls to make their "gingerbread husband" and to eat them before their wedding day to ensure future happiness.

Coming more up-to-date, in the 199Os a computer company in the 'U.S.' found female employees displaying posters featuring a gingerbread-man and bearing the slogan 'The ideal man. He's sweet, he's quiet and if he talks back... bite his head off." The company banned the poster!

When researching for the above it was intriguing to note that each custom involved biting off the heads ... rather like with jelly babies. Does this tell us something about our deep-seated psyche? What a sadistic lot we are! Barbara Corley.

WI News

On June 12th W.I. members had a tour around the Mutiple Sclerosis Therapy Centre , led by Mandy Sharpe who showed us all the facilities and explained to us the very valuable work of the Centre.

On June 20th a very pleasing and interesting evening at Yelnow farm was enjoyed by everyone. Margaret and Jim showed us around their organic gardens and explained to us the system of crop rotation they used to ensure good produce without the use of chemicals. We finished with a bring and share supper.

Next Meeting: July 10th. Barbecue at Doreen Wheeler's, Linden House.

W.I. will not meet in August. The first meeting after the summer break will be:

September 11th, 7.30pm, Village Hall.

Topic: Your favourite pudding.

Competition: Bring the Recipe.

Hostesses: Rachel Halton and Doreen Wheeler.

Ruskin Infant School Visit To Odell

Every year about 75 six and seven year olds from Ruskin Infants spend the day in Odell which this year is planned for Tuesday July 10th. They come here as part of the National Curriculum for Geography as children have to learn that there are communities beyond there own environment and that a particular location often determines the lifestyles of the people living there. The Ruskin Schools are situated in a very challenging social area of Wellingborough and whilst this is not a problem in itself as systems are in place to manage this, what is of concern is that our children believe that all communities are vandalized, anything left lying around is stolen and that all schools are inside 6 foot high security fences. This is why we bring them to Odell when they spend time in the Country Park, they have lunch in Mrs Noreen Sturridge's garden, visit the Church and look at some of the old buildings. I am sorry if the normal tranquility of Odell is shattered as they move around the village but they are so excited and can't wait to see the next thing. If you are interested in visiting our school (described by OFSTED as "A sanctuary on the Queensway Estate") then please contact us on 01933 678448 or email head@ruskin-inf.northants-ecl.gov.uk . We look forward to seeing some of you on Tuesday July 10th. Lynette Hall

Village Hall News

Disability Access

Since the last edition of the Parish Magazine, we have had an architect examine the site with a view to informing us of the potential for creating a new access. Plans are being drawn up for us to use in order to keep all interested parties informed. We will ensure villagers are made aware with regular updates beginning on 8th July. We would like to hold a Bar-B-Q at the hall. Watch out for details around the village.

At the last meeting of the Village Hall committee it was agreed that a fund-raising appeal be launched to help meet the bills anticipated with proposed developments. This has been "kicked off" with the proceeds of the recent quiz. We are drawing up a list of events, the proceeds from which will also go into our appeal.

If you would like to do something to help but have limited time, then feel free to organise an event, or assist with our grant making applications – we are open to offers!!

Events

We are looking to arrange some of the following: Horse Race Night, Auction, Dance with a live band, Burns Night (in the New Year), Casino, Autumn Quiz, 100 Club. If you have an idea or can help with these let us know, and if you would like a venue for a private function, the very reasonable hire fee comes in handy too.

Treasure Hunt

We are hearing that the footpaths will soon be open so the hunt for Greybeard's treasure can get underway. Watch out for details.

Rob Lee tel: 720730 on behalf of the Village Hall Committee

Please join us for a

Garden Party - Saturday, 14 July

A garden party is being held

at The Old School House, Souldrop

on Saturday, 14 July from 2:30

to raise funds for the Corner Club.

This is a social club for adults with learning disabilities which meets weekly in Harrold and holds monthly discos in Sharnbrook. Refreshments - Raffle - Tombola - Cake Stall etc. Further details from May Bonney (781254) or Doreen Wheeler (720358)

Sharnbrook Upper School and Community College

The Summer brochure for Adult and Children's courses is now available. Please check in local shops and Post Offices or contact the office on 01234 782581 for a copy.

Advance Notice : we will be offering FREE courses in Basic Computer Literacy in the Villages from September - watch out for details!

Andrew Evans, Community Director

Friends of Harrold Medical Practice

Practice News

Fast Track Clinic.

The clinic is no longer a pilot and is now a permanent service offered by the Practice. This is a reminder of Fast Track's flinction:
·

The clinic is run jointly by the Doctor and Minor Illness Nurse. The aim of the clinic is to enable patients with acute complaints to be seen within 24 hours.

·

The clinic runs from Monday-Friday, 9a.m. -10.30 a.m. Appointments for this clinic are not bookable over the telephone. Patients are seen on a first come first served basis.

·

On presenting at Reception patients are shown a list of medical complaints that can be treated by the Minor Illness Nurse and are asked to choose whether they require a Doctor or Nurse appointment. The Minor illness Nurse can prescribe medication under the supervision of the Doctor.

·

Appointments are of 5 or 10 minutes maximum duration and are for one problem only. If you have more than one problem you will be asked to book a pre-bookable appointment.

·

All patients who present themselves to reception before

10.30 a.m. will be seen by the Doctor or Minor Illness Nurse.

Out of Hours Care.

As you may be aware, the Doctors in this Practice are part of the Bedford Doctors On Call Co-operative (13eddoc), covering our patients during the evenings, during the night and at weekend. Beddoc is a group of approximately 40 local GP's who work on a rota basis offering out of hours emergency treatment.

Since June of last year NHS Direct (24 hour NHS advice line) have been working with Beddoc providing an improved service during the night (11 p.m.-8 a.m.). when you telephone the doctor with an emergency during the night you will be offered access to a Nurse employed by NHS Direct. Many patients refuse to speak with the nurse and we would like to encourage our patients to speak to the nurse in the first instance. The nurse will be able to assess your problem and, when appropriate, will contact the emergency GP who will be available throughout the night.

A Bedfordshire Village History Available Once Again.

After an absence of more than fifteen years, 'Grain and Chaff', the comprehensive history of village life in Felmersham, has finally been reprinted in a special limited edition.

The author: W. E. Draycott, MBE., has only recently returned to the County to live and in response to frequent requests over the last decade and more, he has consented to a final re-print of this three hundred page book, originally published in 1985.

The book traces the history of the village from Saxon times to the latter part of the last century and is crammed full of maps and archive photographs expertly indexed under names and subjects. It is a local history treasure, which also includes many references to the surrounding villages including Bletsoe, Carlton, Harrold, Milton Ernest, Odell, Pavenham, Sharnbrook, Souldrop and the county town of Bedford.

When the book was first published it was described by the County Archivist at the time as a 'lovingly researched book'. It is unrivalled in its detail and extensive use of source material. Out of print for so many years, book searchers have been unable to obtain copies and it was thought that it would never be published again

.

It is now available from the author at his home in Bromham at £15.95, only a modest increase on the original publishing price thanks to the printers having retained the original manuscripts on film.

With such a short run, this book is likely to sell very quickly and will become a collector's item. You can reserve a copy by telephoning Mr Draycott, who will sign the book as a special gift to a friend or relative, should it be required.

Once he has recovered the printing costs, Mr Draycott is donating all profits to Great Ormond Street Hospital for sick children.
Further details from Mr Draycott: Telephone 01234 824902
Bedfordshire Railway & Transport Association

Chairman & Campaigns Coordinator:

2A St Michael's Rd.Bedford. MK40 2LTL (TeI.O1234 405268)

Vice Chairman & Mktg.Officer:

128 Chantry Ave, Kempston,Beds. MK42 7RJ (TeI.O1234 856560) Membership & Finance Officer:

4 Rowlandson Way, Manton Heights, Bedford. MK41 7LT

Join BRTA today for:

·

Station Reopenings (Shambrook, Ampthill, and Kempston)

·

Railway Line reopenings (Bedford-Sandy, Bedford-Oxford and Bedford-Olney-Northampton)

·

Better Bus links and proper busirail integration

·

Bus services which are reliable and at prices people can afford

·

Safer Roads, road layouts, pedestrian rights, cycle safety

·

reduced traffic congestion, fumes, oil spillages and air pollution

·

general interest in environmental transport issues

All BRTA Members get 4 newsletters per year with news, views and information plus invites to occasional meetings and events. BRTA is run by volunteers, helpers are always welcome -there's a job for every body!

Please join today and help make a positive diiference to the status quo! For further details send an SAE to:

4 Rowlandson Way, Manton Heights, Bedford.MK41 7LT or phone

01234 405268.

The Mill Theatre, Sharnbrook

2001 Season

Smike

– musical 25th – 28th July

A stunning production by our Youth Group of this musical based on the novel "Nicholas Nickleby" by Charles Dickens. There is only a short run of this production so book early to avoid disappointment.

Performances: 7.45pm; matinee 28th July 3pm.

Tickets: Wednesday 25th July £6, matinee 28th July £5, all other performances £7.

Attention all dog lovers:

Exemption Dog Show (K.C. Permission)

Riverside Grounds, Sharnbrook Mill Theatre.

Sunday 2nd September.

Entries on the day from 11am. Judging commences 12 noon.

2 Judges –4 Pedigree classes – 13 Novelty Classes.

Rossettes – Prizes –Licensed bar – Light lunches – Teas –Stalls

Enquiries: Mrs. Elizabeth Gibbs (01234) 781298

Whodunnit? By Anthony Shaffer – comedy – Sept. 25th – 29th. Classic spoof "Who done it".

Sweeny Todd The Demon Barber of Fleet Street – musical thriller – Nov. 9th – 17th.

Bookings may be made one month beforehand from:

Bedford - Central Box Office, Harpur Suite - tel: 01234 269519

Wellingborough - The Castle Box Office - tel: 01933 270007

(Both of the above accept credit card bookings; cheques payable to The Castle or Bedford Borough Council).

Sharnbrook – In person at The Village Trader, 28 High Street.(Cheques payable to S.A.T.T.).

Group Sales - Alison Bean - tel: 01234 781372 – 10% reduction for parties of 10 or more.

Enquiries/Mailing list 01234 782377

All performances start at 7.45pm. Seats can be reserved.

Wish to be part of the action? For details of readthroughs/workshops/imminent auditions for the above two shows, please contact Louise Lang 01234 781831 - Now!

The Odell Website

Take a look at the Odell website which includes some video clips taken at the Odell fete. They do take about 10 minutes each to download for those of you connected via traditional modems here in Odell. Those of you lucky enough to have fast internet access elsewhere can have them up and running on your PC much faster.

The Odell website is on:

www.kbnet.co.uk/odell Jon Hudson

July Diary

3rd 10.30am Meeting Point Lunch. Venue Tba.

10th Ruskin Infants to Odell.

14th 2.30pm Garden Party in aid of Corner Club, Old School House, Souldrop.

18th 7.45pm PCC Meeting The Rectory.

26th 7.45pm North Beds Healing Group Meeting, Watermead.

25th 7.30pm Bedford Morris Dancers outside the Bell.

25th – 28th "Smike", Sharnbrook Mill Theatre.

September

2nd 12.00 noon Exemption Dog Show, Riverside Grounds, Sharnbrook Mill.

5th 10.30am Meeting Point, Eileen Shakespeare's, Corner House,

38 Wymington Park, Rushden.

11th 7.30pm W.I., Village Hall.

15th 3.00pm Harrold Pit Run.

2.00pm Lower & Middle School & Wheelchair Races.

Magazine Deadline

Please send all entries for the September 2001 magazine to Tricia Hudson (triciahudson@kbnet.co.uk), Anne Turner or Catherine Corkery by August 12th at the latest. May we remind you that the editorial team exercises the right to edit, shorten or alter any items that are submitted. Also, the opinions expressed in the articles are those of the contributors and are not the responsibility of the editorial team.

Village Directory

The Village Directory is an initiative of the Bridge and the Carlton, Harrold & Odell Parish Councils. Its purpose is to provide information on the facilities, amenities and services available locally.

The directory will have information in the following categories:

Churches Schools/education Recreation/Sport (Adult or Young People) Government Transport Businesses/Services Clubs/Societies Food & Drink Accommodation Amenities Utilities

In order to make sure the information is accurate, please

contact us about the organisation you represent. An electronic version of the form is available on request from: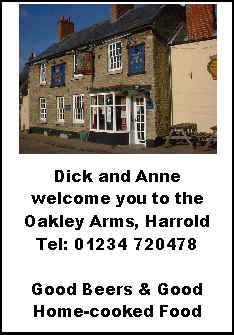 Excellent Bed and Breakfast Accomodation at the Oakley Arms in Harrold (2 miles from Odell by car, or 1 mile through the Country Park) , call +44-1234-720478 for more details (mention the Odell Web site!).
Electronic mail address
triciahudson@kbnet.co.uk

FAX number
01234-721004

Back to the Odell Home Page
---
Last revised: July 03, 2001.