ODELL VILLAGE NEWS
December 2001 - January 2002
Harrold Odell Country Park, November 12, 2001.
What has been happening at Harrold Odell Country Park?
On April 1st 2001, Bedfordshire County Council and Bedfordshire River Valleys Service joined together to manage land owned by the County Council's Access and Partnership section in the North of the County; this includes Harrold Odell Country Park. This exciting step will enable the Partnership to improve the service provided at Harrold Odell Country Park and on other countryside sites in North Bedfordshire.
One direct result of the Partnership is that we have now employed two Assistant Rangers who will be working at the Country Park at weekends and Bank holidays. For those of you who have not met them yet, they are Katharine Collyer and Richard Dowsett.
At the end of August the contract for the café came to an end, at this point Sue Jezzard who ran Truly Scrumptious decided that she was in need of a fresh challenge and has moved on to other things. We are now in the process of negotiating with new concessionaires to open a café in the New Year.
During September and October, Bedford Conservation Volunteers did several tasks at Harrold Odell Country Park. The tasks in September were to stabilize the South West Bank of Grebe Lake. This involved inserting willow stakes at 500mm intervals in the bottom of the lake, approx. 500mm from the bank and then weaving thin "binders" between th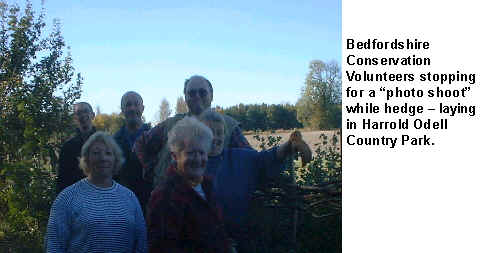 e upright stakes, a process known as 'spiralling'. The spiralling will stop the waves eroding the bank and the willow will grow to form a living barrier. The task in October was to lay a section of the hedge that forms the northern boundary to the Country Park.
If anyone is interested in joining the Volunteers at the Country Park please come and see me and I will give more details.
Events to look out for in the future:
I am hoping in the New Year to run different events and workshops here at Harrold Odell Country Park. Ideas so far range from basket weaving, bird box building, fedge-laying (yes that is correct!) and lots of family fun activities, so watch the local press and notice boards for more details.
Lastly a thank you to every one for being patient when we had to close the Country Park in February during the Foot and Mouth Crisis. I know it was a frustrating time for everyone who enjoys the countryside, but when we re-opened, lots of people told me how much more they appreciated the Park.
Birds to watch out for during December and January: - Red wing and Fieldfare, Pochard, Widgeon, Teal, Golden eye and with a bit of luck Smew and Goosander.
Bill Thwaites, Northern Area Ranger, Harrold Odell Country Park 01234 720016
For Next Year's Diary
Golden Jubilee Celebrations and Odell Fete.
Plans are going ahead for Odell to celebrate the Queen's Golden Jubilee in the period Monday 3rd and Tuesday 4th June 2002, which are to be public holidays, following the public ceremonies on the previous Saturday. The local celebrations are planned to include a Street Party in Horsefair Lane and an evening entertainment. Rob Lee (720730) is spearheading this, so please contact him with ideas and offers of help.
Odell Fete is planned for Saturday 8th June 2002, and will no doubt have a linked theme. A special attraction will be the Family Dog Show, to be organised by Roma Garron.
Round and About
Its Pantomime Time!
here is nothing like Christmas for tradition and there is nothing more traditional than the annual pantomime…but at one time it was pantomime every night!
The roots of this Christmas extravaganza can be traced back to Ancient Greece in the form of dance and mime - a style of entertainment which, in its own time, was to bring about that formidable tradition the 'Greek Chorus". So popular, indeed, was this ancient Greek spectacle that it was later adopted by the Romans who took it with them across their empire.
By the Middle Ages it had taken on the form of the Mystery Play and included characters dressing in animal skins and feathers, together with the wearing of masks, all accompanied with a strong moral theme of good triumphing over evil. Shakespeare was the first person to introduce fairies and the wearing of animal heads to a story line - as in A Midsummer Night's Dream. It was the Italian Harlequinade, however, that first created a recognisable form of pantomime. Harlequin was usually played by an experienced acrobat, to carry out the spectacular stunts, and the female lead, Columbine, would be a popular dancer of the age. Another well-loved member of the cast was known as Ponchinello, who brought comedy to the production. Ponchinello was the clown of the piece and was so popular that he had his own enthusiastic following and the character was to evolve into that extraordinary fellow Mr. Punch, of Punch and Judy fame.
By the l700s France was introducing a spectacular performance featuring dance, magic and acrobats whilst bringing to life the various story lines of the country's favourite fairy tales, such as Babes in the Wood, Puss in Boots and The Sleeping Beauty. All the elements were now in place for pantomime to take the stage.
In the 18th century England pantomime of a kind (if not by that name) formed a part of an evening out at the theatre. Theatre goers in London would arrive for a 6.00 p.m. start. There would be an amazing 4-5 hours of Shakespeare to be followed by a short, light-hearted comedy ... something of a cross between the Harlequinade and the French extravaganza. Even the characters were the same with the same names but this is where any similarity ended. In Europe it was a respected form of theatre but in London the performers faced a constant barracking from their audience. Slowly England began to introduce their own characters and to develop their own story line. In 1860 Cinderella was brought in from France but at that time there was absolutely no sign of Buttons - he was a much later introduction and wholly English. The public loved these shows, which were mainly burlesque in style, and consequently the performances grew in length until they eventually filled the entire evening. Covent Garden was originally built for the staging of pantomime and Drury Lane provided the main competition. Men now began to appear in skirts and the women to take on "breeches" parts.
Queen Victoria and Prince Albert loved the theatre and it was under their influence that much of Christmas as we know it today began to take shape. They also urged that pantomime should be concentrated on one particular time of the year - Christmas, - and that it should become strictly family viewing. These new productions started on Boxing Day and encouraged audience participation. Particular favourites were the transformation scenes, the speciality acts and that new introduction - slapstick. Expensive, elaborate sets with a huge cast was the order of the day.
Children soon began to take part in these grand set-pieces and much of the popular patter that we still love today began to put in an appearance. The familiar "Look behind you" and "Oh yes she will/won't" routines were now firmly in place.
At this darkest time of the year all was now bright and lively, with extravagant sets, outrageous costumes with dancing, singing and magic, and everywhere plenty of glitter and sparkle. Pantomime was the most expensive show of the year to stage but the returns were enormous. It was the opportunity for a family outing and the Victorians took full advantage of the occasion. Charles Dickens was to describe pantomime as "A thousand, million delights".
May I take this opportunity to wish my readers a Very Merry Christmas and a Happy New Year. Barbara Corley
Guide Dogs for the Blind
At the coffee morning held at Rectory Farm on October 20th the sum of £135.00 was raised for Guide Dogs for the Blind. Many thanks to all who attended or contributed. Jill Cheadle
Used Stamps, Tinfoil, Milk Bottle Tops Silver Paper
Once again I thank everyone who during the year has handed to me all or any of the above items. I am very grateful to all who participated and also wish to thank the person who has collected and taken items to Bedford for me
All the above go to the Volunteer Services Bureau in Bedford who make use of what is sent to them. Many thanks to anyone wishing to continue to participate collecting the above items.
Isobel Ross, 4a Horsefair Lane Odell
Odell Scout Troop.
Dates and venues.
Here is a list of the dates and venues for December
5th Village Hall Parents' and Friends' Evening
7th 9th District Cycle Camp
12th Village Hall
19th Cub Hut
New Recruits
The Odell Scout Troop is always looking for young people aged from 10½ to 14 years old to join the Troop!
If, after reading this article, you are interested, please contact Scout Leader Martin Clark, telephone 01604 763890, or email: MartinOdell51@aol.com
Or you could come along to one of our meetings (7pm to 9pm, venues shown above)!
Martin Clark, scout Leader, 51st Beds (Odell)
W.I.News
We were delighted to welcome several visitors to our meeting this month; they had come to hear Penny McKenzie talk on Christmas Decorations. She had a glowing display of needlework to show us, all on a Christmas theme. Hangings, tree decorations and cards were all displayed to us with clear instructions on how to achieve similar results ourselves. I'm sure it is not as easy as she modestly said it was but she has inspired us to try and produce something ourselves, if not this year then for next year. It was her last talk for the W.I. and we are fortunate to have had the pleasure of her company, a fitting start to the Christmas season.
December meeting
We continue our Christmas theme with our annual Christmas meal. It will be held at Rachel Halton's home but a week earlier than our normal meeting. So alter your diaries and meet for 7.30pm on Tuesday 4th December.
January meeting
We return to the Village Hall on Tuesday January 8th. The meeting will start at 7.30pm to listen to Margaret Linggood from Carlton give her talk on 'Bacteria and You'. She comes well recommended from others who have heard her speak.
Hostesses and Competition
January's hostesses are Kathy Dunn and Lynette Hall and the competition is : A picture or photograph of a Flower.
Rachel Halton 720572
Changes at The Bell
I have been working as a bar man at The Bell Public House for 7 years so I was thrilled when Derek and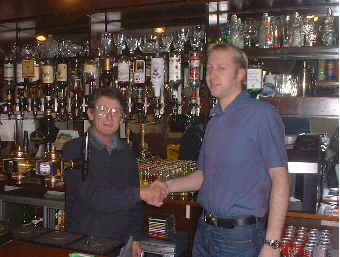 Doreen approached me offering me the position of Pub Manager. Over the years that I have worked at The Bell I have met many people and made very good friends.
The Bell has a very good reputation and in my new role I will be taking the pressure from Derek and Doreen and I will be keeping up the tradition of offering first class customer service to all our customers.
Over the coming months I will be listening to your views and ideas and will be bringing in new and exciting drinks. We will also be keeping up the tradition of offering Traditional Ales and Fine Wines.
If you have not been to The Bell before or for a while, now is the ideal time to give us a try. We pride ourselves on good home cooked food catering for everyone.
I hope you all like the ideas planned and I look forward to meeting you all in my new role.
Lee Lockett
Farewell
Pete and Jenny Mobbs of 17, Meadway, Harrold, will be moving to Worcester in December.
We would like to say goodbye to all our friends and acquaintances made in the past 17 years. We will be taking some very happy memories with us and wish everyone happiness and best wishes for the future.
Pete and Jenny Mobbs
Village Hall News December 2001
Events
If you have an idea or can help with these let us know, and if you would like a venue for a private function, the very reasonable hire fee comes in handy too.
Christmas Party – 16th December
We are holding a children's party from 12 – 2pm. (it's FREE!) There will be games and "eats" as well as a children's entertainer. If you can help in any way or provide some goodies, let Karen Fulford know on 721590, as they will be much appreciated. (Children under 5 must be accompanied please)
Let Karen know if you are coming so that we know how many to expect.
New Years Eve – 31st December
You are cordially invited to an open house to see in the New Year. The hall will be open from 8pm when it is hoped to revive an enjoyable event from years gone by. Bring your supper, some drinks and some games to play (if you want)! There'll be music, chat and games, so if you have a secret talent, can sing, play the spoons or even the drums, bring them with you for a singsong.
See in the New Year in your village hall.
Diary dates for 2002!!
Ouse Valley Swing Band – 8th February 2002
Following their successful recent Swiss tour, we are pleased to present Sharnbrook Upper School's Ouse Valley Swingers, at the village hall. These talented young students will perform for you from their very wide repertoire. Tickets will be available in the New Year, at the extremely reasonable price of £1.20.
Time of Our Lives Music Theatre – 26th April 2002
If you missed the brilliant "Gilt and Gaslight" extravaganza last year, then do not miss this year's production of "England Swings". The very talented foursome are back with a new production depicting "life in England, from jiving during the Festival of Britain in 1951 to pogo-ing at the Silver Jubilee in 1977". With music from Noel Coward to Punk and from Gilbert and Sullivan to Andrew Lloyd – Webber and packed with laughter, this was a sell-out last year and tickets will go on sale in February!
Don't miss them this time!
Burn's Night
We would like to hold a Burn's Night celebration and would welcome the offer of an organiser. We have an organiser's "manual" to assist if someone is prepared to take on the main job. If you fancy this, let one of the committee know – there's still time.
Do please support these events, and do suggest to us your ideas for alternative activities.
Rob Lee (720730) on behalf of the Village Hall Committee.
Concord Singers Christmas Concert
The Concord Singers from Harrold will give
a concert of Christmas music in St. Peter's Church , Sharnbrook, on December 8th at 7.30pm.
Wine will be served.
Admission £7.00, concessions £5.00, in aid of The Primrose Appeal.
The Mill Theatre, Sharnbrook
2001 Season
Christmas Revue
Friday 30th November, Saturday 1st December, Friday 7th and Saturday 8th December 2001, 7.45pm.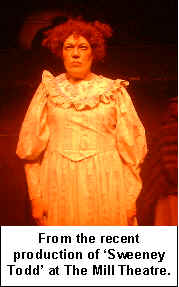 Tickets: £12.50 to include supper prepared by The Mill House Restaurant, Sharnbrook.
Following the upgrading of the heating, improved insulation and the double glazing of our Clubroom 'Studio Theatre' and Bar, a particularly warm welcome awaits you!
Tickets for the Christmas Revue are available now from:
Sharnbrook Village Trader, High St., Sharnbrook (in person) or by contacting Erica Lester (01234) 781210
Look forward in 2002 to: Stepping Out – a comedy – Tuesday 12th – Saturday 16th March, 7.45pm.
Mill Theatre Costume Hire is well worth a try for your Christmas Party /Fancy Dress costume. Please contact Virginia Pope 01933 356974 for further details.
Drama Summer School 2002
Sharnbrook Mill Theatre has presented many successful Youth Productions over the years, but we are finding that the increase in curriculum and the constant succession of exam demands has made it difficult to plan a time when every age group is able to participate. In an attempt to overcome this problem, it is proposed to experiment with a week long Summer School in 2002 for those aged 9 – 18 years. Provisional dates are Monday 22nd to Saturday 27th July culminating with a performance on Saturday 27th July.
The Trust would employ a trained drama expert to run this course and there is expected to be a course fee of £100. Numbers would be restricted to approximately 24 students. There may be financial assistance for qualifying students.
If you or a member of your family would like to be part of this exciting new venture, please write to the Honorary Secretary, The Mill Theatre, Mill Road, Sharnbrook, Bedford MK44 1NP providing the following information: your/their name, full address, phone number and date of birth. Please advise whether you/they are already a Trust member, the shows in which you/they have appeared, or whether you/they do not have previous theatrical experience. Thank you. We look forward to hearing from you.
Recipe
A couple of years ago we published a recipe for "Wassail" in the December edition of the Odell Parish magazine. Many people have asked us to repeat the recipe, so by popular request, here is the recipe for "Wassail"!
"Wassail" is a traditional spiced ale or wine drunk during celebrations for Twelfth Night and Christmas Eve when revellers would sing "here we come a-wassailing". The word "Wassail" is derived from the Middle English "waes haeil" meaning 'be in good health' - a drinking formula which probably came to England from Denmark. Certainly it is guaranteed to warm you through on a cold winter's day!
Ingredients
1 dozen apples
1 dozen eggs
1 cup water
4 cups sugar
1 tablespoon grated nutmeg
2 teaspoons ground ginger
Directions:
Core and bake the apples.
Separate the egg yolks and whites.
Beat the egg whites until stiff but not dry, then beat the egg yolks separately until light in colour.
Fold whites into yolks, using large bowl. Strain sugar and spice mixture into eggs, combining quickly.
Bring almost to boiling point separately the sherry or Madeira and the brandy.
Incorporate the hot wine with the spice and egg mixture, beginning slowly and stirring briskly with each addition. Toward the end of this process, add the brandy. Now, just before serving and while the mixture is still foaming, add the baked apples.
Wassail can also be made with a combination of beer and wine, preferably sherry, in which case the proportion should be roughly 4 of beer to 1 of sherry.
Corner Club
A Social Club for People with Learning Disabilities Living in North Bedfordshire.
The club meets on Friday afternoons at Harrold Centre. We also hold monthly discos and weekly sports and swimming sessons.
Volunteers Needed
Join our dedicated team of volunteers. You could find yourself:
Helping members make a collage Disco dancing Playing bowls Taking part in Olde Tyme Music Hall Helping with refreshments Fund raising
Whether you can spare a couple of hours occasionally, commit to a weekly involvement or just want to help with sports or swimming we would be delighted to hear from you.
If you would like to join us or know more, please call:
Lucy Clements (Club Leader) 01234 217813
Doreen Wheeler (Secretary) 01234 720358
December Diary
4th 7.30pm W.I. Christmas dinner at Rachel Halton's,
Greystones, Odell.

5th 7.00pm Meeting for Parents and Friends of Scouts, Odell Village Hall.

7th 9th District Scouts Cycle Camp.

7th 10.30am Christian Family Care Hamper Coffee Morning, Hobbs Green Farm.

8th 7.00pm Christmas Dinner and Quiz, Village Hall.

8th 7.30pm Concord Singers Concert of Christmas Music, St. Peter's, Sharnbrook.

11th 12.30pm Christmas lunch for elderly and Meeting Point members, The Rectory.

12th 7.00pm Scouts, Village Hall.

15th 10.00am Church Decorating.

16th 10.00am Children's Service, All Saints'.

16th 12.00pm Children's Party, Village Hall.

19th 7.00pm Scouts, Cub Hut.

22nd 6.00pm Carol Singing round village, starting at The Bell.

23rd 6.00pm Carols by Candlelight, All Saints'.

24th 11.30pm Midnight Communion

25th 10.00am Morning Worship and short Holy Communion

31st 8.00pm New Year's Eve "get together", Village Hall.

January Diary

8th 10.30am Meeting Point, Eileen Shakespeare's, Corner House, Wymington Park, Rushden.

8th 7.30pm W.I. Meeting Odell Village Hall.

23rd 10.30am Meeting Point, Catherine Corkery's, Manor Cottage, Harrold.
Magazine Deadline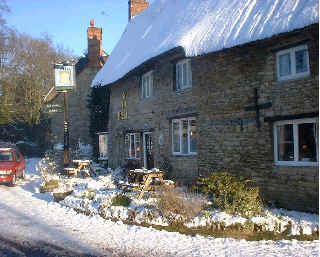 Please send all entries for the February magazine to Tricia Hudson (triciahudson@kbnet.co.uk), Anne Turner or Catherine Corkery by January 12th at the latest. May we remind you that the editorial team exercises the right to edit, shorten or alter any items that are submitted. Also, the opinions expressed in the articles are those of the contributors and are not the responsibility of the editorial team.
A very happy Christmas from the magazine editorial team.
Electronic mail address
triciahudson@kbnet.co.uk

FAX number
01234-721004

Back to the Odell Home Page
---
Last revised: December 02, 2001.