ODELL VILLAGE NEWS
October 2015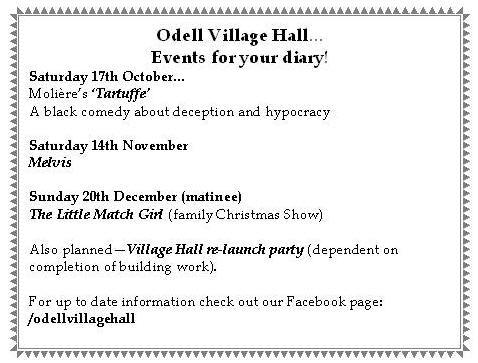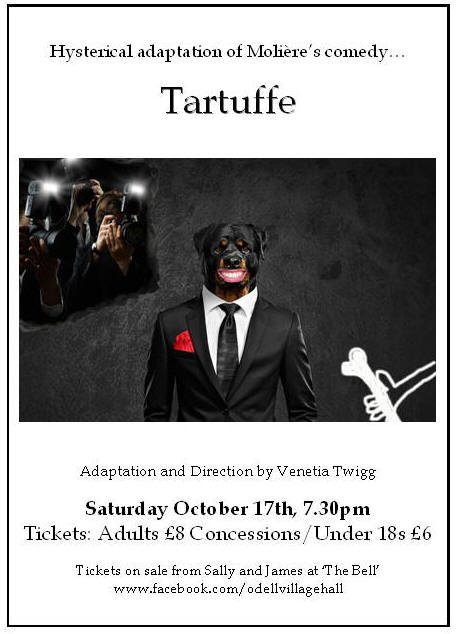 Abdominal Aortic Aneurysm
Free AAA screening if you are over 65
Abdominal aortic aneurysm affects around 1 in 70 men who are screened. If you have an aneurysm it is usually without symptoms and around 85% of those affected die if it bursts. The NHS now offers a free screening which is painless and non-invasive and takes about 10 minutes at a clinic. It is free to anyone over 65 and you can ring for full details on Bedford 792207.
W.I. News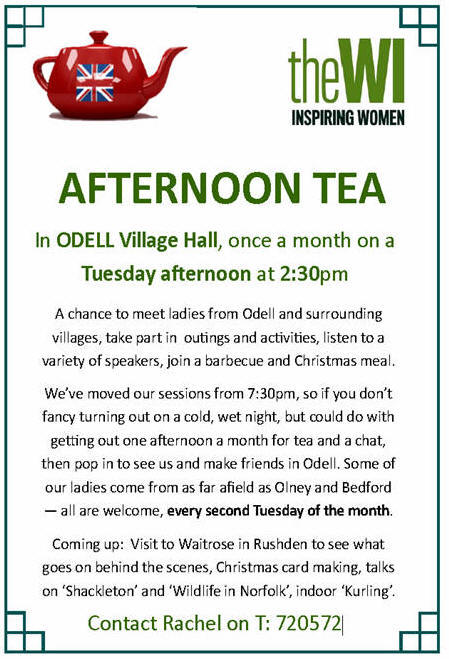 For our September meeting members and friends went behind the scenes at Waitrose in Rushden. Gail, the Personnel Manager, and her colleague took us behind the doors at the back of the store and showed us a vast area of storage racks containing every item stocked on the shelves in the shop. Upstairs were the offices and staff restaurant. Rushden Waitrose has 370 "Partners", who are asked to achieve more, show enterprise, be honest, give respect, recognise others, and work together. All partners are able to move up the ladder within the company. The party then had delicious tea and cake in the main restaurant. Thank you to Lynette who organised the visit.
The next meeting will be held in the Village Hall on Tuesday. 13th October at 2.30 pm when we shall welcome Debby Horsman, who will talk about the Explorer, Ernest Shackleton.
Hostesses are Stasia Wherrett and Christine Devereux
CHANGE OF DATE: The WI Jumble Sale will be on Saturday 24th October, not on Saturday, 17th October as previously advertised. Doors will open at 2.00 pm. £1 for adults, under 16 free, to include tea and biscuits. Clothing, Books, Produce, Toys, Games, Bric-a-Brac.
Please ask friends and family to save their Jumble ready for collection.
New members are always welcome and if you need any more information please ring Rachel Halton (01234 720572). Ladies, just come along to the Village Hall on the second Tuesday of each month and see what we do and how we enjoy ourselves. To find out more about the WI go to www.theWI.org.uk or the local Bedfordshire Federation website www.thewi.org,uk/bedfordshire Jane Eshelby
Borough Councillor's Update for Odell, September 2015
Contact Borough Councillor Alison Foster by telephone on 07773371190 or email at ajfieldfoster@gmail.com
Speed Watch – Odell
Speeding traffic is one of the issues that most residents complain about. I am trying to set up speed watch groups in all villages in the Ward. Community Speed Watch seeks to promote safer driving in our local communities. Data collected by Speed Watch groups will be passed to Bedfordshire Police who then write to those drivers found to be speeding. Persistent offenders will be fined.
Groups have now been successfully established in Wymington and Odell. Wymington has already clocked up a number of speeding cars and this information has been fed to the police who will be getting in touch with the drivers of those vehicles. However, more volunteers are needed for Odell. The group currently comprises Mike Wherritt and myself. If there are residents in Odell for whom speeding traffic is a concern and who would like to join the Odell speed watch group please get in touch with Mike or myself and we will arrange for the police training. There must always be a minimum of two people conducting the speed watch and the more volunteers the better as this means that speed watch sessions can be carried out more frequently. Mike can be contacted by phone on 01234 720065 or email at mike@odell.myzen.co.uk
Parish Special Constables
In January Northamptonshire Police introduced Parish Special Constables (PSCs) in addition to Special Constables (SCs). All Specials are volunteers and the Northamptonshire Parish Special Constables have similar powers to warranted officers which include the power of arrest, stop traffic, issue fines etc. I know this would be of interest to the rural areas of Bedfordshire and their Parish Councils and have therefore asked our Police and Crime Commissioner, Olly Martins, to introduce Parish Special Constables to Bedfordshire.
The Northants Parish Specials work as part of the community teams, so their focus is on community issues and significantly for our rural villages they remain in their parish of choice, so will not be deployed to other areas, for example to police Bedford or Luton. Parish Specials would also be recruited form the local community and so know their areas well. I believe this would encourage more local residents to volunteer and ensure that 'old fashioned beat officer' feeling for the community, it would also give the officer the reassurance they are policing where they know the community and the issues. I am waiting for a response from the PCC and will keep you updated. If you think this is a good idea please email PCC Olly Martins on pcc@Bedfordshire.pnn.Police.uk and voice support.
Chief Constable
The PCC has now appointed his preferred candidate to become the new Chief Constable of Bedfordshire Police. Jon Boutcher served as Deputy Chief Constable of the force and recently occupied the position of Interim Chief Constable following the retirement of Collette Paul. Jon's appointment was confirmed by the Bedfordshire Police and Crime Panel on 15th September. I would like to offer my warmest congratulations to Jon and look forward to working with him to improve policing in the rural areas. I am sure his appointment will be a great success.
Bedford Magistrates' Court
As a reminder in June 2014 the Judicial Business Group, the body responsible for organising the courts system, took the decision to move all cases, other than those relating to family matters, from Bedford Magistrates' Court to Luton Magistrates' Court in an attempt to make savings.
In July 2015 it was announced that a consultation is to be held with a view towards making the changes permanent, as well as moving family hearings to the Bedford Employment Tribunal.
There are concerns that the arrangements have hindered access to justice as Bedford Borough's witnesses, police and local authority officers, magistrates and lawyers now have to travel further for hearings. This can lead to increased anxiety and inconvenience for those directly affected by a case as well as being inefficient in taking up the time of professionals.
The consultation, which will end on the 8th October 2015, can be accessed at the following address should you wish to respond: https://consult.justice.gov.uk/ The changes have been opposed by all political groups on the Council as well as Alistair Burt MP and Richard Fuller MP.
Domestic Violence Website
The Bedfordshire Domestic and Sexual Abuse Partnership has launched a new website giving advice to victims and survivors of domestic and sexual violence.
The site, which can be accessed at http://www.bedsdv.org.uk , includes information on helplines, refuges and support groups in Bedfordshire. It also has a 'hide my visit' button. The national domestic violence helpline can be accessed by calling 0808 2000 247.
Cold Calling
The Borough Council has issued a reminder for residents to be safe in their homes after a spate of cold calling incidents recently. This has seen individuals purporting to be 'builders' or 'roofing specialists' trying to sell their services on the door step. There have subsequently been reports that works have been of poor quality.
To report an incident please contact Bedfordshire Police on 101, or for further information please contact Environmental Health & Trading Standards at the Council on 01234 718099 or the Citizens Advice Consumer Helpline on 03454 04 05 06.
To obtain an 'Uninvited Trader Warning' sticker for your front door, please contact Lynne Arch, Neighbourhood Watch administrator, on 01234 842 043.
East-West Rail
Two potential routes for a rail link between Bedford and Cambridge have been put forward as part of the East – West Rail development.
Works on a line from Oxford to Bedford are due to be completed by 2019 and talks are now focussing on extending the route from Bedford to Cambridge. The latest plans are for the route to go from Bedford via Hitchin or Sandy and these will be further evaluated before a final decision is made.
AgeUK Bedfordshire
Age UK is a charity that offers a range of services to all those over 50. This includes a free confidential information and advice service on a wide range of topics including welfare benefits, housing advice and help with consumer and health issues. The charity also has home help, handyperson and gardening services. They also provide an accompanied outings service and companion visits. All those working within these services for Age UK are DBS checked. Due to an increased demand from residents in Harrold Ward for their services AgeUK is looking to recruit new team members within their Home Support Team for Home Helps and Gardeners. No previous experience is necessary but a wish to support older people in their own homes, a clean police record and your own transport are essential. If you are interested please call 01234 360510 for an application form or email AgeUK at: enquiries@ageukbedfordshire.org.uk
Ward Fund
Each year I am able to make contributions from my Council Ward Fund to local community projects. Please do not hesitate to get in touch if there is a scheme which you feel could benefit.
Village Hall News
We on the committee are really looking forward to the return of Theatrical Niche and their unique take on popular classics. Their offering of Molière's Tartuffe on October 17th will be no exception. It is the story of a man who worms his way into the belly of a wealthy family by leading them to believe that he is a model citizen while all along being a hypocrite and aliar. Please support this production and by so doing, your village hall; (tickets can be purchased at 'The Bell')!
Tickets should also be on sale soon for 'Melvis' which is due to take place on November 14th.
In addition… we would very much like to be able to keep residents up to date with future events. If you are willing to receive emails about forthcoming events and activities in the village hall only, please forward your email details to: lesley@huntersmead.co.uk
Please… If you wish to borrow any items from the village hall PLEASE INFORM THE BOOKING SECRETARY (Doreen Wheeler) IN ADVANCE! The items need to be booked out on the calendar so that members of the committee know where they are and how to get hold of them, should a late booking come in (or should they be needed for PAT TESTING - in the case of electrical appliances).
Cleaner Wanted
A self-employed experienced cleaner is required for Odell Village Hall. Flexible and variable hours and competitive rates.
Please apply to Elisabeth Evershed: elisabeth_evershed@hotmail.com
Thanks to the new Village Hall Committee.
The parish council would like to thank the new village hall committee for their hard work in getting a new programme of events together and picking up the admin chores. This, all coupled with a severe damp problem, a fallen tree and a tumbling down outside wall, is proving hard work for Mel Fisher, Elisabeth Evershed and the rest of the team. The good news is that the damp problem affecting the Gents' toilets has been tracked down and work to repair it and the stairs in the entrance hall can soon begin.
The picture (below) shows where the plaster has now been removed from the affected area of the Gents' toilet wall.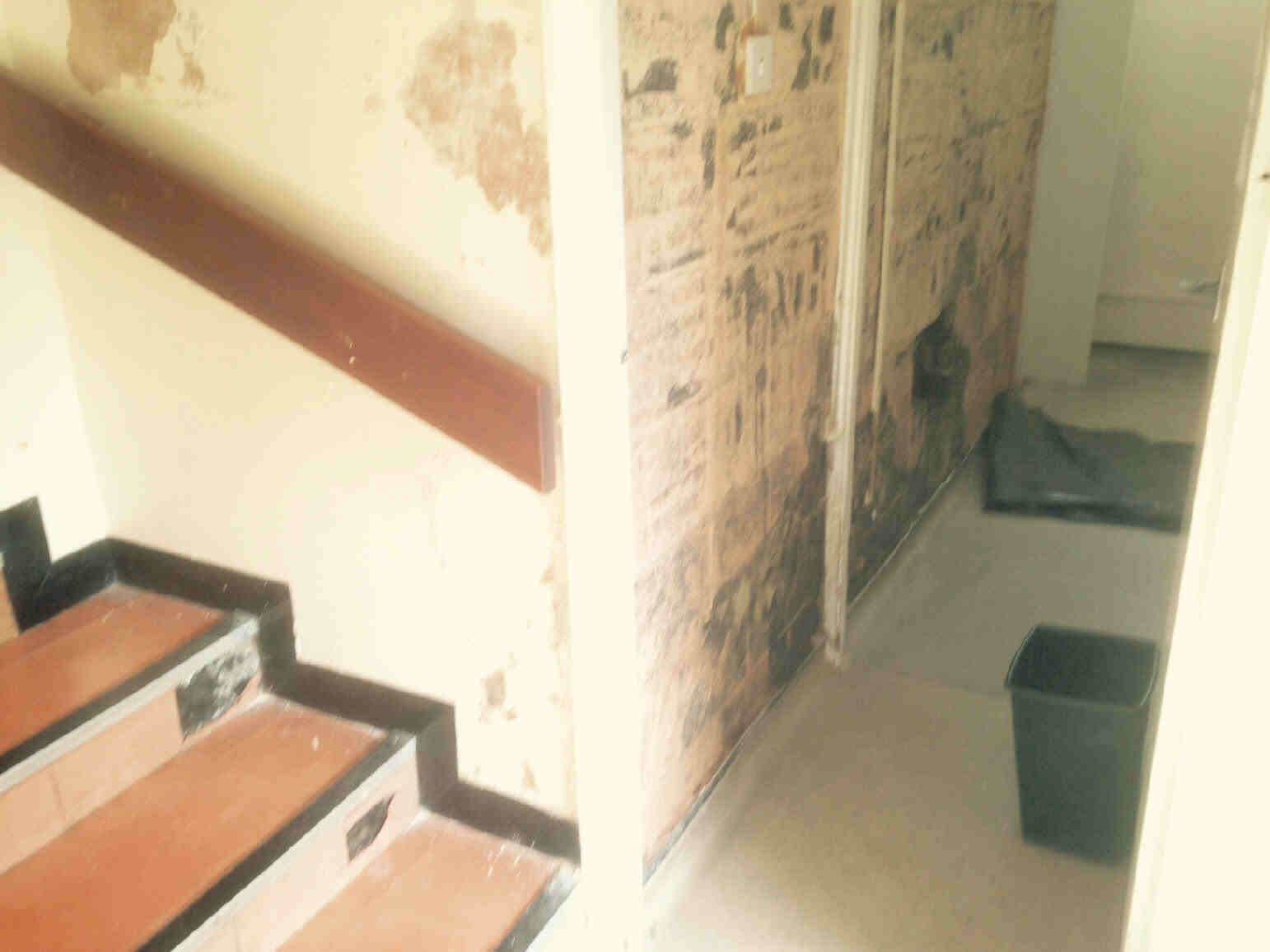 News from Harrold Odell Country Park
Now that we're into autumn we are looking at all the jobs needed for the winter work programme. This includes all the other sites within Bedford Borough that we've got responsibilities for.
At Daisy Bank Picnic Site near Felmersham, we've had to put new seating panels on one of the picnic benches after someone cremated the original ones with a disposable BBQ. We will have to cut back the roadside hedge by the entrance to improve visibility for people exiting the car park.
At Pavenham Bury there are tree surveys to do once the leaves have dropped. If we find any in bad condition we will have to order in professional tree surgeons to deal with them as they are so mature that there is insufficient space between the road and the housing estate to fell them conventionally.
At Yelnow New Wood, a plantation of mixed trees beyond Odell village, we have a lot of thinning out to do. The weak specimens will be felled to allow the good ones space to grow and mature. This is an excellent site for orchids in the summer and the extra light that will flood in the newly created gaps will allow them to spread.
At Stevington Country Walk there is a massive need to cut back the hedges on both sides. In some areas you can barely get through. This will need a large tractor and side-arm flail which will cost at least £2,500 to buy. We have decided to cut back one side this winter and the other next winter. We will then be able to manage it ourselves going forward.
All these works are in addition to what's needed in the park here at Harrold. On Heron Island in the middle of Grebe Lake the trees are in a terrible condition. Last winter's storms brought quite a few down in the middle of the island. We are planning to coppice the poplars in front of the bird hide as they are in danger of falling into the lake. They will then re-grow over the next few years. We need to clear some bramble over there to free up a wild flower area. We have bees over there that need feeding.
The next coppice plot in the Nature Reserve is being marked out for felling in accordance with the management Plan. The area of willow we cleared last year has re-grown beautifully with orchids and other flowers taking advantage of the light. The tree stumps left behind are sprouting really well. If left, they will regenerate into new trees in 20 years or so.
We have to keep an eye out for the various tree diseases that are doing the rounds in this country. Ash dieback (chalara fraxinea) hasn't been seen yet but it's probably only a matter of time. Some parts of Suffolk have been devastated by it. Dutch Elm disease is still with us and hits trees when they are about 15yrs old. We have a few mature elm in the shelterbelt which are probably not English but there is a lot of elm growth from suckers in there and if you know what you're looking at, there is a lot of elm in the hedgerows around the County. It could be that in the future, English elm will only exist as a hedgerow species.
Poplars have got a pest called Hornet Clearwing Moth. The larvae eat into the wood at the base of the tree leaving holes that look like a giant woodworm infestation. The damp gets inside and the timber rots to mush. Although the tree looks sound from the outside, there is a danger of it falling over spontaneously in a gale. We have had to fell several trees near footpaths where they are judged to be a hazard.
As the winter progresses we will be carrying out more hedge laying around the park. We have also been cutting back vegetation and fallen trees overhanging the fence line in the river meadow. This has been very interesting for our cattle. They have been getting into the piles of brash to scoff leaves and berries before they get put on the bonfire. The cattle will go back to the farm at the end of November depending on how well the grass keeps growing.
Due to on-going problems with low water levels we still have blue-green algae in the large lake. Warning notices will continue to be displayed together with an alert in the dogs section of the website until we can be sure it has gone. Dog owners should be aware that this algae is toxic to dogs and you should keep your pets out of the water until we say otherwise.
If you have any questions about the park and the way we mange it please e-mail us or come and speak to us if we are out and about. We're glad to answer any queries you may have.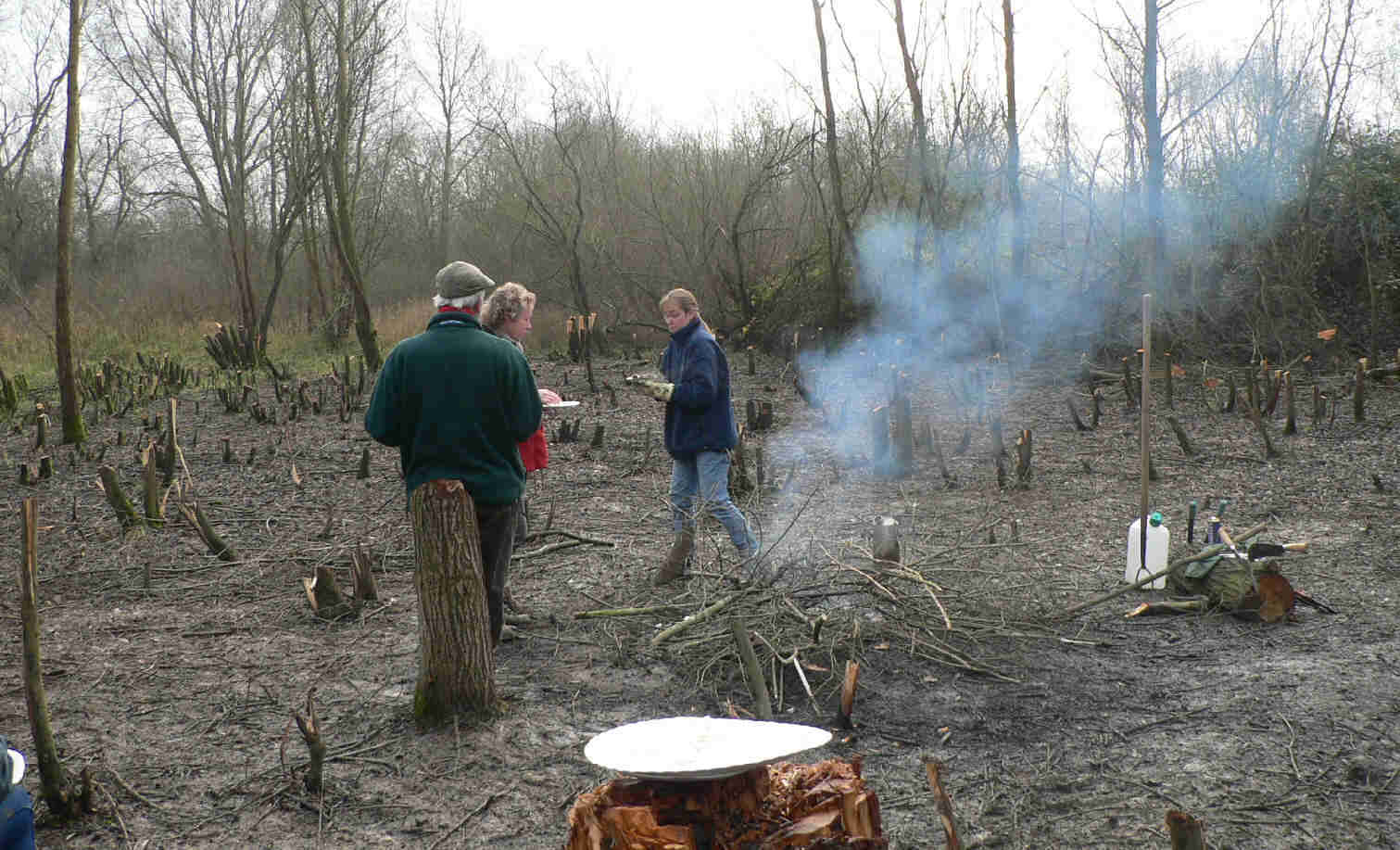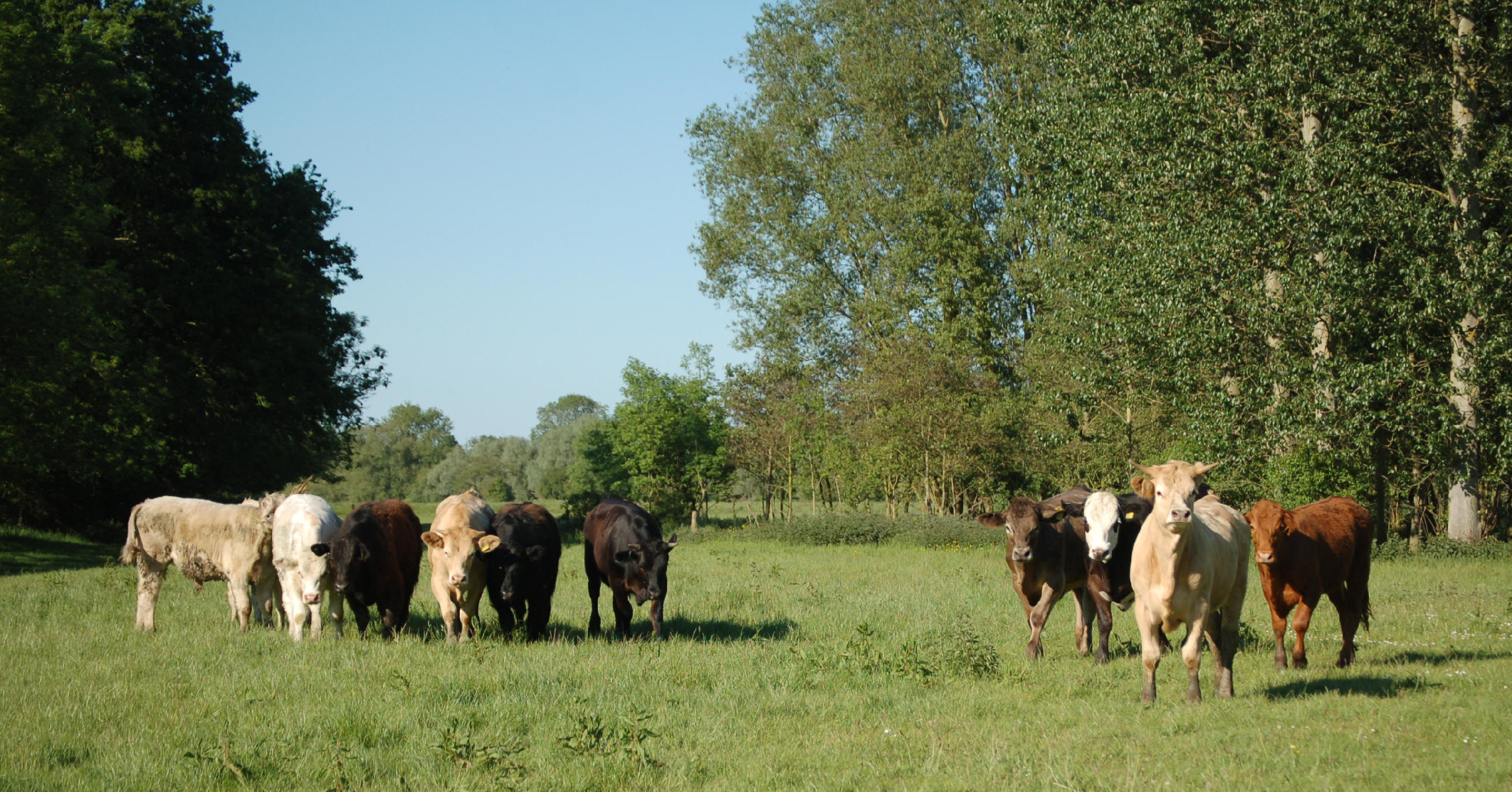 Photos of coppicing and cattle in HOCP courtesy of Janet Monro
Dates for your Diary
Health Walks
This is a national scheme which is free of charge. We meet at the café entrance at 10.30am every other Thursday and walk for an hour to improve your health and wellbeing. It is a chance to meet new people with an option to enjoy a coffee in the café afterwards. Leader Janet Munro: Please call 01234 720016 or e-mail janet.munro@bedford.gov.uk for more information.
Thursday Oct. 8th , 22nd, Nov. 5th ,19th
Friends' Tasks
On the last Monday of every month (a week earlier if a bank holiday) the volunteers get together on a task to progress the conservation and repair works around the park. Meet at 10am at the Ranger's office in the café. Participants should bring a packed lunch, appropriate old clothing and sturdy footwear. We provide refreshments, tools and gloves. Please call 01234 720016 or e-mail Richard.dowsett@bedford.gov.uk for more information.
Monday October 26th, Monday November 30th Janet Munro, Greenspace Officer
STEVINGTON CINEMA CLUB
http://stevingtoncinemaclub.uk
In April, Stevington Cinema Club was launched to a packed Village Hall with our first showing - 'West Side Story'. Since then, a variety of films from different genres, chosen to appeal to a wide range of different tastes, has been shown in Stevington Village Hall on the first Thursday of each month. Films are shown on professional cinema-quality projection and sound systems in a comfortable and relaxed environment. Tickets are £5.00 and there is a licensed bar and other refreshments on sale, including ice-cream and popcorn.
Film nights are popular social occasions and we would love to welcome new friends from neighbouring North Bedfordshire villages at some of our events - do give us a try as we will be delighted to see you and are sure you will enjoy Cinema Club as much as we do. Our programme has been selected to offer films which people will generally not have seen in mainstream cinema chains. Full details of our programme, forthcoming events and ticket bookings are available through our website http://stevingtoncinemaclub.uk.
We are also excited about the new satellite broadcasting facility which will shortly enable us to offer live streaming of events including theatre, ballet, opera, sport and music. Keep an eye on the website for updates and publication of our live streamed programme.
You can contact us through the website and, of course, if you have any suggestions for films you would like us to show, please let us know.
As a taster, this is the film programme for the next six months.
12 November 2015 Man on Fire (18)
An action drama featuring Denzil Washington, Dakota Fanning, Mickie Rourke, Radha Mitchell and Christopher Walkern. 2004
3 December 2015 It's a Wonderful Life (U) 1946
A classic family drama/fantasy film ideal for the Christmas season. Featuring James Stewart, Thomas Mitchell, Lionel Barrymore and Donna Reed.
7 January 2016 Chicago (12A) 2002
Music, comedy and drama all in one movie. Featuring Cathrine Zeta-Jones, Rene Zellweger, and Richard Gere.
4 February 2016 Cinema Paradiso (PG) 1999
A celebration of youth, friendship, and the everlasting magic of the movies. Featuring Philippe Noiret, Salvatore Cascio, Marco Leonardi and Jacques Perrin. Music by Ennio and Andrea Morricone.
3 March 2016 Casablanca (U) 1942
Classic star cast of the period featuring Humphrey Bogart, Ingrid Bergman, Claude Raines, and Paul Henreid with cameo appearances by Sidney Greenstreet and Petre Lorre.
7 April 2016 The Ladykillers (U) 1955
A classic Ealing Studios comedy produced at the peak. Featuring Katie Johnson, Alec Guiness Peter Sellers and Hertbert Lom
Linda Penney, Stevington Cinema Club
The Mill Theatre, Sharnbrook
www.sharnbrookmilltheatre.co.uk
Parade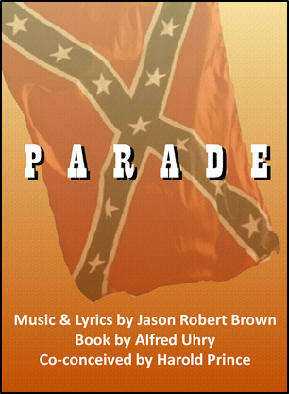 Monday 16th - Saturday 21st November
7.30 pm
Setting: Georgia 1913.
Sophisticated, dark drama.
The tragic, true story of the events surrounding the trial of a man wrongly accused of murder. Emotional, highly charged.
Award-winning, soaring score, by one of Broadway's most exciting composers, which perfectly allies the harsh reality of the drama.
TICKETS NOW ON SALE:
Twinkle, Twinkle Boutique, 67a High Street, Sharnbrook (in person) and
Bedford Central Box Office 718044. (Booking Fee)
Parties: Please phone Alison Bean* 781372
(10 % discount 10+ (exc. Charity night, Fri. & Sat), also to book *2 wheelchair spaces; easier access seating A –C. Hearing loop A-E
Warm Up Appeal events in aid of our green energy based heating and ventilation, all at The Mill
Do join us for:
WINE TASTING & FOOD MATCHING
with Call My Bluff!
Courtesy of Majestic Wine, Milton Keynes
Sunday 4th October
(NB Date changed from 20th Sept.)
Uncorked 5.30 pm!
Tickets (limited and in advance only).
£15 including wine and nibbles,
from Theo Gibbs 782377
LUNCH @ THE MILL
Wednesday 11th November
12.00 for 12.30 pm
Lunch, followed by talk from
Magistrates in the Community
Ticket, £15, including lunch & talk,
available from:
Pat Abbott 01933 358319
or Brenda Stafford
01234 823060
The next performance by:
At the Drop of a Hat,
the comedy improvisation troupe, will be on Friday 2nd October , 8 for 8.15 pm in the Clubroom. Entry just £3. Everyone welcome!
Diary
October
3rd 10.00am Decorating Church for harvest
4th 10.30am Harvest festival, All Saints' Church
12.30pm Harvest Lunch in All Saints' Church
8th 10.30am Health walk, HOCP
13th 2.30pm W.I. Village Hall
14th 10.30am Meeting Point at Jen Cuddeford's, 17 Russell Court, Bushmead Avenue, Bedford, MK40 3RW.
17th 7.30pm Molière's 'Tartuffe', Village Hall
22nd 10.30am HOCP Health Walk
24th 2.00pm W.I. Jumble Sale, Village Hall
26th 10.00am Friends' Tasks Day, HOCP
28th 10.30am Meeting Point at Jane Eshelby's, Newton House, Avenue Rd., Rushden
November
7th 10.00am Churchyard Clear-up
Magazine Deadline
Please send all entries for the November 2015 magazine to Tricia Hudson (ed at odellbeds.net) or Catherine Corkery by October12th at the latest. May we remind you that the editorial team exercises the right to edit, shorten or alter any items that are submitted. Also, the opinions expressed in the articles are those of the contributors and are not the responsibility of the editorial team.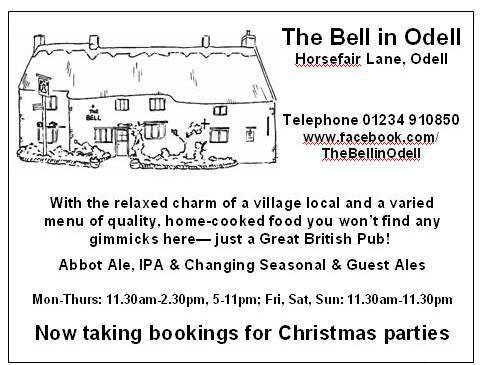 Click here for The Bell Facebook Page
Wodehill Cheese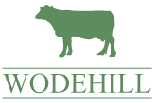 Wodehill Cheese — hand-made in Carlton
Wodehill Blue is a semi-soft creamy blue cheese
made with milk from Jersey cows in Carlton

Nearest stockists: Hurleys in Sharnbrook and Carlton Village Shop
Alex Stubbs Flooring
Carpets, Vinyls, Laminates, Safety Flooring, Adaptions, Refits, Repairs
Supplied and Fitted
07976 260572
01234 240954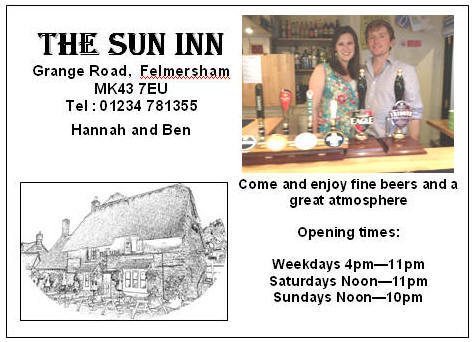 ---
Last revised: October 04, 2015.