ODELL VILLAGE NEWS
November 2015
WELCOME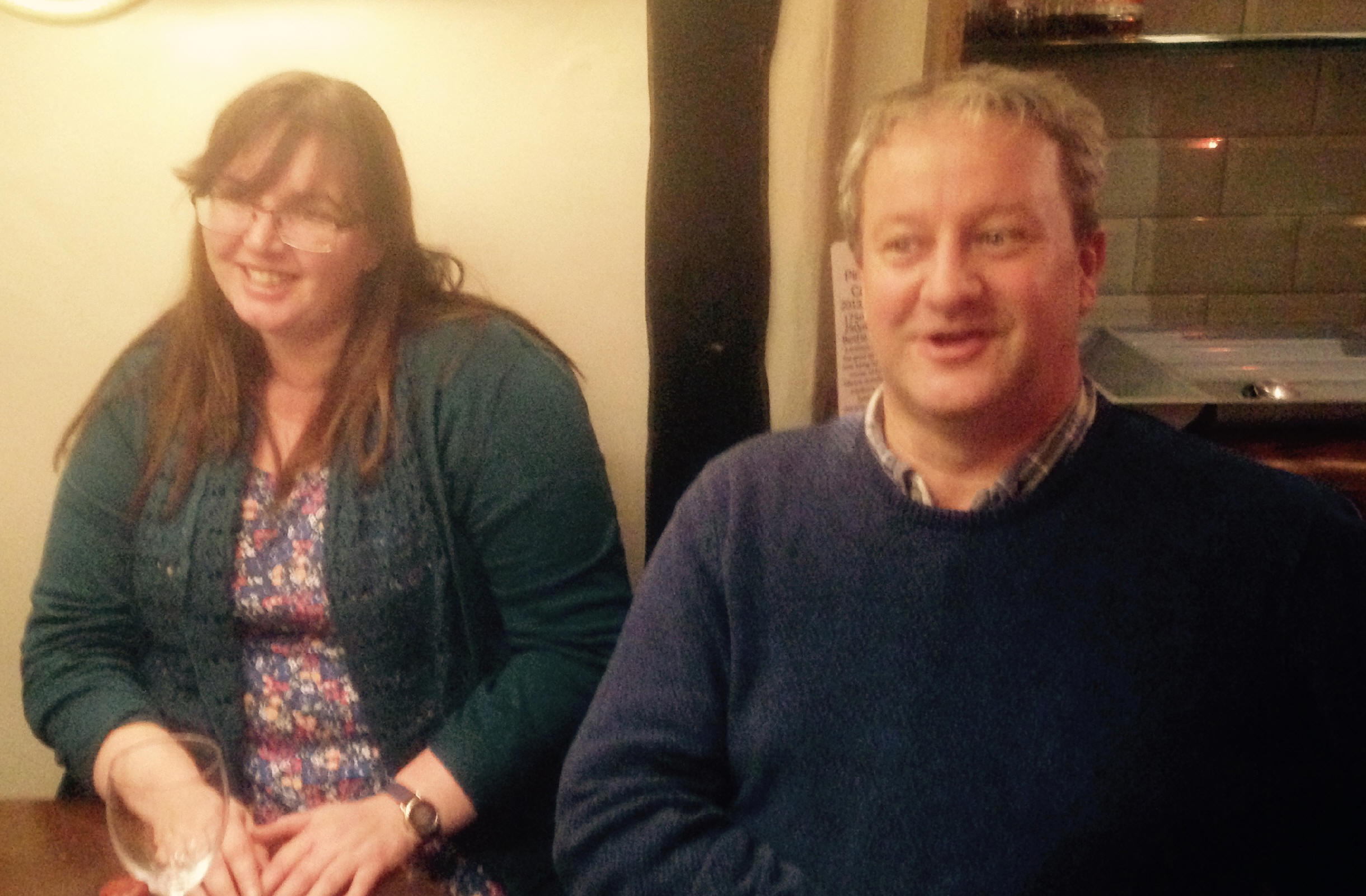 Welcome to Mike and Karen Oates who have moved into Village Farm. Mike and Karen have already become involved with village events as they helped to set up the hall for the recent production of 'Tartuffe'.
Coffee Morning at Hobbs Green Farm
Christmas Hamper coffee morning
On Friday 4th December
At Hobbs Green Farm
From 10.30am – noon
In aid of Bedford Women's Refuge
(Places for People)
Admission free - Please bring Christmas Fayre
Happy Birthday to
Georgina Ardley whose birthday is on the 29th,
and to Peter Coleman who celebrates his 80th birthday on 5th,
…and to anyone else with a birthday in November.
W.I. News
In October we welcomed Debby Horsman from Pavenham who gave an illustrated talk on Ernest Shackleton's intended Expedition to the South Pole in 1914. It was titled "Shackleton's Forgotten Men" and concentrated on the support operation which was to provide supplies to the second leg of the Expedition leading to the Ross Shelf. Debby is related to a member of the expedition, and had a large number of original documents and photographs to illustrate her talk. The support group were not in communication with Shackleton or the organisers and laboured to set out supply stations not knowing that Shackleton had cancelled the expedition. She described the appalling conditions in which they worked and their eventual rescue.
The next meeting will be held in the Village Hall on Tuesday. 10th November at 2.30 pm when we shall be making Christmas cards with Doreen
Hostesses are Jenny Cuddeford and Mandy Hinds
New members are always welcome and if you need any more information please ring Rachel Halton (01234 720572). Ladies, just come along to the Village Hall on the second Tuesday of each month and see what we do and how we enjoy ourselves. To find out more about the WI go to www.theWI.org.uk or the local Bedfordshire Federation website www.thewi.org,uk/bedfordshire Jane Eshelby
Parish Council Meeting: 21 September 2015
Edited Highlights
Harrold Solar Farm – Dungee Road, Harrold
This application was rejected by the Planning Committee at its meeting on 27 July 2015. The Committee agreed with the officer's recommendation that the applicants failed to provide compelling evidence to demonstrate that the development of the best and most versatile (Grade 3a) agricultural land in lieu of poorer quality land is necessary. The proposed development is, therefore, contrary to the aims of paragraph 112 of the National Planning Policy Framework which requires local planning authorities to take account of the economic and other benefits of the best and most versatile agricultural land and Policy CP2 (criterion i and ii) of the Bedford Borough Council Core Strategy and Rural Issues Plan 2008. There has been no indication of whether the applicant will appeal.
Chief Constable
The Police & Crime Commissioner put forward his preferred candidate, Jon Boutcher, to become the new Chief Constable of Bedfordshire Police and his appointment has now been confirmed following a meeting of the Bedfordshire Police and Crime Panel in September 2015. Jon Boutcher has served as Deputy Chief Constable of the force and has recently occupied the position of Interim Chief Constable following the retirement of Collette Paul.
Cold Calling
The Borough Council has recently issued a reminder for residents to be safe in their homes after a further spate of cold calling incidents recently. This has seen individuals purporting to be 'builders' or 'roofing specialists' and trying to sell their services on the door step. There have subsequently been reports that works undertaken have been of poor quality.
To report an incident please contact Bedfordshire Police on 101, or for further information please contact Environmental Health & Trading Standards at the Council on (01234) 718099 or the Citizens Advice Consumer Helpline on (03454) 04 05 06. 'Uninvited Trader Warning' stickers can be obtained for attaching to the front door of a property by contacting Lynne Arch, Neighbourhood Watch Administrator, on (01234) 842043.
Odell Village Hall
The Village Hall Committee continues to meet to plan for the future of this important amenity, including the establishment of a varied events programme. This includes three new events, "Tartuffe" (performed in October), "Melvis" in November and a children's play in December 2015.
Highway Matters
Investigation works have been completed by the Borough Council in respect of the repairs to the drains at the Little Odell junction and the design has now been changed to avoid the need to construct a manhole in the centre of the junction. As part of the work, the Borough Council plans to have the adjacent ditch cleared. The Borough Council have advised that they are currently programming completion of the works.
Children's Play Area
An application to Bedford Borough Council for a grant of £20,000 towards the provision of new equipment and re-surfacing of the play area has been successful. A contract for the refurbishment and enhancement of the play area will be awarded in the near future – watch this space.
Local Plan 2032
A report recently published by Bedford Borough Council identifies the need for new land allocations for "about 4,500 new homes" over the Local Plan period. The Development Strategy looks first for development opportunities in and on the edge of Bedford and Kempston, then apportions growth to rural settlements depending on their size and infrastructure capacity. Villages are placed in one of 4 groups and an indication of the scale of growth for each village or group is given. Based upon the proposed apportionment of growth, 10-20 dwellings would be allocated to villages such as Odell.
Financial Statements 2014/2015
The external audit of the 2014/2015 financial statements had now been completed and the External Auditor, BDO LLP, had issued an unqualified opinion that the information in the Annual Return for 2014/2015 is in accordance with proper practices and that no matters had come to their attention giving cause for concern that relevant legislation and regulatory requirements have not been met.
Date of Next Meeting
The next meeting is scheduled to take place on Monday 16 November 2015 at 7.30pm.
Borough Councillor's Update for Odell, October 2015
Contact Borough Councillor Alison Foster by telephone on 07773371190
or email at ajfieldfoster@gmail.com
Bedford Borough Council Budget
The Mayor's Executive has outlined plans for efficiencies totalling £689k in 2016/17 which will be the subject of an 8 week public consultation.
The proposals are the latest round of savings in response to anticipated funding reductions for local government; Borough Council officers have forecasted that the Council will need to make further savings totalling £14.7m in the years 2017/18 – 2019/20. The actual position will not, however, be known until the Government's Autumn Statement on the 25th November, which is likely to provide further details on the Chancellor's stated intention for local government finance reform.
The Council's initial £689k savings plan contains a number of proposals including changes to school transport (with routes to be on offer only to the nearest geographical school or school with available places), an end to speed limit reductions and average speed camera investment, and summer play schemes will cease.
NHS Review
A joint committee of Bedford Borough and Central Bedfordshire Councillors has spoken of its frustration at the lack of progress of a review of health services in Bedfordshire.
The review is being undertaken by the Bedfordshire and Milton Keynes Clinical Commissioning Groups and is being overseen by national regulators and NHS England. It is exploring options for Bedford and Milton Keynes Hospitals to work closer together and for hospital services to be better integrated with GP and social care services, with the latter being provided by local authorities.
The Bedfordshire Clinical Commissioning Group (BCCG) has put forward an additional option as an alternative to plans for closer-working between Bedford and Milton Keynes Hospitals. This would see Bedford Hospital explore options to expand its existing links with other hospitals, including Addenbrooke's in Cambridge.
The joint committee was due to receive an update on the review at its meeting at the beginning of October but was told by NHS England that the various options were still being examined.
Bedford Borough Local Plan 2032
The Borough Council is holding an 8 week consultation from the 19th October on its Local Plan 2032 which will set out plans for new employment, infrastructure and thousands of new homes in the urban and rural areas.
More details can be seen on the Council's website under 'Environment and Planning' and subsequently 'Planning Policy'. This includes dates of 'drop in' sessions at various locations where officers will take questions from residents.
Education
You may be aware that state schools in Bedford Borough have been asked by the Council to fill in an application form detailing whether they are seeking to move to a two-tier system and if so to elaborate on their plans and partnerships with other schools.
The Council announced in July that it would resurrect the transition to two tier and has set aside £39m of existing funds to provide the necessary facilities. It is intended that there will be no closures of lower schools and that resources will be found where appropriate to extend facilities to convert them into primary schools.
The deadline for applications has now passed. The Council will now put together proposals, including plans for the allocation of funds, which will go to consultation from November 2015 - March 2016. The target date for implementing the new system is September 2017 although changes may happen after this date.
Transport Investment
The Government has agreed a new contract with East Midlands Trains to continue to run services between London and the North of England, stopping at Bedford, until 2018. East Midlands Trains has pledged to invest £13m in providing extra services and freezing some ticket prices. Furthermore, the electrification of the Midland Mainline is to continue after the Government decided to freeze the process in the summer in order to develop the plans.
The Government has also chosen a contractor to carry out a £2.8m scheme to upgrade the A421 and M1 at Junction 13. The works will include repairs, resurfacing, new road markings and improved lighting.
Broadband Update
Odell is in the good position of being identified in Phase 1 of the Borough's Second Superfast Broadband Project and the Borough has agreed an accelerated programme of Second Project delivery with BT/Openreach which means that delivery will start as soon as the First Project finishes. We would therefore expect work in Odell to start in the latter half of 2016 with delivery around the end of 2016 .
There will still be remoter parts of Odell, as there are remoter parts of Harrold and Carlton, without superfast broadband. These will typically be farm houses and individual or small clusters of rural dwellings. These will have to await an extension of the Second Project, using more recently developed technology, and with resources that the Borough is working on piecing together.
Eighty Years in Odell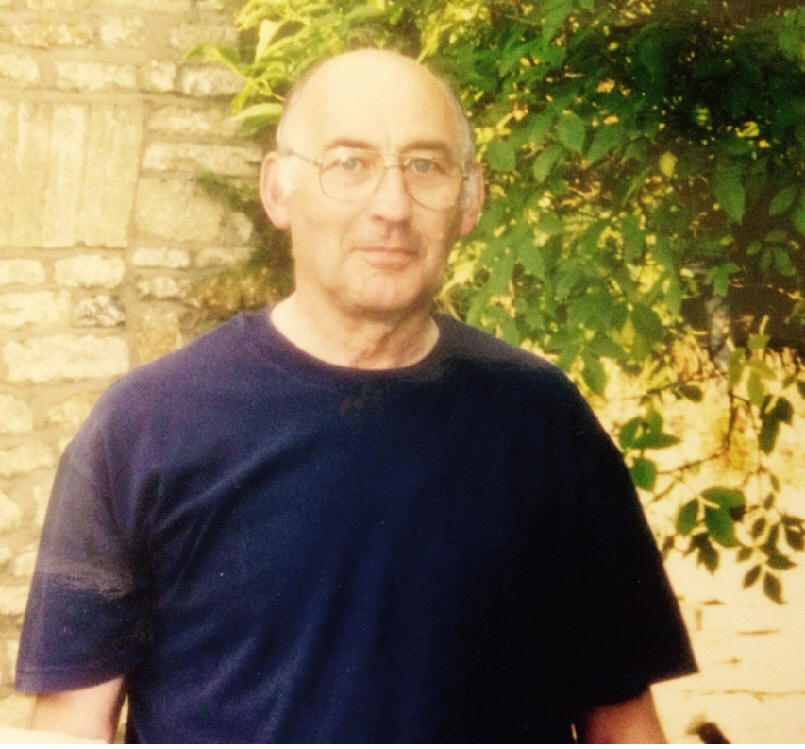 This month Peter Coleman celebrates his eightieth birthday and so takes his place in Odell's Hall of Fame as the longest residing villager of Odell.
On 5th November, 1935, Peter was born in the same house that he lives in now, in Odell. He was educated in Odell, Harrold and Luton Technical schools. He recalls that, as a boy growing up in the village during the war, life was very basic as he had no electricity or sewerage in his home. After leaving school, he worked in Rushden in the watch and clock repair trade for 50 years. Leisure time was spent playing for Odell Rovers Football Team; Odell also had a good tennis club. Peter was also a keen scout, and later went on to become a scout leader with the 51st Odell Scouts for 25 years. As a young adult, Peter spent two years serving with The Beds and Herts Royal Artillery in Egypt.
Peter has retained his love of sport, having been a member of Harrold Badminton Club for 25 years and now being an active member of the Bridgman Bowls Club, and of course, he is a keen supporter of Luton Town Football Club.
In the 1990s, Peter helped to produce 'The Pictorial History of Odell' books, in a team with Florence Shellard, Derek Spencer and Edith and Ernest Surridge.
Now, a keen craftsman, Peter spends much of his time making pieces out of clock parts (see the steam engine, pictured overleaf), which are very popular – no sooner has he produced one than another order is placed. Peter also enjoys wood engraving, sketching out the scene first (usually a local scene), and then carving it into the sides of boxes or chests. Shown on the next page is an example of a box with a carved scene depicting 'The Bell'.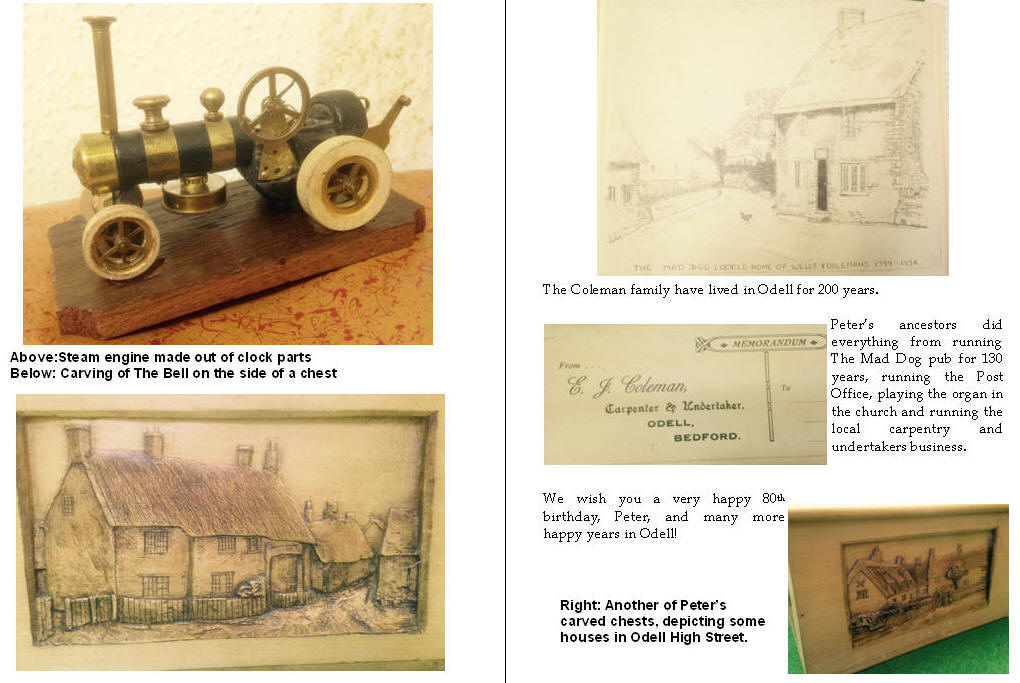 We wish you a very happy 80th birthday, Peter, and many more happy years in Odell!
Village Hall News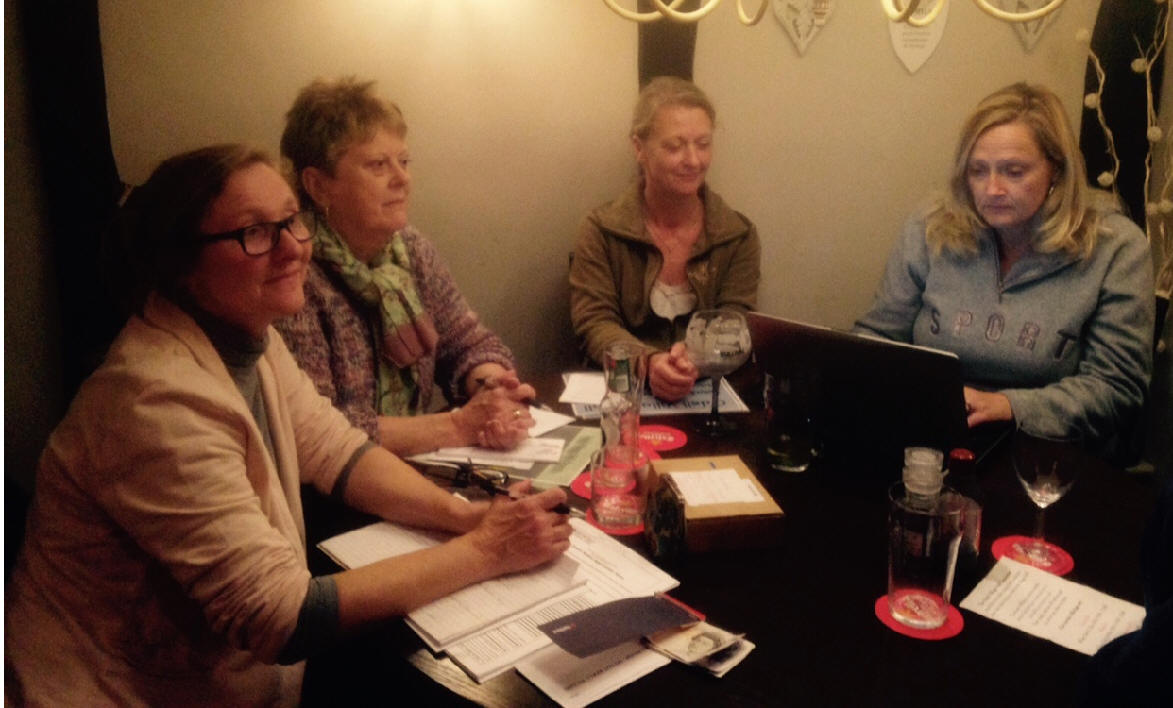 The Village Hall Committee
Thank You
A big 'Thank You' to everyone who supported the theatrical production 'Tartuffe' in the village hall last weekend. It was a huge success! The director (in an email) said…
"The company had a brilliant time and said you were one of the most appreciative audiences yet - so please pass on our thanks for all the support."
We, on the committee would like to pass on our thanks too. It was our first event - so we were all a bit anxious that it should be well received.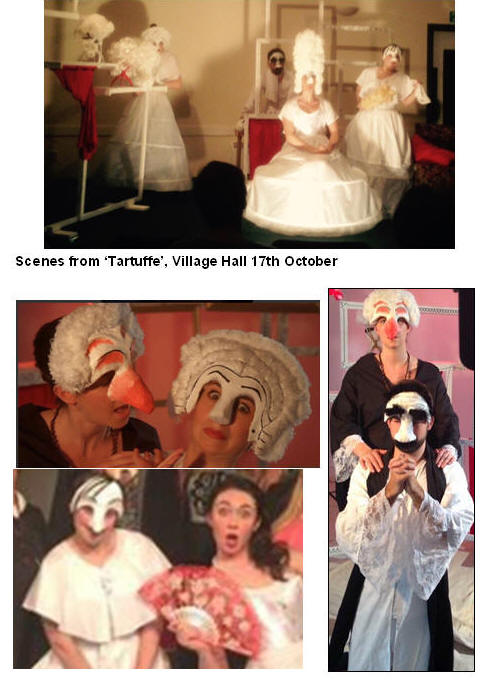 Repairs
As has been previously reported, the Village Hall's insurance company
are dealing with the work that needs to be carried out as a result of the dishwasher leak. As well as the damp, their assessor also identified asbestos in the lobby tiles so these have now been removed. What this means is that once all of the work has been completed, we should have a really swanky lobby and gents!
The contractor is aware of our upcoming events in November and December (see below) and will make sure that access to the main hall is not restricted.
Communication:
The Committee would like to be able to keep Odell residents up to date about future events.
If you are willing to receive emails, please forward your email address to lesley@huntersmead.co.uk
Your email address will not be used for any other purpose.
Forthcoming Events:
Melvis - Saturday 14th November 2015 19.30 - 23.20
The Little Match Girl (family Christmas show) - Sunday 20th December 15.00 - 16.00
Please note that a flyer delivered to some houses, incorrectly gave the day of the latter event as Saturday.
All Tickets available from The Bell
Ticket Prices
Melvis: Adults £8, concessions £6
The Little Match Girl: Adult - £8, Adult concession - £6, Child - £6
Family group of 4 - £25, Family group of 5 - £30, Family group of 6 - £35
A family group must have at least one adult in it.
Cleaner Wanted
Odell Village Hall Management Committee requires a self-employed cleaner to clean the hall for an hour a week. Additional hours available on event weekends. Must be fully insured. Please contact the treasurer on 01234 721798 for more information". Elisabeth Evershed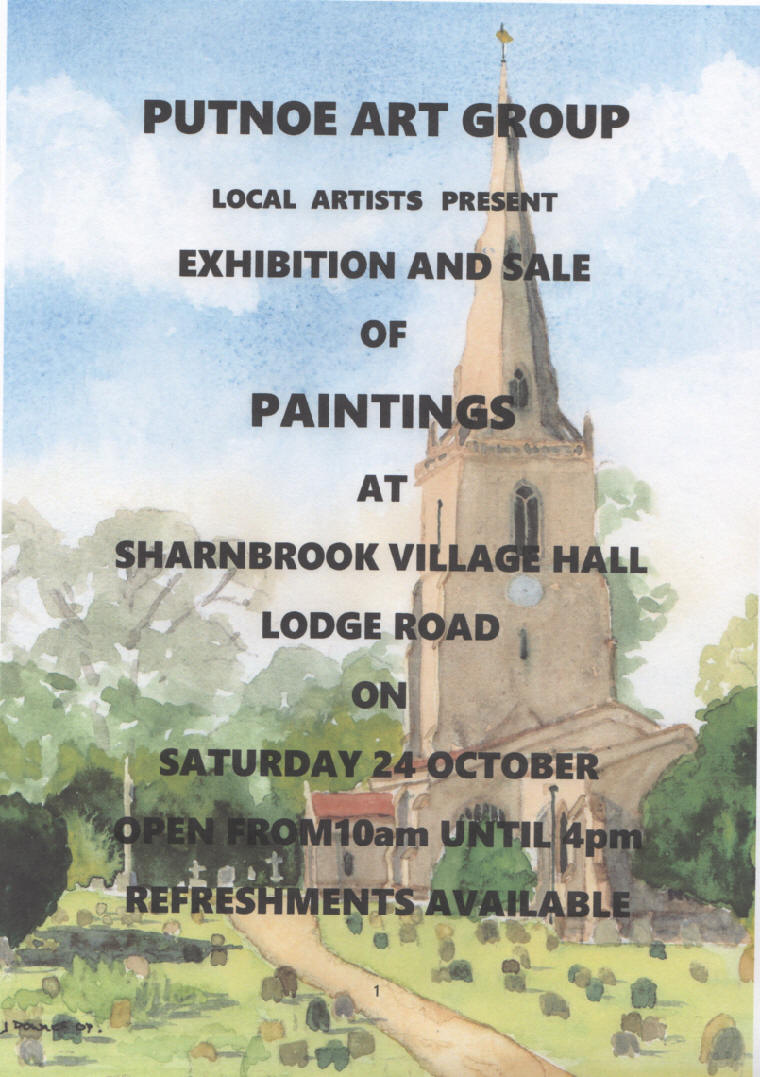 News from Harrold Odell Country Park
Health Walks
This is a national scheme which is free of charge. We meet at the café entrance at 10.30am every other Thursday and walk for an hour to improve your health and wellbeing. Please call 01234 720016 or e-mail janet.munro@bedford.gov.uk for more information.
Nov. 5th & 19th
Friends' Tasks
On the last Monday of every month (a week earlier if a bank holiday) the volunteers get together on a task to progress the conservation and repair works around the park. Meet at 10am at the Ranger's office in the café.
Participants should bring a packed lunch, appropriate old clothing and sturdy footwear. We provide refreshments, tools and gloves. Please call 01234 720016 or e-mail Richard.dowsett@bedford.gov.uk for more information. Janet Munro, Greenspace Officer
The Mill Theatre, Sharnbrook
www.sharnbrookmilltheatre.co.uk
Don't miss the Award-winning Musical:
Parade – 16th – 21st November, 7.30pm
Music & Lyrics by Jason Robert Brown,
Book by Alfred Uhry; Co-conceived by Harold Prince.
Soaring score, by one of Broadway's most exciting composers; which perfectly allies the harsh reality of the drama…a true story.
Tickets:
Book on-line: new website: www.sharnbrookmilltheatre.co.uk;
Twinkle, Twinkle Boutique, High Street, Sharnbrook (in person) or
Bedford Corn Exchange Box Office 718044.
NB: Mon. 16th Nov. is a Charity Night for Rotary Club of Bedford (International Charities) Book via bob.panton@btinternet.com or 01462 811642.
See rehearsal snippet:
https://www.youtube.com/watch?v=WtD6cRo0p6k
Do join us for:
'Warm aid of our Green Energy based Heating & Ventilation; all at 'The Mill'
Warm Up Appeal events in aid of our green energy based heating and ventilation, all at The Mill
The next in the series of LUNCHES @ THE MILL:
Wednesday 11th November
12.00 for 12.30 pm
Lunch, followed by Talk from
'Magistrates in the Community'
Ticket, £15 including lunch & talk,
on sale now from:
Pat Abbott 01933 358319 or
Brenda Stafford 01234 823060
Diary
November
5th 10.30am HOCP Health Walk
7th 10.00am Churchyard Clear-up
7th 10.30am Christmas Art and Craft Fair, Sharnbrook Village Hall
10th 2.30pm W.I. Village Hall
11th 10.30am Meeting Point at Catherine's, The Stables, Church Walk, Harrold
14th 7.30pm Melvis in Village Hall
16th 7.30pm Parish Council Meeting, Village Hall
19th 10.30am HOCP Health Walk
21st 10.00am St. Mary's Christmas Bazaar, Carlton Village Hall
25th 10.30am Meeting Point at Jane Smith's, Horsefair Lane
30th 10.00am HOCP Friends, Tasks Day
December
4th 10.30am Hamper Coffee Morning, Hobbs Green Farm
Magazine Deadline
Please send all entries for the joint December 2015/January 2016 magazine to Tricia Hudson (ed at odellbeds.net) or Catherine Corkery by November12th at the latest. May we remind you that the editorial team exercises the right to edit, shorten or alter any items that are submitted. Also, the opinions expressed in the articles are those of the contributors and are not the responsibility of the editorial team.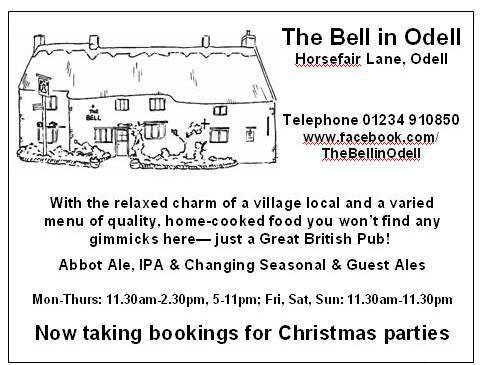 Click here for The Bell Facebook Page
Wodehill Cheese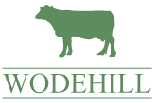 Wodehill Cheese — hand-made in Carlton
Wodehill Blue is a semi-soft creamy blue cheese
made with milk from Jersey cows in Carlton

Nearest stockists: Hurleys in Sharnbrook and Carlton Village Shop
Alex Stubbs Flooring
Carpets, Vinyls, Laminates, Safety Flooring, Adaptions, Refits, Repairs
Supplied and Fitted
07976 260572
01234 240954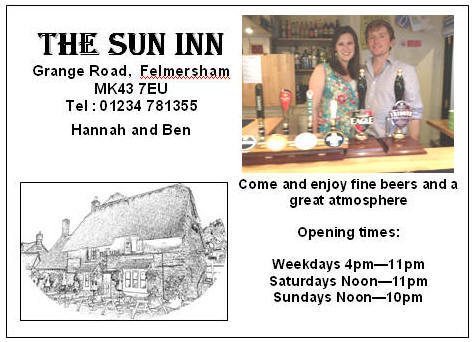 ---
Last revised: November 07, 2015.