ODELL VILLAGE NEWS
May 2015
Odell Village Fete and Dog Show
Saturday 13th June 2015, 2pm
(In the Scout field, Horsefair Lane, Odell)
Entry: Adults £1.50, Children Free
Programme of Events
2.00 pm Grand Opening
2.00-4.00pm Dog Show
4.00 pm Raffle Draw and Prize Giving
Attractions
Bedford Brass Band, Boys' Brigade, Bouncy Castle, Teas, Pimm's, Children's Sports, Tombola, Ice Creams, Cakes, Books, Refreshments, Bottle Stall, Coconut Shy, White Elephant, Produce, Gifts, Raffle
Family Dog Show (entry fee - £1.50 per dog per class)
Classes:
1. Children's Handling (14 years and under)
2. Puppies under 1 year
3. Country Sporting Dog
4. Country Sporting Bitch
5. Best Condition Dog or Bitch
6. Best Rescue Re-home Dog
7. Best Rescue Re-home Bitch
8. Best Cross Breed Dog
9. Best Cross Breed Bitch
Getting Involved with the Fete
Last July a meeting was held in the Village Hall to discuss the future of the Fete. This was well attended and generally everyone felt the Fete should continue and hoped to have the support of the younger members of our community not only on the day of the Fete but also by perhaps getting some more involved in the planning. So the PLANNING has already started – the PA system and the loos have been booked!! We do need as much HELP as possible. If you can help NOW please contact Mandy Hinds, 7 Horsefair Lane, Odell, 01234 720414 alodell@plus.com or Christine Clark 01234 918985 cmclark99 at uwclub.net
The first date to put in your diary is Fete Preparation Morning at 10.00 am on Bank Holiday Monday 4th MAY hosted by Jim and Doreen at Linden House when we clean and repaint the signs for the stalls and side shows and prepare the roadside boards. We then enjoy a BBQ lunch. Please bring your own meat and nearer the time we shall be asking for contributions of pudding and drinks.
The Big Preparation will be in the afternoon and early evening of Friday, 12th June, when we need muscles, good senses of humour, wheels, trailers and people willing to collect tents, tables, chairs and stall signs, and set these all up in the Scout Field down Horsefair Lane ready for the big day. Tea and Cake supplied to keep you going! The morning of the Fete also requires many hands to help complete the preparation and get the goods to the stalls ready for the Grand Opening at 2.00pm. Don't forget that we also have to clear the field at the end of the afternoon. All helpers are invited to a BBQ on Sunday morning at the field to round off the busy weekend.
All Saints' Church Charitable Giving for the month of May is to The Church Pastoral Aid Society, which offers valuable training and a wide range of resources for clergy and lay people, in evangelism, youth work, mission and ministry, runs Young Peoples' holiday clubs and offers Parish Consultations. See the notice board in the church for more information.
Nursery Plant Sale
Saturday 9th May, 10.30am – 2.00pm at the Village Hall, Pavenham,
10 nurseries from 6 counties: Alpines, Clematis, Exotic plants, Herbs, Perennials and Shrubs, Roses, Shade-lovers, Sundries. Save on mileage, buy from the growers; high quality, unusual plants. Keen prices and good advice! Entrance £1.20, Free Parking, Garden Bric-à-brac, Plant Crèche, Refreshments, Tombola, Children's Playground. (in aid of the Friends of St Peter's – keeping our church building in good repair – Charity no 802696) Debby Horsman
Jonathan Harrison
Many villagers attended the funeral of Jonathan Harrison on 9th April. See Church News for a tribute to him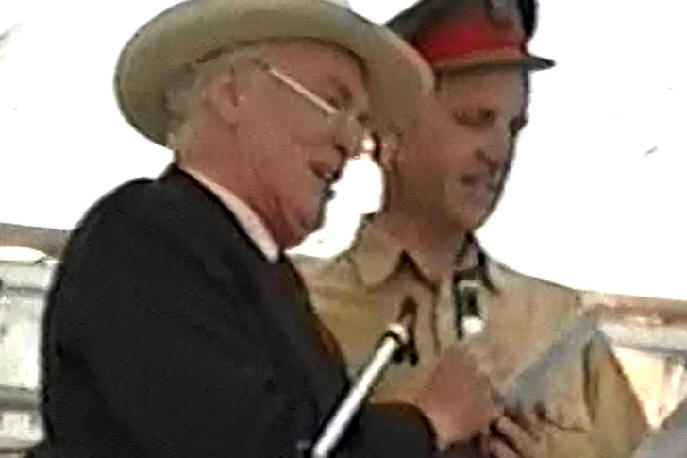 Jonathan enjoying a moment with Richard Hall at VE Day celebrations in Odell, 1995
W.I. News
Unfortunately our speaker was unable to be at our April Meeting. However, members were able to talk about forthcoming events planned to celebrate 100 years of the WI, the first of which will be the Centenary Baton Meeting at Keysoe Village Hall at the end of April. In January 2014 a baton was launched on a tour of England and Wales and every Federation has the baton for a week and its tour will end at the AGM in the Albert Hall in June. Some members will attend a lunch at Sharnbrook Hotel on 4th June with a live streaming event of the AGM from the Albert Hall. A ballot took place for one of our members to attend the very special Garden Party at Buckingham Palace also in June and we were delighted that one of our long standing members, Jeni Cuddeford was selected to attend – a good excuse for a new outfit! Members have much to look forward to this summer.
Next year's Programme was discussed and Lynette was thanked for putting an interesting and varied programme together. Members voted to move our meetings from the evening to 2.30 pm in the afternoon. Here is a taster from the new programme: Behind the Scenes at Waitrose with afternoon tea, a talk on Shackleton, Funeral Celebrant, Bedfordshire Verse, Wildlife in Norfolk and then we have a few social events including a BBQ, a visit to Cedar Farm, Desborough, to see the gardens and a Christmas Meal.
The next meeting will be the AGM in the Village Hall on Tuesday 12th May 7.30pm after which we shall try our skills once again at curling and enjoy light refreshments and wine
New members are always welcome and if you need any more information please ring Rachel Halton (01234 720572). Ladies, just come along to the Village Hall on the second Tuesday of each month and see what we do and how we enjoy ourselves. To find out more about the WI go to www.theWI.org.uk or the local Bedfordshire Federation website www.thewi.org.uk/bedfordshire Jane Eshelby
News from the Bell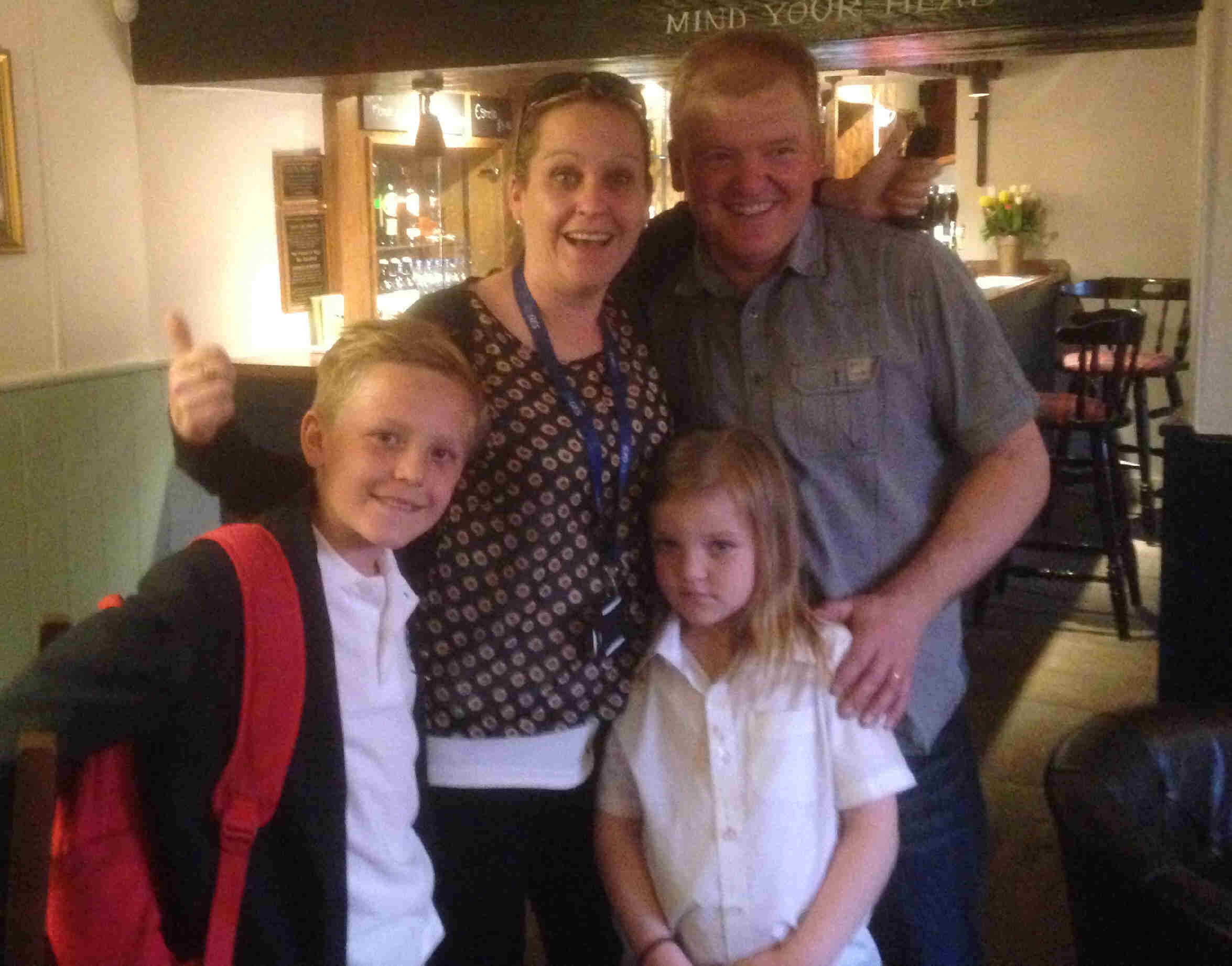 Wow, where have those 3 weeks gone! All the preparations in the world couldn't have prepared us for the fantastic welcome afforded to us by the Village and our friends and family in the surrounding area and further afield.
Whilst we have had a few hiccups along the way the general feedback we have received underlines our belief that serving good pub grub, along with a great range of beverages, can return The Bell to its former glory.
We would like to thank everyone for their support.
As the hub of the community it is essential that we have your support, and that you know that your feedback has been of great assistance to us. On that note, if anyone is looking for a venue for community events/evenings please let us know. If we can set aside an area for you to use we would be delighted to do so.
Thanks again for all your support.
James and Sally
A Word from your Candidate MP:
We asked the parliamentary candidates to let us know why we the people of Odell should vote for them. Their replies were mostly of a general nature and can be found on here: http://www.odellbeds.net/vote.htm
Temporary road closure
Roads: Bridgend, Carlton/Carlton Road, Harrold.
Reason: For bridge repair work.
Length Affected: From Felmersham Road, Carlton, to High Street, Harrold.
Dates: The closure is anticipated to be in operation 24 hours a day from Monday 18th May 2015 to Sunday 31st May 2015 – Specific dates will be advertised locally closer to the time
Borough Councillor's Update for Odell April 2015
Contact your Borough Councillor Alison Foster by telephone on 07773371190 or email at ajfieldfoster@gmail.com – Please note Alison's new email address.
Black Cat Roundabout
The Highways Agency and the Government announced at the beginning of April that works on the Black Cat roundabout have been completed and the new layout is now in operation. The £5.6m scheme has seen the introduction of traffic signals and new lanes which are targeted at improving traffic flow.
Bedford Western Bypass
Another infrastructure scheme moving forwards is the Bedford Western Bypass which will connect the roundabout at Deep Spinney, Biddenham with the A6 at the Sainsbury's roundabout. The construction of the bypass will also see the development of 205 houses and a school on the Bedford side of the road, while 495 houses will be built by Hallam Land Management at the Biddenham end.
Works to resurface the roundabout at Deep Spinney have been scheduled which will lead to diversions on the following dates:
25th – 26th April, from 7am on Saturday until 8pm Sunday
1st – 3rd May, from 8pm on Friday until 8pm on Sunday
8th – 10th May, from 8pm on Friday until 8pm on Sunday
Bedford Bus Station
Works on Bedford Bus Station have been completed and the site re-opened at the end of March. The overall scheme has seen the Allhallows car park and the adjoining public convenience refurbished, as well as the construction of the Greyfriars surface car park. The town's Tourist Information Centre has also been moved to the Bus Station from its previous site at St Paul's Square.
A map of where you can catch your bus is available on the Council's website at http://www.bedford.gov.uk/council_and_democracy/council_news/bedford_bus_station.aspx
Kite Festival
The 13th Annual Kite Festival is set to take place in Bedford's Russell Park on Saturday 6th and Sunday 7th June. The event attracts kite flyers from around the world and there will also be food stalls and entertainment for around 40,000 visitors. For more information visit www.bedfordevents.co.uk
Street lighting
The Department for Transport has awarded £5.3m over 3 years to the Borough Council to install energy efficient streetlighting. In addition to a contribution of £1m from the Council, the investment will be used to introduce low energy lanterns, replace columns as necessary and provide for a central management system to control lighting. It is estimated that, once completed, the changes will reduce energy consumption and save the Council around £190k a year.
Alison Foster
Village Hall – new members needed!
At the last meeting of the Village Hall Committee, all members present reluctantly decided to stand down, which means that at the moment there is no committee. We would like to thank all the members for their hard work over the years. In particular we thank Rob Lee for many years of providing the village with entertainment, and for his fantastic village quizzes which were a highlight of every year.
The Parish Council is keen to see if we could form a new Village Hall Committee as soon as possible. If you would enjoy helping to continue a thriving village amenity please get in touch with Jon Hudson, 01234 721004, email: letters@odellbeds.net before Monday, May 11th. We hope to have a new committee in place for approval by the Parish Council at their next meeting on May 18th.
Bedford Borough Council
Collection of Bulky Waste in Odell
Please take your domestic waste to the following location:
Sunday 14th June 2015
Village Green near The Bell, 12.00pm until 3.00pm
Times are approximate to allow for travel between sites
PLEASE DO NOT LEAVE RUBBISH AT THE SITE IF THE COLLECTION VEHICLES ARE NOT THERE
News from Harrold Odell Country Park
I am writing this issue while the children are enjoying the tail end of the Easter holidays. Overall, they were blessed with good spring weather. Of course the exception to this was the Good Friday bank holiday. It just had to rain because I'd organised the annual Easter Egg Hunt with members of the Friends Group.
Initially we advertised 25 places in the morning and 25 in the afternoon but such was the demand for bookings that we ended up rushing out to buy another 30 eggs! Thank you to Jean Chadwick for buying and storing the initial batch and to Barry Halton who rushed over to Clapham on the day to buy the other 30. This event is sponsored by the Friends Group and although it is always a popular event the turnout, despite the weather, was a record.
Thanks are also due to David Chadwick who lent us his gazebo at short notice. It was a great asset in sheltering the registration table and allowed us to sell notelets and postcards to raise additional funds.
The next event was on April 18th. Bedfordshire Natural History Society ran a pond dipping exercise from 2pm – 4pm. They are trying to promote their Youngnats (young naturalists) division. The aim is to enthuse the younger generation about the wonders of the nature that can be found all around them. Further information about the group can be found on their website ww.bnhs.co.uk .
Another group that looks at the geology of Bedfordshire may also be of interest. Log on to ww.bedfordshiregeologygroup.org.uk. Both groups run regular field trips for interested parties with annual membership costing £7.50.
On April 23rd I was invited to give an illustrated talk about the park by The Magpie Club in Bedford. This is something I do regularly for community groups when I can manage it. Unfortunately, I cannot usually do this during the day due to our heavy workload. Anyone interested can e-mail janet.munro@bedford.gov.uk. Please note that there is a minimum fee of £25.00 with cheques payable to Bedford Borough Council.
To conclude the events for April we once again hosted part of the route for the annual Harrold Pit Run. This has been running for over 30yrs and started when the park lakes were still gravel pits – hence the name.
At the end of April we anticipated the arrival of the latest herd of cattle in the river meadow. They will be on site until at least the end of October. The herd is always unsettled when first introduced so please keep your distance and allow them to become acclimatised to new sounds and smells and to the presence of people.
Our grazier is based in Pavenham and comes to check them daily. Warning signs will be erected as soon as they arrive in the park and we ask that dogs be kept on leads in this area. It's essential that owners remove dog faeces from all areas of the park as faeces can infect grazing animals with a very nasty parasite when they eat contaminated grass.
Park staff are authorised to issue fixed penalty notices of £75 if anyone is caught fouling or littering. Naturally we don't relish having to do this but we will if the situation arises and have done so on several occasions.
Continuing on the event theme we are organising another Mini Woodworks on June 13th and 14th between 11am and 5pm. We held a one day event last May which was so well received we decided to do two days this year. Attractions include chainsaw carving, firewood processing, wood turning and more. For further information e-mail nicola.monsey@bedford.gov.uk
On top of all these events we will be hosting a number of school visits over the coming months. Educational visits have become very popular and help to engage youngsters with their local environment giving greater meaning to their studies.
The winter tree works have finished now until October. Through the summer we will be mowing footpaths, painting benches and mending things. The Friends Group are buying us a new trailer and boat this year which have been funded out of the parking donations from visitors. They are also buying new hand tools as well to enable us to work effectively. A big thank you to all who put your donations in the boxes: You help to make the park what it is – multi-award winning.
The fishing season has ended until June 16th. Borough Council permits will be available from late May. As soon as we know the new tariffs we will post them on our website www.hocp.co.uk. Last year a full adult day and night permit cost £65 with a day permit costing £41.50. Concessions are available on production of proof of status in the form of your Environment Agency rod licence.
The fishing at Harrold includes the 2 lakes and the river within the park boundary and your permit includes the fishing at Priory Country Park, Barker's Lane, Bedford. We do not sell day tickets. The fishing is not easy but when you do catch the fish can be spectacular! Species include Barbel, Chub, Pike, Perch, Carp, Bream, Tench and silver fish of various species.
Everywhere you look there are breeding birds. Several grass snakes have been reported hunting around the lake edges. Unlike adders these are completely harmless, hunting for frogs, small rodents and sometimes fish as they are excellent swimmers. The sightings board outside the café entrance will help you to find out about the wildlife.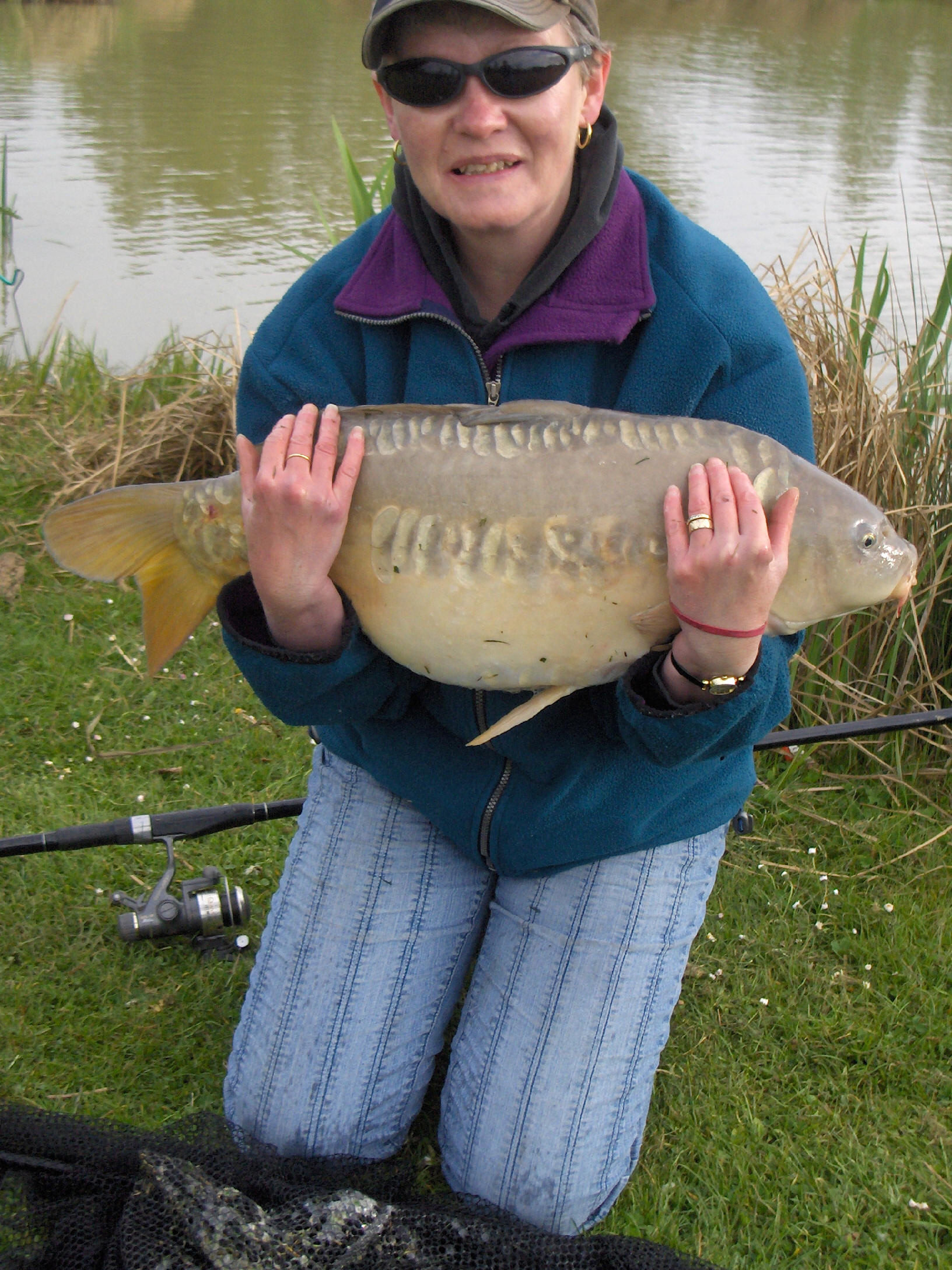 Janet with a 20lbs 3ozs catch!
Other Dates for your Diary
Health Walks
Meet at the café entrance every other Thursday at 10.30am. We walk for an hour to improve your fitness and general wellbeing. Leader Janet Munro e-mail janet.munro@bedford.gov.uk or call 01234 720016 for further information.
Thursday May 7th & 21st
Thursday June 4th & 18th
Friends Task Days
Meet at the park office at 10am. The aim is to carry out general works around the park to enhance the environment. Held on the last Monday of the month (a week earlier if a bank holiday) gloves, refreshments and tools provided. Participants need a packed lunch, old clothing and sturdy footwear. E-mail Richard Dowsett richard.dowsett@bedford.gov.uk
or call 01234 720016 for further information.
Monday May 18th, Monday June 29th Janet Munro, Greenspace Officer.
The Mill Theatre, Sharnbrook
www.sharnbrookmilltheatre.co.uk
Merrily We Roll Along - 8th – 13th June
Music & Lyrics by Stephen Sondheim
Book By George Furth.
Originally directed on Broadway by Harold Prince Orchestrations by Jonathan Tunick.
Originally produced on Broadway by Lord Grade, Martin Starger, Robert Fryer & Harold
Prince in association with Ruth Mitchell &Howard Haines.
An amateur production in association with Joseph Weinberger Ltd on behalf of Music Theatre International of New York.
A thrilling and compelling Broadway fable.
The story begins in the 1970s and moves backwards to the late 50s, tracing the lives of wealthy, jaded composer Franklin Shepard and his two estranged friends through each milestone of their personal and professional lives (good and bad). The show ends with a touch of rueful irony, as the three best friends, at the start of their careers, face a bright future: young, talented and enthusiastic about the worlds waiting to be conquered. This is Stephen Sondheim and George Furth's tuneful and compelling Broadway fable about friendship, compromise and the high price of success.
Tickets Now Booking at all Box Offices! Tickets £11 - 13
O N – L I N E* at: www.sharnbrookmilltheatre.co.uk ; PARTIES (10+ 10% disc). 781372,
BEDFORD CENTRAL BOX OFFICE* 'No 13 The Corn Exchange', St Paul's Sq. or at the new Travel & Tourism Centre, Bedford Bus Station. 718112 (*booking fee payable)
SHARNBROOK POST OFFICE (IN PERSON) (Whilst closure has been confirmed#., the date has yet to be announced when services will transfer to NISA/Sharnbrook News).
# Twinkle, Twinkle Boutique , High St., Sharnbrook, will succeed PO as Box Office for 'The Mill'.
8th JUNE Charity night: The British Red Cross (Charity no 220949) Tickets: Heather Wells: 01933 622930
Forthcoming Shows:
Are you aged 16 – 25?
Ben Elton's 1990 play Gasping
On stage 3rd – 5th Sept. 2015
Workshop Wed. 1st July 7.30 pm
Auditions: Fri. 3rd July 7.30 pm
3 female, 3 male characters
•For details, please contact:
Paul Wildman wildchildtheatre@yahoo.co.uk
My Boy Jack by David Haig
On stage: 15th – 19th September 2015
Workshop, Tuesday 28th April, 7.30 pm,
with Auditions on Sunday May 3rd
at Sharnbrook Mill Theatre
Cast: 6/8 men and 2 women
•For further details, please contact
Matt Baker on 07531 340476 or matt.baker.65@ntlworld.com
Forthcoming 'Warm Up' Appeal events, raising funds for a green energy based H & V system
Lunch @The Mill
Followed by a talk from
David Saint on Murders & Mysteries
The Mill Theatre Wednesday 13th May 2015 12 noon for 12.30 pm
Ticket £15, available now, from Brenda Stafford 01234 823060 brenda.stafford@talk21.com
Sharnbrook Theatre Trust Warm Up Appeal...
Sunday 28th June: Dames at Tea: Joanna David and Phyllida Law – now booking! Definitely not to be missed!!
Tickets £20 from:
Douglas Pope 01933 356974 email: mail@douglaspope.com
Brian Woodrow 01234 349455 email: bwoodrow@btinternet.com
David Saint 01933 675995 email: words@davidsaint.co.uk
Tickets in person available at Sharnbrook Post Office
Mill Theatre Open Day – Welcome All! Sunday 26th July 11 – 5.30
Displays, Cameo Performances, Technical Demonstrations
History of 'The Mill' and Behind the Scenes Tours of the Theatre
Details to follow
DIARY
May
4th 10.00am Fete preparation day, Linden House, Odell
6th 10.30am Meeting Point at Eileen Nottage's, Heydown, High St., Odell
7th 10.30am Health walk HOCP
9th 10.00am Harrold URC May Fair
9th 10.30am Nursery Plant Sale, Pavenham Village Hall
12th 7.30pm W.I. AGM, Village Hall
18th 10.00am Conservation Tasks Day, HOCP
18th 7.30pm Parish Council Meeting, Village Hall
20th 10.30am Meeting Point at Catherine's, The Stables, Church Walk, Harrold
21st 10.30am Health Walk, HOCP
June
3rd 10.30am Meeting point at Jane Smith's, Horsefair Lane, Odell.
4th 10.30am Health Walk HOCP
13th 2.00pm Odell Village Fete
Magazine Deadline
Please send all entries for the June 2015 magazine to Tricia Hudson (ed at odellbeds.net) or Catherine Corkery by May 12th at the latest. May we remind you that the editorial team exercises the right to edit, shorten or alter any items that are submitted. Also, the opinions expressed in the articles are those of the contributors and are not the responsibility of the editorial team.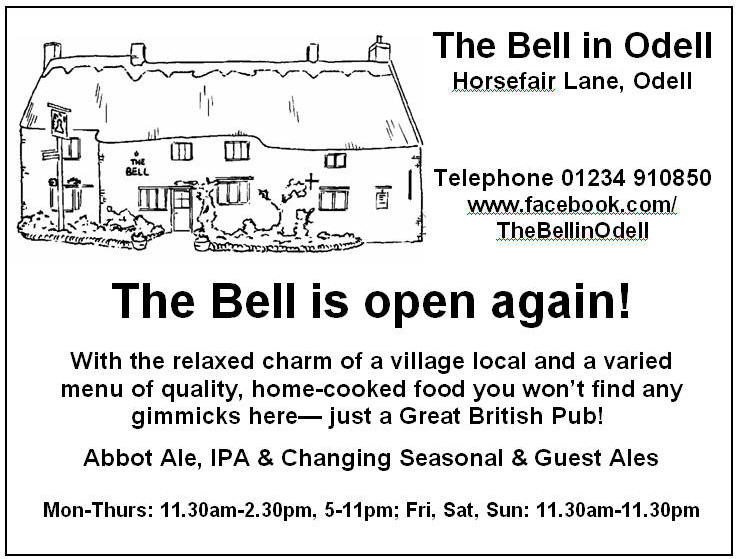 Click here for The Bell Facebook Page
Wodehill Cheese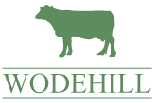 Wodehill Cheese — hand-made in Carlton
Wodehill Blue is a semi-soft creamy blue cheese
made with milk from Jersey cows in Carlton

Nearest stockists: Hurleys in Sharnbrook and Carlton Village Shop
Alex Stubbs Flooring
Carpets, Vinyls, Laminates, Safety Flooring, Adaptions, Refits, Repairs
Supplied and Fitted
07976 260572
01234 240954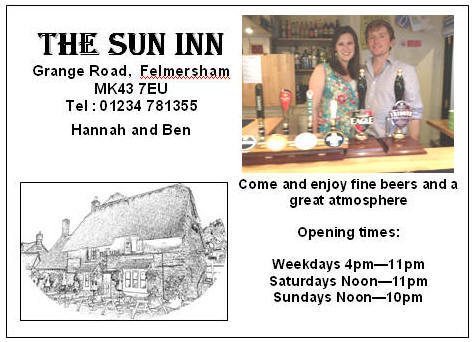 ---
Last revised: May 02, 2015.