ODELL VILLAGE NEWS
June 2015
New Village Hall Committee - update
A new Village Hall committee met on 26th May for the first time.
They are as follows:
Acting chair: Mel Fisher (continuing from the old committee)
Acting treasurer: Elizabeth Evershed
Jane Smith (from Horse Fair Lane)
Sally and James Bolton (from the Bell)
Lesley Thomas
They are keen to co-opt another one or two people so if you are interested email Jon at letters@odellbeds.net
Summary:
There was lots of enthusiasm with ideas for events discussed while also recognising the problems of the past. Ideas ranged from re-invigorating facebook presence, linking to the Bell for handling events bookings/publicity/pre event meals etc., putting on food-based events and doing more theatre/ murder mystery and so on. They recognised the fact that the Parish Council has commissioned the men's toilet and entrance repairs which though delayed should proceed soon, and discussed the fact that the committee will need to keep on top of minor repairs and maintenance. The need for stronger policing of the cleaning 'post events' was essential, and the committee will review the policy on deposits/penalties for poor clean-up. Some kind of sprucing up blitz is envisaged. The need for good phone response for event bookings was also noted (i.e. more than one number, at least one answerphone) – Sally volunteered the Bell to be one. Several other villagers have already offered to provide help to the committee.
The new committee will meet the 2nd Tuesday of each month at 7.30pm.
Odell Village Fete and Dog Show
Saturday 13th June 2015, 2pm
(In the Scout field, Horsefair Lane, Odell)
Entry: Adults £1.50, Children Free
Programme of Events
2.00 pm Grand Opening
2.00-4.00pm Dog Show
4.00 pm Raffle Draw and Prize Giving
Attractions
Bedford Brass Band, Boys' Brigade, Bouncy Castle, Teas, Pimm's, Children's Sports, Tombola, Ice Creams, Cakes, Books, Refreshments, Bottle Stall, Coconut Shy, White Elephant, Produce, Gifts, Raffle
Family Dog Show (entry fee - £1.50 per dog per class)
Classes:
1. Children's Handling (14 years and under)
2. Puppies under 1 year
3. Country Sporting Dog
4. Country Sporting Bitch
5. Best Condition Dog or Bitch
6. Best Rescue Re-home Dog
7. Best Rescue Re-home Bitch
8. Best Cross Breed Dog
9. Best Cross Breed Bitch
The Big Preparation will be on Friday, 12th June, ready for the big day. Ready for the afternoon we plan to get the tents to the field on Friday morning and possibly erected; three or four volunteers would be appreciated. If you can manage to come anytime after 2.00 pm to lend a hand you will be most welcome. We shall need to collect tables, chairs and stall signs to set these up in the Scout Field down Horsefair Lane. Tea and Cake supplied to keep you going! The morning of the Fete also requires many hands to help complete the preparation and get the goods to the stalls ready for the Grand Opening at 2.00pm. Don't forget that we also have to clear the field at the end of the afternoon. All helpers are invited to a BBQ on Sunday morning at the village hall to round off the busy weekend.
If you can help please contact Mandy Hinds, 7 Horsefair Lane, Odell, 01234 720414 alodell@plus.com or Christine Clark 01234 918985 cmclark99@uwclub.net
Festival Weekend Family Service and Barbecue Sunday June 14th
There will be an all-age informal church service at All Saints' Church at 11.00am on Sunday 14th June to which everyone is welcome.
Around 12.30pm all helpers and Odell residents are invited to a 'Bring and Share' barbecue in the Village Hall. Meat for the BBQ will be provided - please bring along a salad or similar to share. You also need to bring your own crockery, cutlery and drink. It would be helpful to let Mandy Hinds (720414) or Jane Eshelby (01933 410959) know if you are able to come to the BBQ so we know how many to cater for.
thank you to everyone who helped at the fete preparation day on May 4th, and particular thanks to Doreen for hosting the event and BBQ at her house.
Seniors' Holiday Club
Don't let children have all the fun! Come to a Holiday Club for adults!
Open to anyone over 50.
August 17th – 21st.
Programme
Monday 17th Outing by coach to the Chiltern Open Air Museum at Chalfont St Giles, Buckinghamshire. Described as a 'hidden gem', there are over 30 rescued historic buildings in parkland, including a 1940's prefab, Victorian Toll house, Iron Age Roundhouse and Victorian Farm. Tour or audio guide available. Café
Cost: £15 including coach and entry to the museum
Tuesday 18th 12.00 - Lunch at the URC, followed by entertainment.
Cost: £6 for 2 courses, £6.75 for 3. 50p for tea and entertainment only.
Wednesday 19th 6.00pm skittles and fish and chip supper at the Harrold Centre.
Cost: £6
Thursday 20th Walk at Paxton Pits Nature Reserve, Little Paxton, Cambs. Lakes, riverside meadow, reed beds and woodland in the Great Ouse Valley north of St. Neots, followed by lunch at The Anchor pub. Lifts by car arranged.
Cost: Pub lunch, varied menu.
Friday 21st 3.00pm: afternoon tea in a village garden.
Cost: £3 per person.
All events must be booked in advance please. Registration forms available from Sally Bailey 368564 or churchestogether@btinternet.com or Church House Office or Churches or Carlton Village Shop.
Birthdays
Happy birthday to…
Mia Vyvyan who will be 14 on the 2nd
And Eleanor Robinson whose birthday is on the 17th
..and to anybody with a birthday in June.
W.I.. News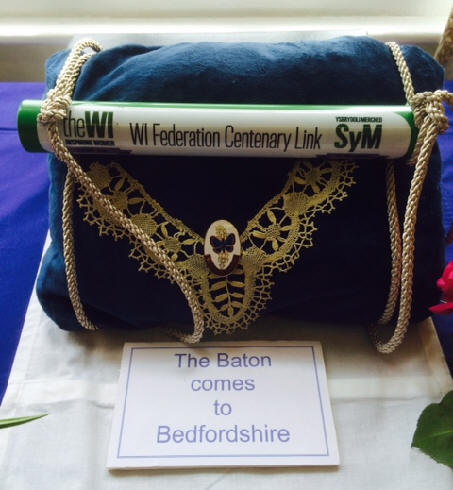 The WI Federation baton which was shown to
members at the centenary event in Keysoe village hall.
In May, Odell WI held their AGM. Annual Reports were read out reminding members of the many interesting speakers and highlights of the activities we had last year, which included a trip on the Bedford Community Boat, the John Bunyan. Presentations and thanks were given to outgoing officers Karen Boyes, President, and Mandy Sharp, Treasurer for the past sixteen years. Rachel Halton is now our President and Doreen Wheeler our new Treasurer.
Some of our members attended the Centenary Baton Meetings. The baton has travelled the country and its tour will end at the AGM in the Albert Hall.
New programmes were handed to members followed by a lively discussion on the 2015 resolution: FAILING TO CARE – ASSESSMENT OF NEED IN LONG-TERM CARE. This calls on HM government to remove the distinction between nursing care and personal care in the assessment of the needs of individuals, in order to advance health and wellbeing. Before the discussion Doreen ably put together some of the points and difficulties to take into consideration. Members unanimously agreed we should support this resolution but would leave our delegate Chris Devereux to listen to the arguments for and against at the AGM before voting.
Members enjoyed the rest of the evening curling with wine and nibbles.
The next event in our calendar is the outing to Cedar Farm, Desborough, in the afternoon of Tuesday 16th June. The cost of £8 will include tea and cake. Please give your names and money to Lynette as soon as possible (01234 720723).
New members are always welcome and if you need any more information please ring Rachel Halton (01234 720572). Ladies, just come along to the Village Hall on the second Tuesday of each month and see what we do and how we enjoy ourselves. To find out more about the WI go to www.theWI.org.uk or the local Bedfordshire Federation website www.thewi.org,uk/bedfordshire Jane Eshelby
An afternoon at Cedar Farm Garden Tuesday 16th June
Cedar Farm at Desborough, near Northampton, is a tranquil 10 acre garden developed over the past 25 years with many beautiful features to interest any keen gardener, including flower borders, ornamental trees, climbers, sculpture and ponds. A secret garden with its blue and pink palette and gazebo with a sunken seat is a particularly romantic attraction. Cedar Farm is open only occasionally under the National Gardens Scheme, but Odell WI have arranged a private visit with refreshments.
The visit on Tuesday 16th June will last from 2.30 to 5.30pm and after a short guided tour we will be free to explore at our own pace. We have secured 30 places for the visit. Participants should make their own arrangements for transport to the garden. The cost will be £8 per person which includes the entrance fee and tea and cakes and is payable before the date of the visit.
Odell WI is extending an invitation to non-members to join the group and anyone wishing to come along should contact Lynette hall on 01234 720723 or
richardandlynette@icloud.com to reserve their place and make payment, either in cash or by cheque, to Lynette Hall.
Parish Council Meeting: 18 May 2015
Edited Highlights
Broadband
The 'Accelerating Bedford' superfast broadband project continues to progress with the Council working in partnership with the Government for the first phase of the scheme to deliver basic speeds of at least 2 Megabits per second (Mbps) to all premises and superfast speeds (at or above 24 Mbps) to over 90% of households. The contract with British Telecom for the second phase was signed at the end of April 2015 and the initial indicative plan shows Odell as a Phase 1 area.
See report from Borough Councillor Alison Foster.
Speed Watch
Community Speed Watch is a scheme to help people reduce traffic speeding through their neighbourhood and it seeks to promote safer driving by educating rather than prosecuting individuals. The scheme enables volunteers to work within their community to raise awareness of the dangers of speeding and to help control the problem locally. Excessive speed through neighbourhoods is one of the most common issues raised and has an impact, not only on road safety, but on the quality of life for those residents. The Borough Councillor, Alison Foster, is keen to set up Community Speed Watch Groups in the Ward villages and encourages residents that would like to participate in such a scheme to get in touch with her so that training with Bedfordshire Police can be arranged.
See report from Borough Councillor Alison Foster.
Odell Village Hall
The Annual General Meeting (AGM) was held on 20 April 2015 and, at the meeting, a number of changes were made to the composition of the Committee. The Parish Council conveyed its thanks and appreciation to the outgoing Committee for all their hard work and was delighted to appoint Messrs. Mel Fisher (existing), Elizabeth Evershed, Lesley Thomas, Jane Smith and James or Sally Bolton (The Bell Public House) to the Committee.
The Parish Council considered strategically the future aspirations for the Village Hall, including potential updates to the conditions of hire/terms of use, and the type of events that may be relevant. There was general consensus that the original terms of reference remained relevant and appropriate. Future governance arrangements between the Parish Council and Village Hall Committee were also considered and, in particular, the need for the Parish Council to receive regular, formal reviews of the progress being made and financial position of the Village Hall.
Footpaths and Bridleways
Some good progress had been made with vegetation clearance by a Volunteer Task Group on Tuesday 17 March 2015 and further clearance would be planned in the autumn 2015. There remained some areas, however, that needed attention and the Parish Council was continuing to liaise with the Rights of Way Team at Bedford Borough Council to seek to resolve issues of concern.
Highway Maintenance Schemes
The Parish Council were updated on a number of outstanding highway issues as follows:
1. The repainting of the white lines throughout the Village had now been completed;
2. In respect of the programme of repainting street lighting columns in the High Street, the Borough Council had reaffirmed that this work would be carried out later in the summer months;
3. The repairs to the drains at the Little Odell junction, which will require a closure of the Little Odell Road, will be programmed for the Summer school holidays in 2015. To enable access to the pipe for future maintenance, the Borough Council are planning to construct a manhole in the centre of the junction as part of the work.
Village Speeding
The Parish Council, at its previous meetings, had been considering the potential benefit to be derived from the provision of average speed cameras in the Village and, as part of the overall assessment, the Borough Council had undertaken a traffic speed survey in the High Street between the period Saturday 11 April 2015 and Friday 17 April 2015. The survey data was based upon 16,220 vehicle movements, with a mean average overall speed of 28.2 miles per hour recorded. The speed recorded at the 85%ile was 33.1 miles per hour. The meeting queried the validity of the data given that the survey equipment during the recording testing period was obvious to motorists and, furthermore, cars/vans were parked by the speed check for most of the survey period, causing traffic naturally to slow down. Notwithstanding the clear view at the meeting that the data collected may not fully represent the true position in respect of the speed of vehicles, the meeting expressed serious concern at the mean average recordings and the consequent number of movements that exceeded the speed limit.
The Borough Council had further confirmed that Odell had been added to the list of requests for average speed cameras and that it would be given a priority ranking against all other requests. Funding would be allocated to those areas with the highest priority following evaluation.
General Administration
The Parish Council, in line with its responsibilities, considered the financial statements for the year ending 31 March 2015. These had been subject to audit which had confirmed that the financial position is correctly stated and that the Parish Council appears to be well run, effectively and efficiently organised and meets the various legislative and other standards required of it. The financial statements are available for public inspection from 8 June 2015 to 3 July 2015.
Date of Next Meeting
The next meeting is scheduled to take place on Monday 20 July 2015 at 7.30pm.
Bedford Borough Council Collection of Bulky Waste in Odell
Sunday 14th June 2015
Please take your domestic waste to the following location:
Village Green near The Bell, 12.00pm until 3.00pm
Times are approximate to allow for travel between sites
PLEASE DO NOT LEAVE RUBBISH AT THE SITE IF THE COLLECTION VEHICLES ARE NOT THERE
News from the Bell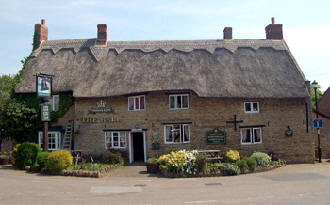 The Bell is planning a beer festival to coincide with the Fete weekend – Friday 12th, Saturday 13th and Sunday 14th June - when they will be offering 5 Real Ales at the bar with 6 more available from the garden. For more information call 01234 910850 or go to www.facebook.com/TheBellinOdell
Borough Councillor's Annual Report 2014/15 for Odell –
Contact your Borough Councillor Alison Foster by telephone on 07773371190
or email at ajfieldfoster@gmail.com – Please note Alison's new email address
Local News
Harrold Solar Farm – Dungee Road, Harrold
A Parish Referendum was held in Harrold Parish on 30 April with the question-
"Planning application number 15/00444/MAF – for a Solar Photovoltaic (PV) Farm with potential capacity in the order of up to 5 Mega Watts on land at Town Farm, Dungee Road, Harrold.
Do you support this specific planning application submitted by Town Farm Solar Farm Limited at this specific site?"
The result of the poll was - 256 voting yes and 266 voting no. Turnout was 40.22% and the Harrold Parish Council considered that the number of people motivated to vote justified the decision to hold the referendum as there was obviously strong support on both sides.
At an extraordinary meeting of the Harrold Parish Council held on 5 May 2015 it was agreed to object to the application on the following grounds.
· The visual impact of the panels and the conversion equipment.
· The proposed development is on a greenfield site
· Loss of good quality grade 3A agricultural land
· Prominence of the site on undulating land and the lack of screening
· The development is against government guidance for the location of solar farms
· The lack of a guarantee that the site will be run by the Community Group
· (Community Benefit Society).
· No guarantee over the minimum funding of the Community Benefit Fund
· No viable business plan produced by the Community Benefit Society to allow a balanced risk approach to requested investment
There is no guarantee that the Community Benefit Society will be owned by local residents or that the Directors of the society will be local
Speed Watch
I would like to set up Community Speed Watch Groups in the Ward villages since so many people are worried about speeding traffic. If there are any residents that would like to participate please do get in touch with me and I will arrange training with Bedfordshire police.
Community Speed Watch is a scheme to help people reduce traffic speeding through their neighbourhood. Excessive speed through neighbourhoods is one of the most common issues raised and has an impact not only on road safety but on the quality of life for those residents who have to put up with it.
The scheme enables volunteers to work within their community to raise awareness of the dangers of speeding and to help control the problem locally. Community Speed Watch can be set up in any village governed where there is a 20/30/40 miles per hour speed limit.
Community Speed Watch seeks to promote safer driving in our local communities by educating rather than prosecuting individuals. Data collected by Community Speed Watch groups will be passed to Bedfordshire Police who may undertake speed checks and result in drivers being prosecuted. It requires a group of at least two trained volunteers to operate.
Having registered as a volunteer you will be offered a training course run by Bedfordshire Police. The course covers the use of the equipment, training in conflict resolution and an option for basic first aid. The training comprises three modules and if all the modules are taken it will last for approximately six hours.
When a group decides to run a Community Speed Watch group and have had the appropriate training they will arrange to take delivery of the equipment from the Police and then notify Police Headquarters prior to the commencement of the session. The volunteers will then run the session noting the date, time, colour, make, model and registration number of any vehicles exceeding the speed limit. The results will then be forwarded to the Police who will arrange for the registered keeper of the vehicle to be written to, informing them that the vehicle was detected exceeding the speed limit, giving the location, date and time. Persistent speeders will receive a second letter but on the third occasion they can expect further action to be taken by the police.
Broadband
The Borough officer in charge of rolling out the Broadband project anticipates that villages such as Odell should be included in the Borough's second project as previously reported. We should know more when the extra SEMLEP/BDUK funding is approved this Autumn.
The contract was signed last week for the second project and the initial indicative plan shows Odell as a Phase 1 area. Timing is uncertain but it is hoped that Odell will be included by the end of 2016 or early 2017.
For more general Borough news on broadband see below.
Annual Borough Update
Council Budget and Council Tax
Bedford Borough Council's budget for 2015/16 was approved by councillors at a meeting on the 4th February. The budget includes savings totalling £9.1m while there will be a 0.25% cut in Council Tax following the receipt of a £784k grant from the Government.
At a meeting at the end of February the Borough Council agreed how much residents will pay in Council Tax precepts in 2015/16. Since then, residents have rejected the Police and Crime Commissioner's (PCC) proposed 15.84% precept increase for Bedfordshire Police via the referendum in May. This means that there will be a rebate for residents as the increase was included in the schedule of payments issued before the start of the financial year.
The overall Council Tax payable for average Band D properties in the Borough is £1,577.11. This includes the precept for the Council, parish councils, Bedfordshire Police and the Fire Service. The actual amount in each area will depend on parish precepts and Special Area Charges for specific services.
Broadband
The 'Accelerating Bedford' superfast broadband project has progressed during the last year. The Council is working in partnership with the Government for the first phase of the scheme to deliver basic speeds of at least 2 Megabits per second (Mbps) to all premises and superfast speeds (at or above 24 Mbps) to 90%. However, the Council and the Government are set to contribute £1.2m each for a second phase to proceed which, according to Council officers, should allow 'comfortably in excess of 95%' of properties to benefit from superfast speeds in the coming years. The contract with BT for the second phase was signed at the end of April.
BT has undertaken works to cabinets and a number of these have gone 'live' in recent months, thus providing areas with superfast speeds. A schedule of when each area is set to benefit from superfast broadband under the first phase can be found at www.bedford.gov.uk/broadband While some areas have frustratingly been left out of the first phase, it is likely that the vast majority of properties will be covered by the second phase and details of the programme of works will be available in due course now that the contract has been finalised. Consideration is also being given to new technologies to provide superfast speeds to the small percentage of properties that cannot be accessed via superfast cabinets.
Gypsy and Traveller Sites
Council officers have provided an update on the latest situation concerning various Gypsy & Traveller sites in the Borough. Each site is taken in turn below:
Willow Drift Permanent Site (Formally Meadow Lane): this Council owned site is operational and in use, providing 14 pitches. This is in addition to the Council's site at Kempston Hardwick, at which there are 22 pitches. The existence of these sites will make it more difficult for applicants for private sites to prove there is a need for extra sites in the locality.
Bletsoe Appeal: This site was refused by the Secretary of State on the 1st October 2014. The appellant has submitted a claim to the High Court challenging the decision and a hearing date has been fixed for 9th July. If the challenge is successful the appeal will be re-heard at a new Inquiry.
Bedford Road, Roxton: The first Inspector's decision to allow permission for the site was quashed at the High Court on the 25th March 2014. A second hearing was held by the Planning Inspectorate on the 5th November 2014 but the appeal decision has still not been issued. The decision is overdue but the Borough Council has not been informed as to why this is the case by the Planning Inspectorate.
Bromham Nurseries: An appeal was lodged against the Council's refusal of planning permission for a 5-pitch gypsy caravan site but this was dismissed on 1st December 2014.
Bushmead Road, Staploe: The temporary permission for this site expired on 6th December 2014 and a planning application for a permanent site was refused on 26th January 2015. An Enforcement Notice to require cessation of the residential use and restoration of the land was served on the 19th February.
Education
The percentage of the Borough's pupils attaining 5 A* - C grades including English and Maths fell from 60% in 2013 to 52% in 2014. The fall in this standard seems to have been felt across the country and is largely attributed to changes in the way English is examined. Nevertheless, the Borough is ranked 7th out of 11 comparable local authority areas.
Schools in the Borough have, however, performed strongly in terms of Ofsted ratings. The latest Ofsted Annual Report (for 2013/14) shows that 95% of the Borough's lower and primary schools are rated as 'good' or 'outstanding' compared with 81% nationally . This places the Borough at 6th position in England and 1st in the East of England. The percentage of secondary schools achieving this standard was 77% against a national average of 71%.
Infrastructure
Work on the Black Cat roundabout has now been completed to increase the number of lanes and introduce traffic signals in an effort to reduce congestion.
The Government recently announced funding for the dualling of the A428 from the Black Cat roundabout to Caxton Gibbet, west of Cambridge. This will ensure that there is a dual carriageway stretching from the M1 at Milton Keynes to Cambridge.
Development of the second phase of the Bedford Western Bypass is also underway. This will connect the Biddenham roundabout with the Sainsbury's roundabout on the A6, which will provide a link between the A6 and A421 / M1/ A1 and take traffic out of Bedford town centre.
NHS Services
Following a difficult year in 2013, Bedford Hospital is now meeting all of the standards required by the regulator, the Care Quality Commission. As at mid-May, Bedford Hospital is also one of the best performing hospitals in the country for A & E waiting times, with 97.5% of patients seen within the 4 hour target.
The local NHS is currently the subject of an ongoing review which is seeking to integrate hospital and community services to improve patient outcomes, bring care closer to home and make services more efficient. At the end of last year it was confirmed that Bedford Hospital will retain 'core' services such as A & E, maternity and paediatrics. Despite this, it is likely that services will change, with the Hospital seeking to develop its links with other hospitals such as Addenbrooke's in Cambridge.
The Bedfordshire Clinical Commissioning Group (BCCG), the body responsible for local NHS services, has announced that it is set to record a £40m spending deficit for 2014/15. It is not clear yet as to how this will affect services, and indeed the healthcare review, going forwards.
Employment
As at October 2014, the number of Jobseekers Allowance claimants in the Borough was 2353 (or 2.3% of the working population). This follows a peak in recent years of 4363 claimants in February 2013. The recent fall is in line with a trend experienced across the country.
News from Harrold Odell Country Park
It seems like only five minutes ago since it was Christmas and here we are staring mid-summer in the face!
On June 13th and 14th between 11am and 5pm we are holding a Mini Woodworks event in the park. Attractions include a wheelwright, chainsaw carving, Peter Hall's wood processing machine and various stalls including a tombola in aid of the Friends Group. On the Sunday a band called Sax's Cool will be providing the entertainment. Look out for the posters that will be going up shortly.
It is the season for school parties to be coming out for studies in the park. Some are local but we have quite a few from outside the area including a group of 90 children from Chantry Academy in Luton. We will be cordoning off two areas of the car park on the day to accommodate two coaches the evening before their arrival but we hope they will have an excellent time.
The cattle in the river meadow have had a whole month now to get used to their new home and they have begun to settle down. We have, however, had a couple of incidents involving irresponsible dog owners. Can we remind people that it is an offence to let a dog chase livestock. Also, if we direct someone to put a dog on a lead in this area it is an offence not to comply.
We hate to have to pull people up about any issue in the park but sometimes we have to do this for the comfort of the wildlife, livestock and other park visitors.
Dog fouling is still an issue and even more infuriating, there are people who are bagging their dog mess then throwing it in hedges, hanging it on gates or trying to conceal it behind posts. Park staff are authorised to issue £75 fixed penalty notices to anyone caught doing this or failing to pick up. We provide dog bags at dog bins so there is no excuse. Please report any instances you may witness or give car registrations to us in order to stamp this out.
On a more cheerful note an Otter was seen on the island in the middle of Grebe Lake on May 13th. On the same day we heard our first Cuckoo. The sightings board outside the cafe is really full at the moment with the flora and fauna currently to be found in the park. Bedfordshire Natural History Society has been out surveying pond life and terrestrial insects. They will be sending us a species list in due course when everything has been identified. This will be a valuable aid to the Management Plan.
On May 22nd we hosted the judges from Keep Britain Tidy who were here to see whether we merited another Green Flag Award. We won't know until July whether we have been successful. If we do win again it will be for the eighth year in a row. We also won a coveted CPRE (Campaign for the Protection of Rural England) Mark for Landscape Improvement in 2010 and we are proud of our Trip Adviser "top attraction in the Bedford area" status.
June and July is the best time to look out for the more exotic flowers around the park. Last summer we had 4 species of orchid. In particular Bee Orchids did very well. This is a flower I'm particularly fond of but like all orchids can be very fickle. Where you see them one year you may return to look for them the next and there are none.
We manage certain areas of the park for orchids so it will be interesting to see what happens this year.
We would find it very hard to keep up with the high standards we aspire to without our wonderful Friends Group of volunteers. They have so many different talents and skills.
Of course Tea-zels Café also plays an enormous part in the overall offer in the park and we've no doubt that it wouldn't be the same experience without the hard work of their staff.
The fishing season starts on June 16th. We are still awaiting the new permits from the Borough Council but as soon as they arrive we will be able to sell them from the park office. We regret that we can take cash only but receipts can be issued on request.
PLEASE NOTE PERMITS WILL ONLY BE ISSUED ON PRODUCTION OF A VALID ENVIRONMENT AGENCY ROD LICENcE. NO CONCESSIONARY PERMITS FOR JUNIOR OR OAP APPLICANTS WILL BE ISSUED WITHOUT ONE.
This season's tariffs are as follows:
Day only (dawn – dusk) £43.00 Concession £21.50
Day and Night £67.00 Concession £33.50
Night only (dusk – dawn) £31.00 Concession £15.50
Please note that Permits issued at Harrold Odell can be used at Priory Country Park, Bedford and vice versa. There are no day tickets. The fishing here is not easy but the rewards are great when you do catch as our regular anglers can testify. There is CCTV in operation and access to the overflow car park is via a combination padlock.
Dares for your diary
Health Walks
Meet at the café entrance every other Thursday at 10.30am. We walk for an hour to improve your fitness and general wellbeing. Leader Janet Munro email janet.munro@bedford.gov.uk or call 01234 720016 for further information.
Thursday June 4th & 18th
Thursday July 2nd & 16th
Friends Task Days
Meet at the park office at 10am. The aim is to carry out general works around the park to enhance the environment. Held on the last Monday of the month (a week earlier if a bank holiday) gloves, refreshments and tools provided. Participants need a packed lunch, appropriate old clothing & sturdy footwear. E-mail Richard Dowsett Richard.dowsett@bedford.gov.uk or call 01234 720016 for further information.
Monday June 29th
Monday July 27th
Janet Munro
Greenspace Officer
The Mill Theatre, Sharnbrook
www.sharnbrookmilltheatre.co.uk
Reg. Charity 242164
Do you have tickets for these?...'better hurry!!!
MERRILY WE ROLL ALONG - 8th – 13th JUNE
Music & Lyrics by Stephen Sondheim
Book by George Furth. Based on the 1934 play of the same name by George S. Kaufman and Moss Hart.
Originally directed on Broadway by Harold Prince Orchestrations by Jonathan Tunick.
Originally produced on Broadway by Lord Grade, Martin Starger, Robert Fryer & Harold Prince in association with Ruth Mitchell & Howard Haines.
An amateur production in association with Joseph Weinberger Ltd on behalf of Music Theatre International of New York.
A THRILLING AND COMPELLING BROADWAY FABLE
The story begins in the 1970s and moves backwards to the late 50s,
tracing the lives of wealthy, jaded composer Franklin Shepard and his
two estranged friends through each milestone of their personal and
professional lives (good and bad). The show ends with a touch of rueful
irony, as the three best friends, at the start of their careers, face a bright
future: young, talented and enthusiastic about the worlds waiting to be
conquered. This is Stephen Sondheim and George Furth's tuneful and
compelling Broadway fable about friendship, compromise and the high
price of success.
M
TICKETS ON SALE NOW: (£11 – £13) on-line# www.sharnbrookmilltheatre.co.uk, [#booking fee]
also from Sharnbrook Post Office (in person)
and Bedford Central Box Office# NB: new address and phone 'No 13' St Pauls Square 718044. Parties: 781372 (10+ 10% discount ex charity/gala performances).
AF8th JUNE Charity night: The British Red Cross (Charity no 220949) Tickets: Heather Wells: 01933 622930
Sharnbrook Mill Theatre Warm Up Appeal for a green energy-based heating and natural ventilation system.
Sunday 28th June: DAMES AT TEA: JOANNA DAVID AND PHYLLIDA LAW – now booking! Definitely not to be missed!!
Mill Theatre Open Day –Sunday 26th July 11 – 5.30 pm
Live performances; displays and demonstrations; history and tours of the Mill; bars and refreshments; free parking and admission; all welcome!

Diary
June
3rd 10.30am Meeting point at Jane Smith's, Horsefair Lane, Odell
4th 10.30am Health Walk HOCP
12th 2.00pm Fete preparations, scout field, Horsefair Lane
12th – 14th Beer Festival at The Bell
13th 11.00am Mini Woodworks Event, HOCP
13th 2.00pm Odell Village Fete
14th 11.00am Festival weekend service in All Saints' church
14th 11.00am Mini Woodworks event, HOCP
14th 12.30 Bring and share village BBQ in Village Hall
14th 12.00pm Collection of Bulky Waste, village green
15th 3.30pm Messy Church, Harrold URC
16th 2.30pm W.I. outing to Cedar Farm
17th 10.30am Meeting point at Jane Eshelby's, Newton House, Avenue Rd., Newton Bromswold, Rushden
18th 10.30am Health Walk HOCP
29th 10.00am Friends' Task Day HOCP
July
1st 10.30am Meeting point at Jane Smith's, Horsefair Lane, Odell.
Magazine Deadline
Please send all entries for the joint July/August 2015 magazine to Tricia Hudson (ed at odellbeds.net) or Catherine Corkery by June 12th at the latest. May we remind you that the editorial team exercises the right to edit, shorten or alter any items that are submitted. Also, the opinions expressed in the articles are those of the contributors and are not the responsibility of the editorial team.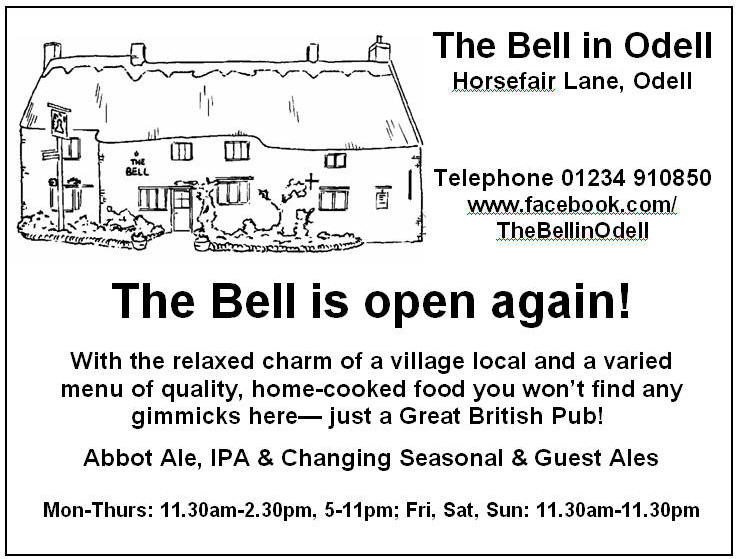 Click here for The Bell Facebook Page
Wodehill Cheese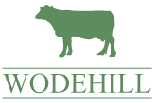 Wodehill Cheese — hand-made in Carlton
Wodehill Blue is a semi-soft creamy blue cheese
made with milk from Jersey cows in Carlton

Nearest stockists: Hurleys in Sharnbrook and Carlton Village Shop
Alex Stubbs Flooring
Carpets, Vinyls, Laminates, Safety Flooring, Adaptions, Refits, Repairs
Supplied and Fitted
07976 260572
01234 240954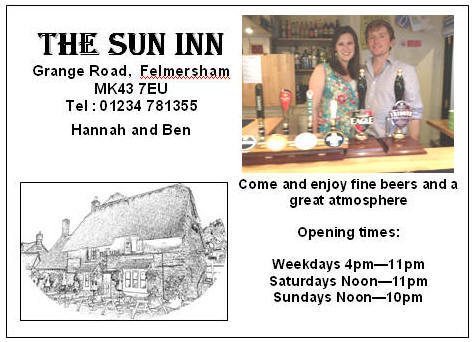 ---
Last revised: May 27, 2015.