ODELL VILLAGE NEWS
July & August 2015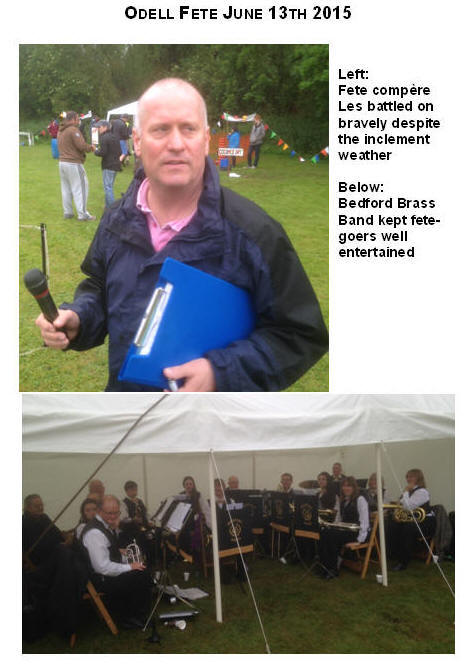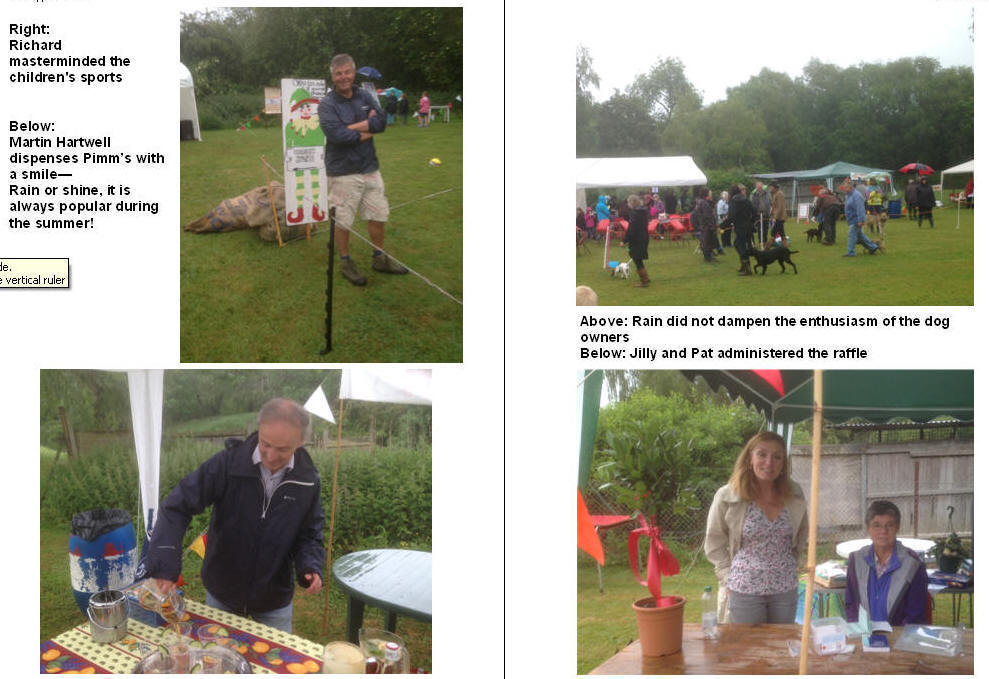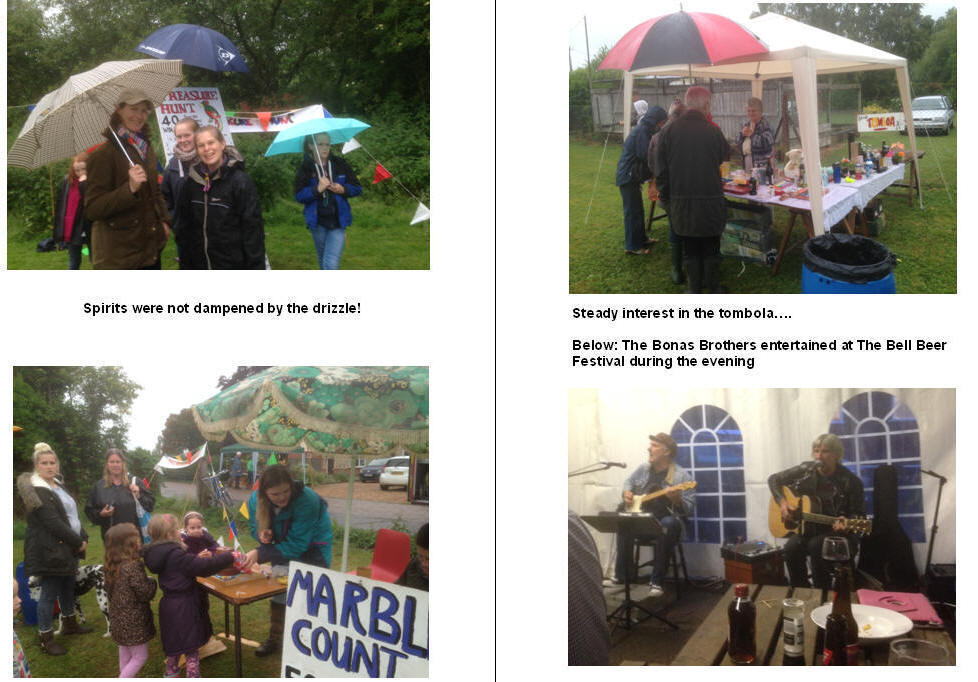 ART EXHIBITION & SALE
All Saints' Church – Odell, Beds MK43 7AA
Bank Holiday Weekend
29th, 30th, & 31st August 2015
2.00pm until 5pm
Now is the time to reveal your hidden talents!
If you would like to exhibit your paintings or photographs, please contact Catherine Corkery for an application form. Tel: 01234 720348
e-mail: catherinelcorkery@yahoo.co.uk.
Closing date for applications: Friday 14th August.
Hanging fee - £2.00 per painting
(fees waived for artwork by children under 16)
Entry for visitors £2 (children under 16 free)
Light refreshments available each day
Proceeds in aid of Church funds.
W.I. News
Members and friends thoroughly enjoyed a visit to Cedar Farm, Desborough on a lovely warm sunny day; thank you to Lynette for organising the occasion. Vicki and Robin Tuffen welcomed us to their beautiful garden, a serene and tranquil place with many hidden paths, sculptures and flower beds. Afternoon tea was served on the carefully mown lawn in front of the house.
Odell WI is celebrating 70 years and is holding a BBQ on Tuesday, 14th July, at 12.30pm at Greystones, hosted by Barry and Rachel Halton.
New members are always welcome and if you need any more information please ring Rachel Halton (01234 720572). Ladies, just come along to the Village Hall on the second Tuesday of each month and see what we do and how we enjoy ourselves. To find out more about the WI go to www.theWI.org.uk or the local Bedfordshire Federation website www.thewi.org.uk/bedfordshire Jane Eshelby
70 Years of Odell Women's Institute
The WI has been inspiring women for 100 years and this year has been holding centenary celebrations all over the country. The Women's Institute is always in the public eye, never shying away from making headlines that make the world sit up and listen. It influences Government and other important bodies, following topical issues on which Resolutions are discussed and debated at its AGM.
We are looking for new members to join us at Odell WI. We meet on the second Tuesday of each month in Odell Village Hall at 2.30 pm. As well as speakers and activities we enjoy coffee, tea and cookies and a good chat about friends, family, other village activities and topical matters at home and abroad. Please note we don't make jam and sing Jerusalem! Ladies, just come along and see what we do and how we enjoy ourselves. Here are some tasters from our new programme: Behind the Scenes at Waitrose with a visit and afternoon tea; a talk on Shackleton, the Explorer; Bedfordshire Verse; Wildlife in Norfolk and then we have a few social events including a summer BBQ and a Christmas Meal. To find out more about the WI go to www.theWI.org.uk or the local Bedfordshire Federation website www.thewi.org.uk/bedfordshire. The Bedfordshire Federation has its own Facebook page and group. Log in to www.facebook.com and search for 'Bedfordshire CFWI' or WI House, Bedford. For a friendly chat call our President Rachel Halton on 720572 or our Secretary Lynette Hall on 720723. Jane Eshelby
Borough Councillor's Report for Odell – June 2015
Contact Borough Councillor Alison Foster by telephone on 07773371190 or email at ajfieldfoster@gmail.com – Please note Alison's new email address.
Broadband Update
BT has announced the areas that will benefit under the second phase of the superfast broadband scheme which is being funded by the Council and the Government.
The first phase is well underway and is seeking to extend superfast broadband coverage (above 24Megabits per second (Mbps)) to 90% of premises and at least basic provision to 100%. The Council provides monthly updates on works undertaken to superfast broadband cabinets at www.bedford.gov.uk/broadband. Harrold and Carlton have both benefitted from this initial phase. Speeds have improved for Chellington but are slightly below the 'superfast' threshold as it is slightly further away from the upgraded superfast cabinet.
The second phase, as noted above, seeks to increase coverage to around 96% of premises and will cover many rural communities that were left out of the initial phase. Details of the areas included can be seen by clicking on 'Indicative Town / Village Coverage List' at the link above. Odell is set to benefit under this phase. Podington and Hinwick have benefitted independently of the Borough through a locally agreed contract. Wymington is for the most part already covered by superfast speeds given its proximity to Rushden.
Some outlying areas in the Ward may still not receive superfast speeds. However, they should receive 2Mbps under the first phase and the Council has said it is confident of obtaining additional funding later in the year to expand the superfast scheme. These areas could also benefit from new technologies currently being developed.
Broadband - Odell
Odell village itself will be included within the second project which has a lot of money (£2.4m) so has a significant contracting process to go through. The contract for the second project was signed in May and the initial indicative plan shows Odell as a Phase 1 area. Timing is uncertain but the end of 2016 or early 2017 looks possible. A variety of sizes of free standing cabinets may be the way forward but this will be more evident in project plans if and when the extra SEMLEP/BDUK funding is approved this Autumn
Harrold Solar Farm – Dungee Road, Harrold
A Parish Referendum was held in Harrold Parish on 30 April. This resulted in 266 residents voting against and 256 voting for the development. Turnout was 40.22% and the Harrold Parish Council considered that the number of people motivated to vote justified the decision to hold the referendum as there was obviously strong support on both sides.
This application is likely to go to the July Planning Committee. It is not too late for residents to submit their comments to the Borough's Planning Department. Residents wishing to write to the Borough in relation to this application may do so up to the day of the planning committee meeting when comments will be summarised and reported to the committee.
Possible Solar Farm Yellnow Lane
The Borough Council has received a Screening Opinion in respect of a proposed Solar Farm at Colworth, Yelnow Lane, Sharnbrook (ref. 15/01377/EIASCR). Whilst the address provided by the applicant refers to Sharnbrook the site falls wholly with the Parish of Odell.
The screening opinion is to determine the requirement for an Environmental Impact Assessment (EIA) to accompany a planning application for a proposed solar farm and associated works. The site comprises three fields currently in agricultural use, with a total area of 21.3 hectares (52.6 acres). The proposed development would be a solar farm for the generation of up to 5MW of renewable energy comprising the installation of solar panels arranged in rows with associated inverters, transformers and substation, underground cabling, perimeter fencing and CCTV cameras, and associated infrastructure and landscaping.
The regulations state that the Council should issue the Screening Opinion within 21 days of the request being submitted, and the Screening Opinion should be placed on the Public Register. The determination date is the 25th June.
The developer proposes to hold a consultation in Odell Village Hall to invite feedback from residents on 7th July from 13.00 to 19.30. The potential site can be seen on the plan below.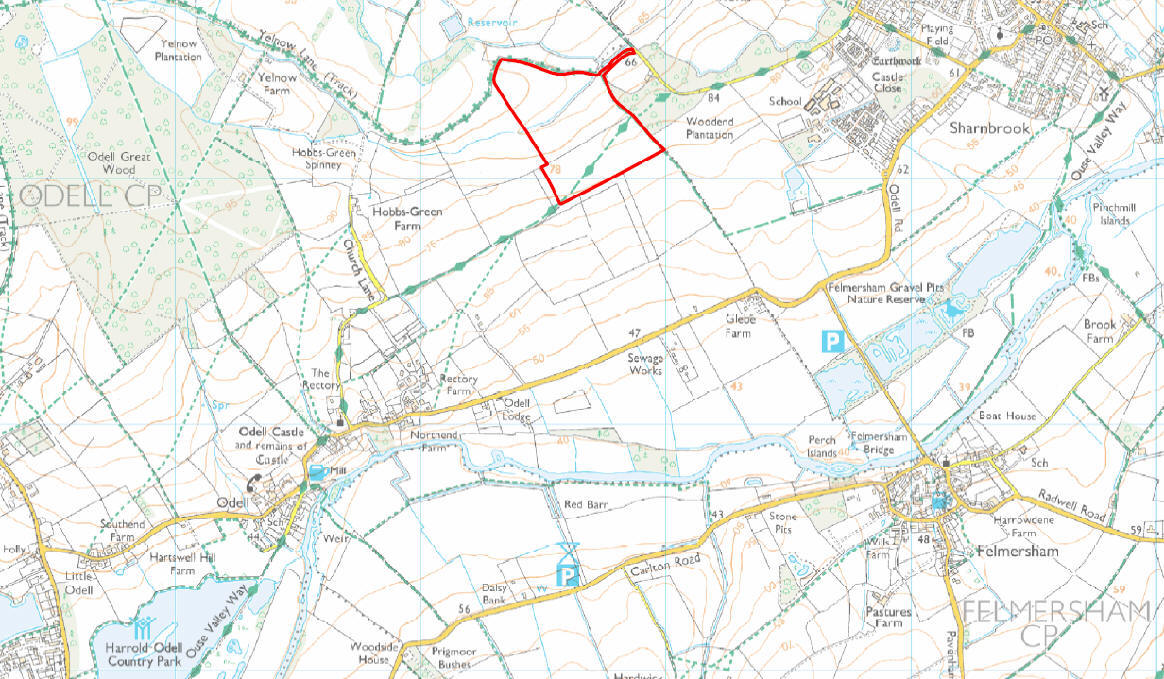 Bedfordshire Clinical Commissioning Group
You may have seen in the local press that the body responsible for organising NHS services in Bedfordshire is in a great deal of financial difficulty.
Mid-way through the 2014/15 financial year, the Bedfordshire Clinical Commissioning Group (BCCG) belatedly realised that its financial monitoring was in no way accurate. The BCCG subsequently forecasted a massive loss for the end of the financial year and this figure spiralled out of control by the time April came around. It was reported at the Governing Body meeting in May that the BCCG recorded a £12.7m deficit in 2013/14 (having originally believed it made a surplus) and a £30.5m loss in 2014/15. The combined deficit for 2013/14 and 2014/15 was a staggering £43.2m.
The BCCG has now set up a Finance Committee and it is hoped that the scale of the problem has been identified. An array of reasons for the debacle have been highlighted, including wildly inaccurate financial assumptions, contract disputes with other bodies and the failure to realise efficiencies.
Senior members of the BCCG's Governing Body have resigned and an interim Accountable Officer has been appointed. More importantly, NHS England has stepped in and issued formal 'directions', which means in practice that it will oversee the BCCG's budget and governance arrangements.
The new Accountable Officer has said that efficiencies can be achieved to resolve the situation without the need to cut services, including those provided at Bedford Hospital.
Council Tax
The Council has started reissuing Council Tax bills following the rejection at the referendum in May of the Police & Crime Commissioner's proposed 15.85% increase in the Bedfordshire Police precept for the current financial year.
Bills issued just before the start of the year included the 15.85% rise which would have amounted to an extra £24.80 each year for an average Band D property. However, the new bills have reduced the Bedfordshire Police precept increase to 1.99%, which is just under the threshold before a referendum must take place.
A refund will be issued to any household that has already paid the balance in full. The cost of re-issuing the bills is being met by Bedfordshire Police.
Chief Constable Retirement
Colette Paul, the Chief Constable of Bedfordshire Police has decided to take early retirement having been in post for 2 years and in policing for a total of 33 years. Deputy Chief Constable John Boutcher will take over on an interim basis.
News from Harrold Odell Country Park
The months of June and July can be busy times in the countryside. Everything is growing at an alarming rate. Not only do we have the park to manage but other sites within the Borough Council Estate as well. All of them have differing requirements according to what habitats can be found within them.
We look after Yelnow New Wood beyond Odell village. It was arable farmland until about 40yrs ago when it was turned into a woodland plantation bisected by a green lane with a stream running through. Various rides criss-cross it giving access to the different plots containing trees of different species. There are sections of ash, oak and hazel with a small area of conifer and willow.
It is now a good time for insects. The rare 4-spotted moth has been recorded there plus a good and varied flora. The trees are now of an age when they need thinning out in order to give the best quality specimens room to mature properly. We plan to make a start on that this autumn to compliment clearances already done by the Butterfly Conservation Group over the last 3yrs. Hazel coppicing carried out by a local thatcher has provided him with the materials needed to carry out his trade. The rides are mowed in the autumn by a local farmer under contract.
Other sites include Stevington Country Walk, Daisy Bank Picnic Site near Felmersham, Pavenham Bury and Lower Farm Road Nature Reserve, Bromham. There are watching briefs on places like Salem Thrift, Biddenham Loop, Judges Spinney and Brown's Wood, Clapham. Our colleagues based at Priory Country Park, Bedford have these and other sites closer to them.
On May 22nd we were judged by representatives of the Keep Britain Tidy Group for another Green Flag Award. It will be the eighth year in a row if we win again. We will have to wait until July for the final verdict so here's hoping!
We have been making a concerted effort to spruce up the main car park area. Community Payback groups have been working with us for a number of years mainly on Saturdays undertaking a variety of tasks like clearing scrub, cutting back footpaths and erecting shelters. Just recently they have been putting in new wooden bollards around the car park to replace the rotting crooked ones that were there before.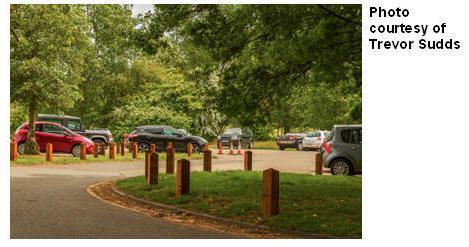 We intend to get the white lines repainted this year as well and an order has been placed to get this done. Volunteers from the Friends Group have been strimming the perimeter, edging back the grass overhanging the kerbs, trimming hedges and re-staining the carvings in the entrance.
The spring breeding season is coming to an end now. We will be out with the volunteers on hedge trimming missions for several weeks. They are quite overgrown on the top and overhanging the paths in places. In the winter we will be laying another length to bring it into management.
There may be scope for the cuttings to go to Woburn Safari Park to feed the giraffes which will be fun if the idea gets the go ahead. They are always looking for ways to provide them with fresh forage.
The Friends Group has used some of your car park donations to buy bamboo screening for the new compound. We are also rearranging some of our storage in order to be more efficient and to house some new hand tools.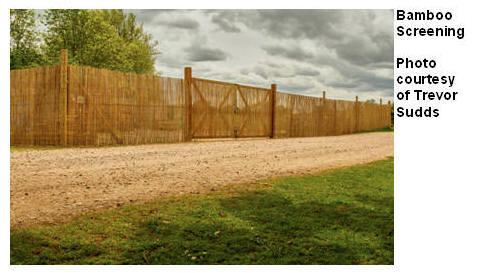 On June 13th/14th between 11am – 5pm we held our latest Mini Woodworks event. The weather on the Saturday was awful and we went home quite despondent. However, on Sunday things were much better and people came out in large numbers to look at the chainsaw carvers and firewood processor in action.
Other attractions included a wheelwright who demonstrated the art of making wooden spokes for carts. He'd come all the way from Preston, Lancs., to attend. There was a willow weaving workshop provided by Wasseldine on the Saturday that proved very popular.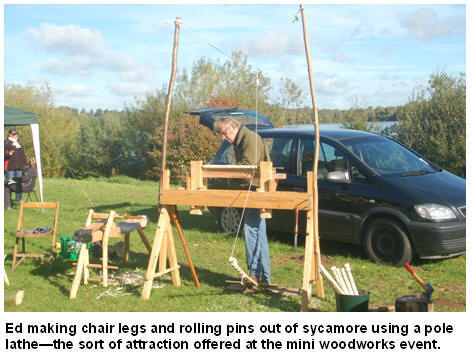 On Sunday 14th between 2pm – 4pm Sax's Cool performed in the marquee to a good reception. We also had a bodger, a walking stick maker and a stall selling Japanese hand saws that were super sharp but light weight. They did very well and I treated myself to one for my tool box. The Friends group tombola did very well indeed and we'd like to thank everyone who donated prizes and who supported it on the day.
The fishing season kicks off on June 16th. The fishing at Harrold is not easy but there are some very big fish to be had in both lakes and the river. Fishing is by permit only available from the park office from June 8th onwards. Anglers must be in possession of a valid Environment Agency rod license. No concessionary permits will be issued without one. We regret that we can only accept cash payments and receipts issued on request. For further information please e-mail hocp@bedford.gov.uk
This season's tariffs are as follows:
Day only (dawn – dusk) £43.00 Concession £21.50
Day and night £67.00 Concession £33.50
Night only (dusk – dawn) £31.00 Concession £15.50
Please note that permits issued at Harrold Odell can be used at Priory Country Park, Bedford and vice versa. There are no day tickets available at either Harrold or Priory. The fisheries are permit holders only.
Dates for your diary
Health Walks
Meet at the café entrance every other Thursday at 10.30am. We walk for an hour to improve your fitness & wellbeing. Leader-Janet Munro. Either e-mail janet.munro@bedford.gov.uk or call 01234 720016
July 2nd & 16th
August 13th & 27th
Friends Tasks
Meet at the Rangers office at 10am. The aim is to carry out general works around the park to enhance the environment. Held on the last Monday of the month (a week earlier if a Bank holiday). Gloves, refreshments and tools provided. Participants need a packed lunch, appropriate old clothing & sturdy footwear. E-mail Richard.dowsett@bedford.gov.uk or call 01234 720016 for further information.
Monday July 27th
Yoga in the Park
Linda Wheatley is resuming her popular Yoga in the Park sessions starting on Sat. 4th July between 8.15am – 9.15am. The next session will be on Saturday 11th July then she is on holiday with sessions resuming on Sat. 1st August. Those interested in knowing more must contact her direct on 01234 721342. Janet Munro Greenspace Officer.
The Mill Theatre, Sharnbrook
www.sharnbrookmilltheatre.co.uk
Reg. Charity 242164
What's on in July...
Moves
The next performance by the improvisation comedy crew
AT THE DROP OF A HAT:
Fri. 10th July, 8 for 8.15 pm at 'The Mill'
Just £3!
Mill Theatre Open Day –Sunday 26th July 11 – 5.30 pm
Tours backstage, Live performances, Demonstrations and Refreshments.
Free Parking and Admission and much, much more.
All Welcome!
Coming up...
Gasping— 3rd – 5th September at 7.30
Ben Elton's hilarious, critically acclaimed, 1990 comedy
Anyone who's aged between 16 and 25 can audition for the 6 parts (3 male, 3 female). Workshop: 1st July; Audition: 3rd July, both at 7.30pm. Director: Paul Wildman. PWildman@lincroft.beds.sch.uk
My Boy Jack—Mon. 14th – Sat. 19th September, 7.30 pm
Torn between a fierce, patriotic love for his country and his love for his son… A powerful and moving account of Rudyard Kipling's ultimate anguish and guilt at the loss of his son in the First World War.
Now booking on-line (£1 fee) www.sharnbrookmilltheatre.co.uk
National Operatic and Dramatic Association awards for NODA East District 2
We are delighted to share with you the news of our most recent Awards,
for which all 4 of our shows in 2014 were nominated!
Best Youth Production: Miss Saigon School Edition®
Best Youth Performer: Jasmine Bayes as Kim in Miss Saigon School Edition®
Best Overall Production Shield: Presented to the entire cast - Miss Saigon School Edition®
Best Drama for excellent costumes and atmospheric two-level set Macbeth, (for which On Golden Pond was also nominated)
Best Technical Award Camelot (for which Macbeth was also nominated)
This is the 5th year in succession a cast member of Sharnbrook Mill Youth has won the Award for Best Youth Performer!
Congratulations to All involved with these productions.
Diary
July
1st 10.30am Meeting Point at Jane Smith's, Horsefair Lane
2nd 10.30am Health Walk, HOCP
14th 12.30pm W.I. BBQ at Rachel Halton's, Greystones, Odell Rd.
15th 10.30am Meeting Point at Madeline's, 15 Horsefair Lane
16th 10.30am Health walk, HOCP
26th 11.00am Mill Theatre Open Day
27th 10.00am Friends' Task day, HOCP
29th 10.30am Meeting Point at Catherine's, The Stables, Church Walk, Harrold
August
3rd-7th Daring Detectives Holiday Club
13th 10.30am Health Walk, HOCP
17th -21st Seniors' Holiday Club, Carlton
27th 10.30am Health Walk, HOCP
29th 2.00pm Art Exhibition and Sale, All Saints' Church, Odell
30th " " " "
31st " " " "
September
2nd 10.30am Meeting Point at Eileen Nottage's, Heydown, High St.
Magazine Deadline
Please send all entries for the September 2015 magazine to Tricia Hudson (ed at odellbeds.net) or Catherine Corkery by August 12th at the latest. May we remind you that the editorial team exercises the right to edit, shorten or alter any items that are submitted. Also, the opinions expressed in the articles are those of the contributors and are not the responsibility of the editorial team.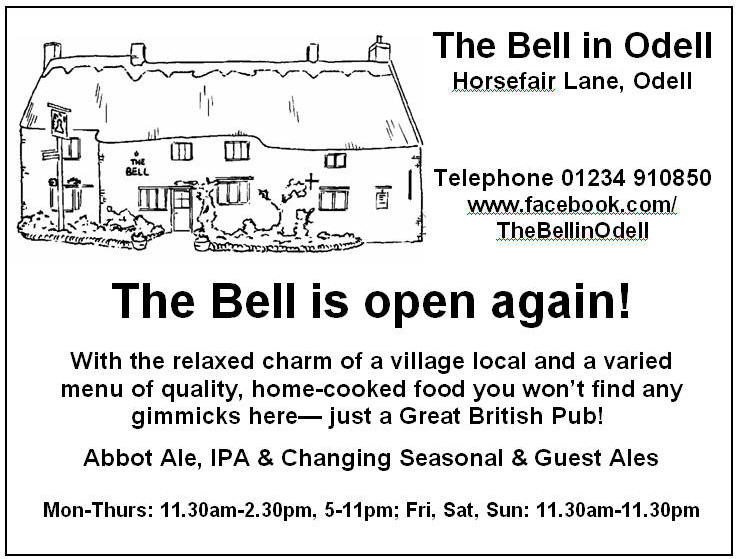 Click here for The Bell Facebook Page
Wodehill Cheese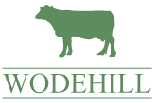 Wodehill Cheese — hand-made in Carlton
Wodehill Blue is a semi-soft creamy blue cheese
made with milk from Jersey cows in Carlton

Nearest stockists: Hurleys in Sharnbrook and Carlton Village Shop
Alex Stubbs Flooring
Carpets, Vinyls, Laminates, Safety Flooring, Adaptions, Refits, Repairs
Supplied and Fitted
07976 260572
01234 240954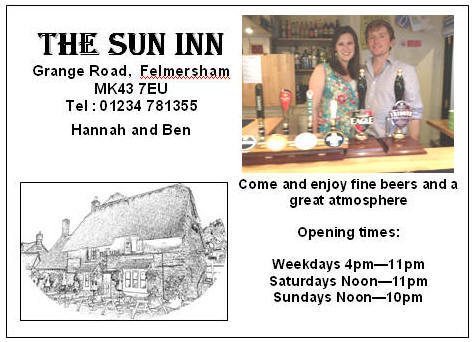 ---
Last revised: July 02, 2015.