ODELL VILLAGE NEWS
December 2015- January 2016
Please note that the dedicated All Saints' Odell parish magazine will stop in February 2016 with a final double-month printed issue.
The Harrold Bridge magazine will include some notices and information for Odell, from April 2016 onwards.
For this web version, instead of monthly updates, we will update the links on the home page which will cover most of the information previously collated here.
For example:
Jon Hudson email: letters at odellbeds.net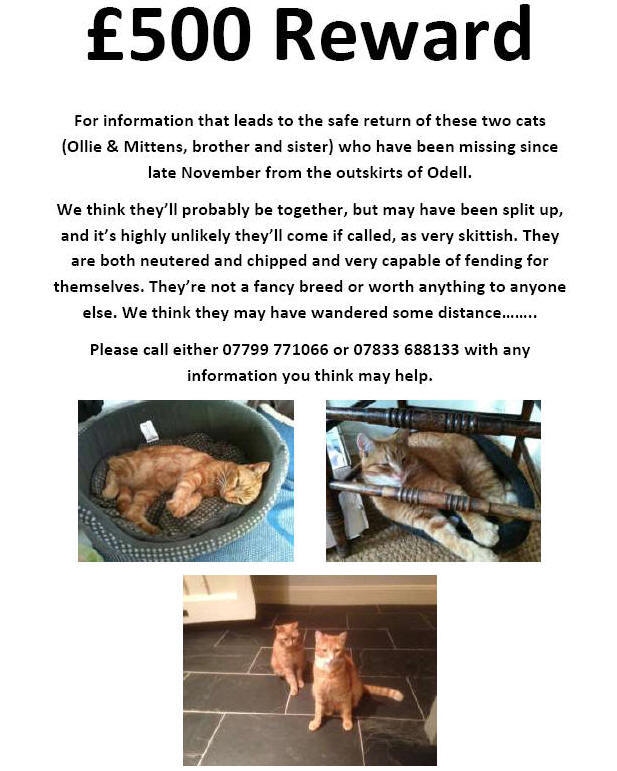 Senior Citizens' Christmas Lunch
The Senior Citizens' Christmas Lunch will take place on Wednesday 16th December at 12.30 in the Village Hall.
Please let Jill know (720261) by 6th December if attending.
Happy Birthday to
Charlotte Lloyd on the 24th January and to anyone else with a birthday in December or January.
W.I. News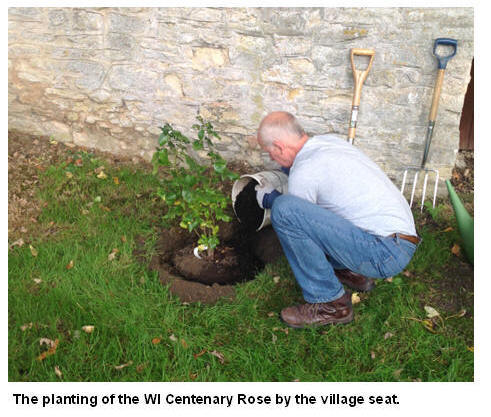 Towards the end of October our Centenary Rose was planted near the seat, under the wall of Odell Castle, on the green. A big thank you to Margaret, Richard, Barry, Mike and Kathy for their invaluable assistance in the preparation and planting of this special rose to mark 100 years of the WI.
In November members got into the Christmas spirit by making Christmas cards, all thanks to Doreen for her meticulous preparation. Robins, Christmas trees, sparkling stars adorned our creations. It was a very happy afternoon, with lots of chatter, a cup of tea and we all went home with two finished cards to be proud of. We think afternoon meetings are working really well.
On Tuesday, 8th December at 7.30 pm we look forward to a Bring and Share Christmas Meal at Linden House, the home of Jim and Doreen Wheeler. Members are reminded the theme is Holly and Ivy.
On Tuesday, 12th January we shall be Kurling in the Village Hall at 2.30pm. We shall enjoy Bring and Share Nibbles during the afternoon.
New members are always welcome and if you need any more information please ring Rachel Halton (01234 720572). Ladies, just come along to the Village Hall on the second Tuesday of each month and see what we do and how we enjoy ourselves. To find out more about the WI go to www.theWI.org.uk or the local Bedfordshire Federation website www.thewi.org,uk/bedfordshire Jane Eshelby
News From The Bell
Christmas opening times and events:
Christmas Eve: Serving a set menu with a Spanish theme, from 6.30 – 9.30pm.
Christmas Day: Open 12 -2.30pm
Boxing Day : Open 12 – 2.30pm
Opening times as normal on 27th
New Year's Eve: Party atmosphere, with free buffet
New Year's Day: Open 12-6pm
Music in the Bell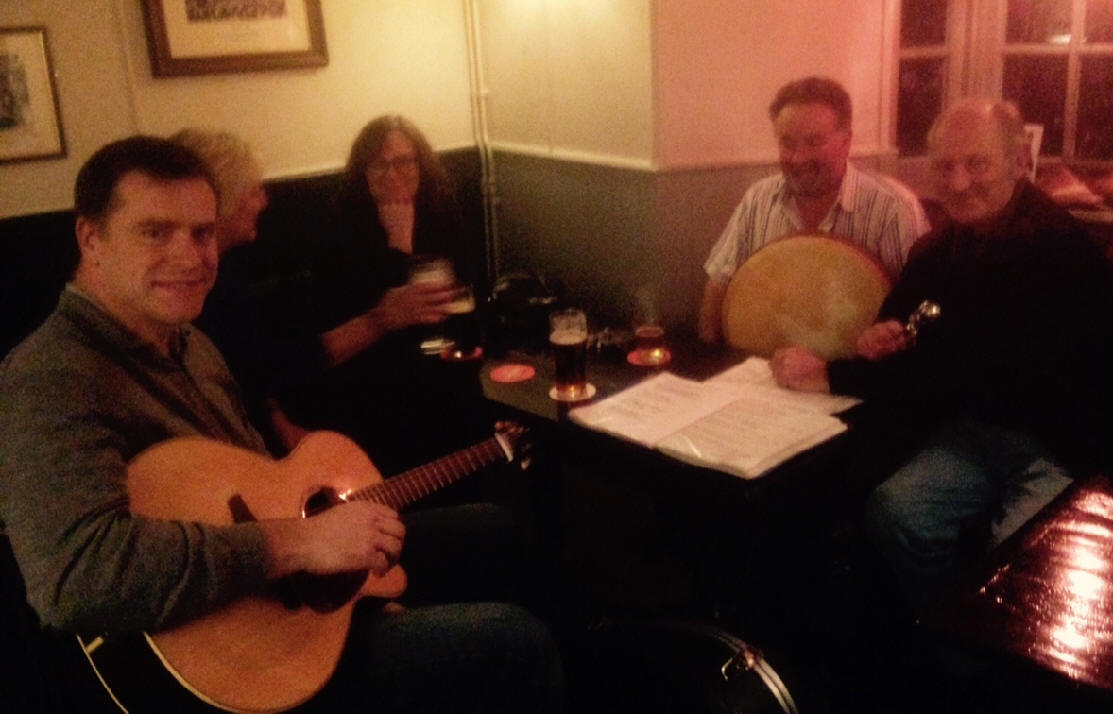 Go to the Bell on the last Sunday of each month, between the hours of 4 and 6pm, and you will be entertained by the lyrical sounds of Irish folk music: Callum on guitar and Caitlin singing, joined by John, Linda and Julian. For more information about December's event ask at The Bell.
Parish Council Meeting: 16 November 2015
Edited highlights
Bedford Borough Council Budget
The Executive of Bedford Borough Council has outlined plans for efficiencies totalling £689,000 in 2016/2017 which are now subject to public consultation. The proposals are the latest round of savings in response to anticipated funding reductions for local government - the Borough Council has forecast that further savings totalling £14.7 million will need to be made in the period to 2019/2020. The actual position for 2016/2017 and beyond will not, however, be known until the Government's Autumn Statement, scheduled to be announced on 25 November 2015, which is likely to provide further details on the Chancellor's stated intention for local government finance reform.
The Council's initial £689,000 savings plan contains a number of proposals including changes to school transport (with routes to be on offer only to the nearest geographical school or school with available places), an end to funding for speed limit reductions and average speed camera investment, and summer play schemes will cease. It is understood that a report on further savings is scheduled to be considered by the Borough Council Executive at its meeting on 16 December 2015.
Bedford Borough Local Plan 2032
The Borough Council has commenced an 8 week period of consultation on its Local Plan 2032 from 19 October 2015 which sets out plans for new employment, infrastructure and thousands of new homes in the urban and rural areas. The consultation includes 'drop in' sessions at various locations where officers will be in attendance to take questions from residents. Since the original consultation in early 2014, a number of important studies have been completed and the Borough Council is now inviting comments on a vision for the plan, the levels of housing, employment and other development required, the general locations for growth (the Development Strategy) and a methodology for selecting sites for development. The consultation also provides an opportunity to submit further sites for consideration as part of a 'call for sites'.
The report identifies the need for new land allocations to meet the need for 4,521 new homes over the Local Plan period to 2032. The Development Strategy looks first for development opportunities in and on the edge of Bedford and Kempston, then apportions growth to rural settlements depending on their size and infrastructure capacity. Villages are placed in one of 4 groups and the consultation report gives an indication of the scale of growth for each village. Based upon the proposed apportionment of growth, 10-20 dwellings would be allocated to villages like Odell.
Village Speeding
The Parish Council, at its previous meetings, had been considering possible solutions to the serious concerns at the speed of vehicles travelling through the village and requested the Borough Council to consider practical options to help reduce traffic speeds. Borough Highways have now indicated a preparedness to install an additional two sets of SLOW marking on the approach from Harrold, the installation of a vehicle activated bend sign with the words SLOW DOWN to raise awareness of the bend on the approach from Harrold and to consider increasing the signage around the bend to improve awareness. The Parish Council, whilst supporting these measures, continues to stress the need for the provision of average speed cameras.
Parish Litter
Parish Councils are now being provided with rolls of orange sacks to distribute to residents requiring more recycling capacity over the Christmas and New Year period. In this regard, The Bell Public House has confirmed its preparedness to act as a distribution point for the orange sacks during opening hours. In accordance with the scheme, residents will be able to place the extra sacks of orange recycling beside existing bins and these will be collected throughout January 2016.
Village Play Area
Following the successful application for funding to the Rural Affairs Committee of Bedford Borough Council and the award of grant of £20,000, a contractor has been appointed to supply and install new playground equipment and to undertake resurfacing works. The appointed contractor has advised that the equipment is on order from Wicksteed Playgrounds with an expected delivered date of 14 December 2015. Commencement on site is scheduled for 7 December 2015.
Odell Village Hall
The Village Hall Committee continues to meet to plan for the future of this important amenity, including the establishment of a varied events programme. The Committee is functioning well with recent successful events, including a live theatrical performance of "Tartuffe" and the ever popular 'Melvis' event, which were well attended. A children's theatrical production is planned for 20 December 2015.
Parish Budget and Precept 2016
The Parish Council has approved its budget for 2016/2017 and this endeavours to provide essential financial support, including maintenance needs, for the range of parish assets and key areas of service. It also makes some provision for the replacement and upgrade of assets, although in reality these are often expensive and can rely on established reserves or other funding sources.
In determining the 2016/2017 budget, due regard was given to the level of Precept to be applied. The 2015/2016 Precept had been based upon 136.61 Band D equivalent properties (being the indicative number of properties calculated as at 30 November 2014) at a £51.75 Band D Council Tax level (i.e. a total Precept of £7,070). The meeting supported a Precept of £7,200 for 2016/2017, the equivalent of a 1.8% increase, to offset the loss of the Council Tax Support Grant from the Borough Council from 1 April 2016 and to provide for a small increase in costs in 2016/2017. This will increase the Band D Council Tax to £52.70 based upon the Tax base at 30 November 2014 [Note: The Tax Base is re-calculated annually as at 30 November in each year and, as such, there may be a small variation in actual sum collected from the Precept].
Date of Next Meeting
The next meeting is scheduled to take place on Monday 18 January 2016 at 7.30pm.
HARROLD TWINNING ASSOCIATION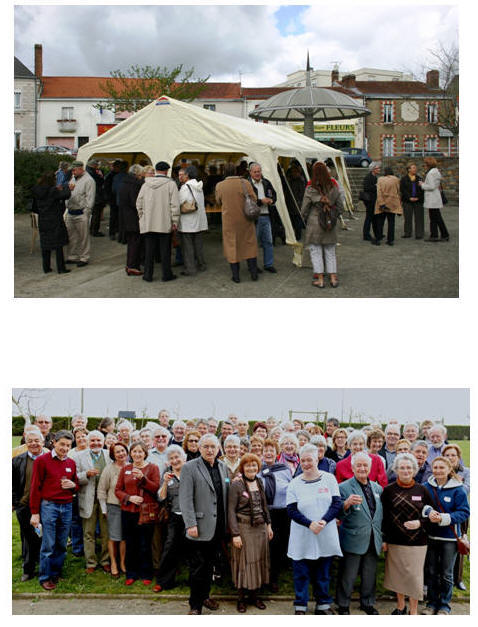 Are you interested in France and the French way of life?
For over 20 years Harrold Twinning Association has been twinned with Ste Pazanne, a small town in North West France close to Nantes.
In June 2016 (as we do every two years) we shall be visiting Ste Pazanne for a few days, staying with our hosts, visiting local attractions and enjoying the French way of life. In alternate years we return the hospitality, hosting our French friends in Bedfordshire.
Over the years we have made many long-term friendships. We would now like to expand our group and welcome more families, couples or singles from Harrold and the surrounding area to join us. Options are either supporting our events, coming on our trips to France or hosting a visitor.
We have no fee for joining. However, to enable us to return the hospitality given to us, we hold a number of enjoyable fund-raising social events throughout the year. These include:
Our annual Burns Brunch
Wine tastings
Summer BBQ
Jazz teas
Barn dances
Various talks and demonstrations
Spring and Autumn walks
For more information please visit our website - www.harroldtwinningassociation.com
or contact Pam, one of our committee members, on 01234 720210.
We also have regular articles detailing our current events in The Bridge, Harrold and Carlton's parish magazine.
A warm welcome is assured!
Borough Councillor's Update for Odell,
Contact Borough Councillor Alison Foster by telephone on 07773371190
or email at ajfieldfoster@gmail.com
Conversion to 2 Tier Education System
From the 4th November to the 16th December Bedford Borough Council will be consulting on changes to the local education system.
As it stands, the Borough is one of the few places in the country to have a predominantly 3 tier system. The Council announced in July that it would resurrect the transition to 2 tier which was agreed several years ago, only not to go ahead after funding was no longer forthcoming. The Council has set aside £39m of existing funds to provide the necessary facilities. The implementation of the system would take place over a 2 year period from September 2017 – September 2019.
The Mayor's Executive will consider the results of the consultation at its meeting on the 20th January along with proposed funding allocations for the necessary facilities.
Residents can give their views on the consultation report at www.bedford.gov.uk under the 'Council and Democracy' and subsequently 'Consultations' sections. The document shows how each school fits in to the proposed school structures for each geographical area of the Borough.
Bedford Borough Council Budget
See the Parish Council report on page 14 for full details.
The proposals can be seen at www.bedford.gov.uk under the 'Council and Democracy' and then 'Consultations' sections. Residents will have until the 14th December to give their views.
Bedford Borough Local Plan 2032 – Public Consultation
The Council has prepared a second consultation paper about the Bedford Borough Local Plan 2032. Since it last consulted on Issues and Options in early 2014, a number of important studies have been completed and the Borough is now seeking residents' views on them and on how the findings have been interpreted. The questions in the consultation paper invite your comments on a vision for the plan, the levels of housing, employment and other development required; the general locations for growth (the development strategy) and a methodology for how the Borough proposes to select sites for development. Please note that responses must be received by 5pm on 14th December 2015. All responses may be made public.
There is a need for 4,521 new homes over the Local Plan period and the Council is inviting people to send details of any sites suitable for development that were not submitted during last year's 'Call for Sites'. There is an opportunity to comment on a methodology for selecting Local Green Spaces; a new designation permitted by the National Planning Policy Framework. The Borough's Development Strategy looks first for development opportunities in and on the edge of Bedford and Kempston, then apportions growth to rural settlements depending on their size and infrastructure capacity. Villages are placed in one of 4 groups and Table 4 (Page 22) to the consultation report gives an indication of the scale of growth for each village or group is given. Odell has been identified as being able to accommodate between 10 – 20 new homes. To view the consultation documents, please go to www.bedford.gov.uk/localplan2032.
Flu Vaccine
The Council has issued a reminder to residents that they may be eligible to receive a free flu jab to protect them over the colder months. The vaccine will be available to the following groups:
· Aged 65 years and over
· Aged six months to 65 years with a serious medical condition such as: Respiratory, Heart, Kidney, Liver or Neurological disease
· Diabetes
· Immunosuppression
· Absence or dysfunction of the spleen
· Pregnant women
· 2, 3 and 4 year olds
· Children of school years 1 and 2
· In long stay residential care or residential homes
Unpaid carers
Residents should contact their GP if they would like to have the jab.
Energy Advice
Energy bills and keeping warm can be difficult for some people as the temperature starts to drop. If you would like any advice on bills and keeping warm you can call the Home Heat Helpline. The line is open 9am-6pm Monday to Fridays on 0800 336699. Calls are free of charge from landlines.
Village Hall News
On Saturday 14th November Odell Village Hall was "throbbing" to the sounds of Melvis—once again a sell-out event. As these photos show, it was a fantastic evening of entertainment.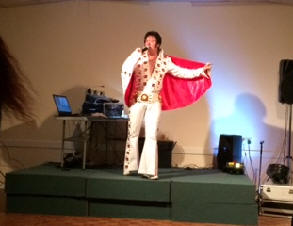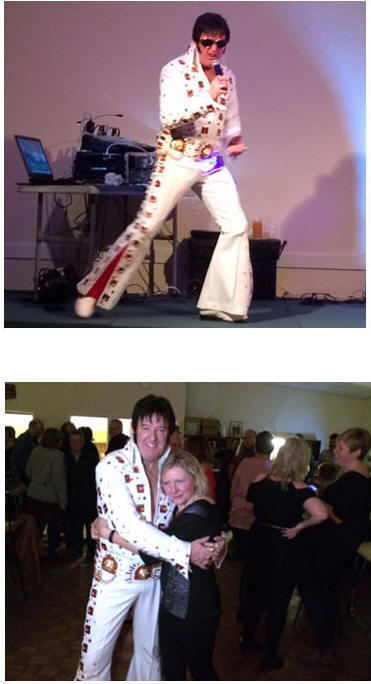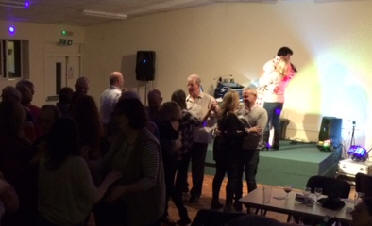 Events coming up:
The Little Match Girl (family Christmas show) - Sunday 20th December 3.00-4.00pm.
Please note that a flyer delivered to some houses incorrectly gave the day of this event as Saturday.
Ticket Prices
The Little Match Girl: Adult - £8, Adult concession - £6, Child - £6
Family group of 4 - £25, Family group of 5 - £30, Family group of 6 - £35
A family group must have at least one adult in it.
Burns Night Saturday 30th January
Traditional haggis supper with dessert and a dram of whiskey, £13.00. Traditional Scottish dancing; licensed bar and raffle. All proceeds to Odell Village Hall.
Contact Leslie Knowles 01234 721860.
All Tickets available from The Bell Elisabeth Evershed
News from Harrold Odell Country Park
There will be a lot happening this winter. From October – March all the major tree works are undertaken during their dormant period. Work has already begun on the next areas to be coppiced as we need a lot of stakes and binders for the next section of hedge-laying. Traditionally hazel is the preferred material for this but we don't have enough of it in the park. We therefore use the willow that we have in abundance.
While water levels are still low, we are coppicing the area next to the path out to the river meadow at the edge of the silt pond. This area has a lot of the materials we are looking for. We also have to replace a strip of hurdle fencing past the Grebe Lake Bridge that is currently preventing visitors from falling down a gully next to the path. The old fence has had it.
In late October, Peter Hall, the contractor who built the new bird hide in 2012 started constructing a board walk to take people out to look at the Dragonfly Pond in the Nature Reserve.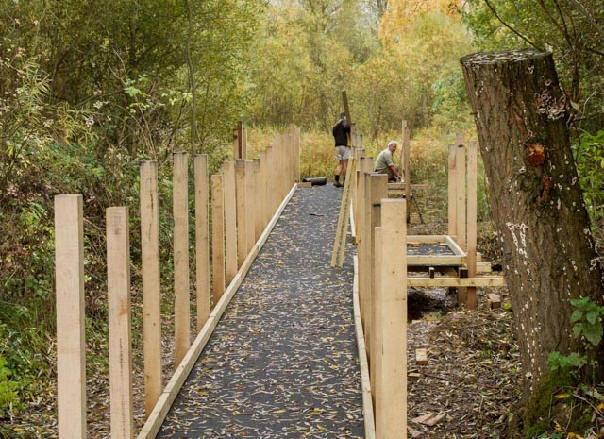 This project has been financed to the tune of £10,500 by The Friends of Harrold Odell from the proceeds of our firewood sales and car park donations. The £1,500 balance has come from grants from The Bedford Borough Council Disability Access Fund and Ward Funding via our local Councillor. The aim is to allow wheelchair and pushchair access along it with a passing place incorporated, a non-slip surface and steps down at the end. The entrance will be straight off the bridleway.
Another recent addition is the extra ramps in the skate park thanks to funding from Harrold Parish Council. The feedback we've had from the local users has been very favourable. The new equipment certainly presents them with more of a challenge.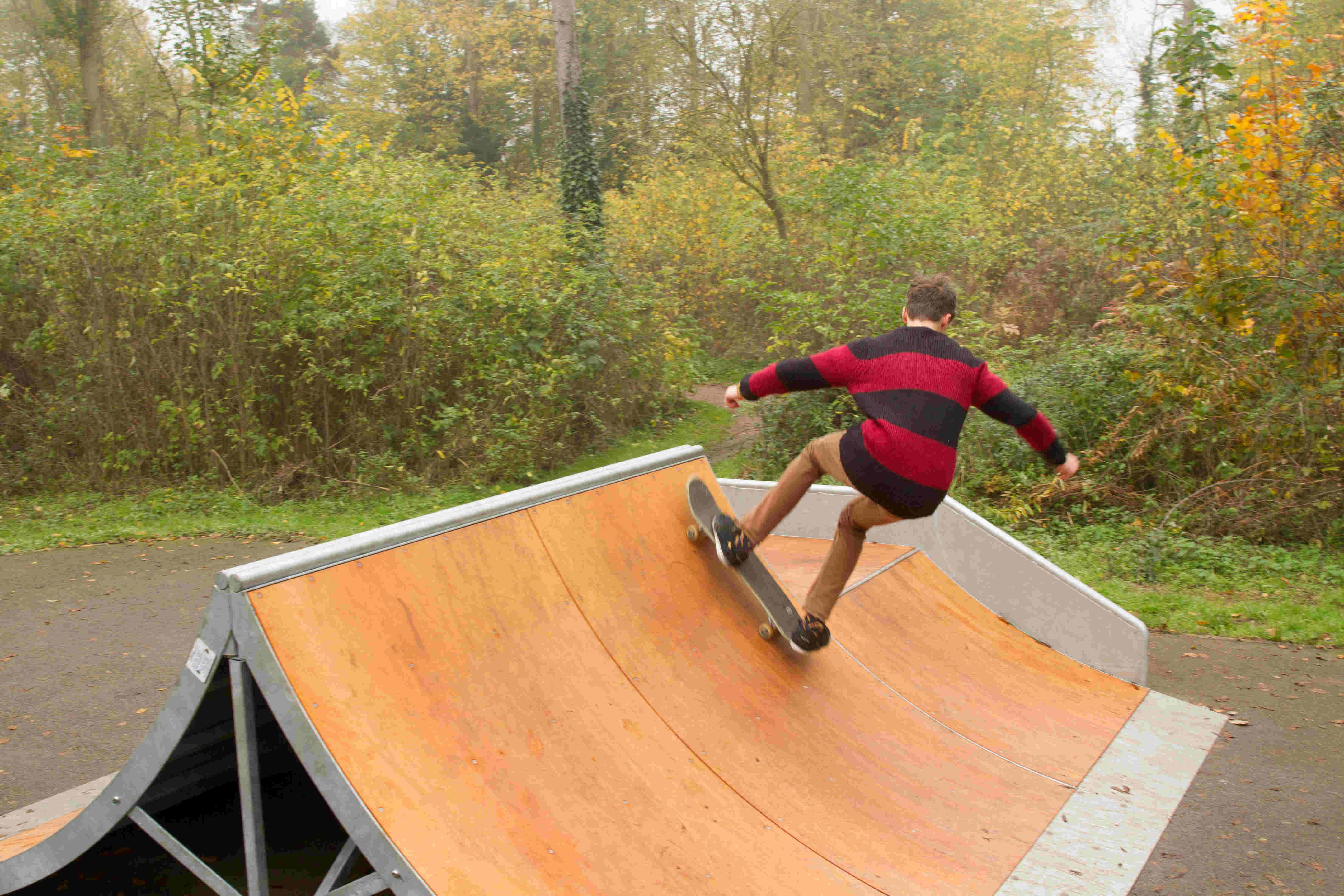 Our volunteers have recently completed the mammoth task of cutting back at least 10yrs. worth of vegetation overhanging the main fence line through the River Meadow. It was horrible stuff to handle – a mixture of fallen trees, wild rose, bramble and assorted thorn bushes. All the cuttings then had to be loaded on to the Land rover and trailer and hauled off to a fire site for disposal. We can now see the extent of the damage to the fence which will need a lot of new posts and wires re-strained ready for next year's cattle. The animals we had this year took the opportunity to scoff all the leaves off the cuttings and fought over the tasty sloe berries on the Blackthorn.
Dr. Sharpe from Pavenham is the grazier responsible for the cattle. He plans to start taking them off-site for the winter from November 8th. Once they are all off-site we will remove the grazing signs from the entrances. A new herd will go on next year at the end of April/beginning of May when signs will be re-erected.
We will need to get on to the island in the middle of Grebe Lake this winter to undertake urgent tree works over there. The storms last winter brought quite a few down in the central part and some of those on the edge overlooking the lake are teetering on the brink and will need extensive coppicing. If you see us on the island you'll know what we are doing. More open ground will give the geese a bigger nesting area and more wild flowers growing in there will feed the island bees.
Please feel free to ask questions about any aspect of the park and its management. There is always a reason for the work we do. Also, have a look at the website that is run by the Friends Group. Log on to www.hocp.co.uk or e-mail hocp@bedford.gov.uk There are I Spy sheets to download and a gallery of photos to look at in addition to all the general information.
Dates for your diary
Health Walks
This is a free national scheme aimed at people who are new to walking or have a health issue that would be helped by gentle exercise. The Harrold walks occur on a Thursday morning once a fortnight. We meet for registration at 10.30am outside the café entrance and walk for about an hour to improve your health and wellbeing. There's always the opportunity to have a coffee and a natter in the café afterwards. Leader: Janet Munro. For more information either e-mail janet.munro@bedford.gov.uk or call 07585 908821.
Thursday Dec. 3rd, 17th & 31st
Thursday Jan. 14th & 28th
Friends Task Days
These are held on the last Monday each month (a week earlier if it's a Bank Holiday). Volunteers come out with a packed lunch, sturdy old clothes & footwear to undertake conservation tasks around the park. We provide tools, gloves and refreshments. Meet at the Ranger's office in the café at 10am. For more information either e-mail Richard Dowsett on Richard.dowsett@bedford.gov.uk or call 07792 721866.
Monday December 28th
Monday January 25th
Janet Munro, Greenspace Officer
The Mill Theatre, Sharnbrook
www.sharnbrookmilltheatre.co.uk
Christmas Greetings to One and All, from the Governors and Members; with our warm appreciation of your valuable support during 2015.
December 2015
At The Drop of a Hat Improvisation Troup presents
'Christmas Comedy', Saturday 12th December, 7.30pm, at The Mill
Ticket: £12 including Fish and Chip Supper. Available via Paul Wildman; wildchildtheatre@yahoo.co.uk
Welcome to a wonderfully varied 2016 season!
On Sunday 28th February 2016, at The Quarry Theatre at St Luke's, St Peters Street, Bedford. 7.00 pm. :
BELOVED CLARA: Robert Schumann, Johannes Brahms, Clara Schumann – a true story of passion, music and tragedy.
The distinguished award-winning pianist Lucy Parham, with Joanna David and Martin Jarvis, two of our finest English actors, bring to life, in words and music, the story of the intense relationship between Robert Schumann, his wife Clara and the young Johannes Brahms.
♫ Beloved Clara's creation was inspired by Lucy Parham's lifelong passion for the music of Schumann and Brahms. Drawn from their intimate letters and diaries and illustrated by their wonderful piano music, this fascinating and moving story chronicles the sometimes troubled marriage of Clara and Robert, the triangle created by the deepening relationship between Clara and the dynamic 21 year old Brahms and Robert's decline into mental illness. ♫ Premiered at the Wigmore Hall Masters' series in 2002 and, internationally at the Bergen festival in 2007. It has since been performed on stage and on radio throughout the world to great critical acclaim.
♫ This performance is in aid of the Sharnbrook Mill Theatre's £300,000 'Warm Up' Appeal. We are very privileged to be able to present a special performance of this fascinating show and are hugely grateful to the distinguished artists who are donating their time to perform it.
♫ Tickets £20 From The Quarry Theatre Box Office: 10 – 12 Pm Mon. - Sat. (01234) 362337 www.quarrytheatre.org.uk Early booking advised
The show will be preceded by Champagne and Canapés 6.15 pm.
...and AT THE MILL THEATRE in 2016: (Performances at 7.30 pm, unless otherwise stated)
Romeo and Juliet - 14th – 19th March: Shakespeare's tragic romance.
Forbidden Broadway: 6th - 11th June: Broadway & West End Musical Farce Revue
Silly Cow: Mon. 12th – Sat. 17th Sept. A comedy by Ben Elton
Coram Boy: 26th –29th Oct: Dramatic, historic play, performed by Mill Youth 10 – 19.
Sleeping Beauty: December 2016: A pantomime for the festive season.
Tickets: On-line via www.sharnbrookmilltheatre.co.uk and from 5 weeks before first night at Sharnbrook : Twinkle, Twinkle Boutique, 67a High Street, (in person only) or Bedford Corn Exchange Box Office, 13 St Pauls Square (01234) 718044. Groups: 10+ 10% discount (01234) 781372
Diary
December
3rd 10.30am Health walk, HOCP
4th 10.30am Hamper Coffee Morning, Hobbs Green Farm
5th 4.30pm Carols on Harrold Green,
6th 10.45 am Toy service at URC
4.00pm Christingle Service, Chellington Centre
8th 7.30pm WI Bring and Share Christmas meal at Linden House, High St., Odell
9th 11.30am Meeting Point Christmas Lunch at Madeline's , Rivendell, 15 Horsefair Lane
16th 12.30pm Senior Citizens' Christmas Lunch, Village Hall
17th 10.30am Health walk, HOCP
20th 3-4pm The Little Match Girl, Village Hall
20th 6.00pm Carols by candlelight, All Saints', Odell
24th 11.30pm Midnight Communion Service, St Peter's
25th 10.30am Holy Communion for all ages, All Saints', Odell
28th 10.00am Friends' Tasks Day HOCP
31st 10.30am Health walk, HOCP
January 2016
6th 10.30am Meeting Point at Eileen Nottage's, Heydown, High St
12th 2.30pm WI Kurling in the Village Hall
14th 10.30am Health walk, HOCP
18th 7.30pm Parish Council Meeting, Village Hall
20th 10.30am Meeting Point at Catherine's, The Stables, Church Walk, Harrold
25th 10.00am Friends' Tasks Day HOCP
28th 10.30am Health walk, HOCP
30th Burns Night, Village Hall
Click here for The Bell Facebook Page
Wodehill Cheese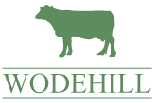 Wodehill Cheese — hand-made in Carlton
Wodehill Blue is a semi-soft creamy blue cheese
made with milk from Jersey cows in Carlton

Nearest stockists: Hurleys in Sharnbrook and Carlton Village Shop
Alex Stubbs Flooring
Carpets, Vinyls, Laminates, Safety Flooring, Adaptions, Refits, Repairs
Supplied and Fitted
07976 260572
01234 240954
---
Last revised: January 18, 2016.