ODELL VILLAGE NEWS
April 2015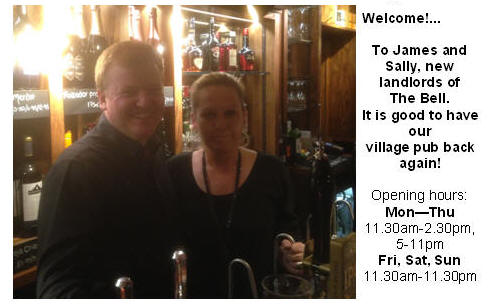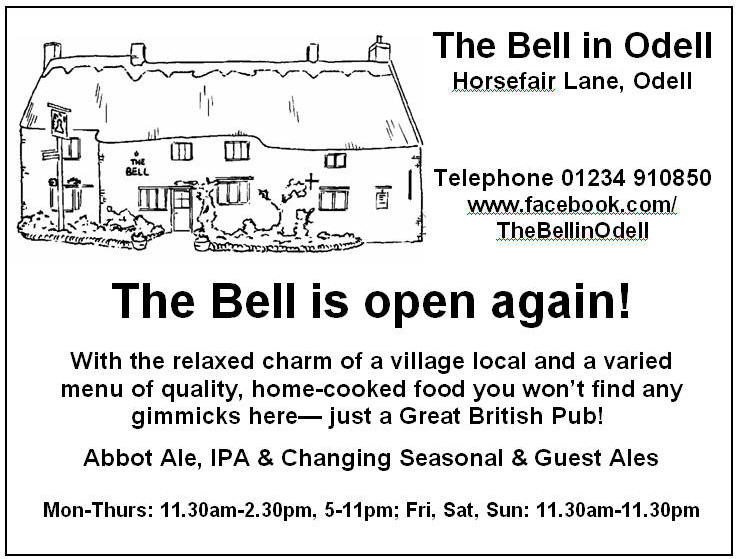 Click here for The Bell Facebook Page
Odell Fete and Dog Show
Saturday 13th June
Getting Involved
Last July a meeting was held in the Village Hall to discuss the future of the Fete. This was well attended and generally everyone felt the Fete should continue and it was hoped to have support from the younger members of our community not only on the day of the Fete but also by perhaps getting some more involved in the planning. So the PLANNING has already started – the PA system and the loos have been booked!! We do need as much HELP as possible. If you can help NOW please contact Mandy Hinds, 7 Horsefair Lane, Odell, 01234 720414 alodell@plus.com or Christine Clark 01234 918985 cmclark99@uwclub.net or call Jane on 01933 410959 jane@eshelby.co.uk
The first date to put in your diary is Fete Preparation Morning at 10.00 am on Bank Holiday Monday 4th MAY hosted by Jim and Doreen at Linden House when we clean and repaint the signs for the stalls and side shows and prepare the roadside boards. We then enjoy a BBQ lunch. Please bring your own meat and nearer the time we shall be asking for contributions of pudding and drinks.
The Big Preparation will be in the afternoon and early evening of Friday, 12th June, when we need muscles, good senses of humour, wheels, trailers and people willing to collect tents, tables, chairs and stall signs, and set these all up in the Scout Field down Horsefair Lane ready for the big day. Tea and Cake supplied to keep you going! The morning of the Fete also requires many hands to help complete the preparation and get the goods to the stalls ready for the Grand Opening at 2.00pm. Don't forget that we also have to clear the field at the end of the afternoon. All helpers are invited to a BBQ on Sunday morning at the field to round off the busy weekend.
We have yet to receive the latest info on what the exact agenda and what the classes are for the Dog show but this is what it was last year...
PROGRAMME OF EVENTS
2.00 pm Grand Opening
2.00-4.00pm Dog Show
4.00 pm Raffle Draw and Prize Giving
ATTRACTIONS
Bedford Brass Band, Boys' Brigade, Bouncy Castle, Teas, Pimm's, Children's Sports, Tombola, Ice Creams, Cakes, Books, Refreshments, Bottle Stall, Coconut Shy, Children's Sports, White Elephant, Produce, Gifts, Raffle
FAMILY DOG SHOW
(entry fee - £1 50 per dog per class)
Classes:
1. Children's Handling (14 years and under)
2. Puppies under 1 year
3. Country Sporting Dog
4. Country Sporting Bitch
5. Best Condition Dog or Bitch
6. Best Rescue Re-home Dog
7. Best Rescue Re-home Bitch
8. Best Cross Breed Dog
9. Best Cross Breed Bitch
10. Dog or Bitch with Most Appealing Eyes
11. Most Handsome Dog
12. Most Handsome Bitch
13. Championship (winners of each class)
Car park attendants are on duty at the field opposite The Bell public house. Disabled parking next to Scout Field.
Nursery Plant Sale—Saturday 9th May
10.30am – 2.00pm at the Village Hall, Pavenham, MK43 7PH
10 nurseries from 6 counties: Alpines, Clematis, Exotic plants, Herbs, Perennials and Shrubs, Roses, Shade-lovers, Sundries. Save on mileage, buy from the growers; high quality, unusual plants. Keen prices and good advice! Entrance £1.20, Free Parking, Garden Bric-à-brac, Plant Crèche, Refreshments, Tombola, Children's Playground. (in aid of the Friends of St Peter's – keeping our church building in good repair –Charity no 802696)
Debby Horsman
W.I. News
The planning meeting in the home of Jim and Doreen on Thursday, 26th February was well supported; Lynette our Secretary is working hard to put a programme together for the coming year. Members really enjoyed decorating straw Easter Bonnets at our March meeting and thanks to Doreen for organising a great variety of ribbons, bunnies, flowers, eggs and all things with an Easter and Spring theme to make our bonnets look so attractive.
The next meeting will be held in the Village Hall on Tuesday 14th April at 7.30pm, when we welcome back a very well known WI member, Dot Wigg, who will probably send shivers down our spines with her Ghost Stories!
Hostesses are Jane Eshelby and Chris Devereux
New members are always welcome and if you need any more information please ring Karen Boyes, 327003. Ladies, just come along to the Village Hall on the second Tuesday at 7.30pm of each month and see what we do and how we enjoy ourselves. To find out more about the WI go to www.theWI.org.uk or the local Bedfordshire Federation website www.thewi.org,uk/bedfordshire Jane Eshelby
Village Hall
Annual General Meeting
The Annual General Meeting of the Village Hall Committee will be held on Monday 20th April in the Village Hall at 7.30pm. Several of the present committee are looking to retire and they particularly want to encourage younger villagers to replace them!
Events
The next Quiz night will be on Saturday 18th April. 7.30pm for an 8.00pm start. So start booking your tables of six via Rob on 01234 720730.
If you have an idea for or can help with events let us know, and if you would like a venue for a private function, the very reasonable hire fee helps us maintain the hall.
PARISH COUNCIL MEETING: 16 MARCH 2015
Edited Highlights
Chairperson's Annual Report
The Chairperson, Cllr. Hinds, delivered her report for 2014/2015 and emphasised that the Parish Council, as a cohesive body, is working to do its best for the community. In doing so, Cllr Hinds thanked her fellow Councillors, Mrs. Gillian Clark, Mr. Brian Cheadle, Mr. Nick Goodman, Mr. Jonathan Hudson, Mrs. Pat Asbery and Mr. Gary Clark for their hard work in undertaking a wide range of duties during the year and in supporting her to fulfil her role, and she also conveyed her thanks to Trevor Roff who had joined the Parish Council in the role of Clerk/Financial Officer.
Borough news and information had been brought to the Parish Council by Borough Councillor, Alison Foster, who had helped to keep the Parish Council informed regarding a wide number of matters impacting Odell, including the prospect of faster broadband which is so important to the rural community, road issues, and other relevant matters. Generous allocations from the Ward Fund had also enabled a contract to be placed for essential Village Hall maintenance.
During the year, highway related matters continued to be "on the agenda" and, in the village, the Parish Council continued to invest in grass cutting and in the well-used play area. Cllr Hinds specifically thanked the Swift family for organising the village Christmas tree. In concluding her report, she emphasised that the Parish Council will continue to do its best for the parishioners and community of Odell.
Warning from Bedfordshire Police – Rogue Traders
Bedfordshire Police is warning elderly and vulnerable people, their families and friends to be on the alert for rogue traders operating in Bedfordshire. At least two people are thought to have been conned out of money by a rogue roofing company in Bedford during the last couple of weeks. Neighbourhood Watch County Support Officer, Lynne Arch, said "This trader uses a white van with a roof rack for ladders and is handing out flyers to residents claiming their roof tiles need fixing urgently. If a vulnerable family member or neighbour is cold called by such a company they should ensure that they do not agree to any work and contact your local Trading Standards Officers".

Anyone with information relating to this incident can contact, in confidence, Bedfordshire Police on 101, or text information to 07786 200011. Alternatively Trading Standards can be contacted at Bedford Borough Council on 01234 718527 or Citizens Advice consumer helpline on 03454 04 05 06.
Bedford Borough Council – Budget 2015/2016
Bedford Borough Council's budget for 2015/2016 was approved by Full Council at its meeting on 4 February 2015. The budget includes savings totalling £9.1 million, together with a 0.25% reduction in Council Tax. The Borough Council has benefitted from a grant of £784,000 from the Government to ensure that Council Tax is not increased to residents in the Borough.
The Borough Council, at its meeting at the end of February 2015, agreed how much residents will pay in Council Tax (including precepts) in 2015/2016. The final precepts will, however, depend on the outcome of a referendum taking place on the 7 May 2015 which will allow residents to vote on the Police & Crime Commissioner's (PCC) proposed 15.84% precept increase for Bedfordshire Police.
The PCC has said the increase, which will amount to an extra £24.80 annually for average Band D properties, will be used to fund 100 extra police officers in Bedfordshire, 20 of whom will be based in Bedford Borough. The increase in the Bedfordshire Police precept will be payable from 1 April 2015, but residents will be reimbursed should the referendum lead to a 'no' vote.
The overall Council Tax payable for average Band D properties in Odell will be £1,603.65. This includes the full range of Borough Council services and precepts for the Parish Councils, Bedfordshire Police (including the 15.84% increase) and the Fire Service. Should the Bedfordshire Police precept increase be rejected, the amounts to pay will reduced to £1581.97.
Footpaths and Bridleways
The overall state of the Rights of Way ground conditions is much improved after a period of dry, windy weather. There remained some areas, however, that needed attention and the Parish Council had expressed concern that some areas remained outstanding for some considerable time. In this regard, a productive meeting had been held with the Rights of Way Team at Bedford Borough Council on 25 February 2015 and it is hoped that a number of these outstanding tasks will be resolved in the near future.
Highway Maintenance Schemes
The Parish Council had been invited to consider potential schemes in Odell for inclusion in the Borough Council highway capital structural maintenance programme covering the period 2015/2016 to 2017/2018. These works are funded by a combination of grant funding, received from the Department for Transport, and from the Borough Council's own capital budgets. Compiling a three year programme of works enables the Borough Council to achieve greater efficiencies and cost savings. It also allows time to properly design schemes to ensure that the right solutions are being provided, to coordinate works with utility companies and to offer packages of schemes to local contractors to reduce costs and provide better value for money.
In this regard, the Parish Council considered the draft programme that had been circulated and which identified one scheme for Odell, relating to patching and surface dressing to part of Horsefair Lane. The Parish Council considered that, based upon the current poor condition, priority should also be given to patching and surface dressing in Church Lane (from Pear Tree Cottage to the High street) and this request has been conveyed to the Borough Council. This proposed additional investment should also address problem of excess water from the quarry (opposite Croft Farm) running down the road in this location.
Elections – 7 May 2015
The Parish Council considered the arrangements for the Elections on 7 May 2015, comprising Parliamentary, Borough Council, Mayoral, Parish Council and the Police Commissioner's Council Tax Referendum. Odell Parish Council will only have an election if there are more than 7 nominations to stand as a Parish Councillor. The timetable is as follows:
· Nominations can be accepted at Borough Hall (16 March 2015 – 9 April 2015 (4pm)) - Withdrawals – same deadline as nominations;
· Publication of Statement of Persons Nominated – 10 April 2015;
New Councillors take up office on 11 May 2015.
The first meeting of the new Council must take place within 14 days of this date. This is scheduled to take place on 18 May 2015.
The meeting conveyed its special thanks and appreciation to Brian Cheadle who has decided to stand down as a Councillor at the next election after 32 years of valuable service to the Parish Council. His immense knowledge and work ethic will be really missed in the future. Cllr. Hinds conveyed, on behalf of the Parish Council, its thanks and appreciation for his significant contribution and the hard work, commitment and energy over many years and the meeting wished him all the very best for a well-deserved break from public office.
General Administration
The Parish Council, in line with its responsibilities and good practice, considered and adopted a number of policies and procedures which govern the general conduct and effective financial management of Parish Council business. This included updated Financial Regulations, Risk Management Arrangement and policies covering health and safety, complaints, data protection and the Freedom of Information Publication Scheme.
Date of Next Meeting
The next meeting is scheduled to take place on Monday 18 May 2015 at 7.30pm.
Borough Councillor's Update for Odell – March 2015
Contact your Borough Councillor Alison Foster by telephone on 07773371190 or email at ajfieldfoster@gmail.com – Please note Alison's new email address
Broadband
As you have previously been advised a scheme is underway to improve superfast broadband coverage in Bedford Borough. The Council is working in partnership with the Government to deliver basic speeds of at least 2 Megabits per second (Mbps) to all premises and superfast speeds (at or above 24 Mbps) to 90%, although according to Council officers 'comfortably in excess of 95%' of properties should benefit from the next phase of the scheme in the coming years. New technologies are also being looked into to provide superfast speeds to the small percentage of properties that cannot be accessed via superfast cabinets. The Council and the Government are contributing £1.2m each for the scheme to proceed.
Harrold Superfast Cabinet 1 went live in January and serves the western half of the village between The Green and the High Street going
towards Lavendon, this also benefits Orchard Lane, Brook Lane and Wood Road.
Harrold Superfast Cabinet 2 went live during the last week in February. This cabinet serves east Harrold and Little Odell. Residents are advised to check the Openreach site or use www.dslchecker.bt.com/adsl/ADSLChecker to see if their properties are covered.
Odell village itself will be included within the second project which has a lot of money involved (£2.4m) so has a significant contracting process to go through. The project's coverage area should emerge in April.
Residents are advised to contact their ISP to order superfast coverage, it is not automatic.
The problems with the Carlton Superfast Cabinet (Harrold 3) have been sorted and the cabinet should be set up and powered shortly and will hopefully go live towards the end of April. There was a bit of a delay because of the problem of various services in the ground all around the existing copper cabinet.
There may be outlying properties in both villages that may not receive faster internet speeds from these works although going forwards they may be able to benefit from the new technologies mentioned above. For more information see www.bedford.gov.uk/broadband
Harrold Solar Farm Planning Application
Proposed solar photovoltaic farm (capacity 5mw) - Land Adjacent Dungee Road Harrold Bedfordshire - planning application reference number: 15/00444/MAF
A planning application has now been submitted by Town Farm Solar Farm Ltd for the proposed solar farm on the Dungee Road. Dungee Road forms the boundary between Harrold and Odell Parishes. This site will consist of 19,000 solar panels on a 13.5 hectare field. For information about the application please go to www.bedford.gov.uk/searchplans to view and comment.
If residents wish to comment either in support or objection to this application please do so before 14th April via the above website address or write to The Planning Department, Bedford Borough Council, Borough Hall, Cauldwell Street, Bedford MK42 9AP, quoting the reference number above.
Warning from Bedfordshire Police
Please see report on page 20 from Parish Council Meeting on March 16
Bedfordshire Police
The Bedfordshire Police and Crime Commissioner (PCC) has announced that he intends to increase the Police's Council Tax precept by 15.84%, which amounts to a £24.80 annual rise for the average Band D property. As this is above the Government's Council Tax increase cap of 2%, a referendum on this proposal is scheduled for the same day as the General, Borough Council, Mayoral and Parish Council elections on Thursday 7th May.
Bedford Borough Council Budget
Please see the report from the Parish Council Meeting above
Council Tax and Bedfordshire Police Referendum
Please see the report from the Parish Council Meeting above
Road Repairs
The Government has announced that the Borough Council will receive just under £3m for highways maintenance in 2015/16; an increase on the £2.698m received last year. This will be used to repair potholes and improve local roads.
Bedford Receives Government Funds
A new bridge is to be constructed in Bedford town centre following the receipt of Government funds. The Batts Ford Bridge has been mooted for decades as a possible link between Kingsway, next to Borough Hall and Bedford College on the south side of the river, with River Street on the north side. The Bridge will be part of an emerging plan to improve traffic flow in and around Bedford. The exact amount of funding to be received is not yet clear but it is estimated that the total cost of the Bridge will be £30m.
Funding has also been provided for an Advanced Electrical Design and Electronics Centre at Bedford College. Furthermore, 1600 jobs and 600 new houses are set to be built in and around Marston Vale following the approval of funds for the Marston Vale Innovation Park. This will provide space for 80 business premises.
Foster Parents Required
Bedford Borough Council has issued an urgent call for foster parents for teenagers as there are a 'significant number' needing foster placements. If you are interested please contact the Council on 01234 718718
Please contact Cllr Alison Foster if you have any issues or concerns you wish to raise.
News from Harrold Odell Country Park
Dates for your Diary
Health Walks
We meet every other Thursday at the café entrance at 10.30am. We walk for an hour to improve your health & wellbeing as well as offering an opportunity to socialise and meet new people. Appropriate clothing and sturdy footwear is essential. We regret no dogs allowed as this precludes us from walking in the nature reserve if conditions allow. Leaders: Janet Munro or Richard Dowsett, tel. 01234 720016.
Thursday April 9th, Thursday April 23rd
Friends Conservation Tasks
On the last Monday of the month but a week earlier if a Bank Holiday: Meet at the Ranger's Office at 10am for tea. Old clothes, a packed lunch and sturdy footwear are a must. We supply refreshments, gloves and tools. A chance to contribute to the conservation work around the park. Leader: Richard Dowsett, tel. 07792 721866 or e-mail Richard.dowsett@bedford.gov.uk
Monday April 27th, May 18th
Easter Egg Hunt—Good Friday April 3rd .
1st session 10am – 12pm, 2nd session 1pm – 3pm
Booking essential, £1.00 per head. When you arrive at the park there will be a registration table for you to be ticked off the list and collect your clue sheets. The format is a pictorial trail round the large lake with a sheet of questions and an extra clue to solve using the 1st letter of the answers. When all the clues have been answered, return to the registration table for marking and to collect your eggs. To register please call 01234 720016 and leave a message or e-mail janet.munro@bedford.gov.uk
Pond Dipping with Bedfordshire Natural History Society.
Probably towards the end of April - details to be confirmed. Please look out for posters in the notice boards and under events on the website.
Harrold Pit Run
Saturday April 25th. Please refer to the Harrold Pit Run website for details as arrangements are out of our hands.
Janet Munro, Greenspace Officer.
The Mill Theatre, Sharnbrook
www.sharnbrookmilltheatre.co.uk
Reg. Charity 242164
MERRILY WE ROLL ALONG - 8th – 13th JUNE
Music & Lyrics by Stephen Sondheim, Book By George Furth.
Originally directed on Broadway by Harold Prince. Orchestrations by Jonathan Tunick. Originally produced on Broadway by Lord Grade, Martin Starger, Robert Fryer and Harold Prince in association with Ruth Mitchell and Howard Haines. An amateur production in association with Joseph Weinberger Ltd.
A THRILLING AND COMPELLING BROADWAY FABLE
The story begins in the 1970s and moves backwards to the late 50s,
tracing the lives of wealthy, jaded composer Franklin Shepard and his
two estranged friends through each milestone of their personal and
professional lives (good and bad). The show ends with a touch of rueful
irony, as the three best friends, at the start of their careers, face a bright
future: young, talented and enthusiastic about the worlds waiting to be
conquered. This is Stephen Sondheim and George Furth's tuneful and
compelling Broadway fable about friendship, compromise and the high
price of success.
CURRENT BOOKING ARRANGEMENTS
MERRILY WE ROLL ALONG: Booking is available on-line NOW!
at: www.sharnbrookmilltheatre.co.uk
THEN from Sharnbrook Post Office/'Twinkle, Twinkle Boutique' (see below) and Bedford Central Box Office 718112 5 weeks before First Night.
Parties: 01234 781372, please book if possible 8 - 5 weeks before.
Changes Afoot!
Box Office Arrangements in addition to on-line:
Sharnbrook Post Office is under consultation and may close at the end of April (?). If closure is confirmed, Post Office services are expected to transfer to Sharnbrook News/NISA/Mr Gill, and, in this instance, The Mill Theatre has made provision, by kind permission of Alleyne, to transfer booking arrangements to 'TWINKLE, TWINKLE BABY BOUTIQUE', High Street, Sharnbrook, which is opposite the car park on the Village Green. The Mill Theatre wishes to express their warmest appreciation and gratitude to Katie for her generous, ever-kind community spirit and her invaluable Box Office service over many years.
Bedford Central Box Office at Tourist Information Centre, St Paul's Square, will soon be moving to the new Travel & Tourism Centre, Bedford Bus Station, Greyfriars, Bedford, when the rebuilding is complete. Their phone 718112 and on-line booking arrangements will be unchanged
Forthcoming 'Warm Up Appeal' Events, raising money for a green energy based heating and ventilation system.
THE OUSE VALLEY SINGERS IN CONCERT, with special guest stars
Saturday 28th March, 8 pm at Sharnbrook Mill Theatre
Tickets £10.00 Available Now! - from
Douglas Pope: 01933 356974 mail@douglas pope.com
Brian Woodrow: 01234 349455 bwoodrow@btinternet.com
… and in person, only, from Sharnbrook Post Office
Diary
April
1st 8.00pm Taize Service and meditation, All Saints' Church, Odell
2nd 6.30pm Agape at the United Reformed Church, Harrold
3rd 10.00am Easter egg hunt, HOCP
1.00pm " " "
3rd 11.00am Short service and erection of the cross on Harrold Village Green
2.00pm Hour at the Cross, St Peter's Church, Harrold
4th 10.00am Church Decorating, All Saints' Odell
5th 6.00am Dawn Service, St. Mary's, Carlton
5th 10.30am Easter Day Service of Communion, All Saints', Odell
6th 2.30pm Café in the Tower and open tower, All Saints' Church
8th 10.30am Meeting Point at Jane Smith's, Horsefair Lane
9th 10.30am Health walk, HOCP
14th 7.30pm W.I. Village Hall
15th 7.30pm Annual Vestry Meeting, All Saints' Church
7.45pm Annual Parochial Church Meeting, All Saints' Church, followed by Inaugural Meeting of PCC
18th 7.30pm Quiz, Village Hall
20th 3.30pm Messy Church, Harrold URC
20th 7.30pm Village Hall Committee AGM
22nd 10.30am Meeting Point at Jill's, Rectory Farm
23rd 10.30am Health walk, HOCP
25th Harrold Pit Run
26th Midday Frugal Lunch, Harrold URC
27th 10.00am Conservation Tasks Day HOCP
May
4th 10.00am Fete preparation day, Linden House, Odell
Magazine Deadline
Please send all entries for the May 2015 magazine to Tricia Hudson (ed at odellbeds.net) or Catherine Corkery by April 12th at the latest. May we remind you that the editorial team exercises the right to edit, shorten or alter any items that are submitted. Also, the opinions expressed in the articles are those of the contributors and are not the responsibility of the editorial team.
Wodehill Cheese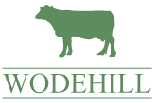 Wodehill Cheese — hand-made in Carlton
Wodehill Blue is a semi-soft creamy blue cheese
made with milk from Jersey cows in Carlton

Nearest stockists: Hurleys in Sharnbrook and Carlton Village Shop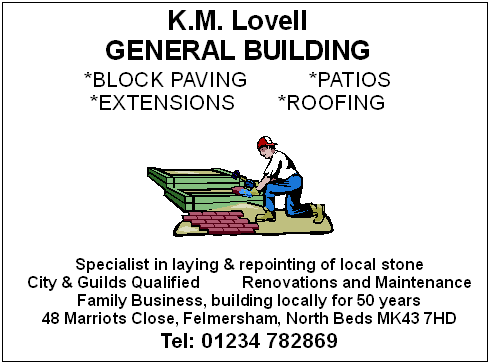 Alex Stubbs Flooring
Carpets, Vinyls, Laminates, Safety Flooring, Adaptions, Refits, Repairs
Supplied and Fitted
07976 260572
01234 240954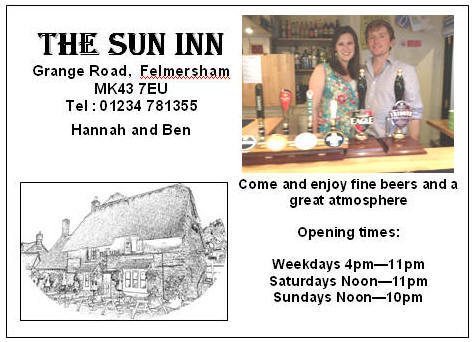 ---
Last revised: April 07, 2015.