ODELL VILLAGE NEWS
February 2014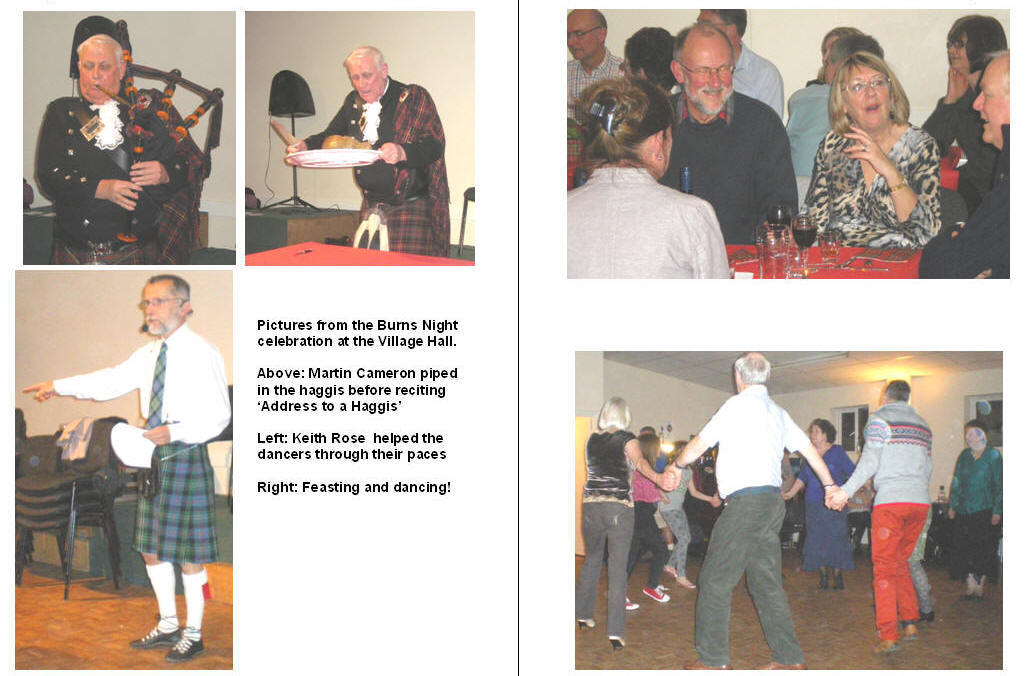 Burns Night Supper, 2014
A big thank you to everyone who cooked food, provided raffle prizes, served food, worked the bar, helped to clear up afterwards and generally gave support for this year's Burns Night supper. It has again been a huge success and I know from your comments that you have enjoyed the evening as usual. I am delighted to announce that we have made a handsome profit of £1014.00 which this year is donated to our Village Hall. Once again, thank you all very much in helping to make this our best year ever. Doreen and Leslie.
February 2014
Happy birthday to
Jack Holden Postles who will be 13 on the 10th
and Victoria Beardow who celebrates her 18th on the 22nd
…and happy birthday to anyone with a birthday in February!
Thank you from Dr. Mark Hedges
We received this note of thanks from Dr. Mark Hedges, formerly of Sharnbrook Practice:
"Thanks to everyone who contributed so generously to my retirement presentation. I was overwhelmed that so many people sent cards or came out in bad weather to wish me well in my new career as a gardener." Mark Hedges
We in turn would like to wish Dr. Mark every happiness in his retirement, and thank him for his unstinting work and care as a most popular and esteemed family GP.
Round and About
All in the Family
Christmas and the New Year have long been considered a make-or-break period of the financial year for many of the major shops and stores that line the High Street. Traditionally we see a shopping frenzy just before Christmas and what is not sold goes into the January sales.
Recent years have seen a tide of change sweeping across the shopping scene, with the up-and-coming popularity for "shopping on line". Over the last few years a number of High Street giants have collapsed and disappeared forever and I thought this might be a good time to take a look at some familiar stores and see how they got started and just how long they have served the community. Many are from quite humble beginnings.
Let us start with two stores that we have all grown up with. They frequently stand side-by-side on the High Street of many of our towns. Boots the Chemist and Smiths the Stationers. Boots was founded in 1849 when John Boot opened his shop in Goose Gate, Nottingham. He was described at the time as a "medical botanist". His son, Jesse, building on the start made by his father, transformed the business and began to build the national chain we recognise today.
W.H. Smith originated in 1792 when Henry Walton Smith, together with his wife Anna, established a news vendor business in London. Their son, William, eventually took over the business, and was also listed as a news vendor, thus starting another family chain that was to thrive for generations.
Harrods was founded in 1874 by Charles Henry Harrod who set up shop as a wholesale grocery in Stepney. In 1851 he went on to open a premises in Eastcheap and we all know what happened to Harrods after that.
Cadbury's was founded in 1825 by John Cadbury in Bull Street, Birmingham. He started by selling tea and coffee, later introducing chocolate. At the time he started trading he was described as a "tea dealer".
John Lewis was founded in 1864. At 28 years of age John Lewis opened his first shop in Oxford Street selling ribbons and haberdashery ... ten years later he was listed as a "silk merchant".
Marks and Spencer started business together in 1894. Michael Marks opened an iron monger's stall on Leeds Market in 1884. In 1894 he became partners with cashier Thomas Spencer. By this time the business was operating as a Wholesale Hardware Co and Dealer working out of premises at Cheetham Hill
Road. Somewhere along the line a radical change of direction took place. There is no hardware to be seen nowadays ... it's all fashion and food.
Perhaps not as famous but surely worthy of a mention is Balson's the Butchers of Bridport. This family business is reckoned, by many, to be the oldest family business in the country. It is reported that most family businesses change hands within a couple of generations but Balson's was trading at the time of Henry V111 and it has come down through the family to the present day. Robert Balson was granted a butcher's licence in 1515 and opened up for business on Bridport's ancient Shambles, (an open market place where cattle and sheep were slaughtered and butchered and sold on all on the same site). The butchery business remained on The Shambles for more than 200 years before the Town Council abolished the custom of open-air slaughter of livestock and the company moved to indoor premises where, 500 years later, the family are still carrying on the business as family butchers.
As some of the giants along the High Street take a tumble others, it seems, have the skills to adapt and move on. Barbara Corley
Alison Foster, Borough Councillor for Odell
Update for January from Borough Councillor Alison Foster
Contact Alison by telephone on 07773371190 or email at afield_foster@btinternet.com
Broadband
BT Openreach has confirmed which areas will benefit from 'superfast' broadband (at or above 24Megabits per second (Mbps)) and those areas that will see works undertaken to provide the basic speed of 2MBps under the Joint Local Broadband Plan. The Borough has published maps with a postcode checker facility. The maps illustrate the plan drawn up (by BT) on the basis of delivering the maximum additional superfast premises for the money that was available. The maps, postcode checker and Broadband newsletter can be found on the Borough web site's broadband page www.bedford.gov.uk/broadband. Residents are able to use the 'Postcode Checker' to see the plan for their area.
The Government has announced further funding of £250m to extend the scheme to provide superfast speeds to 95% of premises by 2017. The Council should be eligible to bid for funding although match funding will need to be found.
The position for Harrold, Carlton and Odell is as follows:
Harrold – Mostly Phase 3 superfast (superfast anticipated to be available January – June 2015), Carlton and Chellington – Mostly Phase 3 superfast , Odell – Phase 8 (provision of basic infrastructure in 2016 to deliver minimum of 2Mbps – possible superfast extension project area 2017-2018).
I am very disappointed with this result for Odell. It appears that while some villages will have access to superfast broadband by 2016, many villages have been excluded. Much of the funding seems to have been used to bring forward the most profitable areas such as housing developments in the semi-urban areas, while the more remote villages such as Odell and others have been relegated to phase 8. Alistair Burt has been in discussion with the Borough and BT about this and will push for further investment from the Government and I shall be raising this further with the Borough.
Age UK
I have asked Age UK to visit all villages in the Ward to talk about what they do and how they can help elderly residents. Age UK is a charity that offers a range of services to all those over 50. This includes a free confidential information and advice service on a wide range of topics including welfare benefits, housing advice and help with consumer and health issues. The charity also has home help, handyperson and gardening services. They also provide an accompanied outings service and companion visits. All those working within these services for Age UK are CRB checked. I will let you know the dates Age UK will visit your village shortly.
Nun Wood Wind Farm
An appeal by Npower was heard in June in front of a Planning Inspector who recommended that the Nun Wood wind farm should be turned down because "the adverse impacts of the scheme would significantly and demonstrably outweigh the benefits". The ultimate decision was made by Eric Pickles (Secretary of State for Communities and Local Government) who rejected the scheme and accepted the Inspector's recommendation.
Bedford Western Bypass
The Council has reiterated its commitment to the second phase of the Bedford Western Bypass which will connect the Deep Spinney / Bromham Road roundabout at Biddenham with the A6 Paula Radcliffe Way / Clapham Road roundabout.
The scheme has been delayed as an agreement has not been reached with developers on funding while objections were raised by several parties to the Council's Compulsory Purchase Order (CPO) and Side Roads Order (SRO) which were withdrawn. The Council believes that progress can now be made on the submission of the Orders while it has also committed to funding the scheme itself following the receipt of funding from the Department of Transport (DfT). However, it may still be the case that contributions are made by the developers. The estimated cost of the bypass is £15m.
Bedford Hospital
You may recall that an inspection was carried out by health regulator, the Care Quality Commission (CQC) at Bedford Hospital in July. The report found failings in 8 of the 9 standards that were assessed, 3 of which being major concerns.
A follow up inspection was made in November and the CQC has reported that 'very significant improvements' have been made. The Hospital is now compliant with all but 1 of the 9 standards, and the remaining issue is only a minor concern which is to be addressed through a new system of governance.
Meadow Lane Gypsy & Traveller Site
The temporary Gypsy & Traveller site at Meadow Lane has been closed to allow preparatory works to begin for the development of a 14 pitch permanent site. Alison Foster
W.I. News
Just before Christmas members enjoyed a Bring and Share Christmas supper and quiz at Rectory Farm. Thank you to our hosts Brian and Jill and to those members who decorated the tables and prepared for a lovely festive evening.
At our January meeting Les Knowles brought along his carpet and bowls and showed how to play Mat Bowls, how to hold the bowls and to roll them in the right direction to get as near the jack as possible. A lot of practice was needed but we showed signs of improvement as the evening went on. We were able chat over glasses of wine and nibbles. Thank you, Les, for a very enjoyable occasion.
The next meeting will be held in the Village Hall on Tuesday 11th February at 7.30pm when Wally Thrale will talk about Bees.
Hostesses are Sarah Bennett and Stasia Wherrett.
New members are always welcome and if you need any more information please ring Karen Boyes, 720952. Ladies, just come along to the Village Hall on the second Tuesday of each month and see what we do and how we enjoy ourselves. To find out more about the WI go to www.theWI.org.uk or the local Bedfordshire Federation website. www.thewi.org,uk/bedfordshire Jane Eshelby
Flooding Report - Can I get through Felmersham and Radwell?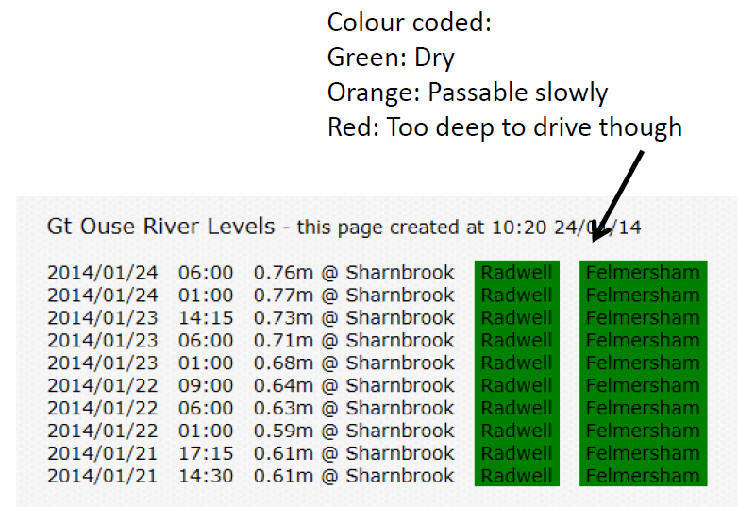 Clive Just has created a very useful web site which shows the status of flooding over the roads at Felmersham and Radwell. It is automatically updated several times a day from river depth measurements at a certain point in Sharnbrook. Green shows no flooding, Orange means passable with care and red means danger for a normal car. To access it go to www.allforit.co.uk/flooding - you can even sign up to have an email sent to you every time the status changes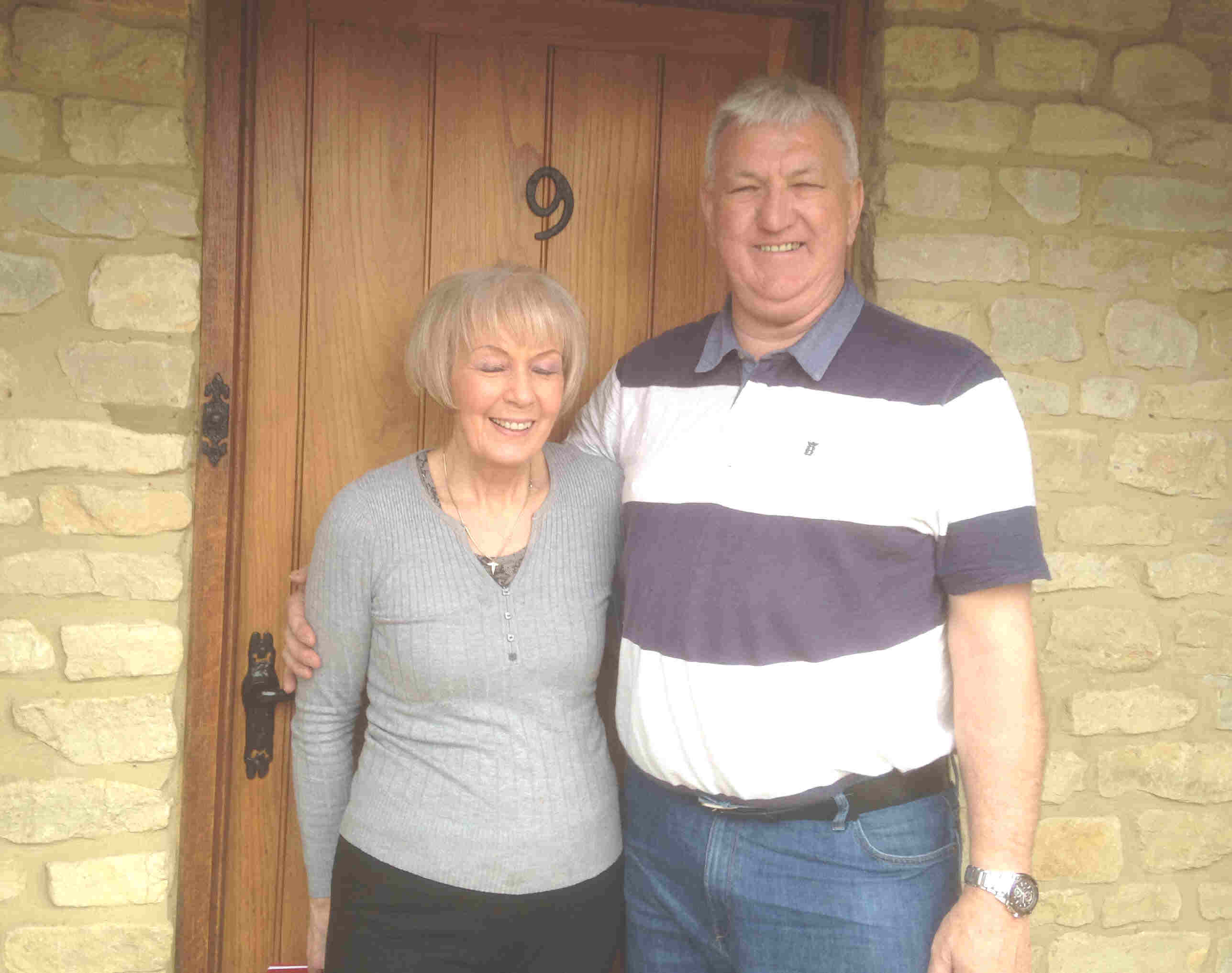 Welcome to Zandra and Bob Hunt who have moved into number 9 Tannery Lane. Formerly of Kings Bromley, Staffordshire, Zandra and Bob have moved to be close to both family and grandchildren.
We also welcome the Wajzner family to Yelnow Farm - photograph in the March edition of the magazine.
News from Harrold Odell Country Park
After the interviews we attended back in November Richard and I have now been confirmed in post as Greenspace Officers; the Ranger title is now obsolete. The new job descriptions and first round of budget cuts are due to kick in from April. It is becoming clear that our roles will be very different from what they currently are.
It is likely that in due course, we may end up based elsewhere, Bromham Mill for instance, and we will become responsible for far more sites than we are currently. This is the same for our colleagues based at Priory Country Park. The downside to that is that there will be some days when there will be no staff at the park and our volunteers will be even more precious than they already are.
We are responding to some of these changes by working odd days at one another's parks, getting to know what's needed. Both Richard and I have been to Priory and Jon, Danny, Jane and Nicky have come to Harrold. It is clear that we will have to be far more organised with regards to looking at task lists than we are at the moment.
The weather is once again dictating where we can work and this year's gales have done considerable damage around the park. In Otter Holt Wood floods have swept away the picnic bench despite it being pegged down. One of the large willows has been uprooted and the log piles we'd left to season there have also been swept away.
The flag pole next to the main car park snapped 2/3 way up leaving the end with the green flag dangling dangerously above people's heads. Luckily Harrold Fire Brigade had come into the park to look at flood levels and assisted in getting the pole completely down. Since then our volunteers have been able to refurbish it using a second pole we had stashed underneath the café. Community Payback re-erected it on Saturday 18th Jan. Many thanks for everyone's hard work.
Several medium sized trees have blown down in the shelter belt and several work days have been taken up with the chainsaw making them safe and also with tidying. Thanks to Peter Hall, the woodsman from Carlton who rebuilt our bird hide, we were able to winch out two huge intertwined willows that blew down into the small lake. He was kind enough to come with his Unimog truck and giant chainsaw, saving us a lot of money as we didn't have to hire contractors to do it.
Having chainsaw trained volunteers has been a Godsend during all this. Friends were able to pay for this out of car park donations. This money will be even more important now we are facing budget cuts within the Greenspace Service. They have also been brilliant at keeping the log bins stocked since Trevor died. We have sold as much firewood as we can produce, bringing in much needed revenue to the Friends and thus to the park. Jane Moore at Priory is now organising future training on brushcutters and strimmers for which £600 was allocated at the last meeting. £1000 was also put aside to put Alan Foster through aerial chainsaw training. We are awaiting for certification to come for his equipment before we can proceed with this.
Richard's bees are in their winter quarters, being fed on sugar syrup until the spring. He collected three honey harvests from our hives this year as opposed to none last year due to the very cold spring.
My work experience lad, Harvey Perry, has now gone on to the Prince's Trust to further his career options and I'd like to wish him all the best for the future. Richard is still working with several Duke of Edinburgh Award youngsters on a Sunday and has Community Payback on a Saturday. The park's Management Plan is being updated ahead of this year's Green Flag application. We think we will be 'mystery shopped' this year rather than have a judge's visit.
We have been receiving lots of positive comments about the park and that is down to the contribution of all our volunteers in the park. We cannot stress too highly what a difference they make.
Richard has collected 250 new native trees from the Community Tree Trust paid for by Friends. We have also had 700 more donated by BTCV and the possibility of Silver Birch from RSPB potentially for besom making. They are going in to Otter Holt Wood and other gaps around the park in an effort to pre-empt any losses of woodland should Chalara Fraxinea (Ash Dieback) ever devastate our ash stocks. The saplings are all native species.
Paul Oliver, our volunteer fishing bailiff has been working hard to develop the fishing option. Next year anyone buying permits will be able to fish at Priory Country Park as well. He has installed new signage marking key fishing swims and labels for the two lakes. Have a look at the website www.hocp.co.uk for further information.
Health Walk Dates—Join me for an hour's walking every other Thursday to improve your health & wellbeing and make new friends. Meet at the café entrance at 10.30am wearing stout footwear and suitable clothing for the weather conditions. Leader Janet Munro tel. 01234 720016 or e-mail janet.munro@bedford.gov.uk
Thur Feb 13th & 27th;
Thur March 13th & 27th
Friends Tasks Meet in the Ranger's office at 10am suitably dressed in sturdy clothing and footwear. Please bring a packed lunch and we'll supply refreshments. The aim is to carry out conservation work to enhance the wildlife habitats. Contact Richard Dowsett on 07792 721866 or e-mail Richard.dowsett@bedford.gov.uk
Mon Feb 24th
Mon March 31st
Janet Munro Ranger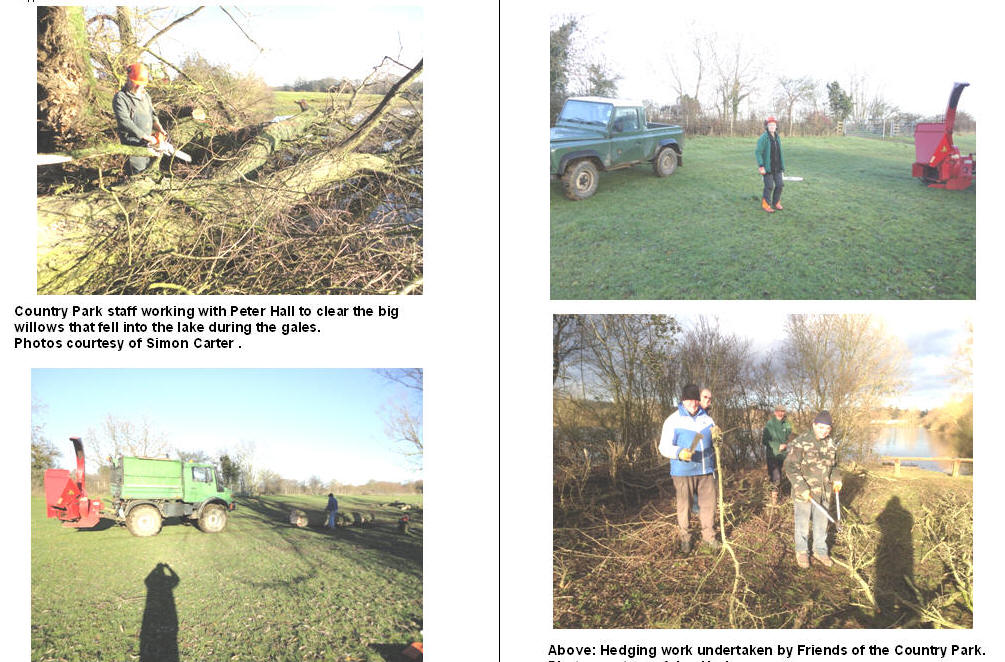 Village Hall
The village hall committee met on 27th January to firm up events for 2014.
We plan for the ever popular quiz night to take place on Saturday March 15th and another one in June and there will also be a summer barbecue.
In the autumn we hope to welcome back Dr Busker.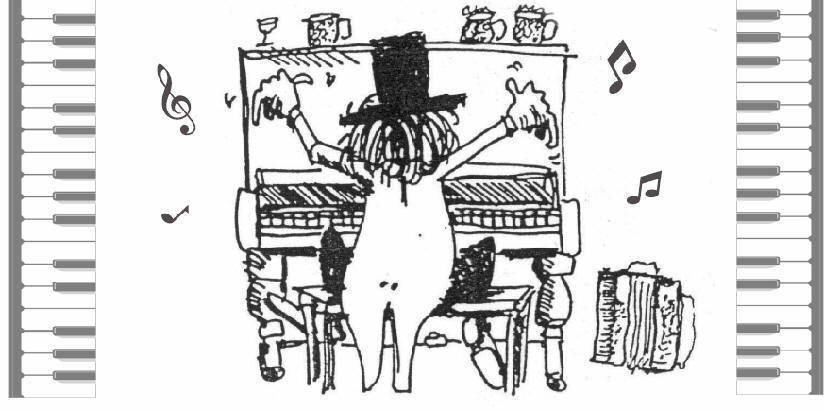 St George's 'Theme night' - April 26th
Many people have suggested that we should do something to celebrate England's national day, so on Saturday April 26th (the weekend after 23rd April, St. George's Day) we are going to do that in style. We will have a traditional English meal of Beef Stew, Carrots and Mash followed by a cinema showing of a classic old English film. There will be a bar and people will be encouraged to wear items of red and white clothing. More of this in the next magazine.
As always the committee are interested in other ideas for events and we encourage the on-going use of the hall for private events all of which help contribute to the running costs.
Ideas please to Rob Lee, Graham Staughton, Jon Ardley, Tim Freeman, Nicola Freeman, Jilly Watson or Mel Fisher.
...and finally a big Thank You to Les Knowles, Doreen Wheeler and the Team who made Burns Night such a success this year. As mentioned earlier in this magazine, the proceeds were all donated to the Village Hall. Rob Lee on behalf of the Village Hall Committee
The Mill Theatre, Sharnbrook
www.sharnbrookmilltheatre.co.uk
Reg. Charity 242164
On Golden Pond
Monday 17th - Saturday 22nd March 7.30 pm
The heart-warming love story of Ethel and Norman, returning for the 48th time to their summer home on a lake called Golden Pond.
They are visited by their daughter, Chelsea, her fiancé and his young son. The play explores the sometimes tempestuous relationship between father and daughter as she was growing up, and the later relationships and difficulties faced by a spirited and loveable, ageing couple, in the twilight years of a long marriage.
Touching, funny; warmly perceptive.
Bouncers and Shakers - 27th – 29th March, 7.30 pm
By John Godber and Jane Thornton. A Clubroom performance by Sharnbrook Mill Youth,
A funny, intense and insightful evening!
TICKETS
for both the above shows will be on sale from 10
th
February:
ON-LINE
: www.sharnbrookmilltheatre.co.uk, or at SHARNBROOK POST OFFICE (in person)
Also: BEDFORD CENTRAL BOX OFFICE* – 7 1 8 1 1 2 (Tourist Information Centre in St Paul's Sq.)
Do join us for.…Movies at The Mill…….
Quartet Saturday 1st February 7.00 for 7.30 pm
Starring Pauline Collins, Maggie Smith, Billy Connelly, Tom Courtenay, Michael Gambon…
Ticket £5, on sale now at Sharnbrook Post Office.
Licensed bar
Our next showing: ARGO on Saturday 8th March
Also at The Mill Theatre:
Antiques Valuation Evening with Jonathan Reynolds - Saturday 1st March
Mill Theatre, 7.30 pm. Details/Tickets £10 Brian Woodrow bwoodrow@btinternet.com or 824323
The SMTT 'Warm Up' Appeal and Breast Cancer Campaign present:
A special concert by The All-Female Brass Band, on stage at The Mill Theatre:
On Saturday 5th April 2014 at 7.30 pm
Tickets £10 on sale now: patabbott1936@yahoo.co.uk 07793744399 or 01933 358319
'Warm up' Appeal Fundraising Events for a 'Green Energy' based, Heating & Ventilation System
Diary
February
5th 10.30am Meeting Point at Christine's, The Rectory, Church Lane
5th 12.30pm Bread and soup lunch, The Rectory
11th 7.30pm WI in Village Hall
13th 10.30am Health Walk HOCP
15th 9.45am All Saints' Amblers meet at The Bell
19th 10.30am Meeting Point at Eileen Nottage's, Heydown, High St.
24th 10.00am HOCP Friends Task Day
27th 10.30am Health Walk, HOCP
March
5th 10.30am Meeting Point at Catherine's, Manor Cottage, High St., Harrold
7th 10.30am Women's World Day of Prayer Service, All Saints' Church
Magazine Deadline
Please send all entries for the March 2014 magazine to Tricia Hudson (ed at odellbeds.net) or Catherine Corkery by February 12th at the latest. May we remind you that the editorial team exercises the right to edit, shorten or alter any items that are submitted. Also, the opinions expressed in the articles are those of the contributors and are not the responsibility of the editorial team.
Odell Cheese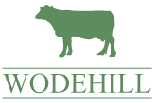 Wodehill Cheese — hand-made in Carlton
Wodehill Blue is a semi-soft creamy blue cheese
made with milk from Jersey cows in Carlton

Nearest stockists: Hurleys in Sharnbrook and Carlton Village Shop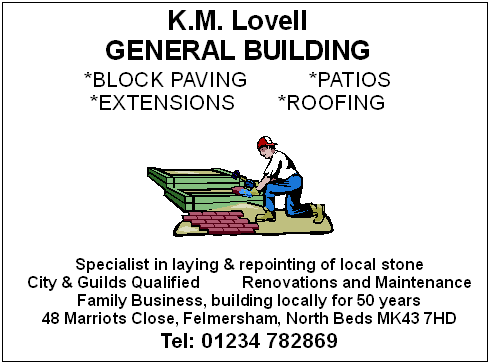 Alex Stubbs Flooring
Carpets, Vinyls, Laminates, Safety Flooring, Adaptions, Refits, Repairs
Supplied and Fitted
07976 260572
01234 240954
Great local pubs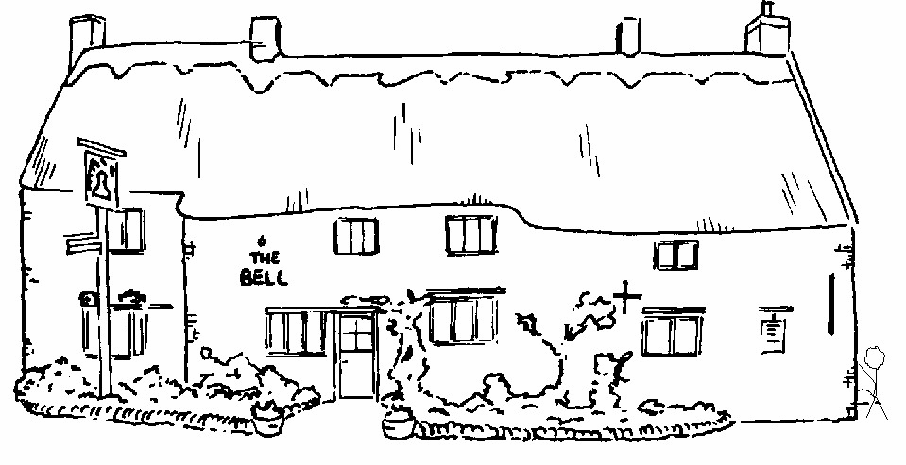 The Bell in Odell
As Featured in the 2010 Good Beer Guide
With the relaxed charm of a village local and a varied menu of
quality, home-cooked food you won't find any gimmicks here
just a Great British Pub!
Abbot Ale, IPA & Changing Seasonal & Guest Ales
Telephone 01234 720254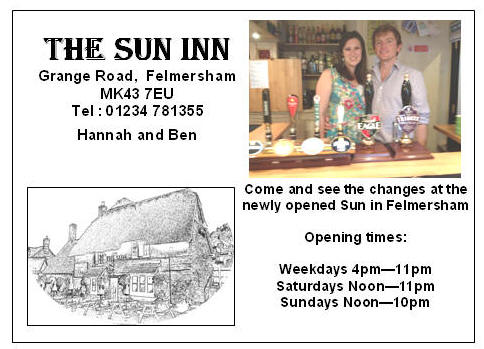 ---
Last revised: February 01, 2014.