ODELL VILLAGE NEWS
December 2014 and January 2015
The Bell - latest NEWS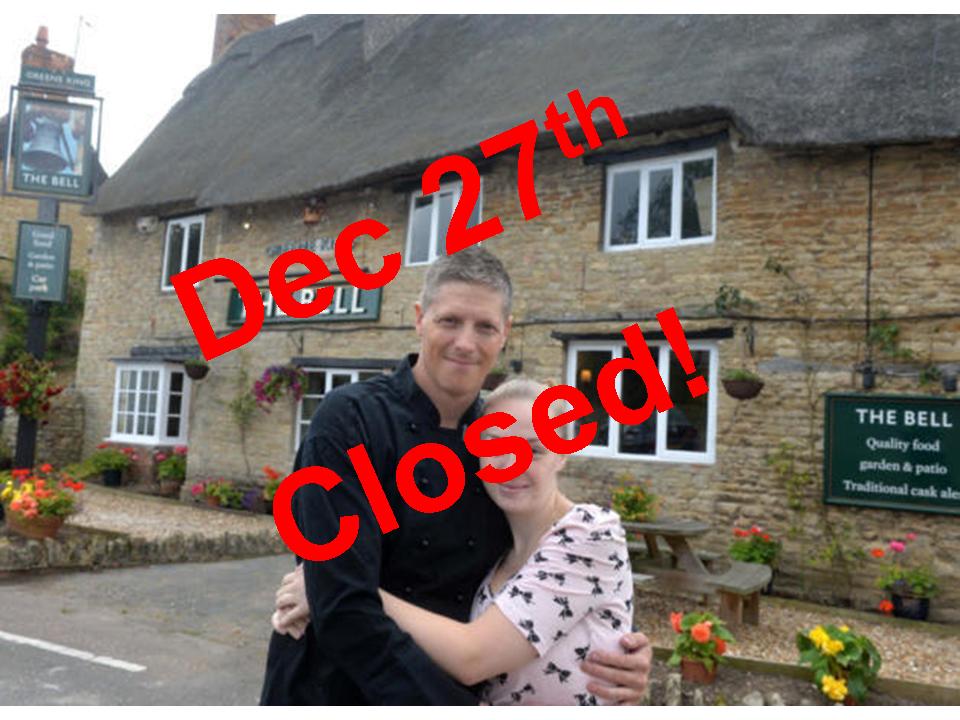 On December 27th, the Bell pub suddenly closed. Nick Turpin and Victoria Warriner appear to have abandoned the pub leaving frustrated staff unpaid for their hard work over Christmas and Boxing Day. On Tuesday 30th December a spokesperson for Greene King said that they have now taken control of the site and begun certification. They are looking for someone to reopen the pub ASAP and 'return it to the heart of the village'
We will update you as we get more news
WELCOME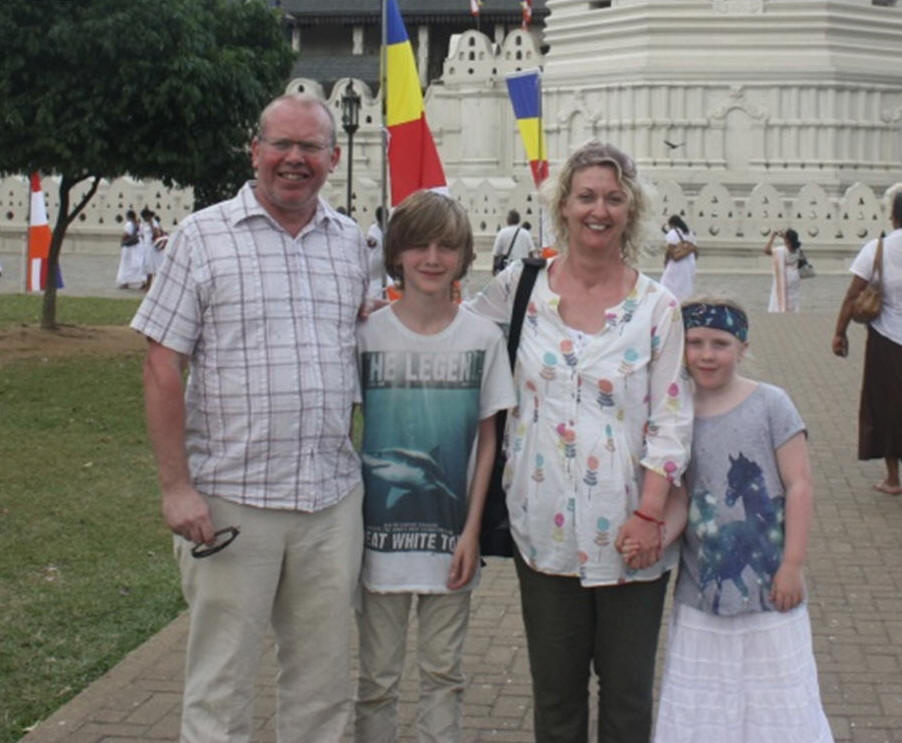 We give a warm welcome to Lesley and Andrew Thomas, and children Owen, Elin and Jasmine, who have recently moved to Odell from Hertfordshire.
Coffee Morning at Hobbs Green Farm
Christmas Hamper coffee morning
On 5th December
At Hobbs Green Farm
From 10.30am – noon
In aid of Bedford Women's Refuge (Places for People)
Admission free Please bring Christmas Fayre
Carols by candlelight - December 21st - 6pm in the church
The traditional carol service of 9 lessons and carols will be held on Sunday 21st December at 6pm
Everyone welcome
Daphne Jaquest, (1923-2014)
We are sad to report the death of Daphne Jaquest, a resident of Odell for very many years. Her daughter Kay Dicks has written some words in her memory:
Mum was born in Pavenham but moved to Odell when she was very young and spent her entire life there. She went into service after school at the Lodge, before starting work at Odell Leathers in 1940. While there she met my father who was always known as Barb and who came from Bletsoe. They were married by special licence during the war as he was on active service. Sadly my dad died in 1963 when Mum was only 39 and she spent the next 51 years sorely missing him.
She worked at various jobs at the leather factory and ended her working days at Odell Components at the age of 66. Mum managed to stay in her flat near The Bell until she was 89, but after she suffered a series of falls and was diagnosed with cancer she moved to Avenue Road Nursing Home in Rushden to be nearer to me.
She celebrated her 90th birthday there with a visit by friends from Odell. Kay Dicks
Round and About
Once Upon a Nursery Rhyme
The Festive Season will soon be upon us and high on the list of our most popular traditions will be a trip to the pantomime. Many of these pantomimes are based on nursery rhymes, or are peopled by characters from nursery rhymes, bringing us much loved memories of our childhood. How many of us realise, however, that many of these rhymes are political statements from another age and are based on real people? They come from a time when it was deemed unwise to criticise the high and mighty in the land and suicide to comment on the behaviour of the Royal Family. Comments, however, were made, in the form of obscure rhymes, some of which became quite popular and went on to become street chants ... and I give you just a few ....
Take "Humpty Dumpty" – said to refer to Cardinal Wolsey – who rose to great heights, top of the wall, but when he lost favour with King Henry VIII he was brought tumbling down. Henry seems to have had a number of rhymes written in his time for we also have "Little Jack Horner", a man who was Steward at Glastonbury at the time of the Dissolution of the Monasteries and by co-operating with the King was able to dip his thumb into the pie and bring out extensive estates for himself at Mells.
"Sing a Song of Sixpence" tells a story in practically every line and about Henry himself. The opening lines referring to the money and lands taken from the Church and the "blackbirds" representing the black-robed monks thus dispossessed. "The Queen in the Parlour": poor Catherine of Aragon little thought her safety was in question, least of all from the "maid". This refers to Anne Boleyn who was, at one time, Maid of Honour to the Queen. When the "blackbird" (the Headsman) came to peck off Anne's nose, she lost far more than her nose and there was no Jenny Wren to pop her head back on again. This last verse does not seem to sit comfortably with the first part of the rhyme and is reputed to have been added later. As a side issue – the Patent Office Library holds a 15th century recipe for the baking of a pie to contain live birds. You prepare a pastry case packed out with rye to keep the shape, bake it, and when ready you remove the lid, take out the rye and place in the said birds before replacing the pastry lid, just prior to presentation to the King.
"Mary, Mary, Quite Contrary" is said to refer to either Mary Queen of Scots or to Mary Tudor. I am inclined to favour Mary Queen of Scots myself but both these Queens followed the Catholic religion and the 'silver bells' are said to represent the Sanctus bells while the 'cockle shells' refer to the badges worn by pilgrims. The 'pretty maids' can refer to either nuns or Mary Queen of Scots' loyal maids, the four Marys of historical renown. Mary Stuart once owned a gown decorated with cockleshells. When the story is said to relate to Mary Tudor reference is made to a portrait of Mary Tudor hanging in one of the rooms at Hampton Court Palace. Bells and cockleshells decorate several items of furniture in this room and a line of portraits of women hang on the wall beside her.
Coming forward nearly 200 years we come to "Rock A' Bye Baby on the Treetop". This refers to James II and the political storm created when his second wife presented him with a son, thus displacing his daughters by his first marriage. Mary and Anne Stuart were both raised to be Protestant (both later became Queens of England) but James and his second wife were both Catholic and so, presumably, was their son. English Parliament could not take this risk. The new baby was 'top of the tree' in his royal cradle and had to go. The stormy winds blew, Dutch William of Orange and his bride, Mary Stuart, were called to England and James, his wife and child fled the country leaving behind them the problems of the Jacobite cause, which haunted the country during the lifetime of both James and his son.
Time is a great healer and today we have forgotten the darker side of these rhymes. Indeed, they are now considered fit for the ears of young children. Add to this the magic of Christmas and the sparkle of pantomime and the characters no longer seem to be real.
May I take this opportunity of wishing all my readers a Very Merry Christmas and a Happy New Year. Barbara Corley
W.I. News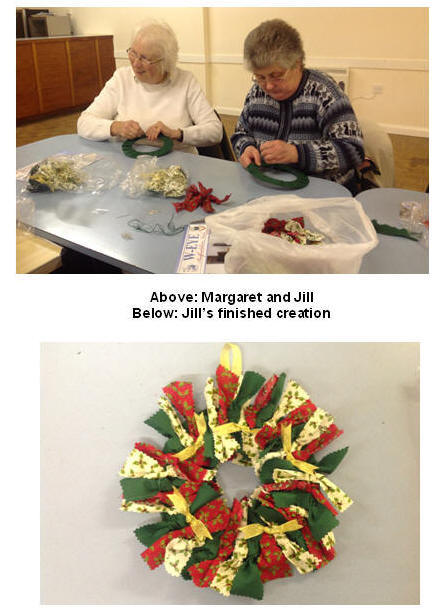 In November Christmas came early for members when we made Christmas Wreaths. With pinking shears, scissors, pretty Christmas fabrics and a lot of chat some members spent a happy afternoon making Christmas bows at the home of Jim and Doreen Wheeler. At our meeting we were Busy Sewing Bees assembling our wreaths under the guidance of Doreen. They looked very colourful and festive. We welcomed new member Sheila Weaver and hope she will enjoy our meetings, events and outings.
On Tuesday, 9th December at 7.30pm we look forward to a Bring and Share Christmas Meal at the home of Brian and Jill Cheadle. Members are reminded the theme is "Baubles". Get yourselves decked out in colourful bracelets and necklaces in the Christmas spirit!
On Tuesday, 13th January, at 7.30pm we will welcome Chris Ward who will tell us 101 Things You Never Knew about Garden Birds. Tea Hostesses are Jane Eshelby and Sarah Bennett.
New members are always welcome and if you need any more information please ring Karen Boyes, 327003. Ladies, just come along to the Village Hall on the second Tuesday at 7.30pm of each month and see what we do and how we enjoy ourselves. To find out more about the WI go to www.theWI.org.uk or the local Bedfordshire Federation website www.thewi.org,uk/bedfordshire Jane Eshelby
Harrold Twinning Association
In 2015 Harrold Twinning Association celebrates its 20th anniversary of being twinned with Sainte Pazanne, a small town in the north-west of France. Over the years it has provided the opportunity for people in Harrold and surrounding villages to visit France, make friends and sample the 'French way of life'. Every two years we are hosted by French families and enjoy their warm hospitality. On alternate years, people from Sainte Pazanne come to stay with us in England.
For our 20th anniversary we are planning a number of special events for our French visitors and are looking for additional English hosts. Membership of our Twinning Association is free and open to anyone, especially those able to accommodate a French visitor. Newcomers are often worried about understanding a different language, however with fluent speakers on both French and English committees this has never been much of a barrier. If you would like information on the Association please feel free to contact any of the committee listed at the bottom of our article.
On our visit to France in May this year we were taken to see Ouest-France, the regional daily newspaper, being printed. This has the greatest circulation in the country with 47 regional editions and 2.5 million readers. We also spent the day at a local safari park, touring the park in caged vehicles and observing the wildlife at close quarters. Free time during our stay was spent eating, drinking and visiting local attractions with our hosts.
To help fund our exchange visits we hold a number of social events throughout the year, to which all are invited.
Look out for our posters around the villages, take a look at our 'Forthcoming Events' on Harrold Village website or feel free to contact any of our committee members listed below.
Harrold Twinning Contacts: Brian – 720352, Tony – 720442, Catherine – 720348, Pam - 720210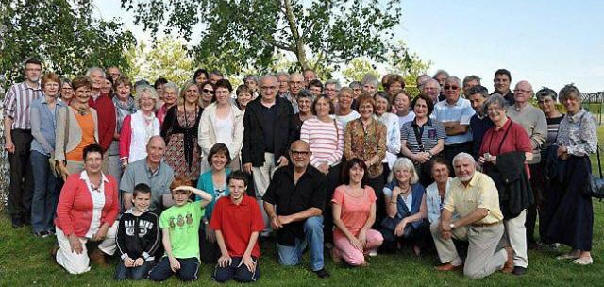 Above: Hosts and families at the 2014 welcome lunch (featured in an article in l'Ouest-France)
Parish Council News
Meeting held Monday 17th November 2014
Attendees: Councillors: Amanda Hinds (Chair); Gillian Clark (Vice-Chair); Pat Asbery; Brian Cheadle; Gary Clark and Jon Hudson ; Borough Councillor: Alison Field-Foster ; Parish Clerk/Responsible Finance Officer: Trevor Roff; Footpaths Volunteer: Richard Hall ; Police Community Support Officer Daniel James
The meeting welcomed Gary Clark, Pat Asbery and Jon Hudson to the Parish Council following their co-option at the last meeting. Apologies had been received from Nick Goodman.
REPORTS
Odell Village Hall
In the absence of Village Hall representatives, there was no formal update. The meeting recognised, however, the importance of the Village Hall as a community facility and the key role it played in hosting a number of successful events.
The meeting expressed concern at the state of repair and standard of decoration of the facility, including the ceiling and the continued problems of damp penetration and mould that existed in the male toilets. There was a need for essential investment and, in this regard, Borough Councillor Alison Field-Foster requested the Parish Council to consider the potential use of Ward Funding (up to £1,500) for priority investment in the facility. The meeting welcomed the funding opportunity and Councillors Cheadle and Hudson agreed to review the maintenance needs of the Village Hall and to determine a priority schedule of works from the available resource.
Footpaths
Richard Hall reported that the general state of the footpaths is good and that new swing gates and waymark signs had been installed at each end of the Parish Field (FP22). In addition, BOAT2 (Byways open to all traffic) White Lane and Three Shires Way have both been recently cut.
(i) FP13, Field end of Odell Great Wood SSE to junction with FP15,
was overgrown.
(ii) FP12, at its junction with BOAT4, remains very overgrown and in places is impenetrable.
(iii)BW5, from its junction with FP21 north to the entrance to Odell Great Wood, is overgrown, with limited access for horses, and requires widening to bridleway width.
(iv) BOAT4 (Yelnow Lane), from its junction with Church Lane westwards to BOAT2 (White Lane), requires vegetation clearance. This has been subject to a Vehicle Temporary Closure Order most of this year, but motorcycles are, however, using what remains of a narrow track which pedestrians cannot use.
(v) In relation to cross field reinstatements, there were a number of areas that needed reinstatement, including:
•BW7, from its junction with BW8 southwest to opposite field corner
to rejoin track. This is the Ouse Valley Way and the field is ploughed up
to the hedgerows;
•FP21, from its junction with BW5 southwest to the hedgerow;
•FP25, from its junction BOAT2 south to the next hedgerow;
•FP10, Tannery Close, is satisfactory but requires shrubs to be cut
back significantly from the property at 4 Tannery Lane.
Appropriate liaison was taking place with the Rights of Way Team at Bedford Borough Council to seek to resolve issues of concern.
Bedfordshire Police
The meeting expressed concern at the level of policing in rural areas. It is evident that there are only 4 designated PCSO posts serving 58 villages and that there is usually only one PCSO on shift at any one time. The inadequate level of coverage potentially exposed the rural area to unacceptable risk and the Parish Council felt that its concerns should be communicated to the Bedfordshire Police and Crime Commissioner.
Update on Current issues
a. Play area and Harrold Odell Country Park
Cllrs. Mandy Hinds and Gillian Clark would inspect the site in the near future in line with an established checklist, to ensure the maintenance of safety in the park.
b. Highways
Cllr. Cheadle expressed concern that that there had been no progress by the Borough Council in repainting the white lines throughout the Village and further reported that the Borough Council had now indicated that the repairs to the drains at the Little Odell junction, originally scheduled for August 2014, would be undertaken during 2015/2016. The meeting also identified highway concerns with (i) the condition of Mill Lane, with serious potholes and (ii) the corroding of some street lighting columns in the High Street. In respect of overgrown shrubs, bushes, hedges and trees adjacent to the highway, the meeting identified the following areas that needed attention:
(i) Hedge encroaching into the road at South End Farm, just before Little Odell;
(ii) Brambles covering the stone wall at the junction of the High Street and Odell Road.
c. Grounds Maintenance
Parish Fields: Cllr. Cheadle reported that the Parish Fields were being maintained in good order.
d. Speeding Issues
Councillors Hinds, Gillian Clark and Cheadle had recently attended an event at Borough Hall and consideration was being given to the possibility of a community loan of speed equipment; this would require the identification of volunteers. Alison Foster reported that the Borough Council had also agreed to carry out a speed survey to determine the extent of the problem. It was considered that, as a priority, this should be undertaken at the approach to the village centre from the west.
The following resolutions were passed:
(i)That the continued concerns of the Parish Council at the speeding in the village, the incidence of accidents and the risks to the community be communicated to the Highways Authority;
(ii) That, following serious consideration of the continuing problem of speeding throughout the village and the high incidence of accidents in the High Street, the Parish Council support the provision of average speed cameras and urge the Borough Council to regard Odell as a priority for implementation;
(iii) That the Parish Council confirmed its preparedness, in pursuing a project for average speed cameras, to take responsibility for all public consultation and the provision of information to the local community in this regard;
(iv) That the Borough Council be urged to urgently carry out the necessary assessment on a number of factors (e.g. accident history, % of vehicles exceeding the speed limit, evidence of community support etc) to determine the priority for the further investigation of average speed cameras in the most appropriate location in Odell;
(v) That the Head of Highways be invited to the next meeting of the Parish Council to discuss the provision of average speed cameras in the Village and other associated highway issues;
(vi) That the planned speed survey to be undertaken by the Borough Council should initially be targeted at the approach to the village centre from the west.
(vii) That the concerns of the Parish Council at the poor response time by the Police to the accident on Tuesday 14 October 2014 be communicated to the Bedfordshire Police & Crime Commissioner and that he be urged, given the risks and the incidence of accidents and poor visibility at this location (Post Code MK43 7AS, adjacent to 101 High Street, Odell), to regard this location as a priority for immediate response in the future.
Planning Applications
The Parish Council had no objections to the proposals in respect of the Planning Application for a two storey side extension at 56 High St. and the Planning Application for the removal of a single storey office building and erection of a two storey office building at the Santa Pod Raceway, Podington Airfield.
Dedication of a Public Footpath and Public Bridleway
The Parish Council had no objections to the proposed creation of a public footpath relating to land lying north of Colworth Science Park, or to the creation of a bridleway relating to land between Brownage Wood and Ash Hill Spinneys, and resolved that the Bedford Borough Council Rights of Way Team be advised accordingly.
Provision of Defibrillator Unit
It was recognised that improved awareness of the unit and training was essential. The agenda for the next Parish Council meeting will include specific items for Defibrillator Training and Contact List.
The next meeting will take place on Monday 19th January 2015 at 7.30pm.
Borough Councillor's Update –December 2014/January 2015
Contact your Borough Councillor Alison Foster by telephone on 07773371190 or email at afield_foster@btinternet.com
Broadband
A recent meeting in Colmworth focussed on the extension of superfast broadband in Bedford Borough. You may recall that the Council previously agreed to match fund a contribution from the Government to provide 90% of premises in Bedford Borough with superfast broadband (24 Megabits per second (Mbps) or above) and all premises with at least basic speeds (2Mbps). This scheme is to be extended following the Council's willingness to match fund a further contribution from the Government of just under £1m to provide at least 95% of premises with superfast speeds.
A number of rural communities were left out of the original scheme but BT Openreach is set to announce in the early part of 2015 which areas will be included in the second phase (ie. to provide 95% of premises with superfast speeds). However, the Council is confident that close to 100% of homes will receive superfast broadband in the second phase. For more updates visit http://www.bedford.gov.uk/business/projects__infrastructure/broadband-1.aspx
Broadband – Odell
The cost per premises for delivering superfast broadband to Odell was assessed as too high (relative to other areas) for Odell to be in a superfast phase of the Borough's first £1.4m broadband project which is currently in its delivery stage.
However, the Council is currently contracting for a second £2.4m superfast broadband project to take superfast coverage towards 100% of premises. A combination of this scale of resource, fibre already being close by (Harrold's cabinets are being fibre enabled in the first project) and Odell being a fairly compact village of well over 100 premises, bodes well for Odell in this second project.
The likely geography of the second project will be more definitely known nearer to contract signature, early in the new year, and delivery should be in 2016/2017. However, as set out below Little Odell will benefit from the installation of cabinets 2 and 3 to be installed in Harrold shortly.
Broadband - Harrold and Carlton
The superfast cabinet for Harrold Cabinet 1 serving the western half of Harrold has been installed and powered and should go live very soon.
Meanwhile, preparatory work has started for the superfast cabinets to go with Harrold Cabinets 2 and 3, serving the eastern half of Harrold, Little Odell and Carlton.
Most premises linked to these cabinets will therefore be able to get superfast broadband in the near future. Exceptions may be premises, eg farm houses/cottages, a long way (eg over 1 km) from their cabinets. Other technology is being tested for such premises.
You can check which cabinet you are linked to, and broadband project progress generally, through the Council's broadband web page (www.bedford.gov.uk/broadband).
Winter approaching
As winter is now upon us this is just a quick reminder to residents of some of the agencies able to help the elderly or vulnerable in the rural area. If you know of anyone that could benefit from these services please ask them to get in touch either with the organisation concerned directly or with me and I will put them in touch.
Bedfordshire Rural Communities Charity (BRCC)
The charity provides a range of services including the 'Village Agent' service to the elderly and vulnerable. They cover all rural parts of Bedford Borough with their friendly and trained Village Agents able to visit residents at home or talk to residents by phone. They can offer advice about keeping warm & healthy, help with home adaptations to help keep your independence and advise about community transport & other community services benefits & allowances, such as Pension Credit & Attendance Allowance and help fill in forms. It is a free service - all you need to do is call your Village Agent. All Agents are DBS (CRB) checked and operate in the strictest confidence. Lizzie Barnicoat is the Village Agent for Carlton, Harrold and Odell. Contact Lizzie on Freephone 0800 039 1234 leave a message and she will call you back.
Bedfordshire Police Partnership Trust - The Bobby Scheme
The Trust was launched in 1997 and is a registered charity. Their aim is to support any community based initiative which has the potential to improve the "quality of life" of local communities or individuals, such as crime prevention, road safety and the safety of the individual. They operate "Bobby Scheme" a free home security service. This scheme is a free service which helps elderly or vulnerable residents by giving support and practical help in improving their home security with the aim of preventing crime. The "Bobbymen" are trained carpenters, lock fitters and crime prevention advisers. They assess each case individually and fit whatever security devices are necessary to improve the home's security absolutely free of charge.
AgeUK Bedfordshire
Age UK is a charity that offers a range of services to all those over 50. This includes a free confidential information and advice service on a wide range of topics including welfare benefits, housing advice and help with consumer and health issues. The charity also has home help, handyperson and gardening services. They also provide an accompanied outings service and companion visits. All those working within these services for Age UK are DBS (CRB) checked.
Bedfordshire Healthcare Review
A report was published at the end of October outlining plans for the future of NHS services in Bedfordshire and Milton Keynes. It follows several months of work carried out by the Bedfordshire Clinical Commissioning Group (BCCG), Milton Keynes Clinical Commissioning Group (MKCCG) and NHS England.
Of particular interest are proposals concerning the provision of services at Bedford Hospital and Milton Keynes Hospital. Two options have been put forward which could see one of the hospitals become an 'Integrated Care Centre' and the other a 'Major Emergency Centre (b)'. Both hospitals currently have statuses similar to a Major Emergency Centre (b) so it is possible that the hospital which becomes an Integrated Care Centre will see services reduced / delivered differently. Despite this, the Integrated Care Centre will retain A & E, maternity and paediatric services. The removal of these services has been of concern in recent months but the report confirms that they will remain at Bedford Hospital. The report has also not ruled out the possibility of either hospital expanding links with other hospital networks.
The report also details plans for GP and community services that seeks to bring services closer to home and avoid trips to hospital by integrating services. GP practices in Bedford Borough are looking at a 'hub and spoke' model. This would see a central facility that acts as a 'hub' which is linked to a network of GP practices. There is a possibility that 'minor surgery' and diagnostics could be provided at the central hub and it could act as a base for professionals providing care to elderly and frail people. Blood tests could be provided at the GP practices, meaning that patients would not have to travel into Bedford.
The next step in the process is for the proposals to be refined, including analysis of financial viability and travel times for patients. These plans will then form the basis of a public consultation although this will not take place until after the General Election in May. The report and updates on the review can be seen at http://www.yourhealthinbedfordshire.co.uk/progress-report/
Bedford Western Bypass
Work has now started on the second phase of the Bedford Western Bypass. The Bypass will be situated from the Deep Spinney roundabout in Biddenham to the A6 Paula Radcliffe Way. The road will act as an important link between the A421 / M1 and the A6 north of Bedford, thus removing traffic from Bedford town centre. Several hundred new houses and a school will also be built alongside the new road.
Gypsy & Traveller Sites
The Secretary of State for Communities recently rejected a planning appeal for a 4 pitch Gypsy & Traveller site in Bletsoe. The applicant was appealing against a decision of the Council's Planning Committee to refuse planning permission at a meeting in May last year. However, he has now appealed the decision of the Secretary of State. So the saga continues, this will be the third appeal on the same site. A one day, informal hearing concerning a site at Roxton was held on the 5th November at Borough Hall, the Inspector's report is awaited. We are hoping the Meadow Lane site will be open before Christmas. Th is will at least alleviate the problem of illegal encampments in the Borough.
Winter Updates
The Council provides updates on its website showing changes to transport arrangements and waste collections as a result of the winter weather. It also has a tracking map showing the location of gritting vehicles. The page is particularly useful for those anticipating changes to public, school and adult services transport arising from poor weather conditions. You can access the updates by visiting http://apps.bedford.gov.uk/winterupdates/
Sunday Parking
Parking in Bedford town centre is now free on Sundays in the Council's car parks after the £1 daily charge was removed.
Happy Christmas
Finally I would like to wish all residents Merry Christmas and a Happy New Year!
News from Harrold Odell Country Park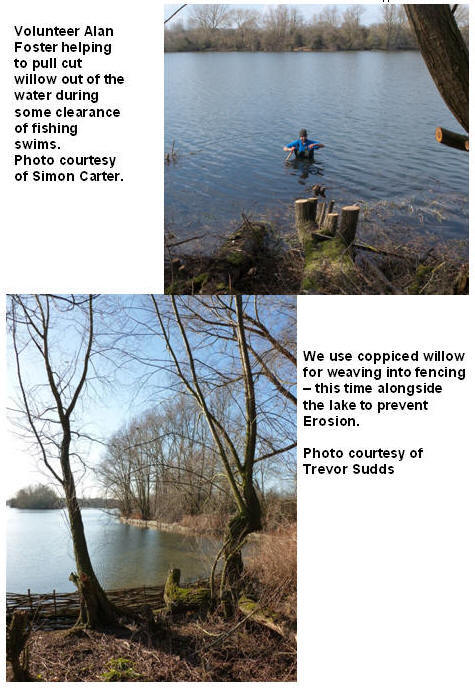 The heavy forestry work needed around the park is now in full swing whenever the weather is kind enough to let us work in the wilder areas of the Nature Reserve safely. Flooding over the last two winters severely curtailed our plans to thin out willows that are growing too close together. They have become spindly and prone to snapping out whenever we've had a gale.
The Management Plan also sets out a coppicing regime. We have several compartments within the park containing trees of varying ages which are cut at set times and allowed to re-grow. The cut willow is used wherever possible to make stakes and binders for hedge laying, basket making or for stakes and weavers for hurdle making. The largest logs are left to season and then sold the following year as fuel for wood burning stoves.
This is a traditional method of harvesting woodlands which has gone on for thousands of years. Once upon a time, every village would have had an area of woodland where the locals had rights to cut what they needed in a controlled way.
The benefit of this regime for wildlife is immense. The extra light that floods in allows the wild flowers to flourish in the spring and the thick new growth springing from the tree stumps is used by the smaller songbirds to nest in and forage for caterpillars that are feasting on the tender new shoots.
We recently used coppice product to replace the woven fence alongside the café entrance. Our volunteers have done a grand job! We are planning to make a series of hurdles to screen off the area where the rubbish skips are housed. We will have to ensure that the dustmen still have easy access to them when they come to empty them but the hope is that we can make the entrance to the park more attractive.
Tea-Zels café are now only open 9am – 4pm daily due to the dark nights. However, they will be shut on Christmas Eve, Christmas Day and Boxing Day to allow hard working staff to enjoy family time. Similarly they will also be closed on New Year's Eve and New Year's Day. The rest of the park is open as usual although the public toilets will be closed on Christmas Day.
For the first time, we are planning a traditional Wassail Evening in the community orchard at the back of Horsefair Lane, Odell on 12th night. Details are in the initial planning stage at the moment but nearer the time look out for details on the website and on posters.
We hope you have a lovely Christmas and it only remains to say that Richard, Nicky & I would like to wish all our visitors a very Happy New Year and we hope to see you in the park during 2015.
Dates for your Diary
Friends Task Days
Usually fixed for the last Monday of the month (a week earlier if a Bank Holiday). Participants meet at the Ranger's office at 10am. Please wear sturdy footwear and warm clothing and bring a packed lunch. Refreshments, gloves and tools provided. Tasks include coppicing, hedge laying, raking leaves or whatever needs doing round the park. No task in December but there's a social near Christmas for members of the Friends Group.
Please contact Richard Dowsett on 01234 720016 or e-mail Richard.dowsett@bedford.gov.uk for more information.
Health Walks
Held every fortnight on a Thursday morning. Meet outside the café entrance at 10.30am and walk for about an hour to improve your health and wellbeing. It is also an excellent way of meeting new people and making friends with the option of enjoying a coffee in the café afterwards. Leader Janet Munro Tel. 01234 720016 or e-mail janet.munro@bedford.gov.uk for more information.
Thursdays December 4th, 18th (pre-registered walkers only – Christmas lunch already fully booked)
Thursdays January 1st, 15th and 29th
Wassailing in the Orchard
Details to be confirmed but probably on 12th night which is Tuesday January 6th. Look out for more details shortly but contact Nicky Monsey on 01234 720016 or e-mail nicola.monsey@bedford.gov.uk
Janet Munro, Greenspace Officer
The Mill Theatre, Sharnbrook
www.sharnbrookmilltheatre.co.uk
ABIGAIL'S PARTY - 16th – 21st March 2015
The social get-together from hell! An hilarious, acerbic comedy by Mike Leigh.
MERRILY WE ROLL ALONG - 8th – 13th JUNE 2015
A ROMP OF A MUSICAL!
Music & Lyrics by STEPHEN SONDHEIM
Book by GEORGE FURTH
Based on the original play by George S. Kaufman &Moss HartOrchestrations by Jonathan Tunick
Originally directed on Broadway by Harold Prince
Originally produced on Broadway by Lord Grade, Martin Starger, Robert Fryer & Harold Prince in association with Ruth Mitchell & Howard Haines.
An amateur production in association with JOSEPH WEINBERGER LTD on behalf of MUSIC THEATRE INTERNATIONAL of New York.
Workshops: Mon. 1st & Thurs. 4th December 7.30 pm
Auditions: Sunday 7th December 2014
For synopsis and details: please email Director : heather.pitt@yahoo.co.uk
My Boy Jack -14th – 19th September - David Haig's powerful and moving drama
Titanic – 16th – 21st November - Maury Yeston & Peter Stone's riveting musical
Booking Points: online: www.sharnbrookmilltheatre.co.uk, Sharnbrook Post Office (in person only) or Bedford Central Box Office 718112.
Welcome to MOVIES AT THE MILL
Saturday 29th Nov.
Philomena - based on the book The Lost Child of Philomena Lee, by journalist Martin Sixsmith, Certificate 12a, starring: Judi Dench and Steve Coogan
Ticket: £5 from Sharnbrook Post Office (in person)
Bar opens 7.00 pm, Film starts 7.30 pm
Forthcoming Heating and Ventilation 'Warm Up' Appeal Events
Remember the 40s and 50s by Anita-Marie Sackett?
At the Mill Theatre Thursday 11th December, 12 for 12.30.
Sausage and mash with pudding and custard.
Tickets £15 from Virginia Pope 01933 356974 Virginiapope@icloud.com, Or Susan Moore 01933 318318, Susanc.moore25@gmail.com Prizes for best dressed guest (40s/50s)
Don't forget your ration coupons!!! R0s & 50s'
Buying your Christmas presents online? Please sign up to, then buy, via: www.easyfundraising/causes/sharnbrookmilltheatre to help our 'Warm Up' Appeal
We are delighted to introduce MILL THEATRE £10 GIFT VOUCHERS
Buy in person at Mill Theatre Box Office during a show or order/enquire now via: www.sharnbrookmilltheatre.co.uk/ 'Contact us'. Redeem at Sharnbrook Post Office, or as above. NOW THERE'S AN IDEA!
Diary
December
1st 7.30pm The Nativity, the Movie Part 1, URC
4th 10.30am Health Walk HOCP
5th 10.30am Christmas Hamper Coffee Morning, Hobbs Green Farm
6th 4.30pm Carols on Harrold Green
7th 4.00pm Christingle Service, Chellington Centre
9th 7.30pm W.I. Bring and Share Christmas meal at Jill's, Rectory Farm
10th 12.30pm Senior Citizens' Christmas Lunch, Village Hall
13th 10.00am Decorating All Saints' Church for Christmas
15th 7.30pm The Nativity, The Movie Part 2, URC
17th 12 o'clock Meeting Point Bring and Share Lunch at Madeline's, Rivendell, Horsefair Lane
18th 10.30am Health Walk, HOCP – pre-registered walkers only
21st 6.00pm Carols by Candlelight, All Saints'
24th 11.30pm Midnight Communion Service, St Peter's
25th 10.30am Service of Communion for All Ages, All Saints'
January
1st 10.30am Health Walk, HOCP
7th 10.30am Meeting Point at Eileen Nottage's, Heydown, High St.
13th 7.30pm W.I. in Village Hall
14th 9.30am Meditative service on Christian Unity at St Mary's
15th 10.30am Health Walk, HOCP
19th 9.15am Meditative service on Christian Unity at Church House, 3 The Moor
19th 3.30pm Messy Church, URC
19th 7.30pm Parish Council Meeting, Village Hall
20th 7.00pm Meditative service on Christian Unity at URC, Harrold
21st 9.30am Meditative service on Christian Unity at St Peter's Church, Harold
21st 10.30am Meeting Point at Jill's, Rectory Farm
29th 10.30am Health Walk, HOCP
The editorial team would like to wish all our readers a very Merry Christmas and a Happy New Year.
Magazine Deadline
Please send all entries for the February 2015 magazine to Tricia Hudson (ed at odellbeds.net) or Catherine Corkery by January 12th at the latest. May we remind you that the editorial team exercises the right to edit, shorten or alter any items that are submitted. Also, the opinions expressed in the articles are those of the contributors and are not the responsibility of the editorial team.
The Bell website can be found here
Wodehill Cheese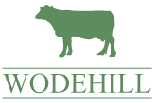 Wodehill Cheese — hand-made in Carlton
Wodehill Blue is a semi-soft creamy blue cheese
made with milk from Jersey cows in Carlton

Nearest stockists: Hurleys in Sharnbrook and Carlton Village Shop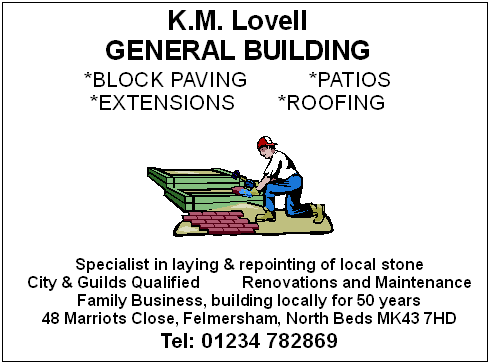 Alex Stubbs Flooring
Carpets, Vinyls, Laminates, Safety Flooring, Adaptions, Refits, Repairs
Supplied and Fitted
07976 260572
01234 240954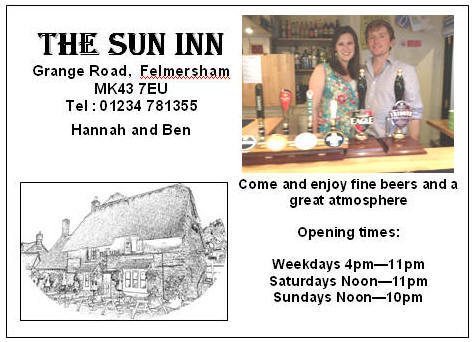 ---
Last revised: December 31, 2014.