ODELL VILLAGE NEWS
April 2014
CELEBRATING ST GEORGE'S IN ODELL VILLAGE HALL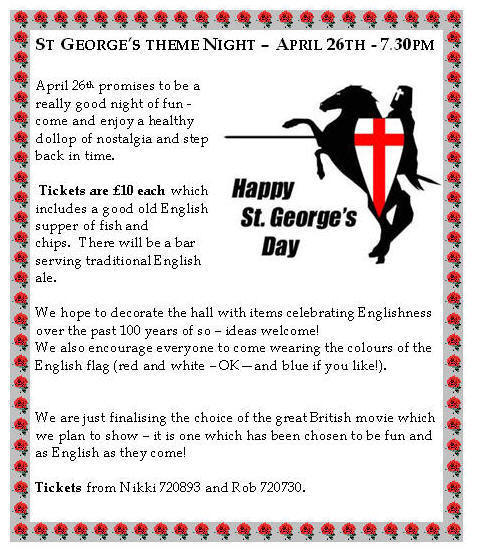 Odell Fete 2014: Saturday 14th June
Do keep the date free for this wonderful chance to celebrate our community.

Theme - This year we are going to remember the Odell of 1914, to commemorate the men who left for war and not just those who gave the ultimate sacrifice, but also those that returned changed for life by the horrendous experiences that they had been through.
If you have any historical details, pictures, photos or paper cuttings of the men who went to war, or anything to do with the village at that time, would you share them with us? The fete committee would like to have a display at this year's fete to show what Odell was like as a village and as a community. We want to tell the story of people living in the village as a well as trying to tell the story of the men who left for war.

If you do have anything that you would like included please contact The Rev'd Christine Clark, The Rectory, Church Lane, Odell, 01234 720234 cmclark99@uwclub.net or Mandy Hinds, 7 Horsefair lane, Odell, 01234 720414 alsodell@plus.com

We want to give a view of the village in 1914 using research and village histories as well as personal stories, and to remember the men who left for war and experiences so far from what they had known. We would like to take this opportunity to " Remember" them.

ODELL FETE AND DOG SHOW: Getting involved
It is hard to imagine a summer without the annual Fete and Family Dog Show, but if it is to continue we do need HELP with getting it ready.
The first date to put in your diary is Fete Preparation morning at 10.00am on Monday, 5th May hosted by Jim and Doreen at Linden House, when we clean and repaint the signs for the stalls and side shows and prepare the roadside boards. Then we reward ourselves with a tasty BBQ. Please bring your own meat and wine. Please let Doreen (720358) or Jane Eshelby (01933 410959) know if you wish to stay for lunch and what you would like to provide in the way of salads or puddings
The big preparation will be in the afternoon of Friday, 13th June. If you can manage to come anytime between 2.00 and 7.30pm to lend a hand, you will be most welcome. We shall need to collect tents, tables, chairs and stall signs and set these all up in the Scout Field down Horsefair Lane ready for the big day. We need muscle, a good sense of humour, wheels and trailers and tea and cake will be provided.
Mandy (720414) or Christine (720234) await your call.
SATURDAY 14 th JUNE 2014, 2 PM
Remembering the Odell of 1914
(In the Scout field, Horsefair Lane, Odell)
ENTRY Adults £1.50, Children Free
PROGRAMME OF EVENTS
2.00 PM Grand Opening
2.00-4.00PM Dog Show
4.00 pm Raffle Draw and Prize Giving
ATTRACTIONS
Bedford Brass Band, Boys Brigade, Bouncy Castle, Teas, Pimms, Children's Sports, Tombola, Ice Creams, Cakes, Books, Refreshments, Bottle Stall, Coconu
t
Shy, Children's Sports, White Elephant, Produce, Gifts, Raffle
FAMILY DOG SHOW
(entry fee - £1 50 per dog per class)Classes:
Children's Handling (14 years and under)

Puppies under 1 year

Country Sporting Dog

Country Sporting Bitch

Best Condition Dog or Bitch

Best Rescue Re-home Dog

Best Rescue Re-home Bitch

Best Cross Breed Dog

Best Cross Breed Bitch

Dog or Bitch with Most Appealing Eyes

Most Handsome Dog

Most Handsome Bitch

Championship (winners of each classes)
Round and About
Food for Thought!
For several years now scientists have been looking into the natural cures and remedies provided by plants according to traditional folklore and old wives' tales with some surprisingly successful results. The attention of these scientists has now turned towards the animal kingdom and they have begun to uncover the ability of many animal by-products to help produce possible cures for human ailments.
For instance, did you know that silkworm saliva has marvellous anti-inflammatory properties and is most useful when coping with pain and swelling for those suffering from rheumatoid arthritis. An enzyme contained within the saliva is used when the silkworm wishes to cut its way out of the cocoon and in the same way this enzyme can digest the inflammatory tissue in humans.
On a reasonably similar principle lizard spit is very effective when dealing with diabetes, including heart disease, kidney failure and blindness. However, this relates only to the properties contained within the spittle of the giant gila monster of Mexico and Arizona.
Emu oil taken from the fatty tissue found on the back of the emu has long been used by the Aborigines, for many hundreds of years, for its powerful soothing properties for sore joints, cuts and bruises.
Collagen collected from cattle is yet another effective remedy for rheumatoid arthritis. Collagen is a type of protein that connects and supports tissues in the skin and muscles. Scientists are of the opinion that when ingested the collagen accumulates round the infected joints stimulating the cartilage cells.
It is strongly believed that a daily dose of cow colostrum can increase the strength and stamina of the adult human population. Research has found that athletes who took 60g of colostrum a day for eight weeks were able to train longer and harder.
The healing and repairing powers of snail slime, which can be harvested without causing damage to the snail, was discovered by snail farmers in Chile some years ago. They noticed that their hands were incredibly soft and smooth and that any cuts and abrasions healed very quickly. Research has confirmed the presence of regenerative properties contained in the slime. Whilst in Africa scientists have discovered that the mucus secreted by the giant land snail contains crystals that harden and set quickly and the scientists hope to harness these properties to create a bone cement to help repair broken bones.
Bee and wasp stings have been used for many years in the treatment of asthma. Patients have to be dosed for many years, on multiple occasions, slowly building up a toleration to grass pollen and dust mites. Research is also under way for bee venom to be engineered to target tumours and it is hoped it will become an effective cure for many types of cancer.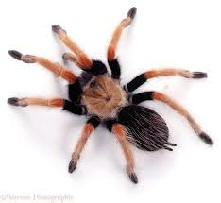 Tarantula venom is apparently excellent as an agent for pain relief in muscular dystrophy and to correct irregular heart beat. The spider venom contains a protein GsMTx4 which works by stopping nerve pain and could be used instead of morphine without the side effects. Research has also found that the protein can dampen down both the incidence of and the length of atrial fibrillation – a common form of irregular heart beat causing palpitations which can lead to blood clots, heart attacks and stroke.
Shark cartilage provides help with osteoarthritis and some forms of cancer. The cartilage contains a molecule which helps to keep the cartilage "elastic", as well as blocking enzymes which break it down. It also helps the body create new cartilage and it is hoped to develop a treatment to help osteoarthritis and hopefully block progression of the disease. It is also hoped to produce a product to help prevent the spread of brain, breast and prostate cancer.
Lastly, I come to the velvet to be found on the antlers of deer. This can be harvested from the antlers without harming the deer itself. Whilst the velvet is growing it is an active, living part of the stag's antler and scientists have discovered that the velvet contains many nutrients that can help with arthritis by reducing inflammation thereby easing joint pain and it is hoped that research will find a way to create new cartilage along the same lines as with the shark.
Needless to say nothing I have mentioned above should encourage people to try it at home. Many of the above "cures" are still in the experimental stage and all need medical supervision.
Barbara Corley
W.I. News
At our March meeting we welcomed Sonia Minney to talk about The Bedford Guildhouse. The building was formerly known as the Working Men's Institute. The foundation stone was laid in April 1856 by the Duchess of Bedford. One generous benefactor to the project was the Rev. R Fitzpatrick, Vicar of Holy Trinity, who was a generous giver to all good causes and taught the working men of Bedford to read, write and enjoy quiet recreation such as draughts, chess, backgammon or dominoes excluding cards, gambling and alcohol. Today The Guildhouse welcomes senior citizens to regular activities from Monday to Friday each week, offering creative writing, art classes, table tennis, computer classes and much more. They also have a Programme of Events which includes a Eurostar Trip to Paris and a visit to Blenheim Palace Flower Show. Tea, coffee and cooked lunches are available every day. To increase its income rooms are available to organisations and to the general public. The Guildhouse is a registered charity and constantly needs to raise funds. For more information go to www.bedfordguildhouse.org.uk
The next meeting will be held in the Village Hall on Tuesday, 8th April at 7.30pm when Maggie Goodchild will talk about Medical Detection Dogs.
Hostesses are Doreen Wheeler and Margaret Jones.
New members are always welcome and if you need any more information please ring Karen Boyes, 720952. Ladies, just come along to the Village Hall on the second Tuesday at 7.30pm of each month and see what we do and how we enjoy ourselves. To find out more about the WI go to www.theWI.org.uk or the local Bedfordshire Federation website www.thewi.org,uk/bedfordshire
Jane Eshelby
Alison Foster, Borough Councillor for Odell
Update for Odell for March from Borough Councillor Alison Foster
Contact Alison by telephone on 07773371190 or email at afield_foster@btinternet.com
The following charities visited Odell on 10th March and provided some very useful information for local residents. If you were not able to get to this meeting and would like to hear what they have to say I have arranged further meetings as follows:
Monday 7th April - Carlton Village Hall at 3pm
Monday 14th April - Wymington Memorial Hall at 2pm and United Services Club, Podington, at 3.30pm.
AgeUK Bedfordshire
AgeUK is a charity that offers a range of services to all those over 50. This includes a free confidential information and advice service on a wide range of topics including welfare benefits, housing advice and help with consumer and health issues. The charity also has home help, handyperson and gardening services. They also provide an accompanied outings service and companion visits. All those working within these services for AgeUK are CRB checked. To contact AgeUK telephone 01234 360510, or email www.ageukbedfordshire.org.uk
Bedfordshire Rural Communities Charity (BRCC) provides the 'Village Agent' service to the elderly and vulnerable. They cover all rural parts of Bedford Borough with their friendly and trained Village Agents able to visit you at home or talk to you by 'phone. They can offer advice about benefits and allowances, such as Pension Credit and Attendance Allowance, help fill in forms, give advice about keeping warm and healthy, help with home adaptations to help keep your independence and advise you about community transport and other community services. It is a free service - all you need to do is call your Village Agent. All Agents are CRB checked and operate in the strictest confidence. Lizzie Barnicoat is the Village Agent for Harrold, Carlton and Odell. Leave a message for Lizzie on Freephone 0800 039 1234 and she will call you back.
Bedfordshire Police Partnership Trust - The Bobby Scheme
The Trust was launched in 1997 and is a registered charity. Their aim is to support any community based initiative which has the potential to improve the "quality of life" of local communities or individuals, such as crime prevention, road safety and the safety of the individual. They operate "Bobby Scheme" a free home security service. This scheme is a free service with the aim of helping elderly or vulnerable victims of crime by giving advice, support and practical help in improving their home security. The service is also available to all vulnerable individuals and groups with the aim of preventing crime so you don't have to have been a victim of crime to access their services. The "Bobbymen" are trained carpenters, lock fitters and crime prevention advisers. They assess each case individually and fit whatever security devices are necessary to improve the home's security absolutely free of charge.
To find out more you can visit their website www.bedspolicepartnership.org or contact 01234-842612 or 01234 -842619 and speak with the Trust Administrator Geoff Comb.
Broadband
As a reminder, the Council's Local Broadband Plan is seeking to provide 90% of properties in the Borough with superfast broadband (24 Megabits per second or more) and all premises with basic broadband (at least 2 Megabits per second) by 2016.
BT Openreach, which is contracted to carry out the scheme, has published a phasing map which shows which areas will have works undertaken and when. This can be seen at the following link along with a 'Postcode Checker' which allows residents to see which phase their area is in. It should be noted that some areas are already deemed to have the basic provision and so will not see any improvement works carried out, although this may change as site Surveys are undertaken;
http://www.bedford.gov.uk/business/business_support_and_advice/broadband.aspx.
In addition to this, the Government has announced a further £240m fund to extend the scheme to provide 95% of properties with superfast speeds. To receive funding councils will have to match fund the Government grant and the Borough Council has made a commitment to do this. Furthermore, the Council has said it will submit a bid for funding under the Government's £10m innovation fund which is aiming to use new technology to provide superfast broadband to premises in remote areas. I hope this will bring forward superfast broadband to Odell by 2016/17.
Bedford Borough Council Budget 2014/2015
The Council's budget for 2014/2015 was set at its meeting on the 5th February. The budget includes savings of £10.586m in the coming year. Following receipt of a £758k government grant the Borough has been able to freeze Council Tax again this year.
Bedford Hospital Paediatric Services
Other than patient stays beyond 24 hours, Bedford Hospital has now brought back all its paediatric services. This means that ambulances can bring children to the Hospital, although if they need to stay beyond 24 hours, doctors will consider moving them to a nearby paediatric unit.
NHS
The NHS Direct service has been replaced by the 111 phone line. Residents should call this number if they require any medical advice that is not urgent.
Bedford Western Bypass
The Council has reiterated its commitment to the second phase of the Bedford Western Bypass which will connect the Deep Spinney / Bromham Road roundabout at Biddenham with the A6 Paula Radcliffe Way / Clapham Road roundabout.
The scheme has been delayed as an agreement has not been reached with developers on funding while objections were raised by several parties to the Council's Compulsory Purchase Order (CPO) and Side Roads Order (SRO) which were withdrawn. The Council believes that progress can now be made on the submission of the Orders while it has also committed to funding the scheme itself following the receipt of funding from the Department of Transport (DfT). However, it may still be the case that contributions are made by the developers. The estimated cost of the bypass is £15m.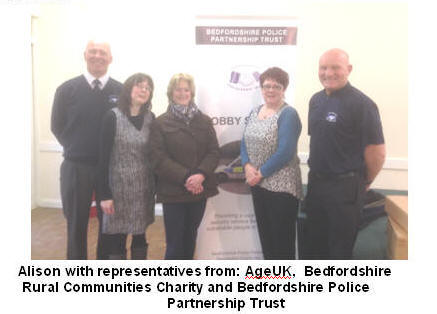 Aspects Leisure Park
The Council's Planning Committee has approved an application to refurbish the cinema at the Aspects Leisure Park and for three new screens. There will also be new restaurants on the site.
The works will start in June and will be completed in 2015.
Town Centre Development
On Monday 27th January work began on two town centre development schemes. Firstly, demolition work began at the Town Hall ahead of the Riverside North development. The site will contain a new cinema, restaurants and residential and retail units.
Furthermore, work started on the demolition of the bus station in the town centre. This is the beginning of works to redevelop the bus station area, with a new bus station building, the refurbishment of the Allhallows multi-storey park and improvements to shop fronts. Works have finished on the new Greyfriars surface car park and the refurbishment of the public conveniences beneath the Allhallows car park.
Leisure Facilities
On Saturday 1st February the management of the Council's leisure facilities transferred to the leisure management group, Fusion Lifestyle. The 8 sites included in the agreement are as follows; Oasis Pool; Robinson Pool; Kempston Pool; the Bunyan Centre, Blue Peris Outdoor Centre (in North Wales); Kempston Outdoor Centre; Bedford International Athletics Stadium, and; Mowsbury Golf and Squash Club.
More information on the leisure facilities and their timetables and bookings can be found at http://www.bedfordleisure.com/.
Magistrates' Court
The Justices' Issues Group (JIG) has agreed to move the vast majority of cases currently heard at Bedford Magistrates' Court to Luton Magistrates' Court. This is despite concerns raised on access to justice grounds by Richard Fuller and Alistair Burt.
Black Cat Roundabout
Works to introduce traffic lights and extra lanes are due to begin in April as part of a £6.5m scheme to alleviate traffic. It will take around 7 months to complete.
Gypsy and Traveller Sites
The Council's current temporary site at Meadow Lane on the A603 near Cardington has been closed as works have started on converting it into a permanent site with 14 pitches.
The Planning Inspectorate is due to decide whether a private site at Bletsoe will be given planning permission following the completion of a public inquiry, and it will also announce in due course a date for a hearing regarding a site at Bromham Nurseries. The Council is to challenge a previous decision of the Planning Inspectorate to grant permission for a site in Roxton in the High Court on the 25th March.
Car Parking
The Allhallows multi-storey car park in Bedford will be temporarily closed from the 10th March until Easter weekend while works take place on the lifts and the entrances and exits as part of the Council's refurbishment scheme.
The 'Bobby Van' Information Sheet
Home security help and guidance for the vulnerable and elderly
The Bedfordshire Police Partnership Trust undertakes all activities at the charity's discretion and the services provided can be withdrawn without prejudice at any time.
Aim
To provide help and guidance on home security to elderly and vulnerable people within Bedfordshire, either providing assistance in securing their homes after a crime has been committed or in an effort to prevent crime.
Introduction
A security survey is carried out to assess what upgrading work is necessary to make the shell of the house secure. Security devices are supplied and fitted after consultation with the householder to ensure they are happy with improvement suggestions. All work is carried out by appointment during office hours on weekdays only (it should be noted that the scheme is not able to provide an emergency call-out service.
Objectives
Undertake a Free Home Security Service & Survey
Improve Home Security
Check Fire safety measures
Reassure those using the service
Help reduce crime and the fear of crime
Support victims of serious domestic violence
Eligibility
Elderly persons 65 years of age or over
Vulnerable Persons – Home Office definition
High Risk Victims of Domestic Violence
Nature of work
1. Home Visits to offer advice on security issues
2. Home safety improvements, free of charge
Check door locks and upgrade
Fit door chains / door restrictors if possible (where not already present)
Fit door viewers; Install window locks; Install smoke detectors where appropriate; Installation of key safes on request (A charge is made for this service)
News from Harrold Odell Country Park
In stark contrast to last year, spring has come early this year. As I write this in mid-march I'm looking at clouds of white Cherry Plum and Blackthorn blossom in the hedgerows and violets and primroses between the trees in the shelter belt. We even have a patch of white violets along the base of the hedge opposite our storage containers in the overflow car park.
Last year everything was at this stage at least 3 weeks later. I'll need to keep a look out for Bluebells as I take my Health Walkers up to Odell Great Wood to see them every year followed by tea by arrangement in the church.
This Easter we will once again be running an Easter Egg Trail. This year's date is going to be Easter Monday, April 21st. As before there will be 50 places: 25 in the morning between 10am – 12pm and 25 in the afternoon between 1pm – 3pm. Booking is essential and it will cost £1 per child. It has been fully booked every time we've run this so book early to avoid disappointment.
On Saturday April 26th the park will be playing host to runners participating in the Harrold Pit Run. Part of the course goes through the park. The chances are that there will be a new herd of cattle in the river meadow by then. Please be warned that they are usually a bit skittish when they first arrive as they are not used to the sights and sounds of their new home. Please give them plenty of space, especially if you have a dog. It is vital that you obey the signs that will be erected on all entrance gates when the grazier brings them in.
In recent weeks our regular visitors may have noticed our volunteers hard at work laying the section of hedge bordering the bird hide. We knew there would be quite a few gaps when this was done and some of these were filled by new saplings donated by TCV (Trust for Conservation Volunteers). The rest of the 750 new trees they gave us have been planted in several areas of the park including the small copse at the back of Kingfisher Lake. This copse had been cleared of weak trees and bramble in order to accommodate them. The idea is to create an understory of younger trees mixed with older specimens. Now that more light has been allowed in, it will be interesting to see what wildflowers come up as a result of the winter's work.
We lost over a dozen trees to the storms during the winter and there are several Poplars, some of them quite large that have become infested with Hornet Clearwing Moth. These will have to be felled as the holes made by the larvae near the base of the tree have allowed fungus and rot to eat into the heart wood causing them to become unsafe. This is indeed a serious pest!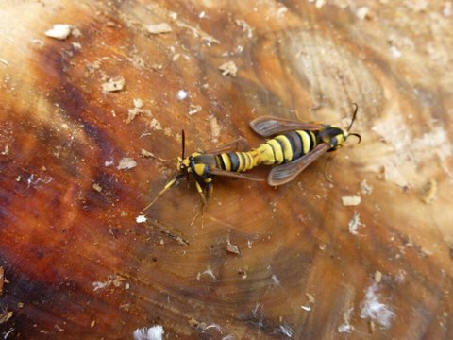 Mating Hornet Clearwing
In May we are looking to organise a Mini Woodworks event. We hope to have demonstrations involving a mobile sawmill and wood processor, chainsaw carving, wood turning using a pole lathe and more. There will be opportunities to buy hand-made goods.
The fishing season finished on March 14th and will resume on June 16th. The fishing at Harrold is not easy but the rewards are high when you do find the fish. Our Bailiff, Paul Oliver had several carp in the 20lb range from the small lake but there are several fish in the large lake that are 30 – 40lb in weight. We also have pike to 30lb, big tench, bream, chub and barbel. The latter are to be found in the river. In addition, perch to 4lb have fallen to spinners used by our pike anglers. More information can be found on our website www.hocp.co.uk
Tea-Zels Café are currently open daily from 9am – 4pm but after the clocks go forward (Sunday March 30th) they will begin opening until 5pm at weekends only. For direct enquiries telephone them on 01234 721525.
From April 1st the effects of the Borough Council's money saving re-structuring of our department will kick in. We will then be known as Greenspace Officers rather than Rangers. We will then be expected to cover much of the Borough Estate as well as the sites we have traditionally been responsible for and we have merged with Priory Country Park when it comes to overall staffing.
As a result, you will be seeing new faces providing cover as part of a new 6 week rota being worked between Richard and myself and the 4 staff from Priory. Nicky Monsey from Priory will be transferring to Harrold making two teams of three. Only time will tell how this will work as we bed into new ways of working.
Dates for your diary
April 21st Easter Egg Hunt – see main article.
April 26th Harrold Pit Run – see main article
May 25th Mini Woodworks – see main article
Health Walks
We walk every other Thursday at 10.30am. Meet outside the cafe entrance for registration. Please wear suitable clothing and shoes for the weather. Improve your fitness and wellbeing and make new friends with an option for coffee and a natter in the cafe afterwards. Leader Janet Munro tel. 01234 720016 or e-mail janet.munro@bedford.gov.uk for more information.
Thursday April 10th, 24th
Thursday May 8th
Friends Conservation Tasks
On the last Monday of the month (a week earlier if a Bank Holiday) there is a conservation task for those that are interested in getting involved.
Meet at the Ranger's office at 10am and wear sturdy clothing and footwear and bring a packed lunch. We provide tools, gloves and refreshments. Leader Richard Dowsett tel. 01234 720016 or e-mail richard.dowsett@bedford.gov.uk for more information.
Monday April 28th Janet Munro Ranger
Village Hall News
Village Quiz – Saturday March 15th
As ever, the Village Quiz was great fun. This very popular event was skilfully hosted by Rob with the help of Elinor and Evie and also Graham behind the bar. The evening was well attended and a great time was had by everyone there.
Winners were: In first place, Globetrotters; 2nd place: Eastenders and in 3rd place Mad Dogs.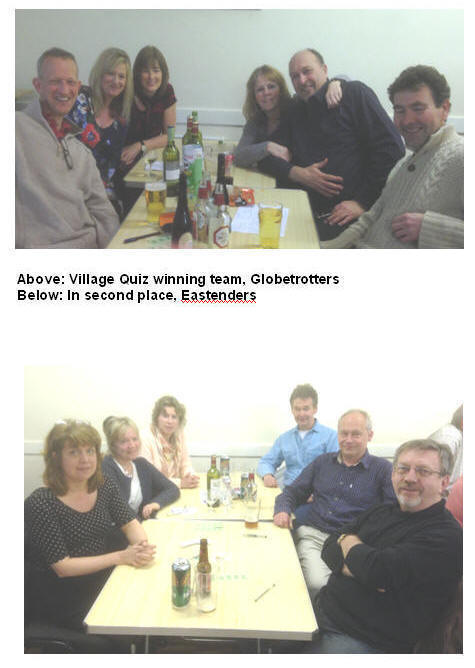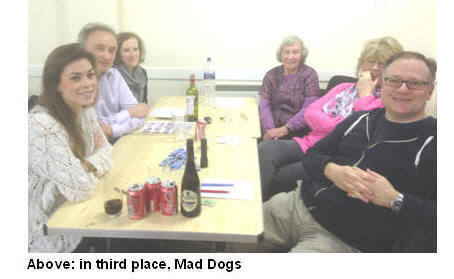 The Annual General Meeting of the Village Hall Committee takes place on Monday 28th April at 7.30pm in the village hall. Everybody welcome.
Later in the year…
May 16th - Blood Wedding (see below)
June 13th - Blackadder (see below)
Upcoming Quiz nights: 5th July and 20th September
Dr Busker on 11th October.
Live Theatre in the Village Hall!
2 live theatre events planned this spring
LORCA'S BLOOD WEDDING - MAY 16th
Theatrical Niche present
"Blood Wedding"by Federico García Lorca
May 16th 7.30pm
Suitable for Ages 12+
A tragedy, in which themes of the cycle of life, the progression of time, choice, deception, fate, and nature interact.

Lorca's rural masterpiece is here given new breath - fusing Puppetry, New Writing and Movement to bring this sensory revenge piece out to regional theatres and schools.
Alice Sillett leads the production in both her puppetry expertise and work as a London theatre director, and this new adaptation brings fresh focus to the work, whilst relishing the poetry of the original.

Blood Wedding is a tale created by Lorca in 1932, before his censorship in Spain, and is considered one of his greatest works. Revenge, passion and dilemmas of the heart resound as the themes of this beautiful writing. This show takes the audience further into Lorca's fantastical world
This will be the fifth tour for the widely acclaimed company Theatrical Niche Ltd and we are very pleased to have been able to book them to appear in Odell Village Hall
Tickets: £8 adults, £6 concessions Tickets from:
Rob 01234 720730
Jilly 01234 720600
Nicki 01234 720893
Reviews of past performances:
" **** Brilliant...Not to be missed" - London Festival Fringe
Soho on DECENCY/DISCRETION
"A Marvellous play given full justice by a superb cast" - Sian Napier, Kent Messenger on PROOF
More in next month's magazine.
BLACKADDER - JUNE 13TH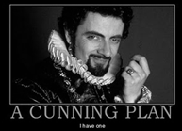 June 13th— Ad HOC are planning to put on a production of 'Blackadder' in Odell Village Hall. Episodes from the Elizabethan series will also be performed on June 14th, 20th and 21st in other local venues, to be announced. "The eyes are open, the mouth moves, but Mr Brain has long since departed, hasn't he Percy?" All profits will go to Comic Relief.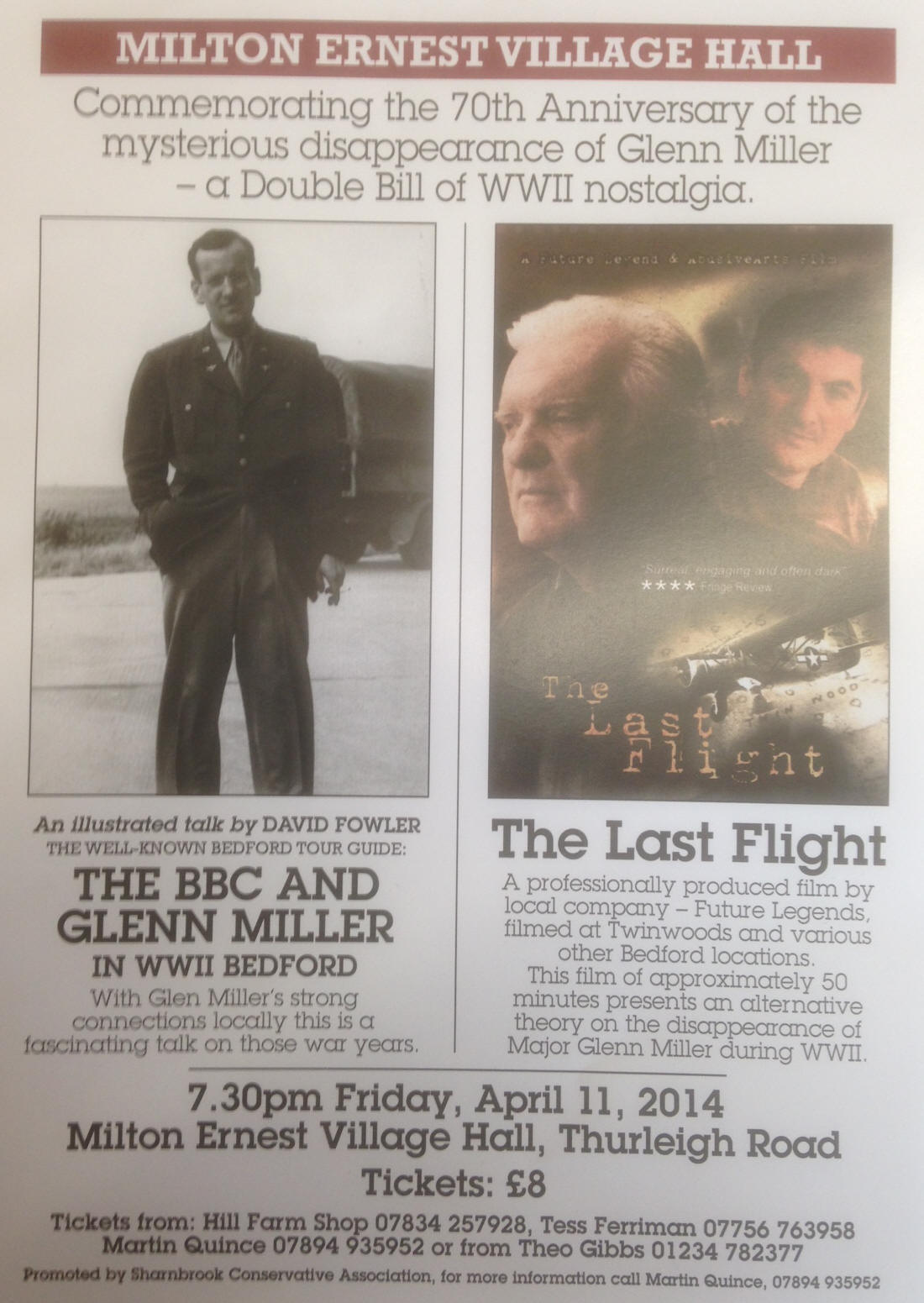 The Mill Theatre, Sharnbrook
Camelot - Monday 19th - Saturday 24th May at 7.30 pm, also matinee: 24th May at 2.30 pm (19th Charity night)
The musically rich, legendary tale of Arthur, 'The Once and Future King', by Alan Jay Lerner and Frederick Loewe. Enough swashbuckling action to keep any audience on the edge of their seats and smiling! A wonderful story of romance and friendship; of King Arthur, Queen Guinevere, Lancelot, Pellinor, Morgan le Fey…and the magic of Merlin; the tale of the formation and eventual decline of the Round Table, due to the plotting of Mordred, the illegitimate son of Arthur. Set to some of the most memorable songs in the Lerner and Loewe catalogue, including 'How to handle a woman', 'If ever I would leave you', 'Guinevere'….
Tickets: (£11 – 13; Matinee £10) on sale from 14th April
On-line*: www.sharnbrookmilltheatre.co.uk,
or at
Sharnbrook Post Office
(in person)
Also:
Bedford Central Box Office
* – 718112 (Tourist Information Centre, St Paul's Sq.)
Groups: 781372 : 10% discount 10 + (excluding Charity nights, Fri. and Sat.)
2 wheelchair positions; easier access seating A-C; hearing loop Rows A-E : * NB Booking fee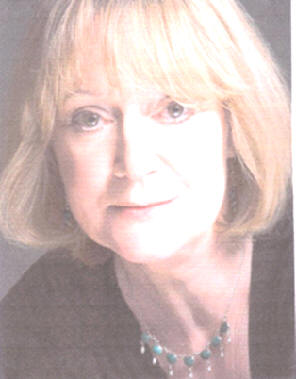 An Evening with Joanna David… in conversation with David Saint,
7.30 pm on Sunday 27th April 2014 at Sharnbrook Mill Theatre
Wife of Edward Fox; mother to Emilia Fox and Freddie Fox
Reception: Sparkling wine with canapés
Interludes by The Milton Music Trio
Tickets (subject to availability): £20 from:
Brian Woodrow: bwoodrow@btinternet.com or 824323
A Mill Theatre 'Warm up' Appeal Event for a 'Green Energy' based Heating and Ventilation System
P E R F O R M E R S !
MACBETH Mill Theatre's inaugural Shakespeare production, possibly the bard's darkest and most powerful tragedy, will be on stage 15th - 20th September 2014.
Workshops: Tuesday1st & Thursday 3rd April 7.30 pm;
Auditions: Sunday 6th April. (For details contact: Barry Thompson 07732 904 817).
MISS SAIGON by Claude Michel-Schonberg and Alain Boublil (the school edition of the musical) will be performed by Sharnbrook Mill Youth 14th – 22nd November.
Workshop Monday 26th May,
Auditions: Sunday 1st June. For details contact Paul Wildman (wildchildtheatre@yahoo.co.uk).
Diary
April
1st 7.30pm Macbeth workshop, Mill Theatre
2nd 7.30pm "The Passion" Part 1, URC
3rd 7.30pm Macbeth workshop, Mill Theatre
6th Auditions for Macbeth, Mill Theatre
8th 7.30pm W.I., Village Hall
9th 7.30pm "The Passion", Part 2, URC
10th 10.30am HOCP Health Walk
11th 7.30pm Glenn Miller talk and film night, Milton Ernest Village Hall
14th 8pm Taize Service, St. Peter's, Harrold
15th 8pm Taize Service, St. Mary's, Carlton
16th 8pm Taize Service, URC, Harrold
17th 8pm Communion Service, St. Peter's, Harrold
18th 11am Good Friday Service, Harrold Green
2pm Service of meditation and music, All Saints', Odell
19th 10am Church decorating for Easter, All Saints' Odell
20th 5.30am Dawn Service for Easter Sunday, URC
9.30am Communion, St. Mary's, Carlton
10.30am Communion, All Saints', Odell
11am Joint Service for Easter, St. Peter's, Harrold
21st Easter Egg Hunt, HOCP
21st 2.30pm Café in the Tower, All Saints' Church
23rd 10.30am Meeting Point at Jane Eshelby's.
23rd 7.30pm Annual Vestry Meeting, All Saints' Church, Odell
7.45pm Annual Parochial Church Meeting followed by
Inaugural Meeting of PCC
24th 10.30am HOCP Health Walk
26th Harrold Pit Run
26th 7.30pm St. George's Theme Night, Village Hall.
28th 10am Friends' Task Day HOCP
28th 7.30pm Village Hall Committee AGM
May
5th 10am Fete Preparation Day
Magazine Deadline
Please send all entries for the May 2014 magazine to Tricia Hudson (ed@odellbeds.net) or Catherine Corkery by April 12th at the latest. May we remind you that the editorial team exercises the right to edit, shorten or alter any items that are submitted. Also, the opinions expressed in the articles are those of the contributors and are not the responsibility of the editorial team.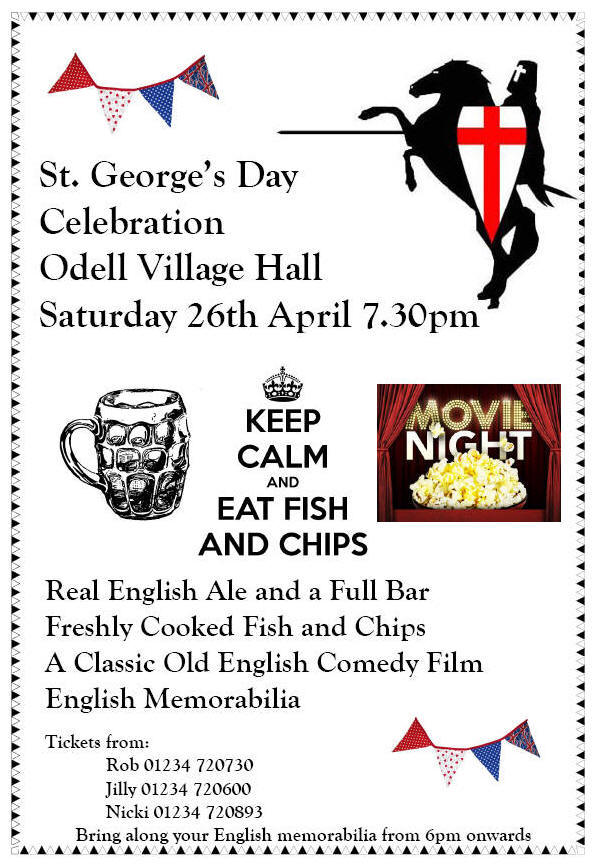 Odell Cheese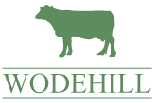 Wodehill Cheese — hand-made in Carlton
Wodehill Blue is a semi-soft creamy blue cheese
made with milk from Jersey cows in Carlton

Nearest stockists: Hurleys in Sharnbrook and Carlton Village Shop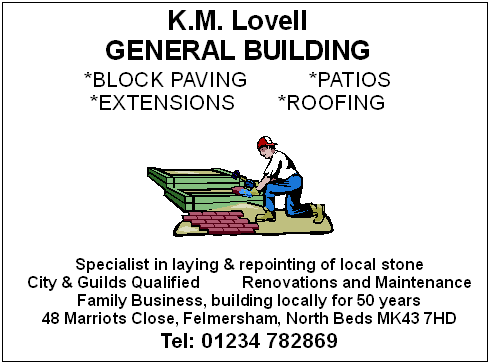 Alex Stubbs Flooring
Carpets, Vinyls, Laminates, Safety Flooring, Adaptions, Refits, Repairs
Supplied and Fitted
07976 260572
01234 240954
Great local pubs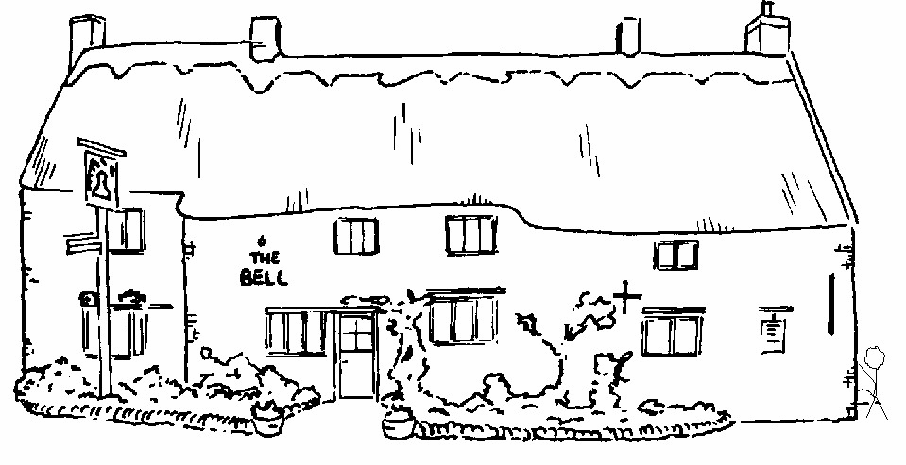 The Bell in Odell
As Featured in the 2010 Good Beer Guide
With the relaxed charm of a village local and a varied menu of
quality, home-cooked food you won't find any gimmicks here
just a Great British Pub!
Abbot Ale, IPA & Changing Seasonal & Guest Ales
Telephone 01234 720254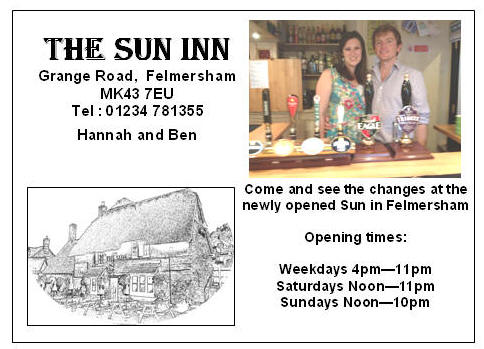 ---
Last revised: April 06, 2014.