ODELL VILLAGE NEWS
November 2013
News From The Bell
We have live music from 'Mercy Street' on Friday 8th November, from 8pm. Anyone who came to the Beer festival should remember them - an excellent local band, so please come along and enjoy the music.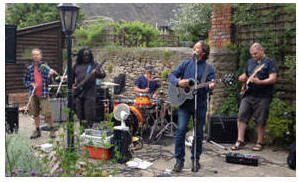 Christmas menus are now available to be looked at - Christmas menu will be served throughout December apart from Sundays. Everyone welcome. If you have a large group of you coming, please come and have a chat with us and we will try to sort out a good deal for you.
We are also pleased to let you know that Denise has recently won some awards at local shows for her lovely desserts, cakes and especially her scones!! Come in and sample some lovely homemade desserts.
We look forward to seeing you soon, Katie & Will
Round and About
The Aliens Have Arrived
Over recent weeks there has been a lot of publicity about the damage being done to our native flora and fauna caused by foreign invaders, carried to our shores either by world-wide transport or the warming of our climate.
Most of us are aware of the harm that has been caused to our native red squirrel population since the introduction of the American grey. Both larger and more aggressive than our own red squirrel the grey has driven our red into isolated pockets of population, largely on off-shore islands. It has not been helped by the fact that the grey carries a disease that our own beloved red does not seem to be able to combat. A recent successful re-introduction of red squirrels on to the island of Tresco in the Scilly Isles is one hopeful sign.
Wild mink, brought to these shores for the fur industry, has resulted in mink escaping into our waterways and the decimation of our water vole population (Ratty in Wind in the Willows). Wildlife Conservation is again putting the lovely little animals back into our canals and rivers following a large captive-breeding campaign.
Another disaster to escape into our ponds, rivers and canals is the terrapin. Following the popular Ninja Turtle series, families went overboard, buying thousands of baby terrapins to keep in aquariums. Baby terrapins are the size of a small coin and look completely harmless. However, as people soon found out, these charming little characters soon grew too big for their containers and people began to release them into our waterways. Some were even flushed down the loo! Many of these little terrapins died, but enough survived – both in the sewers and the waterways, to grow into adults. The coin-sized babies grew to the size of dinner plates, weighing up to 4 lbs. in weight. Adults are aggressive and the terrapins have wreaked havoc amongst our native species, eating small animals, young water birds and making inroads into our fish, frog and toad population. Conservationists have reported that these terrapins can live up to 40 years and that, following our recent hot summer, sightings have been made of a number of hatchlings showing that these animals have fully acclimatised and are beginning to multiply quite happily.
The arrival of zebra mussels has created the most amazing problems. The mussels arrived on the hulls of ships from Eastern Europe, escaped into our water courses and have since multiplied at a most alarming rate. They kill off our native mussels by laying their eggs on top of our own species and when developed they smother everything to which they are attached. Rutland Water now contains millions of zebra mussels. An expert says a single individual mussel can produce a million offspring in one year – they are believed to be the dominant organism in Rutland Water. Every year Anglian Water has to remove tons of shells in order to keep the water flowing through their pipes. They have spent £500,000 to install special filters to sift them out. They spread so quickly many of the pipes become completely blocked.
Then, of course, we come to such problems as Japanese knot weed, brought in as an ornamental pond plant, and has since proved to be one of the fastest growing "pests" at present invading our shores. During the building of the Olympic Park in East London it cost an estimated £70m to remove the plants from the site. Our native bluebells could disappear in a decade we are warned, as the Spanish bluebell seems set to take over.
Our trees are also under threat. We can all remember the loss of our elm trees, now we have ash die back. Our chestnut trees are dying from some form of wilt and our splendid oak trees are also under attack.
The assault approaches from all sides – from the arrival of the signal crayfish and the so-called killer shrimp, the invasive rhododendrons and floating pennywort to the endless numbers of Canada geese. These new arrivals from far-flung places are bringing with them new diseases and seem to be outgrowing our own native species.
Barbara Corley
After reading Barbara's article 'Lost in Translation' (October issue), Reverend Julian and Stephanie Harford sent this witticism as an appropriate sequel:
"I know you believe you understand what you think I said, but I am not sure you realise that what you heard is not what I meant".
Strikes a chord with you?!!
Goodbye!
Keith and Pat Allen would like to say goodbye and thanks for all the friendship and help given to us during our time living in Odell. We were sorry we could not get to say goodbye to everybody but we just ran out of time. We hope Alison and Richard will be as happy in Odell as we were for 25 years and I know the villagers will welcome them as they did us. The need for no stairs, smaller garden, seeing more of our grandchildren and the call of the sea made Devon very attractive as our new home.
Pat Allen
Alison Foster, Borough Councillor for Odell - October 2013 Update
Contact Alison - If you have any issues or concerns you would like to raise with me directly I can be contacted on my mobile 07773371190 or by email on afield_foster@btinternet.com
Update on Paediatric Services at Bedford Hospital (October 2013)
As reported last month, at the beginning of August, Bedford Hospital scaled back its paediatric services following the removal of 7 junior doctors from its Riverbank Ward. This course of action was taken by Health Education East of England after the junior doctors raised concerns that they were not receiving adequate supervision from consultants. A number of services for 0 – 19 year olds have been suspended as a result;
· The Hospital will provide A & E services for minor injuries, such as stitching a wound or providing an X-ray. However, A & E services for more serious cases will no longer be provided. In these instances the Hospital is encouraging parents and guardians to call an ambulance so their child can be taken to the next nearest hospital with a paediatric unit, such as Milton Keynes.
· The families of around 260 patients with open access to the Riverbank Ward will have to travel to receive care at alternative hospitals.
Planned operations and follow up care requiring overnight stays have been moved to other hospitals. This will affect 3 patients a week on average.
The following services will not be affected by the changes;
· Children's outpatient services.
· Maternity and neo-natal.
· Day unit for planned procedures and care following planned procedures.
· Nurse-led ambulatory care for children with long term conditions.
After more doctors were hired by the Hospital in September, local GPs are now able to refer a child to a consultant at the Hospital on the same day that they are seen. Furthermore, 16 – 19 year olds can attend A & E.
Following these changes, the Bedfordshire Clinical Commissioning Group (BCCG), which is responsible for the organisation of healthcare in the County has announced that it plans to hold a public consultation on the future of paediatric services. The Hospital has said that it has had a problem in attracting consultants and the management feel it will be difficult to reverse this trend. The availability of paediatric consultants will determine whether the junior doctors can be brought back.
At the time of writing, a pre-consultation exercise is underway and this will last until the 20th October. The proposals will then be finalised and be the subject of a public consultation from the 11th November to the 10th January. The BCCG has set up a website which will provide updates on the services and the consultation as and when they are available;
http://www.yourhealthinbedfordshire.co.uk/
Nunn Wood Wind Farm
The appeal was heard at the beginning of June. This appeal has been called in by the Secretary of State who will now make a decision once he has received the Planning Inspector's report. We hope to have his decision on or before 17 December 2013.
Podington Wind Farm
As reported last month the High Court recently threw out the Borough's s.288 High Court challenge to the Podington Wind Farm planning permission granted by the Planning Inspectorate. The wind farm development in Podington is now likely to go ahead.
Gypsy and Traveller Sites
On 23rd September the Borough Planning Committee refused the planning application of 5 rural Borough Councillors for a revised planning application for a 14 pitch Gypsy & Traveller site at Fairhill at the junction of the A6 Paula Radcliffe Way and Clapham Road, Bedford. This site was initially put forward by the Mayor earlier in the year but rejected by the Planning Committee in May due to public outcry by urban residents. A revised application was resubmitted by the rural Councillors anxious to prevent gypsy and traveller site planning applications gaining permission in unsuitable locations in the rural areas through the Planning Inspectorate due to the lack of provision by the Borough Council. The Councillors have six months in which to appeal. The Council has now said it intends to develop the 14 pitch site at Meadow Lane which received planning permission last year
Broadband Update
The Council has provided an updated timeline for its Joint Local Broadband Plan, which is being carried out alongside Milton Keynes and Central Bedfordshire Councils. The objective of the Plan is to provide superfast broadband (minimum 24Mbps) to 90% of premises in the Borough (currently 77%) and basic speeds (at least 2Mbps) to all premises. The contract was given to BT recently. A planning and mobilisation stage will then begin during the remainder of this year and the contract will be delivered between 2014 and 2016.
Borough officers are working hard to ensure this is developed as soon as possible and it is hoped we will hear from BT at the end of October which areas will get the broadband upgrade.
Antiques Valuation Day Harrold – in support of the Keech Children's Hospice
This event organised by Alison in conjunction with Peacocks Auctions of Bedford was a huge success and David Fletcher and Tim Brophy from Peacocks were kept busy all day valuing residents' antiques. We raised £429.50 for the Keech children's hospice. We hope to run the same event again next year. A big thank you goes to all those who helped out, in particular David, Tim, Richard, Lynette, Anne and Debbie.
Leisure Services
Following the decision to seek private management of its leisure services in January, the Council has received applications from five organisations. The preferred bid is set to be considered at the meeting of the Council's Executive later this month.
Council Tax Support Consultation
A consultation is being held until the 25th November on changes to the Council's Council Tax Reduction Scheme. The changes apply to those of working age and are as follows;
· Council Taxpayers with more than £8,000 in capital will not receive Support (down from £16,000).
· Under the current rules, where there is a non-dependent person aged over 18 living in the property (not the Council Taxpayer or their partner) Support is reduced. It is proposed that the reductions are increased.
· The maximum amount of Council Tax Support for properties in Bands E, F, G or H will be 82% of the Council Tax bill (currently 91.5%).
The maximum discount for a person convicted of benefit or Council Tax fraud will be 50% for 6 months (currently 91.5%).
You can respond to the consultation at the following link; http://www.bedford.gov.uk/council_and_democracy/consultations/council_tax_reduction_scheme.aspx
Supporting our local football team
Thank you to Will and Kate from The Bell, Odell for their kind sponsorship of a new football kit for Harrold & Carlton F.C. Under 15's team – coached and managed by Odell resident Ian Scott. The team play at a very high standard in Division 1 - Bedfordshire Youth League.
Helen Scott, Administrator (Kit & Equipment), Harrold & Carlton Football Club
W.I. News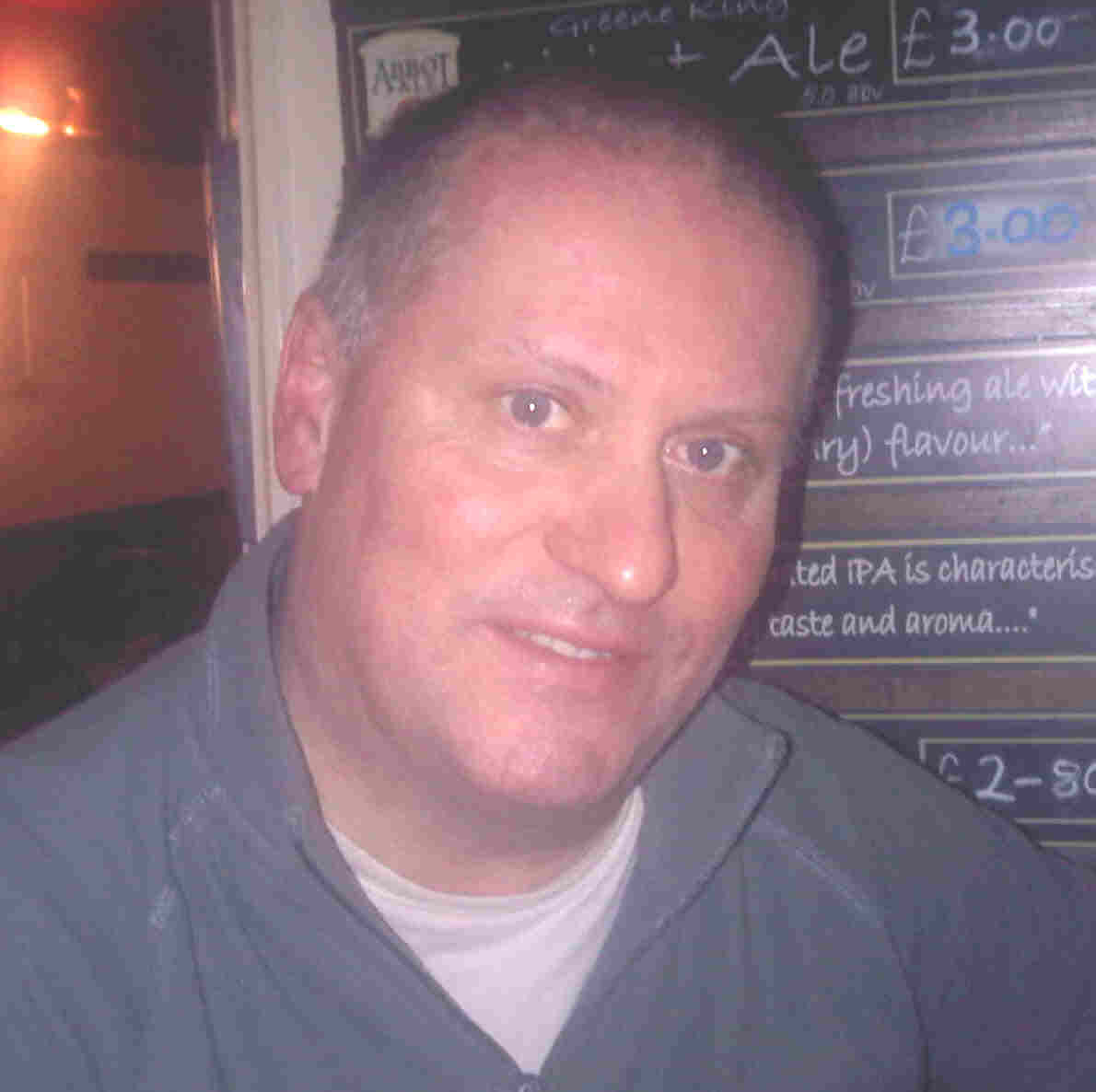 Our speaker turned out to be one of the best we have had although it was not without quite considerable angst. The planned meeting was a play reading and a member kindly sourced some Sue Townsend work which the committee thought would fit the bill perfectly: the right number of characters, an easy to read text, light, funny and not too long. However, when we came to match characters to members it was shock, horror! What might be funny to some people might have been a bit offensive to others so it necessitated a last minute change of plan. This is where Leslie Knowles kindly stepped in at the last minute and came to talk to us about his work with Stroke Victims. Although this is a very serious subject about which all of us should be aware he made it very light and entertaining and the time just flew by. Because it was Leslie it was not without some cliff-hanger jokes and stories where some of us were secretly worrying about where it was going, but all was well and we had a thoroughly enjoyable evening. More importantly, we are all better aware of the implications of having a stroke and the role Bedford Borough Council play in funding support. So, an enormous thank you to Leslie and if any of you are ever short of a really entertaining speaker you all know where to go. Leslie, how about a talk on Chelsea for next year?
Our next meeting is on Tuesday 12th November at 7.30pm
A Christmas Craft Activity, a demonstration by Sheila Hardaker.
Hostesses Mandy and Jane Eshelby
Odell WI in the wider community
We plan to decorate a Christmas tree in true WI style for the Churches Together Christmas Tree Festival at the United Reform Church in Harrold, 7th and 8th December. Please come and admire our creation and support this event. Lynette Hall
News from Harrold Odell Country Park
And so the countdown to Christmas begins! We've hit a wet spell after a dry summer and the excellent harvest has given way to ploughing and the sowing of crops. Working outside allows us to get a real feel for the seasons as they govern what we do within the park.
Oct. – March is our busiest time. We'll be surveying our trees for safety issues like disease. As the nettles and wild flowers die back and the leaves fall off we can get into the more inaccessible areas to thin out the weaker trees in the nature reserve and (floodwater permitting) certain parts of the lakeside.
Last month, we had contractors from Steve Dear Tree Services out to pollard some of the more mature willows along the far side of Grebe Lake. Their higher branches were becoming over-extended and too close to the path, a hazard if they snapped off. The end result looks a bit drastic but the nature of willow is such that by the end of next summer the fresh shoots are going to be quite substantial.
If anyone wants to see before and after pictures of this process, log on to the park website and look up the latest newsletter created by our Friends Group. Alternatively, free hard copies are available in the café both in the side room and on the shelf outside the Ranger's office. www.hocp.co.uk
Those of you who use Teazels Café on a regular basis may like to know their winter hours. At the moment, they are open from 9am – 4pm weekdays and 9am – 5pm at weekends. After ½ term when the clocks go back, they will be open from 9am – 4pm every day because of the darker nights. It is also highly likely that they will not be open on Christmas Eve, Christmas Day, Boxing Day or New Year's Day. Any enquiries should be directed to the girls by telephoning 01234 721525.
The cattle that have been grazing on the river meadows all summer are now about to go off to their owner. As soon as the last animal has been retrieved, we will remove the warning signs on all the entrances until they are needed again next April when he will put a new batch in there.
We are still dealing with too many instances of dog fouling around various areas of the park. Fixed penalty notices together with £75 fines have already been issued several times this year. We'd rather not be doing this as we want everyone to have a positive experience when visiting the park.
We will shortly be getting fencing erected around the Harrold Play equipment to exclude dogs from the area. We hope this work will commence at the beginning of this month.
We are truly blessed with our amazing Friends Group. They do so much around the park. Their skills never fail to impress as we have retired engineers, carpenters, IT experts and photographers. Richard & I would just like to say a massive thank you for everything they do – you are awesome!!
Now's the time to start looking out for migrating birds entering the country. Every year we see flocks of Fieldfares & Redwings from Scandinavia coming to eat the hedgerow berries. If we're lucky we may even get a visit from more exotic species like Waxwings. The lakes play host to Goosanders, Red Crested Pochards and the odd Merganser. We will be putting up a picture board in the new bird hide showing some of these birds very shortly.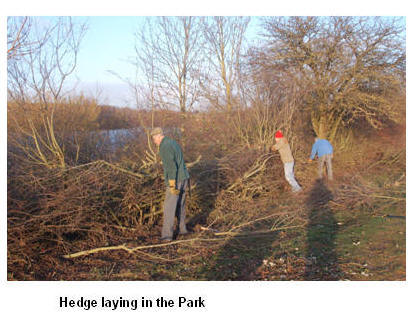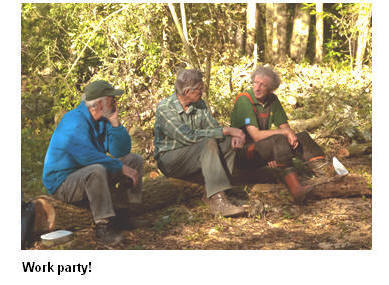 Dates for your Diary
Health Walks
Join me for an hour's walking every other Thursday to improve your health & wellbeing and make new friends. Meet at the café entrance at 10.30am wearing stout footwear and suitable clothing for the weather conditions. Leader Janet Munro tel. 01234 720016 or e-mail janet.munro@bedford.gov.uk
Thur. November 7th & 21st
Thur. December 5th & 19th
Friends Conservation Tasks
Held on the last Monday of the month (a week earlier if a Bank Hol:) Meet in the Ranger's office at 10am suitably dressed in sturdy clothing and footwear. Please bring a packed lunch and we'll supply refreshments. The aim is to carry out conservation work to enhance the wildlife habitats. Contact Richard Dowsett on 07792 721866 or e-mail Richard.dowsett@bedford.gov.uk
Mon. November 25th
Mon. December 30th Janet Munro, Ranger
Village Hall
Thank you to everyone who responded to our call for support to the village hall events. On Saturday 12th October we had a one woman performance of "The Fossil Lady of Lyme" written and presented by Alison Neil. Alison and her technician Jonathan had prepared a magnificent backdrop of Mary Anning's Fossil and Curiosity shop in Dorset. A tremendous packed audience saw Alison presenting Mary's story over two 50 minute performances during which she told of her initially unaccepted expertise and prominence in the new world of Geology. Those in the audience were spellbound by her highly entertaining performance during which she told us of Mary's often tragic life to her Honorary membership of the Men Only Royal Geological Society and subsequent early death from cancer aged 47.
Tickets are now on sale for This has been a very popular event in the past so get your tickets early to avoid disappointment. Tickets can be obtained from Rob Lee (720730) or Nicki Freeman (720893).
The Mill Theatre, Sharnbrook
Reg. Charity No 242164
Season 2012
www.sharnbrookmilltheatre.co.uk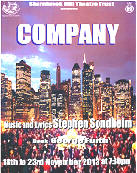 Company - Tuesday 19th - Saturday 23rd November, 7.30 pm
A bittersweet masterpiece from the incomparable Sondheim
This super-funny musical comedy, explores the pros and cons, ups and downs and ins and outs of being single. Presented as a series of vignettes, it throws a comic spotlight on the eternal issues faced by intimately involved couples… While relationships rarely turn out as they do in fairy tales, life is still better when you have someone to share it with. Words & Music: Stephen Sondheim, Book: George Furth
Tickets for Company
£11-£13 on sale from:
SHARNBROOK POST OFFICE (in person) or
BEDFORD CENTRAL BOX OFFICE* – 718112 ( Bedford Tourist Information Centre in St Paul's Sq.) and
ONLINE
: www.sharnbrookmilltheatre.co.uk
10 % discount for 10 or more (excluding Fri., Sat. & Charity performance)
* 2 wheelchair spaces, easier access seating Rows A – C: hearing loop Rows A – E.
PERFORMERS! Spring 2014
On Golden Pond Show dates: Monday 17th to Saturday 22nd March 2014
Workshops: Tues. 29th and Thurs. 31st October 7.30 pm. Auditions: Sun. 3rd November, Mill Theatre
For further details, please contact Director Pat Gale: patricia.gale@tiscali.co.uk or (01234) 823889.
You are warmly invited to the Mill Theatre –
..on Wednesday 27th November, 12.30 for 1pm, for a 2-Course Lunch
With a glass of wine, to be followed by a SEASONAL TALK by Anita Marie Sackett:
THE CHRISTMAS CUSTOMS IN VICTORIAN TIMES & THEIR PAGAN ORIGINS
Tickets: £15 Christine Summerling: 01832 730255, Virginia Pope: 01933 356974, Erica Lester: 01234 781210
To hire the Clubroom/Auditorium please contact Sally Wildman on (wildmansally@hotmail.com) 056
Diary
November
2nd 10am Churchyard clear up and bonfire
2nd 10.30-4pm Putnoe Art Group Exhibition, Putnoe Heights Church
6th 10.30am Meeting Point at Christine's, The Rectory
7th 10.30am Health Walk, HOCP
10th 10.30am Remembrance Day Service, All Saints' Church
12th 7.30pm W.I., Village Hall
16th 9.45am All Saints' Amblers meet at The Bell
16th 7.30pm Melvis, Village Hall
20th 10.30am Meeting Point at Madeline's, 15 Horsefair Lane
21st 10.30am Health Walk, HOCP
25th 10am HOCP Conservation Tasks Day
30th 11-3pm Victorian Bazaar, Village Hall, The Moor, Carlton
December
4th 10.30am Meeting Point at Jill's, Rectory Farm
5th 10.30am Health Walk, HOCP
6th 10.30am Christmas Hamper Coffee Morning, Hobbs Green Farm
7th 12 – 6pm Christmas Tree Festival Harrold United Reform Church
8th 2-5pm " " " "
Magazine Deadline
Please send all entries for the joint December 2013/January 2014 magazine to Tricia Hudson (ed at odellbeds.net) or Catherine Corkery by November12th at the latest. May we remind you that the editorial team exercises the right to edit, shorten or alter any items that are submitted. Also, the opinions expressed in the articles are those of the contributors and are not the responsibility of the editorial team.
Odell Cheese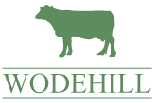 Wodehill Cheese — hand-made in Carlton
Wodehill Blue is a semi-soft creamy blue cheese
made with milk from Jersey cows in Carlton

Nearest stockists: Hurleys in Sharnbrook and Carlton Village Shop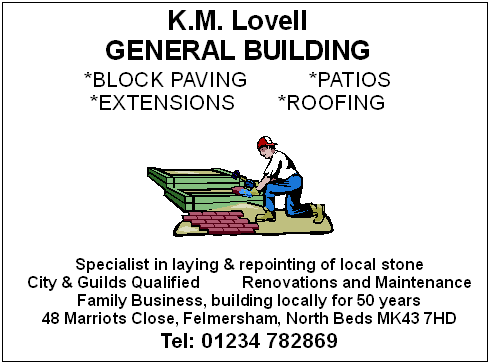 Alex Stubbs Flooring
Carpets, Vinyls, Laminates, Safety Flooring, Adaptions, Refits, Repairs
Supplied and Fitted
07976 260572
01234 240954
Great local pubs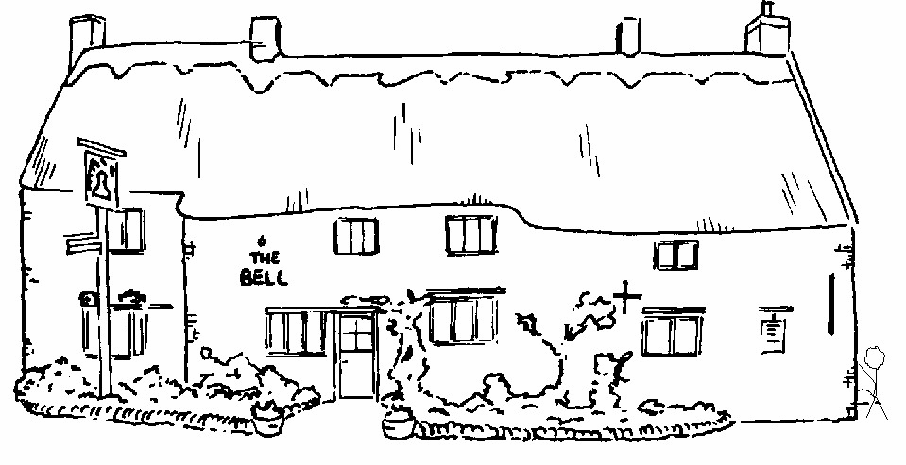 The Bell in Odell
As Featured in the 2010 Good Beer Guide
With the relaxed charm of a village local and a varied menu of
quality, home-cooked food you won't find any gimmicks here
just a Great British Pub!
Abbot Ale, IPA & Changing Seasonal & Guest Ales
Telephone 01234 720254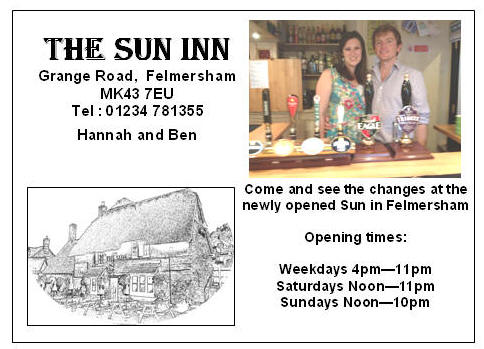 ---
Last revised: November 07, 2013.