ODELL VILLAGE NEWS
June 2013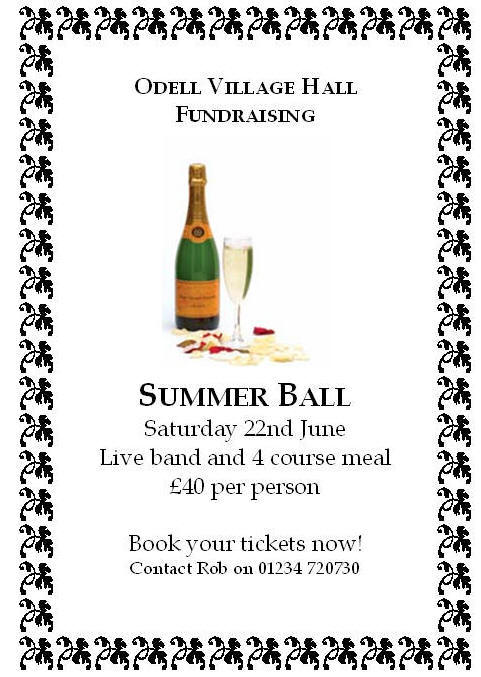 Odell Fete and Family Dog Show
Saturday 8th June 2013
Help! We need your HELP to make the Fete and Dog show a great success. We need people to man stalls and side shows, run the raffle and sell tickets. We can always find a job for willing volunteers. This is a fun day and a great village event to which people come from all over to enjoy a family day out in our lovely village and surrounding North Bedfordshire countryside; BUT we do need your help.
We also ask for your help with setting up the Fete on the afternoon or evening of Friday, 7th June. If you can manage to come anytime between 2.00 and 7.30pm to lend a hand, you will be most welcome. We shall need to collect tents, tables, chairs and stall signs and set up the field for the big day. We need muscle, a good sense of humour, wheels and trailers and tea and cake will be provided.
Mandy (720414), Christine (720234) or Karen (720952) await your call
Programme of Events
2.00 PM Grand Opening
2.00-4.00PM Dog Show
4.00 PM Raffle Draw and Prize Giving
Attractions
Bedford Brass Band Boys Brigade Bouncy Castle
Teas Children's Tombola Ice Creams
Cakes Books Refreshments
Coconut Shy Children's Sports
White Elephant/ Vintage stall
Produce Gifts Many Side Shows
Raffle Bottle Stall Cup Cake Competition
Family Dog Show
(ENTRY FEE £1.50 PER DOG PER CLASS)
CLASSES
1. Children's Handling (14 years and under)
2. Puppies under 1 year
3. Best Rescue or Re-homed Dog or Bitch
4. Country Sporting Dog
5. Country Sporting Bitch
6. Best Condition Dog or Bitch
7. Best Cross-Bred Dog or Bitch
8. Most Handsome Dog
9. Prettiest Bitch
10. Championship (winners of each class)
New for Odell Fete in 2013
'Best Decorated' Cup Cake competition - free entry!
3 classes - Class One for 5-10 years
Class Two for 11-17 years
Class Three for 18 years and over - no upper limit!
Be as inventive as you like - please bring 3 cupcakes on a plate plus a small card with your name, age/over 18, and telephone number. If you do not wish your cakes to be sold afterwards please mark your card with a red star.
Also: watch out for Mandy's vintage stall .... items of bric-a-brac, decorative buttons, lace, etc. and nearly new clothing welcome. Please bring along on the morning of the Fete, before 11.30am.
Festival Weekend Informal Family Service, Sunday, 9th June
11.00am in the Main Tent at the Fete Field (weather permitting).
Everybody Welcome
The service will be followed by a BBQ and children's games. Bring your own plates, cutlery, drink etc. and a salad to share with others. Please let Mandy 720414 or Jane 01933 410959 know if you are coming and what salad you can provide, so we know how many to cook for.
Thank you to everyone who helped at the fete preparation day, at Doreen and Jim's on Bank holiday Monday, and a special thank you to Doreen and Jim who once again hosted the occasion. For once the bank holiday weather was superb for the BBQ.
Art Exhibition and Sale
All Saints Church – Odell, Beds MK43 7AA
Bank Holiday Weekend
24th, 25th, & 26th August – 12 noon until 5pm
Now is the time to reveal your hidden talents! If you would like to exhibit your paintings or photographs, please contact Catherine Corkery for an application form. Tel: 01234 720348 e-mail: catherinelcorkery@yahoo.co.uk. (fees waived for artwork by children under 16) Proceeds in aid of Church funds, and in support of our link missionaries, Dick and Caroline Seed in Kenya.
Belcanto
Summer Concert
Female Voice Choir
Conducted by Barry Clark
Saturday 29th June at 7.30pm
St Owen's Church Bromham
Tickets £10.00 (including strawberries and cream)
Suzi 01234 825454 Edward 01234 826551
Birthdays
Happy Birthday to Mia Vyvyan who will be 12 on the 2nd June And to Eleanor Robinson whose birthday is on 17th and to anyone who has a birthday in June
Round and About
The Quest Is On
I do not usually revisit the scene of my recent articles but I received so much interest in my piece on Richard III, I thought you might like to have an update.
When I last wrote, the question of Richard's final resting place seemed to lie between Westminster, Leicester Cathedral and York Minster. The idea of Westminster now seems to have been dropped but there remains a hot dispute as to whether he should be interred at Leicester Cathedral or York Minster. However, the likelihood is that the remains of Richard III will be laid to rest at Leicester.
According to time-honoured tradition when a body is disturbed it is re-interred in the nearest holy ground and Richard has been lying in the shadow of Leicester Cathedral for the past 500 years. The archaeologists attached to Leicester University, responsible for locating Richard in the first place, also favour Leicester Cathedral and the Cathedral has made plans for a simple but dignified service before laying Richard to rest in the Chancel beneath a plain, flat slab with an inscription and possibly a decorative border.
Ranged on the other side are the supporters of the Richard III Society together with a few of Richard's descendants, who favour a much grander service together with a raised tomb. They are horrified at the humble plans being laid on by Leicester Cathedral. As a group they always did prefer York Minster because of Richard's close association with the City and his own stated preference to be buried there. They have plans for a raised tomb embellished with all of Richard's armorials. However, it looks as though they will be disappointed.
So delighted are the archaeologists and historians over the public enthusiasm and interest in the discovery of Richard's last resting place that they are discussing the possibilities of going in search of other missing monarchs!
Another team of archaeologists think they may have stumbled across the location of the site where Alfred the Great was buried. They have located some skeletal remains in the churchyard of St. Bartholomew's in the Hyde district of Winchester, which has long been reputed, in ancient documents, as the last burial site of Alfred. Whether or not these are the bones of Alfred remains to be seen and it may be very difficult to prove. Unlike Richard the skeleton will be over 1000 years old and there is a lack of genetic evidence to prove identity one way or the other. It is known that Alfred's body was moved on several occasions, the last occasion being in 1110 to Hyde Abbey. If the bones are the right age (10th c.) they may be able to prove the bones belong to a family member of Alfred, anything more specific than this seems doubtful.
Historians agree that Alfred, who died in 899, after a reign of 28 years, had a great impact on the Britain of today. Alfred did a lot to create England as a nation (he had a lot of trouble with the Vikings) trying to safeguard the burgeoning English language and the Christian faith.
Our archaeologists have also got their eye on another likely monarch. None other than that feisty lady who so upset the Romans. Yes, that's the one, none other than Boudicea. If there is going to be trouble identifying Alfred, just think of the problems surrounding proof of identity for Boudicea. I think most of us know the story of Boudicea and her rebellion against the Roman invaders.
Boudicea raised her rebellion in AD60 and cut a swathe across the Midlands in an area now recognised as Norfolk, Suffolk, Essex, Cambs. and Herts. She even put a torch to London itself. If anyone knew how to embarrass the Romans it was Boudicea and although her star shone for a very brief period she has been remembered right through history. Of course, the Romans could not let her get away with it and she finally had to face defeat.
Nobody really knows if she was killed in that last battle or whether she took poison in preference to being taken a prisoner. What is known is that her followers carried her body away from the battle scene and nothing was ever heard of her again. However, where is she buried? There is a rumour that she lies beneath Platform 8 at Kings Cross Railway Station, whilst in 2006 Birmingham archaeologists claimed to have found her grave in Kings Norton – under another car park!
Where will it all end? Barbara Corley
The Bell Annual Beer Festival Fri 7 - Sun 9 June
Starts 5pm on the Friday
8pm Friday night - Charity Race night
Open all day Saturday - BBQ 3pm - 5:30pm
Live music Saturday evening 5 - 7:30 - "Mercy Street"
There will be a range of ales available over the weekend.
W.I. News
WI News –thank you for the impromptu party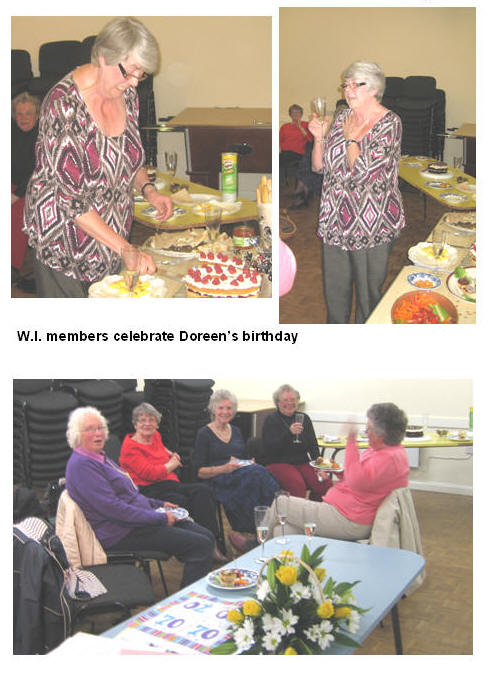 May 14th was the WI AGM. I had had a pretty fractious day and I went to the village hall very reluctantly. The AGM was handled swiftly and efficiently. We then discussed this year's resolution which deals with our dying high streets and what can we do to save them.
I had been admiring a very fine basket of flowers on the top table. (I later discovered that these had been arranged by Nicki Freeman). I was totally taken aback when they were presented to me for my 70th birthday, (there is no point in being coy about my age, as I think everybody now knows!!) I was then told to look behind me and all these people were swarming in. As if by magic, tables appeared with a magnificent spread of food including a splendid birthday cake. Then the corks started popping and some bubbly appeared.
Brian Cheadle had been to Kempston to bring my sister and Richard Hall brought Jim in with his wheelchair festooned with balloons.
It is an understatement to say that I was overwhelmed. I had absolutely no idea the WI ladies could be so furtive!
I would like to thank Lynette Hall for masterminding the whole operation and to all the WI ladies who had a hand in the preparations. Thanks to everybody for taking such trouble with the food and and all the little details. And a very big thank you to everyone that came and made it such a memorable evening.
Earlier in the evening in her Annual Report, Lynette had said that Odell WI is much more about friendship than being in the WI. I have always felt this and it was certainly demonstrated on Tuesday evening. I also feel this sums up our village. We are very fortunate to live in a place where people are so caring.
Once again, a heartfelt thank you to everyone. Doreen Wheeler
Welcome
A belated welcome to Roger and Claire Shearsby who moved into Odell at the beginning of the year. Here they are pictured with their sons Matthew and Darren, and daughter Emma, along with their families.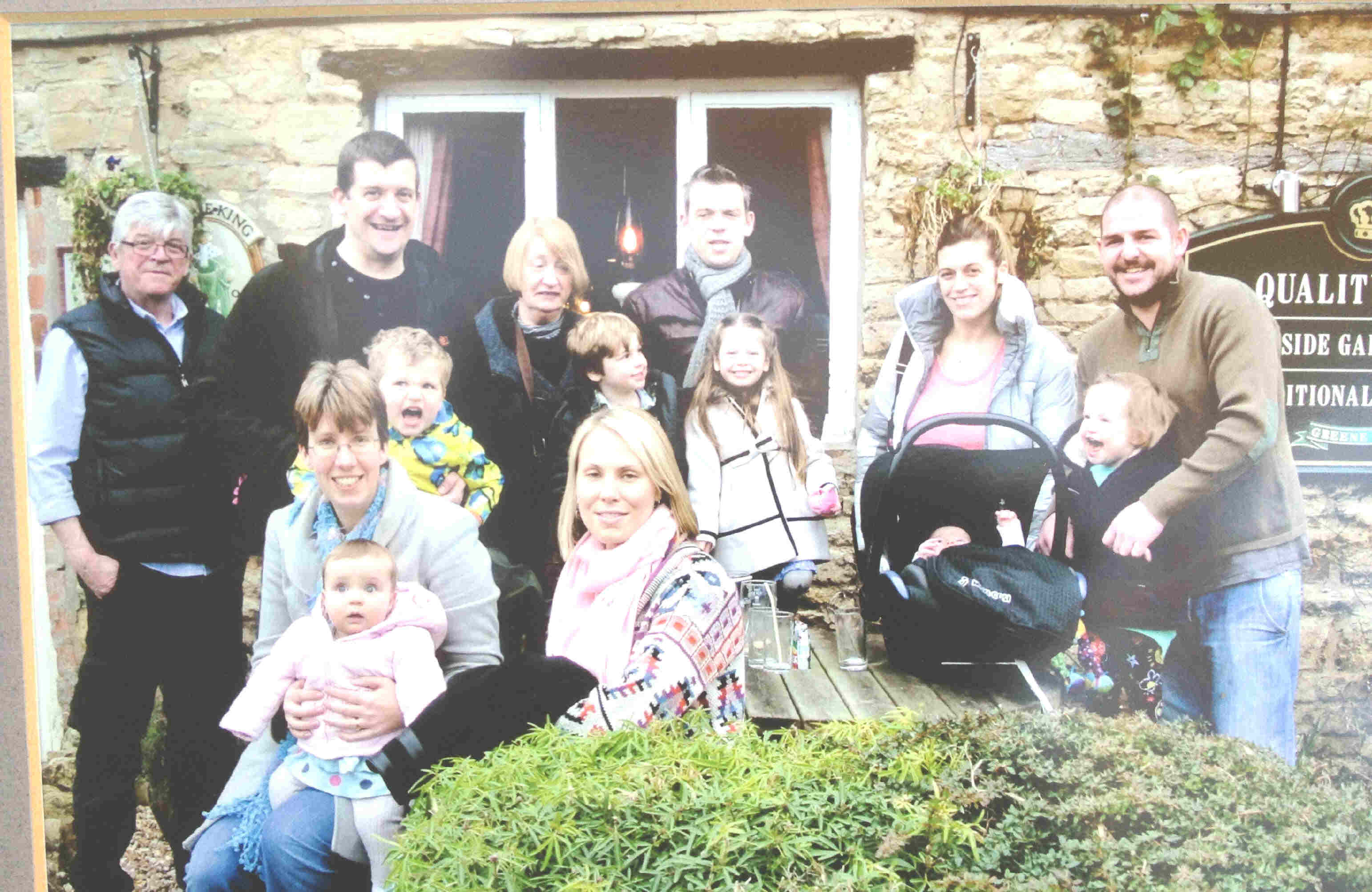 Roger and Claire Shearsby pictured with their extended family.
From left to right:, back row: Roger, Matthew, Claire, Darren, Emma and Neil.
Next row: Children : Luke, Finnian, Bo, baby Ayda and Cora
Front: Gill holding Ellen, Amanda.
Village Hall Events.
Come and support our Village Hall by booking Tickets for the Fundraising Ball on June 22nd.—for more details see below
Regular and forthcoming special events are as follows:

Below:
Belly dancing classes in the Village Hall.
If you are interested in joining the classes contact
Natalie Nardone at: natnardone@yahoo.com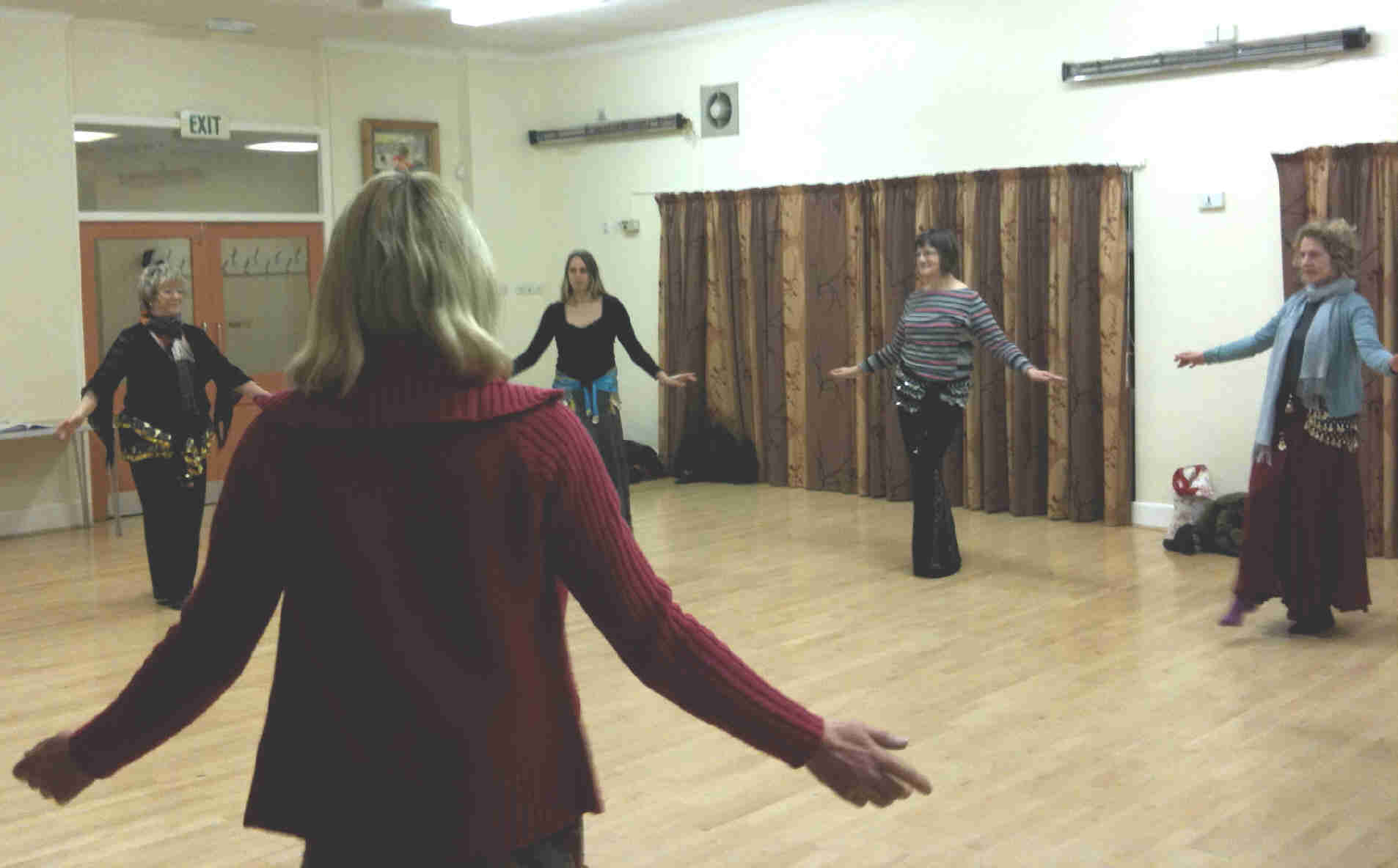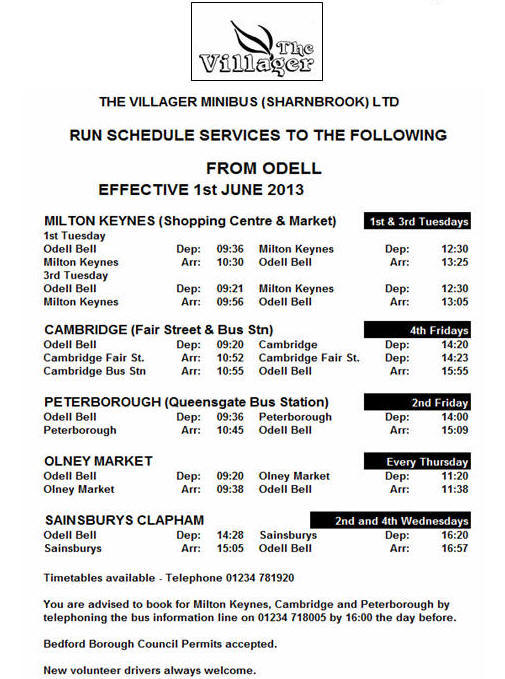 Summer Season 2013
Much Ado about Nothing by William Shakespeare
28 June – 25 July 2013
Much Ado revolves around two couples: Hero ard Claudio are young, in love and looking forward to their wedding day; Beatrice and Benedick are not so young and not so "in love"- they look forward to sparring and scoring verbal points at the other's expense! Throw in a dastardly villain, some covert match making and a host of colourful comedy characters and you have everything you need for Shakespeare in the Garden, by the lake or even on a Bedfringe stage!! Bring a picnic and enjoy this Great British tradition.
Director Elizabeth Thomas told us "We are so looking forward to this season, we have some fantastic new venues on board, some of which are not often open to the public, so we hope Bedfordshire audiences will be tempted to come along and see for themselves why we have chosen them." The majority of the cast are based in Bedfordshire including Cally Lawrence who takes on the role of feisty Beatrice. She explains "Beatrice is one of those roles that has always been on my wish list to play, so it's brilliant that I get to do it in my home county with fantastic local actors". Cally was last seen on our screens with David Mitchell and Robert Webb on Peep Show, but she has also been a blind date to Ricky Gervais in The Office and a cell mate to Tracey Barlow in Coronation Street.
The production can be seen at the following venues. Doors will open one hour before curtain up and audiences are advised to bring low back chairs or rugs to sit on, and to be prepared for all weathers!
Hinwick House: an elegant country home set in the idyllic and picturesque North Bedfordshire countryside. 28th & 29 June, 7pm
Tofte Manor: Set in the Bedfordshire village of Sharnbrook 6th July, 2pm & 7pm
Castle Mound Bedford: In the heart of Bedford Town 13th July, 2pm & 7pm
Stanwick Lakes: Beautiful lakeside setting with a grass amphitheatre just over the border in Northants 21st July, 2pm & 7pm
Harpur Square: In partnership with Bedford Corn Exchange we will be performing on the outdoor stage as part of Bedfringe 2013 25th July ,7.30pm
Tickets are on sale now at £12 & £10 from www.nolossproductions.co.uk . Please note that 25th July Bedfringe at Harpur Square has a separate box office www.bedfordcornexchange.co.uk
Odell Parish Council news
Village Hall Update:
The recent Family BBQ took place despite poor weather conditions - a golf brolly providing protection for the chef and BBQ itself. Those attending enjoyed their food in the warmth and shelter of the Village Hall.
Please do make every effort to support these Village Hall events. There has been a marked drop in the number of people attending over the past 12 months. Without your support there is a risk that we shall lose this heart of the community. If you are new to the village you will be made very welcome at all village events – come along, join in, you don't need to drive and you should have a really great time!
Children's Play Area.
The tree stump will be removed as part of the HOCP maintenance programme. Some of the bark retaining boards are loose and will be repaired shortly.
Footpaths
The Yelnow Lane BOAT remains closed due to poor ground conditions; however, White Lane BOAT has now been opened.
The bridleway past Grange Farm/airfield/Dungee Road has become very overgrown, BBC have advised that it will be cut back under this year's maintenance programme.
Odell Bridge Area
Significant erosion of the river bank adjacent to the footpath leading to the bridge has been reported to BBC who have confirmed that it is being monitored but no plans in place to address this due to cost and access. Parish Council is not satisfied with this response and will raise directly with the Environment Agency.
Erosion on the Felmersham side of the bridge behind the retaining wall will be backfilled shortly.
A couple of willows have been pollarded to prevent them becoming uprooted and toppling into the river.
Highways
Some patching of potholes in the centre of the village has been carried out by BBC, however, the large potholes at the Little Odell T-junction are outstanding but due to be repaired over the coming weeks. If you notice any new footpath and highway defects please report them directly to Highways help desk – the more people who report a fault, the more likely it is to get attention and bumped up the list of priorities.
Grounds Maintenance
The old BT red phone box in the High Street has been decommissioned and will shortly be painted in advance of the installation of the Community Heartbeat defibrillator mid June.
The Parish notice board will also receive a fresh coat of paint.
Useful Contacts
There is a list of useful contact numbers published on the Parish website and on the notice board to assist residents wishing to raise complaints with BBC and other bodies.
Planning Applications
13/00868/FUL (200 High Street) conversion of garage to habitable room, one and two storey side extension and alterations to vehicular access.
13/00661/LBC (15 Horsefair Lane) - extend height of chimney stack.
13/00663/FUL – Middle Farm Back Lane Souldrop 77 metre mast +associated infrastructure and access track
To view applications follow the link: www.bedford.gov.uk/searchplans
Harrold-Odell Country Park
Email: hocp@bedscc.gov.uk Website: www.hocp.net Tel: 01234 720016
News from Harrold Odell Country Park
The weather is finally going more in the right direction and we've had a record breaking May Day Bank Holiday. So much so that it was a job accommodating all the cars in the middle of the day! It's a joy to see all the summer flowers coming through and butterflies once again flitting through the trees. It must be summer if Romano the ice cream vendor is back in his lay-by.
At the beginning of May, the grazier introduced the latest herd of steers into the river meadow to eat the grass through the summer into autumn. This is a traditional method of managing the meadows and they help to keep the area open and free of scrub and weeds. During the first few weeks they can be skittish until they get used to their new surroundings. We would therefore ask that people do not approach them and keep dogs well away.
Harrold Fire Brigade recently used the park to train their fire fighters in the art of rescuing casualties stuck in the mud. The area they chose next to the river proved to be an excellent venue with more than enough mud to go round. In the past they have used the lake to perform mock boat rescues. Let's hope they don't have to come out for real!
Richard is looking forward to a more productive season when it comes to the park's beehives. The foul weather we had last year meant that there was too little honey to harvest. The bees needed it themselves to sustain the colony.. If we get a better season this year, we might get to sample true Harrold honey at the end of the summer.
We want to say a massive thank you to Claire Simpson from Harrold and Lesley Pritchard from Carlton who organised an indoor car boot sale and raffle on April 21st. Their event raised a total of £680.00 which they split evenly between Harrold and Carlton Football Club and the Friends of Harrold Odell Country Park. We will be using the money to help fund some power tool training for our key conservation volunteers. Thank you as well to everyone who supported this event.
If you're familiar with the wildlife sightings board outside the entrance to Tea-Zels Café you'll see that it's absolutely packed with records of all different kinds. The park is becoming an increasingly important oasis for nature. We saw the first Swallows and Martins on April 13th and Richard recorded a rare Cetti's (pronounced Chetti's) Warbler on the 18th. In addition we had a Grass Snake on April 14th and the first Cuckoo on the 24th. We will continue to update the board as the season progresses.
Related to this, we have finalised the content of the bird identification boards due to be installed in the new bird hide. These have been paid for out of the parking donations administered by the Friends of the park. This will enable visitors to identify the main birds they're likely to see around the park.
Once again we are hosting a lot of school visits looking to study a variety of nature topics. Coming out into the countryside is fun and a good way of learning about and experiencing the natural world. In this age of technology our children (and adults too) are becoming divorced from the environment. When I am teaching I am constantly shocked that people do not know the names of even the most common birds or flowers. It is a worry that the countryside will not be valued in the future if we do not learn how to protect it now.
For general visitors too there are resources available to download from the website run by the Friends of the park. Please log on to www.hocp.co.uk for more information.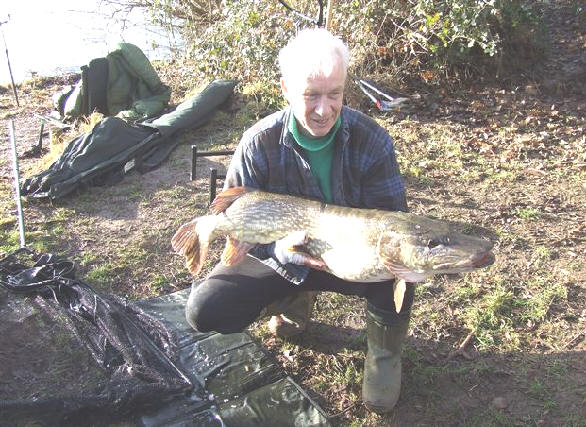 This coming autumn we will be looking at carrying out some much needed tree work on the island in the middle of Grebe Lake. The Willows over there are beginning to snap off and fall into the water. We also need to change the availability of nesting sites for the Cormorants as the population has become too great and they are taking too many fish from the lakes and river. Not only is this bad for the park's anglers but they are out-competing other fish-eating birds like Herons, Grebes and Kingfishers. Also, we mustn't forget carnivorous fish like Pike, Chub and Perch and the Otters that use the park from time to time. The Cormorants are taking out whole generations of baby fish which means as the old fish die off there is nothing taking their place as a new generation. By sorting out the trees, we hope these birds will move on elsewhere.
The new angling season begins on June 16th. Those of you who are interested in purchasing a season ticket please look on the website www.hocp.co.uk for info or call in to see Trevor Smith, the Bailiff in the workshop at the rear of the café. We regret we can only deal in cash when it comes to permit sales.
Dates for your diary
Health Walks: We meet at the café entrance every other Thursday at 10.30am and walk for about an hour to improve your health and wellbeing. Leader Janet Munro. For more information please e-mail janet.munro@bedford.gov.uk or call 01234 720016.
June 6th & 20th
July 4th & 18th
Friends Conservation Task Days: These are held on the last Monday of the month (a week earlier if a Bank Holiday). Meet in the Ranger's office at 10am for tea and work as much or as little as you wish. Bring appropriate clothing, footwear and a packed lunch and we'll provide tools and refreshments. Leader Richard Dowsett e-mail: Richard.dowsett@bedford.gov.uk or tel. 01234 720016.
June 24th
July 29th
Public Bat Walk
Led by Kelly Robinson of Bedfordshire Bat Group. Meet in the main car park at 20.55 on Thursday 18th July. Due to the limited availability of bat detectors places are limited to a max of 20 therefore booking is essential. Please e-mail janet.munro@bedford.gov.uk Janet Munro Ranger
The Mill Theatre, Sharnbrook
Reg. Charity No 242164 Season 2012
www.sharnbrookmilltheatre.co.uk
Sharnbrook Mill Youth are delighted to announce they will be performing:
Blood Brothers
by Willy Russell
20th to 22nd June 2013 at 7.30 pm
A Youth Production. Please note: This is the play version, not the musical.
This is an amateur production by kind permission of Samuel French Ltd
'Hilarious and heartbreaking'
So did you ever hear the tale of the Johnson twins?'
Blood Brothers is the story of Micky and Edward; two brothers separated at birth and divided by their social backgrounds, who are brought together again by fate and friendship. Despite the desperate attempts by their guardians to keep them apart and their identities concealed, events conspire to bring them together with tragic consequences.
TICKETS: (Thurs. 20th £6, Fri/Sat. 21st/ 22nd Students £6 Adults £8) will be on sale from 15th MAY at:
Sharnbrook Post Office (in person) or Bedford Central Box Office* – 718112
*NB this has moved to *Tourist Information Centre in St Paul's Sq. (NB new phone number)
2 wheelchair spaces, easier access seating Rows A – C: hearing loop Rows A – E.
Events in aid of Sharnbrook Mill Theatre 70th Anniversary appeal for a Green Energy based heating and ventilation system.
THE MILL THEATRE CAR BOOT SALE!
Sun. 16th June at The Mill Theatre
SELLERS – (strictly no Traders) from 8.00 am; Car £7, car + trailer/van £10; please contact asap! - Ian/Sandy: 01933 664 718
or 07525 419 815 ianandsandy@btinternet,com
BUYERS from 10.00 am. Parking £2 / car
Tea / coffee; Light refreshments; Licensed Bar; Riverside, summer setting!
To Look forward to:
20th July - 'BBQ in the Popes' garden' For All!
28th September - 'Rock at The Mill'
27th October - 70th Anniversary Ball at Vesuvio
Details, and to book for these forthcoming fun events, via: info@sharnbrookmilltheatre.co.uk
Diary
May
27th 2.30pm Café in the Tower, All Saints 'Church
June
6th 10.30am Health Walk HOCP
7th 2-7.30pm Set up Fete.
7th 8pm Charity Race night at The Bell
8th 2pm Village Fete
8th 3-5.30pm BBQ at The Bell
5-7.30pm Mercy Street perform at The Bell
9th 11am Informal church service, fete field
9th Beer Festival, The Bell
12th 10.30am Meeting Point, venue tba.
15th 9.45am All Saints' Amblers meet at The Bell
16th 8am Mill Theatre Car Boot Sale
20th 10.30am Health Walk HOCP
20th 7.30pm Blood Brothers - Sharnbrook Mill Theatre Youth Group
22nd 7.30pm Summer Ball, Village Hall
23rd 1-5pm Carlton Open Gardens
24th 10am Conservation Tasks Day, HOCP
26th 10.30am Meeting Point, venue tba
28th 7pm Much Ado About Nothing, No Loss Productions, Hinwick House
29th " " " " "
29th 7.30pm Belcanto concert, St Owen's church, Bromham
29th, 30th Wedding and Flower Festival, St. Peter's, Harrold
July
4th 10.30am Health Walk HOCP
7th 2.30-5.30 Café in the Tower followed by Evensong, All Saints'.
Magazine Deadline
Please send all entries for the joint July/August 2013 magazine to Tricia Hudson (ed at odellbeds.net) or Catherine Corkery by June 12th at the latest. May we remind you that the editorial team exercises the right to edit, shorten or alter any items that are submitted. Also, the opinions expressed in the articles are those of the contributors and are not the responsibility of the editorial team.
Odell Cheese
Wodehill Cheese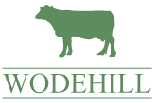 Wodehill Cheese — hand-made in Odell
Wodehill Blue is a semi-soft creamy blue cheese
made with milk from Jersey cows in Carlton

Nearest stockists: Matthews and Hurleys in Sharnbrook and Carlton Village Shop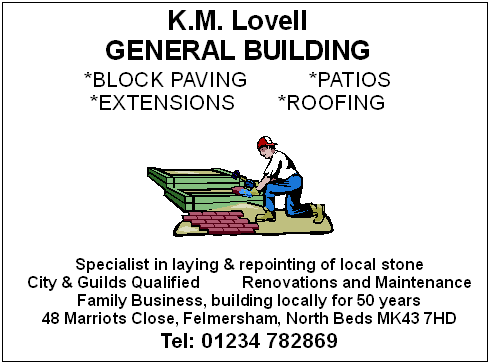 Alex Stubbs Flooring
Carpets, Vinyls, Laminates, Safety Flooring, Adaptions, Refits, Repairs
Supplied and Fitted
07976 260572
01234 240954
Great local pubs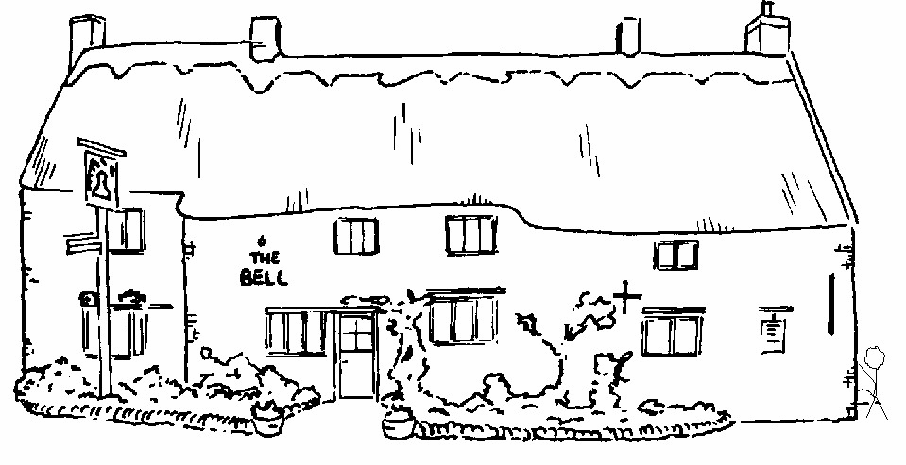 The Bell in Odell
As Featured in the 2010 Good Beer Guide
With the relaxed charm of a village local and a varied menu of
quality, home-cooked food you won't find any gimmicks here
just a Great British Pub!
Abbot Ale, IPA & Changing Seasonal & Guest Ales
Telephone 01234 720254
---
Last revised: May 26, 2013.