ODELL VILLAGE NEWS
December 2013 - January 2014
Happy birthday to
Happy birthday to:
Hannah Hudson 23 on 17th January
Charlotte Lloyd 11 on 24th January
And to everyone else with a birthday in December or January.
Round and About
I'm Dreaming of a White Christmas
Just Like the ones I Used to Know
Ah yes, we all dream of a traditional Christmas – just like the ones featured on a Christmas card or portrayed in a Christmas carol. The cards are full of snow scenes ...the landscape laden with snow. These cards show us scenes of a bygone era – if they ever existed at all – of lanterns and candles, a stagecoach full of party revellers ploughing their way home along snow-bound roads; a congregation trudging across snow towards the open door of a church full of light; snow covered cottages with light pouring from doors and windows welcoming the family home. The strange thing about this tradition is ... that we rarely have snow at Christmas!
Deck the hall with boughs of holly – or so the carol tells us. This is how we used to decorate our homes, bringing in green branches of conifer or holly to hang above doorways and across the hearth. That, however, was before Prince Albert introduced us to the Christmas tree and Coca Cola brought us tinsel and reindeer and Santa Claus soaring across the world with a sleigh full of presents.
What of our other traditions? That Christmas tree, for instance. Five million real trees are sold in this country every year, of which roughly 4 million are grown in Britain. The EU provides about 48 million live trees each Christmas ... with Denmark being the largest single producer.
We all love to eat our Christmas pudding, as it takes central position on the festive table. How about the customs surrounding the traditional "pud"? All puddings should be made before, or by, the Sunday nearest to St. Andrew's Day on the 30th November....the 25th. Sunday after Trinity and it is known as "Stir Up Sunday". The origins for this come from the prayer "Stir up – we beseech thee, Oh Lord, the wills of thy faithful people". In every household, according to tradition, every member of the family would take their turn to stir the pudding in a clockwise direction in honour of the Three Kings. This should be done with a wooden spoon to represent the manger. The brandy which is poured over the pudding and lit, is to form a halo of flames to represent the "Passion", whilst the holly on top represents the "Crown of Thorns". The Christmas pudding is a tradition that belongs entirely to the British people – although ex-pats have carried their fondness for the pudding to all corners of the globe.
The mistletoe- who can forget the mistletoe? This is an ancient plant and surrounded by many customs, many of which can be traced back to pagan times. The ancient Druids held the mistletoe in great awe and worshipped it for what they considered its magic powers, in that it had the ability to grow without its roots entering the earth. They believed the mistletoe could ward off evil spirits and had healing powers. The Romans believed it to be a symbol of peace, a place where enemies could come together to lay down their weapons.
The custom of kissing beneath the mistletoe is believed to have originated in Scandinavia and come to Britain in the 17th. Century. It is customary that only men should cut and harvest the mistletoe and tradition says that if a girl refuses to be kissed beneath it she is destined to become an Old Maid. Properly performed, the man should remove a berry each time he kisses a girl under the mistletoe and when there are no more berries the kissing has to stop.
Lastly, why do people always fall asleep after eating their Christmas dinner? We are told that after eating such a heavy meal glucose in the blood is very high and high blood glucose levels can switch off the brain cells that usually keep us awake. Sleepiness is the body's way of telling us to relax and conserve energy once we have eaten our fill. This is thought to be a relic of evolution, dating back to a time when food was hard to come by and it was a case of feast or fast.
May I wish all my readers a Very Merry Christmas and a Happy New Year. Barbara Corley
Noelle Zaradin 1932-2013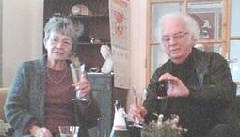 Many villagers will remember with affection Noelle and John Zaradin who lived in Tannery Lane from 1997-2007. Noelle transformed their garden into the most amazing tapestry of beautiful flowers and hidden tranquil places to sit in the summer. She was also a prolific and accomplished artist where again flowers were her particular favourites as subjects for painting . Noelle enjoyed Odell enormously, especially giving informal conversational French lessons to friends and neighbours. It was with mixed feelings that John and Noelle decided to retire to Albi, near Toulouse in France 6 years ago, where once again Noelle set about transforming their new 'jardin'. Unfortunately early this year Noelle fell ill and died on November 5th. We send our love and condolences to John. Friends of the Zaradins
Alison Foster, Borough Councillor for Odell
Update for November 2013
Contact Alison
If you need to contact me please email on afield_foster@btinternet.com
or call my mobile 07773371190
Local News
Broadband Update
The Council has provided an updated timeline for its Joint Local Broadband Plan, which is being carried out alongside Milton Keynes and Central Bedfordshire Councils. The objective of the Plan is to provide superfast broadband (minimum 24Mbps) to 90% of premises in the Borough (currently 77%) and basic speeds (at least 2Mbps) to all premises. The contract was given to BT recently. A planning and mobilisation stage will then begin during the remainder of this year and the contract will be delivered between 2014 and 2016. We will know shortly which areas are likely to benefit from funding.
Nunn Wood Wind Farm
The Secretary of State will give his decision on this development on or before 17 December 2013.
Gypsy and Traveller Sites
At a meeting of the Executive on Wednesday 6th November the Mayor confirmed the Borough's intention to develop the gypsy and traveller site at Meadow Lane, Willington and that tenders will go out at the end of November. Gypsy sites such as Roxton, Staploe and Bletsoe have been granted permission in the past due to the Borough's failure to provide sufficient pitches of its own. Once Meadow Lane is developed, other potential sites at Podington, Stevington, and Felmersham as well as the site put forward for consideration at Roman Paddock, Harrold, in the Borough's last call for sites, will be less likely to be considered for gypsy and traveller development in the future.
Bus Service - Under 16s travel on Grant Palmer
Children who are under 16 years of age can travel free of charge on Saturdays and during school holidays on certain North Bedfordshire routes. Any young person living in Bedford Borough can apply to Grant Palmer for the free pass to travel on the following services: 25, 26, 27, 28, 29 & 68. The application and instructions on how to apply can be downloaded from http://grantpalmer.com/files/Application-Under-16-pass.pdf or call Grant Palmer on 01525 719719 for more information.
It is important to remember to register before you use this service.
Borough News
Leisure Services
The Council has agreed a contract with Fusion Lifestyle to manage its 8 leisure sites for the next 10 years from 1st February 2014. The 8 sites included in the agreement are as follows; Oasis Pool; Robinson Pool; Kempston Pool; the Bunyan Centre, Blue Peris Outdoor Centre (in North Wales); Kempston Outdoor Centre; Bedford International Athletics Stadium; and Mowsbury Golf and Squash Club.
Bedford Hospital Paediatric Services
As a reminder, the Bedfordshire Clinical Commissioning Group (BCCG), which organises healthcare in the County will hold a public consultation from the 11th November to the 10th January on the future provision of paediatric services. This follows the suspension of an array of paediatric services at Bedford Hospital as a consequence of the removal of 7 junior doctors due to concerns surrounding their supervision by senior doctors. More information can be found at the following link; http://www.yourhealthinbedfordshire.co.uk/
Care Home Consultation
The Council is currently consulting until the 14th January on changes to its care homes. This follows the Council's decision to invite tenders from Bupa and Care UK to manage the sites which have been run by Bupa for the past 15 years. This contract is to end on the 31st March 2014.
It is deemed that the 6 existing care homes are not up to the modern standards expected by the regulator, the Care Quality Commission (CQC). As a result, the plans include the building of a new care home on either the site of Parkside or Rivermead (both in Kempston), which will see these 2 homes merge. Furthermore, it is proposed that a new wing be built on the site of Southway on London Road, which will lead to the demolition of the old wing. The Council has stated that the new sites will have larger rooms with en suite and toilet facilities and improved access to nursing care and specialist equipment.
Residents in the Highfield care home in Brickhill will be moved to Southway, Rivermead or Parkside, or an alternative of their choice. The care home at Brookside, Kempston will also be closed and residents will be moved to one of the new care homes. Puttenhoe, which is situated in Putnoe Street, Bedford, has been refurbished and the Council intends to sell the property to a care home operator by 2016.
You can access the consultation documents at the following link; http://apps.bedfordshire.gov.uk/comweb/
Parking
Motorists will be able to park for up to 2 hours free of charge in any of the Council's car parks on Saturdays from the 23rd November for the Christmas period.
W.I. News
Christmas came early to members at our November meeting when we welcomed Sheila Hardaker and her friend Jackie for a Christmas Craft Activity. Sheila and Jackie showed us how to create a table decoration. Then, under their guidance, we set to work creating our own Christmas candle decoration. Each member was given a block of oasis in a small dish into which we inserted a big red candle. We were shown how to display beautiful greenery with red baubles and ribbons, dried poppy heads and were shown how to wire fir cones. A fun evening with a satisfying end result!
On Tuesday, 10th December at 7.30pm we look forward to a Bring and Share Christmas Meal at the home of Brian and Jill Cheadle. Members are reminded the theme is "A White Christmas". On Tuesday, 14th January at 7.30pm we will be playing Indoor Bowls organised by Les Knowles. Members are asked to bring along nibbles to go with a glass of wine.
New members are always welcome and if you need any more information please ring Karen Boyes, 720952. Ladies, just come along to the Village Hall on the second Tuesday of each month and see what we do and how we enjoy ourselves. To find out more about the WI go to www.theWI.org.uk or the local Bedfordshire Federation website www.thewi.org.uk/bedfordshire Jane Eshelby
Burns Night Supper, 2014
The charity Burns Night Supper will take place in Odell Village Hall
on Saturday 25th January 2014,
at 7.30pm.
Enjoy a traditional Scottish evening to celebrate the Bard.
Tickets: £12 for a 2 course meal and a dram of whisky, followed by traditional Scottish dancing. There will be a licensed bar and raffle. All proceeds to Odell Village Hall.
Please call Leslie on 01234 721860.
The Bell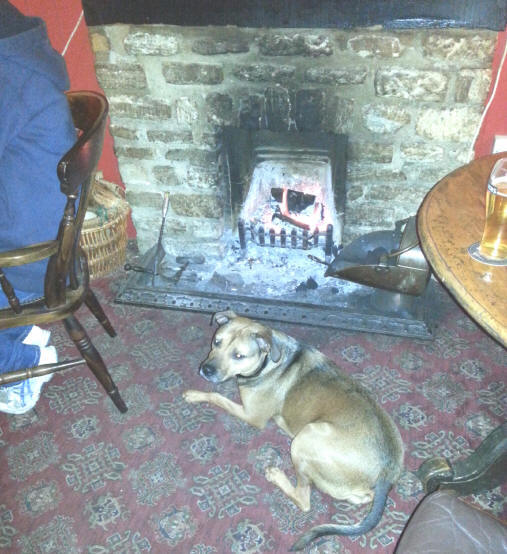 The nights are drawing in and the weather is colder, so come down and warm yourselves by our lovely welcoming fires. Dogs welcome as well!!
Our Christmas menu starts from the 2nd December.
We hope you all have a great festive period and hope to see you over the coming weeks. Katie and Will
Welcome
Last month we said goodbye to Pat and Keith Allen who have moved to Devon. Moving in are Richard and Alison, whom we welcome along with their three lively dogs.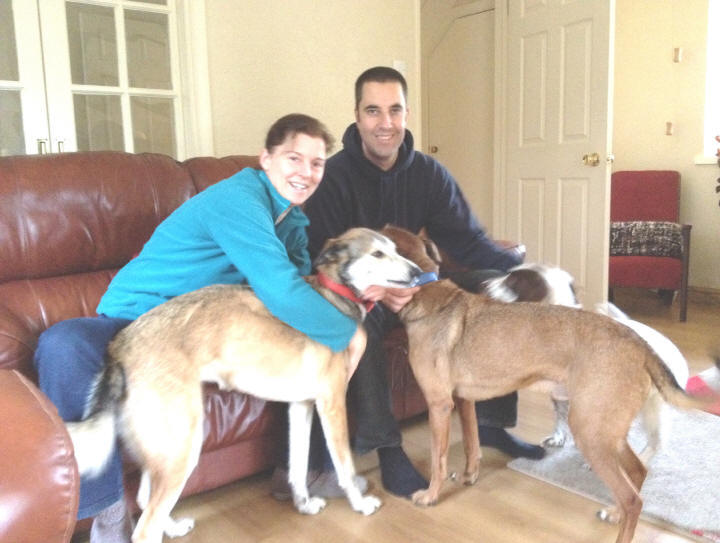 News from Harrold Odell Country Park
We are now in full flow when it comes to all the winter tasks round the park. The annual tree survey was undertaken in late October. This was to look at all the major trees checking for rotten branches and other hazards.
Last year, a number of problems were identified and the majority dealt with gradually through the year. A few more problems have been highlighted this year and there are a number of trees that we will be monitoring, especially if we continue to have bad weather. Others will have to come down, mostly small specimens but there is a Poplar sited near the bridge over the stream that is riddled with Hornet Clearwing Moth and I'm afraid this is doomed.
The park's volunteers are working on clearing back the edges of the main route through the nature reserve, hedge laying and carrying out the next wave of willow thinning around the seasonal ponds. All the trees here are the same age, too close together and therefore not of the best quality. By coppicing the weakest specimens we will be letting in more light to encourage a greater variety of wild flowers next year. When the stumps re-grow, we will get trees of differing heights and ages. This habitat will appeal to a greater diversity of insects and birds.
Across the other side of the large lake professional tree surgeons have pollarded some large willows that were in danger of snapping out. Some Art students from Bedford College have installed some abstract sculptures within the trunks of these which have attracted a lot of comments.
We are also responsible for other pockets of land as well as the park, principally Daisy Bank Picnic Site near Felmersham, Stevington Country Walk, Pavenham Bury and Yelnow New Wood plantation Similar work will need to be undertaken at these sites as well. Works will be needed on these over the coming months, principally strimming and hedge trimming.
This is the second year that we have been running the angling within the park ourselves. Previously Vauxhall Angling Club leased the rights. Although this has never been an easy place to fish, our anglers have caught some very notable specimens.
We own the stretch of the river within the park boundaries and two lakes. In the river, barbel to 12lb+ have been caught along with large chub, pike and perch. The large lake has some truly huge carp – I'm talking over 30lb in weight plus pike to 30lb and large bream and tench. Several double figure pike have come out of the small lake, falling to spinners and dead baits.
If you are interested in finding out more about the fishing come and see the Bailiff, Paul Oliver or Richard & myself. Winter permits are now available from the park office allowing you to fish until March 14th costing £28.80 full or £16.30 Junior/OAP (cash only). Please note that we do not issue day tickets at Harrold and proof of status in the form of your EA rod licence will be required. Next year, the Borough Council will be raising permit prices by about 4% but anglers will be able to fish the lakes and river at Priory Country Park in Bedford as well.
We have just completed the fencing around the perimeter of the Harrold play area - a big thank you to our contactor, Tom Brett for an excellent job. We are also getting the vandalised dry stone wall in the overflow car park repaired by volunteer Bob. We had to fell a large dead willow tree before he could start as it was in danger of falling on the path.
The cattle we've had in the river meadow all summer have now been removed by the grazier but dogs are still required to be under close control. We've had a number of instances where owners have allowed their pets to chase the wildlife and this will not be tolerated under any circumstances. We'd like to remind you that both Richard and I are authorised to issue fixed penalty notices for this and littering, which includes dog fouling. A gentleman was recently caught by a Borough Council Enforcement team allowing his dog to foul in the river meadow. He was subsequently fined.
As many of you may know, we lost our volunteer in chief, Trevor Smith on August the 10th and he has been sadly missed by us all. Along with his family in Wisbech who sent £80 in donations received at his funeral, the customers of the Muntjac Pub in Harrold have raised a further £200. They want to see a lasting memorial to Trevor somewhere in the park. His knowledge and contribution over the years was priceless and we will be carefully investigating appropriate ideas for this. His family have expressed a wish to plant an oak tree for him and bring his ashes to the park. Something I know he would have loved. We will try and keep people informed of developments.
On a lighter note, Richard & I would like to take this opportunity to wish everyone a very Merry Christmas and a Happy New Year and we hope to see you all over the coming months
Dates for your Diary
Health Walk
We meet at the café entrance every other Thursday at 10.30am and walk for approximately 1hr. Sturdy footwear and appropriate clothing is required with the option of stopping at the café for a coffee and a natter afterwards. Leader: Janet Munro. For more information either call 01234 720016 or e-mail janet.munro@bedford.gov.uk
Thursday December 5th
Thursday December 19th - Everyone is welcome on this walk but the Xmas Lunch afterwards in the café is now fully booked by walkers already registered.
Thursday January 2nd
Thursday January 16th
Friends Task Days
Meet at the Ranger's office at 10am for coffee followed by participation in a conservation task somewhere around the park. Refreshments, gloves and tools provided but you will need a packed lunch, sturdy footwear and warm clothing.
Monday December 9th - Xmas Social - registered members only
Monday December 30th
Monday January 27th Janet Munro - Ranger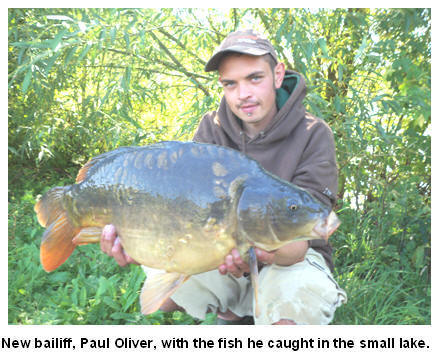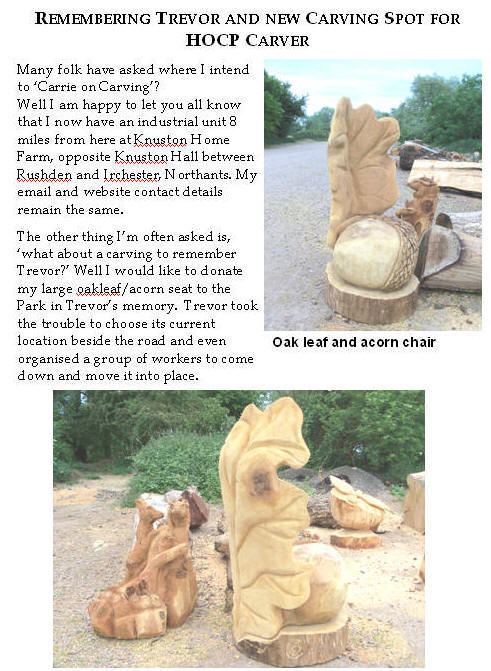 I was able to tell him that hundreds of families had taken pictures of their small children sitting on the acorn pretending to be 'king or queen' of the fairies. He was very pleased to know that.
Thank you all for your wonderful support over the years and I hope to see some of you dropping by at Knuston. All the best for a great 2014. Carrie Yuen
www.carrie-on-carving.co.uk carrieoncarving1@gmail.co.uk
Village Hall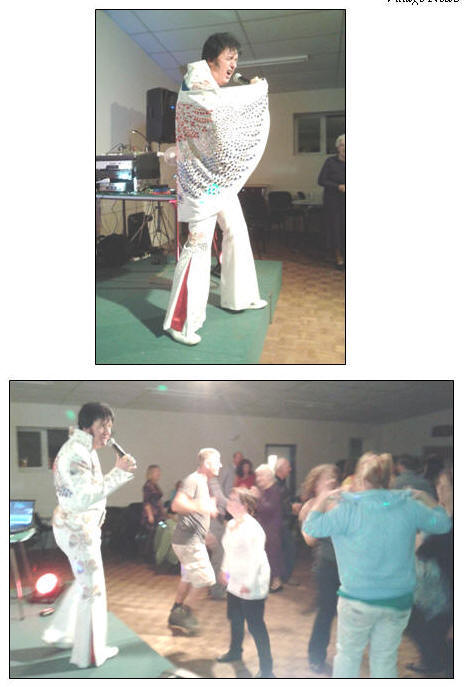 Melvis, November 16th.
Melvis returned to the Village Hall on November 16th and once again gave a great performance and in fact spent more than his agreed time. A great night was enjoyed by all.
We are holding a Christmas party on 13th December. All are invited and we would like people to "bring and share" food. We can sing carols, play games, have a Christmas Quiz and generally socialize for Christmas. Doors open at 7:30.

The Village Hall committee would like to extend a Merry Christmas and a Happy New Year to everyone in the village.

Don't forget Burns Night on January 25th in the Hall. Contact Leslie Knowles for tickets. Rob Lee
The Mill Theatre, Sharnbrook
Reg. Charity No 242164
Season 2012
www.sharnbrookmilltheatre.co.uk
Season 2014
Monday 17th - Saturday 22nd March 7.30 pm
ON GOLDEN POND
The heart-warming love story of the relationships and difficulties faced bya spirited and loveable, aging couple, in the twilight years of a long marriage.
Touching, funny; warmly perceptive.
27th – 29th March, 7.30 pm
A Clubroom performance of Bouncers and Shakers By John Godber and Jane Thornton
An intense and insightful evening, from Sharnbrook Mill Youth
Monday 19th - Saturday 24th May 7.30 pm, Saturday matinee 24th, 2.30 pm
CAMELOT
The story of King Arthur, the 'Once and Future King'; a musically rich, classic, including the memorable:
'How to handle a woman', 'If ever I would leave you'…
A legendary tale of passion and betrayal….
A REMINDER TO PERFORMERS!
Camelot Workshops: Monday December 2nd and Wednesday December 4th , 7.30 pm.
Auditions: Sunday December. 8th 2 pm at The Mill Theatre.
Director: Christine Summerling; Musical Director: Kaye Thompkins; Choreographer: Cathy Mulgrew.
For details, please contact: Christine Summerling 01832 730255.
15th – 20th September Macbeth by William Shakespeare
-Possibly the bard's darkest and most powerful tragedy - 'Macbeth doth murder sleep'
14th – 22nd November Miss Saigon (School Edition) By Claude –Michel Schonberg and Alain Boublil
The megahit Vietnam War musical, presented by a cast of young performers.
TICKETS for shows will be on sale about 5 weeks before First Night:
On-line: www.sharnbrookmilltheatre.co.uk, at SHARNBROOK POST OFFICE (in person)
or Bedford Central Box Office* – 718112 - (Tourist Information Centre in St Paul's Sq.)
Wine tasting and Food Matching
Courtesy of Majestic Wine Warehouse, Milton Keynes
Sharnbrook Mill Theatre, Thursday 23rd January, 2014. 7.45 for 8pm.
Tickets: £15 pp, strictly limited! – available in advance only! – from Theo Gibbs, 782377, or theo@theogibbs.plus.com
A fund raising event for a 'Green Energy' based Heating and Ventilation System.
wildmansally@hotmail.com) B366056
To hire the clubroom/auditorium please contact Sally Wildman (wildmansally@hotmail.com)
Diary
December
4th 10.30am Meeting Point at Jill's, Rectory Farm
5th 10.30am Health Walk, HOCP
6th 10.30am Christmas Hamper Coffee Morning, Hobbs Green Farm
7th 12 – 6pm Christmas Tree Festival Harrold United Reform Church
7th 4.30pm Carols on the Village Green, Harrold
8th 2-5pm Christmas Tree Festival Harrold United Reform Church
9th 10.00am HOCP Friends Tasks Day
11th 12.30 Senior Citizens' Christmas Lunch , Village Hall
13th 7.30pm Village Hall Christmas Party
14th 10.00am Church Decorating, All Saints' Church
15th 2.00pm Harrold Village Carol Service, St. Peter's, Harrold
16th 4.00pm United Christingle Service, Chellington Centre
18th 12 noon Meeting Point at Madeline's, Rivendell, Horsefair Lane
19th 10.30am HOCP Health Walk
22nd 10.30am Service of Advent readings, communion and meditation, All Saints', Odell
22nd 4.00pm United Christingle Carol Service, URC, Harrold
6.00pm Festival of 9 Lessons and Carols by Candlelight, All Saints', Odell
6.30pm Carol Service, St Mary's, Carlton
24th 3.00pm Crib Service, St. Mary's, Carlton
4.15pm " " St. Peter's, Harrold
7.00pm Family Carol Service, URC, Harrold
11.30pm Midnight Communion Service, St. Mary's, Carlton
25th 10.00am Family Service for Christmas Day, St. Peter's
10.30am All Age Communion Service, All Saints'
29th 10.00am Churches Together service, Harrold URC
30th 10.00am HOCP Friends Task Day
January
1st 9.45am All Saints' Amblers meet at The Bell
2nd 10.30am HOCP Health Walk
8th 10.30am Meeting Point at Madeline's, Rivendell, Horsefair Lane
16th 10.30am HOCP Health Walk
19th 10.00am Churches Together Joint Service at St. Peter's, Harrold
20th 9.15am "Christian Unity" Meeting at Church House, Carlton
21st 7.00pm " " "Harrold URC
22nd 9.30am " " "St. Peter's, Harrold
22nd 10.30am Meeting Point at Jill's, Rectory Farm
23rd 8.00pm "Christian Unity" Meeting at The Rectory, Odell
25th 7.30pm Burns Night Supper, Village Hall
27th 10.00am HOCP Friends Task Day
February
5th 10.30am Meeting Point at Jane Eshelby's, Newton Bromswold, Rushden.
Magazine Deadline
Please send all entries for the February 2014 magazine to Tricia Hudson (ed at odellbeds.net) or Catherine Corkery by January 12th at the latest. May we remind you that the editorial team exercises the right to edit, shorten or alter any items that are submitted. Also, the opinions expressed in the articles are those of the contributors and are not the responsibility of the editorial team.
Odell Cheese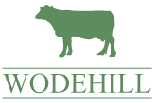 Wodehill Cheese — hand-made in Carlton
Wodehill Blue is a semi-soft creamy blue cheese
made with milk from Jersey cows in Carlton

Nearest stockists: Hurleys in Sharnbrook and Carlton Village Shop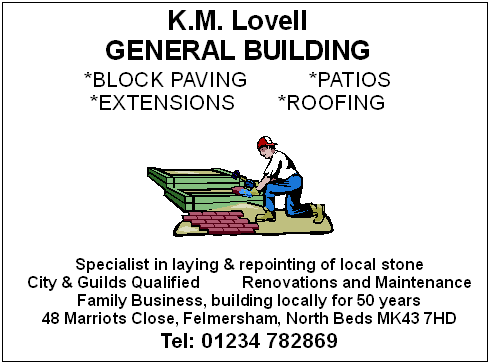 Alex Stubbs Flooring
Carpets, Vinyls, Laminates, Safety Flooring, Adaptions, Refits, Repairs
Supplied and Fitted
07976 260572
01234 240954
Great local pubs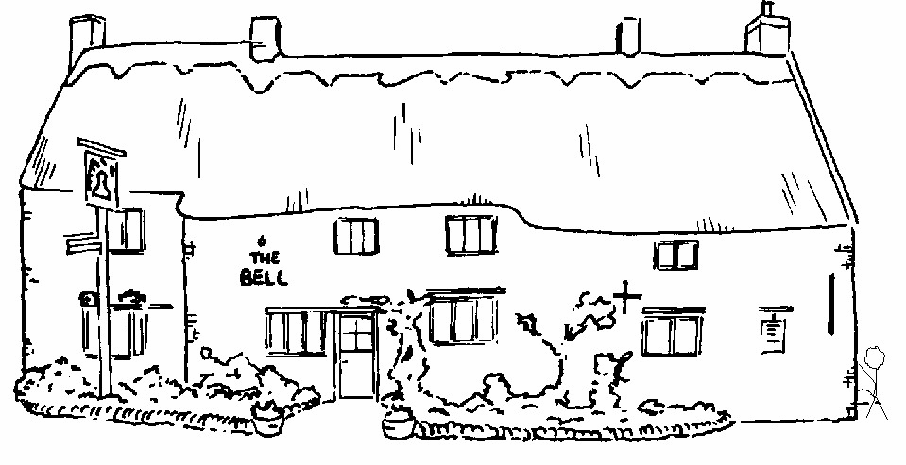 The Bell in Odell
As Featured in the 2010 Good Beer Guide
With the relaxed charm of a village local and a varied menu of
quality, home-cooked food you won't find any gimmicks here
just a Great British Pub!
Abbot Ale, IPA & Changing Seasonal & Guest Ales
Telephone 01234 720254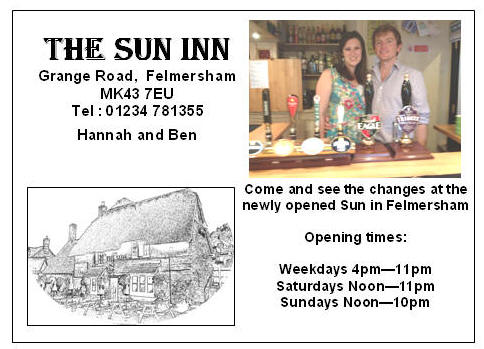 ---
Last revised: December 15, 2013.