ODELL VILLAGE NEWS
April 2013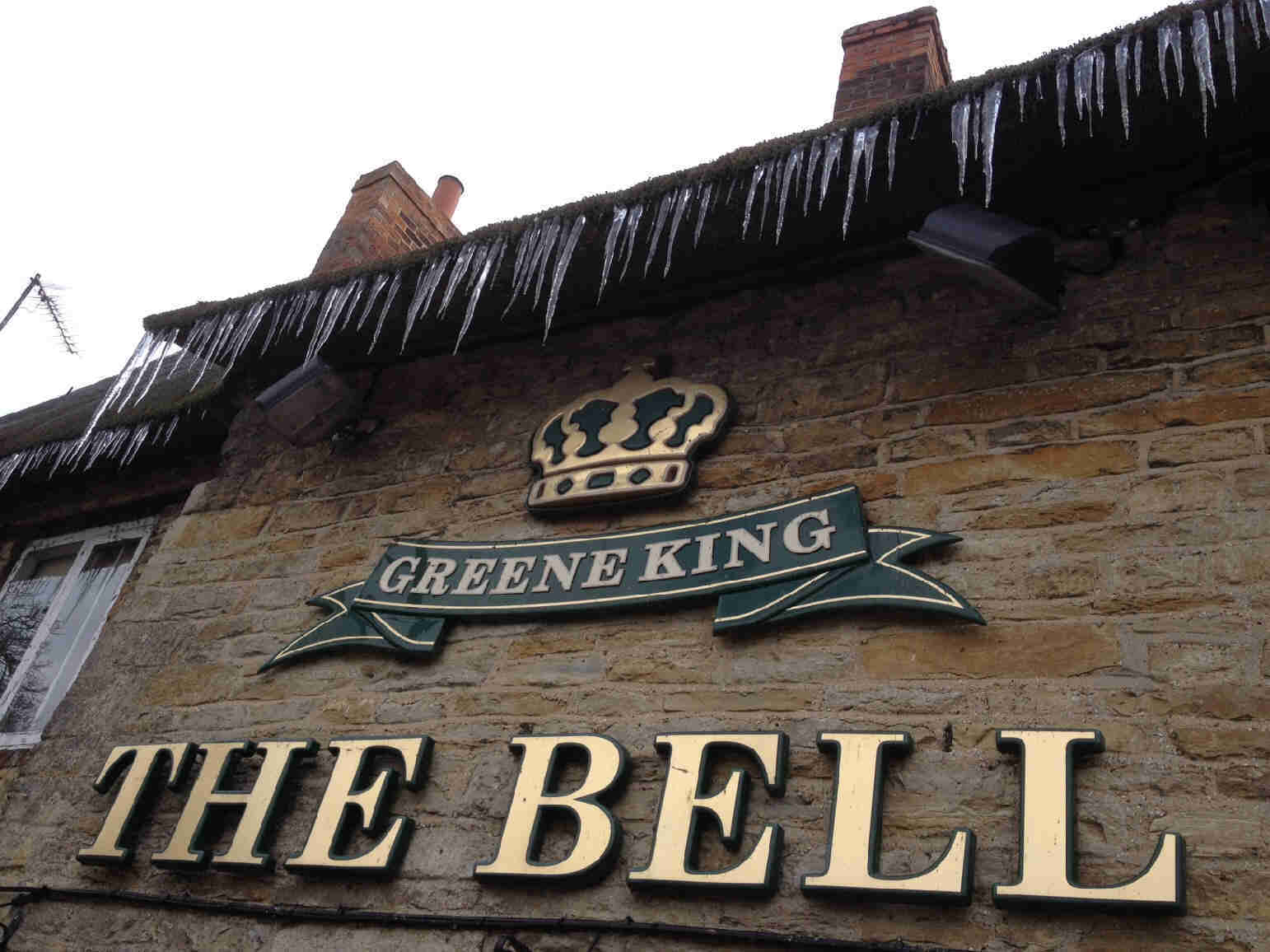 Icicles adorn the thatched roof of the Bell as we go to press
Odell Fete and Family Dog Show
Saturday 8th June 2013
This year's fete will be held on June 8th with all the usual attractions including this year a 'Best Decorated Cup Cake' Competition—more details in the May magazine.
CAN YOU COME ALONG to the Fete Preparation Day at 10.00am on Bank Holiday Monday 6th May? This will take place at Jim and Doreen Wheeler's, Linden House, High Street, Odell. This is always a fun morning, when we clean and, re paint the banners, the signs for the stalls and side shows and prepare the roadside boards. Then there will be a B-B-Q for helpers; please bring your own meat and drink. Please let Doreen (720358) or Jane Smith (721214) know if you wish to stay for lunch and what you would like to provide in the way of salads and puddings.
We need your HELP to make the Fete and Dog show a great success. We need people to man stalls and side shows, run the raffle and sell tickets. We can always find a job for willing volunteers. This is a fun day and a great village event to which people come from all over to enjoy a family day out in our lovely village and surrounding North Bedfordshire countryside; BUT we do need your help.
We also ask for your help with setting up the Fete on the afternoon or evening of Friday, 7th June. If you can manage to come anytime between 2.00 and 7.30pm to lend a hand, you will be most welcome. We shall need to collect tents, tables, chairs and stall signs and set up the field for the big day. We need muscle, a good sense of humour, wheels and trailers and tea and cake will be provided.
Mandy (720414), Christine (720234) or Karen (720952) await your call
Senior Citizens' Fish and Chip Lunch March 13th.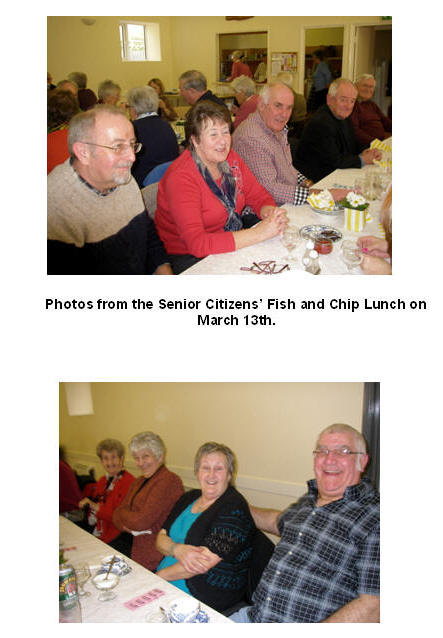 more pictures in the Church news section
The Fish and Chip lunch held on March 13th was well attended and as usual was a lovely occasion for past and present Odell villagers to become re-aquainted and chat about old times. Many thanks to The Bell who supplied the fish and chips for the lunch; their suggestion to provide tartare sauce and lemon wedges was also greatly appreciated. We regret we will not be holding a Strawberry Tea this year due to lack of funds. The committee decided to hold only the Christmas Lunch and Fish and Chip Lunch so that funds would go further. Next year we will review the situation again. Jill Cheadle
Round and About
Raindrops Keep Falling on our Heads
People from overseas seem to believe that the British people are obsessed with the weather. Looking back over the last twelve months it is not difficult to see why!
This time last year we were suffering from drought. Not just drought but three consecutive years of drought. We were crying out for rain. Throughout the Spring the lack of rain brought out all the usual scare-mongers warning us of a low water table, imminent hosepipe bans and – horror of horrors – water rationing! Late Spring found one expert ... I distinctly remember it ... appearing on several news programmes announcing that we needed at least three months of continual rain to get us out of the water shortage and "that just won't happen"! Well, of course, we all know what did happen. The skies opened, the rain fell and just kept on falling for what seemed like the rest of the year. Indeed, we found ourselves praying for the rain to stop.
During the Queen's Jubilee the main event was a cavalcade of boats, of all shapes and sizes, progressing down the London river with the Royal Family at its head. True to form the weather was atrocious. The rain fell in monsoon proportions, driven by strong winds. Did this dampen the ardour of the boat fanatics ... of course it didn't. The head of the procession was formed by small, open boats ... canoes, rowing boats, even dragon-boats and three Venetian gondolas took part. Open to the weather and protected by nothing – the boats all took to the water. Who can forget the choir! On one of the last boats in the procession, standing on a raised platform on the open deck, the rain lashing down, soaked to the skin, looking like drowned rats, down the river they came, singing their hearts out. It's a sight I shall never forget.
This was soon followed by the Olympics with some foreign athletes sorrowfully anticipating a disastrous mud bath of an event. However, it did not turn out that bad. From somewhere we even got a few bright, sunny days, highlighting the London skyline in magnificent style. My main memory of this was at the cross-country equestrian event. One particular fence had the horses jumping over a crescent moon into a vivid blue sky with the London financial centre as a backdrop. It looked magnificent.
Overall, however, the rain did not let up for long. The country was soon awash, vast areas of the nation were under water and the rain still came down. A soaking wet summer passed into a soggy autumn and as the year progressed it just got wetter. Some wretched people were flooded as much as three times in the same year. The drought that had started the year was now but a distant memory. At the turn of the year our magnificent weather had another twist in its tail....snow!
Yes, it snowed and it snowed! It was well forecast and the people who care for our roads were well prepared – but you know what it is like in England. We were still taken by surprise! It was the absolute quantity of the stuff and because the temperature was so low the snow just lay on the ground and failed to thaw. The additional snow falls just added to the chaos.
Then came the thaw. We were promised one final fall of snow and overnight the temperature would rise to double figures. Most people got that final fall of snow but here in Odell we seemed to miss it, however, what we did get was torrential rain driven by blustering winds, together with the promised rise in temperature. This resulted in a rapid thaw and we awoke to find water everywhere. The snow disappeared like magic, rivers were overflowing and yet again the entire country was awash.
February gave us a few light falls of snow – but it was very, very cold – I have not seen so many impressive icicles in many a long year! Although we did not get as much snow as many people we did get a lot of rain and the River Ouse burst its banks on two occasions in two months. But our famous English weather had not done with us yet. Following a dry, warm start to March the spring bulbs burst into view but then came the sting in the tail. The Beast from the East struck again, bringing falling temperatures accompanied with rain, sleet and snow driven on by winds providing a chilling wind factor.
This twelve months has proved, if nothing else, that England's chaotic weather has filled our cup to overflowing! Barbara Corley
Important changes in the Church
For centuries our church in Odell has been at the heart of village life. Countless people have passed through its doors to worship, be baptised, married, or be remembered in a funeral service and buried in our peaceful churchyard. We have been very fortunate to have our own minister, living in the village and always there for us. Times and circumstances have changed; the churches are under pressure and there are fewer ministers, and higher costs. Over the next few years important and necessary changes will have to be implemented, which will affect our church along with all the others in the North Bedfordshire District. If you wish to hear more about these changes, and would like to have a chance to express your views, then it is important that you come to the Annual Parochial Church Meeting on Tuesday 30th April at 7.45pm, in All Saints' Church.
W.I. News
In March we welcomed Christine Galley to tell us about Wet Felting. Most of the members had no idea what Wet Felting was, but all was revealed as our Speaker demonstrated, hands on, this unusual art form. Skeins of sheep's wool dyed in different colours was teased out in alternate directions, sprayed with soapy water and compressed to remove the water, finally becoming felt. Christine was passionate about this hobby and showed us some of the items she had created.
The next meeting will be held in the Village Hall on Tuesday, 9th April at 7.30pm when John Tusting will talk about his Concerts at the Barn. Hostess is Margaret Jones
New members are always welcome and if you need any more information please ring Karen Boyes, 720952. Ladies, just come along to the Village Hall on the second Tuesday of each month and see what we do and how we enjoy ourselves. To find out more about the WI go to www.theWI.org.uk or the local Bedfordshire Federation website www.thewi.org,uk/bedfordshire Jane Eshelby
Odell Parish Council News
VILLAGE HALL
The Village Hall Committee has a great programme of events lined up for the coming months (see separate article). Please help us keep our community hub running by supporting these events. Funds raised by these events are used to maintain the building. Many of us use the hall for family celebrations, kids parties etc., however, without your support there is a risk that we may not be able to afford to keep the facility going. If you have ideas for new events, whether one-off or on a regular basis, then please do let Rob Lee or one of the Village Hall Committee members know.
FOOTPATHS
The Mill to Odell Bridge footpath is at risk in the medium term of being undermined by riverbank erosion caused by recent flooding. This has been reported to Bedford Borough who will carry out a site inspection.
HIGHWAYS
Bedford Borough Council Highways officers have met with Councillors recently on site to inspect some of the issues logged over the past few months.
Church Lane road surface and part of the Little Odell to Harrold footpath have been prioritized for urgent structural repairs. Highways have asked Anglian Water to investigate water leaks at two High Street locations: opposite the Bell and outside Schwaben Cottage. All other repairs (T-junction Little Odell potholes and flooding, Mill Lane road surface, overgrown pedestrian footpaths, lamppost maintenance, repainting Bus Stop markings etc.) have all been allocated to the 2013/14 Highways maintenance programme.
If you notice any new footpath and highway defects please report them directly to Highways – the more people who report a fault, the more likely it is to get attention.
Now that the speed limit between Little Odell and Odell has been reduced to 40mph there has been some reduction in the overall speed of traffic entering the village, however, the habitual speeders persist and we shall be working with the Police and Highways to introduce further measures to address this.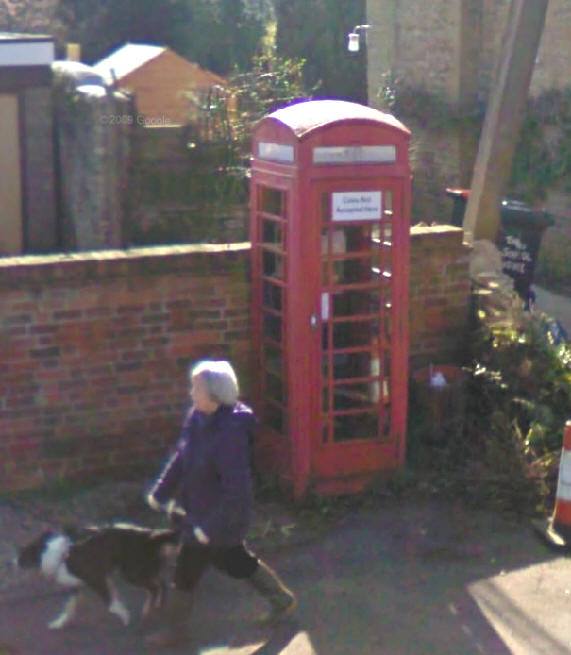 DEFIBRILLATOR - COMMUNITY HEARTBEAT SCHEME
The BT payphone has now been removed from the village phone box. We are awaiting a date for the installation of the defibrillator. Quotes have been obtained for the cleaning and re-painting of the phone box and this should be undertaken over the next few weeks.
MAKING A COMPLAINT:
If you have any concerns about services provided by Bedford Borough Council such as: abandoned cars, anti-social behaviour, faulty street light, fly tipping, pothole reporting, recycling and waste issues, street cleansing or pedestrian footpaths, you can contact them by phoning 01234 267422 or on-line via www.bedford.gov.uk
"Stop Press!: The Parish Council has prepared a statement on this year's Council Tax bill - please see the Parish website for details: http://odell.bedsparishes.gov.uk/ "
Can Anyone Help?
Recently, our Parish Clerk, received this letter from Roger Greener requesting help in tracking down his ancestor. If anyone can help with any information regarding the Guess family please would you send it to me (Tricia Hudson) at the magazine email address: ed at odellbeds.net , and I will pass it on to Roger.
Dear Parish Clerk
I am researching my family history and believe that my grandmother may have been a member of your parish. Her name is Rebecca Guess and on 09-APR 1798 she was married to Thomas Pack of Hamlet Ashton from the parish of Oundle. The records I have say they were married in Odell Bedfordshire and nothing more. I am writing to see if you have a policy in place to help with any type of family research, or asking to see if you could or would help me track down information regarding the Guess Family. The only person in this family I know of is Rebecca Guess her birthday is about 1770 in Rushden Northamptonshire and her marriage was as stated above.
If you can help me in any way I would be very appreciative, even if it is providing contacts that might be able to help. Roger Greener
Recycling News
Since the changeover from recycling at the Shanks site at Elstow to one at Milton Keynes, which happened a couple of years ago, items can be added to the orange recycling bags or bins. You can now recycle plastic bags, yoghurt pots, margerine tubs, milk and fruit juice cartons, take away dishes, ready meal foil dishes, old unusable footwear and clothing/linen [anything not suitable for charity or jumble purposes]. These additions to the recycling should make a dramatic impact on the amount of waste put into the ordinary bins - so please recycle as much as possible and see the difference you can make!
Welcome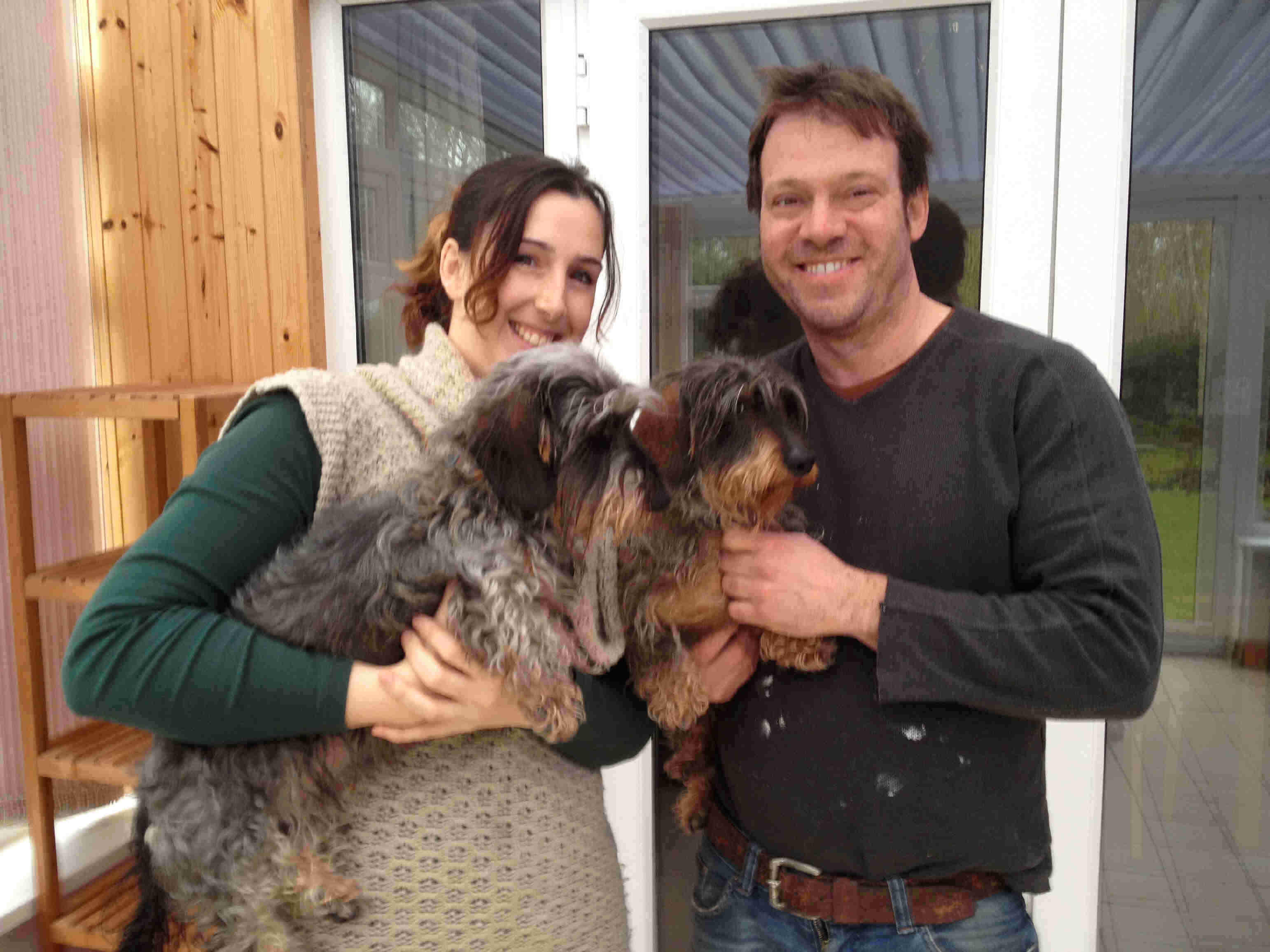 Jason, Laura, Alfie and Hugo, who have moved into Horsefair Lane
Update for Harrold Ward – March 2013
Podington, Hinwick, Farndish, Wymington and Little Wymington, Harrold, Odell, Carlton
Flooding
Further to my last report the Borough's Highways team has now completed its investigations into the pipework outside the Country Park and at the junction of the Odell Road and High Street (Odell). The CCTV survey found the pipework to be damaged at both locations. I have been informed that the repairs will be starting within the next couple of weeks, as soon as the team has finished its work on replacing the drainage system at the Wymington railway bridge on the Podington Road which has also flooded very badly and frequently this winter.I hope this work will resolve the problem.
Wind Farms
Nun Wood
As mentioned in my last report the Public Inquiry is to be held in the Council Chamber, Bedford Borough Council, Borough Hall, Caudwell Street, Bedford commencing at 10.00 on 11th June 2013 and is estimated to sit for eight days.
Podington
The High Court has now set a date of 9th July 2013 for the Borough's challenge to this development to be heard. This will be at the High Court in London.
Council Tax 2013/14
At its meeting on the 27th February the Council approved its Council Tax Resolution for 2013/14. The Council has accepted a freeze grant from the Government which means that the Borough Council's precept will remain the same as last year. The Bedfordshire Fire and Rescue Service and Bedfordshire Police have decided to increase their precepts by 1.998% and 2% respectively.
The overall average Council Tax for Band D properties for 2013/14 will be £1,570.47. This is an increase of 0.44% or £6.88 from 2012/13. The payments due for each property band in all areas of the Borough can be seen at the following link to the 27th February report to Full Council at Appendix A;
http://www.councillorsupport.bedford.gov.uk/documents/s21453/Item%2014%20-%20Council%20Tax%20Resolution.pdf
Riverside North
The consultation for the proposed Riverside North scheme for a new cinema, hotel, restaurants, and retail and residential property on the site of the Town Hall has been extended to the 13th March. The planning application is scheduled to be heard at the 25th March Planning Committee meeting. The consultation can be accessed online at the Council's home page (www.bedford.gov.uk), or at the Customer Services Centre on Horne Lane and Bedford Central Library. There is a campaign against this development and the website address for this is www.TowardsABetterBedford.org.uk
Local Hospital Review
Healthier Together, a review of services at five hospitals in the South East Midlands area is to be scaled down into a more localised assessment of services. This means that the review will now explore the possibility of shared services between Bedford Hospital and Milton Keynes Hospital. The central aims of the review are to concentrate specific services on one site with a view to reducing costs and improving the quality of care. More information can be found at http://www.healthiertogethersoutheastmidlands.nhs.uk/
Education Consultation
The Council is currently consulting on a new education strategy entitled, 'Strengthening Partnerships with Schools' until the 28th March. The document sets the aim of improving attainment and the standards of schools in the Borough. The consultation can be accessed at the following link; http://apps.bedfordshire.gov.uk/comweb/
Cafe and Museum Opening Dates
Two new Council owned leisure sites are to open in the spring. 'Number 13' is a new café at the site of the former Saracens Head pub which will act as a front of house refreshment area for the Corn Exchange. It is set to open in March.
The £5.8m refurbishment of The Higgins (formally the Cecil Higgins museum) is nearly complete and the site will open in May. It will have a range of new displays and exhibitions as well as a new shop and café.
Contact Alison
If you have any issues or concerns you would like to raise with me directly I can be contacted on my mobile 07773371190 or by email on afield_foster@btinternet.com Alison Foster
News from The Bell
The roaring log fires have continued right up to Easter with a welcome for all. St Patrick's day was celebrated in style with a hog's head and live music from the Wedding Crashers. We will also celebrate St George's Day on the evening of 23rd April
Above:The Hog's Head on the bar - St Patrick's day at the Bell
Below: The Wedding Crashers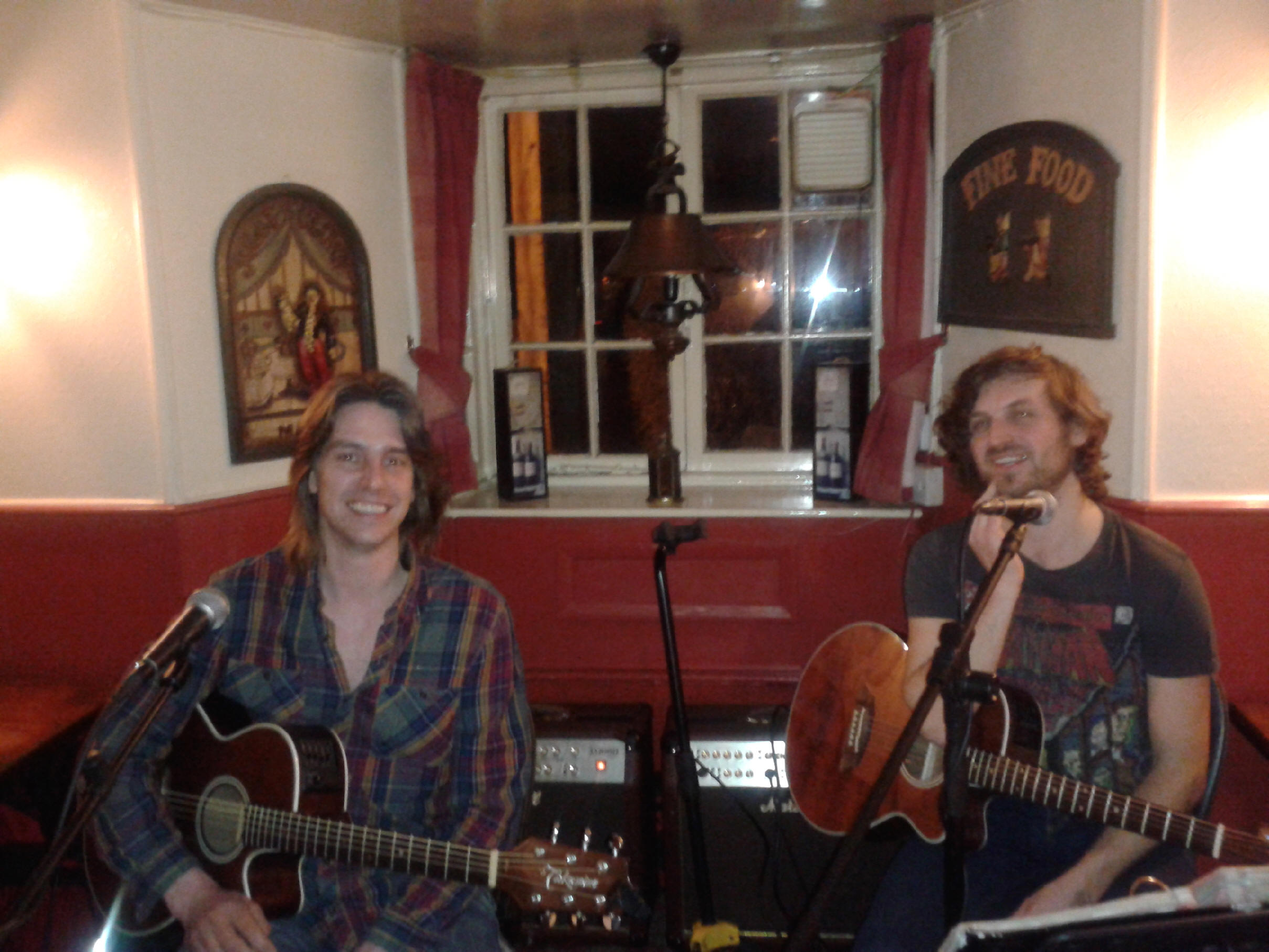 Village Hall News
Spring is around the corner and hopefully the floods and cold are behind us for a while, so why not start dusting off the winter cobwebs and look forward to a bit of socialising in the village hall.
We think there is something for everybody; from 6:45ers and dance classes for the youngsters to Belly Dancing for all ages! Not forgetting of course the WI and their range of interesting topics and meetings every month. New to the hall is Indoor Bowling, generously provided by Leslie Knowles, so watch out for notices showing when this is being held.
The village hall is available for anyone in the village to hire for your special party or simple social gathering at the most affordable rates of any hall in the county. In addition the village hall committee look to arrange other occasional events and this newsletter will highlight some events already planned for this year.
We appreciate the "austerity" time we are all experiencing but the village hall allows affordable entertaining social events where we can meet with friends and neighbours to catch up on what's occurring in a friendly and sociable atmosphere.
It's fair to say the last year saw poor attendances at the events held, so please let us know if these are not to your liking and what other activities would generate your interest.
Up to now we have not needed to specifically fundraise as our organised events have generated income together with income from lettings. Over the past year both these sources of income have dramatically reduced so will need to look at specific fundraising ideas to ensure the on-going availability of our hall. Rob Lee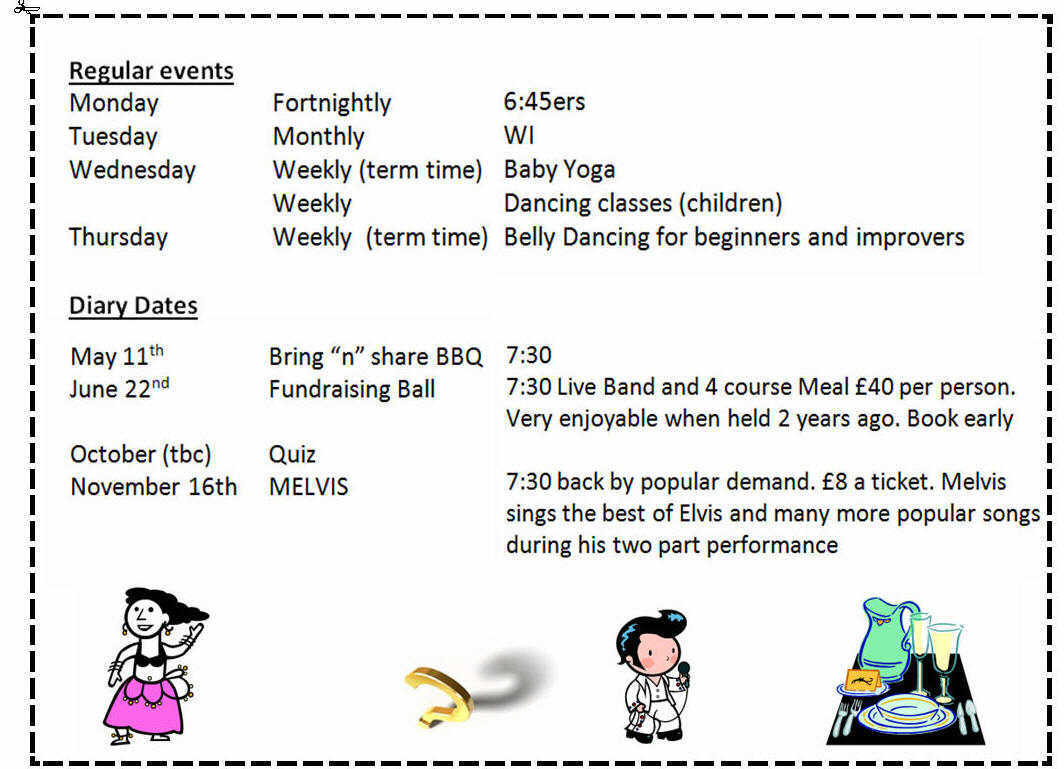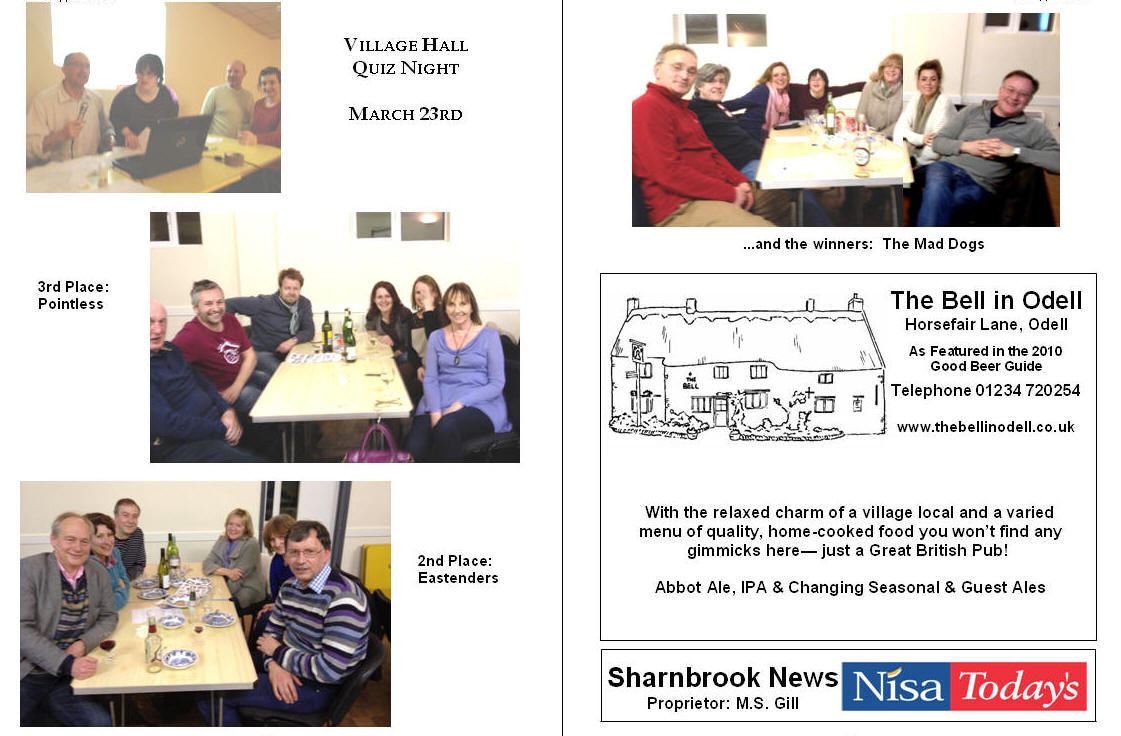 Harrold-Odell Country Park
Email: hocp@bedscc.gov.uk Website: www.hocp.net Tel: 01234 720016
News From Harrold Country Park
We're on the final countdown to spring and we're desperately trying to finish the outstanding work on the winter work list before we have to stop for the bird nesting season.
We have been seriously hampered by continuous flooding over the last few months. The nature reserve is waterlogged which has prevented us from working on phase 2 of the willow thinning programme in and around the seasonal ponds.
We have only just been able to start coppicing the overgrown willows alongside the large lake adjacent to the bird hide. We need to lay the hedge bordering the same stretch which we hope to finish before the end of March.
Easter is fairly early this year. We are hoping to run our annual Easter Egg Hunt on Easter Monday. There is a charge of £1 per child and the Friends Group will be running a raffle and fundraising stall.
It is going to be pretty much as in previous years i.e. 2 sessions. The morning one will run between 10am – 12pm and the afternoon 1pm – 3pm. Please note there are ONLY 25 places on each session therefore BOOKING IS ESSENTIAL! Please call 01234 720016 or e-mail janet.munro@bedford.gov.uk to register.
The Friends Group is busy putting together new notice boards showing a spread of different bird pictures to go in the new bird hide. They hope to have this ready for Easter but the whole thing has to be properly scanned in and made into a poster so it may take a little time.
They are also in the process of re-vamping the park website and haul it into the 21st century. Bear with us while this is done and the tests completed.
Already, we are hosting school parties and community groups interested in learning more about nature. Richard and I had enormous fun recently making charcoal, willow rings and building dens with a party from Marston Moretaine Lower School who were staying at the Chellington Centre.
It used to be that we only saw schools from April – Sept. but now we are teaching all the year round. I am about to attend a Sustainability Day Event at Bedford College teaching willow weaving to anyone who shows an interest. Last year, I worked with an artist studying at the college who subsequently had her willow sculpture exhibited in Hill Rise Nature Reserve in Bedford. My Colleague Jane Moore from Priory Country Park will also be attending.
It is my sad duty to report that we are once again experiencing a spate of antisocial behaviour in the park involving a minority of locals. Newly planted trees in the shelterbelt put in to replace the conifers we have recently felled were uprooted and burnt. A table in the picnic area has also been smashed. A lot of people put a great deal of effort into making the park a beautiful place and this is just so upsetting. If anyone has information about this please contact Riseley Police station.
Tea-zels Café is open 9am – 4pm daily at the moment. They will open until 5pm at weekends only after the clocks go forward. For more information please call them directly on 01234 721525.
Dates for your diary
Health Walks
Meet every other Thursday at 10.30am at the café entrance. Leaders: Janet Munro or Richard Dowsett. We walk for an hour to enhance your health and wellbeing and give people a chance to socialise while improving your fitness. There is also the opportunity for a coffee and a natter in the café afterwards – always a bonus! Tel 01234 720016 or e-mail janet.munro@bedford.gov.uk
March 28th
April 11th & 25th
May 9th & 23rd
Friends Task Days
Monthly task day, usually the last Monday of the month (a week earlier if a bank holiday) looking at ways of conserving and enhancing the park. We start at 10am and you can participate as long as you like. Bring sturdy clothing, footwear and a packed lunch. We provide tools, refreshments and the chance to meet new people. For more information call 01234 720016 or e-mail Richard.dowsett@bedford.gov.uk
April 29th
May 20th
Easter Egg Hunt
Easter Monday 1st April see details in the main article
Art Exhibition
Local artists will be setting up an exhibition and sale of art in the park marquee from 10am – 5pm on Bank holiday Monday May 27th. For information please contact Olga Earle on 01933 412848
Janet Munro, Ranger
The Mill Theatre, Sharnbrook
www.sharnbrookmilltheatre.co.uk
GYPSY · 18th – 25th May 2013, at 7.30 pm
Matinee: Sat. 25th May
NB: No performance Mon. 20th May
Setting: 1920 – 30's Vaudeville.
The famous story of Gypsy Rose Lee casts an affectionate eye on the hardships and triumphs of show business life. Arthur Laurents' book and Jule Styne's seductive melodies combine with Stephen Sondheim's crackling lyrics, including:
'Everything's coming up Roses',
'Let me entertain you'….
Considered by many to be the
perfect musical!
TICKETS (£11 - £13) on sale from 15th April at:
Sharnbrook Post Office (in person) or Bedford Central Box Office* –
*NB this has moved to *Tourist Information Centre in St Paul's Sq. 718112 (NB new number)
10 % discount for 10 or more (excluding Fri., Sat. & Charity performance)
2 wheelchair spaces, easier access seating Rows A – C: hearing loop Rows A –E.
PERFORMERS! On stage…
Glorius - Tuesday 17th – Saturday 21st September
Peter Quilter's 'gloriously' funny, heart-warming comedy
- the true story of Florence Foster Jenkins' extraordinary operatic career.
Read Through: Tues. 7th May at 7.30 pm - Auditions: Thurs. 9th May
Enquiries: Director: Zandra Saxby: 01933 312755 or zandrasaxby1@btinternet.com
CAR BOOT SALE!
Spring cleaning and sorting? Don't dispose!….
Save & Sell the Saleable items on Sun. 16th June at The Mill Theatre CBS!
Sellers– (strictly no Traders) 9.00am (-1 pm); Car £7, car + trailer/large van £10; Buyers from 10.00 am. Tea/coffee light refreshments; Bar 12 noon
T o b o o k y o u r p i t c h in this riverside, summer setting, please contact:
Ian/Sandy: 01933 664 718 or 07525 419815 ianandsandy@btinternet,com now!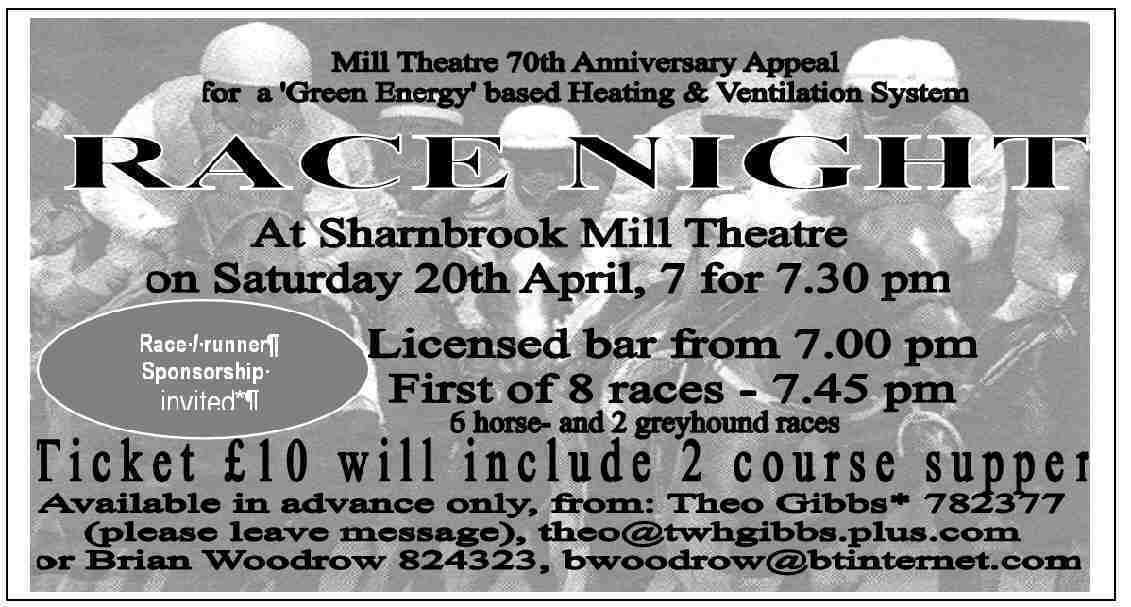 Diary
March
28th 6.00pm Village Hall, Passover Supper
29th 11.00am Service on Harrold Green
2-3pm Service of meditation, St Mary's, Carlton
31st 10.30am All Saints', Easter Communion
April
1st 10-12am Easter Egg Hunt, HOCP
1-3pm " " " "
2.30pm Café in the Tower
3rd 10.30am Meeting Point, Jane Smith's, Horsefair Lane
9th 7.30pm W.I., Village Hall
11th 10.30am HOCP Health Walk
17th 10.30am Meeting Point at Catherine's, Manor Cottage, High St., Harrold
20th 9.45am All Saints' Amblers meet at The Bell
23rd 7.30pm St George's Day Celebrations in the Bell
25th 10.30am HOCP Health Walk
29th 10.00am HOCP Friends' Tasks Day
30th 7.30pm All Saints', Annual Meeting of Parishioners
7.45pm " " Annual Parochial Church Meeting
May
1st 10.30am Meeting Point at Jill's, Rectory Farm, Odell.
Magazine Deadline
Please send all entries for the May 2013 magazine to Tricia Hudson (ed at odellbeds.net) or Catherine Corkery by April 12th at the latest. May we remind you that the editorial team exercises the right to edit, shorten or alter any items that are submitted. Also, the opinions expressed in the articles are those of the contributors and are not the responsibility of the editorial team.
Odell Cheese
Wodehill Cheese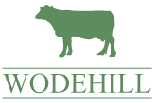 Wodehill Cheese — hand-made in Odell
Wodehill Blue is a semi-soft creamy blue cheese
made with milk from Jersey cows in Carlton

Nearest stockists: Matthews and Hurleys in Sharnbrook and Carlton Village Shop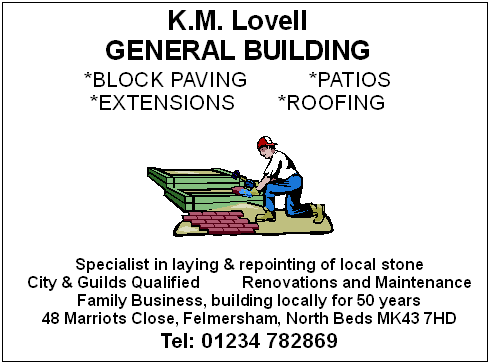 Alex Stubbs Flooring
Carpets, Vinyls, Laminates, Safety Flooring, Adaptions, Refits, Repairs
Supplied and Fitted
07976 260572
01234 240954
Great local pubs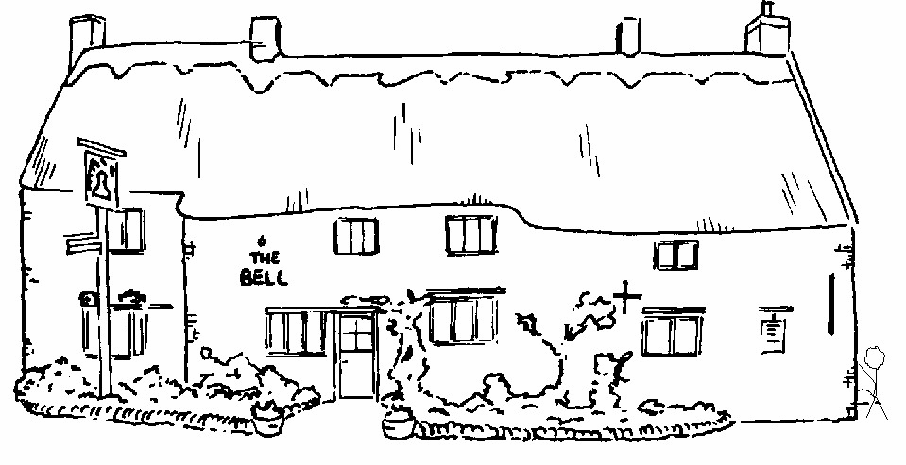 The Bell in Odell
As Featured in the 2010 Good Beer Guide
With the relaxed charm of a village local and a varied menu of
quality, home-cooked food you won't find any gimmicks here
just a Great British Pub!
Abbot Ale, IPA & Changing Seasonal & Guest Ales
Telephone 01234 720254
---
Last revised: March 31, 2013.