ODELL VILLAGE NEWS
October 2012
Senior Citizens' Autumn Lunch
Tuesday 16th October
Village Hall
12.30 –for 1.00pm
Please send replies to Jill Cheadle (720261) by October 7th.
Birthdays
Happy birthday to Lottie Robinson on 18th October and to everyone else with a birthday in October.
Round and About
W.I. AFLOAT
This year the Odell WI enjoyed one of their most successful summer outings. We hired a boat for an evening cruise on the Grand Union Canal.
Something else that made the evening special was the weather. We usually attract the most appalling weather to our outings. The rain does not just fall gently but absolutely pours down and on a number of occasions we have had the full complement of thunder and lightning as well. Not this time, however. It was a golden, late summer, evening with nothing more than a gentle breeze to ruffle the surface of the water. With a few designated drivers we made our way to Stoke Bruerne. Our members turned out in good number and we were accompanied by a small group of W.I. husbands. It was a happy little party that foregathered on the canal side - until we began to look around for our trusty conveyance for the evening. There she was, sure enough, securely moored to the opposite bank! This immediately posed the question of how we were to gain the other side.
Charlie, as our boat was called, was made along the traditional lines of a narrowboat but adapted to carry passengers rather than bulk cargo. Historically narrowboats were purpose built to carry commercial goods before the arrival of the railway. They were called narrowboats because that is what they were - long and narrow - anything up to 70ft long and 12 ft wide, with a draught of 4 ½ft - and designed to be pulled by a horse ...engines had yet to be invented. The horse could tow the barge, carrying a cargo of up to 60 tons at approximately 2 to 2 ½mph. In the 1700s England was criss-crossed with a network of canals enabling heavy loads to get from one end of the country to the other. The Grand Union Canal was just one of many.
So there she was, Charlie, our craft for the evening, adapted to have open sides and a canopy roof. We all clambered aboard and, under the watchful eye of Mike, our skipper, we cast off for our evening adventure. For those of you who have never visited Stoke Bruerne, this is a picturesque village in Northants and the home of the National Waterways Museum, with the entire area given over to all things associated with canals and canal living.
Charlie gently made her way along the waterway in the direction of Blisworth, passing a continual line of narrowboats tied up along both banks of the canal. Most of these boats had been converted for people to live in. Many of the moored vessels were clearly there as houseboats whilst others were probably holiday craft. I couldn't help noticing among the houseboats that, with limited space below, every available opportunity was taken for storage above deck. Deckspace itself is practically non-existent with a small area in the stern and an even smaller area in the bows which was nearly always used for sitting outside; therefore, the roof of the barge would be pressed into service. Some roof-space was being used for storage of boxes and crates etc. but others had canoes or cycle-racks or a varied collection of planters creating quite a garden effect. I even saw barrels and tubs of tomato plants and in one instance a set of growbags hanging over the stern and crammed full with tomato plants - in full fruit as well! Amongst all these narrowboats both at Stoke Bruerne and later at Blisworth, I saw not one river cruiser. Every single craft was a narrowboat...excluding, of course, a number of small dinghies and canoes.
One of the nice things about watching the boats as you pass by is the fact that apart from displaying the name of the boat the owner also has to show the town of registration. At a glance you can see where all these boats have come from. Some of them had come a considerable distance.
Within moments of starting our cruise it was as though we had entered another world. It was like being enfolded in a blanket of peace and tranquility. Held between the banks of the canal all outside noise disappeared. Things look very different when seen from the water and you feel like an observer watching life pass by. Our steady progress along the canal soon brought us into sight of what was probably the highlight of the evening - the Blisworth Tunnel.
Travelling by canal, when a hill gets in the way of progress there are only two ways to overcome the problem. You either slice a valley through the hill or excavate a tunnel through it. Engineers began to dig out the Blisworth Tunnel in 1793. The tunnel is approximately 1¾miles in length and is said to be the longest tunnel in England. It was created to enable the barges to convey coal, iron ore and building materials between London and the industrial Midlands. The return trip usually involved carrying farm produce like corn or root crops.
So, here we were, about to enter this relic of a bygone age. Our skipper warned us that we would experience dripping water coming through the roof of the tunnel and despite Charlie having a canopy we were likely to get a little wet. As we entered the tunnel Charlie's lights came on - and the temperature dropped. For some reason our voices also dropped as we entered this strange environment. The further we went into the tunnel the quieter became our voices. As the daylight receded Charlie became a bubble of light moving through absolute darkness accompanied by the constant drip-drip-drip of falling water. Most of the drips were quite small and we had passed them more or less before we felt the cold-wetness of the splash on our shoulder or arms. Occasionally, however, the splashes were considerably bigger and once in a while there was quite a downrush of water. Big enough, on one occasion, for the boat to take avoiding action. Most of this water hit the canopy but some definitely struck home, to be accompanied by a squeal from the target, and I think we were all a little wet by the time we left the boat. The general opinion seemed to be that getting wet was all part of the trip.
Charlie pushed her nose deeper and deeper into the darkness. This was not the darkness of night but a total black-out. It pressed in against our bubble of light. Black, total black. It gave the impression that the boat was standing still. I found myself staring into the blackness trying to penetrate that which cannot be penetrated. Occasionally the lights on the boat picked out a feature on the tunnel wall. This was usually in the form of a great stain caused by trace elements creating patches in white and orange. Little stalactites hung from the roof of the tunnel.
Eventually a little pinprick of light appeared in the distance. It slowly became larger until we finally emerged into the fading evening sunshine. Soon we were approaching Blisworth and the re-appearance of narrowboats tied up along the canal banks. We passed the Blisworth Marina, a large - I suspect man-made - lake, absolutely packed with narrowboats. There were some extraordinary narrowboats at Blisworth, obviously recently built but following the traditional lines. What they were made of I do not know, but it certainly was not wood. They were more streamlined in appearance and full of modern, and certainly expensive, equipment. We passed through Blisworth until we came to a "T" junction on the canal. Mike executed a grand manoeuvre which brought Charlie round to face the way we had come. Now was the time for our return journey and, for the first time that evening, the appearance of a few cardigans and light coats.
I have been a member of the W.I. for a number of years and I have noticed, over the years, that a number of "W.I. husbands" like to join us at our special events and outings. I have my own idea about this feature of Odell W.I. I firmly believe that the "W.I husbands" feel that we have too good a time on these occasions and they want a piece of the action! Barbara Corley
Village Hall News
Book your table now for the ever –popular
Village Hall Quiz
Date: 13th October
Time: 7:30 for 8:00pm
Tickets: £2.50 per person
Contact: Rob, tel. - 720730-to book a table, (6 per table).
W.I. News
Our September out meeting was held in the Visitor's Centre at Harrold and Odell Country Park. Members and husbands were welcomed by Janet Munro who told us the History of the Country Park. We first saw an aerial photo taken before the extraction of gravel clearly showing signs of human activity and the remains of an Iron Age farm dating back to the first century AD.
Archaeologists found pottery and wicker wells and evidence of a Roman settlement. After gravel extraction, the land was returned to farming with the addition of lakes, rapidly becoming important for wildlife.
Becoming the Country park in 1980's was just the beginning of what the Park now has to offer all visitors interested in exploring North Bedfordshire's flora, fauna and wildlife. To find out more go to www.hocp.co.uk
The next meeting will be held in the Village Hall on Tuesday 9th October at 7.30pm when Gareth Julian will talk about the British Heart Foundation.
Hostesses Jane Smith and Audrey Dempsey
New members are always welcome an if you need any more information please ring Rachel Halton on 720572
ODELL WI JUMBLE SALE
Saturday, 13th October, Odell Village Hall at 2.00pm, entrance 50p
Bric-a-brac, clothes, books & CDs, toys & games, art & crafts,
Refreshments.
Donations can be left at the Village Hall from 10.00am.
Contact Doreen Wheeler on 01234 720358
Jane Eshelby
Sharnbrook Upper School PTA –
Christmas Craft Fair and Indoor Table Top Sale
Sunday 25th November 2012
1100am til 3.00pm
Stallholders required – set up from 9am
Contact 01234 782211 for information and booking or email : lrance@sharnbrook.beds.sch.uk
What's on at The Bell
Don't miss the
Charity Race night
on
Friday 26th October
8pm start
Sponsor a race, be an owner or simply place your bets and enjoy the fun.
Odell Parish Council News
Highways: The changes to the speed limit as you approach the village do appear to be having a positive impact with more cars slowing as they enter the village. We have received a few queries regarding the positioning of the 30mph speed limit at the Sharnbrook end of the village. The criterion used to establish this is to implement such limits beyond the last house in a village, in this case The Lodge. "Dragons Teeth" road markings are to be added to provide additional warning of the change in the speed limit.
We have raised the issue of lamp-post maintenance with Bedford Borough Council and await their response.
Horsefair Lane Parking
At times we are experiencing parking congestion in Horsefair Lane to the extent that access for emergency and utility vehicles is severely compromised. The Parish Council is reluctant to sanction the introduction of yellow lines and would, therefore, ask all residents to ensure that they and their guests park responsibly leaving adequate room for emergency vehicles to pass through at all times.
Play Area (Horsefair Lane end of HOCP)
The soil surrounding the Pipe feature has become eroded – discussions are taking place to identify a robust and long term fix.
In order to ensure your children's health and well-being this area has been deemed to be a dog-free zone and we therefore request that users ensure that the gates into the play area remain closed at all times. Dogs must not be taken into the play area. If dogs are to be tethered then they must remain outside the play area.
Police: The local Police continue to patrol the village and are always interested in hearing any useful information which you might want to pass on to them. It is important to report any incidents to the police when they occur – the strategic allocation of police resources takes into account crime statistics.
Footpaths: There are a number of Bedford Borough maintained footpaths which have become overgrown and will receive their second cut shortly. Odell Parish Fields are to be cut by the current tenant.
The Yelnow Lane BOAT (byway open to all traffic) remains closed to traffic. Please take care when walking this route as deep ruts have become hidden by dense vegetation.
Scramble bikes have been illegally using Odell Wood, the local police are aware of this and are actively monitoring. You are encouraged to report any such incidents that you witness to the police.
Podington Wind Farm Application
Approval for this was recently granted by the Planning Inspectorate. At the time of writing Bedford Borough Council is preparing to submit a Section 288 appeal against this decision.
Odell Website
Over the next few weeks the village website will be refreshed and we would encourage you to visit the site on a regular basis.
http://odell.bedsparishes.gov.uk/
The next Parish Council Meeting is scheduled for Monday 19th November in the Village Hall 7.30 pm. All are welcome to attend.
If you have any concerns or would like to contact the Parish Council please see one of your Parish Councillors (list of names on the website) or contact the Parish Clerk OdellParishClerk@aol.co.uk.
KNIGHTON GRANGE
a memoir of Odell parish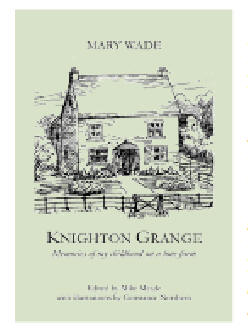 Carlton and Chellington Historical Society has recently published Knighton Grange, an account of the joys and hardships of growing up in late Victorian rural England by Mary Wade of Souldrop and Odell.
Knighton Grange, with the sub-title 'memories of my childhood on a lone farm', was completed in 1964 when Mary tried, without success, to publish her story. The manuscript, illustrated by her friend Constance Northern of Harrold, then lay forgotten until it came to light again over forty years later.
The first task of the editor in bringing Mary Wade's memoir to publication was to put names to places and persons of Mary's acquaintance, few of which are directly identified in Mary's narrative. As explained in the editor's Introduction, these included not only the members of her own family, but also the location of 'Knighton Grange', eventually identified as Grange Farm, Odell, on the Dungee Road to the north of Harrold. Readers will also find some family history and photographs, along with additional background information which, it is hoped, will enhance Mary Wade's original text from the point of view of both the 'local' and the 'general interest' reader.
The opening lines of Knighton Grange take the reader back to Queen Victoria's golden jubilee, the year that Mary's parents Charles and Sarah Knight moved with their three children from Souldrop to become tenants at Grange Farm. Mary relates how her three younger siblings were born within a few years of her parents' arrival.
"With a domestic help, who often lived in, we were therefore a family of nine. How so large a family fitted into so small a house still remains a puzzle to me ..."
The six Knight children walked to and from Harrold every day in term time and up to three times on Sundays to attend Sunday School and Chapel where their father Charles was a deacon. Charles is ever present in a story that ranges beyond the farm to provide a detailed and loving recollection of life in and around Odell parish at the end of the nineteenth century. However, it is Mary's mother Sarah, a semi-invalid, who is remembered with particular affection and, crucially, for her ability to inspire in her children a life-long love of the countryside.
Mary's memoir shows clearly her staunch non-conformist up-bringing; she and her husband were valiant supporters of the Unitarian Church and, in her later years, Mary became a founder member of the Bedford Unitarian Fellowship. In her concluding chapter Mary writes:
'... that way of life of which I have written has passed away; but there still remains the good earth and man's love of it. All the wonder and magic of the changing seasons, of sunshine, wind and rain, the wealth of trees and flowers, mountains, streams and meadows, the beauty of the sky by day and night; these abide to lift the spirit of mankind and ever will.'
Knighton Grange is on sale for £5. To order a copy, please contact Mike Meade on 01234 720070 or by email: m.l.meade@btinternet.com
Did you know...there is a Zumba class in Harrold?
Zumba Fitness, the worldwide dance fitness phenomenon that uses Latin and World music to create a dance workout is easy to follow and great fun. Our slogan, 'ditch the workout, join the party' is so true, come and see for yourself! Classes run every Monday (except Bank Holidays) at 7:30pm in the Harrold Centre.
According to NHS Choices, it is recommended that adults do 75 minutes of 'vigorous-intensity aerobic activity' every week. Zumba falls into this category perfectly, and in my classes you can exercise at a level that feels right for you. The sessions last for 1 hour including a warm up, whole body workout and stretch.
Why not come and try my weekly classes at the Harrold Centre? If you quote this article when you sign up you can have your first class for £3, normal price is £4. For more information email me at hannahjustzumba@gmail.com or visit my website http://hannahjust.zumba.com/
All Saints' Harvest Supper
Saturday 6th October
7pm in the Village Hall – with licensed bar
followed by entertainment from
Bozeat Windmill Singers!
Supper is 'bring and share'
Tickets £3 to cover expenses - (children free of charge)
Donations to the Bishop's Harvest Appeal welcomed
Please ring Jill on 720261 for tickets and to say
what food you can bring along to share
Harrold-Odell Country Park
Carlton Road, Harrold, Bedford MK43 7DS Email: hocp@bedscc.gov.uk Website: www.hocp.net Tel: 01234 720016
News From Harrold Odell Country Park:
The park is quite a bit quieter during the week now that the summer holidays are over. At least we had some reasonable weather during September. The best news as far as we were concerned was the opening of the new bird hide on September 25th.
After the devastation left by the arsonist in April when the original one was burnt down we thought that it would be a year before we could replace it. Thanks to everyone in the surrounding communities, general visitors, the Friends of Harrold Odell and individual donors we were able to commission Peter Hall from Carlton to construct a bespoke one from local oak.
He's a genius with wood! What workmanship! There are even two recesses built in to accommodate wheelchairs and mobility scooters and a new bridge to the entrance. We hope everyone will enjoy this facility for years to come. Thank you to everyone for your support. He has done everything from sourcing and milling all the timber to making the frame, roof and boarding.
The members of my Health Walking Group have expressed an interest in sponsoring a notice board telling the story of the bird hide so we are working out the details shortly.
Work is about to commence to build an additional unit on to the toddler's play area of the end of the café verandah some time in October. The grant money we successfully applied for has been paid and the work is being done by Sovereign Playgrounds who built the original clatter bridge. We will be fencing off the perimeter as soon as possible to prevent access by dogs but when this happens will depend on available funds. Match funding to the tune of £2,000 has been paid by the Friends of Harrold Odell from car parking donations. Thanks to everyone who puts their £1 in the box.
The firewood season is once again upon us as the nights draw in. Trevor Smith has been busy chopping seasoned willow into logs. Without his efforts this would be a very difficult service to provide and his contribution to the team effort is priceless. He's also the fishing Bailiff and has taken it upon himself to look after all the newly planted trees in the park – all on a voluntary basis! Thank you Trev!!
October – March is the time we carry out the major forestry work. Tasks like coppicing, pollarding and hedge-laying will be occupying our attention. Look out for us working in various areas of the park through the winter months.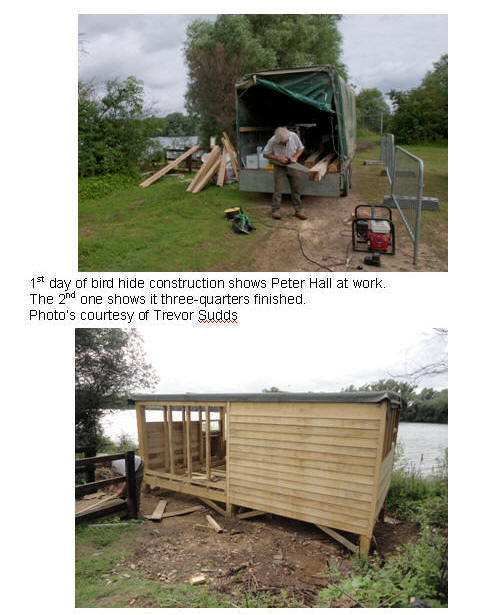 Dates for your diary
Friends Task Days Usually held on the last Monday of the month (a week earlier if a Bank Holiday). Meet in the café at 10am for refreshments followed by conservation work to enhance the park.
Refreshments and tools provided but bring suitable sturdy clothing and footwear plus a packed lunch. Contact Richard Dowsett on 07792 721866 or e-mail Richard.dowsett@bedford.gov.uk
Next date: Mon October 29th
Health Walks Meet every other Thursday at 10.30am at the café
entrance. We walk for an hour to improve your stamina and overall wellbeing with the opportunity afterwards to have a coffee and a natter in the café. Leader Janet Munro Tel. 01234 720016 or e-mail janet.munro@bedford.gov.uk
Next dates: Thur October 11th, Thur October 25th, Thur November 8th.
Janet Munro, Ranger
The Mill Theatre, Sharnbrook
West Side Story 16th – 24th November at 7.30 pm
Saturday Matinées 17th & 24th at 2.30 pm
NB: NO performance on Monday
'…one of the greatest musical masterpieces of all time'.
For Romeo and Juliet substitute Tony and Maria, for the Montagues and Capulets, the Jets and the Sharks. All the passion and heartbreak of Shakespeare's 'star-crossed lovers', but set amid the violence of New York's gang warfare.
There is the added delight of Leonard Bernstein's wonderful music and Stephen Sondheim's exquisite lyrics—Tonight, I Feel Pretty, Maria, One Hand One Heart Somewhere, America—the list goes on…
Lyrics: Stephen Sondheim, Music:Leonard Berstein,
Book: by Arthur Laurents, Original Conception by Jerome Robbins.
An amateur production by arrangement with Josef Weinberger ltd.
Tickets on sale from 1st October at:
Sharnbrook Post office – in person
Bedford Central Box Office – 01234 269519*
10 % discount for 10 or more (excluding Charity performance)
*2 wheelchair spaces, easier access seating Rows A – C: hearing loop Rows A –E.
Sharnbrook Ward Conservatives. The Life and Times of a Country Builder...from rural Suffolk...to wonderful Woburn—the fascinating, personal recollections of Mr Harold Avis, Bedford Estate Manager, 1984-2008, on Thursday 18th October. 7.15 for 7.30pm at St Peter's Room, Church Lane, Sharnbrook. Wine, soft drinks and nibbles. Raffle. Ticket in advance: £6.50 (inc. 1st glass of wine) available from Theo Gibbs 782377, theo@twgibbs.plus.com
Diary
October
3rd 10.30am Meeting Point at Catherine's, Manor Cottage, Harrold.
5th 10.00am Decorate All Saints' Church for Harvest.
6th 7.00pm Harvest Supper, Village Hall.
9th 7.30pm W.I. Village Hall.
11th 10.30am HOCP Health Walk.
13th 2.00pm W.I. Jumble Sale, Village Hall.
13th 7.30pm Village Quiz, Village Hall.
16th 12.30pm Senior Citizens' Autumn Lunch, Village Hall.
17th 10.30am Meeting Point at Sarah's, 9 Horsefair Lane.
20th 9.45am All Saints' Amblers meet at The Bell.
25th 10.30am HOCP Health Walk.
26th 8.00pm Charity Race Night, The Bell.
27th 10.00am Fairtrade Café, Village Hall.
29th 10.00am HOCP Conservation Tasks Day.
31st 10.30am Meeting Point at Jane Eshelby's, Newton House, Avenue Rd., Newton Bromswold, Rushden.
November
4th 10.30am Patronal Festival, All Saints' Church.
8th 10.30am HOCP Health Walk.
19th 7.30pm Parish Council Meeting, Village Hall.
Magazine Deadline
Please send all entries for the November magazine to Tricia Hudson (ed at odellbeds.net) or Catherine Corkery by October 12th at the latest. May we remind you that the editorial team exercises the right to edit, shorten or alter any items that are submitted. Also, the opinions expressed in the articles are those of the contributors and are not the responsibility of the editorial team. Pictures via email are always welcome.
PLEASE SUPPORT OUR LOCAL ADVERTISERS: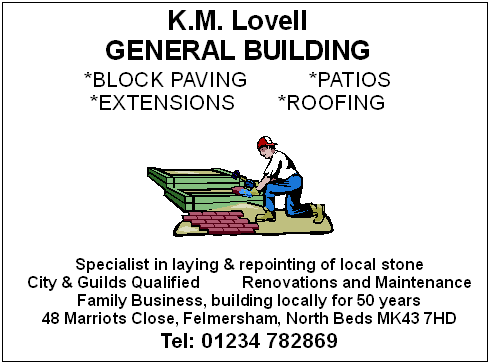 Alex Stubbs Flooring

Carpets, Vinyls, Laminates, Safety Flooring, Adaptions, Refits, Repairs

Supplied and Fitted

07976 260572

01234 240954

Great local pubs

<![if !vml]>
<![endif]>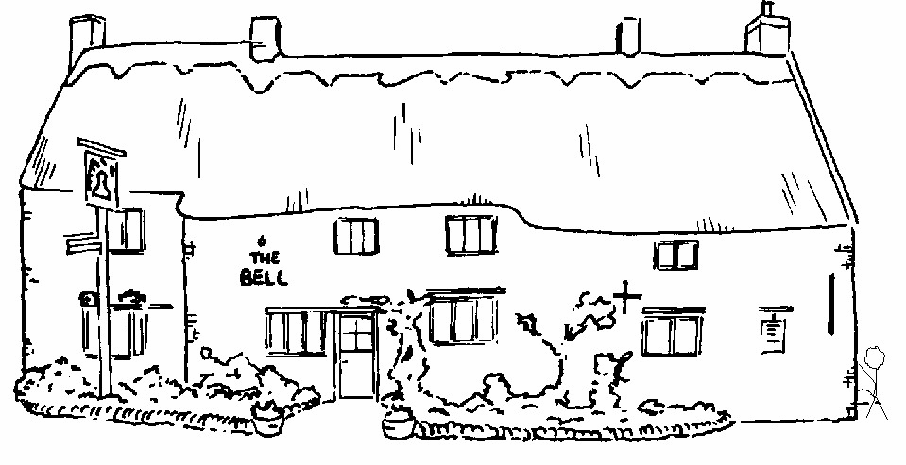 The Bell in Odell
As Featured in the 2010 Good Beer Guide
With the relaxed charm of a village local and a varied menu of
quality, home-cooked food you won't find any gimmicks here
just a Great British Pub!
Abbot Ale, IPA & Changing Seasonal & Guest Ales
Telephone 01234 720254
---
Last revised: October 02, 2012.