ODELL VILLAGE NEWS
COffee Morning at Hobbs Green Farm
Christmas Hamper coffee morning
On 7th December
At Hobbs Green Farm
From 10.30am – noonIn aid of Bedford Women's Refuge
Admission free Please bring Christmas Fayre
Birthdays
Happy birthday to:
Georgina Ardley on the 29th November,
and to anyone else with a birthday in November.
Round and About
Shades of History
Following what we have been advised has been one of the wettest summers on record, I thought, what better time to talk about the origins of the umbrella. The umbrella itself is a relatively new invention.
However, the umbrella evolved from the parasol and the origins of the parasol are lost in the mists of time.
With the actual origins of the umbrella so ancient as to be lost in antiquity it is interesting to see that the first umbrella in recognisable form is thought to have originated in the Far East, most probably in China or India. However this was not as a protection from the rain but more in the form of a parasol. In its earliest form the parasol was carried as a sign of prestige and only later as a protection from the sun.
There is evidence of the parasol being used as a status symbol going back at least 3,000 years in China, Japan, India and also in Egypt. As an example, the kings of Siam (now known as Thailand) would carry a parasol of many tiers, rather like a pagoda, and decorated with tassels.
Another form was the development of the canopy, held aloft by supports at each corner and carried above the head of a nation's ruler. These canopies, often made of silk, became very ornate affairs and would be used for State occasions only, and were certainly too grand for everyday use.
Down the centuries, in the East, parasols became used more often and finally evolved into the sunshade, more suitable for day-to-day use. The sunshade now began to find its way into eastern Europe. There is pictorial evidence of ladies carrying sunshades in Greece and later in Rome. They appear to have been regarded as a female accessory only as they were shunned by the menfolk.
With the wider use of the parasol, or sunshade, the canopy took off on a life of its own. The Pope, in Rome, took to processing beneath the Papal Canopy. Kings across Europe, including England, also developed the custom of using an ornate canopy above their heads. Before the development of transport, Royalty frequently walked amongst the people. In Royal procession the Royal Canopy, heavily emblazoned with the Royal Arms and carried at each corner by a man-at-arms, would be borne over the head of the King. This would serve two purposes, not only would it show where the King was at any one time but it would also identify the King himself. The common people would not have known what their King looked like but they certainly understood the Royal Canopy. These canopies were still being used in Tudor times.
England appears to have had no taste for the parasol until the 17th century when it was first introduced as a fashion accessory for ladies of leisure. It was not until the 18th century that sunshades were covered with an oiled silk fabric and became water resistant for the first time. The umbrella, as we know it, had finally arrived. It was still seen, however, strictly as a female accessory.
It is on record that one Jonas Hanway (1712-1786), a traveller and philanthropist, was the first man in England to dare to carry an umbrella. He braved public opinion and derision for many years before he had the satisfaction of seeing his example followed by the male population. It is difficult to visualise at this time that the future London gent would be personified by a man carrying a rolled umbrella!
Queen Victoria had a parasol lined with chain-mail to protect her from assassination attempts, but it was so heavy it is thought to have never been used.
Steel frames were first introduced about the middle of the 19th century. Prior to this whalebone had been used throughout Europe. In the East and Far East it was the custom to use cane.
Now that we know how, when and in what manner the umbrella, or parasol, has been used, when you next sally forth with your trusty brolly, you will realise that you are walking in the steps of history.
Barbara Corley
W.I. News
Our talk at our October meeting was from Gareth Julian from the British Heart Foundation (BHF), who divided his presentation into 2 sections: Raising Funds through shops ,and the work of the BHF to lessen the impact of heart disease.
The Bedford shop is one of the smallest in the country but it processes 100k of carrier bag donations a year, which are worth an amazing £8 each. Saleable items are sold in the shop or transferred to a nearby branch and the remainder is recycled, nothing is thrown away. Julian stressed that for every pound raised only 20p goes on administration which is the lowest for all charities and all funds stay in the UK.
The second part of the talk was by Gareth Julian's colleague who explained that heart attacks are the biggest killer of adults in G.B. and more people die from heart disease than all cancers. Alarmingly, many of these deaths are preventable if only people knew how to do simple heart compressions instead of standing and watching. He demonstrated how simple the technique is and assured us that breathing into someone's mouth at the same time was not necessary because what is important is to keep the blood circulating until the emergency services arrive. He explained that the BHF do free emergency treatment training and that it would be really simple to set up some sessions in Odell. He also suggested we could have a rag bin alongside the other recycling bins which would generate valuable funds; Rachel will raise this with the Parish Council.
The BHF are currently working with the Alzheimer's Society and Cancer Research on the Mending Hearts campaign to raise £50m for research into the regeneration of stem cells. Once heart tissue is damaged it does not re-grow but stem cells do. The charity also gives the NHS £4 of the £5 currently spent on heart disease. This is where any money we raise would go.
Odell residents, it's a no-brainer; if we are to take away the 'What If?' element when someone dies from a heart attack then we need a Heart Start group together with a rag recycling bin so we can contribute to the research against this killer disease. Are you up for it?
Next meeting: Tuesday 13th November at 7.30pm in the Village Hall. Odell WI
Proceeds from the recent W.I. jumble sale in Odell were donated to The British Heart Foundation.
Workshop Premises Required
We moved into 77 High St. at the top end of Mill Lane at the end of August. In the closing weeks of the summer when people were out and about, many of you greeted us and made us feel very quickly welcome in this lovely village. We'd like to say thank you for that. Those of you who have met us will know that we are returning to the area after 13 years living in Cornwall. Whilst down there I developed a hobby of making small wooden boxes that I would like to continue, but we don't have a garage here or any other suitable outbuilding to house my small workshop. I'm wondering whether anybody in the village has anywhere that they might be interested in letting out? If so, I would love to hear from you and discuss further. Either knock on the door at 77, or our phone number is 721995, or email hanthonybond@btinternet.com Anthony Bond
News from The Bell - 2 Year Anniversary Celebrations
Join us to celebrate our 2-year Anniversary!
with live music from "The Wedding Crashers", a local duet,
On Friday, 9th November.
Darts Night Takes place every second Monday, from
5th November (5th, 19th, 3rd Dec. etc.).
Ladies Night
Friday 16th November, From 7.30pm till late - Pavenham Village Hall
Enjoy a fun evening of shopping, delicious food, and gorgeous homemade desserts. A great opportunity to start your Christmas shopping, with different stalls including children's clothes, jewellery, local beauty products, cards and lots more…A perfect evening out!
Tickets are available from Miranda (07789 544934) - £10.00 Entry in advance ~ £12.00 on the door. Includes food and a glass of wine ~ fully licensed bar. In aid of Pinchmill Pre-school
Putnoe Art Group
Presents
A one day
Exhibition of paintings
Free Entry ~ all welcome
Tea and cake £1
Annual Exhibition 2012
and Sale of Paintings
Saturday November 10th
10.30am to 4pm
Putnoe Heights Church
Bedford MK41 8 EB
The Wild Things
Wild Things are coming to Bedford!! The Place Theatre to be precise. Following on from their 2011 George's Marvellous Medicine No Loss Productions and Dumbstruck!
Productions have teamed up again to create a brand new show based on the classic Maurice Sendak book
Where The Wild Things Are.
The show is aimed at the whole family with original music by Bedfordshire composer Sophie Viney, monsters designed by Bedford Illustrator David Litchfield and a cast and crew of local professionals dedicated to bringing quality theatre to the people of Bedfordshire that is high energy, good fun and a reasonable price.
Our hero Max is in trouble and has been sent to his room without any supper to think about his behaviour, but a wish made on a shooting star triggers some extraordinary events and before he knows what's happening Max is off on a journey, with the help of the audience of course, to the place where the Wild Things are. Will they welcome him with open arms or will he have to cause a Rumpus to avoid becoming a tasty snack?
Fans of the original picture book will delight in rediscovering the adventure and excitement and for those who are new to Max and The Wild Things a real treat is in store.
The show runs at The Place Theatre 12 – 24 December, Monday to Saturday 1pm & 6.30pm. Sundays 10am & 1.30pm. Please see website for Tickets and full listings of dates and times.
www.theplacebedford.org Group Booking Enquiries 07721 529931
Harrold-Odell Country Park
Email: hocp@bedscc.gov.uk Website: www.hocp.net Tel: 01234 720016
News From Harrold Park
Work has just commenced on the installation of additional play equipment next to the existing clatter bridge, rock and log in the tiny tots play area adjacent to the café. We recently applied for and got a grant of £13,000 from the WREN Group.
WREN stands for Waste Recycling Environmental Ltd who are one of the largest non-profit making distributors of monies accrued from Landfill Tax Credits. As the park began life as a quarry, we qualified to enter a funding bid for a project that would enhance the enjoyment of the park.
Having received a number of comment cards saying that there was insufficient play provision for the very young, (the Odell playground services the 8-13yrs age group) we decided that this would fill the needs gap beautifully. Teenagers have the skate park. WREN agreed and granted us most of the necessary funding. The Friends of the Park contributed the final £1,500 needed to purchase the equipment from car parking donations and the sale of firewood.
In due course, the area will need to be properly fenced to exclude dogs and more money will have to be found for this. The plan is for enough space to be enclosed for a couple of picnic benches to go inside for parents etc. to sit in the play area and keep an eye on their children while they play.
In case you hadn't heard, our new bird hide is up and running. Thanks to donations from the public, Bedford Borough Council, the Friends Group, etc. we were able to replace the old one that was destroyed by an arsonist in April with a beautiful bespoke oak one within 5 months. We can't begin to describe how blown away we all are by the generosity and support we've been shown.
The members of the Walking 4 Health group that come out to the park every fortnight have clubbed together to donate money for a notice board that will be used to tell the story of the bird hide and how the community came together to resurrect it so quickly. Our thanks to everybody who has helped us make this happen. We couldn't have done it without you! All that remains to be done now is kit out the inside with information boards. Bear with us as this will take a little time.
The winter tree works have commenced in October with major felling taking place in the roadside shelterbelt. Many of the trees were planted to screen off the quarry when it was still working and some are less than healthy. The plan is to move the newly planted saplings from the north shore of the lake to re-populate the cleared areas. They will be our trees of the future.
In November, the annual tree survey will take place in order to assess the overall tree health in all areas of the park. Ultimately the safety of people using the main footpaths will depend on the results of the survey and any tree giving cause for concern will have to come out. A case in point is the mature poplars that were felled at the bridge by the large lake. They were found to be infested with Hornet Clearwing Moth larvae, which had allowed rot into the main trunks at their bases after they had bored holes through the bark. A good gale may have brought them down across the path so they had to go.
When the clocks go back at the end of October, Tea-Zels Café will be operating between 9am-4pm daily instead of closing at 5pm at weekends. This is to take into account the dark nights. It takes at least an hour to clean up every day at close of business. Similarly, the overflow car park will close at 4pm instead of 5pm for the same reason.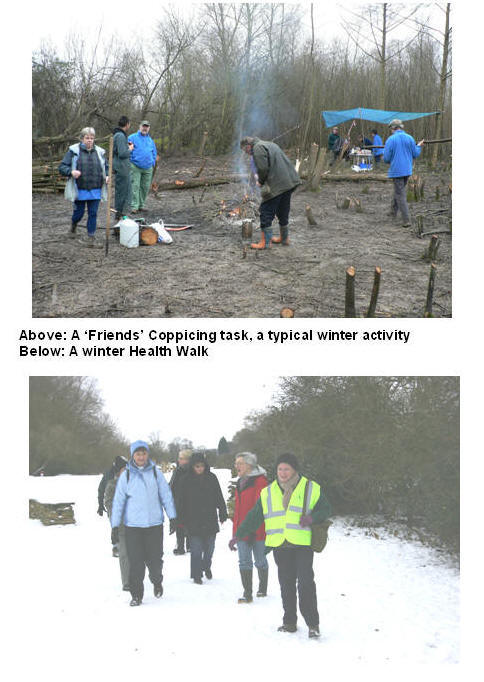 Dates for your Diary
Health Walks. Meet every other Thursday at 10.30am at the café entrance. We walk for an hour to improve your stamina and overall wellbeing with the opportunity afterwards to have a coffee and a natter in the café. Leader Janet Munro Tel. 01234 720016 or e-mail janet.munro@bedford.gov.uk
Thursday 8th November
Thursday 22nd November
Thursday 6th December (Xmas Lunch – registered walkers only)
Thursday 20th December
Friends Tasks Days. Usually held on the last Monday of the month (a week earlier if a Bank Holiday). Meet in the café at 10am for refreshments followed by conservation work to enhance the park.
Refreshments and tools provided but bring suitable sturdy clothing and footwear plus a packed lunch. Contact Richard Dowsett on 07792 721866 or e-mail Richard.dowsett@bedford.gov.uk
Monday 26th November
Monday 10th December ( Xmas Social – registered Friends only)
Janet Munro, Ranger
'An Evening of Seasonal Music' presented by the Bedford Eagle Choir
Thursday 13th December
7.30pm All Saints' Church, Odell
Tickets £5 to include light refreshments
(Children up to 16 years free).
Contact Jilly Watson (01234 720600)
or Christine Clark (01234 720234).
Proceeds to DeafConnect, who provide services locally for people who are deaf, deafened, hard of hearing or deaf-blind. For more
information see www.deafconnect.org.uk
Senior Citizens' Christmas Dinner
The Senior Citizens' Christmas Dinner will take place on
Wed 12th December
At 12.30
In the Village Hall
Please let Jill know (720261) by 3rd December if attending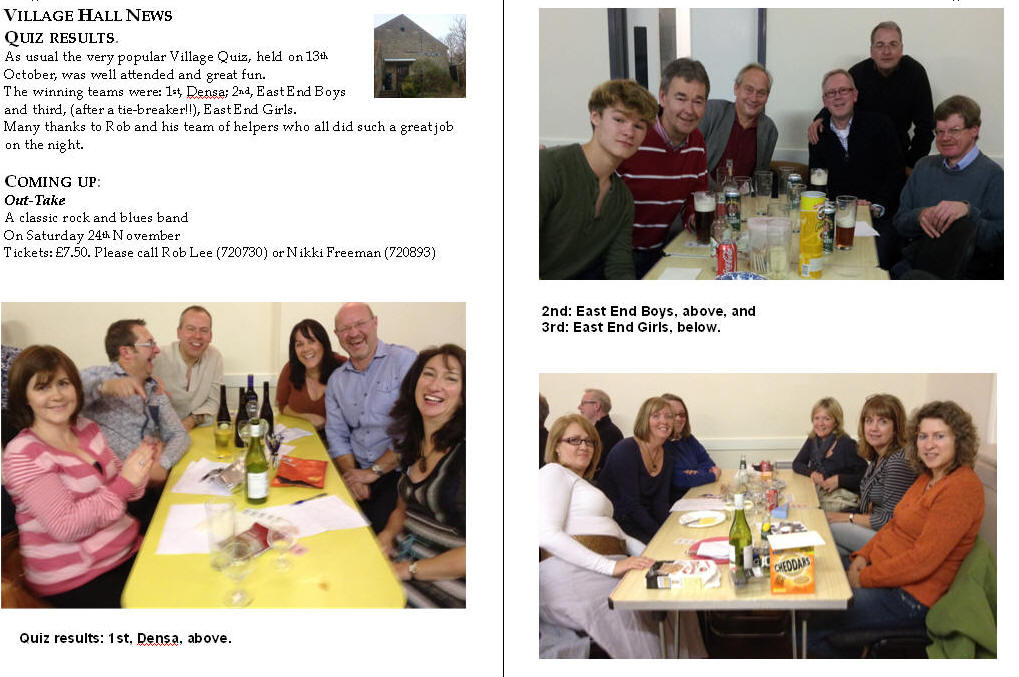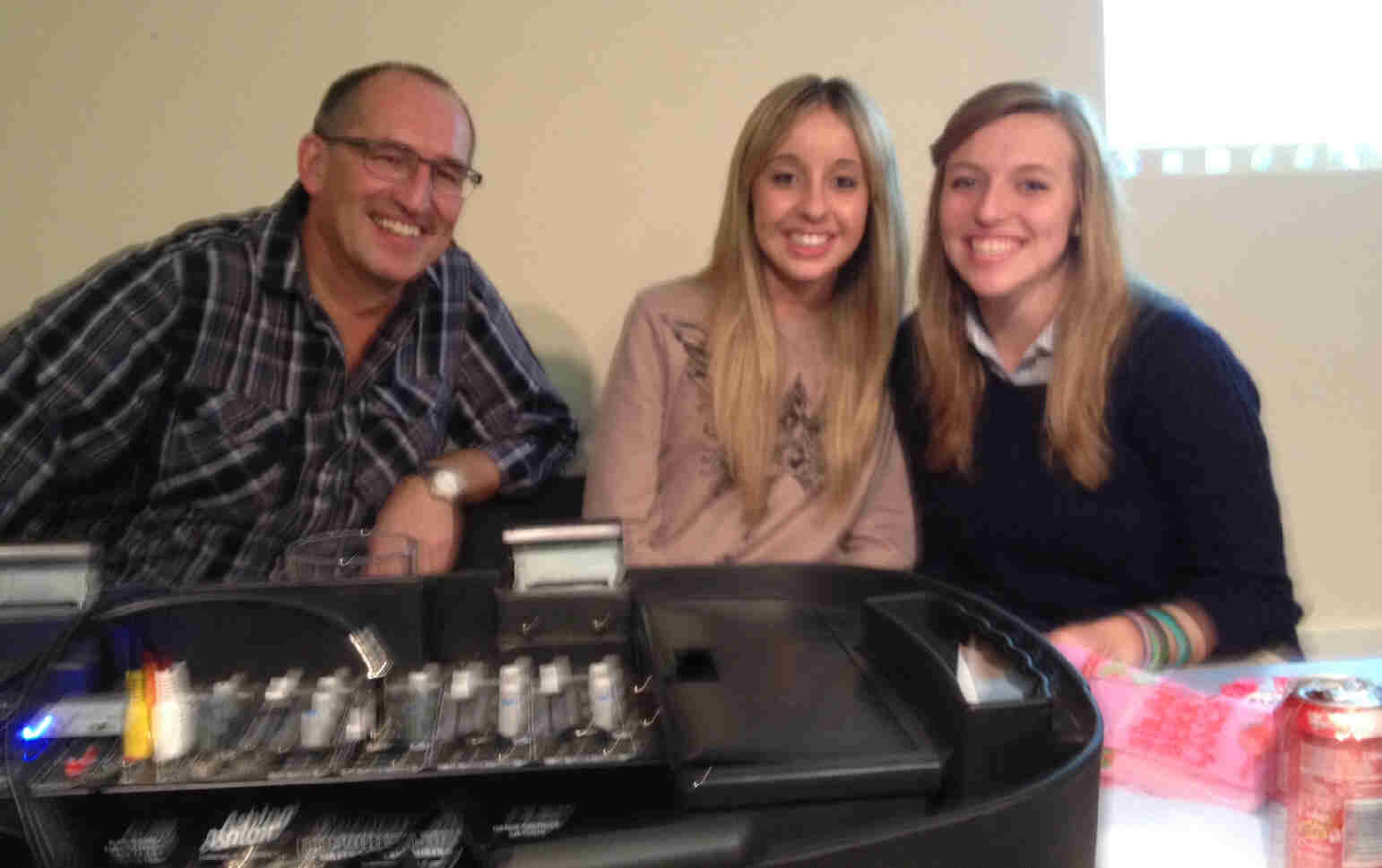 Rob Lee and his runners
Coming IN NOVEMBER TO THE VILLAGE HALL:
Out-Take
A classic rock and blues band on Saturday 24th November
Tickets: £7.50. Please call Rob Lee (720730) or Nikki Freeman (720893)
The Mill Theatre, Sharnbrook
West Side Story 16th – 24th November
- Do you have your tickets? Hurry, they're selling fast!!
Evenings 7.30pm (£10/£12) and
2 Saturday Matinées 17th & 24th at 2.30 pm (£9); NB No performance Monday 19th.
'…one of the greatest musical masterpieces of all time'.
For Romeo and Juliet substitute Tony and Maria, for the Montagues and Capulets, the Jets and the Sharks. All the passion and heartbreak of Shakespeare's 'star-crossed lovers', but set amid the violence of New York's gang warfare.There is the added delight of Leonard Bernstein's wonderful music and Stephen Sondheim's exquisite lyrics—Tonight, I Feel Pretty, Maria, One Hand One Heart, Somewhere, America—the list goes on…
Lyrics: Stephen Sondheim, Music: Leonard Berstein, Book: Arthur Laurents, Original Conception: Jerome Robbins.
An amateur production by arrangement with Josef Weinberger ltd.
Tickets on sale at:
Sharnbrook Post office – in person, or
Bedford Central Box Office – 01234 269519
Important - please note that the Bedford Box Office has moved from the Harpur Suite to Bedford Tourist Information, St. Paul's Square,
(opposite church main door); calls to 269519 will be transferred automatically (but only until Feb. '13), to the new number: 718112 which is live now and should be used henceforth.
10 % discount for 10 or more (excluding Charity performance) *2 wheelchair spaces, easier access seating Rows A – C: hearing loop Rows A –E.
We regret to advise that the production of Clue the Musical, due to have been performed from 4th - 8th December, has had to be postponed. It is hoped to stage this at a later date.
(Please visit www.sharnbrookmilltheatre.co.uk).

Magazine Deadline
Please send all entries for the joint December/January 2013 magazine to Tricia Hudson (ed at odellbeds.net) or Catherine Corkery by November 12th at the latest. (DON'T USE THE OLD mag1@odellbeds.net which we've had to kill off due to spamming!) May we remind you that the editorial team exercises the right to edit, shorten or alter any items that are submitted. Also, the opinions expressed in the articles are those of the contributors and are not the responsibility of the editorial team.
Diary
November
5th Darts Night at The Bell.
8th 10.30am Health Walk HOCP.
9th 'Wedding Crashers' perform at The Bell.
10th 10.00am Putnoe Art Group Exhibition.
11th 10.30am Remembrance Day Service at All Saints'.
13th 7.30pm W.I. meets in Village Hall.
14th 10.30am Meeting Point at Catherine's, Manor Cottage, Harrold.
16th 7.30pm Ladies' Night, Pavenham Village Hall.
17th 9.45am All Saints' Amblers meet at The Bell.
19th Darts Night at The Bell.
22nd 10.30am Health Walk HOCP.
24th 11.00am Victorian Bazaar, Village Hall, Carlton.
24th Out-Take perform at Village Hall.
25th 11.00am Sharnbrook Upper School Christmas Fair.
26th 10.00am Conservation Tasks Day, HOCP.
28th 10.30am Meeting Point at Jill's, Rectory Farm.
December
3rd Darts Night at The Bell.
7th 10.30am Christmas Hamper Coffee Morning, Hobbs Green Farm.
12th 12.30pm Senior Citizens' Christmas Dinner, Village Hall.
13th 7.30pm Evening of Seasonal Music, All Saints' Church.
PLEASE SUPPORT OUR LOCAL ADVERTISERS: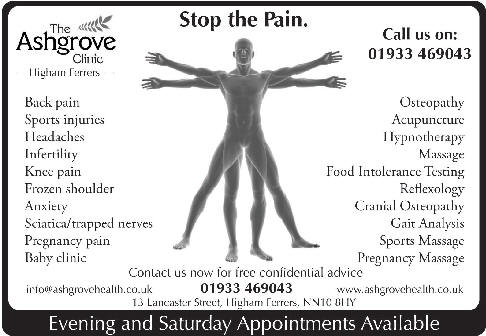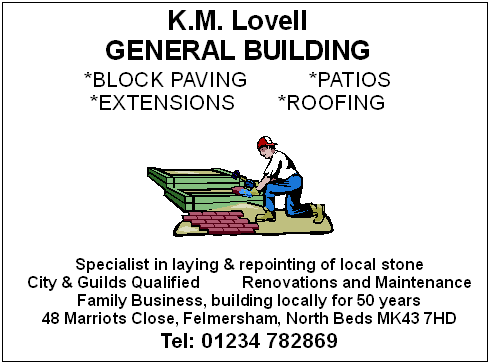 Alex Stubbs Flooring
Carpets, Vinyls, Laminates, Safety Flooring, Adaptions, Refits, Repairs
Supplied and Fitted
07976 260572
01234 240954
Great local pubs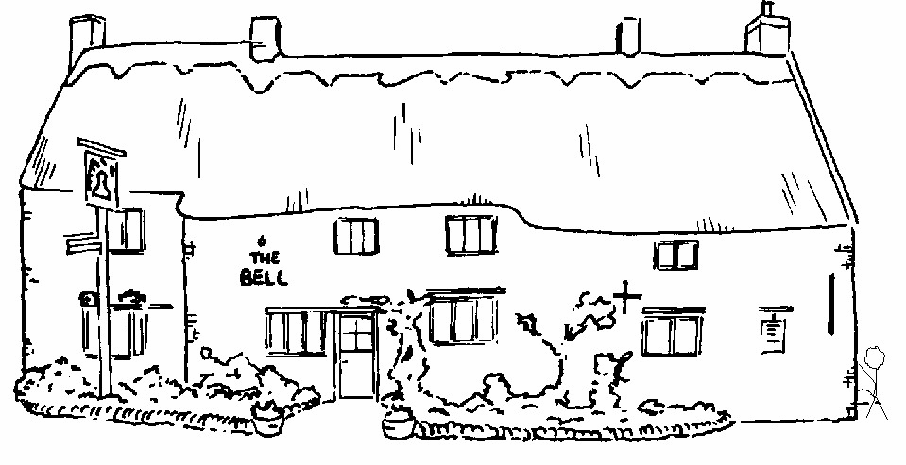 The Bell in Odell
As Featured in the 2010 Good Beer Guide
With the relaxed charm of a village local and a varied menu of
quality, home-cooked food you won't find any gimmicks here
just a Great British Pub!
Abbot Ale, IPA & Changing Seasonal & Guest Ales
Telephone 01234 720254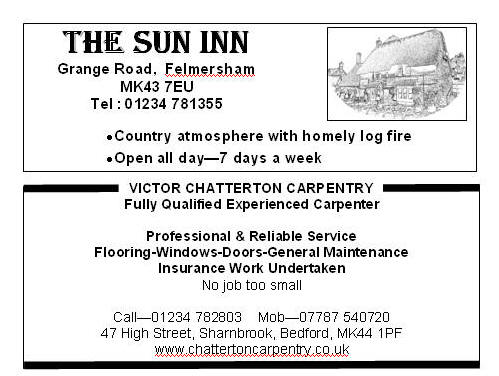 ---
Last revised: October 27, 2012.