ODELL VILLAGE NEWS
March 2012
Odell Fete and Dog Show – 9th June 2012
Preparations are going well … if you would like to come along to the Fete preparation day on 7th May (Bank Holiday Monday) please let Mandy Hinds (formerly Sharpe) or Christine know.
Our telephone numbers are 720414, and 720234. This is always a fun morning and ends with a bring and share BBQ for all helpers.
We would be very grateful for the temporary loan of party tents, gazebos etc on the day, also, for help on Friday 8th June to set up the field, from 2pm onwards. Please phone us!
Round and About
A Diamond of a Jubilee
2012 marks the occasion of the Queen's Diamond Jubilee. The 6th February was the anniversary of her Accession and is a matter of great celebration for the nation and yet this date also reminds the Queen of the loss of her much loved father, George V1.
I did not want to let this year go by without offering up my own small contribution to the Jubilee year and it is going to be quite a year. The 6th February was marked by loyal gun salutes across the land and in London the King's Troop wheeled their horses and gun carriages into Hyde Park to fire off the Royal Salute to honour the historic occasion.
Elizabeth the Second is the longest reigning monarch of this nation, apart from Queen Victoria. At a time when many of the Royal houses across Europe have fallen the House of Windsor continues and thrives, and this can only be due to the tireless energy of our remarkable Queen.
In 1952, as a young married mother of two, Elizabeth undertook a Royal Tour in the place of her ailing father. Old newsreels show the frail King standing on the runway at London Airport watching his daughter mount the steps of the plane and then remain in the open, his eyes following the aircraft until it had disappeared from sight. It was as if he realised this was the last time he would see his daughter and that her return to England would be with the weight of the, then, Empire on her shoulders.
It came on February 6th. The day her world was turned upside down. She was staying at "Treetops", an observation tree house built into the branches of a giant fig tree in the Aberdare National Park in Kenya, when Prince Philip broke the news to her. A popular quotation of that time was "Elizabeth went up a tree a Princess and came down a Queen".
Cutting short the tour our young Queen, she was 25 years old at that time, (younger than Princes William and Harry) returned to England to find a nation in deep mourning. Winston Churchill, as Prime Minister at that time, together with his Cabinet, were lined up on the runway to meet her as the aircraft touched down. There were even questions at this time as to whether this young woman would be able to fulfil the demanding role that lay before her.
This seems somewhat ironic today, looking back across 60 years of a highly popular and successful reign where it is readily acknowledged that the Queen has never put a foot wrong throughout a period of history that has seen great changes, both to her private life and in World affairs. She has recreated and redesigned her role on many occasions and today the Queen and her family remain the focus for both National and State occasions.
With much love and affection the nation now awaits, with great expectation, a year of celebration. Throughout the year the Queen hopes to visit as many places in the U.K. that she can manage. There will be many occasions of pomp and circumstance, such as the river pageant, grand parades and firework displays. On a smaller scale there will be the planting of Jubilee woods and the widespread planting of Royal Oaks in many a town and village.
Who can forget that during the summer the Queen will be welcoming worldwide athletes and Heads of State when she opens the Olympic Games. That the Games should come to England in the Jubilee year is a magnificent bonus for our year of celebration. You really couldn't make it up. Barbara Corley
Diamond Jubilee Celebrations in Odell
Plans are underway for the Jubilee celebrations in the village, Sunday 3rd to Tuesday 5th June.
Some of the suggestions so far are given below:
Sunday 3rd: It has been proposed that the Royal Flotilla is shown on a big screen in the village hall.
Monday 4th: The Jubilee Concert could be shown on the large screen in the village hall. Leslie Knowles would organize a bar for this and for other events.
Tuesday 5th: We could have a 'bring your own picnic BBQ' in the fete field (with permission) or in the village hall in bad weather. Ideas for the event include competitions for the best decorated table and the best 1950s outfit. As with the VE Day celebrations, we would hope to have plenty of music and singing!
Another suggestion is that villagers decorate their houses and keep up the decorations for the fete.
Any money raised from the bar during the celebrations could be donated to the Queen's Jubilee Fund or could be put towards a bench or a tree for the village.
Do you have any ideas? We particularly need suggestions for children and teenagers and offers of help.
If you do have any ideas or would like to get involved please contact Richard Hall richardandlynette@talktalk.net /01234 720723
Pub News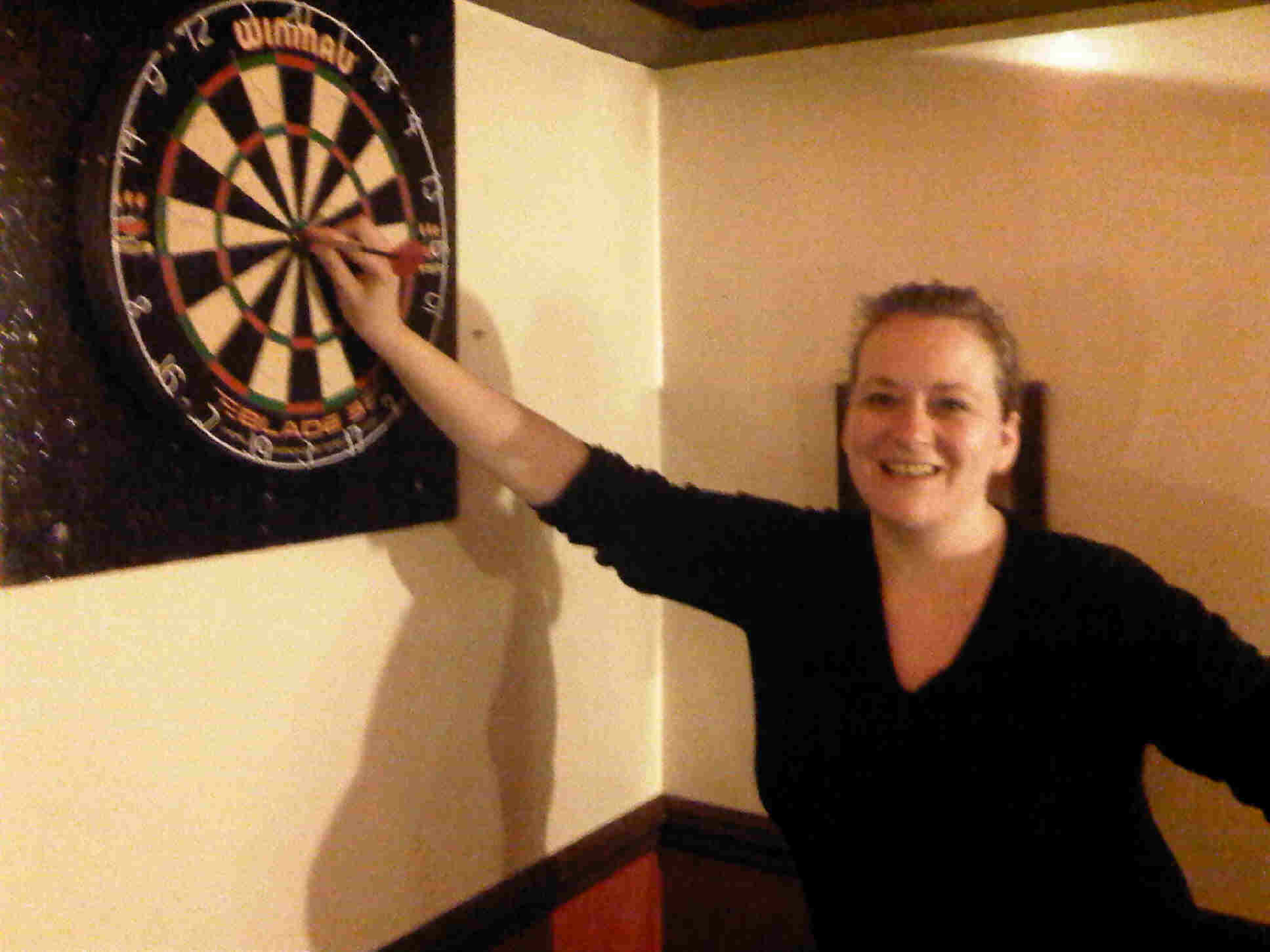 Above: Darts at The Bell
Fun and Games at the Bell in Odell
The Bell now has a Dartboard. Will and Katie welcome you to come and play. Also upcoming this month are:
March 17th:
A Charity Race Night in aid of the charity 'Dreams Come True'
March 18th:
Mothers' Day – don't forget to book up early
Greetings from our paper man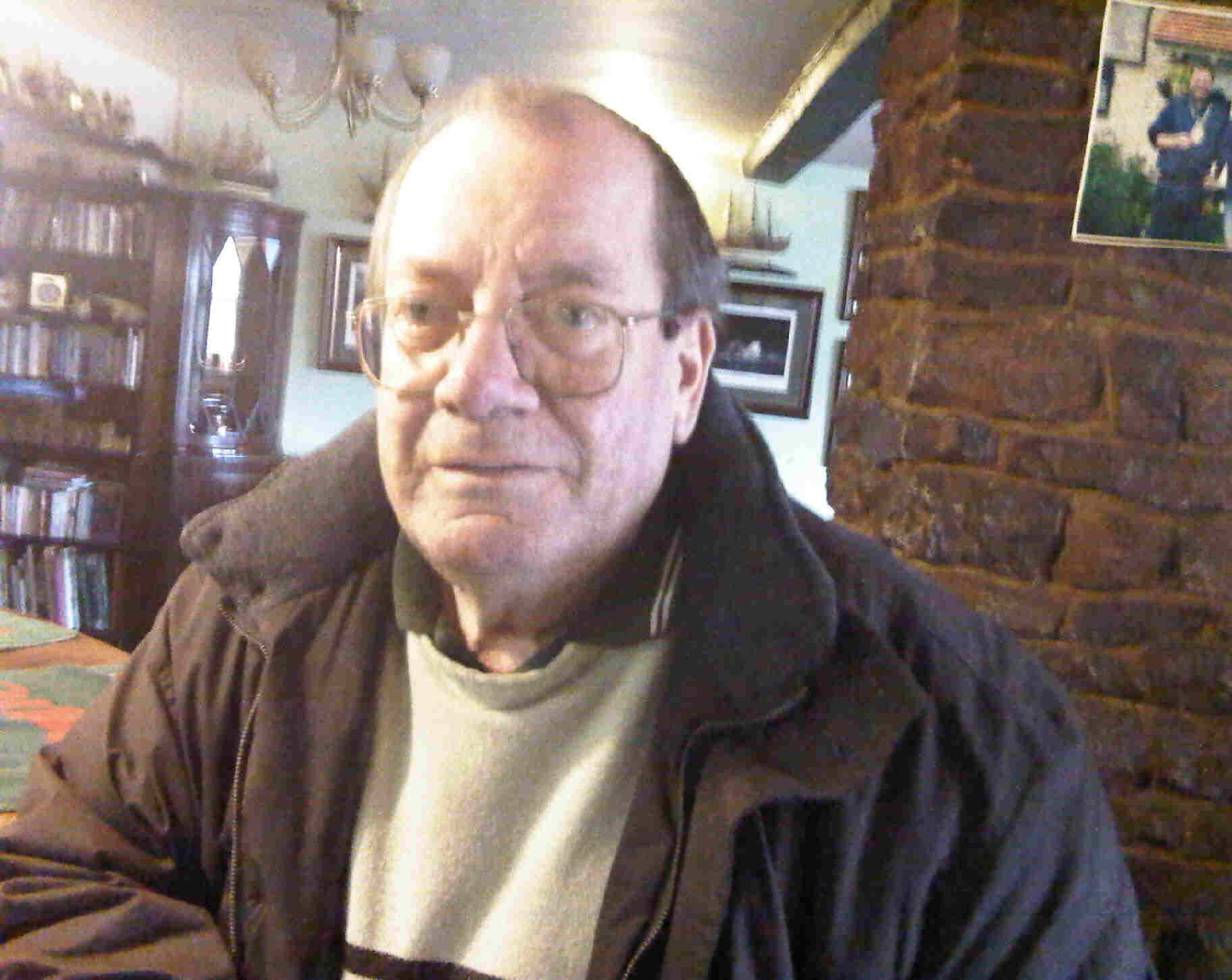 Spare a thought for one of the earliest risers. He is Malcolm Sargent who lives in Felmersham. Every morning, even before the crack of dawn, he goes to Mr Gill's newsagent in Sharnbrook to pick up the papers to deliver in Odell. Some he delivers himself and the rest are delivered by Derek Gadsby. Malcolm's request to us all is 'Please don't leave booby-traps on your drives, these dark mornings!'
Walk the woof Dog walking service
House visits to let your dog out
Please call Natalia on
01234 721018 or 07545 305643
Covering Harrold, Carlton & Odell
The Sun is shining in Felmersham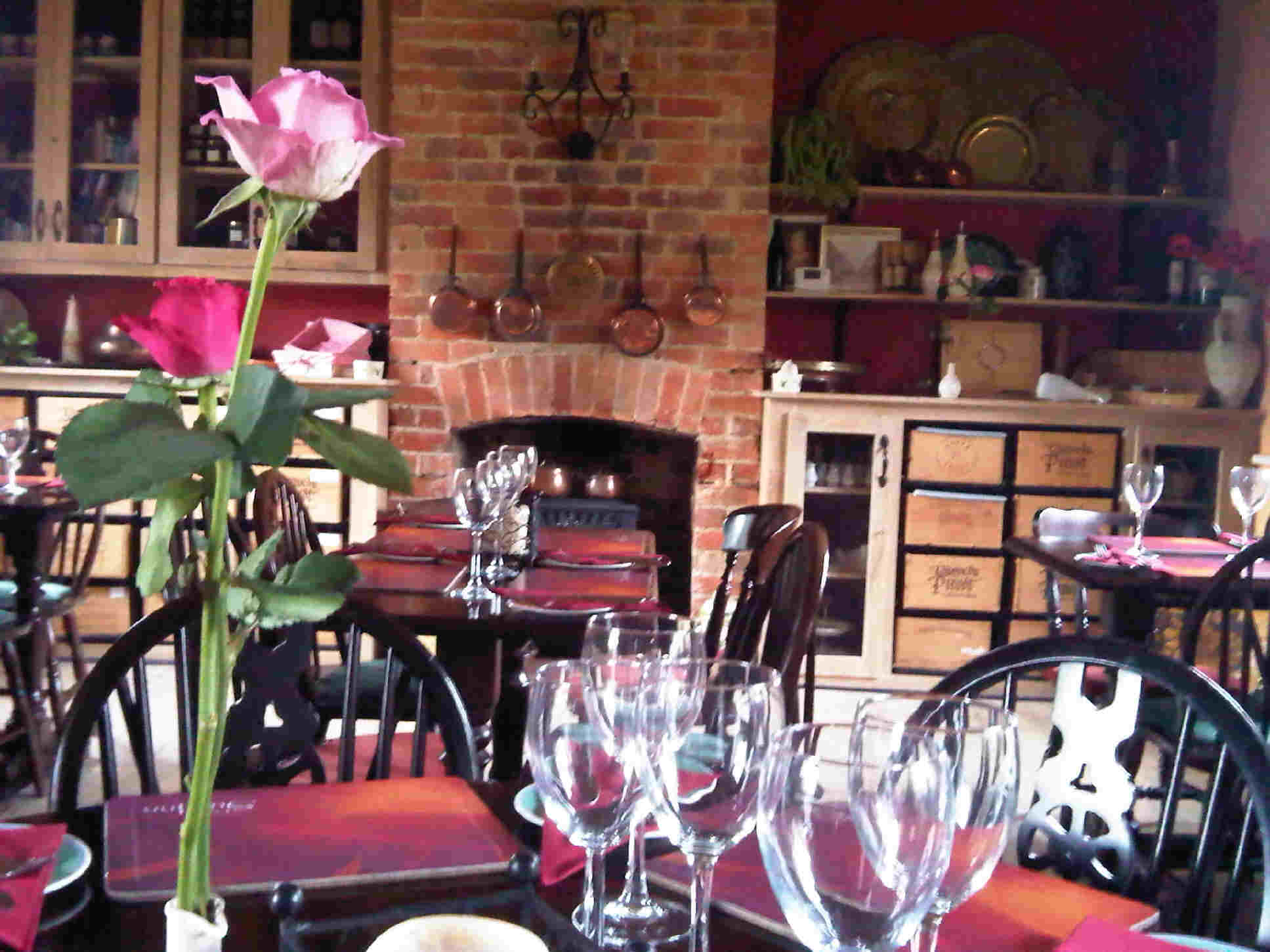 The Sun in Felmersham has recently updated its menu - the Provençal style restaurant with its own bar is also available for private hire for up to 36 people seated or 60 for a more informal buffet event.
W.I.News
Our members opted to miss a romantic valentine evening to attend a fascinating talk by Sue Chaplin, a colour consultant. Sue explained to us how an individual's most flattering colours are determined by applying a scientific diagnostic procedure. She demonstrated how a spectrum of colours is used which is first arranged from the deepest to the lightest, then with undertones of yellow or blue which make colours either warm or cool and finally by clarity to identify from bright to muted. She explained that it is not the actual colour which is important but its depth, its undertones and its clarity which determines whether it will flatter us. Sue used some good strategies to get us all engaged and suggested it was important to be aware of our individual flattering colours. Armed with this information she promised us that when we shop we should save money because we wouldn't buy clothes we subsequently wouldn't wear, we would save time because we would know what colour range to focus on but above all we will be so confident because we would know we look so good; watch out for us!
Next Meeting:
Tuesday March 13th, Barry Halton talking about CPRE awards, this is an open meeting to which everyone is welcome
Hostesses: Sarah Bennett and Jill Cheadle
Friends of Harrold Medical Practice
Annual Report for 2010-11
The meetings of the Friends continue to be well supported by our existing Members.
We have again had some generous "In Memoriam" donations this year and received over £800 from book sales. Our continued thanks go to those who donate and read these books. This income enables us to continue financing the servicing of equipment which we have already purchased, in particular the blood pressure monitor in the waiting area, the automated check-in system and the liquid nitrogen equipment.
However our major expenditure this year was to help finance the refurbishment of the waiting area, which has proved a great success with both staff and patients.
For anyone interested in having an input into how Harrold Medical Practice is run and the services that it provides, the surgery has recently launched its Virtual Patient Reference Group. Information on the group and how to join is available from the Surgery's web site http://www.harroldmedicalpracticeprg.co.uk/
If you would like to find out more about the Friends and the work that we do please contact: Frances Hirst tel 01234 825212
CPRE Living Countryside Awards 2012 –
Call for Entries
The Bedfordshire branch of the Campaign to Protect Rural England (CPRE) is once again seeking nominations for projects which improve the county's appearance, preserve its character and promote sustainability. The awards have become one of Bedfordshire's most prestigious environmental accolades since their launch five years ago.
The deadline for entries is 21st May.
The awards recognise groups or individuals that have made special efforts to improve the natural environment. The scheme is not competitive and anyone can nominate a project which they believe is deserving of recognition.
The three categories for entries are Landscape Improvement, Historic and New Buildings and Sustainable Living.
This year we are keen to see examples of new housing developments that are imaginatively designed and have limited environmental impact on their surroundings.
Previous award winners have included country parks and ponds, conservation schemes on farms, farm shops, church restoration, and individual craft businesses such as thatching.
Please follow the link to the leaflet http://www.cprebeds.plus.com/lcawards.pdf which can be downloaded from our website. There you will find the application form under Living Countryside Awards, along with details and images of previous awards. A prestigious awards ceremony will take place in the autumn.
Your nomination could make a great difference to groups and individuals working on imaginative local projects which care for and enhance our landscape and environment.
For further details contact Ann Collett-White 01234 353331or by email at ann.cw@cprebeds.org.uk
Odell Parish Council News
Highways: the Parish Council has been assured by Andrew Prigmore of the Bedford Borough Council Highways Department that the new speed restrictions will be implemented by the end of March 2012.
Rural Bulky Skip: the next date will be Sunday 17th June 2012 – 12noon – 3pm.
Footpaths: Bedford Borough Council is currently running a public consultation on a Rights of Way Improvement Plan 2012 -2017 – ending on 13th April 2012. Everyone is being asked to make comments – go to www.bedford.gov.uk/row and complete the short consultation document if you want to have a say in the improvements.
Village Hall: the new bench for the village hall has now been installed to replace the old bench that had seen better days. The Parish Council also has a brand new salt/grit spreader (hopefully it will not have to be used until next Winter). Three new litter bins have also been delivered – our thanks again to our Borough Councillor, Alison Foster, for providing the funds from her Ward Fund.
Police: the police recently held a 'Crime Reduction Event' at Harrold Odell Country Park which was well supported. PCSO Chris Warmington would like to remind residents to be vigilant and report anything unusual or something which may cause you concern to the new 101 number. Emergencies are still on the 999 number.
Planning applications: the Parish Clerk holds copies of all new planning applications. If you would like to see any new plans please contact me. Plans are also on the Bedford Borough Council website www.bedford.gov.uk/searchplans.
Harrold Odell Country Park: The next Conservation day is on Monday 26th March and Health Walks continue every other Thursday during the month. Call 01234 720016 for more details.
The next Parish Council Meeting is scheduled for Monday 19th March 2012, 7.30pm, at the Village Hall. As with all Parish Council meetings, parishioners are always welcome to attend. If you would like a matter discussed at the meeting, please contact the Clerk at least five days preceding the meeting.
If you have any concerns or would like to contact the Parish Council, please see one of your Parish Councillors or contact me between 10am and 12 noon Monday to Friday – 07791488080. Appointments must be made by prior arrangement please. A message can be left on the answer phone outside of these times and I shall get back to you. Alternatively, send me an email – odellpc@gmail.com
Nina Bransgrove-Knight – Odell Parish Clerk
Harrold-Odell Country Park
Carlton Road, Harrold, Bedford MK43 7DS
Email: hocp@bedscc.gov.uk Website: www.hocp.net
Tel: 01234 720016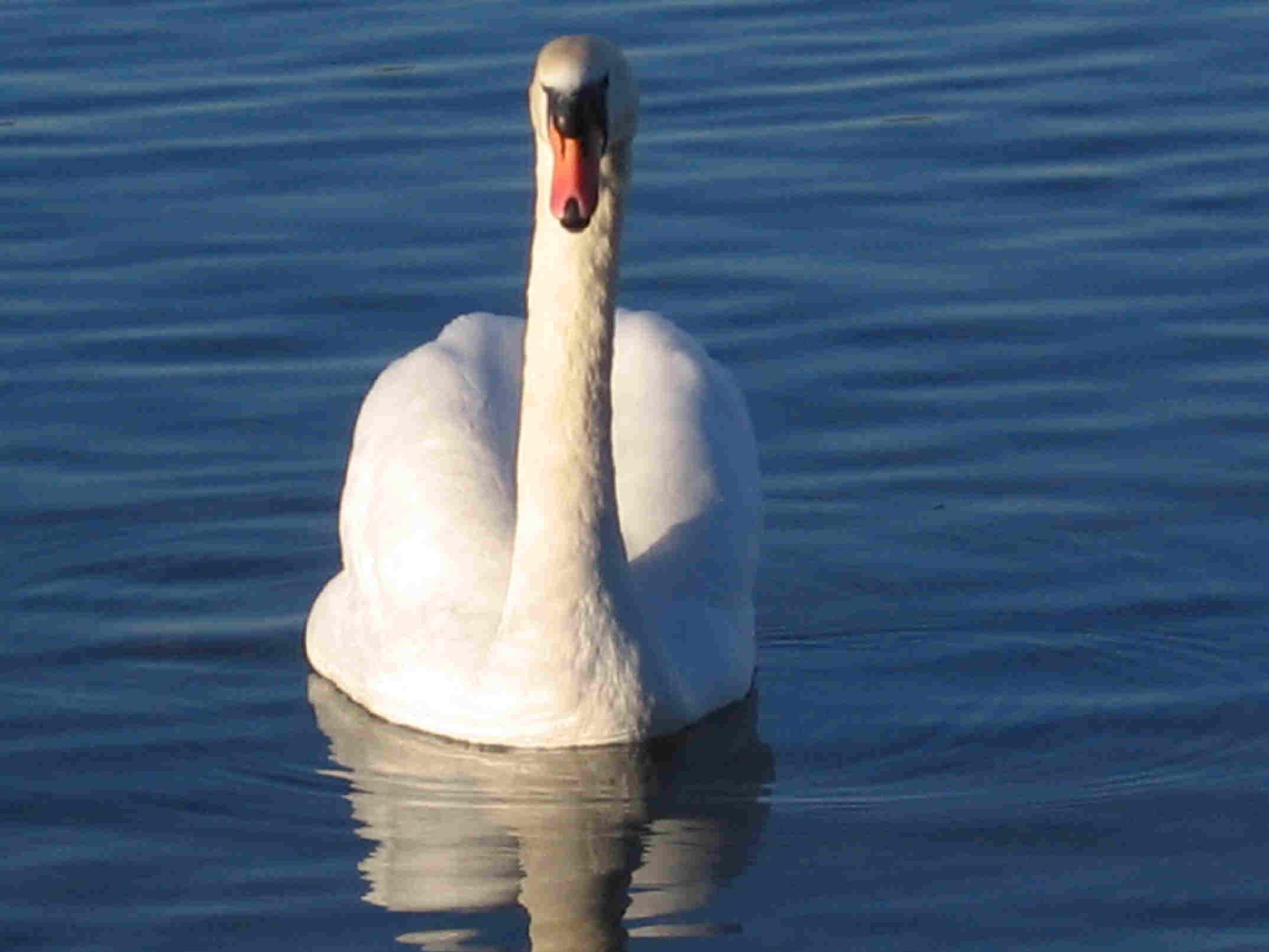 A mute swan glides serenely across the Country Park Lake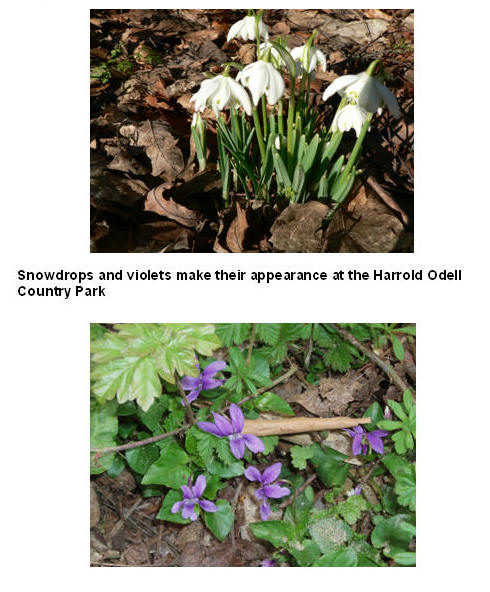 News from Harrold Odell Country Park
I'm writing this at the tail end of February and outside my office window there are clumps of Snowdrop and Aconites interspersed with the first Lesser Celandine and Violets. The weather cannot make its mind up – heavy frosts or double figure temperatures? Which is it to be this week?
There is no doubt that we are experiencing a severe drought. There is little or no water in the dykes. All but the deepest seasonal ponds have been dry for months and the River Ouse sits sluggishly in its channel and hasn't come close to flooding since the cold snap this time last year.
This is not good for the wildlife especially our newts, toads and frogs who depend on the ponds for breeding. Dragonflies too need water as their nymphs spend a couple of years on the bottom of lakes and ponds hunting tadpoles and small fish until they are ready to climb out and moult into adult insects.
We Humans are not exempt from this equation. We are as dependant on water as any other creature. If this continues, reservoirs will be at a lower level than during the 1976 drought that saw us queuing at standpipes to collect essential supplies. We must all do our bit to conserve water over the coming months.
There are definite signs that the birds are pairing up for the breeding season with mating Mallards and displaying Great Crested Grebes. We have seen a lot of interesting birds over the last month with Red Kites over the nature reserve and at its peak, 17 Goosanders and 6 Goldeneye and a Pink Footed Goose on the big lake. The migratory Thrushes, the Fieldfare and Redwings that have been hoovering up all the winter berries are now preparing to fly back to Scandinavia to be replaced by summer species such as Whitethroats, Cuckoos and Chiffchaffs. Thus the cycle begins again. Rare Barbastelle Bats have been confirmed as present in the park by the Bedfordshire Bat Group during one of their monitoring visits last August.
Our winter clearance work, coppicing, hedge laying etc. comes to an end this month to be replaced by spring and summer mowing, school visits and maintenance work. Together with colleagues at Priory Country Park, we attended an Environmental Education Event at ZSL Whipsnade on 23rd Feb. We showcased what the Borough's parks can offer schools and community groups in the way of learning opportunities from pond dipping to work experience.
We are embarking on a tree planting exercise over the next couple of months. Our Friends Group managed to obtain 420 free tree seedlings from the Woodland Trust. These are all native British species like Hazel, Rowan and Birch and the hope is to replace several diseased trees that have had to be removed this winter and also introduce a greater diversity within the park to compliment the predominantly Willow woodlands in the nature reserve. Some of these will used to celebrate the Queen's Diamond Jubilee.
We have had a contractor in to level the work area around our chainsaw carver's work area to allow her easier vehicular access for timber deliveries and the retrieval of finished carvings for delivery to her
commissioners. She has recently been to the States to attend a carving event. Anyone wishing to find out more should visit her website www.carrieyuen.com
On March 14th, the end of the current fishing season, Vauxhall Angling Club have decided to end their tenancy as the club controlling the fishing rights at the park when their agreement comes to an end. We'd like to take this opportunity to thank the club for their consideration during their tenancy and wish them luck in the future.
The fishing rights have now gone back out to tender and anyone wishing to register an interest should initially contact Peter Wade in the Borough Council's Property Dept. as soon as possible tel. 01234 276890.
Finally, we are looking forward to running another Easter Egg Hunt on Good Friday April 6th. We will run a morning session between 10am – 12pm and an afternoon one between 1pm – 3pm. Cost £1.00 per child. Booking is essential as we have only 30 spaces per session sponsored by the Friends of Harrold Odell. Please call 01234 720016 or e-mail janet.munro@bedford.gov.uk Look on our website for details www.hop.co.uk nearer the time and posters on the notice boards.
Ranger Richard Dowsett and myself look forward to seeing you all in the park over the coming months.
Health Walks
Held every fortnight we meet at the café entrance at 10.30am and walk for an hour to improve your health and wellbeing and meet other people. Leader Janet Munro. Park contacts as for Easter Egg Hunt.
March 1st, 15th & 29th April 12th & 26th
Friends Conservation Tasks
Last Monday in the month unless it's a Bank Holiday when it happens a week earlier. Meet at 10am at the café. Please bring appropriate clothing and sturdy footwear. We will supply the tools and refreshments.
March 26th April 30th
Janet Munro, Ranger
Village Hall
The Village Hall AGM will be on Tuesday 24 April.
The Mill Theatre, Sharnbrook
Reg. Charity No 242164
Season 2012
Coming in March:
David Copperfield -
Matthew Francis' enthralling dramatisation of Charles Dickens' beloved novel. Directed by David Midlane
Tuesday 27th – Saturday 31st March
Time: 7.30pm – Note the new time
This ingenious and endearing dramatisation by Matthew Francis, brings to vivid life the tragedies and triumphs of David's life, featuring some unforgettable characters:
the eccentric Betsy Trotwood, the ever-hopeful Wilkins Macawber, the ever so 'umble Uriah Heap…
Colourful and fast-moving, full of energy and vitality; the perfect way to celebrate the bicentenary of Dickens' birth.
TICKETS, £8 to £10, are ON SALE NOW at:
Sharnbrook Post Office - in Person
Bedford Central Box Office 01234 269519 *
10 % discount for 10 or more (excluding Charity performance)
*2 wheelchair spaces, easier access seating Rows A – C; hearing loop Rows A –E.
Diary
March
1st 10.30am Lent Course, 40 High Street, Harrold
1st 10.30am HOCP Health walk
2nd 10.30am Women's World Day of Prayer, St. Peter's,
Harrold
5th 7.30pm Lent Course, 3 Copper Beeches, Emmaus
7th 12.30pm Senior Citizens' Fish and Chip Lunch, Village Hall
7th 1.30pm Lent Course, 32 Rectory Close, Carlton
7th 7.30pm " " 30 Orchard Lane, Harrold
8th 10.30am Lent Course, 40 High Street, Harrold
12th 7.30pm Lent Course, 3 Copper Beeches, Emmaus
13th 7.30pm W.I. Village Hall
14th 10.30am Meeting Point at Sarah's, 9 Horsefair Lane
14th 1.30pm Lent Course, 32 Rectory Close, Carlton
14th 7.30pm " " 30 Orchard Lane, Harrold
15th 10.30am Lent Course, 40 High Street, Harrold
15th 10.30am HOCP Health walk
17th 9.45am All Saints' Amblers meet at The Bell
17th 7.30pm A Charity Race Night in aid of the charity 'Dreams Come True'
19th 7.30pm Lent Course, 3 Copper Beeches, Emmaus
19th 7.30pm Parish Council meeting Village Hall
21st 1.30pm Lent Course, 32 Rectory Close, Carlton
21st 7.30pm " " 30 Orchard Lane, Harrold
22nd 10.30am Lent Course, 40 High Street, Harrold
26th 10am HOCP Conservation tasks day
26th 7.30pm Lent Course, 3 Copper Beeches, Emmaus
28th 10.30am Meeting Point at Jane Eshelby's, Newton House, Avenue Rd., Newton Bromswold, Rushden
28th 1.30pm Lent Course, 32 Rectory Close, Carlton
28th 7.30pm " " 30 Orchard Lane, Harrold
28th 7.30pm Meeting of Parishioners, All Saints' Church
28th 7.45pm Annual PCC Meeting, All Saints' Church
29th 10.30am Lent Course, 40 High Street, Harrold
29th 10.30am HOCP Health walk
30th 2.30pm 'Patches' meet at the Rectory
Magazine Deadline
Please send all entries for the April magazine to Tricia Hudson (mag1 at odellbeds.net) or Catherine Corkery by March 12th at the latest. May we remind you that the editorial team exercises the right to edit, shorten or alter any items that are submitted. Also, the opinions expressed in the articles are those of the contributors and are not the responsibility of the editorial team.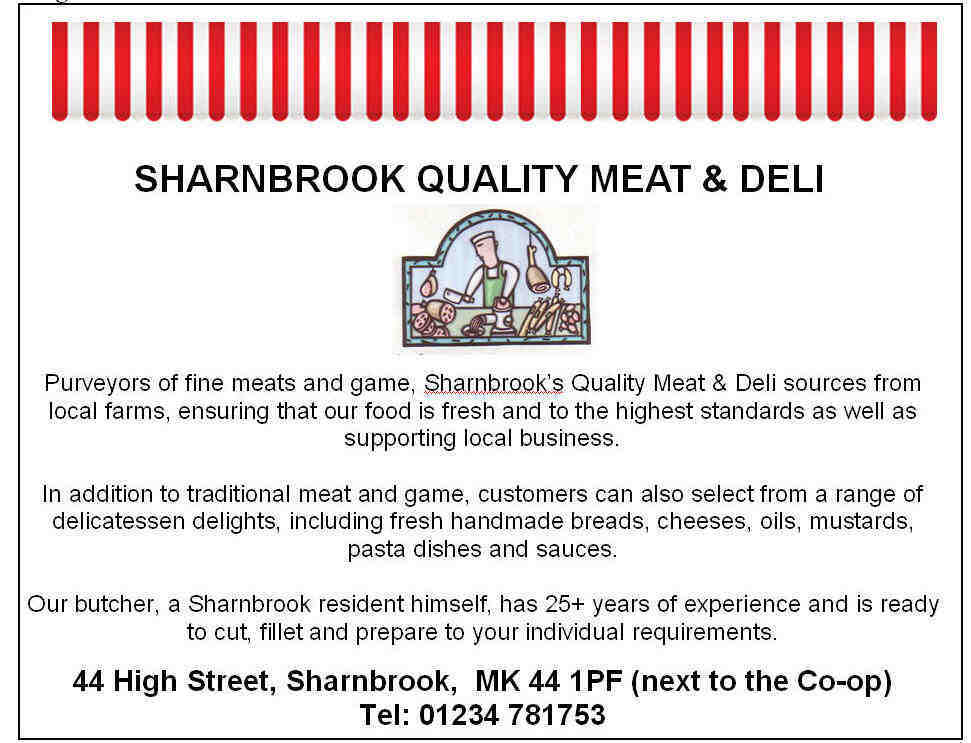 Alex Stubbs Flooring

Carpets, Vinyls, Laminates, Safety Flooring, Adaptions, Refits, Repairs

Supplied and Fitted

07976 260572

01234 240954

Great local pubs

<![if !vml]>
<![endif]>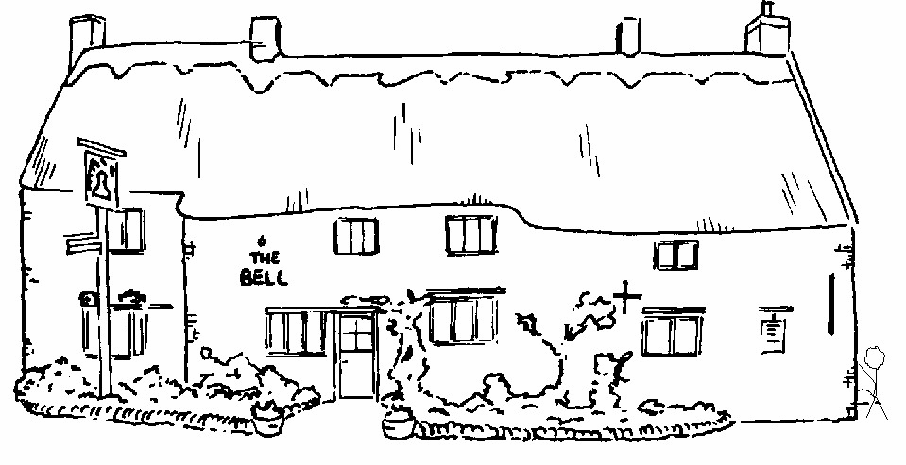 The Bell in Odell
As Featured in the 2010 Good Beer Guide
With the relaxed charm of a village local and a varied menu of
quality, home-cooked food you won't find any gimmicks here
just a Great British Pub!
Abbot Ale, IPA & Changing Seasonal & Guest Ales
Telephone 01234 720254
---
Last revised: March 07, 2012.