ODELL VILLAGE NEWS
June 2012
Diamond Jubilee Celebrations - June 3rd and 4th (scroll down for details)
Diamond Jubilee Celebrations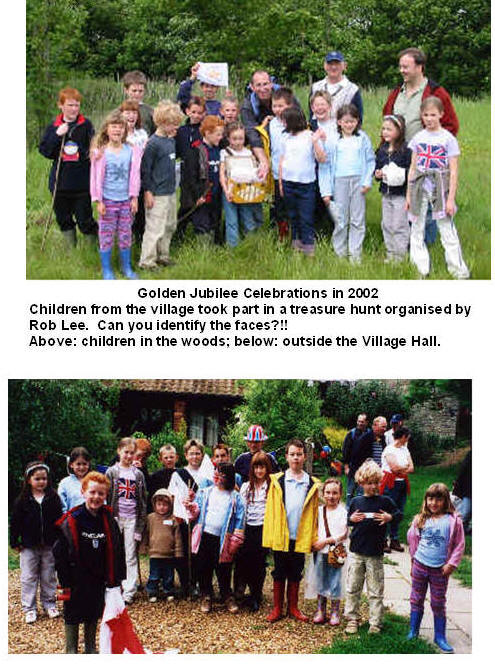 Odell Fete & Dog Show 9th June 2012
Help needed!
Preparations are going well … We would be very grateful for the temporary loan of party tents, gazebos etc on the day, also, for help on Friday 8th June to set up the field, from 2pm onwards and then dismantle everything after the fete has ended on Saturday 9th. Please phone us! - Mandy 720414,
The Fete will be held in the Scout field, Horsefair Lane, Odell.
Programme of Events
2.00 PM Grand Opening
2.00-4.00PM Dog Show
4.00 PM Raffle Draw and Prize Giving
Attractions
Bedford Brass Band Boys Brigade Bouncy Castle
Teas Children's Tombola Ice Creams
Cakes Books Refreshments
Bottle Stall Face Painting
Coconut Shy Children's Sports White Elephant
Produce Gifts Many Side Shows
Raffle
Family Dog Show
(entry fee - £1 per dog per class)
Classes: (please note the slight change in classes from last year)
1. Children's Handling (14 years and under)
2. Puppies under 1 year
3. Country Sporting Dog
4. Country Sporting Bitch
5. Best Rescue or Re-homed Dog or Bitch
6. Best Condition Dog or Bitch
7. Best Cross-bred Dog or Bitch
8. Most Handsome Dog
9. Prettiest Bitch
10. Championship ( winners of each class)
Car park attendants will be on duty at the field opposite The Bell public house.
There will be disabled parking next to the Scout field.
Senior Citizens Summer Garden Party
Odell Luncheon Club invites you to a
Strawberry Tea
in Doreen and Jim Wheeler's garden,
at Linden House, High St., Odell,
on Wednesday 11th July at 3pm.
All senior citizens are invited.
Please let Jill Cheadle (720261) know by Sunday 1st July if you wish to attend
Round and About
The Rain it Raineth Every Day
What else could we expect. Following two extremely dry years and with serious drought conditions affecting much of the country, the various water companies decided to impose a hosepipe ban to protect our dwindling water supplies. Being England - right on cue - the skies opened, the rain came down - and continued to do so throughout the month of April and well into May. Before we knew what to think the country was awash. Whilst records show that this has been the wettest April for over 100 years...the hosepipe ban stays firmly in place and is likely to do so for the rest of the year. With typical irony this period of weather has been dubbed the "torrential drought".
It is said that the English are a nation obsessed by weather - and we can certainly talk about it by the hour. Only think of all the ditties and rhymes that we have concerning the weather - and most of them are about wet weather. I have been looking into the matter!
Strangely, many of these old sayings have a lot of truth about them. Take for instance that old favourite "Red sky at night shepherds delight, red sky in the morning shepherds warning" or indeed, "A sun-shiny shower won't last half an hour". Alas, I have learnt that others can let you down badly: "Rain before seven, dry by eleven". Don't believe it. "Oak before ash we are in for a splash but ash before oak will lead to a soak". I have walked in the country park for 30 years now, and the park has many fine examples of both ash and oak. Each Spring I watch them closely and every year the oak comes into leaf first. The ash will come into flower, but the leaves always seem to follow the oak.
We also have the lovely little story about St. Swithin's Day. If it rains on St. Swithin's Day it will rain for forty days. St. Swithin was Bishop of Winchester in Saxon times. He let it be known that he wished, on his death, to be buried outdoors under the open sky. When the time came the Church dignitaries could not bring themselves to carry out his wishes and with great pomp and circumstance interred St. Swithin inside the cathedral, whereupon the weather became so wild and wet that the Church decided to lay him to rest outside in accordance with his wishes. Immediately the weather settled down again, and miracles occurred at his graveside. Records show, however, that sometime later the remains of St. Swithin were moved back inside the cathedral.
But what of our sayings and ditties? "When smoke descends good weather ends". "If April blows its horn it will bring forth hay and corn". "When dew is on the grass, rain will never come to pass."
We also look to wildlife to foretell the weather. For example, "When seabirds fly to the land there surely is a storm to hand" or indeed, "Flies will swarm before a storm" and "When bees stay close to the hive rain is close by". Even the solar system comes into the business of creating a weather forecast. For example, "Haloes around the moon or sun mean that rain will surely come" or, "If the moon rises with a halo round, soon we'll tread on deluged ground".
Finally, "Moss dry, sunny sky - moss wet, rain you'll get" ...."Oh! rain, rain go away - come again another day". However, you must always remember that "April showers bring forth May flowers".
Of course, by the time you read this it could be glorious summer! Barbara Corley
Beer Festival
The Bell is holding its annual Beer Festival from 6pm on Friday 8th June to Sunday 10th June.
Friday and Saturday evenings: Live entertainment
Saturday afternoon: Bouncy castle and BBQ
There will be a range of ales, including non—Greene King, and local cider.
Diamond Jubilee Celebrations
You should all have received your invitation to our Diamond Jubilee Celebrations:
Big Jubilee Lunch and Flotilla
When? Sunday 3rd June from 12.30pm
Where? The Village Hall and patio area
What? Bring your own meat (barbeque and cook supplied), bring and share salads and puddings.
Licensed Bar
River pageant on big screen, live singing, children's games, quiz, 50s' style sweets
Competition for the best dressed table; bring your own
cutlery and crockery
Dress code: red, white and blue or 50s' style
PLEASE NOTE THE VILLAGE HALL CARPARK WILL BE CLOSED
If you haven't done so please RSVP to Doreen Wheeler on 720358, email jamdor@waitrose.com or 93 High Street stating:
Name: ………………………………………………
No of adults ……….No of children……….
Food contribution: please choose Green salad OR Rice, pasta or potato salad OR another salad (please state) OR a pudding
BBC Jubilee Concert
When? Monday June 4th, time to be announced in the press
Where? The Village Hall
What? Giant screen TV with bar
Bring any food
This invitation is extended to all Odell residents, people who were born here or used to live here or anyone who takes an active part in village life
These celebrations have been funded by the Parish Council
Age UK -
Bedfordshire
78-82 Bromham Road,
Bedford, MK40 2QH
We are a local charity serving the over 50's in Bedfordshire, we can provide you with FREE Information and Advice on Pensions, Benefits, Housing Issues, Consumer Issues, also help with completing Benefit Application Forms. To find out more please call 01234 360510.
Home Help Service
We employ over 100 home help workers across the county. They provide a regular daily or weekly service and carry out most household tasks plus a local shopping service. All our workers are fully vetted, trained and insured. To find out more please call 01234 346344.
Gardening Service
We can provide a regular gardening service for you, all workers are fully equipped to mow, strim and trim, so your garden remains neat and tidy all year through. To find out more please call 01234 346344.
Handypersons Service
This service provides help with light carpentry work, the fitting of grab and stair rails and general DIY including general painting and decorating. We also fit smoke alarms and key safes, key safes are especially useful if you are unable to answer the door to regular visitors such as care workers, nurses, friends or family. To find out more please call 01234 346344.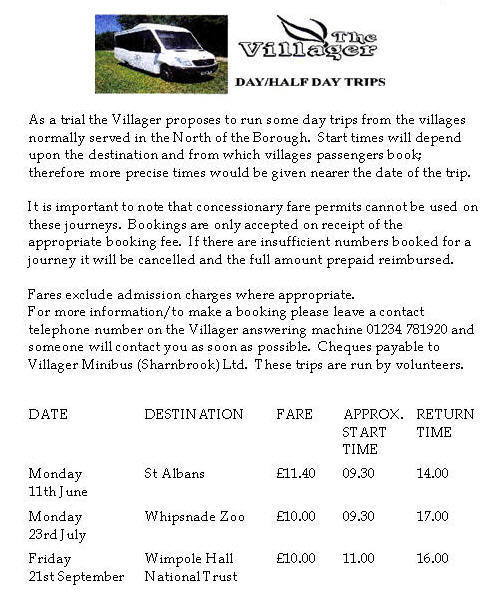 Shakespeare's Merry Wives of Windsor Open Air Theatre in Bedfordshire
15th – 24th June 2012
Full Details www.nolossproductions.co.uk
Following on from the 2011 sell out performances of A Midsummer Night's Dream, Bedfordshire based No Loss Productions are delighted to be returning to Swiss Garden and Moggerhanger Park and to be adding Wrest Park to the season, with Shakespeare's domestic comedy The Merry Wives of Windsor in June 2012. As well as entertaining Bedfordshire audiences No Loss hope to help build and strengthen links between these three stunning Bedfordshire Gardens.
It has often been said that if Shakespeare were around today he would be writing for TV. If that's true, then this is his 1970s sit-com. Which is what makes it such a brilliant choice for Shakespeare in the gardens in 2012 - comedy vicars, dirty rotten scoundrels, people hiding in cupboards and the wonderful wives of Windsor outwitting the men time after time. And to top it off a big finish in the woods! Perfect entertainment for a summers evening And if you have not visited the gardens before you are in for a treat as you discover the beauty and local history they have to offer
Tickets are available directly from venues or www.nolossproductions.co.uk
Tickets in advance £12 (£10 Concessions)
Tickets on the day £15 (£12 Concessions)
Dates & Times
Moggerhanger Park - 01767 641007
15 June 7.30pm - 16 June 2pm & 7.30pm
Wrest Park – 0870 333 1183
19 & 20 June 7.30pm
Swiss Garden – 01767 627933
22 & 23 June 7.30pm, 24 June 2pm
Doors open 1 hour before curtain up. Bring a picnic (no glassware), a rug or folding chair
Wet Weather – Performances will continue in wet weather. All tickets are non-returnable and non-refundable
W.I. News
In the absence of Rachel our President Doreen took the Chair for our AGM. After reports were read and approved we were given our new Programme for 2012/2013, which sounds interesting with a good variety of activities and topics. The highlight of the year could be the planned visit to Stoke Bruerne for a Trip on a Canal Boat on Tuesday 14th August.
Doreen and Lynette up-dated us all on the exciting Diamond Jubilee Celebrations in the Village. Bulb order forms were available to be completed by 15th June. A discussion took place after Chris gave us information of this year's WI resolution at the AGM in London, which urges Her Majesty's Government to train more Midwives.
Members voted yes to this. Chris will be our delegate.
The next meeting will be held in the Village Hall on Tuesday 10th July at 7.30 when Solicitor Isobel Mann's talk will be Planning for your Future.
Hostesses are Karen Boyes and Stasia Wherrett
New members are always welcome and if you need any more information please ring Rachel Halton on 720572 Lynette Hall
Odell Parish Council News
Highways: It is good to report that the new 30 & 40 mph speed restrictions and associated works have been installed in the village. We hope this will make it safer for all of our parishioners. Our thanks to Andrew Prigmore (Bedford Borough Council – Highways) and Councillor Paul Crotty for bringing these works to a conclusion. The Council are now working with B.B.C. to have a new road sign positioned in Horsefair Lane (Residents only parking) . This will improve the general parking situation in the Lane leading to Harrold Odell Country Park.
Rural Bulky Skip: The next date will be Sunday 17th June 2012 – 12noon – 3pm. The lorry will be situated on the village green outside 'The Bell' PH. This year there will be only one collection (due to B.B.C. cutbacks) so if you have any bulky waste please put this date into your diary.
Footpaths: The Parish Council is still working very hard with the Borough Rights of Way Officer and the Borough Councillor, Alison Foster, to improve the general state of the footpaths, bridleways and
pavements in Odell. If you have a complaint about any of these please let the Parish Council know.
Buses: If you have any concerns about public bus services do let the Parish Council know – we can report directly to the Bus Companies if you are unhappy about any of the services. Please remember to use 'The Villager' minibus – details on the Parish Council notice board. This service is not just for older members of the community, teenagers can also benefit from low fares to places like Northampton, Milton Keynes and Peterborough.
Harrold Odell Country Park: The Easter Egg Trial, held back in April, was very well supported and enjoyed by all. The recent arson fire attack to the Park's bird hide was very upsetting – the Police have now charged the culprit.
Broadband: There has been a good response from local villages and B.B.C. is continuing to try to establish faster broadband speeds in the Borough.
Diamond Jubilee celebrations: Celebrations are planned for Sunday 3rd and Monday 4th June – the Parish Council are supporting these events, both financially and in person.
I am retiring from my post as Parish Clerk to Odell and wish you all the very best for the future.
The next Parish Council Meeting is scheduled for Monday 16th July, 7.30pm at the Village Hall. You can contact the Chairman by email: opcchairman@aol.com Nina Bransgrove-Knight
Thank you – to Nina Bransgrove-Knight, who has retired from the position of Clerk to Odell Parish Council. Nina has done an excellent job in keeping us all regularly informed about the proceedings and decisions at the council meetings over the last 18 months. Nina is still clerk to Harrold Parish Council but needed to have more time to devote to her family, so sadly had to step down from her role in Odell. Very many thanks and best wishes from us all, Nina. We look forward to welcoming the new clerk for Odell.
Friends of Harrold Surgery
Volunteer Drivers needed
The volunteer car scheme, run from Harrold Surgery, needs more drivers. The scheme provides transport for patients who have to travel to the surgery or to hospital and do not have access to transport of their own. If you have some time to spare to help as a driver, or would like more information please contact the surgery on 01234 720225.
Harrold-Odell Country Park
Carlton Road, Harrold, Bedford MK43 7DS
Email: hocp@bedscc.gov.uk Website: www.hocp.net
Tel: 01234 720016
News from Harrold Odell Country Park
I am writing this at the beginning of May. After a drought lasting 18m we are now suffering the worst flooding since 2003. Almost all of the river meadows are under water as is the nature reserve. You can almost hear the trees heaving a sigh of relief although we Humans are moaning in the usual way. Harrold Bridge is closed and we struggle to get about. Some of our birds have had their nests swept away but hopefully, it has happened early enough in the season that they can have another go.
Many of you are probably aware that we lost our beautifully refurbished bird hide to an arson attack on April 15th. It has been a feature of the park for 25yrs. If there is any information about this crime then please get in touch with the police at Riseley or Harrold Fire Station. We fully intend to rebuild but we are discussing options and researching the costs. Some wonderful people have already pressed donations towards us to help with this and we are so grateful for all the messages of support.
We are planning some events in the coming months which may be of interest. Please look at the dates in your diary section of this article, posters in the park notice board or on the website run by our Friends Group www.hocp.co.uk
The willow fencing constructed along the northern edge of the large lake is now almost complete. We used coppiced willow from within the park, the idea being to prevent further erosion of the banks in this area. Over the coming months we will repair some of the worst damage by back-filling with branches and soil. We have also a beautifully carved memorial bench and new trees to commemorate the Queen's Jubilee year. The work was carried out by staff and volunteers over the last 6m. Our thanks to everyone involved particularly Trevor Sudds, Simon Carter, John Donovan and Bob Collyer.
Park Ranger Richard Dowsett is planning to set up beehives on the island in the big lake. We will see over the coming months whether this experiment is worthwhile. There are plenty of gardens and our
community orchard nearby as well as the wild flowers growing in the park for them to feed on. Watch this space.
With the departure of Vauxhall Angling Club we are looking to run the fishing ourselves. As I write this, a meeting is being arranged with Bedford Borough Council to discuss options. A tender from another party was not accepted by the Property Dept. When there is something to report about this I will let you know.
Finally, Tea-Zels Café are open from Mon – Fri from 9am – 4pm and on Sat & Sun from 9am – 5pm. Contact them on 01234 721525.
Dates for your diary
Sat 16th June: Fossil Fun Day 11am – 4pm. Come and discover more about rocks and fossils with the Bedfordshire Geology Group. Maybe you want to find out more about a fossil you own? Children's activities and fossils to buy. Contact janet.munro@bedford.gov.uk
Fri 22nd – Sun 24th June, 10.30am – 4.30pm. : Come and join in activities with the RSPB. Contact Stephanie.Morren@rspb.org.uk
Thur July 12th: :Public Bat Walk 21.00hrs run by Bedfordshire Bat Group. 20 places only so BOOKING ESSENTIAL. Contact janet.munro@bedford.gov.uk
Sunday July 22nd : Craft Fair 11am – 4pm. Contact Derek Henderson derek@derekhenderson.co.uk
Sat July 28th 2pm – 4pm :Guided Walk to celebrate Love Parks Week. Contact richard.dowsett@bedford.gov.uk
Friends Conservation Tasks
Meet at the park office at 10am to assist with a variety of tasks around the park. Please bring sturdy clothing and footwear. Gloves, good company and refreshments provided. June 25th.. Tel. 01234 720016 for information
Health Walks: These occur every other Thursday at 10.30am. Meet at the café and walk for an hour to increase your fitness and wellbeing and meet new people. There is an option afterwards to have coffee and natter in the café. June 7th and 21st, July 5th and 19th Leader Janet Munro 01234 720016. Janet Munro, Ranger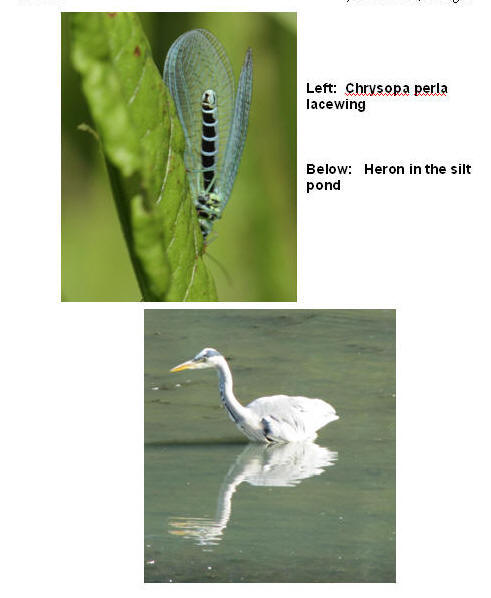 The Mill Theatre, Sharnbrook
Reg. Charity No 242164 Season 2012
TART AT 7.30 PM (NOT 7.45 PM AS PREVIOUSLY)
Cash on Delivery
18
th
- 22
nd
September
-is a full on farce by Michael Cooney, son of the acknowledged master of the genre, Ray Cooney. An assortment of characters including a DSS fraudster, an alcoholic DSS Inspector, a comatose hospital
porter, a confused lodger, a bewildered councillor…and a washing machine with a mind of its own, contribute to a cautionary tale of complex intrigue, which becomes increasingly ridiculous and bizarre…… "Frantic, witty, absurd and hysterically funny''
An amateur production by arrangement with Samuel French Ltd
Read-throughs and Auditions - all at The Mill Theatre
Sunday 27th May – Read-through 2 - 4pm
Monday 28th May – Read-through 7.30pm
Wednesday 30th May – Auditions 7.30pm
Enq's: Nicole Macdonald email: two2get2no@aol.com
West Side Story

 

 
16

th

 – 24

th

 November

 
Workshops and Auditions - all at The Mill Theatre
Tuesday 29th May – Workshop 7.30pm
Thursday 31st May – Dance workshop 7.30pm
Wednesday 6th June – Workshop 7.30pm
Thursday 7th June – Auditions 7.30pm
Friday 8th June – Auditions 7.30pm
Enq's: Paul Wildman c/o: info@sharnbrookmilltheatre.co.uk
Diary
May
26th 9.45am All Saints' Amblers meet at The Bell.
27th 11.00am Pentecost in the Park (St Peter's, Harrold, if wet).
28th 10.00am Conservation Day tasks, HOCP.
30th 10.30am Meeting Point, Jane Eshelby's, Newton Bromswold.
June
3rd 10.00am Diamond Jubilee Celebratory Service, All Saints'.
3rd 12.30 Jubilee Flotilla on screen in Village Hall and BBQ on Patio area.
4th TBA Jubilee Concert on screen, Village Hall.
7th 10.30am Health Walk, HOCP.
8th –10th 6.00pm Beer Festival at The Bell.
9th 2.00pm Odell Fete, Scout Field.
10th 11.00am Service in Fete field.
10th 12 noon Village BBQ in fete field, following service.
13th 10.30am Meeting Point at Sarah's, 9 Horsefair Lane.
16th 9.45am All Saints' Amblers meet at The Bell.
16th 11.00am Fossil Fun Day at HOCP.
17th 12 noon Bulky Skip, Odell Village Green.
21st 10.30am Health Walk, HOCP.
22nd 10.30am RSPB activities, HOCP.
23rd, 24th " " " " " "
24th 1.30pm Harrold Open Gardens.
25th 10.00am Conservation Tasks, HOCP.
27th 10.30am Meeting Point: TBA
July
5th 10.30am Health Walk, HOCP.
10th 7.30pm W.I. Village Hall.
11th 3.00pm Senior Citizens' Strawberry Tea, Linden House.
12th 9.00pm Bat Walk, HOCP.
Magazine Deadline
Please send all entries for the joint July/August magazine to Tricia Hudson (mag1 at odellbeds.net) or Catherine Corkery by June 12th at the latest. May we remind you that the editorial team exercises the right to edit, shorten or alter any items that are submitted. Also, the opinions expressed in the articles are those of the contributors and are not the responsibility of the editorial team.
.
Walk the Woof Dog walking service
House visits to let your dog out
Please call Natalia on
01234 721018 or 07545 305643
Covering Harrold, Carlton & Odell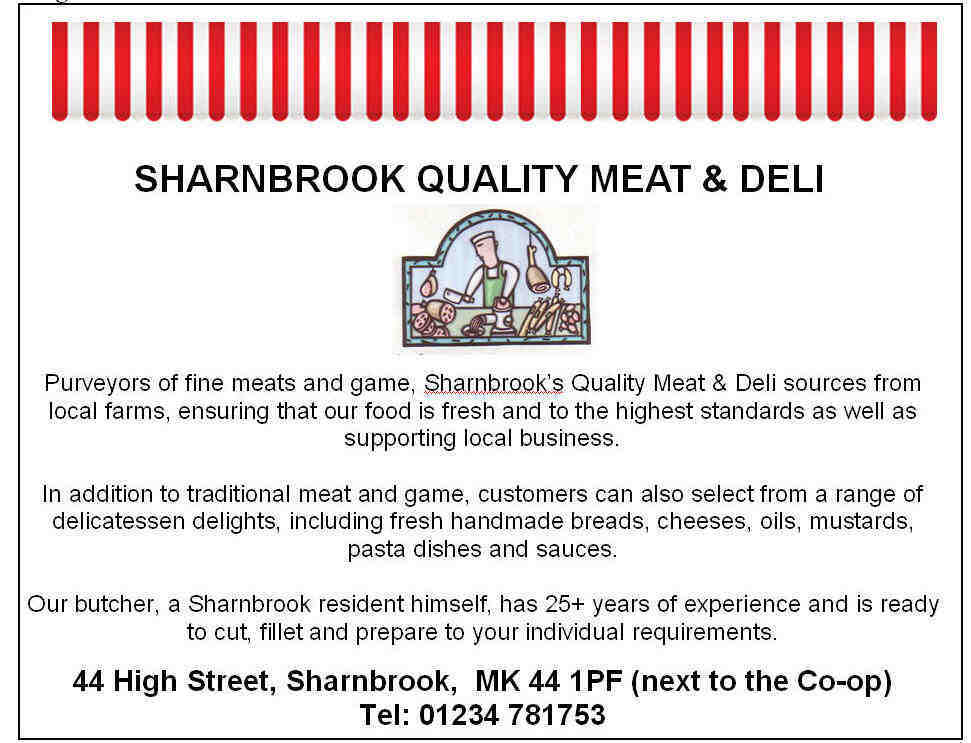 Alex Stubbs Flooring

Carpets, Vinyls, Laminates, Safety Flooring, Adaptions, Refits, Repairs

Supplied and Fitted

07976 260572

01234 240954

Great local pubs

<![if !vml]>
<![endif]>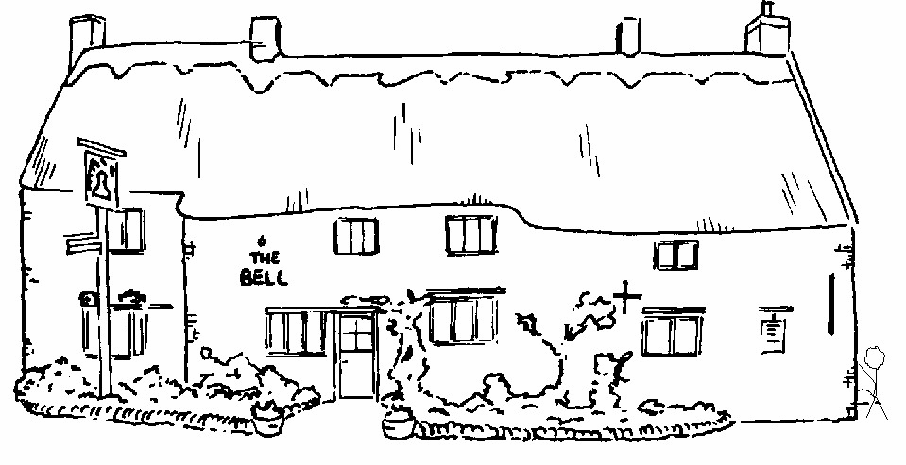 The Bell in Odell
As Featured in the 2010 Good Beer Guide
With the relaxed charm of a village local and a varied menu of
quality, home-cooked food you won't find any gimmicks here
just a Great British Pub!
Abbot Ale, IPA & Changing Seasonal & Guest Ales
Telephone 01234 720254
---
Last revised: May 21, 2012.