ODELL VILLAGE NEWS
July/August 2012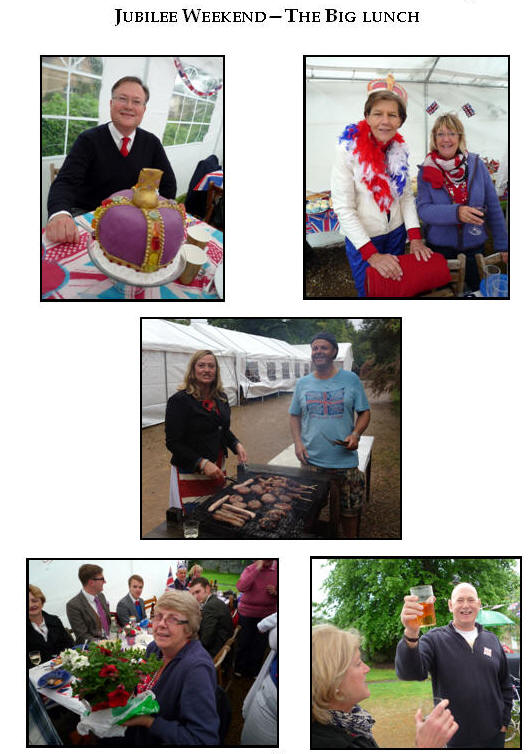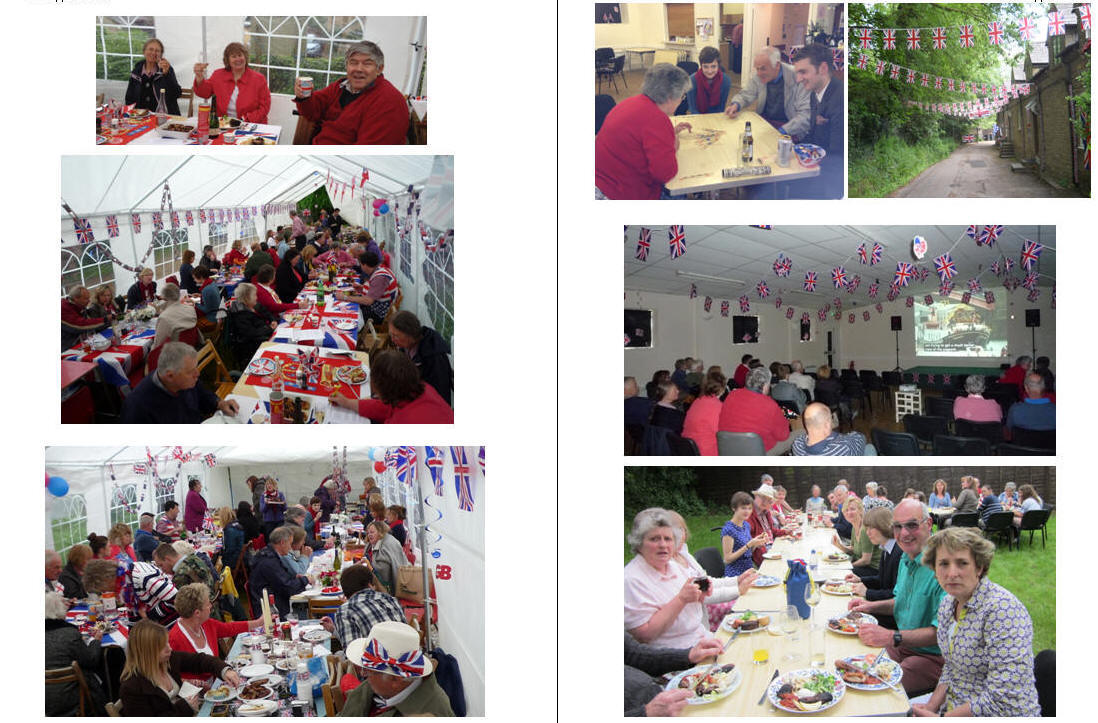 ODELL FETE 9th JUNE
We are so thankful that in this cold, wet and windy summer we were able to go ahead with the annual Fete and Dog-Show. We certainly had some very anxious moments just beforehand, especially when gusty winds prevented us from putting up the tents the day before. We are very grateful to those who came along on Saturday morning to ensure everything was finally ready on time. In the end we had a really good turn-out, with record entries to the Dog Show classes and everyone enjoying themselves.
Good to know that the community spirit is alive and well in Odell and that people care enough to turn out and help, also that people want to be actively involved in village events. It's lovely to see people from all parts of the village willing to run the stalls and helping to clear up afterwards. At the 'thank you' lunch on the Sunday, lots of you came up with suggestions for how next year's Fete can be even better – and how encouraging to see that the children, as well as adults, were eager to contribute their ideas - all of which the Fete Committee will consider at the 'wash up' meeting. Christine Clark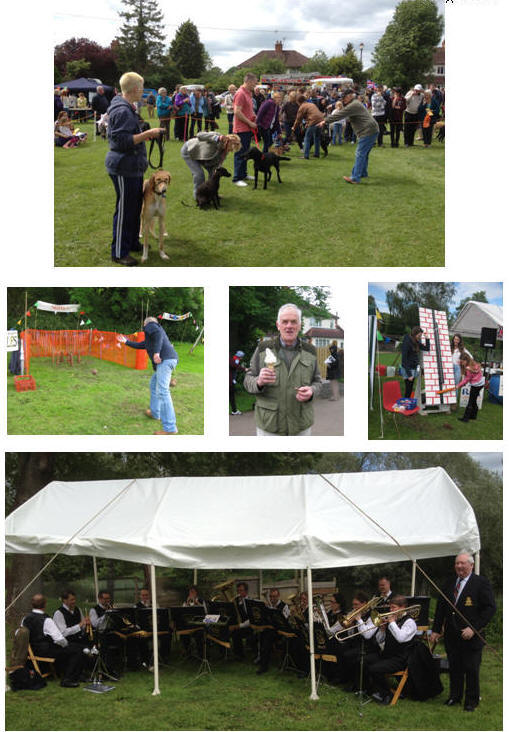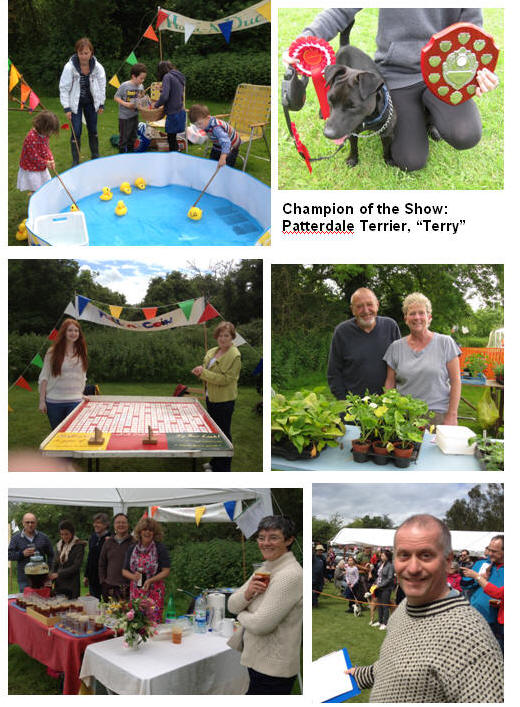 SENIOR CITIZENS SUMMER GARDEN PARTY
Odell Luncheon Club invites you to a
Strawberry Tea
in Doreen and Jim Wheeler's garden,
at Linden House, High St., Odell,
on Wednesday 11th July
at 3pm.
All senior citizens are invited.
Please let Jill Cheadle (720261) know by Sunday 1st July if you wish to attend

BIRTHDAYS
Happy Birthday to Miles Tringham on 24th August and to everybody with a birthday in July or August.

ROUND AND ABOUT
The Olympic Flame

With the Jubilee behind us the country now turns its attention to the Olympics. I must admit I am somewhat bemused by the progress of the Olympic torch. When I heard that the torch was to travel all around Britain so that people could welcome this symbol of events to come, I could not imagine that anyone would turn out just for a sight of the torch that would pass by in seconds. How wrong could I be, people are turning out in their thousands.

The torch made its first official appearance at Lands End at the start of a 70 day cavalcade across Britain. A cavalcade it certainly is as there are a number of cars and coaches that follow the runner, to facilitate the smooth progress and change-over of torch and runner.

During the run there have been certain scenes that have stood out in my mind. "Nice" little moments in the progress of the torch so far, because - of course - it still has a distance to go. On the second day the torch "blew" out. It was being carried by an elderly gentleman in a wheelchair - the torch secured to the arm of the chair by a clamp. This intrepid gentleman - no doubt excited by the moment - set off at such a pace the flame blew out. On re-lighting the torch he was asked to maintain a moderate speed.

On another occasion the runner, obviously of an athletic bent, ran so fast the accompanying police escort had to plead for a slower pace as they could not keep up...I love it!

The wonderful sight of the torch crossing the Clifton Suspension Bridge with fireworks going off alongside: we nearly lost this magnificent display - which would have been a great shame - as moments earlier the torch and its cavalcade had been directed down the wrong road and they nearly missed the bridge altogether.
The young man at Wootton Basset, usually confined to a wheelchair, who insisted - with the aid of a crutch - to swing his way down the High Street on his remaining good leg whilst holding the torch aloft and the look of triumph on his face when he succeeded in reaching his goal. Also, how wonderful to see the people of this iconic little town, lining the streets on a happy occasion.

The torch is certainly seeing, and being seen, across the nation: Lands End, the top of Snowdon in Wales, Joddrell Bank. Then across the sea to Ireland where, in addition to Belfast and Dublin, the torch visited the Devil's Causeway and crossed the Peace Bridge.

On, on and on again to Scotland where by plane, bike, cable car and boat the torch worked its way northwards, along the banks of Loch Ness and then by air to the Orkney Islands. From there it was a quick hop to the Shetland Islands - the most northern part of Britain where the torch paused beside a sign-post pointing southward to Lands End where it had all begun. It was on the Shetland Isles that the torch appeared to gain a Viking escort...I could not see the police escort anywhere!

And now the torch turns southwards, back through Scotland and England and on to the Olympic Games. Barbara Corley
ODELL'S BIG JUBILEE LUNCH
Some things ran true to form. It was a bank holiday, so it rained!
Approaching 90 people had accepted our invitation to the big lunch so despite cold and wet weather, in true British fashion they all turned up. It was a barbecue so it had to be eaten in the open – and it was. The age range covered a few months to octogenarians which created a very happy atmosphere. All the children and young people attending were given a commemorative mug.
We would like to say thank you for the planters we were given which was a great surprise. However, as always, there were a number of people who made the event happen. Firstly a huge thank you to Mel and Richard who braved the weather and barbecued all the meat. We were also grateful to Leslie Knowles for provisioning and running the bar and to Jon Hudson for setting up the large screen in the hall so we could watch the River Pageant (and later the concert). There were several people who turned out a number of times to decorate the hall, erect the tents, put all the tables and chairs in place and finally to clear the site afterwards – a sterling crew. We are also indebted to the Parish Council who funded certain aspects of the event. But we would especially like to thank everyone who came, who took so much trouble with their food contribution and made the tents so festive with their table decorations. It was great.

Congratulations are due to Nick Goodman as the winner of the best dressed table. The focal point was a magnificent cake in the shape of a crown. Very regal! The winners of the quiz were Nicola and Jim Schoenenberger. We hope you feel we achieved our initial objective which was to bring everyone together to celebrate 60 years of our Queen's reign, and to make it an occasion which we will all remember. We certainly will; thank you all again. Lynette Hall & Doreen Wheeler
I AM SURE EVERYONE WOULD JOIN ME IN THANKING Doreen and Lynette, for all the work they put into organizing our Jubilee celebrations in Odell. Without their tireless efforts planning, sending out invitations and corralling the rest of us into action we would not have enjoyed such a superb occasion. As the photographs in this magazine show, everyone had a wonderful time both at the Big Lunch and the next day picnicking whilst watching the concert. Thank you , ladies! Tricia Hudson
MANY THANKS to everyone who used my bar: 'Lashings of Ginger Beer'. We could have done with some warmer weather to increase the sales but that's the English Bank Holiday for you! The profit from the bar was £190, and as the Village Hall did us proud I have decided to donate the sum to them as it is an important part of our community. Thanks again, Leslie Knowles

ODELL'S BIG JUBILEE LUNCH - ROYAL QUIZ: ANSWERS!
When?
did the Queen invest her son as the Prince of Wales 1969
was the Royal Yacht Britannia decommissioned 1997
did the Queen marry Lieutenant Philip Mountbatten 1947
did Prince Edward leave the Royal Marines 1987
did the Queen become the first monarch to visit the Republic of Ireland 2011
was the Queen's 'annus horribilis' 1992
did the Queen visit West Germany (the 1st British Monarch to do so since WW1) 1965
was Sir Anthony Blunt exposed as a communist spy 1979

How many?
rooms are there in Buckingham Palace 775
Prime Ministers have there been during the Queen's reign 12
diamonds are there in the Imperial State Crown 2,868

Who?
is 10th in line to the throne The Princess Royal
is the Duke of Lancaster The Queen
first ordered the clocks at Sandringham to be set half an hour ahead of GMT Edward VII
on first seeing his intended bride said he felt unwell & demanded a brandy George IV
was killed by the IRA in 1979 Lord Mountbatten
is the Earl of Chester Prince Charles
are Monty, Holly & Willow Corgis

Which?
monarch established racing at Ascot Queen Anne
future monarch competed at Wimbledon George VI
royal residence was the London home of the Queen & Duke after their marriage Clarence House
monarch died on the lavatory, while trying to relieve his constipation George II

Who said?
'I'm not as nice as you think I am' Queen Mother
'I sometimes feel like a public monument' Prince Andrew
'I am incredibly modest – but I'll tell you I'm an excellent cook' Prince Edward
'It is impossible to imagine a prettier spot than Osborne House' Queen Victoria

Where?
was the Queen born (give the London address) 17 Bruton St.
does the following exchange occur: 'Whose keys?' 'Queen Elizabeth's keys' Tower of London
W.I. NEWS
The next meeting will be held in the Village Hall on Tuesday 10th July at 7.30 when Solicitor Isobel Mann's talk will be Planning for your Future.
We shall also be discussing transport arrangements for the visit to Stoke Bruerne for our Trip on a Canal Boat.
Advanced Notice – there will be a WI Jumble Sale in the Village Hall at 2.00pm on Saturday, 13th October. Start saving your jumble now!
Hostesses are Karen Boyes and Stasia Wherrett
New members are always welcome and if you need any more information please ring Rachel Halton on 720572
Jane Eshelby

VILLAGE HALL NEWS

Quiz night and Bar B Q – 7th July
6.30pm start
Price: £5 adults, £2.50 children. £15 family (2 adults,
2 children),
to include sausages/burgers and salad.
THE VILLAGER MINIBUS DAY/HALF DAY TRIPS
Monday 23rd July to Whipsnade Zoo, £10. Start: 9.30am, Return 17.00.
Fares exclude admission charges where appropriate.
For more information/to make a booking please leave a contact
telephone number on the Villager answering machine 01234 781920. .

HARROLD-ODELL COUNTRY PARK
Carlton Road, Harrold, Bedford MK43 7DS
Email: hocp@bedscc.gov.uk Website: www.hocp.net
Tel: 01234 720016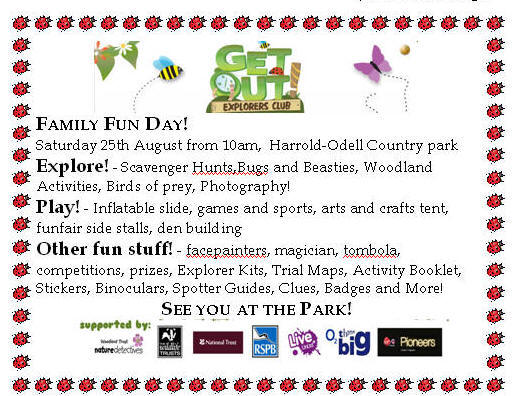 News from Harrold Odell Country Park
It's past mid summer already! Not that you'd think it. We've had the wettest drought on record over the last few weeks. All joking aside – the park was crying out for water up to the time the hosepipe ban was introduced. Now that the floods have subsided, everything looks refreshed. Water is once more flowing in the dykes, the seasonal ponds have been replenished and the coppice areas in the nature reserve we harvested last winter are re-growing like crazy.
There is an abundance of wildflowers in all areas of the park. We're looking forward to seeing species like the common spotted and bee orchid. Even the commonest flowers, when seen in profusion are
fantastically beautiful.
We have bees!! Richard has been working to set up some beehives on the island in the middle of the large lake. We got the first swarm at thebeginning of June with the promise of more. We have been looking to carry out much needed management over there for some time so having to look after these will mean getting across much more often. It will spur us on to better things and maybe lead to us selling organic park honey in the future.
The cattle are back grazing the river meadow. Staff and volunteers will be out digging up ragwort in this area as it is so toxic to grazing animals. It's at its most toxic when it dies back in the autumn. This common weed is everywhere along roadside verges and unmanaged open spaces. We won't be clearing it everywhere however, as it's the food plant of the Cinnabar Moth whose distinctive yellow and black caterpillars can be seen eating it. They are immune to the toxin but ingesting it makes them unpalatable to birds. This is why they have no need to evolve camouflage colours like the edible larvae of other moths and butterflies.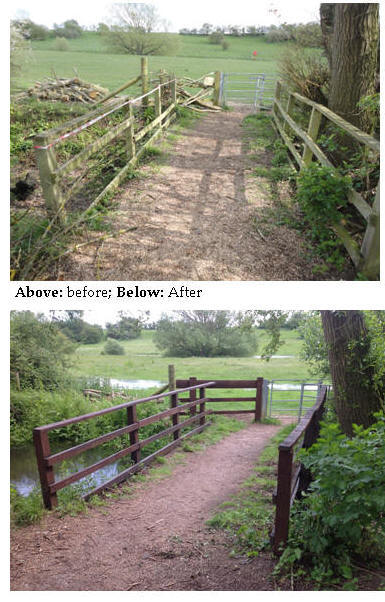 One of the latest refurbishment jobs carried out by the Friends Group was the refurbishment of the bridge over the dyke at the back of Kingfisher Lake that leads into the river meadow. Have a look at the
before and after photo's taken by Simon Carter and see if you can spot the difference?
Since the demise of the bird hide in April due to arson, we have been in consultation with various parties about getting an appropriate replacement and set up an appeal. Richard has been researching the
possibilities, both designs and costs.
Peter Hall, a woodsman living in Carlton has submitted the design most favoured and he's currently working to provide a detailed specification and costings. The plan is to construct a new hide from locally sourced oak (from Yelnow Farm) instead of shiplap.
We cannot believe how generous the communities around the park and general visitors have been with individual donations of over £500.00 by early June and pledges of help. By the end of June we'd received two individual cheques for £1,000.00 and another for £100.00! We are overwhelmed by people's generosity!
We will also be investigating the possibilities of applying for grants towards the costs estimated to be £12,000 - £14,000. Bedford Borough Council will be contributing as will the Friends of Harrold Odell. We want a larger facility that will carry us into the future and allow us to bring in school groups. Watch this space.
May we remind people that swimming in the lakes and river and using barbeques in the park is not permitted for your safety and that of others? There are however, plenty of tables provided for picnicking in
various parts of the park.
The Friends group is working on yet another project, the installation of additional bike racks next to the verandah at the rear of the café. We have been getting many more cycling groups recently and the racks by the main entrance are no longer sufficient.
In addition, they are kitting out the wood processing area outside the workshop so we can properly deal with our firewood stocks this autumn. Our thanks to the main men, Simon Carter, Trevor Sudds, Bob Collyer and John Donovan for subduing the arguments about construction and Peter Hall from Carlton for supplying the oak timber.
The fishing season began again on June 16th. Now that Vauxhall AC no longer lease the fishing we are running it ourselves. There are no day tickets only season permits as this is primarily a nature reserve. A
passport sized photo is required to go on the back of the permit and proof of possession of a current Environment Agency rod licence is also required. The permit covers the stretch of the river Great Ouse within the park boundaries and both lakes with a few exclusion zones
There are carp to 35lb, pike to 30lb, bream to 8lb, tench to 6lb+ in the lakes and chub to 6lb+, barbell to 16lb & perch to 4lb in the river. Fishing for pike is from Oct. 1st to March 14th and we observe the closed season from March 14th – June 16th.
Fishing Tariffs
Day & Night £63.00 Day only £40.00 Concession Day £16.30
Concession Day & Night (OAP/Junior) £28.80 Pike (from Oct 1st) £28.80
Events
On Thursday July 12th Bedfordshire Bat Group is running a Bat Walk starting from the main car park at 21.00hrs. There are only 20 places available therefore booking is essential. Please e-mail dragonfury_uk@yahoo.co.uk and speak to Kelly Robinson about your booking.
On Sunday July 22nd Derek Henderson is running a Craft Fair from 10am – 4.30pm. Anyone wishing to have a stall or find out more information, please e-mail derek@derekhenderson.co.uk
On Saturday July 28th Ranger Richard Dowsett is leading a guided walk around the park between 2pm – 4pm to celebrate Love Parks Week.
Although this is a free event, donations towards the new bird hide would be very welcome.
On Saturday August 25th from 10am there will be a Get Out and Explore Activity Day organised by Hannah Catmur as part of her media degree. Attractions include birds of prey, stalls, children's activities and many more. Contact hannahcatmur@gmail.com for further details. Look out for posters round the park nearer the time.
Health Walks
Starting at 10.30am every other Thursday from the café entrance we walk for an hour to improve your health and wellbeing. It's also an excellent opportunity to meet new people. There is always the option for a coffee and a natter afterwards. Contact janet.munro@bedford.gov.uk
Thursday 5th July; Thursday 19th July; Thursday 2nd August; Thursday 16th August; Thursday 30th August
Friends Task Days
We gather on the last Monday of the Month (a week earlier if a Bank Hol.) with the Friends of Harrold Odell. Meet at 10am at the cafe for tea followed by conservation or repair works with fellow volunteers for as long or as short a time as you like. Bring sturdy footwear, old clothes and a packed lunch. Refreshments and gloves provided. Next: July 30th. For more information, dates etc e-mail richard.dowsett@bedford.gov.uk or call 01234 720016. You can also look at our website for this and other information www.hocp.co.uk
Janet Munro Ranger
Magazine Deadline
Please send all entries for the September magazine to Tricia Hudson (mag1@odellbeds.net) or Catherine Corkery by August 12th at the latest. May we remind you that the editorial team exercises the right to edit, shorten or alter any items that are submitted. Also, the opinions expressed in the articles are those of the contributors and are not the responsibility of the editorial team.


THE MILL THEATRE, SHARNBROOK
Reg. Charity No 242164
Season 2012
START AT 7.30 PM (NOT 7.45 PM AS PREVIOUSLY)

Cash on Delivery 18th - 22nd September
A full on farce by Michael Cooney, son of the acknowledged master of the genre, Ray Cooney.
An assortment of characters including a DSS fraudster, an alcoholic DSS Inspector, a comatose hospital porter, a confused lodger, a bewildered councillor…and a washing machine with a mind of its own, contribute to a cautionary tale of complex intrigue, which becomes increasingly ridiculous and bizarre……
'Frantic, witty, absurd and hysterically funny''
An amateur production by arrangement with Samuel French Ltd
Tickets for Cash on Delivery will be available from 13th August at:
Sharnbrook Post office – in person
Bedford Central Box Office – 01234 269519*
10 % discount for 10 or more (excluding Charity performance)
*2 wheelchair spaces, easier access seating Rows A – C: hearing loop Rows A –E.

ADVANCE BOOKING for WEST SIDE STORY 16th – 24th NOVEMBER
''…one of the greatest musical masterpieces of all time''.
will be available during Cash on Delivery, but only at The Mill Theatre.
Enjoy fishing The Great Ouse?
Enjoy 'Full Mill membership' too!
The Theatre Trust owns the Fishing Rights of 'The Mill' island. To fish from the banks, in season, together with full
membership rights, is just £25 pa. To apply, please contact: Alan Capper, email: sattl@hotmail.co.uk
DIARY
July
1st 11.00am St. Peter's Patronal Festival Service, Harrold.
2nd 3.00pm Funeral at All Saints' of Dennis Bannard- Smith
5th 10.30am Health Walk, HOCP.
7th 6.30pm Quiz night and Bar-b-q, Village Hall.
10th 7.30pm W.I. Village Hall.
11th 3.00pm Senior Citizens' Strawberry Tea, Linden House.
12th 9.00pm Bat Walk, HOCP.
14th 10.00am Art and Craft Exhibition, St Mary's, Carlton.
15th 12.00pm " " " "
18th 10.30am Meeting Point at Madeline's, Rivendell, 15 Horsefair Lane.
19th 10.30am Health Walk, HOCP.
21st 9.45am All Saints' Amblers meet at The Bell.
22nd 10.00am Craft Fair, HOCP.
28th 2.00pm Guided walk around HOCP.
30th 10.00am Conservation tasks day, HOCP.

August
1st 10.30am Meeting Point at Catherine's, Manor Cottage, Harrold.
1st 7.45pm PCC meeting at the Rectory.
2nd 10.30am Health Walk, HOCP.
4th 10.00am Churchyard clean-up.
6th – 10th 10.00am 'Heroes' at Carlton Village Hall.
12th 10.00am Churches together Songs of Praise in All Saints' church.
16th 10.30am Health walk, HOCP.
25th 10.00am Get Out and Explore Activity Day, HOCP.
30th 10.30am Health Walk, HOCP.
Spot the deliberate mistake in the printed version of the mag - email to letters@odellbeds.net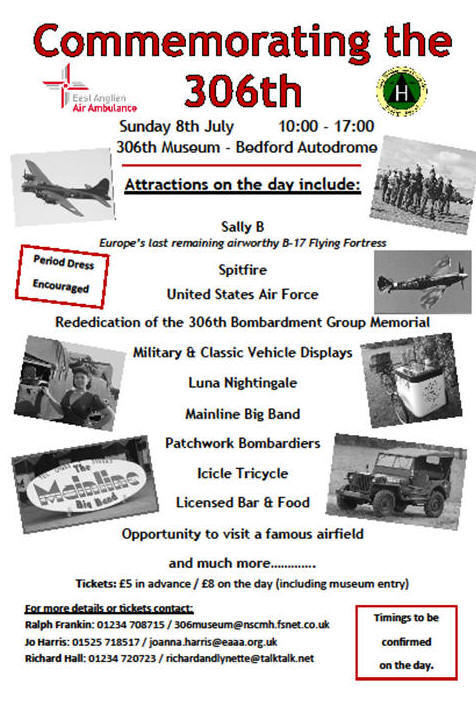 Walk the Woof Dog walking service
House visits to let your dog out
Please call Natalia on
01234 721018 or 07545 305643
Covering Harrold, Carlton & Odell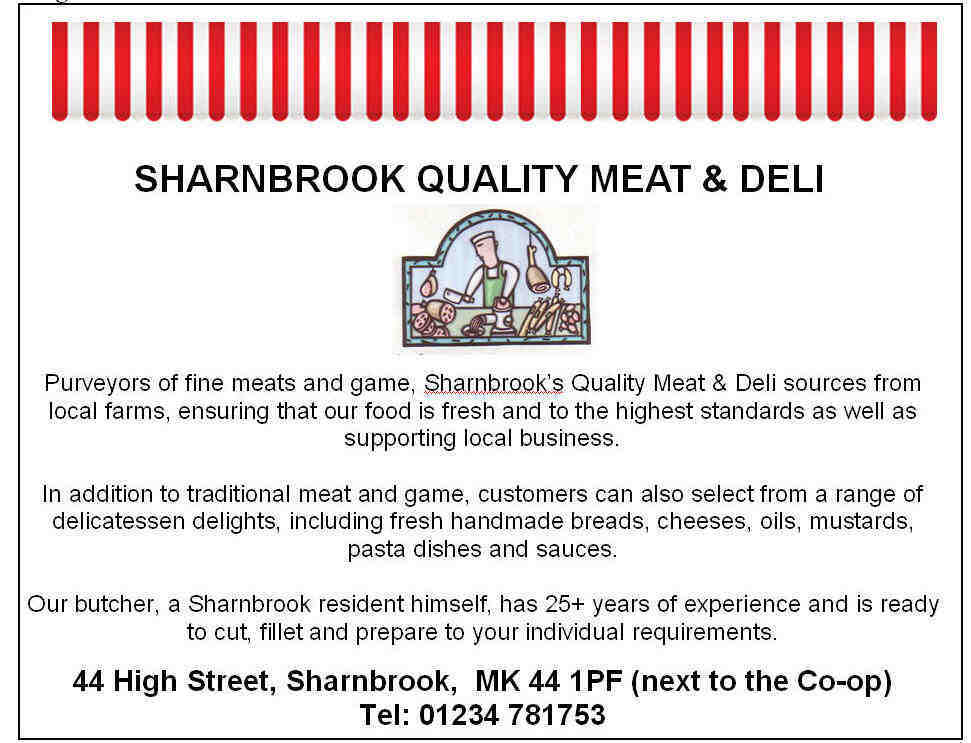 Alex Stubbs Flooring

Carpets, Vinyls, Laminates, Safety Flooring, Adaptions, Refits, Repairs

Supplied and Fitted

07976 260572

01234 240954

Great local pubs

<![if !vml]>
<![endif]>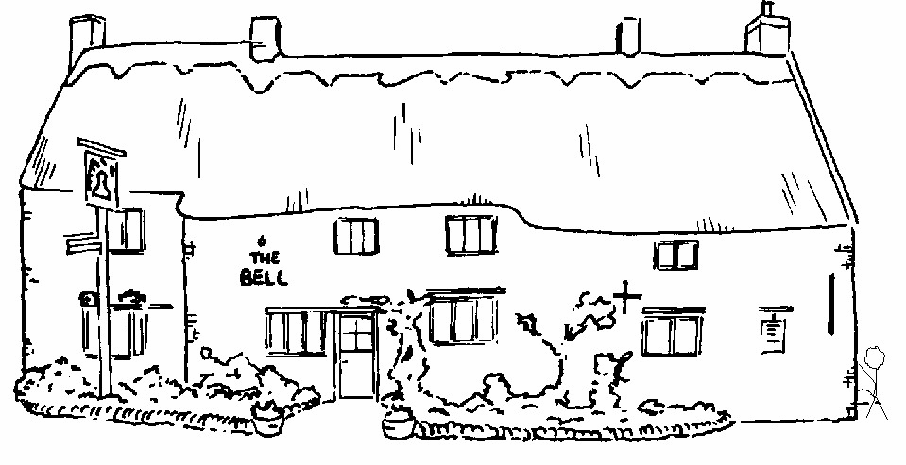 The Bell in Odell
As Featured in the 2010 Good Beer Guide
With the relaxed charm of a village local and a varied menu of
quality, home-cooked food you won't find any gimmicks here
just a Great British Pub!
Abbot Ale, IPA & Changing Seasonal & Guest Ales
Telephone 01234 720254
---
Last revised: June 29, 2012.