ODELL VILLAGE NEWS
December 2012/ January 2013
Round and About
A Nursery of Intrigue
Christmas will soon be upon us and I thought, what better time to talk about Nursery Rhymes and the pretty, charming little characters contained therein -HALT ... stop right there. I can think of little that is charming about the original meaning of these rhymes, and they were not destined for children's ears.
The nursery rhymes of today are mostly based on old political stories and ditties about people and events that happened long ago. Many of these songs go back many centuries - some date to mediaeval times. The old rhymes and songs usually had a hidden meaning and in their earliest form were carried about the country by strolling minstrels and were later performed in local inns and music halls. They were bawdy songs and full of innuendo and double-speak and the audience loved these simple songs. They knew and understood every saucy implication contained in the verses and would join in lustily with the chorus.
Needless to say the Victorians heartily disapproved of such lewdness and decided to clean up the ditties and adorned them with the charming illustrations and characters that we know today - and consigned them to the nursery. Many a saucy line fell by the wayside, indeed some of the verses disappeared entirely. No wonder many of the verses seem to make little sense to our modern ear.
Let me present some familiar nursery rhymes with their reputed original meaning ...sanitised, of course.
Rock-a-By Baby: as the rhymes go this is quite an innocent one. The rhyme prophesies the downfall of James II and his new baby son. James II needed a son. He had two daughters, Mary and Anne, but he needed a son. History has always pointed a doubting finger at the arrival of his son....the baby is said to have arrived courtesy of a warming pan. Rock-a-By Baby... they were in for a big fall and the King and baby had to flee the country. The Old Pretender never came to the throne nor did his son ... the Young Pretender. Both of James's daughters were destined to become Queen in the forms of 'William and Mary' and 'Queen Anne.'
Baa-Baa-Black Sheep is one of the oldest rhymes and dates back to mediaeval England. It does not refer to the pastoral scene that you might imagine. It is an early protest song dating to about 1272 concerning the tax on wool. Wealth in those days was measured in wool and taxes had to be paid. Firstly to the local lord (the Master) also to The Dame (a reference to the Church) leaving a little for the farmer who did all the work (the little boy who lived down the lane).
Doctor Foster is another old one and said to refer to Edward I (1239-1307) who was the Doctor Foster mentioned in the rhyme. On a visit to Gloucester during a violent rain storm he rode his horse across what he thought was a puddle but it turned out to be a deep hole and both King and horse were sent floundering. He had to be pulled out of the hole by his attendants and the King was so embarrassed he vowed he would never go back to Gloucester again ...and he never did.
Ride a Cock Horse is reputed to refer to Lady Godiva and her famous ride. The residents of Coventry were so delighted that Godiva was taking their part in the protest about taxes they vowed to honour her modesty and not to watch her as she rode by. Wearing nothing but the jewellery on her fingers (the rings) and some small bells attached to her feet to warn people of her approach Godiva set off and as we know, only one person watched - the 'Peeping Tom'.
Mary, Mary, Quite Contrary takes us to Mary Queen of Scots. Being a Catholic Queen the silver bells referred to the use of bells in church services. The cockle shells related to religious badges and the maids all in a row, of course, were her ladies- in- waiting.
Little Jack Horner happily eating his Christmas pie seems to refer to Thomas Horner steward to the Abbot of Glastonbury during the reign of Henry VIII. It refers to the fact that before delivering the title deeds of properties to the King at the time of the Dissolution, he "stuck in his thumb" and pulled out the title deeds to a handsome property for himself, reputed to be Mills Manor where the Horner family live to this day.
Humpty Dumpty was not a person at all but refers to an early cannon or mortar. During the Civil War the Royal forces mounted the cannon on top of a church tower in Colchester where it dominated the surrounding area until it was finally brought crashing down by the Parliamentarians. The Royalists tried to retrieve their cannon but it was smashed beyond repair.
Sing a Song of Sixpence is said to refer to Henry VIII. The Queen (Catherine of Aragon) was sitting in the parlour and the maid in the garden is said to represent Anne Boleyn. A quick reference to Ring-a-Ring of Roses: this happy little song is not happy at all as it is about the symptoms of the plague - or black death. The ring of roses refers to the fiery rash ... the pocket full of posies - in those days they thought the smell of flowers and spices would protect them, whilst a-tishoo a-tishoo all fall down rather speaks for itself.
It seems a sad note to end on ... but may I take this opportunity to wish you all a Merry Christmas and a Happy New Year. Barbara Corley
Burns Night
Celebration
Come and join in with the
Burns Night celebrations at:
Odell Village Hall.
On
Saturday 19th January 2013.
Tickets: £10.00 for a 2 course traditional Haggis Supper including a dram of whisky and dancing.
Burns address courtesy Martin Cameron.
Contact Leslie 01234 721860.
Proceeds to Harrold Medical Practice.
Obituary: Shirley Maycroft (Stratton)
Shirley was born in a small cottage in Church Lane in 1937 to her parents Charlie and Florence Stratton. The youngest of four children, she attended Odell School before going to Harrold. With her pal Sally Brown and my pal Keith Drage, who I have lost in the past few months, we were children in the War years in Odell and into our teens in the 40s and mid-50s.
Shirley was my tennis partner when Odell had a good tennis club after the War and also played football with a group of village children in the road outside my house, with the front door and gate as goals. (We could not do that today!)
Shirley married Carl Maycroft and moved to Denton near Northampton. They met at Odell Leather Factory where they both worked.
The Strattons were an old Odell family and we get fewer as the years go by. Shirley's son Mark came from Australia to attend his mother's funeral and stayed with me for a few days. Shirley will be missed by her many friends in the area. Peter Coleman
Senior Citizens' Christmas Lunch
The Senior Citizens' Christmas Lunch will take place on
Wed 12th December
At 12.30
In the Village Hall
Please let Jill know (720261) by 3rd December if attending
Coffee Morning at Hobbs Green Farm
Christmas Hamper coffee morning
On 7th December
At Hobbs Green Farm
From 10.30am – noon
In aid of Bedford Women's Refuge
Admission free Please bring Christmas Fayre
Birthdays
Happy birthday to:
Charlotte Lloyd 10 on 24th January and to everyone else with a birthday in December or January.
Odell Parish Council News
Highways:
The painting of "Dragons Teeth" road markings to provide additional warning of the change in the speed limit at the Sharnbrook end of the village has been delayed but is scheduled for completion before Christmas.
The parking congestion experienced in Horsefair Lane during the summer months has eased as various building works are now complete. Council will continue to monitor. The Parish Council has declined to have yellow lines painted down the lane as these would not be enforceable by Councillors.
Landscaping of the overgrown garden area outside the High Street flats will start week commencing 3rd December.
Play Area (Horsefair Lane end of HOCP)
Dogs: It has been noted that some local residents are still taking their dogs into the play area. For the health and safety of children please observe the "no dogs allowed" rule. You can also help by ensuring that the gates to this area remain closed at all times.
Footpaths
Odell Parish Fields footpath is now established. The general vegetation requires topping however this has been delayed by bad weather and we must wait until the ground is relatively firm again.
The illegal use of scramble bikes within Odell Wood continues. You are encouraged to reports any sightings to the Police.
Some local footpaths across fields have not been re-instated by the landowners. Our Footpaths Officer will be working with landowners to address this.
Podington Wind Farm Application
Approval for this was recently granted by the Planning Inspectorate. Bedford Borough Council has submitted a Section 288 appeal against this decision although it may be some time before the appeal is heard.
Community Heartbeat Defibrillator
BT has offered up the Red phone box on the High Street for adoption as it is no longer deemed economically viable to provide this service. Council has decided to adopt the phone box; BT will decommission the equipment and in its place a defibrillator will be installed for community use. The device will be secured in a vandal proof box. In the event of an emergency you would dial 999 and the operator would provide you with the code to open the box to access the device. The device is simple to use with very clear instructions on how to proceed. More information will be provided to the community when the device is in situ.
Broadband
Council encourages all residents to register their interest in having superfast broadband. To do so please follow this link: www.bedford.gov.uk/broadband.
Birth Announcement
Kathy and George are thrilled to announce the safe arrival of our second gorgeous granddaughter ''Maria Grace Dunn", this time to John and Abbie on November 2nd 2012, weighing 8lb 1oz. A lovely niece for Gill Gary and Michael and a future 'partner in crime' for cousin Edie!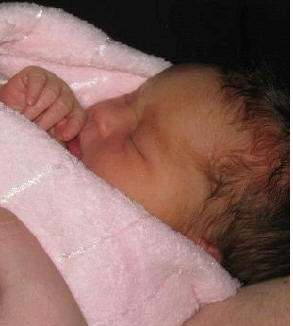 Maria Grace Dunn
Congratulations and love to the new family x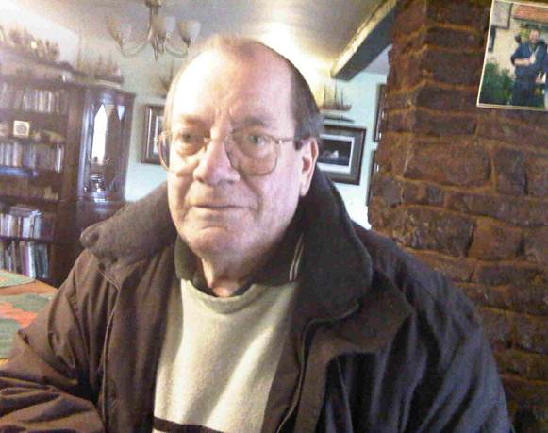 Malcom
Malcolm, our local newspaper deliverer would like to wish all his customers a very Happy Christmas and best wishes for the New Year.
Wodehill Cheese – Now Available!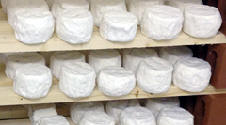 Wodehill Cheese is being hand-made here in the village of Odell. The milk comes from a herd of jersey cows kept and milked in Carlton. Wodehill Blue is a semi-soft creamy blue cheese that is tended for three weeks before being available for purchase. Depending on taste, the cheese can be eaten straight away or kept to mature. It can also be used for cooking. For more information please look at the website www.wodehill.co.uk where recipe ideas will soon be available.
Looking for a Christmas gift? Wodehill cheese hampers which contain Wodehill Blue, local chutney and biscuits for cheese are available from £15. Please contact Caroline on 01234 824298 or email caroline@wodehill.co.uk to place an order.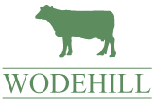 Cheese to be eaten at Christmas should be ordered by the 15th of December.
W.I. News
Christmas came early at our November meeting when we made our own Christmas cards. We had expert tuition from Doreen on the art of folding paper to make Christmas trees to decorate the front of our cards. Folding our brightly coloured paper to create attractive cards, we were all keen to decorate them with brightly coloured gold and silver stars, diamante beads and other glittering adornments. We all decided it was a good fun evening of home entertainment with a satisfying end result!
On Tuesday, 11th December at 7.30pm we look forward to a Bring and Share Christmas Meal at the home of Brian and Jill Cheadle at Rectory Farm. Members are reminded that the theme is 'Father Christmas'. On Tuesday, 8th January at 7.30pm in the Village Hall, we will be Kurling under the guidance of Doreen, our referee. Members are asked to bring along nibbles to go with a glass of wine.
New members are always welcome and if you need any more information please ring Rachel Halton on 720572. Ladies, just come along to the Village Hall on the second Tuesday of each month and see what we do and how we enjoy ourselves. Jane Eshelby
The 58 Story – The Boys Brigade and Odell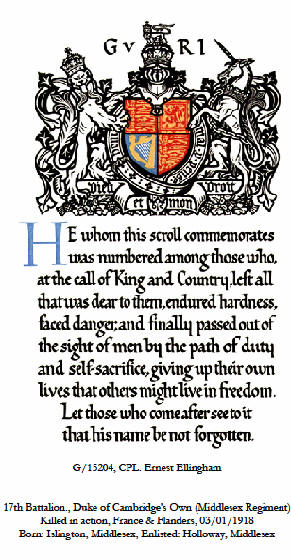 It was good to welcome members of the 58th London Boys Brigade to the Remembrance Day Service at All Saints' Church Odell, on 11th November. Further to the article about the "58" Group in November's magazine, one of the members, Tom Ellingham, who is currently updating "The 58 Story", sent this email:
'Many thanks for highlighting what we are trying to achieve with the 58 Story. The Company, as you say, has a strong connection with Odell and its community going back many years. My memory of the village and camping in the Scout field dates back to 1952 when I first visited as a 7 year old.
You may be interested in the attached page from the 58 story which is particularly relevant to Remembrance Day. The 58th were camping in Odell when World War 1 broke out. Many of the Old Boys and staff were members of the Territorial Army and were immediately recalled. The Company Bible records the names of the 50+ Company members who died during the four years which followed. '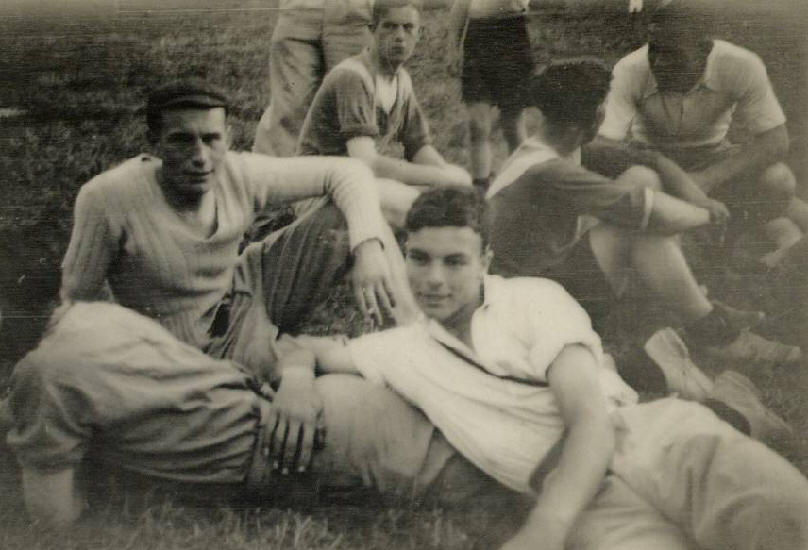 All unbeknowingly, however, an era was coming to an end. For some years the company had been camping at Odell, Bedfordshire and it was while there on August Bank Holiday 1914 that news was received on the outbreak of war. Several Old Boy members of the Territorials were immediately recalled and some, alas, had made the supreme sacrifice ere many months had passed.
As was to be expected hostilities severely disrupted the life of the company. Most of the officers eventually joined the forces, the Old Boys Club closed down and the company roll dwindled.
Captain Cumming himself went to France and was attached to the staff of the Boys Brigade hut at Rouen, and while he was away the company was carried on by Mr Charles ("Wag") Newell.'

Above: The Boys Brigade Army & Navy Rest Hut badge.
Military Rest Huts in Rouen & Edinburgh were paid for, maintained and staffed by the BB throughout WW1
If you have any stories or photographs of the Boys Brigade in Odell which may be of interest to Tom, please send them to: ellinghamt@gmail.co. or write to him at New Bells House, New Bells Lane, Haughley Green, Stowmarket, Suffolk IP14 3RN. Please note the addition of 't' after ellingham in the email address.
The Wild Things
Wild Things are coming to Bedford!! The Place Theatre to be precise. Following on from their 2011 George's Marvellous Medicine No Loss Productions and Dumbstruck! Productions have teamed up again to create a brand new show based on the classic Maurice Sendak book Where The Wild Things Are. The show is aimed at the whole family with original music by Bedfordshire composer Sophie Viney, monsters designed by Bedford Illustrator David Litchfield and a cast and crew of local professionals dedicated to bringing quality theatre to the people of Bedfordshire that is high energy, good fun and a reasonable price.
Our hero Max is in trouble and has been sent to his room without any supper to think about his behaviour, but a wish made on a shooting star triggers some extraordinary events and before he knows what's happening Max is off on a journey, with the help of the audience of course, to the place where the Wild Things are. Will they welcome him with open arms or will he have to cause a Rumpus to avoid becoming a tasty snack? Fans of the original picture book will delight in rediscovering the adventure and excitement and for those who are new to Max and The Wild Things a real treat is in store.
The show runs at The Place Theatre, 12 – 24 December, Monday to Saturday 1pm & 6.30pm, Sundays 10am & 1.30pm. Please see website for Tickets and full listings of dates and times.
www.theplacebedford.org Group Booking Enquiries 07721 529931
The Bell landlords, Katie and Will, celebrated their two year anniversary in Odell with a live band, food for all and fireworks, on 9th November.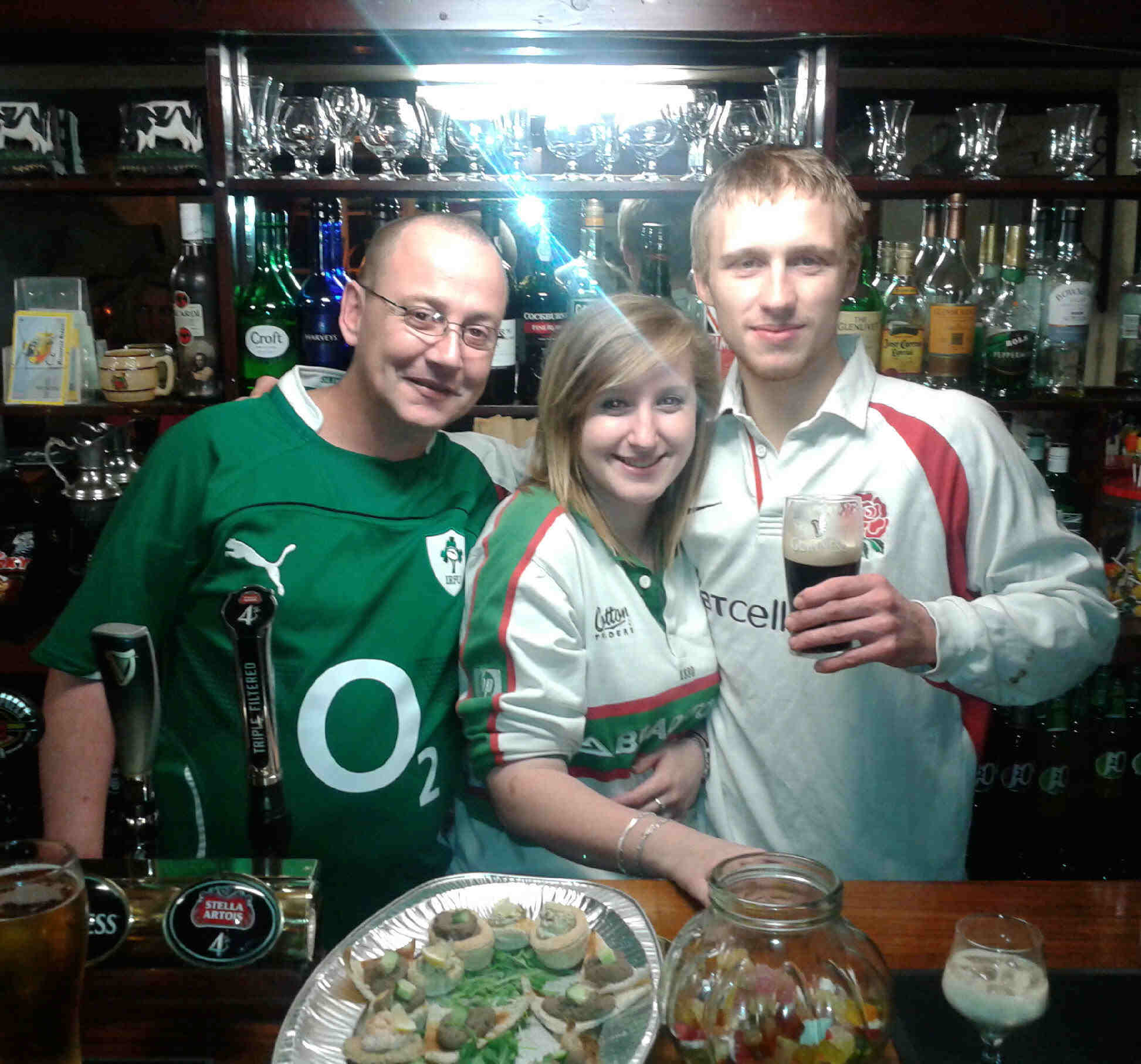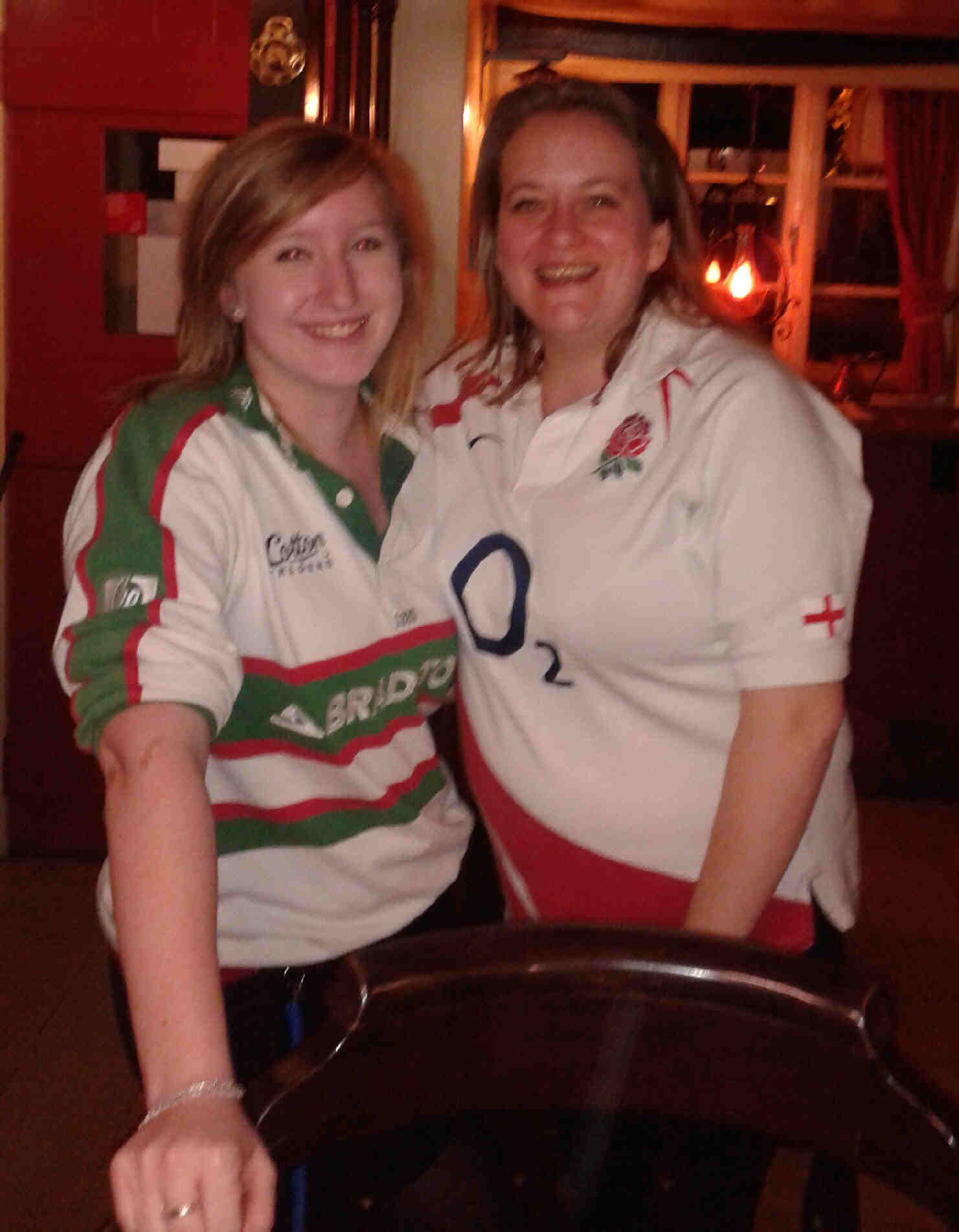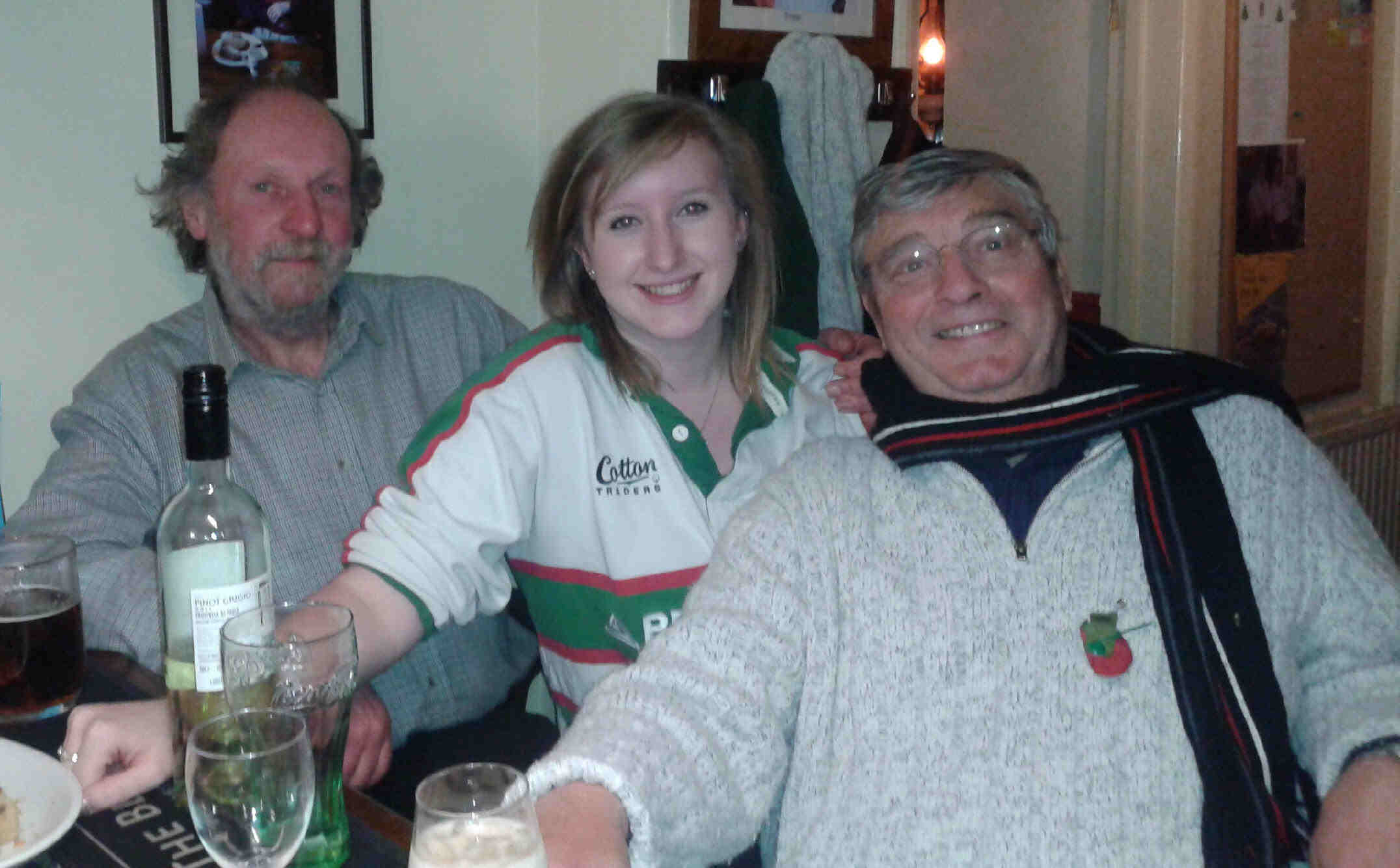 Harrold-Odell Country Park
Email: hocp@bedscc.gov.uk Website: www.hocp.net
Tel: 01234 720016
News from Harrold Odell Country Park
We are now in full flow when it comes to all the winter tasks round the park. The annual tree survey was undertaken in November. This was to look at all the major trees checking for rotten branches and other hazards.
Last year, a number of problems were identified and the majority dealt with gradually through the year. As a consequence, far fewer problems have been highlighted this time although there are a number that we will be monitoring, especially if we continue to have bad weather.
The park's volunteers are working on clearing back the edges of the main route through the nature reserve and carrying out the next wave of willow thinning around the seasonal ponds. All the trees here are the same age, too close together and therefore not of the best quality. By coppicing the weakest specimens we will be letting in more light to encourage a greater variety of wild flowers next year. When the stumps re-grow, we will get trees of differing heights and ages. This habitat will appeal to a greater diversity of insects and birds.
We are also responsible for other pockets of land, principally Daisy Bank Picnic Site near Felmersham, Stevington Country Walk, Yelnow New Wood plantation and Pinchmill Islands near Sharnbrook. Similar work will need to be undertaken at these sites as well.
This is the first year that we have been running the angling within the park ourselves. Previously Vauxhall Angling Club leased the rights. Although this has never been an easy place to fish, our anglers have caught some very notable specimens.
We own the stretch of the river within the park boundaries and two lakes. In the river, barbel to 12lb+ have been caught along with large chub, pike and perch. The large lake has some truly huge carp – I'm talking over 30lb in weight plus pike to 30lb and large bream and tench. Several double figure pike have come out of the small lake, falling to spinners and dead baits.
If you are interested in finding out more about the fishing come and see the Bailiff, Trevor Smith, who is based in the workshop behind the café. He also deals with firewood orders. End of season permits are now available from the Bailiff allowing you to fish until March 14th costing £16.30 (cash only). Please note that we do not issue day tickets at Harrold.
The new play equipment near the café has proved to be a massive hit. All we have to do now is to install fencing when funds allow. We're aiming to incorporate at least one picnic bench for families to sit round while their children use the apparatus. Watch this space.
The cattle we've had in the river meadow all summer have now been removed by the grazier but dogs are still required to be under close control. We've had a number of instances where owners have allowed their pets to chase the wildlife and this will not be tolerated under any circumstances. Both Richard and I are authorised to issue fixed penalty notices for this and littering, which includes dog fouling. A gentleman was recently caught by a Borough Council Enforcement team allowing his dog to foul in the river meadow. He was subsequently fined.
On a lighter note, Richard and I would like to take this opportunity to wish everyone a very Merry Christmas and a Happy New Year and we hope to see you all over the coming months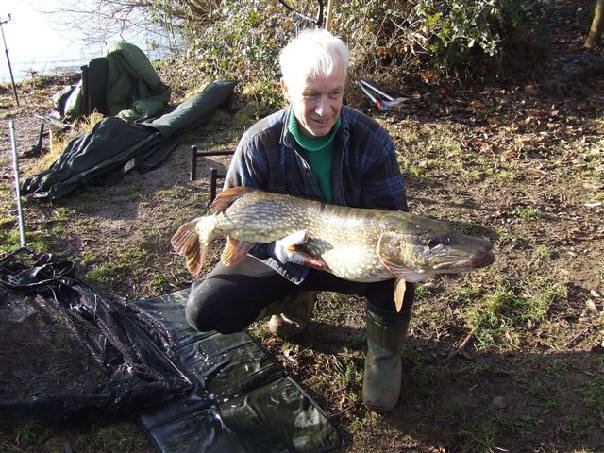 26lb pike HOCP Jan 11
Dates for your Diary
Health Walk
Meet every other Thursday at 10.30am at the café entrance. We walk for an hour to improve your stamina and overall wellbeing with the opportunity afterwards to have a coffee and a natter in the café. Leader Janet Munro Tel. 01234 720016 or e-mail janet.munro@bedford.gov.uk
Thursday December 6th Everyone is welcome on this walk but the Xmas Lunch afterwards in the café is now fully booked by walkers already registered.
Thursday December 20th
Thursday January 3rd
Thursday January 17th
Friends Task Days
Usually held on the last Monday of the month (a week earlier if a Bank Holiday). Meet in the café at 10am for refreshments followed by conservation work to enhance the park.
Refreshments and tools provided but bring suitable sturdy clothing and footwear plus a packed lunch. Contact Richard Dowsett on 07792 721866 or e-mail Richard.dowsett@bedford.gov.uk
Monday December 10th Xmas Social existing members only
Monday December 31st
Monday January 28th
Janet Munro, Ranger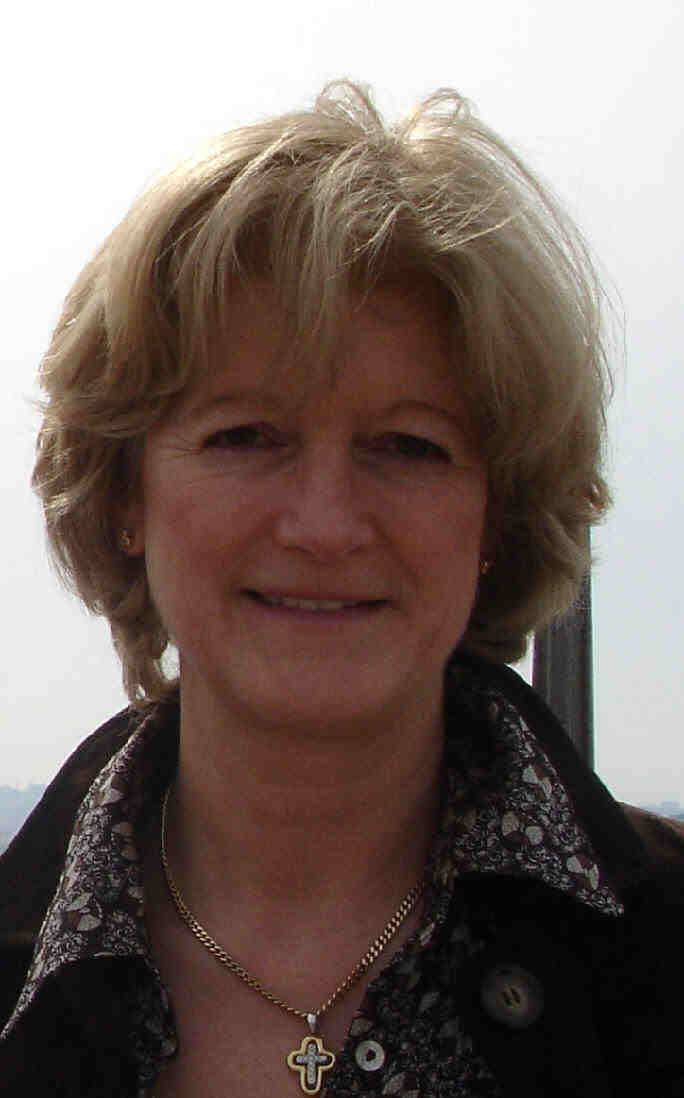 Alison Foster, Borough Councillor,
Reporting for Harrold Ward (Harrold, Odell, Carlton, Podington, Hinwick, Farndish, Wymington and Little Wymington)
Broadband Update
The Bedford Borough Partnership Board has match funded the £440k received from Broadband Development UK (BDUK) to improve broadband access and speeds. The aim is to have 90% of premises receiving above 24 Mbps (superfast) broadband by 2015, with 100% having at least 2 Mbps (basic). The Joint Local Broadband Plan is being carried out alongside MK and Central Bedfordshire Councils.
Formal procurement for the delivery of projects is underway and it is expected that this will be completed in the middle of 2013, with most of the work being carried out in 2014. The Council is keen for as many people as possible to register their interest in having access to superfast broadband as this will help them arrive at a better deal with the prospective supplier if it can be shown that there is a demand. Residents can register at www.bedford.gov.uk/broadband. Odell so far has the highest sign up rate per head of population in the Borough. Well done Odell!!
Community Safety Forum
It is so important for people to be able to raise local safety and security issues and know that people are dealing with them and reporting back on what they have done. The first Harrold Ward Community Safety Forum was held in Carlton on 5th October and was well attended by members of the agencies responsible for community safety. Residents were able to raise their concerns directly with those agencies responsible for community safety. I am very grateful to Chief Inspector Mark Upex, Sergeant Jason Geary of the Rural Local Policing Team, PCSO Cameron Giles, Pete Buckingham, Bedfordshire Fire and Rescue Service and Sally Flint the Borough's Communities Manager for attending. The next Harrold Ward Community Safety Forum will be held in Wymington Memorial Hall on Thursday 31st January at 7.30.
Hospital Petition
All political parties on the Council have agreed to an online petition calling for services to be maintained at Bedford Hospital. As part of the Healthier Together review of hospital services in the South East Midlands area, two hospitals of five in Bedfordshire, Northamptonshire and Buckinghamshire face the possibility of seeing some services such as A& E and maternity downgraded in an attempt to specialise services on specific sites to improve quality and secure savings.
Residents can sign the petition at www.bedford.gov.uk/supportbedfordhospital. More information on the Healthier Together proposals can be found at http://www.healthiertogethersoutheastmidlands.nhs.uk/.
Neighbourhood Plans
All parish councils will have recently received a copy of the Council's guidance on how communities can put together a Neighbourhood Plan. As part of the Localism Act 2011, Neighbourhood Plans can be used to set out the priorities for the use of land and buildings in a particular area. The Plan must be in general conformity with the Council's Local Plan, and can therefore not prevent development that has already been approved in that document. However, Neighbourhood Plans can put forward the case for more development in the area or set out policies for buildings to be designed in a certain way.
The Council would be happy to assist parish and town councils or neighbourhood forums in producing their plan. More information can be found at; http://www.bedford.gov.uk/environment_and_planning/planning_town_and_country/what_is_planning_policy/national_policy.aspx
If you have any issues or concerns you would like to raise with me directly I can be contacted on my mobile 07773371190 or by email on afield_foster@btinternet.com
The Mill Theatre, Sharnbrook
www.sharnbrookmilltheatre.co.uk
Happy Christmas, One and All! Best Wishes for 2013 and Happy Theatre-going!
Christmas cards of The Mill Theatre:
A5 Colour, 2 aspects of The Mill Theatre, £2.50 / single scene pack of 5, including envelopes; also framed prints from watercolour by Rob Maddams, £20/£22.50 – Gift idea?
Contact Theo Gibbs 782377 (message).
Season 2013 (More details in later editions).
¨ March 19th – 23rd: Alan Bennett's The History Boys.
¨ May 18th – 25th, Sat. matinee May 25th: Jule Styne & Stephen
Sondheim's Gypsy.
¨ September 17th – 21st: Peter Quilter's Glorius.
¨ November 19th – 23rd: Stephen Sondheim's Company.
(All evening performances at 7.30 pm).
Tickets available about 5 weeks before opening night from Sharnbrook Post Office (in person) or Bedford Central Box Office – NB this has moved to Tourist Information Centre in St Paul's Sq. 269519 / 718112* (*NB new number; old number not valid from Feb. 2013).
Performers! The History Boys (19th – 23rd March). Director Sam Turton. Read Through: 11th December; Auditions: 13th December all at 7.30pm at The Mill Theatre. Enq's: 07828727689 or email: tuczemskyi@hotmail.com.
The next musical at The Mill Theatre is Gypsy, (18th - 25th May 2013 including one Saturday matinee). The Workshop for this show is on Monday 26th November at 7pm for children and 7.30pm for adults.
Auditions: Sunday 2nd December, 4pm for children and 6pm for adults. Please contact Cara Sigsworth: cara.h@ntlworld.com for further information.
Diary
December
2nd 4pm Christingle Service at St. Peter's, Harrold.
5th 7.30pm Christmas Decorations Demonstration at URC.
6th 10.30am Health Walk, HOCP.
7th 10.30am Charity Coffee Morning, Hobbs Green Farm.
8th 10am Church Decorating, All Saints'.
8th 10am Christmas Coffee Morning, Harrold Chapel.
9th 10.45am Toy Service, URC.
10th 10am Conservation Tasks Day, HOCP.
10th 4pm Christingle Service, Chellington.
11th 7.30pm W.I. Christmas meal, Rectory Farm.
12th 12.30 Senior Citizens' Christmas Lunch, Village Hall.
13th 7.30pm An evening of Seasonal Music, All Saints' Church.
15th 9.45am All Saints' Amblers meet at The Bell.
15th 5pm Carols on the Green, Harrold.
16th 6.30pm Carol Service, URC.
19th 11.30am Meeting Point Christmas Lunch at Madeline's, 15 Horsefair Lane.
20th 10.30am Health Walk, HOCP.
23rd 10.30am Holy Communion, All Saints'.
6pm Carols by Candlelight, All Saints'.
25th 10.30am Worship Together and Holy Communion, All Saints'.
30th 10.30am Churches Together, All Saints'.
31st 10am Conservation Tasks Day, HOCP.
January
1st 9.45am All Saints' Amblers meet at The Bell.
3rd 10.30am Health Walk, HOCP.
8th 7.30pm W.I. Village Hall.
9th 10.30am Meeting Point at Jane Smith's, Horsefair Lane.
14th 9.15am Reflecting on Christian Unity, Church House, Carlton.
15th 8pm " " " Harrold URC.
16th 9.30am " " "St. Peter's, Harrold.
17th 10.30am Health Walk, HOCP.
17th 8pm Reflecting on Christian Unity, All Saints', Odell.
19th Burns Night Celebration, Village Hall.
20th 10am United Service for Christian Unity, St. Mary's, Carlton.
23rd 10.30 Meeting Point at Jane Eshelby's, Newton House,
Avenue Rd.
28th 10am Conservation Tasks Day, HOCP.
February
6th 10.30am Meeting Point at Sarah's, 9 Horsefair Lane.
Magazine Deadline
Please send all entries for the joint February 2013 magazine to Tricia Hudson (ed at odellbeds.net) or Catherine Corkery by January 12th at the latest. May we remind you that the editorial team exercises the right to edit, shorten or alter any items that are submitted. Also, the opinions expressed in the articles are those of the contributors and are not the responsibility of the editorial team.
PLEASE SUPPORT OUR LOCAL ADVERTISERS: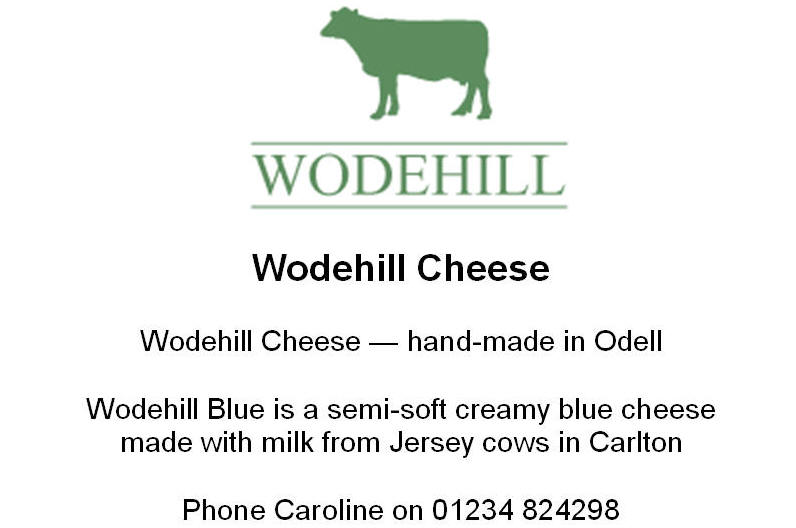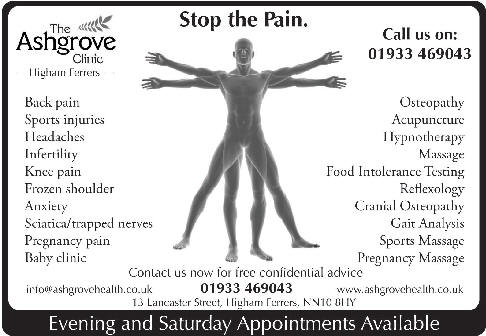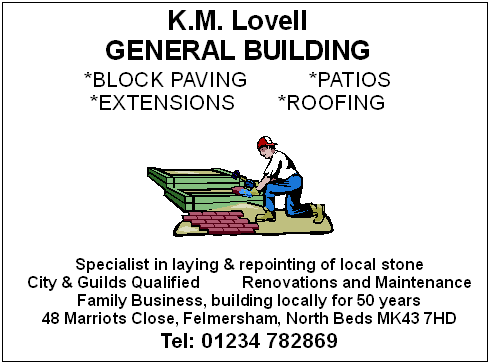 Alex Stubbs Flooring
Carpets, Vinyls, Laminates, Safety Flooring, Adaptions, Refits, Repairs
Supplied and Fitted
07976 260572
01234 240954
Great local pubs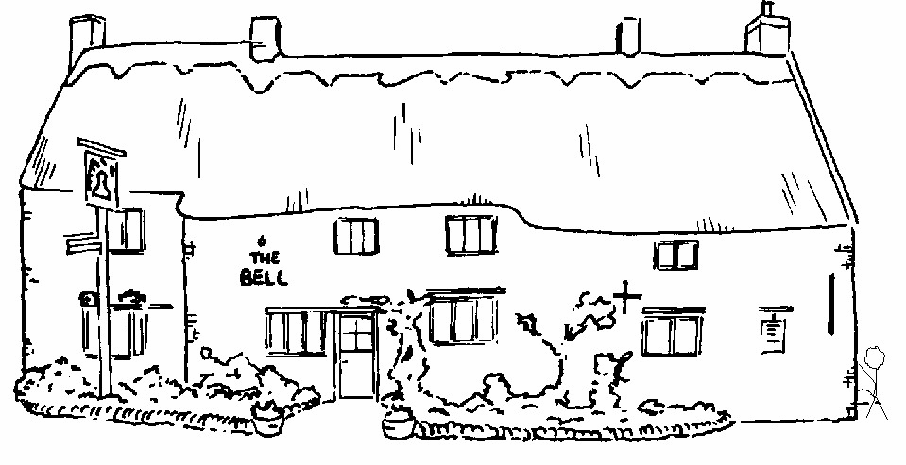 The Bell in Odell
As Featured in the 2010 Good Beer Guide
With the relaxed charm of a village local and a varied menu of
quality, home-cooked food you won't find any gimmicks here
just a Great British Pub!
Abbot Ale, IPA & Changing Seasonal & Guest Ales
Telephone 01234 720254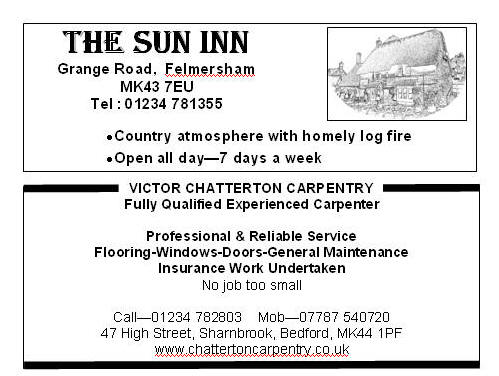 ---
Last revised: November 24, 2012.