ODELL VILLAGE NEWS
April 2012
The Bell to the Rescue at The Senior Citizens' Lunch
Popular TV refers to Fireman Sam as the hero next door but I would like to propose The Bell for the amazing emergency service award.
The committee had arrived at the village hall at ten am and set all the
tables for our expected 84 guests. All was ready when Jim Wheeler's carer dashed across the road to inform us that the fish and chip shop had just rung to say that they had a problem with their fryers and could not supply our order. It was now about half past eleven and our guests were due to arrive at twelve thirty.
It was the staff at the Bell who came to the rescue cooking and delivering eighty portions of sizzling hot chips with less than an hour's notice, they could not have been more helpful.
Jane Eshelby and Doreen Wheeler sped off to Sainsbury's and bought ample quiches and with the peas, bread and pudding we had already prepared disaster was averted.
Thankfully all the diners were in good spirits and did not seem to mind the change in menu. Marion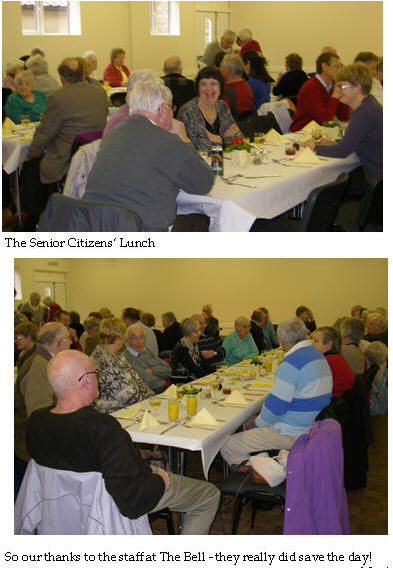 Birthdays
Happy birthday to…
Rebecca Causton who will be 7 on the 3rd , and to Tania Fulford who will be 16 on the 5th and to everyone else with a birthday in April.
The Bell to the Rescue at The Senior Citizens' Lunch
Popular TV refers to Fireman Sam as the hero next door but I would like to propose The Bell for the amazing emergency service award.
The committee had arrived at the village hall at ten am and set all the tables for our expected 84 guests. All was ready when Jim Wheeler's carer dashed across the road to inform us that the fish and chip shop had just rung to say that they had a problem with their fryers and could not supply our order. It was now about half past eleven and our guests were due to arrive at twelve thirty.
It was the staff at the Bell who came to the rescue cooking and delivering eighty portions of sizzling hot chips with less than an hour's notice, they could not have been more helpful.
Jane Eshelby and Doreen Wheeler sped off to Sainsbury's and bought ample quiches and with the peas, bread and pudding we had already prepared disaster was averted.
Thankfully all the diners were in good spirits and did not seem to mind the change in menu. So our thanks to the staff at The Bell - they really did save the day! Marion
Village Hall, Pavenham, MK43 7PH - Nursery Plant Sale
Saturday 12th May, 10.30am – 2.30pm
Alpines, Bedding, Clematis, Geraniums, Herbs, Perennials and Shrubs, Sundries, Vegetables.
Buy from the growers; high quality, unusual plants, keen prices & good advice!
Entrance £1.20, free parking, plant crèche, refreshments, tombola,
children's playground
(in aid of the Friends of St Peter's – keeping our church building in good repair : Charity no 802696)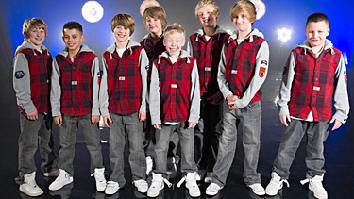 Kazzum!
If you were watching the finals of Sky Television's 'Got to Dance' on March 4th you will have seen an energetic and dazzling performance by 'Kazzum' – a street dance crew of boys aged 11 or 12 years.
Kazzum is part of the 'Dance Vybe Dance School', based in Sharnbrook. The crew, who are trained by Ed Jones, a 16 year old currently doing 'A' levels at Sharnbrook Upper School, were awarded 3 Gold Stars in August at their audition for the show, for which thousands of hopeful dance acts auditioned. At the semi-finals, judge Kimberley said of Kazzum:
"You guys absolutely smashed it. I think you boys paired with Ed [their choreographer] are a powerhouse team worthy of a gold."
When they went on to qualify for the finals they were told of their success by Kimberley Wyatt herself, who had come to Sharnbrook especially to give them the good news.
Although Kazzum didn't ultimately win the 2012 series, they set an incredibly high standard for future young street dance acts.
If you are interested in finding out more about Kazzum, contact dancevybz@aol.com Or phone Steph on 07710 478118
We are sure to see even more of these talented young dancers in the future.
Round and About
What's in a Day
Have you ever wondered why our time has been divided up in the manner that it has?
A year is clearly recognizable. The seasons keep coming round and when spring bursts into fresh new life with plants, trees, birds and beasts the idea of a new year appears obvious. If spring bursts into life and summer is a season of plenty then the autumn (or fall) is when the life cycle declines into winter's sleep. Yes, you can understand a year and its seasons.
It is also easy to recognize a day. A day is clearly defined as that period of time between one bright dawn and the next.
In earlier times mankind obviously found it convenient to divide the year into manageable time segments. The seasons looked after themselves and could not be argued with, but, "man" decided that he could "manage" his days and weeks.
Quite why we have seven days in a week nobody really knows but it was clearly decided in early history that this was a sensible period in the time scale. The "week" first put in an appearance in Asia Minor. It was introduced into the Roman calendar in the 4th century when the Romans decided to name these "days" after the sun, moon and certain planets.
When the idea of a calendar was introduced into Northern Europe the Teutonic tribes were at their strongest and they decided to introduce the names of Germanic deities for their days of the week. In England we have a mixture of both styles due to our Roman, Viking and Saxon heritage whereas in Southern Europe they remain true to the Roman calendar.
The days of the week are, therefore, derived either from Teutonic deities or Roman deities. Early Romans (1st century) used Saturday as the first day of the week but as worship of the sun increased "Sun day" (Sunday) advanced from second position to first day of the week and Saturday was reduced to seventh position.
As a matter of interest I am setting out below the roots governing our own days of the week.
Sunday The name comes from the Latin "dies Solis" meaning "Sun's Day" (Sunday) and is the name of a pagan Roman holiday.
Monday This name comes from the Anglo Saxon "Monandaeg" - the "Moon's day" - the second day of the week, sacred to the Goddess of the Moon.
Tuesday This day is named after the Norse god "Tyr". The Romans called this day after their War god "Martis".
Wednesday This day is named to honour "Wodan" (Wodin). The Romans called the day "Mercurii" after their god, Mercury.
Thursday Named after the Norse God "Thor". The Romans called this day "dies Jovis" after their god, Jupiter.
Friday This day is named to honour the Norse god "Frigg". The Romans held this day sacred to their god Venus.
Saturday This day is called "dies Saturni", - Saturn's Day - by the Ancient Romans.In Anglo Saxon it is called "Sater Daeg".
Barbara Corley
W.I.News
At our March Open Meeting we welcomed Barry Halton an avid supporter of the Campaign to Protect Rural England. Set up in 1926 after the First World War CPRE works to keep our countryside green and beautiful. It campaigns to protect rural organisations with freedom to operate locally, supports Parish Councils, campaign groups and even individuals. It provides good publications on how to respond to planning applications. CPRE has branches in all counties and has an office in Bedford set up in 1987. It seeks support from scientists, environmentalists and students who work on a voluntary basis, with many famous people supporting its cause, including President Bill Bryson. Bedford branch runs a non- competitive Award Scheme. Categories include landscape improvement, building in the landscape, conservation of buildings, new buildings, new materials and the use of traditional materials judged purely on merit. Barry showed us photos of the many award winners, some of them very familiar places such as Odell Church Yard, Harrold and Odell Country Park and Yelnow Farm.
The next meeting will be held in the Village Hall on Tuesday 10th April at 7.30 when Barbara will be Calling Our Bluff.
Hostesses are Margaret Jones and Joyce Knight
New members are always welcome and if you need any more information please ring Rachel Halton on 720572
County Wear Fashion Show
In Aid of the Oakley Hunt
Odell Village Hall
12th May 2012
7.00pm arrival
Call Debbie Radford for more details and
to book your tickets.
07921192905
01933 350 340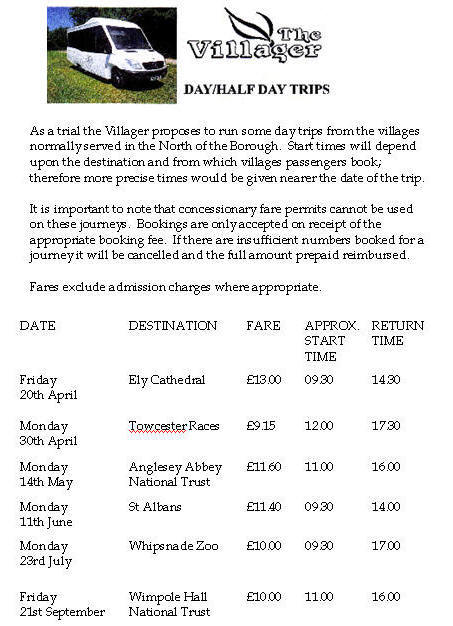 Shakespeare's Merry Wives of Windsor Open Air Theatre in Bedfordshire
15th – 24th June 2012
Full Details www.nolossproductions.co.uk
Following on from the 2011 sell out performances of A Midsummer Night's Dream, Bedfordshire based No Loss Productions are delighted to be returning to Swiss Garden and Moggerhanger Park and to be adding Wrest Park to the season, with Shakespeare's domestic comedy The Merry Wives of Windsor in June 2012. As well as entertaining Bedfordshire audiences No Loss hope to help build and strengthen links between these three stunning Bedfordshire Gardens.
It has often been said that if Shakespeare were around today he would be writing for TV. If that's true, then this is his 1970s sit-com. Which is what makes it such a brilliant choice for Shakespeare in the gardens in 2012 - comedy vicars, dirty rotten scoundrels, people hiding in cupboards and the wonderful wives of Windsor outwitting the men time after time. And to top it off a big finish in the woods! Perfect entertainment for a summer's evening
And if you have not visited the gardens before you are in for a treat as you discover the beauty and local history they have to offer.
Tickets are available directly from venues or www.nolossproductions.co.uk
Tickets in advance £12 (£10 Concessions)
Tickets on the day £15 (£12 Concessions)
Dates & Times
Moggerhanger Park - 01767 641007
15 June 7.30pm - 16 June 2pm & 7.30pm
Wrest Park – 01525 860000
19 & 20 June 7.30pm
Swiss Garden – 01767 627933
22 & 23 June 7.30pm, 24 June 2pm
Doors open 1 hour before curtain up. Bring a picnic (no glassware), a rug or folding chair.
Wet Weather – Performances will continue in wet weather. All tickets are non-returnable and non-refundable
ODELL PARISH COUNCIL NEWS
Highways: the new speed restrictions and safety measures on the High Street and the Odell Road in Little Odell will be implemented in April 2012.
Horsefair Lane: we have asked the Borough Highways Department to look at installing a new sign, near to the entrance of the lane by The Bell PH, to state that the Lane is "Residents only parking". We hope that this will improve the problem of cars being parked on both sides of the road when people visit the Country Park. Parking in this way causes problems for emergency vehicles and also damages the footpaths and curbs.
Rural Bulky Skip: the next date will be Sunday 17th June 2012 – 12noon – 3pm.
Footpaths: Bedford Borough Council is currently running a Rights of Way Improvement Plan 2012 -2017 – ending on 13th April 2012. Everyone is being asked to make comments – go to www.bedford.gov.uk/row and complete the short consultation document if you want to have a say in the improvements. Footpaths and bridleways in the Parish are a high priority for the Parish Council and we shall continue to work with the Borough Councillor, Alison Foster and the ROW Team at Borough to improve the current state of our paths.
Buses – Concessionary Travel Scheme: Good news – elderly and disabled residents and their carers will still be allowed to use bus services for free during peak hours, i.e. before 9.30am. This is a very useful service for rural residents as many pass holders rely on buses to go to work, attend doctor's appointments or see their family.
Harrold Odell Country Park: An Easter Egg Trail will be held for children on Good Friday, 6th April – 10am – 12pm or 1pm – 3pm. £1 per head. Max. 30 places per session so booking essential. Tel. 01234 720016 or email janet.munro@bedford.gov.uk
The next Parish Council Meeting is scheduled for Monday May 21st at 7.30pm, Village Hall. This will be the Annual General Meeting of the Parish Council. Do check the Odell website for regular updates and information - odell.bedsparishes.gov.uk
If you have any concerns or would like to contact the Parish Council, please see one of your Parish Councillors or contact me between 10am and 12 noon Monday to Friday – 07791488080. Appointments must be made by prior arrangement please. A message can be left on the answer phone outside these times and I shall get back to you. Alternatively, send me an email – odellpc@gmail.com
Nina Bransgrove-Knight – Odell Parish Clerk
Harrold-Odell Country Park
Carlton Road, Harrold, Bedford MK43 7DS
Email: hocp@bedscc.gov.uk Website: www.hocp.net Tel: 01234 720016
News From Harrold Odell Country Park
Easter is almost upon us yet again. The park is full of spring flowers and pussy willow and there is birdsong everywhere.
Time to dust off the annual Easter Egg Hunt and make sure I've got enough to go round. We have organised two hunts on Good Friday. The morning one is from 10am – 12pm and the afternoon from 1pm – 3pm with 30 places on each. Booking is essential at £1 per head. Please ring 01234 720016 or e-mail janet.munro@bedford.gov.uk ASAP to book a place. Like last year, places are going fast.
The winter tree works have come to an end now until next October. The next 6 months will be filled with tasks like mowing and strimming footpaths, wildlife monitoring and school visits. We also have several other little sites to look after like Daisy Bank Picnic Site near Felmersham, Pavenham Bury and Yelnow New Wood and there is a lot of maintenance work to carry out on these as well.
Members of our Friends Group have completed the construction of a new tern nesting platform and some artificial kingfisher nesting burrows on Heron Island (see picture). There is also a tern raft which is a free-floating version attached to a chain anchored to the lake bottom. We hope these will be colonised by a variety of birds over the coming months. Our thanks to Trevor Sudds and Simon Carter who did most of the work.
We continue to have some rarities living in the park. A county bird recorder has informed us that we have a Cetti's (pronounced chetti) Warbler singing near the bridge on the western shore of the large lake. We have also had some Red Crested Pochard on the lake and Woodcock in the nature reserve. This is in addition to a Barbastelle Bat reported by Beds. Bat Group.
I sadly have to report that we've been experiencing a spate of antisocial behaviour at night again. We had a fire lit on the skate park tarmac during the 2nd week of March then overnight on the 20th our cardboard recycling skip was dragged to the same location and burnt out causing hundreds of pounds worth of damage. They also broke down the hand-made wicker fencing outside the entrance to the café. If anyone has any information about these incidents please will you let the police know?
A new memorial bench has been installed amongst the newly planted trees on the north shore of the big lake. These are our contribution to the Queen's Jubilee celebrations.It has been commissioned from our chainsaw carver, Carrie Yuen, and is decorated with otters, a heron and flying geese. Until the footings are properly set and landscaped, the bench will be taped off but will be available very soon to take in the stunning views. It finishes this newly cleared area perfectly and it will be lovely to see it develop as the new trees and flowers take hold. Our thanks to Trevor Sudds and Bob Collyer who helped us with the work.
Tea-Zels café have amended their opening hours to reflect British summer time. They can be telephoned on 01234 721525. The new times are as follows:
Mon – Fri 9am – 4pm
Sat & Sun 9am – 5pm
Vauxhall Angling Club no longer leases the fishing rights at the park. At the moment, we don't know who will be taking over as the lease has gone back out to tender. A number of parties have approached Bedford Borough Council with an expression of interest but until a decision is made we have nothing to report. We also have a new ice-cream concession this year.
On Wed. April 18th we are hosting a visit by a group of magistrates who are coming to look at what the Community Payback Teams get involved with when they come to work at the park. During the year, we have regular groups (and individuals) together with their Probation Service Supervisors who assist us with some of the heavier work, particularly forestry, under our guidance. It has been a fruitful partnership for both parties for several years.
Finally, we look forward to a busy summer of contentment and meeting you all in the coming months.
Dates for your diary
Good Friday April 6th Easter Egg Hunt
Sunday April 15th Plant Fair at Priory Country Park, Bedford. Contact Jane Moore on 01234 211182 2pm – 4pm
Health Walks
Held every fortnight we meet at the café entrance at 10.30am and walk for an hour to improve your health and wellbeing and meet other people. Leader Janet Munro. Park contacts as for Easter Egg Hunt.
April 12th & 26th
Friends Conservation Tasks
Last Monday in the month unless it's a Bank Holiday when it happens a week earlier. Meet at 10am at the café. Please bring appropriate clothing and sturdy footwear. We will supply the tools and refreshments. April 30th Janet Munro Ranger
Village Hall
The Village Hall AGM will be on Tuesday 24 April.
The Mill Theatre, Sharnbrook
Reg. Charity No 242164 Season 2012
Fri 18t h – Sat 26th May , 7.30pm:
I Love you, you're perfect, now change.
Book & Lyrics by Joe Pietro; Music by Jimmy Roberts
©©
Off-Broadway's longest running hit musical comes to Sharnbrook!…
This hilarious, slightly naughty(!) revue explores the curious quirks of male/female relationships,across the spectrum from those first
uncomfortable moments …..
12 actors portray over 60 characters…
It's fast, it's furious…and not to be missed, but not suitable for the children!
Why not Book in Advance at the Theatre during David Copperfield?
TICKETS
, £10 to £12, available from 10
th
April at:
Sharnbrook Post Office – in person
Bedford Central Box Office 01234 269519 *
10 % discount for 10 or more (excluding Charity performance)
*2 wheelchair spaces, easier access
seating Rows A – C; hearing loop Rows A –E.
An amateur production in association with Josef Weinberger LtdTART AT 7.30 PM (NOT 7.45 PM AS PREVIOUS
LY)
Please note: All evening shows will now start at 7.30pm (not 7.45pm as previously).
Diary, April
2nd 8pm Evening prayer and meditation, URC
3rd 8pm " " " St Peter's, Harrold
4th 8pm " " " All Saints', Odell
5th 8pm Meditation and Holy Communion, St Mary's, Carlton
6th 10-12; 1-3pm Easter Egg Hunt, HOCP
6th 11am Service on the Green, Harrold
2pm An Hour before the Cross, URC
7th 10am Church decorating, All Saints', Odell
8th 6.00am Dawn Service - St.Mary's, Carlton
9.30am Easter Communion - St.Peter's, Harrold
10.30am Easter Communion – All Saints', Odell
10.45am Easter Service at Harrold URC
11.00am Easter Communion at St.Mary's, Carlton
9th 2.30pm Café in the Tower, All Saints' church
10th 7.30pm W.I., Village Hall
12th 10.30am HOCP Health Walk
18th 10.30am Meeting Point at Jill's, Rectory Farm.
21st 9.45am All Saints' Amblers meet at The Bell
26th 10.30am HOCP Health Walk
30th 10am Conservation Tasks Day, HOCP.
Magazine Deadline Please send all entries for the May magazine to Tricia Hudson (mag1 at odellbeds.net) or Catherine Corkery by April 12th at the latest. May we remind you that the editorial team exercises the right to edit, shorten or alter any items that are submitted. Also, the opinions expressed in the articles are those of the contributors and are not the responsibility of the editorial team.
Sharnbrook Ward Conservatives
(including: Sharnbrook, Souldrop, Knotting, Felmersham, Radwell and Milton Ernest)
Quiz Night and Fish and Chip
Supper
Friday March 30th at 7.30 pm
Bletsoe Village Hall, Memorial Lane, Bletsoe, MK44 1QJ
A fun quiz, teams of 8
Licensed bar Raffle
Tickets (in advance only) £8 pp (inc. Fish & Chip Supper) from Theo Gibbs 782377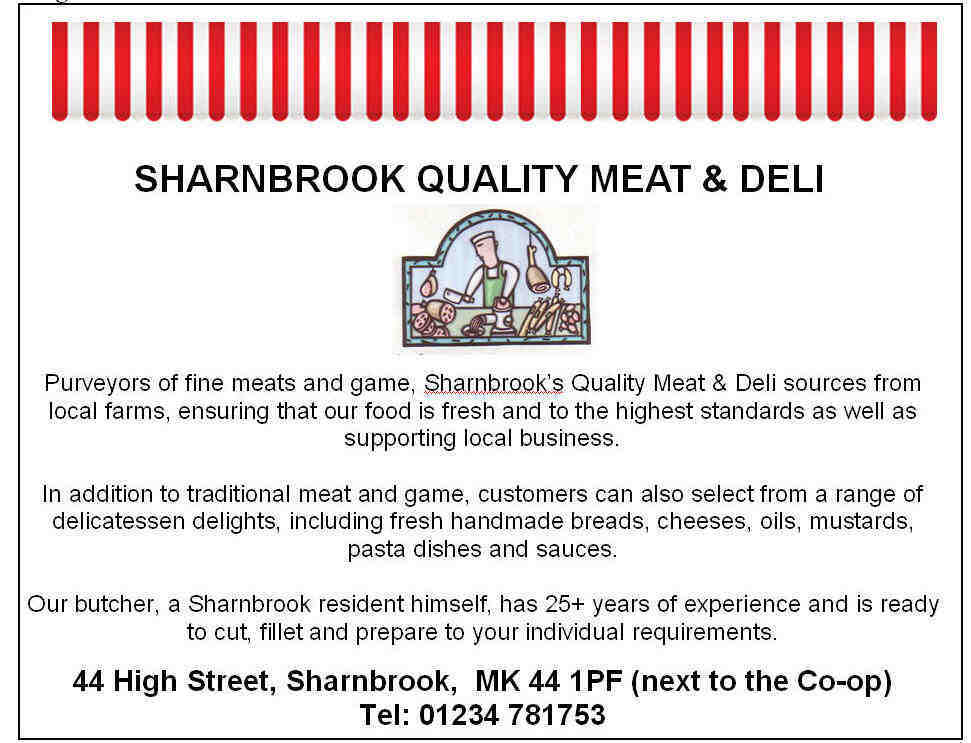 Alex Stubbs Flooring

Carpets, Vinyls, Laminates, Safety Flooring, Adaptions, Refits, Repairs

Supplied and Fitted

07976 260572

01234 240954

Great local pubs

<![if !vml]>
<![endif]>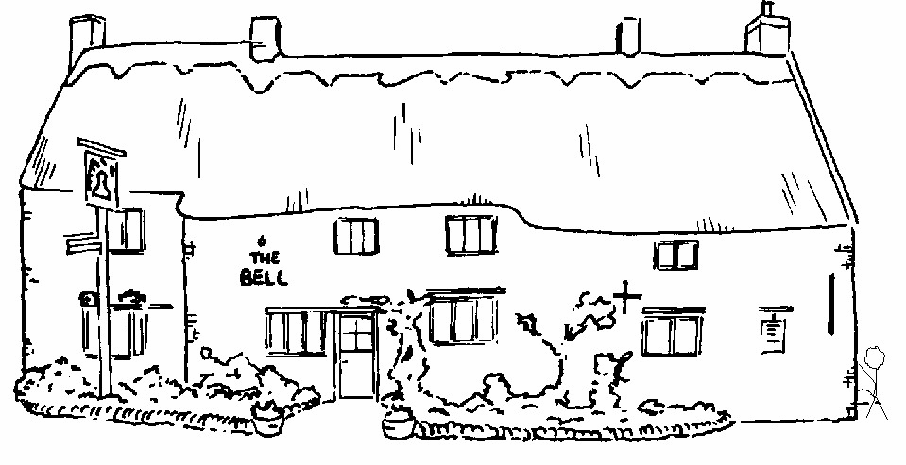 The Bell in Odell
As Featured in the 2010 Good Beer Guide
With the relaxed charm of a village local and a varied menu of
quality, home-cooked food you won't find any gimmicks here
just a Great British Pub!
Abbot Ale, IPA & Changing Seasonal & Guest Ales
Telephone 01234 720254
---
Last revised: March 31, 2012.