ODELL VILLAGE NEWS
October 2011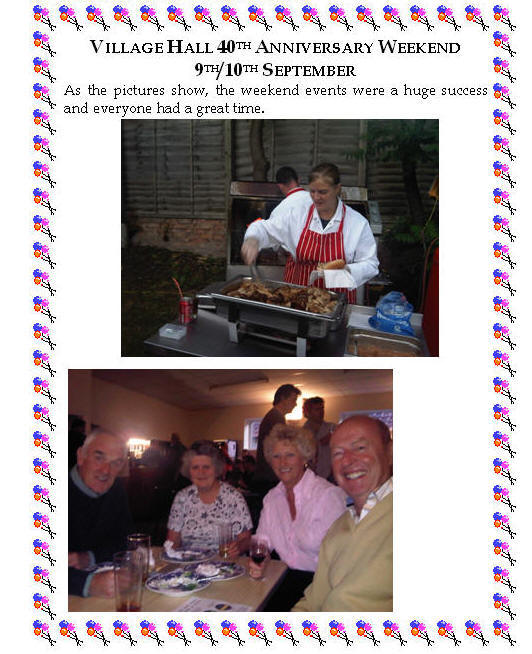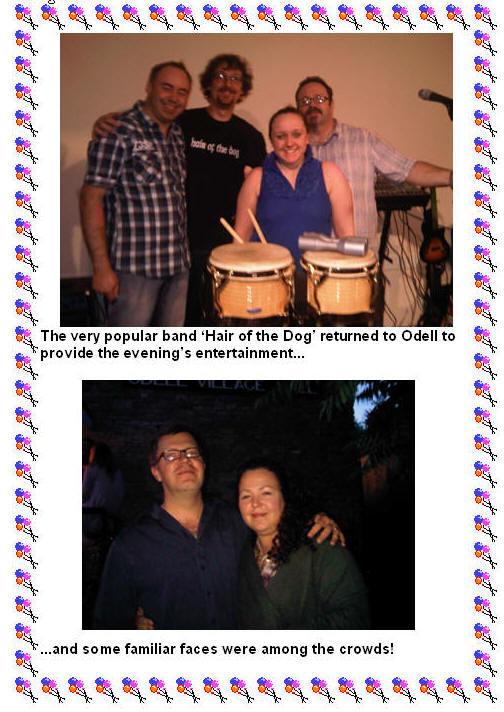 Round and About
Is It the Long Legs?
It's been a grand year for spiders, I have been told. They have been multiplying all over the place. I certainly seem to have had more than my fair share of them wandering over the carpet and diving into any container they can find. I can't bring myself to kill them and so I carefully put them outdoors - only to find them scampering back to the house as fast as their long legs will carry them! It is just as though they have their own personal sat-nav focused on my home as their ideal destination. Just how to persuade them that they are not welcome house-guests, I have yet to discover.
With all this in mind, when the following details came my way I thought it most opportune. As I mentioned before, it has been an ideal year for spiders, the damp weather providing perfect conditions for breeding - and now its time for them all to move indoors ... Ooohh Whooopee!
So, how many babies can a spider have? That, of course, depends on the species but a large house spider can lay between 40 and 50 eggs, others, like the false widow spider, can lay 100 - 120 and garden spiders can produce up to 200 eggs. This usually happens once a year but when the weather conditions are right and there is plenty of food about, like this year, spiders will often lay a second brood.
Thankfully, most spiderlings don't make it to adulthood as these small spiders are a major food source for, among other things, spiders, wasps, birds and certain animal species that live on insects. Out of 100
spiderlings born probably 2 - 3 make it through to adulthood! If they do manage to survive they will live for between 2 - 4 years depending on species.
The biggest "domestic" spider officially recorded in Britain measured 5 inches across, including the legs. It was a cardinal spider so named after the ill-fated Cardinal Wolsey was bitten by one of them. Cardinal spiders frequently come into the house. They are all long hairy legs with a small body and usually measures 3 - 4 inches across. According to Craig Walker of London Zoo some spiders live in people's homes all the time but they are not easy to see until they grow bigger and then usually it is the males we see, wandering around looking for a lady friend who will be lurking in her hide-a-way.
All British spiders are, apparently, venomous - it's the way they disable and digest their prey. Most of them are, however, harmless to people. Small spiders have fangs but they are too small to penetrate
human skin says Mark Bushell of Bristol Zoo. Only 14 species out of about 600 in Britain are reported to be able to bite people and most spider bites are no worse than a bee sting. House spiders can give a nip if they feel threatened but it feels like little more than a small prick from a thorn. Two species in Britain vie for the title of being the more venomous, the walnut orb weaver and a species called a false widow. Human victims describe their bite as a burning sensation with local pain and swelling .... I think I would rather not have known that!
Spiders are not picky eaters and will take whatever small invertebrates come their way, including all varieties of insect - including spiders. Without spiders we would be overrun with bugs. The fen raft spider - an endangered creature that lives in marshy areas, has been known to gobble down tadpoles and even the occasional small frog.
Apart from house spiders we mainly come across garden web-making spiders. These creatures usually create a new web each day because of wear and tear suffered by these delicate structures. The clearing away of their webs cause little discomfort to the spider who will just happily set about creating another web. Surprisingly, only half of Britain's spiders spin webs. The wolf spider runs after its prey and jumping spiders hop about until they can jump upon their victim and spitting spiders launch a sticky substance. Most of these spiders will invade the home at some time or another.
I do hope that, having read all of this, and thoroughly digested the contents, you will find yourself capable of greeting your next arachnid guest will all due warmth and hospitality. Barbara Corley
W.I.News
Our September speaker was Mr Roly Haggerwood from the Royal British Legion who briefly told us about his life in Bedfordshire before, during and after the war and then continued to keep us really entertained with his unstructured talk on cockney slang, finishing with a summary of the 90th anniversary of the Royal British Legion and the work it does for ex servicemen and women. Doreen excelled in deciphering cockney slang and threw the challenge to Christine to repeat the Lord's Prayer in rhyming slang. Listen carefully in church!
Next month's meeting is on Tuesday 11th October when the speaker will be Adrian Allen on being a Bedfordshire magistrate; all visitors are very welcome.
Hostesses: Karen Boyes and Barbara Corley Lynette Hall
Ad Hoc – Arsenic and Old Lace
Ad Hoc will be producing Arsenic and Old Lace by Joseph Kesselring on October 27, 28, 29 at Harrold Centre. Doors open at 7 pm and it is curtain up at 7.30.
Tickets are unchanged at £6 on Thursday and £8 on Friday and Saturday including a light supper. Don't miss it!
Arsenic and Old Lace is a farcical black comedy revolving around Mortimer Brewster, a theatre critic and confirmed bachelor, as he deals with his crazy homicidal family, the inept Brooklyn police and his feelings for Elaine - the girl next door.
His family includes two maiden aunts, seemingly charming and gentle old ladies, who, he discovers, have been murdering lonely, unattached old men with their elderberry wine, laced with arsenic, a dash of strychnine and "just a pinch of cyanide", as one of their charitable works. His brother, Teddy, who believes he is Teddy Roosevelt, buries the bodies (whom he believes are Yellow Fever victims) down in the cellar - where he is building the Panama Canal! And finally his maniacal and criminal brother, Jonathan, who now resembles Boris Karloff; a result of the plastic surgery performed by his accomplice - the alcoholic Dr Einstein.
Threats and accusations fly back and forth, lights blink on and off, police officers come and go and bodies are moved from window-seat to the cellar - resulting in a case of mistaken corpse identity! What follows is a potent mixture of madcap comedy and smouldering menace.
You simply cannot miss this highly entertaining and amusing masterpiece starring Fran Ross, Clare Boniface, Paul Alexander, Peter Barber-Lomax & Wayne Ross as "The Brewsters" and Phil Briggs, John Sunderland, Julie Young, Simon Alaluf, Charlie Daniels, Hugh Storer, Martin Vine, Dickie Randall & Clive Darbon in the other parts - a mad cast for a mad play, brilliantly pulled together by a mad Sue Chaplin!
Get your tickets from Harrold Post Office, Carlton Stores or via the Box Office on 720524
Odell Parish Council News
Parish Council: Council held their last meeting on Monday 26th September, this was a week later than scheduled.
Highways: An update from Cllr Crotty, who recently had a meeting with Bedford Borough Council Highways representative, Andrew
Prigmore. Traffic calming measures for Odell in the form of chicanes/humps will not be entertained on the grounds of our status as a 'Conservation Village', cost (no budget provision) and our general
position in the list of Bedfordshire villages with a speeding problem. The presently unrestricted speed limit between Little Odell and Odell will become a 40 mph zone by Christmas. Mr Prigmore is considering
extending the 30 mph area at the eastern end of the village and preceding this with a 40 mph zone. Present signage indicating 'bends' etc is either in the wrong place, obscured by foliage or non existent. The siting of these signs will be reviewed and appropriate additional signs will be added. The dangerous bend at the 'Mad Dog' and the concealed
entrance at Tannery Lane are both potential safety hazards and have both been recognised – appropriate 'warning' signage will be introduced.
Police: the local PCSO, Chris Warmington, carried out a village walkabout on the 5th September. We shall be requesting the Police carry out regular speed checks throughout the village in the near future.
Planning application: It may be useful to know that the Parish Clerk holds copies of all new planning applications. If you would like to see any new plans please contact me. Plans are also on the Bedford Borough Council website www.bedford.gov.uk/searchplans
Village Hall update: most of the outside work is now completed. If any parishioner is able to help with the seeding, raking and watering work please contact Cllr Brian Cheadle. The old iron seat is to be replaced, we hope to obtain funding from the Ward Councillor's Fund. We are
considering the potential of solar panels on the village hall roof.
However, unless payback is viable in the short/medium term we would not consider this. We would welcome your views on this idea please.
New Bus Timetable: as from the 22nd August a new bus timetable has been in operation. The Clerk has requested a number of new timetable books and you can also see the times/routes on the Bedford Borough Council websites. A review of the bus services will take place around the end of October by The Transport Manager, Jonathan Farr. If you are
experiencing difficulties please contact the Parish Clerk and I can report back to Mr Farr.
Bulky Waste Lorry: next date for Odell is Sunday 23rd October 12pm – 3pm.
Bulb planting: we have been offered free bulbs to plant around the
village and will be holding this event on Saturday 5th November. If you have any ideas where you would like to see bulbs planted please contact any member of the Parish Council or the Clerk. We shall be meeting on the Village Green, outside The Bell, at 10am – finishing at 12 noon. For more details please contact the Parish Clerk.
The next Parish Council Meeting is scheduled for Monday 19th December, 7.30pm, at the Village Hall. As with all Parish Council meetings, parishioners are always welcome to attend.
If you have any concerns or would like to contact the Parish Council please see one of your Parish Councillors or contact me between 10am and 12 noon Monday to Friday – 01234 721812. Appointments by prior arrangement please. A message can be left on the answer phone outside of these times and I shall get back to you. Alternatively, send me an email – odellpc@gmail.com
Nina Bransgrove-Knight Clerk to Odell Parish Council 01234 721812 odellpc@gmail.com
Harrold-Odell Country Park
Carlton Road, Harrold, Bedford MK43 7DS
Email: hocp@bedscc.gov.uk Website: www.hocp.net
Tel: 01234 720016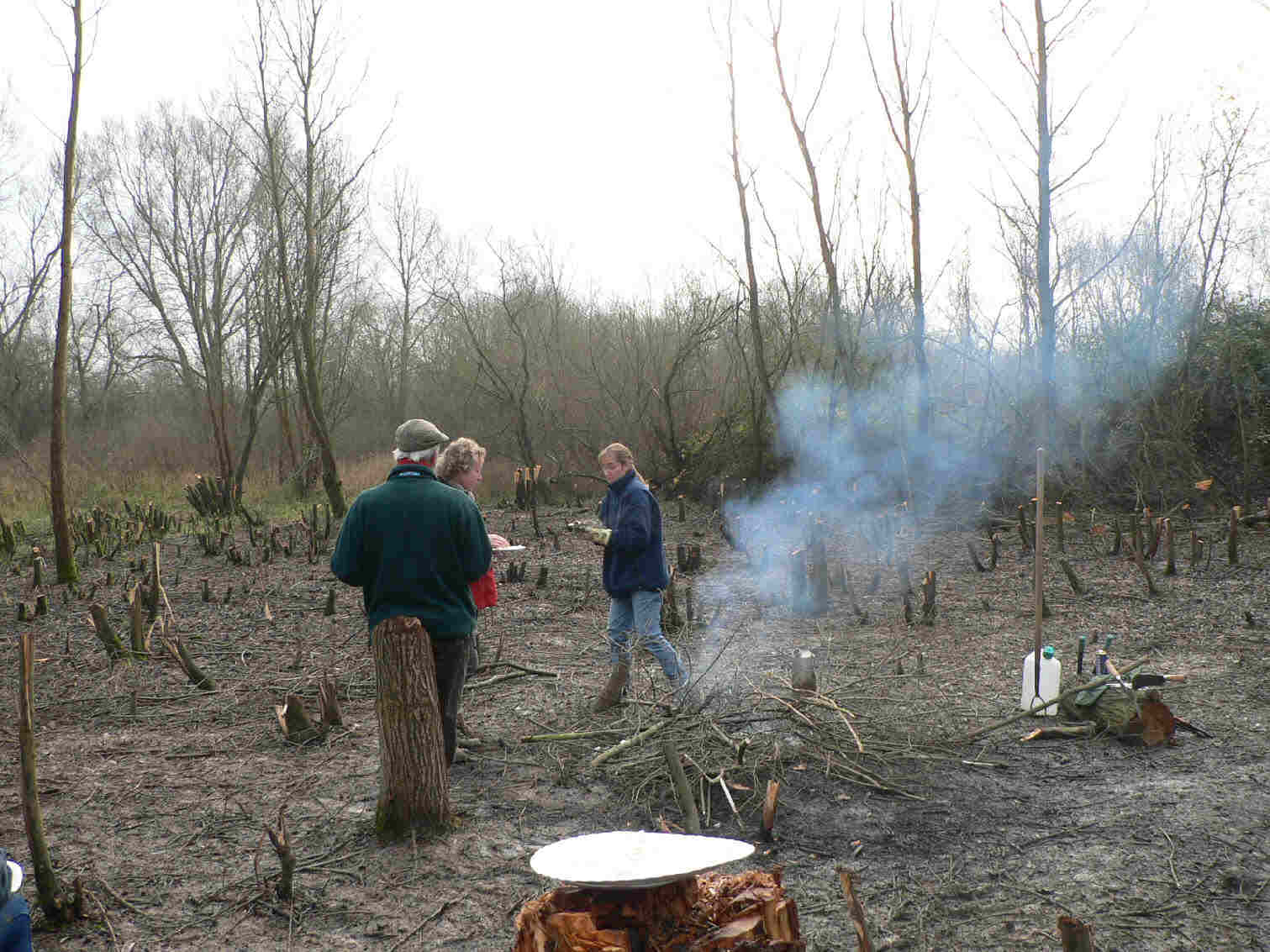 Coppice area
Hello again! It's now October, the month of mists and mellow fruitfulness. I picked nearly 5lbs of blackberries from around the park the other day. They are now gracing the inside of my cupboard as jars of jam and the freezer as apple and blackberry crumble.
There seems to have been an upsurge of interest in wild fruits, a fact that is probably linked to the price of food in the supermarket and the satisfaction gained from harvesting food for free.
This ties in nicely with our relatively new community orchard situated at the back of the houses in Horsefair Lane, Odell. Although it was planted only 18m ago, Richard and I have enjoyed a few fruits from the trees we planted there in January 2010. You'll be pleased to know that we shared a single plum from the Olympia dual purpose tree and a small amount of fruit appeared on both the damson and cherry trees in there.
The orchard was badly affected by the severe frost that hit us in May. The grape vines have barely recovered but the mulberries did re-grow their foliage as did the fig and medlar. It will be interesting to see how well the orchard progresses next year.
This month we are starting the winter work programme of coppicing, bramble clearance and hedge laying. This is only undertaken at this time of year as the trees enter the dormant phase, the nettles die back allowing easier access and we're not at risk of disturbing nesting birds and other breeding wildlife.
Those of you who visit regularly are bound to see us hard at work alongside our Friends volunteers and Community Payback teams. We have been shopping for new tools and equipment to replace some very old stuff which is being scrapped. So we shall be ready for action this winter.
We have been booked by several community groups to give evening talks about the park at their meetings. We were able to purchase a laptop and projector via Friends using car park donations which has made all the difference when it comes to showing pictures of the park during a talk. I'm hoping to put on a few talks here at the park this winter,
probably in the evenings when the café is closed. Keep an eye out for publicity.
On Oct. 7th we are travelling to Biggleswade to attend an awards evening being held by the CPRE (Campaign for the Protection of Rural England). Lynette Hall from Odell W.I. nominated us for an award in their Landscape Improvement category for the whole park. Previously we have won a Bronze Award just for creating the community orchard. We don't know whether we have won anything until the night so here's hoping.
Our volunteers have been busy harvesting willow poles and weavers ahead of a big repair job involving erosion to the banks of the large lake. Wave action arising from the prevailing wind blowing into the Odell end of the lake has resulted in sections of bank being undercut. Over the next couple of months we will be constructing low willow hurdles to stop wave action before it hits the bank, the idea being that we then back fill the worst of the damage. We have the Environment Agency coming out for a day of team building where they will help us with this task.
Finally, the Health Walks are going from strength to strength, regularly attracting 15 – 20 walkers at a time. They start from the café at 10.30am every other Thursday when we walk for an hour. There is then an option to enjoy a coffee and natter in the café afterwards and I hope to arrange a lunch at Tea-Zels on the date of the first walk in December to celebrate walking achievements throughout the year.
Dates for your diary
Health Walks
Meet every other Thursday outside the café at 10.30am. Walk for 1hr with the option afterwards of having coffee and a natter in the café.
Thursday October 13th Leader Richard Dowsett
Thursday October 27th Leader Janet Munro
Apple Day at Bromham Mill
Sunday 16th October 11am – 4.30pm. A celebration of all things apple! Adults £5 Concessions £3 under 16's free if accompanied by an adult. Bromham Mill, Bridge End, Bromham, MK43 8LP Tel. 01234 824330 for details.
Craft Fair
October 23rd 11am – 4pm. All stallholders are required to have public liability insurance and bring their own tables and gazebo. All enquiries please to Derek Henderson tel. 07917 783010 or e-mail derek@derekhenderson.co.uk
Friends Conservation Tasks
Meet at the café at 10am. Refreshments provided but bring a packed lunch and wear stout footwear and old clothing.
October 31st
Janet Munro
Ranger
Village Hall
Events in October:
World Cup Rugby - certain England matches subject to demand - See Rob Lee 720730 for details
Village Quiz, 8th October
Book your table now for the ever–popular Village Hall Quiz
Date: 8th October.
Time: 7:30 for 8:00pm
Tickets: £2.50 per person
Contact: Rob, tel. - 720730 to book a table, (6 per table).
And Melvis returns on 19th November, 7.30pm. Tickets £9 including hot dogs, available from Nikki: 01234 720893. Licensed bar.
nicola@tfreeman.freeserve.co.uk
The Mill Theatre, Sharnbrook
Reg. Charity No 242164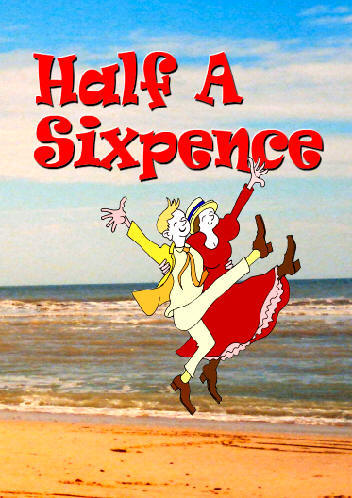 Half a Sixpence
11
th
– 19
th
November 2011,
7.45 pm, Matinée Saturday 19
th
November, 2.00 pm
¨
Flash, Bang, Wallop! What a show!
A sparkling new version by Warner Brown of the classic show, featuring underprivileged orphan Arthur Kipps, who inherits a fortune ….then loses it, but in the process discovers his true love…..
The show includes the old favourite songs 'Flash, Bang, Wallop!' 'In The Cause of Economy,' and 'Half A Sixpence', plus nine new ones, including the show-stopping belter 'What Should I Feel'.
A wonderful, traditional, fun musical for all the family
Tickets £9-£12 available from 3rd October at:
Sharnbrook Post Office - in person
Bedford Central Box Office 01234 269519*
10 % discount for 10 or more (excluding Charity performance)
*2 wheelchair spaces, easier access seating Rows A – C; hearing loop Rows A -E
Fri. 11th November is a Charity Night; ticket price may differ
Sharnbrook Ward Conservatives
[Sharnbrook, Souldrop, Felmersham, Radwell, Milton Ernest]
invite you to
A special talk and video presentation by Simon Greenish
Director of
Bletchley Park
Trust
On Friday 28th October at 7.30 pm
venue: Bletsoe Village Hall, Memorial Lane, Bletsoe.
People willing to supply lifts to and from surgeries.
Below is a list of the people currently willing to give lifts, to and from surgeries, to people who can't otherwise get there:
Kim Beardow 721246
Jill Cheadle 720261
Steve Robinson 720113
Marion Senn 721176
Linda Tringham 720120
Madeline Jeeves 720803
If anyone else is willing to be a volunteer please contact Jill on 720261.
Requiem by Gabriel FaurÉ
The Eagle Choir – directed by Charles Martin
All Saints' Church, Odell 6pm Sunday 13th November 2011
Proceeds to Odell Senior Citizens' Luncheon Club
The Eagle Choir was formed in 1998 and is made up of parents, staff and friends from Bedford Prep School. The choir has performed many works including Carmina Burana , Rutter's Mass of the Children, Britten's Ceremony of Carols, Karl Jenkins' The Armed Man, Vivaldi's Gloria, Handel's Messiah and Brahms' Requiem as well as more light-hearted pieces by The Beatles, Abba and Cole Porter.
The choir has performed in the churches of St Peter and St Paul in Bedford, The Corn Exchange, Bedford School Chapel and St Mary's in Buckden. In 2003 they performed the Mozart Requiem in Odell Church and are delighted to have been invited back to sing Fauré's Requiem on Remembrance Sunday.
There will be a retiring collection and the proceeds will be donated to the Odell Senior Citizens' Luncheon Club which gathers two or three times a year to enjoy a meal together.
For more information contact Jilly Watson on 01234 720600
Birthdays in October
Happy birthday to Lottie Robinson on the 18th,
And to everyone else with a birthday in October!
Diary
1st 10am Church decorating for harvest.
2nd 10.30am Harvest Festival service, All Saints' Church.
2nd 12.30 Harvest Lunch, Village Hall.
5th 10.30am Meeting Point, Rectory Farm, Odell.
8th 10am Churchyard tidy, All Saints'.
12noon Dedication of the new Garden of Remembrance, All Saints'.
12.30pm Bring and Share Lunch.
8th 7.30pm Quiz, Village Hall.
11th 7.30pm W.I. Village Hall.
13th 10.30am Health Walk, HOCP.
15th 9.45am All Saints' Amblers meet at The Bell.
15th 1-3pm Monday Club stall, 16 Bridgend, Carlton.
16th 11am Apple Day, Bromham Mill.
19th 10.30am Meeting Point at Newton House, Avenue Rd.,
21st 2.30pm 'Patches' meet at Rectory.
23rd 11am Craft Fair, HOCP.
23rd 12-3pm Bulky waste lorry.
27th 10.30am Health Walk, HOCP.
28th 7.30pm Sharnbrook Conservatives talk, Bletsoe Village Hall.
29th 10am Fairtrade Café, Village Hall.
31st 10am Conservation Tasks Day, HOCP
Magazine Deadline
Please send all entries for the November magazine to Tricia Hudson (mag1 at odellbeds.net) or Catherine Corkery by October 12th at the latest. May we remind you that the editorial team exercises the right to edit, shorten or alter any items that are submitted. Also, the opinions expressed in the articles are those of the contributors and are not the responsibility of the editorial team.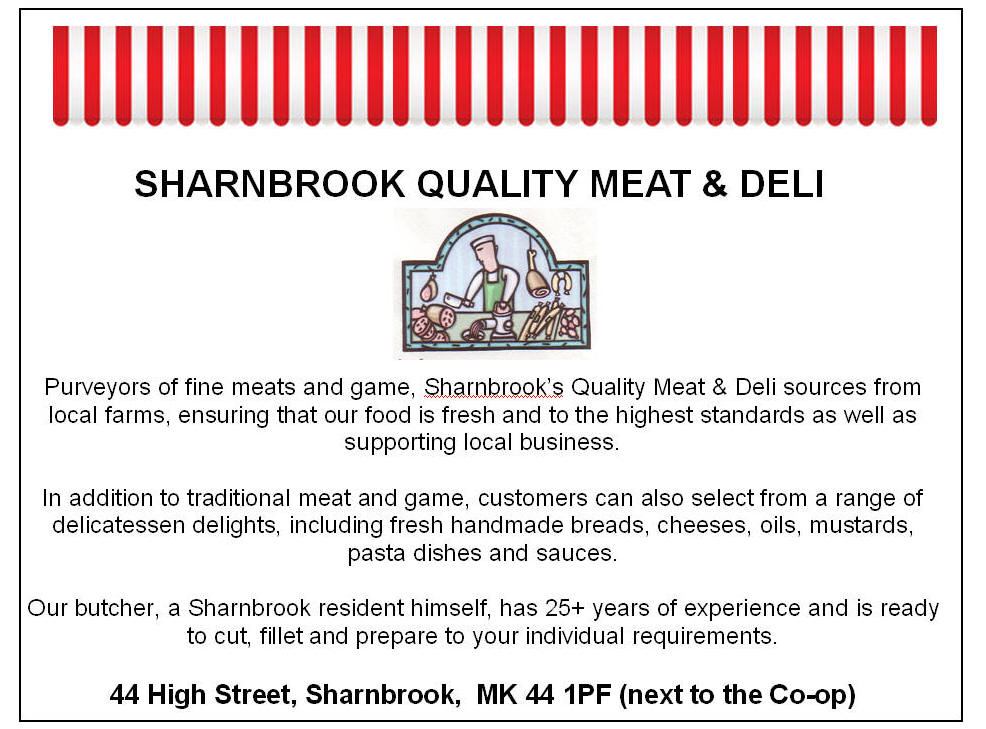 Alex Stubbs Flooring

Carpets, Vinyls, Laminates, Safety Flooring, Adaptions, Refits, Repairs

Supplied and Fitted

07976 260572

01234 240954

Great local pubs

<![if !vml]>
<![endif]>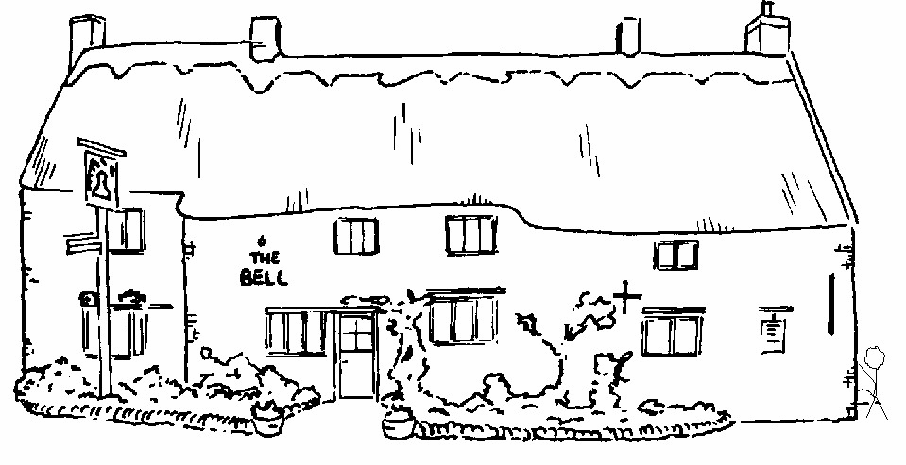 The Bell in Odell
As Featured in the 2010 Good Beer Guide
With the relaxed charm of a village local and a varied menu of
quality, home-cooked food you won't find any gimmicks here
just a Great British Pub!
Abbot Ale, IPA & Changing Seasonal & Guest Ales
Telephone 01234 720254
---
Last revised: October 17, 2011.