ODELL VILLAGE NEWS
November 2011
Harry Smith 19th October 1923-16th October 2011
In the early hours of Sunday 16th October, Odell lost one of its oldest and most popular residents. Harry Smith died at home, aged 87 years, after several months of illness.
Harry lived in Odell for 41 years. He had always been at home in the countryside. Before the War, as a teenager, Harry was employed on the Althorp estate doing forestry work. His father was a gamekeeper there.
After the war Harry became involved with milking cows and then showing cattle, first Aberdeen Angus and then Galloway cattle. His work took him all over the country: Eddlesborough, Hatley St. George, Waddesdon, Suffolk, Oxfordshire and Gloucestershire and Chippenham until he finally arrived in Odell with his wife Irene and children Carol and Richard in August 1970. He was employed by Lord Luke as a cattle man, a job at which he was, by then, very experienced. Both Harry and Irene were very happy in Odell, and put down roots. They celebrated their Ruby Wedding Anniversary in 1984. Sadly, Irene died of cancer just four years later.
After retirement Harry felt at a loose end and was only too pleased to help out in The Bell with washing up and any other odd jobs, including keeping the garden tidy and tending the fires in winter.
Harry was always amazing everyone in Odell with his vitality and love of life. If there was ever an event held in the Village Hall Harry was there – he was always the first to be up on the dance floor, right up until his last illness.
Harry once said of Odell: "Odell is beautiful, the village and the people. There's nowhere else like it". To the people of Odell, there is no-one else like Harry. He will be very much missed.
Picture and info provided by Ouse Valley Living
Birthdays in November
Happy Birthday to Georgina Ardley whose birthday is on the 29th and to everyone else with a birthday in November!
St. Mary's Church, Carlton, is holding a
Victorian Bazaar
Carlton Village Hall
Saturday 19th November
11am – 3pm
Hot jacket potatoes from 12.
Grand draw at 2.30pm
£100 first prize
Entry £1/adult – children free
People willing to supply lifts to and from surgeries.
Below is a list of the people currently willing to give lifts, to and from surgeries, to people who can't otherwise get there:
Kim Beardow 721246
Jill Cheadle 720261
Steve Robinson 720113
Marion Senn 721176
Linda Tringham 720120
Madeline Jeeves 720803
If anyone else is willing to be a volunteer please contact Jill on 720261.
Round and About
The Celtish Festival With Us Today
As the period we now know as October passed into November our early Celtic forebears celebrated their religious festival of Samhain. This was one of the most important festivals in the Celtish year as it marked the passing of one year into the next. The early Celts believed that the dark nights together with the shedding of leaves from the trees and the dying back of vegetation brought the old year to a close, and they would gather together to mark the end of their working year. The word "Samhain" is thought to translate into "Summer's End".
Rather like the New Year we celebrate today our forebears marked the occasion with feasting and drinking and as this coincided with a time when they believed in honouring their dead they gathered around large bonfires to tell stories about the exploits of their ancestors. Plates of food as well as drink would be left out as an offering to the spirits of their departed. This was done in the belief that in honouring the spirits of their own dead then these spirits would protect them from evil. This was a happy, cheerful celebration to commemorate the passing of the old year and to prepare to welcome in the new year whilst, at the same time, they would honour their forefathers.
I wonder, have you recognised this Celtic celebration, accepted and still acknowledged around the world today.
After the feasting the Celts would douse their fires to mark the official end of the year and process to a single holy fire kept constantly alight by the Druids. The Celtic people would light burning torches from the holy fire before returning, often over great distances, to their home to re-kindle their home fire from the one, single, holy flame. This symbolised the bringing of heat and light into the home to mark the start of the new year.
When the Roman legions finally reached our shores they accepted many of our customs and adapted them to fit in with their own traditions. At this particular time of year the Romans would honour their goddess, Pomona, who was the goddess of fruit and trees. Her special symbol was the apple. Over the following centuries the two festivals merged and became one with the traditions of both coming together. It is considered that this is how apples and apple bobbing became associated with Samhain and has descended down through time to the present day.
When Christianity finally arrived, (as in the Roman era), many of the customs and traditions already honoured by the population were adopted - and adapted. Samhain was one of them. Under the Christian Church it became a three day festival known as Hallowmas, at a stroke combining the 31st. October to mark the end of the Celtic year, or Samhain and now to include the Christian All Hallows Eve (1st. November) and All Souls' Day (All Saints' Day). The name for this three-day festival became compressed over the centuries to the one word - Halloween.
In the 9th century there was the European custom of souling". On the 2nd November early Christians would travel from village to village begging for "soul cakes". These were small pieces of bread containing currants. The tradition was that people would beg for soul cakes in return for offering up prayers on behalf of departed members of the family of the donor of the cakes. The more cakes that a beggar was able to obtain the more prayers would be said for the departed. At that time it was believed that the dead remained in Limbo for a period prior to moving on to the next world. It was believed that the number of prayers said, even by strangers, would help the soul's passage on its journey.
So how did we get from Samhain, a very holy time of year, to the Halloween we know today.? I think most of the building blocks are in place: the origins of carrying a light (based on carrying burning torches from the holy fire) and the telling of stories about the exploits of the dead. True, these tales have now become ghost stories but the origin is still there. Then we have the custom for begging for soul cakes in return for a good deed - offering prayers for the dead. Surely this has now given way to trick or treat.
The English rather dropped the custom of Halloween in favour of celebrating Guy Fawkes Night with bonfires, feasting and fireworks. However, in Ireland Guy Fawkes had little relevance but they still maintained Halloween. At the time of the Potato Famine in 1845-50 over 700,000 Irish migrants travelled to America taking their customs and festivals with them. Many of these traditions are still to be found in America today and for the Americans, Halloween has become big business.
After the Second World War, many American troops remained in this country but with the end of hostilities they were able to bring their wives and families to join them. With the arrival of the children came the American form of Halloween together with trick or treat. Barbara Corley
W.I.News
At our meeting in October, our speaker was Adrian Allan, a Magistrate who sits on the Bedford Bench. He outlined the role of a Magistrate. Mr Allan has been a Magistrate for 23 years. He gave us some historical background. In 1361 Edward III created the first Magistrates in this country to keep the King's Peace. Houses of Correction were built in 1576 to contain rogues and vagabonds and in 1919 women could become JP's. A lively and interesting discussion took place after a light hearted quiz during which he gave us some interesting facts about the many cases that come before the Magistrate's Court, cases that go to The Crown Prosecution Service and appeals heard in the County Court.
The next Meeting will be at the Village Hall on Tuesday, 8th November at 7.30pm when we shall be creating Christmas Cards with artistic ideas from Doreen Wheeler.
Hostesses are Audrey Dempsey and Mandy Sharpe
New members are always welcome and if you need any more information please ring Rachel Halton 720572 Jane Eshelby
George's Marvellous Medicine by Roald Dahl
Adapted by David Wood 14th – 24th December
This December local professional companies No Loss (Midsummer Night's Dream) and Dumbstruck!
Productions (Arthur of Camelot) are working in Partnership with The Place Theatre Bedford to bring you this fantastic tale of mirth and merriment for all the family. Roald Dahl, a firm favourite with children and adults, offers delicious alternative entertainment this Christmas.
When George Kranky's mean old Grandma comes to stay with the family out of the blue his life becomes one big misery. To try to make Grandma better George decides to give her a taste of her own medicine…. or rather his own medicine!
But the side effects of his great cure are more than he could ever dream of and soon it's a race against time to make more of his marvellous medicine
Details of dates and times www.theplacebedford.org
Tickets available from www.theplacebedford.org
Children £6 Adults £10 (under 5's free)
Group discounts also available. For more information please call 01234 354321
Odell Parish Council News
Parish Council: Council held their last meeting on Monday 26th September, which was a week later than scheduled.
Highways: Cllr Paul Crotty has received confirmation from Bedford Borough Council that the planned speed restriction work will be implemented before Christmas. Rubber strips have been placed across the road on the approach to the Tannery Lane corner – these strips are measuring speeds to give data for the request to extend the 30mph limit. The Parish Council has also asked the Police to carry out regular speed checks within the village.
Police: the local PCSO, Chris Warmington, continues to patrol the village and reports that criminal incidents are low in Odell. If you need to contact him please ring 01234 842865, which is the number for Riseley Police Station. Alternatively you can ring 101, which will take you straight through to Greyfriars Police Station. Use this number to report issues you may be concerned about, but still use 999 in an emergency.
Planning applications: It may be useful to know that the Parish Clerk holds copies of all new planning applications. If you would like to see any new plans please contact me. Plans are also on the Bedford Borough Council website www.bedford.gov.uk/searchplans.
Allocations and Designations Consultations: a map of the village with areas hi-lighted for designated open spaces is on the village notice board, together with an information sheet outlining the public consultation period. The Consultation runs from until 14th November 2011 and is available to view on line at www.bedford.gov.uk/allocationsanddesignations. Comments can be returned on line or by completing a response sheet (also available on line). For further information contact Paul Roland, Assistant Director, Planning, Strategic Transport and Housing Services, Bedford Borough Council, FREEPOST ANG5840 email: bdf@bedford.gov.uk
Village Hall update: we have applied to the Borough Councillor's Ward Fund for funding towards a new bench at the Village Hall. If anyone can help with the maintenance of the new grassed area at the side of the village hall please contact Brian Cheadle.
New Bus Services: if you are experiencing any problems with the new services please contact Jonathan Farr: Jonathan.Farr@bedford.gov.uk
Harrold Odell Country Park: we have been informed that the Country Park has been awarded the CPRE Award – congratulations to the staff and the 'Friends' of Harrold Odell Country Park. A craft fair was held on the 23rd October which was well supported.
Bulb planting and community litter pick: Bedford Borough Council (Pride in Bedford) has offered the Parish free Crocus bulbs to plant around the village and we shall be holding this event on Saturday 5th November. Meet at 10am on the village green, outside 'the Bell' PH, finish by 12noon. Come along for as long as you can; all equipment will be provided.
The next Parish Council Meeting is scheduled for Monday 21st November, 7.30pm, at the Village Hall. As with all Parish Council meetings, parishioners are always welcome to attend. If you would like to discuss any matter with us please contact the Clerk at least five days preceding the meeting.
If you have any concerns or would like to contact the Parish Council please see one of your Parish Councillors or contact me between 10am and 12 noon Monday to Friday – 07791488080. Appointments to see me can be made, by prior arrangement please. A message can be left on the answer phone outside these times and I shall get back to you.
Alternatively, send me an email – odellpc@gmail.com
Nina Bransgrove-Knight, Clerk to Odell Parish Council
Note: New Parish Council phone number – 07791 488080
Harrold Twinning Association
Although we call ourselves Harrold Twinning Association, we do welcome participants of all ages from the surrounding villages. Several people from Odell expressed a tentative interest this year and we are wondering whether any of you would like to join us in our visit to France in 2012. We are twinned with Ste Pazanne, in Loire Atlantique (just south of Brittany), a town about half-way between Nantes and the west coast of France. We go to Ste Pazanne every other year with the French coming to us in the year between. Visits usually last 3-4 days and the dates for 2012 are 4th – 7th May. The only cost involved is that of travel. Everything else will be paid for by our hosts. We stay in families, but have outings and some meals all together, so if your French is limited or non-existent don't worry, there is usually someone who can translate. Anyway there's always sign language! If you think you might be interested please ring me and I can give you more information.
Catherine Corkery, 720348, Hon Secretary, Harrold Twinning Association.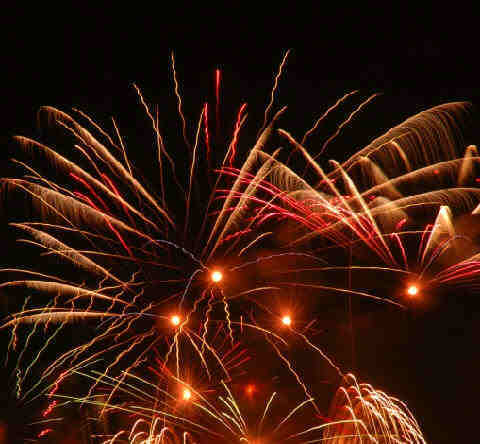 The Bell, Odell
Bonfire Night Party
Saturday,November 5th
Will and Katie invite you to join them in celebrating their first year at The Bell
Live Music from 8:30pm
Fireworks 9:30pm
Fancy dress – whatever you desire
Anyone coming in fancy dress will receive a free glass of Will's special punch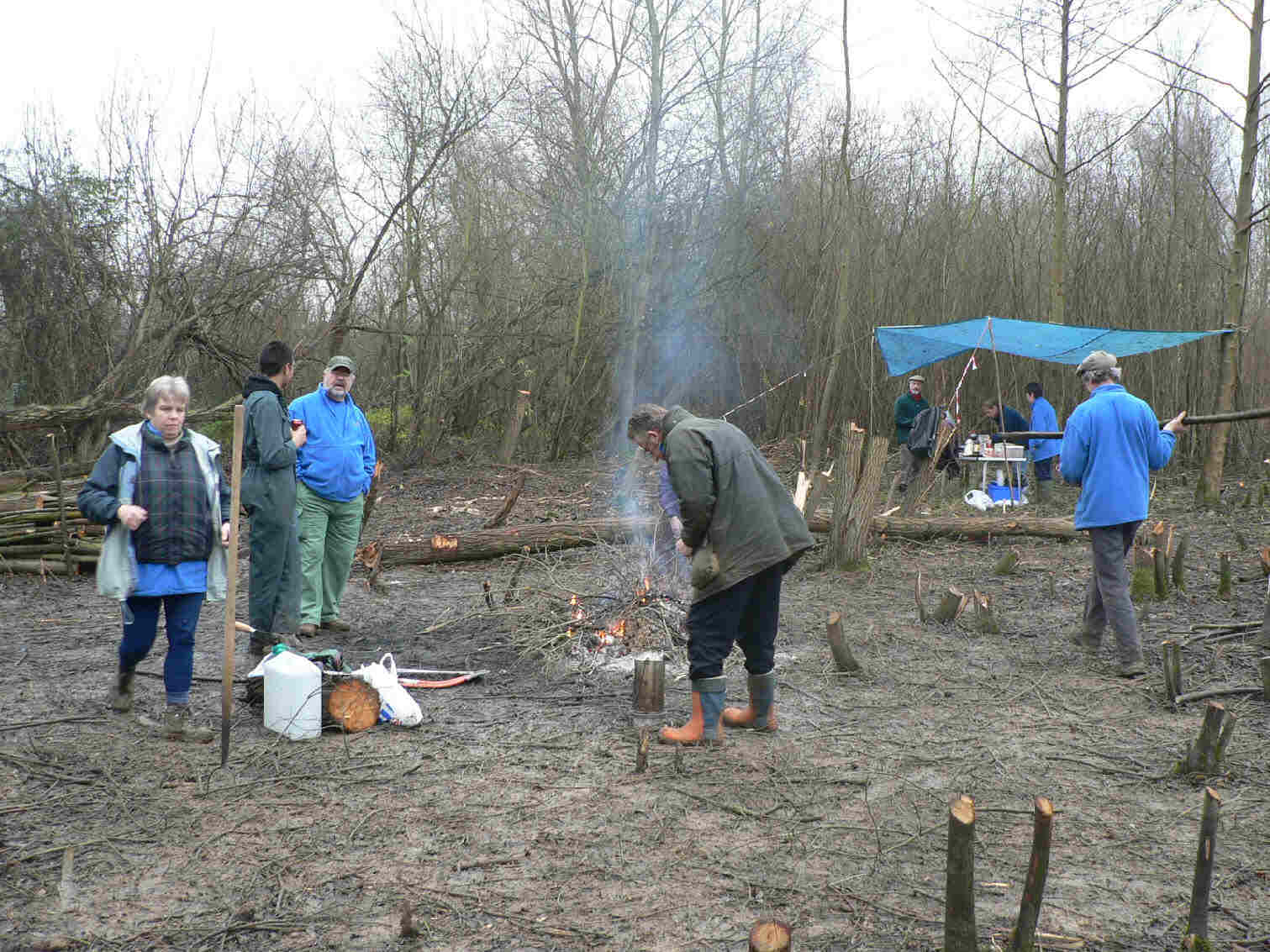 Coppicing being undertaken by Friends of HOCP on a Conservation Task day.
Harrold-Odell Country Park
Carlton Road, Harrold, Bedford MK43 7DS
Email: hocp@bedscc.gov.uk Website: www.hocp.net
Tel: 01234 720016
News from Harrold Odell Country Park
The winter season is now well and truly here. The clocks have gone back and nature is rapidly winding down.
The staff and volunteers are now busy with the heavier management tasks now that the wildlife has finished breeding and the stinging nettles are dying back. Ditches have been cleaned, hedges trimmed and coppicing has begun.
The area to the right of the bridleway now being coppiced was last harvested about 10yrs. ago. The willows in there have produced some lovely straight branches. The thick ends are great for stakes and the thin for weaving between them. Due to the nature of willow, there is a good chance that the new fence will sprout and turn into a living barrier which we can keep trimmed as necessary.
Using a technique known as spiling, the harvested willow is being utilised to create about ¾ km of low hurdle fencing along the northern edge of the big lake. The prevailing wind has created waves which have undercut the bank and eroded it quite badly in places.
The hurdles form a breakwater that will protect the bank from further damage. Once the fence is complete we will back-fill behind it with sand and pebbles to rebuild the bank. Work began in mid-October and will continue for several weeks. At the same time we will be cleaning out bramble and poor quality trees allowing new views of the lake to open up. This is being done purely by staff and volunteers.
The otter cub that has been seen with his mother in and around the park over the last few months is now independent and hunting for himself. The last confirmed sighting was on October 26th. Kingfishers are also doing well and I had the pleasure of watching one fishing not 10yds from me whilst working on the lakeside. Another tough winter would not be good news for them though as fishing is impossible when the lakes freeze.
In my last bulletin, I intimated that we'd been nominated for a CPRE (Campaign for the Protection of Rural England) Award for Landscape Improvement by Lynette Hall from Odell W.I. We'd previously won a Highly Commended for setting up the community orchard behind the houses in Horsefair Lane.
Richard and I attended the awards evening held at Shortmead House, Biggleswade on October 7th. I'm delighted to report that we won the CPRE Mark, the highest accolade in our category. This is a real testament to the contribution made by our volunteers and the high value placed on the park by the communities it serves. We shall be having a plinth made to accommodate the silver plaque we received and the certificate accompanying it will go in the notice board alongside our Green Flag Award. We cannot thank everyone enough for their efforts and long may they continue.
Last week we conducted a detailed tree survey covering all areas of the park. This identified some potential issues with a few trees which will be rectified over the coming months with the use of professional tree surgeons. Where trees are removed in the roadside copse adjacent to the café, we will be undertaking some replanting in the spaces created. If anyone would like to sponsor a tree at this time, please contact Ranger Richard Dowsett on 01234 720016.
On Sunday October 23rd we hosted a small scale craft fair selling jewellery, food, hand-made cards and artwork. Thankfully, we had lovely weather and it was very successful. Particularly popular was the Raptor Society who brought along their owls for a meet and greet session and used the opportunity to sell a variety of goods and publications to raise funds towards the upkeep of their birds. They take in injured birds and captive bred ones whose owners cannot look after them properly. Our chainsaw carver was also on hand, selling her wares and talking to visitors. This is something that we may repeat next year when the better weather returns.
The new leaflets about the park we've had produced have been well received. They are bright blue in colour and feature a kingfisher on the front cover. If anyone would like one, we have put some in the dispenser just inside the annexe room of the café. Other walks can be downloaded from the website www.letsgo.co.uk We have a series of info and quiz sheets on own website www.hocp.co.uk You can also look up events and general information as well.
Finally, the café would like me to give out their telephone number for enquiries etc. It is 01234 721525. After the clocks go back, their opening times at the weekend will finish an hour earlier at 4pm with hot food ceasing at 3pm. Similarly, the overflow car park will also close an hour earlier at 4pm because of the dark nights.
Dates for your diary
Health Walks. Every other Thursday at 10.30am. Leader Janet Munro. Meet at the café entrance and walk for an hour with the option to have a coffee and a natter in the café afterwards. For enquiries tel. 01234 720016.
Dates:
Thursday November 10th
Thursday November 24th
Friends Conservation Tasks
Monday November 28th
Anyone interested in finding out more should come equipped with sturdy outdoor clothing, footwear and a packed lunch. Refreshments are provided. Tasks could include hedge-laying, bramble & scrub clearance, making picnic benches and coppicing. Tel 01234 720016 for more information or log on to www.hocp.co.uk Janet Munro, Ranger
Village Hall
Village Quiz, 8th October
The Village Quiz on the 8th October was well attended, and, as usual, very taxing and entertaining. The range of questions was wide, but the "killer" round had to be naming the rooms in the game of "Cluedo" and then labelling them correctly on a copy of the board – that certainly re-shuffled the table of results! (I must remember to get those board games out this winter!!).
The winning teams were: 1st, Mad Dogs, 2nd, Densa and 3rd, The Fat Stripes.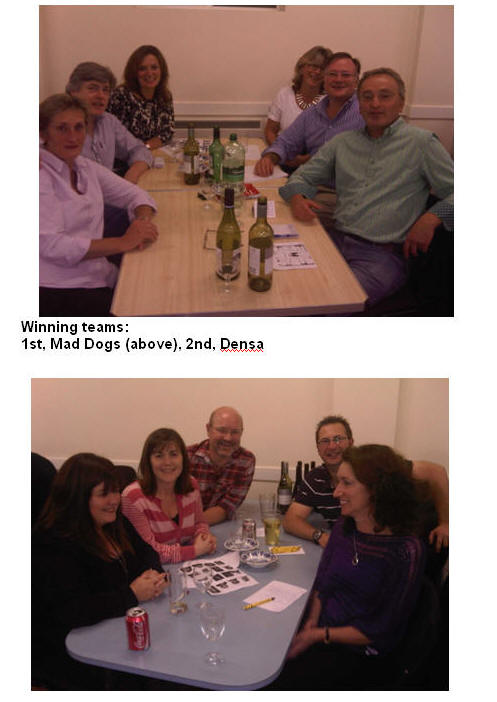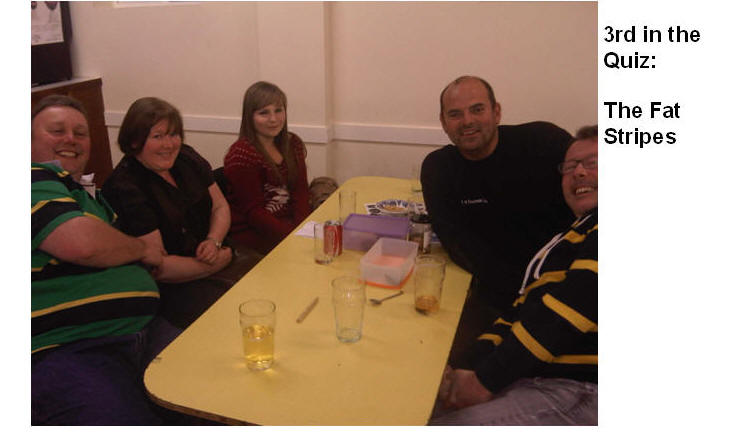 Events in November:
Melvis returns on 19th November, at 7.30pm. Tickets £9 including hot dogs, available from Nikki: 01234 720893. Licensed bar.
The Mill Theatre, Sharnbrook
Half a Sixpence
11
th
– 19
th
November 2011, 7.45 pm,
Matinée Saturday 19
th
November, 2.30 pm
¨Flash, Bang, Wallop! What a show!
A sparkling new version by Warner Brown of the classic show, featuring underprivileged orphan
Arthur Kipps, who inherits a fortune ….then loses it, but in the process discovers his true love…..
©©
The show includes the old favourite songs 'Flash, Bang, Wallop!' 'In The Cause of Economy,' and 'Half A Sixpence', plus nine new ones, including the show-stopping belter 'What Should I Feel'. A wonderful, traditional, fun musical for all the family. This is a musical based on the novel ''Kipps'' by H.G. Wells. An amateur production by arrangement with Warner Chappell Music Ltd, administered by Boosey & Hawkes
Tickets £9-£12 available from
Sharnbrook Post Office - in person
Bedford Central Box Office 01234 269519*
10 % discount for 10 or more (excluding Charity performance)
*2 wheelchair spaces, easier access seating Rows A – C; hearing loop Rows A -E. Fri. 11th November is a Charity Night; ticket price may differ
Diary
November
2nd 10.30am Meeting Point at Jane Smith's, Horsefair Lane.
5th 10am Bulb planting. Meet outside The Bell.
5th 8.30pm Bonfire Night Party, The Bell.
8th 7.30pm W.I. meet in Village Hall.
9th 7.45pm PCC Meeting at Rectory.
10th 10.30am Health Walk, HOCP.
13th 10.30am Remembrance Sunday Service, All Saints'.
13th 6.00pm Eagle Choir sing Faure's Requiem, All Saints.
16th 10.30am Meeting Point at Catherine's, Manor Cottage, Harrold.
19th 9.45am All Saints' Amblers meet at The Bell.
19th 11am Victorian Bazaar, Carlton Village Hall.
19th 7.30pm Melvis in Village Hall.
21st 7.30pm Parish Council Meeting, Village Hall.
24th 10.30am Health Walk, HOCP.
25th 2.30pm 'Patches' meet at the Rectory.
26th 7.30pm Handel's Messiah at Bunyan Meeting, Mill St.
28th 10am Conservation Tasks Day, HOCP.
29th 7.30pm Confirmation Service at All Saints'.
30th 10.30am Meeting Point at Sarah's, 9 Horsefair Lane.
Magazine Deadline
Please send all entries for the joint December/January 2012 magazine to Tricia Hudson (mag1 at odellbeds.net) or Catherine Corkery by November 12th at the latest. May we remind you that the editorial team exercises the right to edit, shorten or alter any items that are submitted. Also, the opinions expressed in the articles are those of the contributors and are not the responsibility of the editorial team.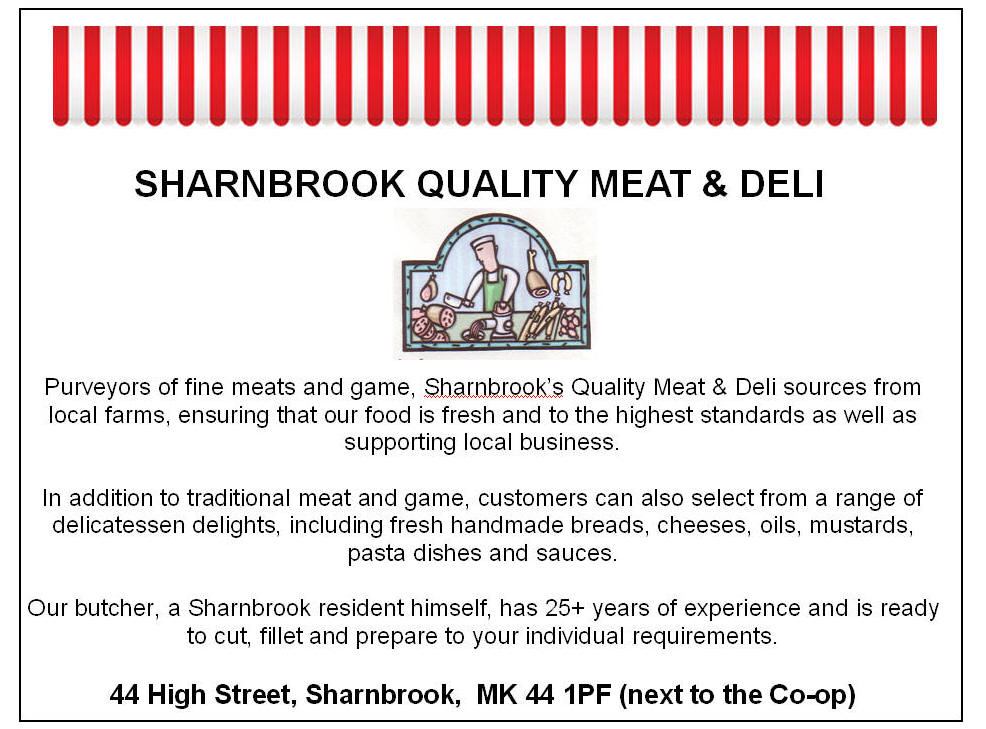 Alex Stubbs Flooring

Carpets, Vinyls, Laminates, Safety Flooring, Adaptions, Refits, Repairs

Supplied and Fitted

07976 260572

01234 240954

Great local pubs

<![if !vml]>
<![endif]>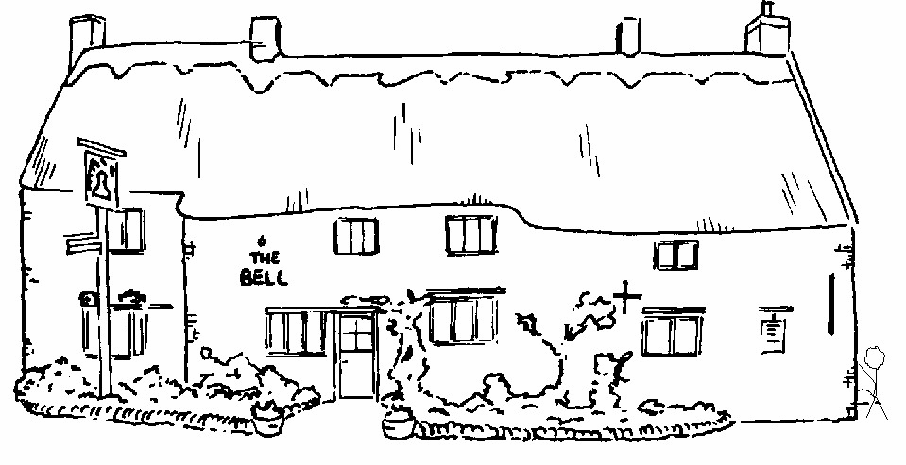 The Bell in Odell
As Featured in the 2010 Good Beer Guide
With the relaxed charm of a village local and a varied menu of
quality, home-cooked food you won't find any gimmicks here
just a Great British Pub!
Abbot Ale, IPA & Changing Seasonal & Guest Ales
Telephone 01234 720254
---
Last revised: November 05, 2011.