ODELL VILLAGE NEWS
May 2011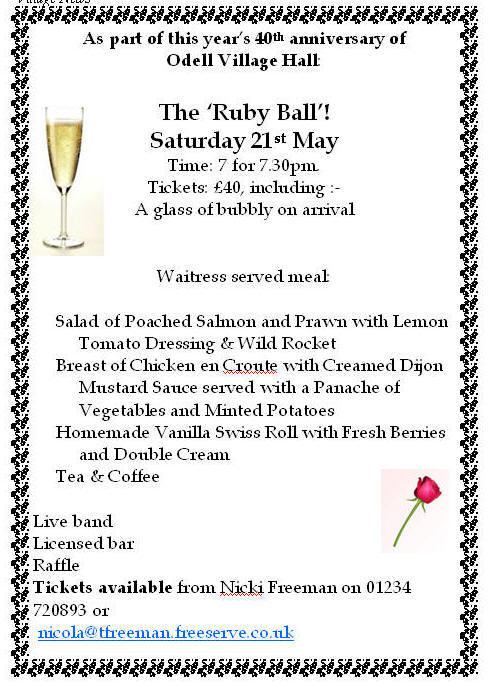 Odell Fete Saturday, 11th June 2011, 2pm
HELP will be needed to set up fete stalls on the afternoon of Friday 10th June, and then dismantle everything after the fete has ended on Saturday 11th. Please come and join in!
The Fete will be held in the Scout field, Horsefair Lane, Odell.
ENTRY Adults £1.50, Children Free
PROGRAMME OF EVENTS
2.00 PM Grand Opening
2.00-4.00PM Dog Show
4.00 PM Raffle Draw and Prize Giving
Attractions
Wode-Hill Jazz Band Boys Brigade Bouncy Castle
Teas Children's Tombola Ice Creams
Cakes Books Refreshments
Bottle Stall
Coconut Shy Children's Sports White Elephant
Produce Gifts Many Side Shows
Raffle
Family Dog Show

(entry fee - £1 per dog per class)

Classes:

1. Children's Handling (14 years and under)

2. Puppies under 1 year

3. Country Sporting Dog or Bitch

4. Best Rescue or Re-home Dog or Bitch

5. Best Condition Dog or Bitch

6. Dog or Bitch with Most Appealing Eyes

7. Best Cross-bred Dog or Bitch

8. Most Handsome Dog

9. Prettiest Bitch

Car park attendants will be on duty at the field opposite The Bell public house.

There will be disabled parking next to the Scout field.
Fete Painting Day
Painting of signs etc. for the fete will take place at Jim and Doreen Wheeler's, Linden House, High Street, Odell, on Monday 2nd May from 10.00am.
There will be a lunch time bar-b-q for helpers – please let Doreen know (720358) or Jane (01933 410959) if you wish to stay for this. Bring your own meat. Salad and puddings will be provided.
Gazebos and tables Needed
Gazebos, trestle tables and garden tables are needed for the fete – if you have any you can loan please call Jill on 720261.
People willing to supply lifts to and from surgeries.
Below is a list of the people currently willing to give lifts, to and from surgeries, to people who can't otherwise get there:
Kim Beardow 721246
Jill Cheadle 720261
Steve Robinson 720113
Marion Senn 721176
Linda Tringham 720120
Madeline Jeeves 720803
If anyone else is willing to be a volunteer please contact Jill on 720261.
Round and About
Chicken or Egg
At Eastertide we tend to think about chicks and eggs and to continue along this line of thought I am, today, looking into the increasingly popular pastime of keeping chickens.
Whether it is a part of austerity Britain or a wish to "grow your own", more and more people are turning to the new craze of keeping a handful of chickens in the back garden. You can obtain these birds from some rather surprising places. Along with the wish to grow your own crops, some garden centres have taken to the idea of selling chickens along with their seeds and pot plants. While you are there you can also purchase your chicken coops at the same time. Then, of course, there are the rescue centres. For people so inclined, battery hens who have reached the end of their career as profitable layers for a commercial enterprise are now increasingly available for re-homing. They may not be quite so productive but they have a long egg laying life ahead of them. You have to remember that when you re-home such birds they may look a bit scruffy and sorry for themselves, from living in confined circumstances - but feathers do re-grow and stiff un-used legs soon grow strong again.
Families now seem keen to turn their back gardens into areas of productivity. Self-sufficiency seems to be the new order-of-the-day and families are now keen to turn their hands to keeping a few hens alongside their fruit and vegetables. Most people, apparently, purchase at least two birds, varying up to six, as their first venture. On an average four or more birds should produce something in excess of 20 eggs a week.
What other facts may be of interest, I wonder. Did you know that it takes a hen 24 or 26 hours to create and lay just one egg. The largest ever recorded egg laid by a chicken weighed nearly 13 ozs and measured 8.6 inches around. This was the record up and until last year, that is. In June 2010 a resident of Eastwood near Southend was astounded to discover one of his hens had laid an egg 9.1 inches in diameter. The average egg measures about 5.5 inches!
The most yolks ever found in one egg is nine! The longest throw of a fresh egg, without breaking it, was set in Texas in 1978 and travelled 323 ft. When brooding her eggs a hen will turn her eggs about 50 times a day to ensure the yolk does not stick to the shell. The average Briton will eat 172 eggs a year. If you cannot remember whether your egg is fresh or has been boiled - you apparently have to spin the egg on a table. A raw egg will wobble but if the egg has been cooked it will spin more smoothly.
The U.N. calculates that there are about 16 billion chickens in the world. The longest flight ever recorded for a chicken is 13 seconds. In the wild chickens roost in trees. The world's oldest hen lived to be 16 years of age.
By the way, scientists believe they have solved the question of which came first, the chicken or the egg....reptiles were laying eggs thousands of years before the appearance of the first chicken. The first chicken came from an egg laid by a bird that was not quite a chicken as we know it today. Therefore, the egg came first!
Barbara Corley
Outreach Spring 2011
The Outreach Committee has begun to notice a hint of spring in the air (at long last!) and as such has organised an exciting schedule of events, as follows. There are still places, so if you are interested, please contact Val Wallbank, contact details given below, the more the merrier!
May - come and visit the English Riviera!
Towards the end of May Outreach are taking an exciting trip to Devon. Staying at the Hotel Derwent in Torquay, events organised include a visit to the Eden project in Cornwall where 3 of the world's natural environments are housed in an area the size of 30 football pitches and containing a wide range of amazing plants.
Follow in the steps of Poirot as the Paignton and Dartmouth Railway takes you to Kingswear followed by a river trip on the Dart to Greenaway, once home to crime author Agatha Christie.
Also included is a trip to the Dartington Cider Press, boasting a large collection of Dartington crystal and pottery and set in beautiful Devonshire countryside and there will be plenty of opportunity to explore Torquay. There are still a few places available so please get in contact if you are interested in joining us.
24th June-Milton Keynes City Orchestra, Last night of the Proms.
Come and enjoy a cultural extravaganza! This includes a pre concert talk and a main concert starting at 7.30pm. Please ask for more information.
Lots of other exciting and interesting events are planned for the warmer months including a trip to the Wisbech Rose Fair and a "Forties Friday" at The National Arboretum and a Rhine Cruise so we will keep you in the loop.
Please contact Val Wallbank on 07528 264035 or valwallbank@btinternet.com
W.I.News
At our meeting in April, Odell WI members were shown a laminated certificate which confirmed that they had raised a total of £294.89pence for the East Anglian Air Ambulance. A big thank you to all who generously donated to this cause. For more information go to www.eaaa.org.uk
Unfortunately our April speaker, who was to talk about Parchment Making, did not turn up. However, a pleasant evening was had enjoying tea and chat.
Our meeting on 10th May is the AGM when we shall welcome a WI
Adviser who will listen to any concerns we have relating to WI matters.
Hostesses are Jane and Roberta.
New members are always welcome and if you need any more information please ring Rachel Halton 720572
Jane Eshelby
Health and Wellbeing Road shows
Bedford Borough Council and NHS Bedfordshire have co-produced a series of road show events with the aim of improving the health and wellbeing of local residents. A road show is coming to:
Odell Village Hall
Thursday 12th May 2011
6:00pm – 8:30pm
Members of the public are invited to come along and get information on local health and social care services and equip themselves with the tools, motivation and inspiration to develop a healthier lifestyle. A wide-range of advice will be on offer from a variety of organisations.
Residents aged 40 to 74 will also be offered an NHS health check, which helps to identify the risk of developing heart disease, stroke, diabetes and kidney disease. Those identified at higher risk will be offered support and advice on reducing that risk.
To book your health check in advance please ring Horizon Health quoting date and venue (with your name and contact telephone number). Tel: 01234 897501.
All the events are being part funded by Government Office to help achieve set targets relating to areas of health and social care deprivation.
For more information please contact Carol Wells on 01525 636764.
Open Air Promenade Production of A Midsummer Night's Dream by William Shakespeare
No Loss Productions, Swiss Garden and Moggerhanger Park working in partnership
No Loss is a new Bedfordshire based theatre company drawing on the huge pool of local professional talent to stage exciting shows in a variety of styles and venues. Their first performance will be Shakespeare's Midsummer Night's Dream in the glorious surroundings of the Swiss Garden and Moggerhanger Park. The production is led by three Bedfordians: actor and stunt fighter Ivan Wilkinson who recently appeared in Channel 4's "1066" and "The Untold Battle of Trafalgar", Cally Lawrence, cellmate to Tracy Barlow in "Coronation Street" and blind date of Ricky Gervais in "The Office Christmas Special" and director John Handscombe whose credits include Peak Practice and The Bill.
Swiss Garden
This unique Swiss Picturesque garden was created for Lord Ongley 3rd in the early 19th century. Winding paths lead to contrived vistas with the thatched Swiss Cottage providing the main focal point. The garden also has beautiful ironwork, the Grotto and Fernery, ponds and many fine specimens of shrubs and conifers plus some remarkable trees. Later additions were made by the Shuttleworth family who bought Old Warden Park in the 1870s, these include the Pulhamite in the Grotto and punt harbour.
Moggerhanger Park
Moggerhanger Park is a Grade 1 listed house by the eminent architect Sir John Soane, set in 33 acres of parkland and woodland designed by the prominent landscape gardener Humphry Repton. The house has been home to the families Thornton, Dawkins, Mercer and Fayne during the past 220 years. The house is now home to several Christian charities, and the site managed by MPL, who operate the house for tea rooms, restaurant, wedding receptions, meetings and conferences. The grounds are open each day free of charge.
Ticket Details
Swiss Garden Saturday 4th June
Box Office: 01767 627933
Email: marketingevents@shuttleworth.org
For more details and for online tickets visit:
www.shuttleworth.org
Moggerhanger Park Saturday 11th June
Box Office: 01767 641007
Email: enquiries@moggerhangerpark.com
For more details visit:
www.moggerhangerpark.com
Performance Details for both venues
Matinee: Gates open 1pm for 2pm performance
Evening: Gates open 6pm for 7pm performance
Tickets in advance: £10 Concessions, £12 Adults
Tickets on the day: £12 Concessions, £15 Adults
(Concessions: Under 16, Students, Over 60s)
Group Booking: 10% discount when 10 tickets or more purchased in one transaction
Odell Parish Council News
With Elections almost upon us, Thursday 5th May, I am pleased to tell you that the Parish Council Elections do not have to go to the Poll on this day as all of your present Councillors agreed to stand for the next four years. The seven Councillors were all unopposed, no other candidates stood for election in the Parish, so these seven will now serve as your Councillors for the next term of office. Currently Nick Goodman is your Chairman, Brian Cheadle is Vice-Chairman and the other Councillors are Rachel Halton, Paul Crotty CBE, Steve Robinson, Tim Freeman and Amanda Sharpe.
Highways: we are still waiting on a confirmed date for the implementation of the new 30 m.p.h. speed restrictions for two areas within the Odell boundary; between Odell and Little Odell along the High Street and the road leading up to Westwood Nurseries. Rest assured that the Parish Council will be pressing the Borough Council for a positive response, together with Borough Councillor Nick Charsley's support for these important changes. In the next few months we hope to see various minor improvements carried out to our village roads. The Council are working very hard on your behalf.
Village Hall: the outside works are progressing well, helped immensely by the good weather over the past weeks. The Contractor has been working very hard to complete the work on time so that parishioners can enjoy the extra outside patio area.
Odell Village Fete: the Parish Council fully support this annual village event, indeed many of your Councillors are on the Fete Committee. A temporary road closure order will be in force for Horsefair Lane on Saturday 11th June from 12noon until 5pm. The road will be closed from The Bell public house along the entire length of the road.
Harrold Odell Country Park: don't forget there is an Open Day at the Park on Monday 30th May. Many different stalls will be offering lots of 'hands on' experiences and you are sure to find something worthwhile to do or see.
Police: The local Police continue to patrol the village and are always interested in hearing any useful information which you might want to pass on to them. It is very important to keep on the lookout for any unusual sights, opportunist thieves are always on the lookout for open windows or cars, especially now that the warmer days are with us. On Saturday 7th May there will be a North Rural Crime Reduction Event. A variety of services will be on offer: Operation CAPS (number plate securing), property marking (sat-navs, bikes, laptops, mobile phones, i-pods etc). You can also register your property with 'Immobilise' an online property register and Smartwater will be available. Renhold P.O. 1.30 – 2.30pm, Keysoe Village Hall 3 - 4pm, Clapham Village Hall 1.30 – 2.30pm and Biddenham – The Three Tuns public house 3 – 4pm. In addition PCSO Chris Warmington will be on 'Walkabout' around the village on the 22nd April and 1st May.
Footpaths: The Parish Council are working with a parishioner to help improve the state of the footpaths and bridleways around the village. We have been in contact with Bedford Borough Council and the Rights of Way Officer and expect progress within the next few months.
The next Parish Council Meeting was scheduled for Monday 16th May, but this has now been changed to Tuesday 24th May; same time, 7.30pm, at the Village Hall. This meeting will be the Annual Parish Council Meeting.
If you have any concerns or would like to contact the Parish Council please see one of your Parish Councillors or contact me between 10am and 12 noon Monday to Friday – 01234 721812. A message can be left on the answer phone outside these times and I shall get back to you.
Alternatively, send me an email – odellpc@gmail.com
Nina Bransgrove-Knight Clerk to Odell Parish Council 01234 721812 odellpc@gmail.com
Harrold-Odell Country Park Carlton Road, Harrold, Bedford MK43 7DS Email: hocp@bedscc.gov.uk Website: www.hocp.net Tel: 01234 720016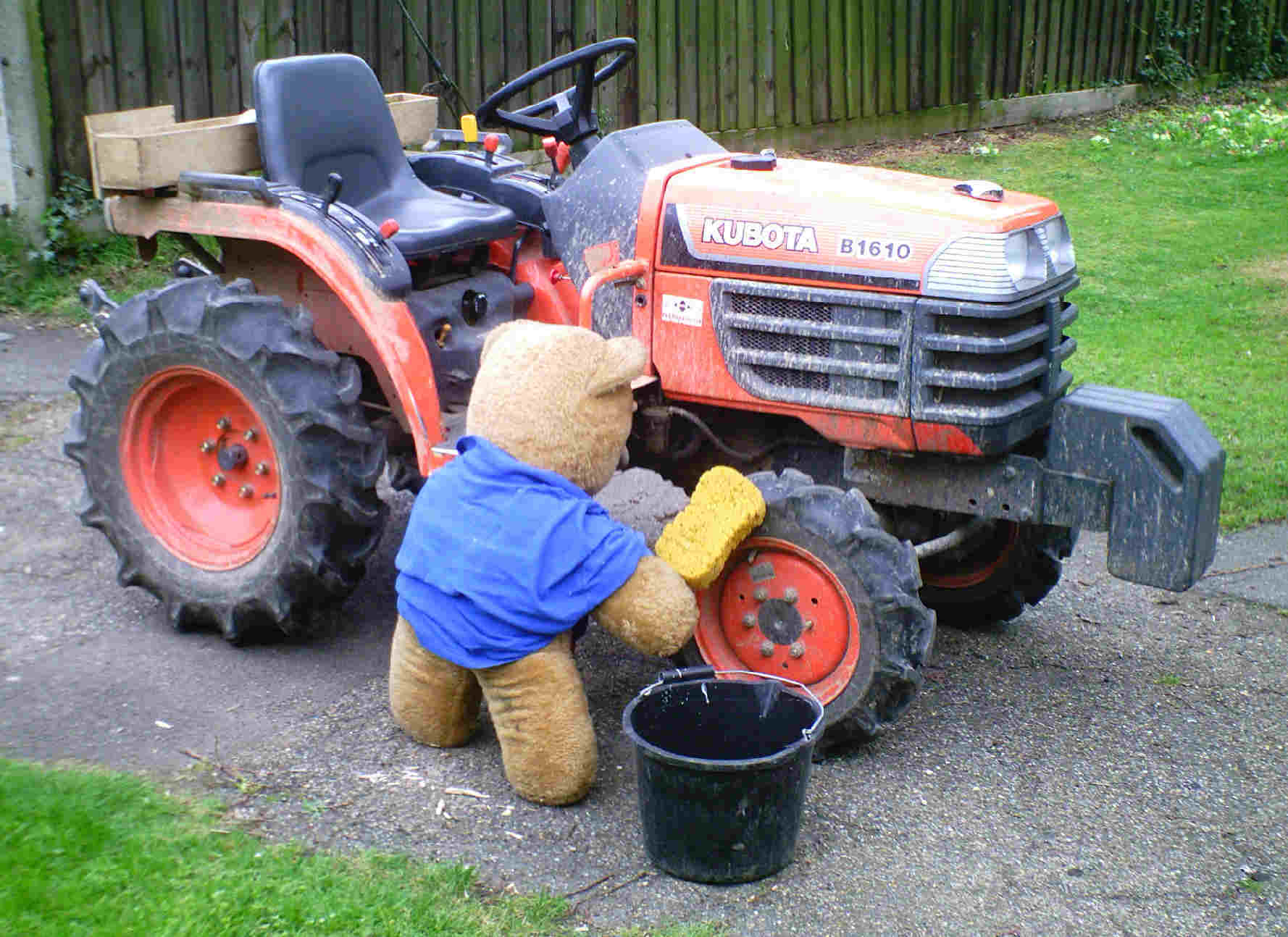 Big Ted gearing up for his stint at the Easter Egg hunt
News from Harrold Odell Country Park
As I write, it is Good Friday Eve and we are once again basking in glorious sunshine. I am preparing for tomorrow's Easter Egg Hunt, making sure I have everything in place as the 50 places are all booked.
The prolonged drought is not good news though. We have planted about 300 new trees around the park. They all need watering with at least a gallon per tree so getting around to them all has been a logistical nightmare. Thank goodness for our Friends Group. They have purchased a petrol-driven pump out of your car park donations which has been used to suck water from the lakes into a bowser to be ferried by tractor to where it's needed. The pump has then filled endless buckets to be manually tipped on the bases of the trees.
Lake levels are much too low. The strong sunlight will encourage water weeds and algae blooms to flourish, reducing water quality. Those of you who have ventured along the riverside walk will also notice how little water there is flowing through. The danger is when the weather finally breaks, that we will get thunder storms and flooding. No happy medium!
After the Pit Run on April 30th we will be seeing cattle return to graze the river meadows. They will be skittish, especially during the first 2 or 3 weeks while they get used to their new surroundings. We ask that dog owners either avoid the meadow for a few weeks or keep their pets on a lead and well away from the livestock until they settle down. The cattle are an important management tool, keeping the grass short, weeds at bay and therefore access open.
Now is the time to look out for baby animals, as breeding is in full swing. The swallows and cuckoos have arrived. Grass snakes have been seen several times and wild flowers are out in profusion. It is evident that blossom is out at least 2 weeks early this year. I took a party of health walkers into Odell Great Wood to see the bluebells. Absolutely beautiful! We also spotted other flowers like the Early Purple Orchid, Cowslip, Primrose and Wild Garlic.
On May 30th between 11am – 4pm we are holding an Open Day. A mixture of park user groups, crafts people, Beds. Geology Group and community based interests will be there to talk to visitors. Harrold Fire Brigade will be doing a boat rescue demo.
Again using car park donation money, we are planning to upgrade the information available in the bird hide. Look out for new cabinets on the walls and beautiful wildlife photographs being produced by photographer Derek Henderson. We will be able to change the displays seasonally which will be much more appealing.
On May 16th, the park is once again being judged by the Green Flag people who will make sure that the quality of what's on offer here has been maintained and improved. We have won the award 3 years in a row and want to keep those standards up. Watch this space.
May is going to be a very busy month for school visits, community led events and the general park works like strimming and maintenance. Hopefully Richard and I will see you walking and enjoying the park all through the summer.
Diary Dates
Health Walks every other Thursday. Meet at the café at 10.30am for an hour's walk then refreshments and chat afterwards if required.
May 12th & 26th
Friends Conservation Tasks meet 10am at the café.
May 23rd
Janet Munro, Ranger
Village Hall
Village Quiz, Saturday 2nd April
The first village quiz of the year, this was well attended and as entertaining as ever. Rob seems to have an inexhaustible supply of unusual and tricky questions!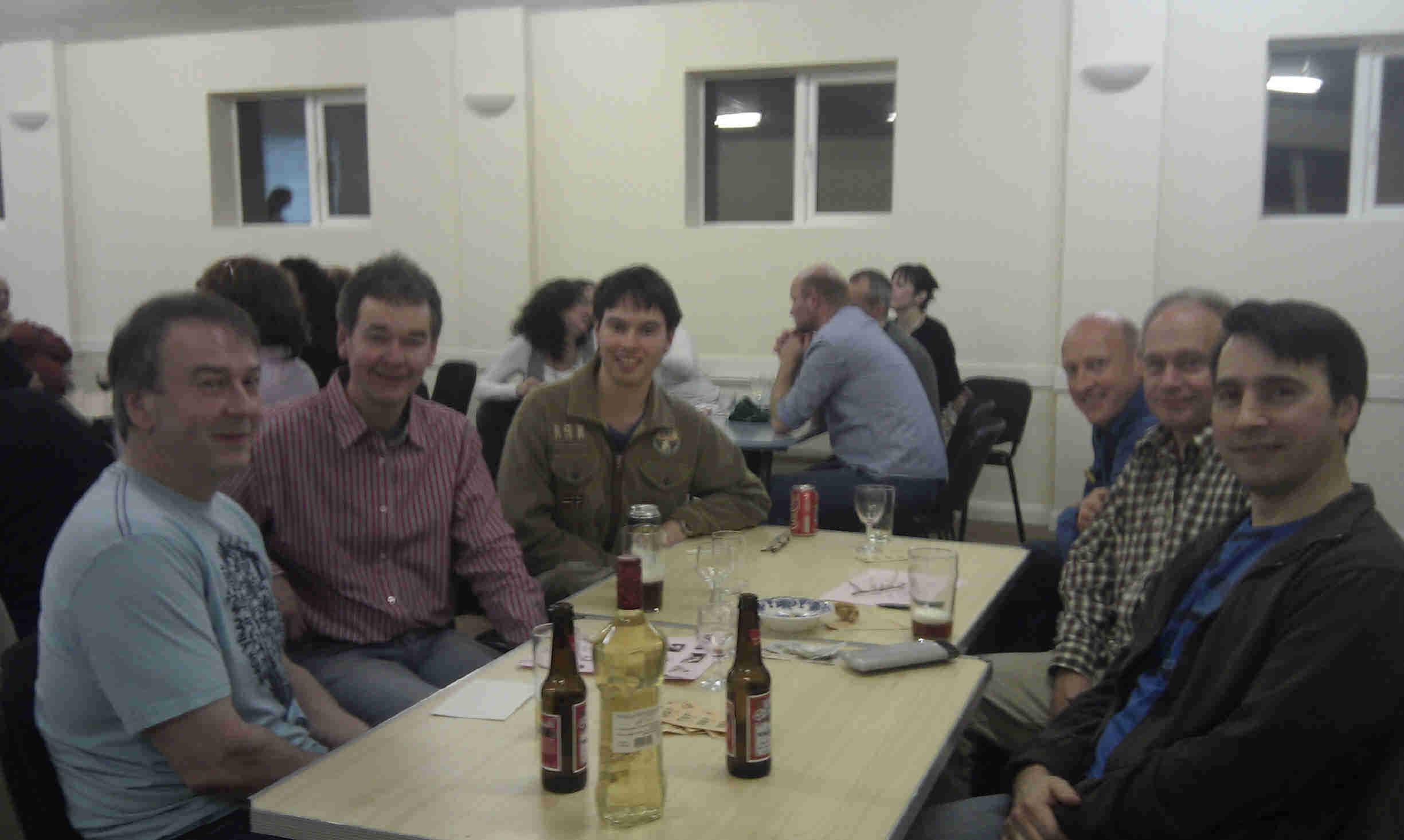 Above: the winners 'Albert Square'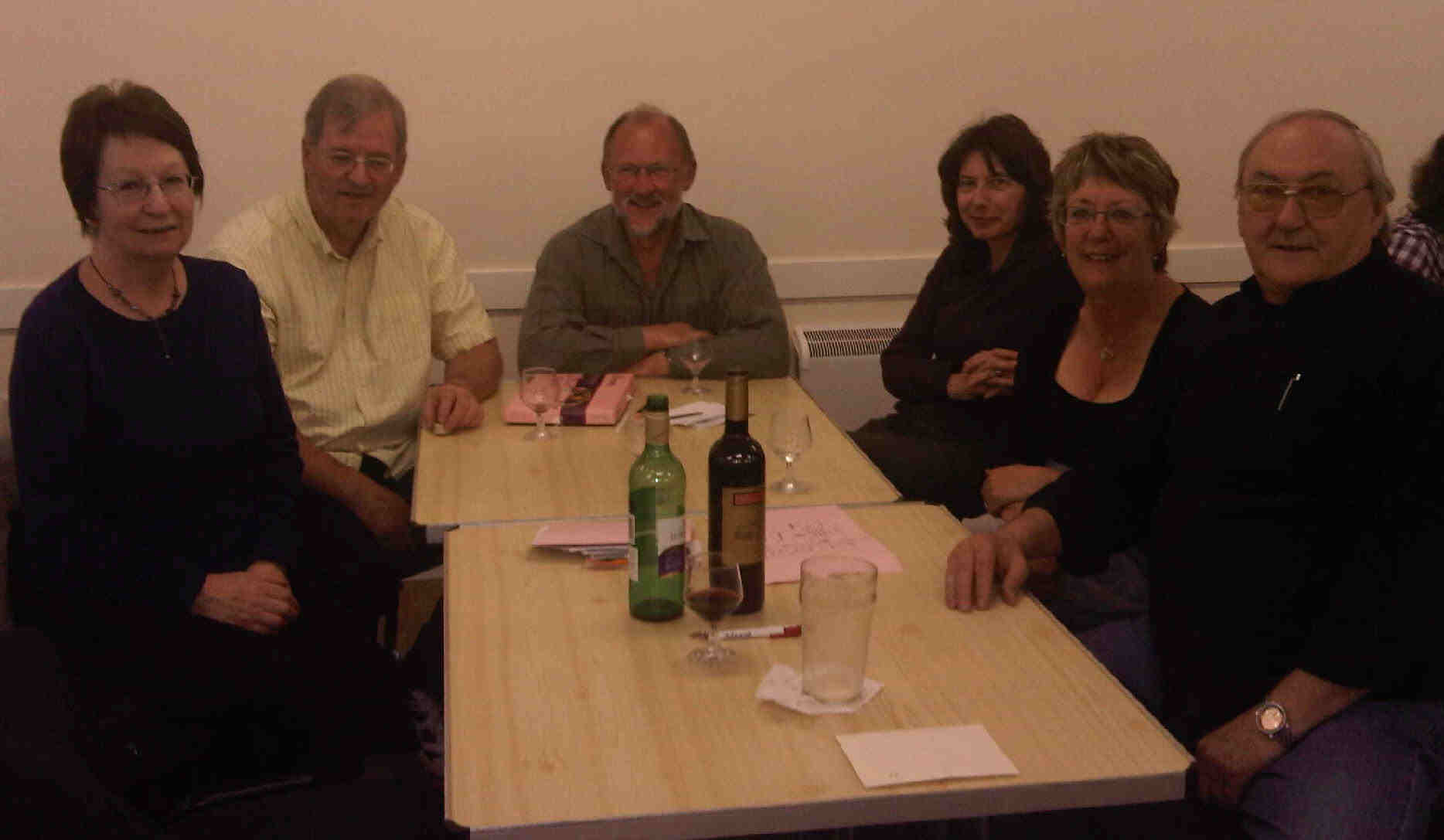 and in second place 'We Meet Again'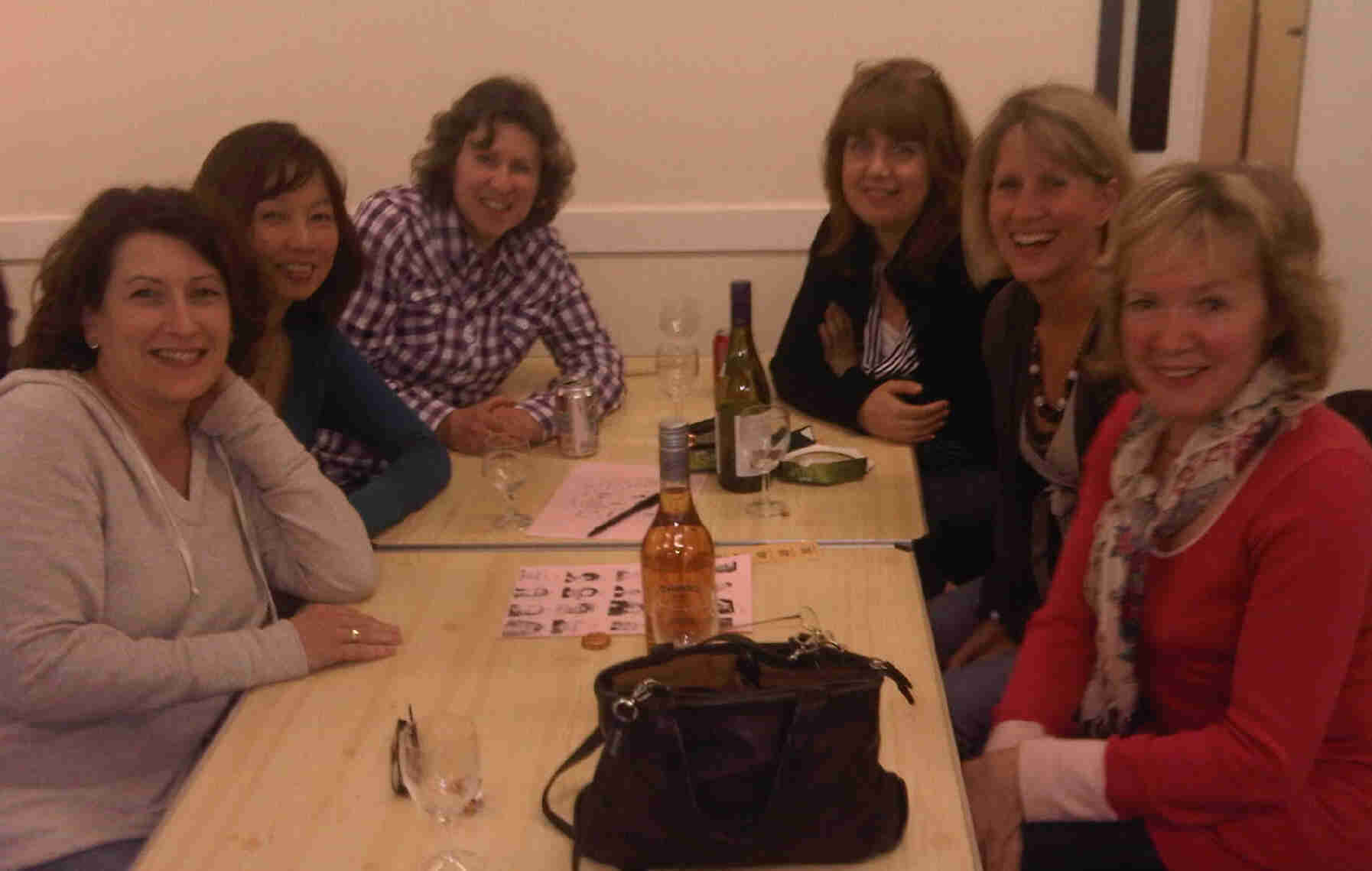 and in third place 'Queen Vic'

The Mill Theatre, Sharnbrook

The Threepenny Opera - Friday 13th to Saturday 21st May 2011

Enter the world of Mack the Knife...if you dare! A sexy, wild romp through London's underworld of beggars, thieves and cutthroats where Mack the Knife dodges the hangman's noose and tries to evade the women in his life.

The dramatic dialogue of Bertolt Brecht combines with the wily melodies of Kurt Weill, whose vibrant, jazz-based score includes the hit song 'Mack the Knife.'

Hilariously funny but with a delicious, dangerous bite, you'll be splitting your sides one moment and on the edge of your seat the next.

Don't miss the most powerful theatrical experience of your lifetime.

Tickets now available from

Bedford Central Box Office: 01234 269519*

Sharnbrook Post Office (in person)

Or order online via our website

*2 wheelchair spaces, easier access seating Rows A-C; hearing loop Rows A-E

Party Bookings: 10% discount for 10 or more at the same performance.

Diary

2nd 10.00am Fete Sign Painting day at Linden House, High St.

4th 10.30am Meeting Point at Eileen's, 24 Church Hall Road, Rushden.

8th 10.00am Rogationtide service at All Saints' followed by blessing of Community Orchard.

8th 12 noon Churches Together AGM, URC Harrold

10th 7.30pm W.I. AGM, Village Hall.

12th 10.30am Health Walk, HOCP.

12th 6.00pm Health and wellbeing Roadshow, Village Hall.

18th 10.30am Meeting Point at Jane Smith's, 4a Horsefair Lane.

21st 10.30am Coffee Morning, Rectory Farm.

21st 7.00pm Ruby Ball, Village Hall.

23rd 10.00am Conservation Tasks Day, HOCP.

24th 7.30pm Annual Parish Council Meeting, Village Hall.

26th 10.30am Health Walk, HOCP.

30th 11.00am HOCP Open Day.

Magazine Deadline

Please send all entries for the June 2011 magazine to Tricia Hudson (mag1 at odellbeds.net) or Catherine Corkery by May 12th at the latest. May we remind you that the editorial team exercises the right to edit, shorten or alter any items that are submitted. Also, the opinions expressed in the articles are those of the contributors and are not the responsibility of the editorial team.

Alex Stubbs Flooring

Carpets, Vinyls, Laminates, Safety Flooring, Adaptions, Refits, Repairs

Supplied and Fitted

07976 260572

01234 240954

Great local pubs

<![if !vml]>
<![endif]>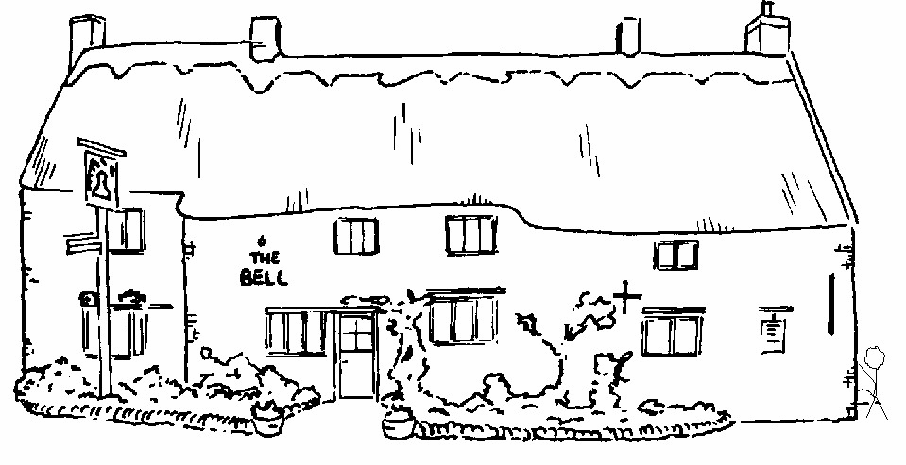 The Bell in Odell
As Featured in the 2010 Good Beer Guide
With the relaxed charm of a village local and a varied menu of
quality, home-cooked food you won't find any gimmicks here
just a Great British Pub!
Abbot Ale, IPA & Changing Seasonal & Guest Ales
Telephone 01234 720254
---
Last revised: May 06, 2011.