ODELL VILLAGE NEWS
March 2011
Coffee Morning at Rectory Farm
Saturday 21st May
From 10.30am
In aid of Places for People (Women's Refuge)
Sale of bedding, tomato and geranium plants
Raffle and Bring and Buy
Entrance Fee £1.
Orders taken for the plants.
Jill Cheadle 720261
Derek Spencer
We were saddened to hear of the death of Derek Spencer on 7th February at the age of 87 years. Derek was a local man and was much loved and respected. His knowledge of the North Bedfordshire area was seemingly inexhaustible, in particular in the craft of Bedfordshire lace-making, a skill which he himself acquired from his mother. Derek was very active in community life in Odell and in Bozeat where he lived for many years. A full obituary will appear in the April edition of the magazine.
Birthdays
Happy Birthday to Liane Fulford on the 4th March, and to everyone else with a birthday in March.
Round and About
Naughty but Nice
If you follow the media, and I do, you may have picked up on the same message that I have noticed. In this time of economic crisis the people of this great nation of ours are turning to comfort food. The cold weather and the chill economic winds have turned our thoughts to the old fashioned, warm the cockles of your heart, comfort food which, until recently has been scornfully referred to as "stodge". It seems the population is undergoing an unstoppable urge to return to the meals of yesteryear and all those carbohydrates and happily suffer the consequences.
It's steak and kidney pie drenched in gravy below a fluffy case of pastry. A big beef stew complete with great dobs of suet dumplings. Bubble and squeak and Lancashire hotpot, all this followed by jam roly-poly or a baked apple, or other fruit pudding, shimmering in cinnamon and sugar. A special favourite is that good standby, steamed pudding bathed in piping hot custard.
These are all the foods of my youth, all long since banished by the more recent culture of salads and five fruit a day, as you count your calories. Now this leaves me feeling warm with nostalgia for a traditional steamed suet pudding with a generous portion of golden syrup ladled over all. This return to comfort food suggests to me a deep emotional need as we find ourselves beset by ever increasing financial demands. As a nation could it be possible we are seeking relief in the emotional "hug" of a warm and satisfying shepherds pie with a golden crust of mashed potato?
The shivery months of January and February are usually bleak, abstemious months, dominated by diets and detox. Not, it seems, this year. Supermarkets report that porridge is flying off the shelves and that there is an increasing demand for the sale of stodgy puddings.
Apparently the traditional English steamed pudding is not found anywhere else unless taken there by families settling overseas. Over the years our liking for piping hot suet puddings has aroused horror and derision in the hearts of chefs from other lands. Some pundits have even decreed our warm, sweet puddings are like a medicine to the English. They warm us up and bring us a great sense of comfort.
So wide is this trend for comfort foods that fashionable chefs have begun to place them on their menu - but with an upmarket twist, of course. For example a great favourite is big-game pudding or, indeed, a fish soup seasoned with a generous helping of Pernot. Perhaps, again, you would prefer venison cottage pie.
With our top chefs jumping on to the band wagon....how about it.
Perhaps we should all sit down and tuck into a casserole with creamed vegetables to be followed by sticky toffee pudding.
Barbara Corley
The Mill Theatre, Sharnbrook
Reg. Charity No 242164
Ladies Day – 22nd-26th March, 7.45 pm
...an exuberantly up to the minute comedy. (The Guardian)
This hit comedy by Amanda Whittington follows the adventures of four fish workers when they go to Royal Ascot, which has been relocated to York. Out go the hairnets, the overalls and the wellies as the four "do themselves up" and head to the races for a drink, a flirt and a flutter… an intriguing and poignant insight into their friendships, lives, past histories and future hopes….
Tickets available at:
Bedford Central Box Office: 01234 269519*
Sharnbrook Post Office (in person)
*2 wheelchair spaces, easier access seating Rows A-C; hearing loop Rows A-E
Advance Booking will be available during Ladies Day for
The Threepenny Opera, Music by Kirt Weill, text by Bertolt Brecht,
English translation by Marc Blitztein
Friday 13th – Saturday 21st May at 7.45 pm
but only at The Mill Theatre.
W.I.News
Perfect Hat Perfect Day. Hats and Fascinators for hire or to buy. Good friends Jane Helliwell, Jane Taylor and Anna Wisson became fascinated with hats and attended a millinery course before setting up their business. They have over 300 hats in their Wootton Park Farm showroom, a few of which they showed WI members and encouraged us to try them on to see which suited us best! They were all colours and shapes, hand sewn and trimmed with beautiful feathers and ribbons. A couple of their hats have been to Buckingham Palace!
For more information go to their website www.perfecthatperfectday.co.uk.
The next meeting will be held in the Village Hall on Tuesday, 8th March at 7.30 when we welcome Paul Airton, Fundraising Manager for Bedfordshire East Anglian Air Ambulance. Without ongoing
government finance, availability of their helicopters to carry out life saving missions throughout Norfolk, Suffolk, Cambridgeshire and Bedfordshire is entirely dependent upon the charitable donations from their supporters. The Air Ambulance helped rescue an Odell postman last year. This is an OPEN MEETING. Visitors £2 to include tea, coffee and biscuits
Hostesses are Lynette Hall and Christine Clarke.
New members are always welcome and if you need any more information please ring Rachel Halton 720572
Jane Eshelby
You Choose the Charity!
Table Top Sale
Odell Village Hall
Saturday 12th March 2011
2-5pm
Afternoon Tea and Cakes
Entrance £2
End of lines, homeware, furniture, jewellery, clothes, gifts, accessories and much, much more!
Harrold Voluntary Car Service
What is the Volunteer Medical Car Service?
The Volunteer Car Service provides transport to medical appointments for elderly, disabled and socially excluded individuals who are unable to use public transport. The drivers are volunteers who use their own cars and give their time. The charges cover only their expenses. The drivers will collect you from home and take you to your appointment. Normally they will wait for you however if your appointment is likely to last more than 2 hours they may go home and return to collect you later. If this occurs additional costs may apply.
All Drivers have undergone CRB clearance, and will have M & M TRAVEL [NORTHANTS] LTD identity badges.
Who can use the service?
The service is available to patients of the Harrold Surgery who are unable or have difficulty using public transport, to access medical services. This may be as a result of age, disability or individuals suffering from mobility problems, as well as people in Social Exclusion. Members will need to be able to get in and out of the Drivers vehicle, and be able to wear a standard seatbelt. When carrying small children a booster must be provided. No violent or abusive behaviour will be tolerated, and in such cases the journey will be curtailed immediately and the member being removed from the service. We are unable to carry wheelchairs.
Where can I go?
The service will provide you with transport to:
• Hospital appointments, • Hospital admissions, • Hospital visiting
• Health centres and surgeries, • Dentists , • Opticians, • Podiatry
• Any other medical related appointment.
The service can be used not only for local appointments but for journeys further afield such as Leicester, Birmingham, Oxford, Cambridge and London.
It may be possible to offer Members other Social Trips; please contact M & M TRAVEL [NORTHANTS] LTD for further details. These trips would be charged at the HMRC Allowance of 0.40p/mile. Please note these trips would be at the Directors discretion. A small fee will be charged by M & M TRAVEL [NORTHANTS] LTD for arranging these excursions
When does it operate?
We endeavour to assist whenever you have an appointment but please remember the drivers are volunteers and we can have difficulty in the evenings and at weekends
How can I become a member?
You will need to complete a registration form, available from the
Surgery. If you are unable to call in person we will be please to forward the registration form to you.
How much will it cost?
You can become a member for a small annual registration fee, as at November 2010 this fee is £15.00 per year.
You will be issued with a membership card which contains your membership number which is required when you make a booking. A nominal fee to cover the drivers expenses is payable each time you use the service, this payment is made direct to the driver.
Charges to the [a] Harrold Surgery [b] South/North Wing Hospital Bedford.
| | | |
| --- | --- | --- |
| VILLAGE | a | b |
| HARROLD | £5.00 | £12.00 |
| CARLTON | £5.00 | £10.00 |
| ODELL | £5.00 | £10.00 |
| PAVENHAM | £6.00 | £10.00 |
| FELMERSHAM | £6.00 | £10.00 |
| RADWELL | £6.00 | £10.00 |
| SHARNBROOK | £6.00 | £10.00 |
You will be expected to pay any Parking Charges required.
Charges are calculated in accordance with HMRC Voluntary Drivers Allowance
Can I reclaim the charges?
If you are attending a NHS Hospital for Treatment and receive certain benefits, Income Support or Pension Credit it may be possible. Please enquire at the Hospital.
Do I need to book in advance?
Yes, in order to use the service you need to book three days in advance. Bookings must be made by calling the Office and not directly with the driver. Bookings are taken between 10.00am to 12.00pm daily. To book call: 01933-664312
Please have your membership number available and don't forget also to book your journey home. If for any reason you are unable to travel please cancel your booking to avoid Drivers travelling or you will be charged for the wasted trip, and be unable to travel again until the fee has been paid up.
HARROLD VOLUNTARY CAR SERVICE, operated by:
M & M TRAVEL [NORTHANTS] LTD
Isebrook Cottage, Finedon Road, Wellingborough, Northants NN8 4BW
Company Number 07449813, TELEPHONE: 01933 664312
E-mail: mmtnorthants@yahoo,co.uk
Odell Parish Council News
We hope to make a start on the final stage of work at the Village Hall by the end of February, this will be dependent on weather conditions. Odell Parish Council has been successful in their bid for funding from Borough Councillor Nick Charsley's Ward Fund and we shall be receiving £2,000.00 towards this building project. A very big thank you to Cllr Rachel Halton for helping to bring this together with Nick Charsley.
It is felt that the gritting /salting of the main High Street was improved over the 2010/11 period and we look forward to working closely with Bedford Borough Council Highways department in the coming months. If you do have a problem with potholes in your area either contact the Parish Council Clerk or Cllr Paul Crotty and we shall follow this up for you. Alternatively you can phone the Highways Helpdesk on 01234 228661. The Parish Council has also requested that the drains in the High Street be checked and cleared, again if you think there is a problem area near you, please contact the Clerk. Speed issues through the village are also a high priority so we have asked that the national speed limit between Little Odell and Odell be reviewed with a view to reducing to 30 m.p.h. together with extension of the 30 m.p.h in Little Odell past the new houses/Westwood Nurseries.
Good news in the present difficult financial climate, we have agreed not to increase the Parish precept for 2011/12, this will remain the same as 2010/11, being £6,000. In real terms this will mean that your contribution will be slightly less this year than last.
Harrold Odell Country Park continues to grow in strength and beauty, new saplings have been planted around the Park and the Park has recently been awarded 'Highly Commended' in the recent Campaign to Protect Rural England Awards - for the Community Orchard. The new playground area is almost complete, just the final touches to be added in the form of signage and wire netting to the bottom of the gates (to keep dogs etc out whilst the children play).
I would like to bring your attention to the date of the next meeting of the Parish Council as this will be the Annual Parish Meeting. This will be held on Monday 21st March 2011 at the Village Hall and starts at 7.30pm. Everyone is welcome to attend and we shall be incorporating a short presentation from a Crime Prevention Officer. We feel that rural crime is on the increase and it would be a great opportunity to think about Neighbourhood Watch for the village.
Bedford Borough Council has contacted us as the Scrutiny and Policy Review and Development Committees' Work Programmes form a vital part of Local Government. Their role is to ensure the Council's Executive takes the best decisions in the interests of local people, to review and help improve the local services and to investigate and assist in resolving issues that concern local people. The members of this Committee are very keen to know what Odell Parish Council would like them to investigate in the next municipal year. It is important that these issues really interest or concern local residents. For example over the past year the Committees have investigated:- support and care for Stroke patients in Bedford Borough, School meals and Benefit Services in the Borough. We ask that if you have any views you can let the Parish Clerk know - the deadline for response to the consultation is 15th April 2011. Remember, your views are vital for our local village.
Advance warning date for the Bulky Waste lorry - this will be Sunday 19th June 2011 from 12 noon until 3pm. I shall put a reminder notice on the Parish Notice Board.
Finally please do contact me if you have any queries or concerns, I shall do my best to answer them. Nina Bransgrove-Knight Parish Clerk to Odell Parish Council
01234 721812 Between 10am and 12 noon Monday to Friday. An answer phone will record your message if I am busy.
Or contact me by email odellpc@gmail.com
Harrold-Odell Country Park
Carlton Road, Harrold, Bedford MK43 7DS
Email: hocp@bedscc.gov.uk Website: www.hocp.net
Tel: 01234 720016
News From Harrold Odell Country Park
At last, we are beginning to see signs of spring. In the woods by the café entrance there are Snowdrops and Aconites flowering and in the nature reserve the "pussy willow" and hazel catkins have appeared.
Looking out across the lake from the bird hide you can already watch the Cormorants and Herons squabble over the best nesting sites and the Great Crested Grebes displaying on the water. If you're very observant you can see some of our more exotic ducks like Pochard and Goldeneye going about their business.
The winter has been hugely busy despite the weather. We have been heavily coppicing the willow in the nature reserve ponds. As they are usually flooded, it is the first time in about 20years that it's been dry enough to get in there and really clean them out. Any good timber has been stacked ready to season to sell for next year's firewood. Any branches straight enough and thin enough to be used as stakes for hedge laying have been removed and used. The thin whips have been used for binding the tops of the newly laid hedges and for use in our education work.
This winter we've had a big increase in bookings from schools wanting us to teach the children willow weaving or looking at nature topics of every kind. Richard and I derive a huge amount of pleasure from teaching so it looks like we're going to be very busy during the spring and summer season.
In addition, we currently have four work experience lads, three of whom are attending Moulton College, each giving at least one day per week in order to learn Estate Management skills. It's great to see another generation of people coming through to take on future responsibilities for the countryside.
We would like to send out a massive thank you to all the volunteers who have come out to assist in the conservation work, litter picking etc. and members of our Friends Group who work so tirelessly to raise funds and enhance the park wherever they can. We won a Bronze Award recently from the CPRE for Landscape Enhancement for the Community Orchard we planted last year. We are hoping to attain another Green Flag Award later in the year which will be our fourth in a row if we succeed.
Our chainsaw carver, Carrie Yuen, has been busy creating some wonderful sculptures and a bench in the picnic area in the shape of a pike, a large species of fish found in the lakes. She has also been commissioned by Sywell Country Park, Northants to carve a variety of animals and a table carved with butterflies and dragonflies plus some chairs shaped like toadstools. She is becoming a very sought after artist. To access her website log on to www.carrieyuen.com
Members of Vauxhall Angling Club have reported some excellent catches in recent weeks. Enquiries about the fishing or any other aspects of the park may be answered by visiting our website on www.hocp.co.uk or you can e-mail me on janet.munro@bedford.gov.uk A group called Angling 4 Success have been bringing parties of youngsters into the park to undertake some of the fishery improvement work that's needed. They have been working with their supervisors to put in steps and generally improve some of the swims. In return, Vauxhall Angling club have allowed them to have a few days fishing.
We recently undertook some drainage works along the stretch of bridleway adjacent to the bird hide after large puddles of standing water began to damage the path surface. There is now a French drain
consisting of 170m of pebbled trench to the right of the path which seems to have cured the problem.
Finally, we have just received notification that our main entrance from Odell Road, Harrold into the car park is going to be resurfaced on March 2nd/3rd. This means that our entrance will be closed to vehicles until the works are completed. We are sorry for any inconvenience caused. You will still be able to access the park on foot opposite Harrold High Street and at Odell although there is no parking in Horsefair Lane due to the obstruction caused to the residents there.
Janet Munro, Assistant Ranger
Health Walks - 10.30am
March 3rd 17th, 31st. We walk for approx. 1hr. with an option to stop for a coffee afterwards. We meet at the café entrance at 10.30am.
Friends' Conservation tasks - 10am March 28th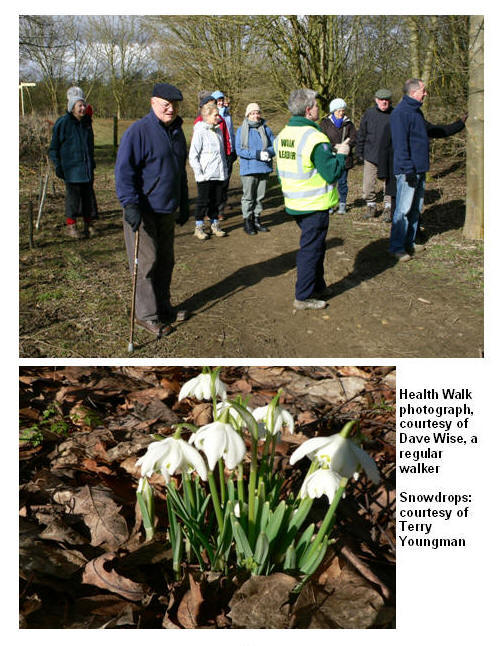 Village Hall

Coming up in 2011:

Look out for details of the Village Quiz, to be held in April.

Diary, March

2nd 12.30pm Senior Citizens' Fish and Chip Lunch, Village Hall.

3rd 10.30am Health Walk, HOCP.

4th 10.00am Women's World Day of Prayer, St Mary's Carlton.

8th 7.30pm Odell W.I., Village Hall.

9th 10.30am Meeting Point at Catherine's, Manor Cottage, Harrold.

12th 2.00pm Table Top Sale, Odell Village Hall.

13th 10.00am United Anniversary Service at URC, Harrold.

14th 7.30pm Lent Course, 3 Copper Beeches, Emmaus Village.

15th 8.15pm Lent Course, 46 Harewell Way, Harrold.

16th 1.30pm Lent Course, 32 Rectory Close, Carlton.

16th 7.30pm Lent Course, 30 Orchard Lane, Harrold.

17th 10.30am Lent Course, 40 High Street, Harrold.

17th 10.30am Health Walk, HOCP.

19th 9.45am All Saints' Amblers meet at The Bell.

21st 7.30pm Lent Course, 3 Copper Beeches, Emmaus Village.

21st 7.30pm Annual Parish Meeting, Village Hall.

22nd 8.15pm Lent Course, 46 Harewell Way, Harrold.

23rd 10.30am Meeting Point at Jane's, Newton House, Avenue Rd.,

Newton Bromswold, Rushden.

23rd 1.30pm Lent Course, 32 Rectory Close, Carlton.

23rd 7.30pm Lent Course, 30 Orchard Lane, Harrold.

24th 10.30am Lent Course, 40 High Street, Harrold.

26th 7.30pm Fairtrade Fashion Show, St. Andrew's Church, Bedford.

28th 10.00am HOCP Conservation tasks day.

28th 7.30pm Lent Course, 3 Copper Beeches, Emmaus Village.

29th 8.15pm Lent Course, 46 Harewell Way, Harrold.

30th 1.30pm Lent Course, 32 Rectory Close, Carlton.

30th 7.30pm Lent Course, 30 Orchard Lane, Harrold.

31st 10.30am Lent Course, 40 High Street, Harrold.

31st 10.30am Health Walk HOCP.

Magazine Deadline

Please send all entries for the April 2011 magazine to Tricia Hudson (mag1 at odellbeds.net) or Catherine Corkery by March 12th at the latest. May we remind you that the editorial team exercises the right to edit, shorten or alter any items that are submitted. Also, the opinions expressed in the articles are those of the contributors and are not the responsibility of the editorial team.

SHARNBROOK SURGERY PPG

Sharnbrook Surgery has set up a

PATIENT PARTICIPATION GROUP

For further information, please write to:

Sharnbrook Surgery PPG

c/o Sharnbrook Surgery

Templars Way

Sharnbrook

Bedford

MK44 1PZ

Or e-mail to:

PPGSharnbrookSurgery@hotmail.co.uk

More details to follow

Alex Stubbs Flooring

Carpets, Vinyls, Laminates, Safety Flooring, Adaptions, Refits, Repairs

Supplied and Fitted

07976 260572

01234 240954

Great local pubs

<![if !vml]>
<![endif]>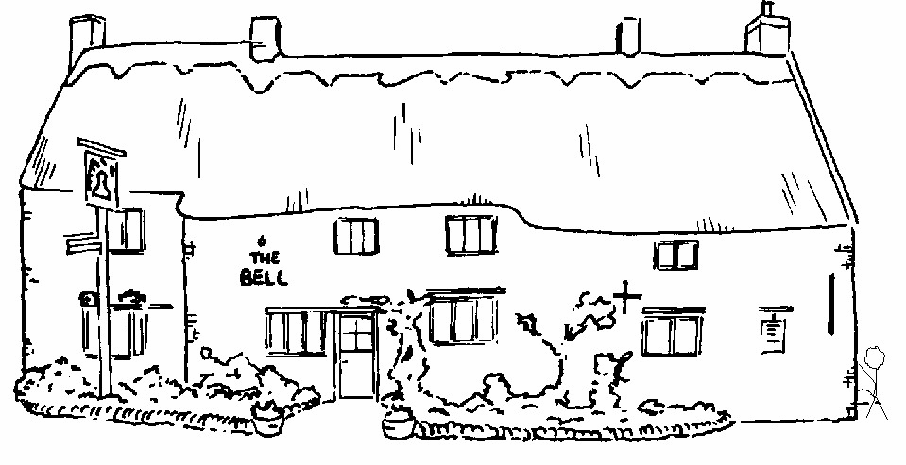 The Bell in Odell
As Featured in the 2010 Good Beer Guide
With the relaxed charm of a village local and a varied menu of
quality, home-cooked food you won't find any gimmicks here
just a Great British Pub!
Abbot Ale, IPA & Changing Seasonal & Guest Ales
Telephone 01234 720254
---
Last revised: March 05, 2011.