ODELL VILLAGE NEWS
June 2011
Odell Fete Saturday, 11th June 2011
HELP will be needed to set up fete stalls on the afternoon of Friday 10th June, and then dismantle everything after the fete has ended on Saturday 11th. Please come and join in!
ODELL VILLAGE FETE AND DOG SHOW
SATURDAY 11th JUNE 2011 2 PM
(In the Scout field, Horsefair Lane, Odell)
ENTRY Adults £1.50, Children Free
PROGRAMME OF EVENTS
2.00 PM Grand Opening
2.00-4.00PM Dog Show
4.00 PM Raffle Draw and Prize Giving
ATTRACTIONS
Wode-Hill Jazz Band Boys Brigade Bouncy Castle
Teas Tombola Ice Creams
Cakes Books Refreshments
Bottle Stall
Coconut Shy Children's Sports White Elephant
Produce Gifts Many Side Shows
Raffle
Family Dog Show
(entry fee - £1 per dog per class)
Classes:
Children's Handling (14 years and under)
Puppies under 1 year
Country Sporting Dog or Bitch
Best Rescue or Re-home Dog or Bitch
Best Condition Dog or Bitch
Dog or Bitch with Most Appealing Eyes
Best Cross-bred Dog or Bitch
Most Handsome Dog
Prettiest Bitch
Car park attendants are on duty at the field opposite The Bell public house
There is disabled parking next to the Scout field
Gazebos and tables Needed
Gazebos, trestle tables and garden tables are needed for the fete – if you have any you can loan please call Jill on 720261.
People willing to supply lifts to and from surgeries.
Below is a list of the people currently willing to give lifts, to and from surgeries, to people who can't otherwise get there:
Kim Beardow 721246
Jill Cheadle 720261
Steve Robinson 720113
Marion Senn 721176
Linda Tringham 720120
Madeline Jeeves 720803
If anyone else is willing to be a volunteer please contact Jill on 720261.
Birthdays in June
Happy birthday to
Mia Vyvyan on the 2nd,
Eleanor Robinson 17th,
Alex Tringham on the 18th
Elliot Swift on the 19th June,
and to anyone else with a Birthday in June!
Round and About
A Rather Prickly Friend
What is it about a hedgehogs that makes it such a firm favourite with most people? Because most of us seem to have quite a soft spot for this strange, endearing, little creature covered all over in prickles, that comes snuffling round our gardens late into the night.
Very few people find themselves unable to name a hedgehog on sight and when you consider that they are nocturnal by habit this is rather strange until, that is, you realise just how loved they are by some of our favourite authors. They just love to write about hedgehogs - consider Beatrix Potter, Ted Hughes and Pam Ayres.
Hedgehogs are one of the earliest of our mammals and can be traced back 70million years to the last days of the dinosaurs. Perhaps that is why they have such an individual appearance! They can have anything up to 7,000 prickles - even the young are born with prickles although with the babies the spines are soft and unformed at birth - which is just as well for the mother as she can have 4 to 5 young in her brood. There are no spines on the face and under parts and the legs are also free from spines.
When the hedgehog is at ease and relaxed amongst its family the prickles present no problems as they lie quite flat. The little beastie can be quite cute and cuddly in this form. It is only in times of stress - fear or anger - that the muscles along the spine contract, causing the prickles to rise. These spines are, of course, the hedgehog's main form of defence. The other defence mechanism is their ability to curl into a ball producing the appearance of a sphere covered in spikes which, if you have ever tried to pick one up, you will know is practically impenetrable. A hedgehog can adopt this position at incredible speed and in this form they feel completely safe.
Hedgehogs appear to have individual personality traits with quite a variety of moods. They can be quite nervous and shy and can appear to be grumpy on occasions and in family situations they can display a happy, cheerful mood. When out foraging for food they can be quite bold. They have an excellent sense of smell and very good hearing although their eyesight leaves something to be desired. Hedgehogs are surprisingly good swimmers and can be good climbers. In search of food they can scale quite a variety of obstacles which can include quite a loosely stacked log pile and as long as they can find the smallest of footholds they can even climb walls. Should they fall they immediately form a ball and the prickles then act as shock absorbers.
The adult male is just over 9 inches from head to tail - and yes, they do have a tail which is about an inch long - and the female is just a trifle smaller. They spend the daylight hours asleep, usually in the bottom of a hedge or under a pile of dead leaves. Sometimes they choose what seems to them the ideal site - the bottom of the garden bonfire. This little bundle of thorns will sally out at dusk to trundle around looking for food. They have to rely on their sense of smell to locate their food source and often seem to just stumble across it. Their main source of food is slugs, snails and worms but they will eat most insects. Should they stumble across a ground nest they will happily tuck into birds eggs. They are also fond of eating any fruit that they may come across whilst foraging.
Sadly hedgehog numbers are declining, partly due to loss of habitat due to urban development but also because of certain character defects in our little friend. Their habit of rolling into a ball in times of danger is sadly no protection from cars hurtling along our roads at night. Their habit of seeking refuge in the garden bonfire tragically sees many come to an end in this way.
The hedgehog, however, is far from alone when they find themselves in trouble. Injured hedgehogs seem to make themselves good patients and respond well to being nursed by their human friends. There is an astonishing number of people registered as "hedgehog carers". Indeed there are over 600 of them, from St. Tiggywinkle's Wildlife Hospital to the British Hedgehog Preservation Society. St. Tiggywinkle's claims to be the busiest wildlife hospital in the world, tending to a staggering 10,000 patients a year.
Hedgehogs are, of course, wild animals and although they accept human help in their time of need it is noticeable that this shameless little character, upon recovery, and being released back into the wild, shuffles off into the wilderness without so much as a backward glance. Barbara Corley
W.I.News
May's meeting was our AGM and I think we were all secretly pleased when the visiting WI Adviser was unable to attend.
All the formal reports were duly presented with an overwhelming theme that our branch is more about friendship and less to do with WI matters. Mandy was thanked for her contribution to balancing our accounts and extended her appreciation to Rob Lee for auditing them for us. Rachel agreed to stay on as Chair with Doreen as our secretary which all members were really relieved to hear as it means the friendly contacts which we so value will still continue. Both Rachel's and Doreen's hard work is really appreciated and we acknowledged that sometimes that isn't how it feels. However, when we all meet, or when one of us needs a bit of extra support, we all realise how privileged we are to be a member of such a special group.
The formalities over, we did a bit of brain training in the form of a quiz which Doreen had produced; Audrey and Carol were the winners.
Our numbers are rising and if you feel you would like to join this very supportive and entertaining group please contact Rachel on 720572.
We do not meet again until July 12th when we will be having a talk on the British Red Cross. Lynette Hall
News from The Bell
Katie and Will are hosting The Bell's first ever beer festival!
from 5pm Friday 10th June to Sunday 12th June
Barbecue on Saturday from 2pm
Selection of local ales, Greene King Ales and Cider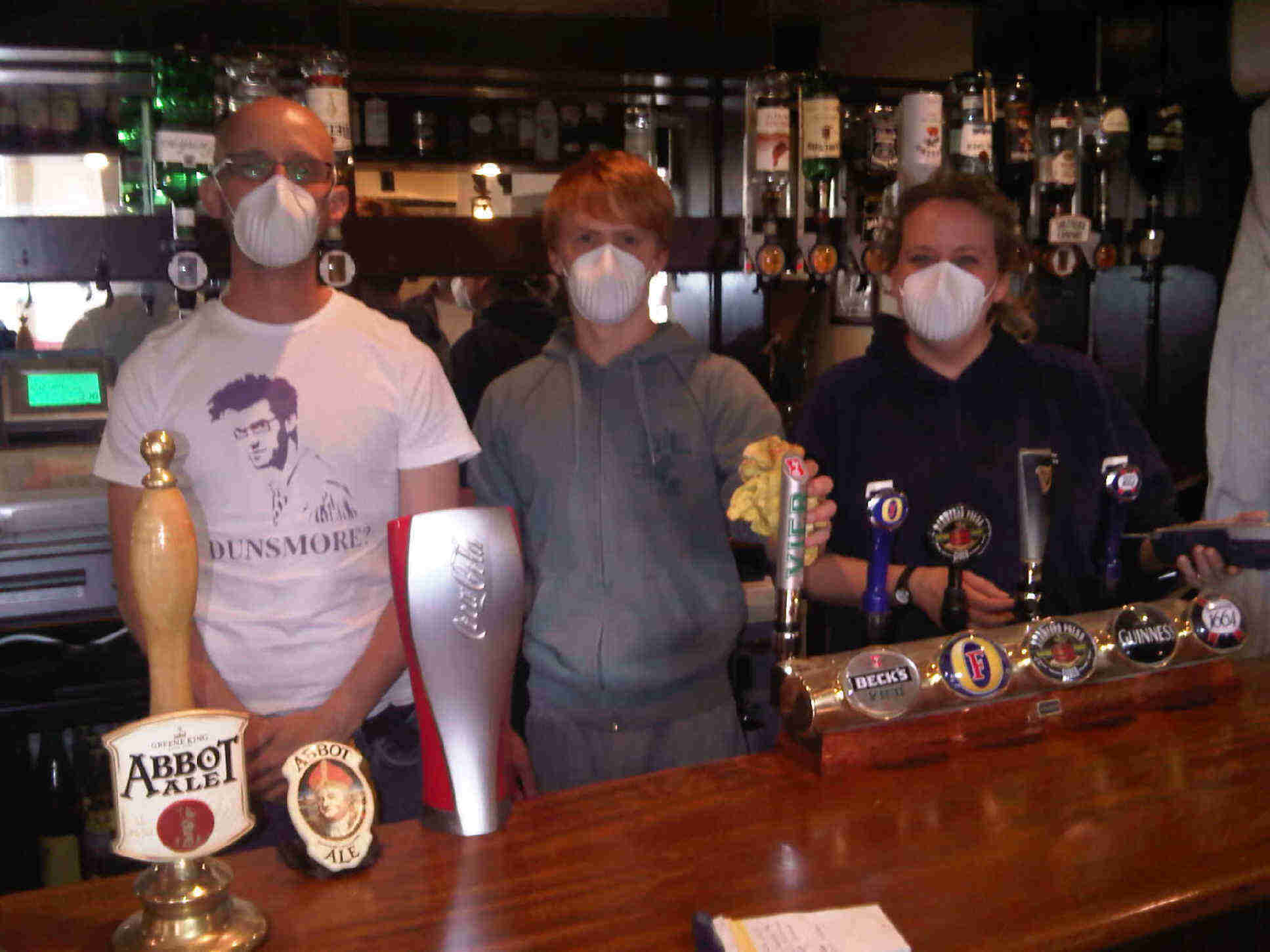 Staff at The Bell don face masks as they embark on a big spring clean on 23rd May. New Pumps have also been installed ready for the first ever Beer Festival at The Bell.
Open Air Promenade Production of A Midsummer Night's Dream by William Shakespeare
No Loss Productions, Swiss Garden and Moggerhanger Park working in partnership
No Loss is a new Bedfordshire based theatre company drawing on the huge pool of local professional talent to stage exciting shows in a variety of styles and venues. Their first performance will be Shakespeare's Midsummer Night's Dream in the glorious surroundings of the Swiss Garden and Moggerhanger Park. The production is led by three Bedfordians: actor and stunt fighter Ivan Wilkinson who recently appeared in Channel 4's "1066" and "The Untold Battle of Trafalgar", Cally Lawrence, cellmate to Tracy Barlow in "Coronation Street" and blind date of Ricky Gervais in "The Office Christmas Special" and director John Handscombe whose credits include Peak Practice and The Bill.
Ticket Details
Swiss Garden Saturday 4th June
Box Office: 01767 627933
Email: marketingevents@shuttleworth.org
For more details and for online tickets visit: www.shuttleworth.org
Moggerhanger Park Saturday 11th June
Box Office: 01767 641007
Email: enquiries@moggerhangerpark.com
For more details visit: www.moggerhangerpark.com
Performance Details for both venues
Matinee: Gates open 1pm for 2pm performance
Evening: Gates open 6pm for 7pm performance
Tickets in advance: £10 Concessions, £12 Adults
Tickets on the day: £12 Concessions, £15 Adults
(Concessions: Under 16, Students, Over 60s)
Group Booking: 10% discount when 10 tickets or more purchased in one transaction
Outreach Spring 2011
24th June-Milton Keynes City Orchestra, Last night of the Proms.
Come and enjoy a cultural extravaganza! This includes a pre concert talk and a main concert starting at 7.30pm. Please ask for more information.
Lots of other exciting and interesting events are planned for the warmer months including a trip to the Wisbech Rose Fair and a "Forties Friday" at The National Arboretum and a Rhine Cruise so we will keep you in the loop.
Please contact Val Wallbank on 07528 264035 or valwallbank@btinternet.com
Harrold-Odell Country Park
Carlton Road, Harrold, Bedford MK43 7DS
Email: hocp@bedscc.gov.uk Website: www.hocp.net
Tel: 01234 720016
News from Harrold Odell Country Park
It must be nearly summer - the cattle are back in the river meadows. They will be about until October providing the grass lasts that long so please keep your dog on a lead.
Having been 3months without rain the low water levels say it all.
Volunteers from our Friends Group have been out every week watering all 300 of our newly planted trees which would have died by now if they hadn't. We can't thank them enough.
On May 16th judges from the Green Flag Awards came to inspect the park once again to see if our standards were still good enough to allow us to keep the flag for another year. We have won it 3yrs on the trot and have to demonstrate progress every time. Here's hoping that we get good news in July.
On a sadder note, we have been experiencing a spate of vandalism and antisocial behaviour in certain areas of the park. Bottles were smashed on the café verandah and criminal damage done to the skate park. Illegal fires have also been lit near the Odell end. We are monitoring our CCTV and the police are aware. Some of the younger perpetrators may well be receiving a visit from the police in the near future.
This is now the time to see wildlife. Breeding has really got underway and there are a lot of wildflowers and insects, particularly dragonflies emerging. We are home to some real rarities and welcome news on sightings to put on our blackboard. We particularly want to hear about otters and kingfishers.
We have been spending some of your parking donation money on new signage for the bird hide, the bus shelter at the half-way point on the big lake path and the side room in the café. When we have fully installed this, which will take a few weeks because we have to make some bespoke frames to hang them on, then we hope this will enhance your experience in these areas. Any feedback is welcome.
Other purchases include a laptop and projector to assist in giving evening talks about the park this coming winter. We have also had bookings from several community groups wanting speakers at meetings in return for a donation towards the work of the Friends.
Visitors may also notice that we are dealing with a large number of schools bringing children out for lessons in the park. It's lovely to be able to teach children about the outdoors and the environment.
On May 30th we held an Open Day with a mixture of Community Stalls, Arts and Crafts and demonstrations. A good time was had by all. We are looking into the feasibility of inviting the RSPCA (North Beds) to come and do a doggy day where pet owners can come and get their pets micro-chipped at a cheaper rate and talking about dog issues generally. Watch this space.
Events
Fortnightly Health Walks starting at 10.30am on Thursdays from the café. Walking lasts an hour then the option of coffee and a natter at the café. June 9th and 23rd and July 7th and 21st
Public Bat Walk: 21.00 hrs Thursday June 23rd A free event with Beds Bat Group. Bat detectors provided. Booking essential 20 places only. Either call Janet Munro on 01234 720016 or e-mail janet.munro@bedford.gov.uk
Friends Conservation tasks meet 10am at the café. Monday June 27th and Monday July 25th. Refreshments provided but bring a packed lunch. More info on the website www.hocp.co.uk
Janet Munro, Ranger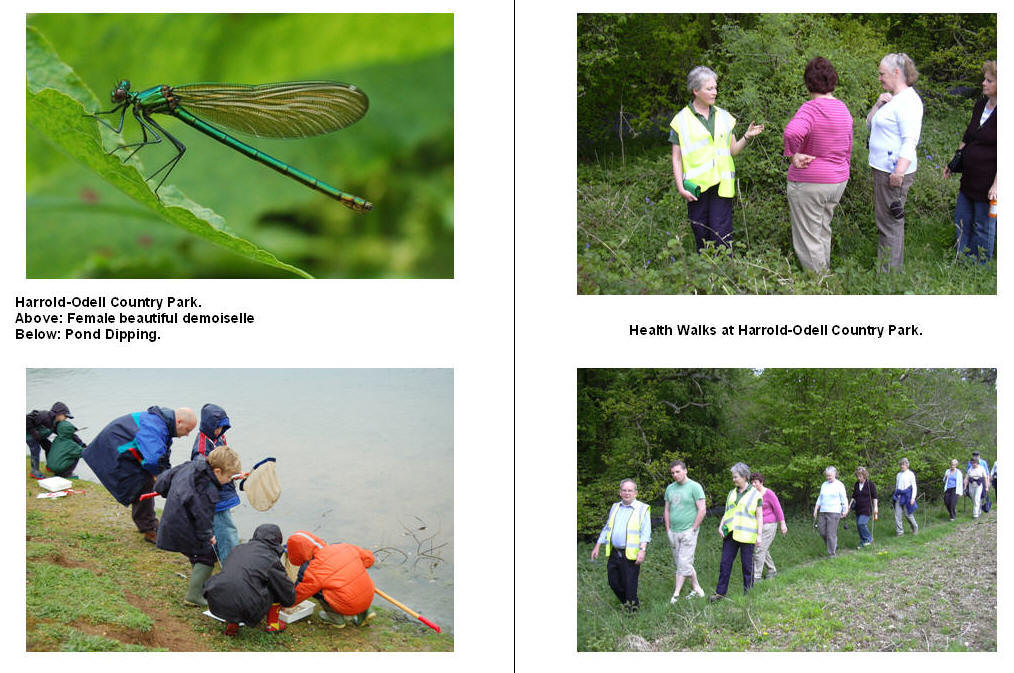 Odell Parish Council News
Parish Council: At the recent Annual Parish Council Meeting I can report that a full Council nominated and voted for Cllr Nick Goodman as your Chairman and Cllr Brian Cheadle as your Vice-Chairman for the 2011/12 year. I reported in the May issue that all of your previous Councillors stood for election and the Council remain the same as 2010/11. Also at this meeting, the new Borough Ward Councillor, Alison Foster, was warmly welcomed to the meeting. She is very keen to help parishioners and the Parish Council if we have any concerns, so do please contact her.
Highways: Cllr Paul Crotty has recently carried out a "walkabout" with the representative from Amey, the Borough Highways team, and is very pleased that they are listening to the requests from the Parish Council for improvements to the highways around the village. In particular the areas of Mill Lane, High Street and Church Lane were inspected and various courses of action will be carried out within the 2011/12 year. Our thanks to Paul for spending the time with the Highways representative; not only does this ensure the necessary repairs are carried out but it reminds the Borough Council that our village has Councillors who really care about it.
Footpaths: Regular walkers and riders will be aware that several of the local footpaths are in need of attention . We have contacted the Borough Rights of Way Officer and expect urgent action very soon. Our thanks to Richard Hall who has been working very hard to improve the current state of the footpath/bridleway network in and around the village.
Village Hall: Thanks again to Tim Freeman and his contractors who have now completed the extra work to the outside of the Village Hall. I understand that work was finished before the recent Ball held on the 21st May, much to the appreciation of the ladies and gentlemen who attended the event.
Odell Village Fete and Dog Show: Saturday 11 June – 2pm – in the Scout Field, Horsefair Lane. Wonderful family attractions and games, including the famous Dog Show, so do make time to pop along.
Harrold Odell Country Park: Bank Holiday Monday, the 30th May, from 11am until 4pm. A mixture of park user groups, crafts people, Beds Geology Club and lots more. It is free!
Police: We now have a new Police Constable, PC Dave Hawkey, working in our area. No doubt you will meet him very soon, perhaps when he is accompanied by our local Police Community Support Officer, Chris Warmington whilst walking around the village on the regular village Police "walkabouts". Do say 'hello' to them both, they are very friendly.
.
The next Parish Council Meeting was scheduled for Monday 18th July, 7.30pm, at the Village Hall. As with all Parish Council meetings,parishioners are always welcome.
If you have any concerns or would like to contact the Parish Council please see one of your Parish Councillors or contact me between 10am and 12 noon Monday to Friday – 01234 721812. Appointments by prior arrangement. A message can be left on the answer phone outside of these times and I shall get back to you. Alternatively, send me an email – odellpc@gmail.com
Nina Bransgrove-Knight, Clerk to Odell Parish Council 01234 721812 odellpc@gmail.com
Village Hall
The 'Ruby Ball' was held on Saturday 21st May in the Village Hall, to celebrate the 40th anniversary of the Village Hall in Odell. The event was well attended and was a great success.
The waitress-served meal was met with considerable enjoyment and the music, provided by 'Goat Patrol', had everyone dancing until the end of the evening.
Congratulations to all the Village Hall Committee whose hard work really paid off in making this such a fabulous evening.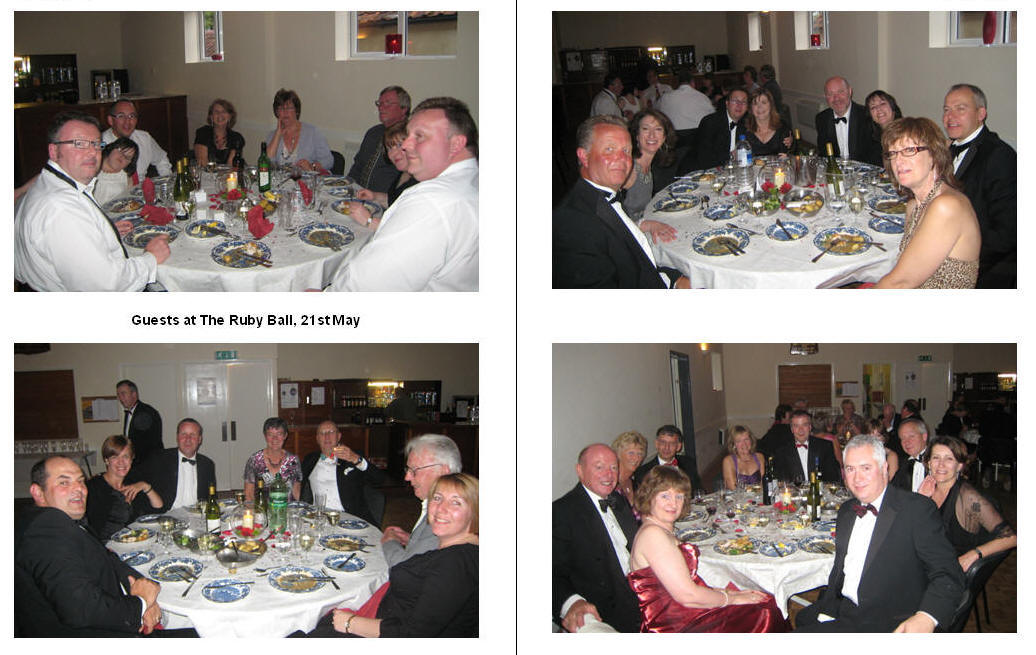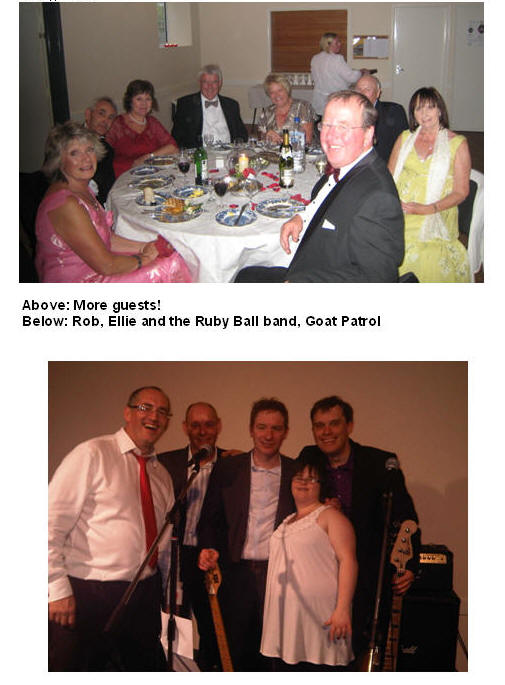 The Mill Theatre, Sharnbrook
Reg. Charity No 242164
Sharnbrook Mill Theatre, (SMTT) in conjunction with Bedford University Travelling Theatre (BUSTT*) present
on June 23
rd
, 24
th
and 25
th
Two One Act Plays:
'The Dumb Waiter'
by Harold Pinter
directed by Sam Turton and performed by SMTT.
The play follows two hit-men, Ben and Gus, waiting in a basement room for their assignment. As they wait in this apparently abandoned
building, strange happenings lead to arguments and misunderstandings between the pair….
'
What happens next?'
a new farce by up-and-coming playwright Emma Hopkins, performed by student members of BUSTT*
Tickets £8 available now from Box Offices, as below!
A change to our advertised programme
:
September 20
th
– 24
th
:
Dead Guilty
A Psychological Thriller by Richard Harris.
You may think you know what's happening but…….
This production replaces Wait until Dark, which has been withdrawn by the copyrighters from performance.
Tickets on sale at Sharnbrook Post Office (in person) and Bedford Central Box Office 269519 from 5 weeks before.
<>
Forthcoming Read-Throughs and Auditions:
Dead Guilty 20
th
– 24
th
September.
Read-throughs: Sun. 15
th
at 11 am & Tues 24
th
May at 7.45pm
Auditions: Tues. 31
st
May at 7.45 pm.
Details: Nicole MacDonald 07818 040008 or
two2get2no@aol.com
Half A Sixpence 11
th
–19
th
November
Read-throughs: Mon. 23
rd
& Wed 25
th
May at 7.30pm.
Auditions: Sunday 29
th
May at 10 am. Virginia Pope 01933 356974.
NB: Although the dates of the read-throughs and auditions may have passed when you receive this magazine, interested parties can still
contact the directors as stated.
information

Diary

9th 10.30am Health Walk, HOCP.

10th From 5pm Beer Festival, The Bell.

11th " "

11th 2pm Village fete, Horsefair Lane.

12th 11am Festival Service, Fete Field.

12th Last day of Beer Festival, The Bell.

12th 12.30pm Village BBQ, Fete Field.

15th 10.30am Meeting Point at Catherine's, Manor Cottage,

Harrold.

18th 9.45am All Saints' Amblers meet at The Bell.

19th 1.30pm Carlton Open Gardens.

23rd 10.30am Health Walk, HOCP.

24th Outreach Trip to Milton Keynes City Orchestra.

25th 2.30pm Café in the Tower, All Saints' Church.

26th " " " " "

27th 10am Conservation tasks day, HOCP.

29th 10.30am Meeting Point at Jane's, Newton Bromswold.

Magazine Deadline

Please send all entries for the joint July and August 2011 magazine to Tricia Hudson (mag1 at odellbeds.net) or Catherine Corkery by June 12th at the latest. May we remind you that the editorial team exercises the right to edit, shorten or alter any items that are submitted. Also, the opinions expressed in the articles are those of the contributors and are not the responsibility of the editorial team.

Alex Stubbs Flooring

Carpets, Vinyls, Laminates, Safety Flooring, Adaptions, Refits, Repairs

Supplied and Fitted

07976 260572

01234 240954

Great local pubs

<![if !vml]>
<![endif]>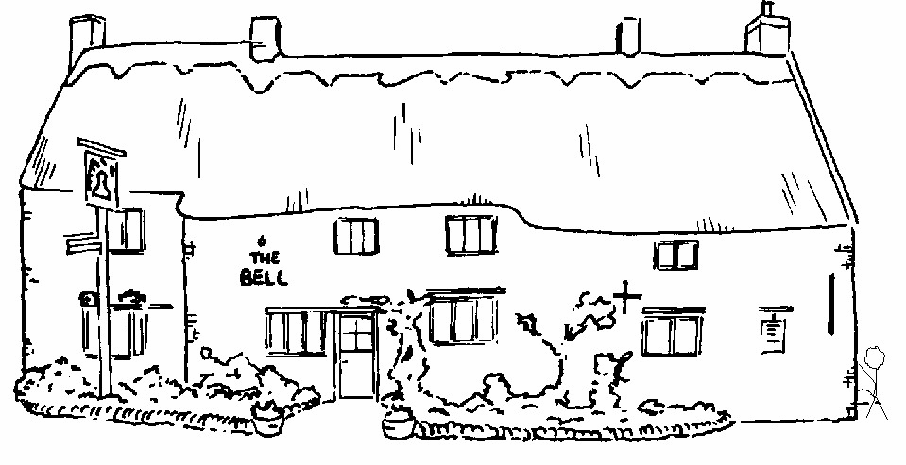 The Bell in Odell
As Featured in the 2010 Good Beer Guide
With the relaxed charm of a village local and a varied menu of
quality, home-cooked food you won't find any gimmicks here
just a Great British Pub!
Abbot Ale, IPA & Changing Seasonal & Guest Ales
Telephone 01234 720254
---
Last revised: May 29, 2011.