ODELL VILLAGE NEWS
July/ August 2011
Odell Fete Saturday, 11th June 2011
After a very rainy week, incredibly the day of the fete dawned bright and the sunshine stayed with us all day. The fete was opened by Debra Garon who also undertook the judging of the dog show, in memory of her mother, Roma. Attendance figures appeared to be up on previous years, as once again the dog show proved very popular, and the 'traditional' style of the fete attracted people of all ages. The beer festival held at The Bell also seemed to bring extra people to the village and the fete. Overall profits look to be good, although the final figure is still to be reached. Many thanks to everyone who helped in every way. Sadly, the village barbecue the next day had to be held in the village hall due to the return of the stormy weather, but it was an enjoyable occasion, nevertheless. Many thanks must go to Mandy Sharpe who masterminded both the fete and the barbecue and who endured standing beneath umbrellas in the cold and wet as she slaved over the barbecue coals!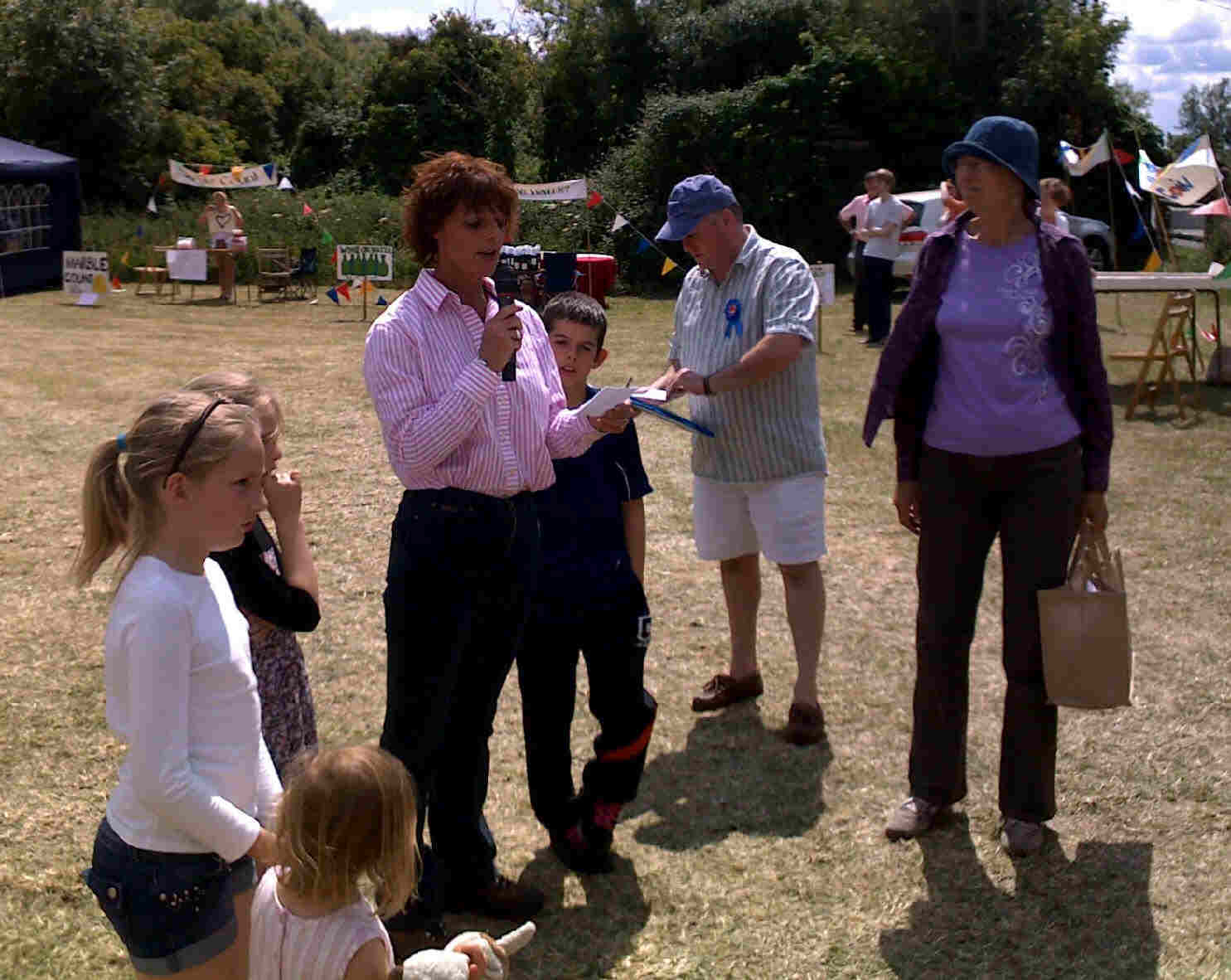 Above: Debra Garon opening this year's fete
Below: Compere Les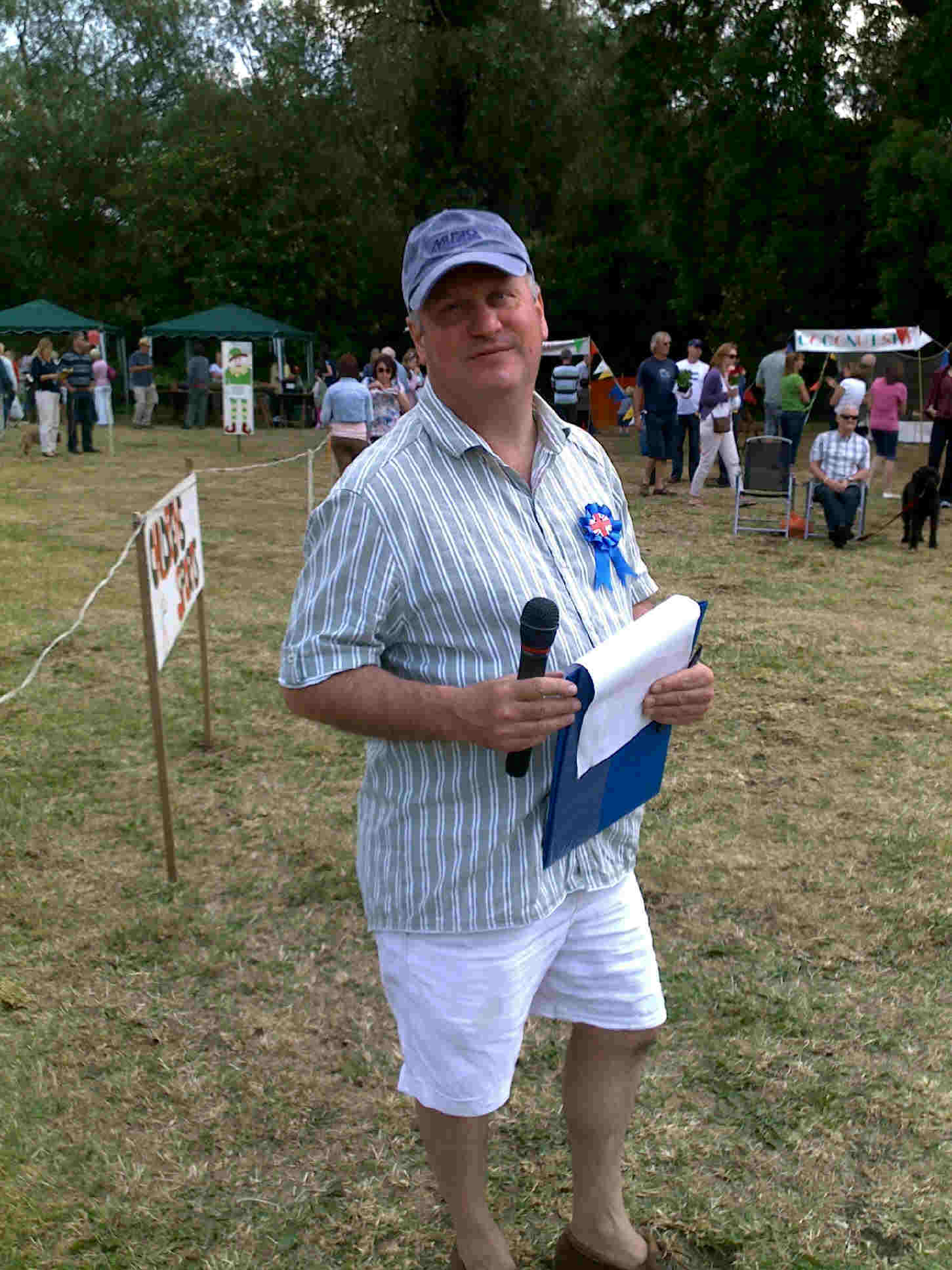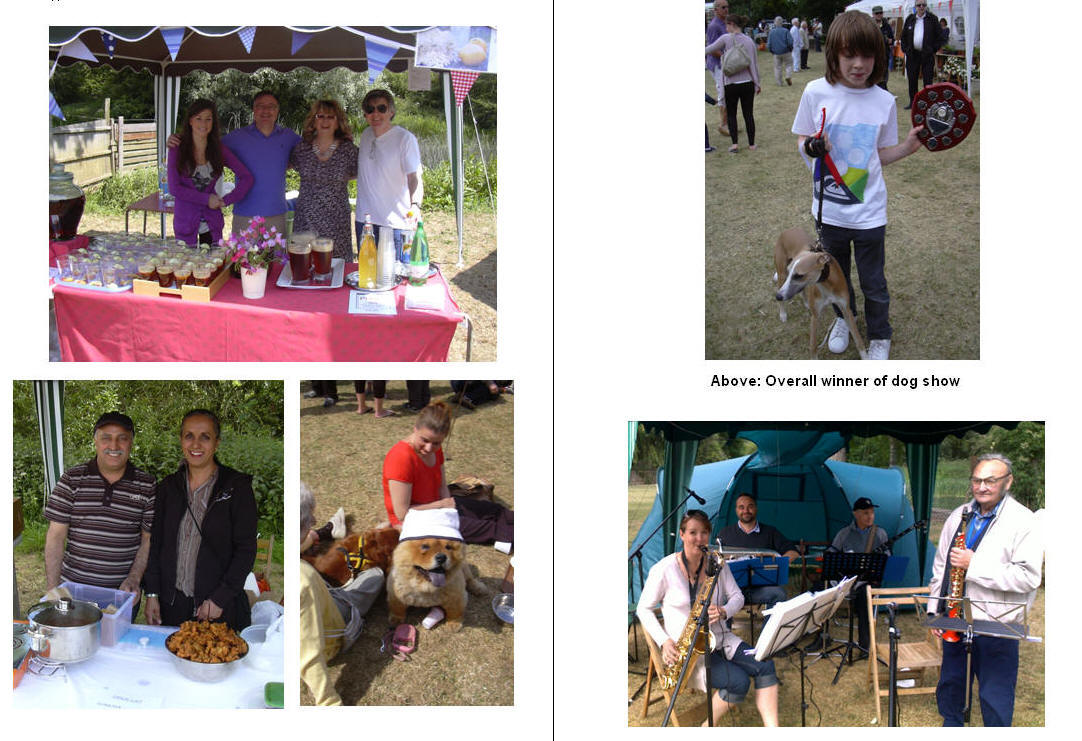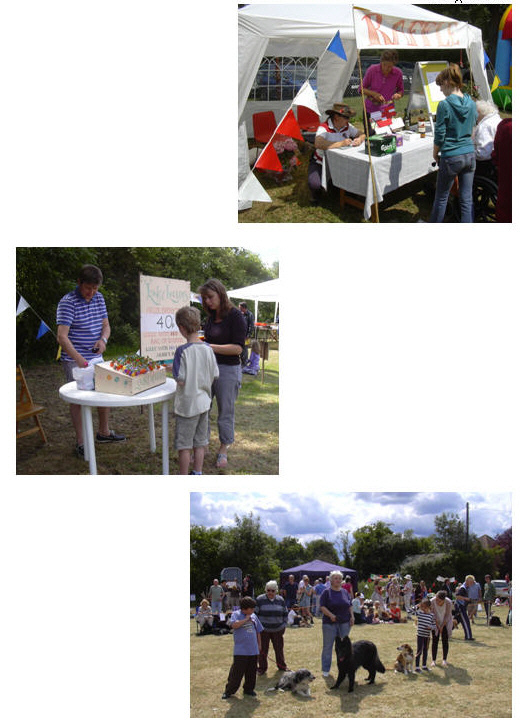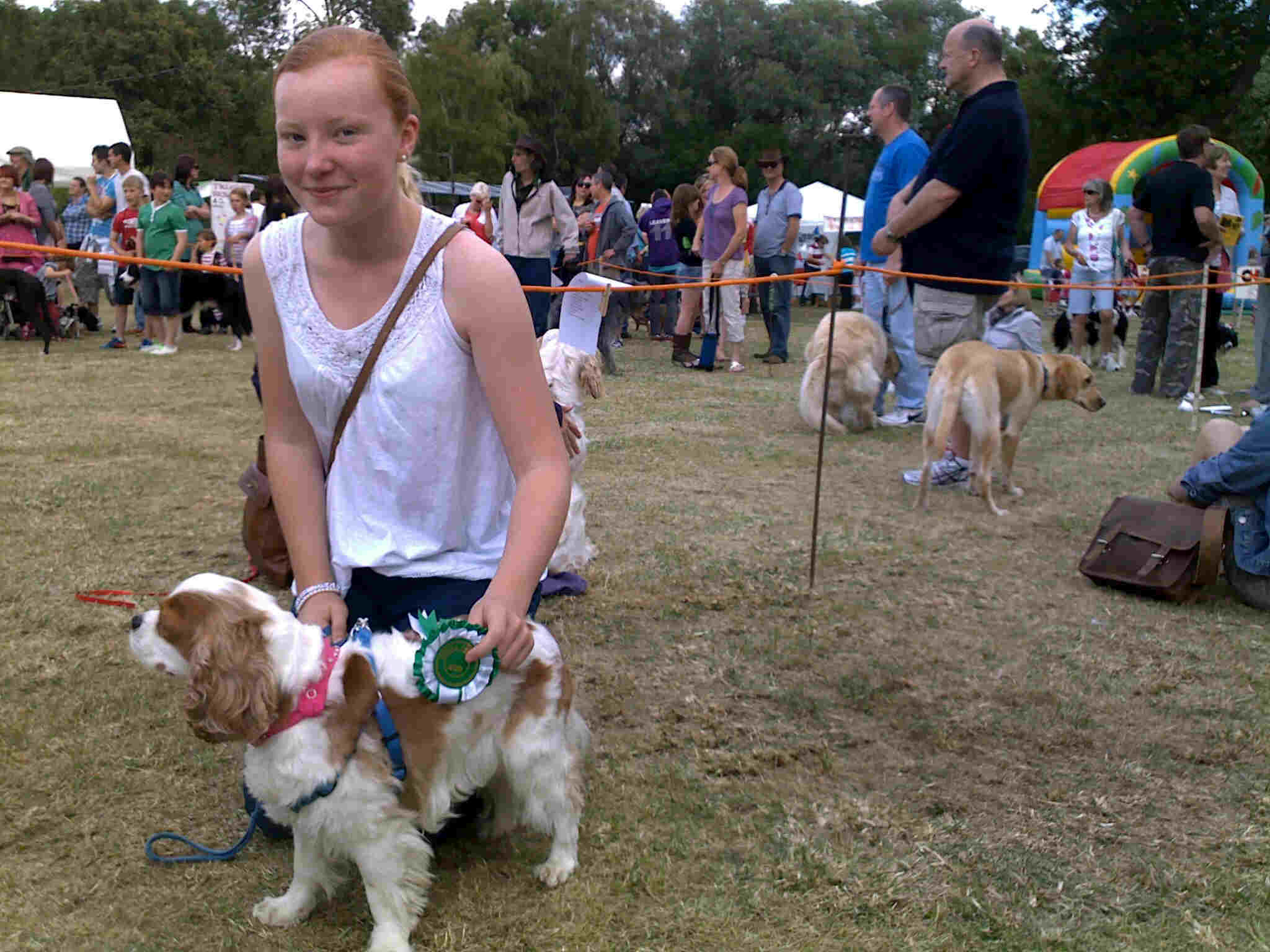 Senior Citizens Summer Garden Party
Odell Luncheon Club invites you to a Strawberry Tea in Richard and Madeline Jeeves' garden, at Rivendell, 15 Horsefair Lane, Odell, on Wednesday 13th July at 3pm. All senior citizens are invited.Please let Jill Cheadle (720261) know by Sunday 3rd July if you wish to attend.
Happy birthday to :Miles Tringham on the 24th August and to anyone else with a birthday in July or August!
ART EXHIBITION & SALE
All Saints' Church, Odell
Sat. 27th, Sun. 28th & Mon. 29th August
Open from 12 noon—5.00pm
Now is the time to reveal your hidden talents!
If you would like to exhibit your paintings or photographs, please contact Catherine Corkery for an application form.
Tel: 01234 720348 e-mail: catherinelcorkery@yahoo.co.uk.
Closing date for applications: Friday 12th August.
Light refreshments available each day
Entry £2.00 (children under 16 free
(proceeds in aid of All Saints Church and Mission Partners Dick and
Caroline Seed serving with CMS in Ghana)
Round and About Chainsaw Magic
Have you wandered round the country park lately and taken a real look at the wooden sculptures that are displayed at various strategic points?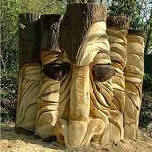 As you enter the park from Horsefair Lane and reach the main lake you will find, what I take to be, a representation of The Green Man. Harrold car park offers you the head and shoulders of a bear.
The first of these animal sculptures that I saw was of an adult otter standing upright with a cub at foot. This is quite an outstanding piece of workmanship and had many people talking. This was soon followed by the marker posts placed alongside the central car parking area. Each post was topped by a carving of creatures to be found in the park i.e; rabbit, owl, otter, badger, toad etc and more recently they have been joined by quite a handsome squirrel.
Perhaps one of the finest carvings is of Danny, the sculpture of a dog looking out across the main lake. So realistic is this dog that I found myself patting the head as I was about to take my leave.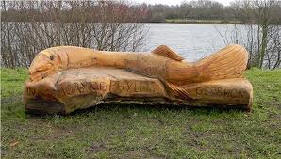 A number of new signs are appearing in the park and take the form of a slice taken from a tree trunk and stood up on end to have a message emblazoned into the wood: so much more sympathetic to the surroundings than the plastic signposts. I have never so much as caught a glimpse of the artist. She must arrive in a shower of star dust and depart into a Scotch mist. The artwork she leaves behind, however, is truly remarkable. How such detailed work can be carried out with a chainsaw I do not know.
If you have not already done so, may I suggest that some time this summer you stroll around the lake and take a look at these sculptures, especially the work-in-progress area. This area is situated at the Harrold end of the central car park and displays a number of pieces still being worked upon. You cannot fail to be impressed and you only have to miss a day or two to find a whole new array of characters.
Let me mention just a few. Perhaps the most eye-catching at the moment are two individual oak tree leaves, with an acorn at foot, standing almost as high as I do myself. They are quite remarkable. There are several collectives. One features a rabbit sitting on a tree stump with a fox cub climbing the side. At the foot of the stump a snake emerges to creep up on a field mouse. Another group shows a tree stump surrounded by otters. It is difficult to see where this one is going as the work is still taking shape. There is one of a tall section of tree with an owl sitting on the top and has another owl peering out from a hole. The owls are accompanied by a number of woodpeckers hammering away.
Another eye-catcher is one that looks like a caterpillar but which I think must be a millipede. This elegant creature is rather magical in appearance and has a clutch of eggs at its side, from one of which a tiny baby is emerging. There are other carvings including butterflies, a ladybird and a number of beetles. They are all well worth having a look at.
Should you go to view these carvings may I mention that the ones I have commented upon above may well have been completed and moved on, but I am sure there will be many new ones to enchant the eye.
P. S. For those of you who do not visit the park as often as I do I thought you might be interested to hear that the swans on the small lake as you enter the park from Horsefair Lane have introduced their new family to the water. Last year they successfully raised six young. This year there are seven cygnets to keep us fascinated throughout the summer. Barbara Corley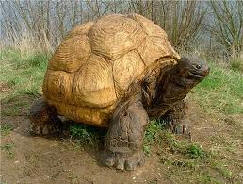 Odell Parish Council News
Parish Council: Councillors continue to work very hard on your behalf, so please continue to talk to them if you have any issues within the village.
Highways: To date we are still waiting on the dates for the implementation of the new 30 m.p.h. limit areas – as soon as these are available I shall let you know in this column. A concern has been raised over the Highways safety aspect of the Tannery Lane/High Street junction, the Parish Council will discuss this matter at the next Parish Council meeting.
Footpaths: The Footpaths Officer from Bedford Borough Council is looking into a number of repairs and issues relating to the Odell footpaths/bridlepaths needing attention. We hope that these will be carried out in the near future. In addition, our new Borough Councillor, Alison Foster, has spoken to the Rights of Way Officer to reinforce our concerns. Work has started on a new map of the footpaths around the village, we hope to secure funding from the Bedfordshire Rural Communities Charity for this project.
Harrold Odell Country Park: The Open Day, held on the 30th May, was well supported considering the very wet weather on the day. If you visit, look out for the new display boards around the Park and in the Bird Hide.
Police: The local PCSO, Chris Warmington, asked that extra vigilance is needed around the village during the Summer months to prevent opportunist burglaries and car thefts. Please make sure that you lock all windows and doors when you go out and don't leave vehicles unlocked. If you see anything suspicious please contact him on 01234 842865.
Planning application: It may be useful to know that the Parish Clerk holds copies of all new planning applications. If you would like to see any new plans please contact me. Plans are also on the Bedford Borough Council website.
The next Parish Council Meeting is scheduled for Monday 18th July, 7.30pm, at the Village Hall. As with all Parish Council meetings, parishioners are always welcome.
If you have any concerns or would like to contact the Parish Council please see one of your Parish Councillors or contact me between 10am and 12 noon Monday to Friday – 01234 721812. Appointments by prior arrangement. A message can be left on the answer phone outside these times and I shall get back to you. Alternatively, send me an email – odellpc@gmail.com
Nina Bransgrove-Knight Clerk to Odell Parish Council 01234 721812
W.I.News
W.I. will meet at The Village Hall on Tuesday, July 12th at 7.30pm, when there will be a talk on the British Red Cross.
Lynette Hall
Harrold-Odell Country Park
Carlton Road, Harrold, Bedford MK43 7DS
Email: hocp@bedscc.gov.uk Website: www.hocp.net
Tel: 01234 720016
News From Harrold Odell Country Park
I can't believe that we've come through the mid summer solstice already! It only seems like yesterday that we were wading through ice and snow.
Richard and I have been hosting a large number of school parties in the run up to their summer break. Many are from Bedford and the local villages but we are seeing increasing numbers from Milton Keynes and the Northampton area as well. We are also working with The Chellington Centre when they have groups staying with them. There will be a group from the Prince's Trust sometime in August participating in a taster day looking at environmental work opportunities. Hopefully this will help them decide on a career path in the future.
We've been teaching science in the form of pond dipping and minibeast hunts, simple willow weaving and geology. Other groups have participated in scavenger hunts and nature walks. We derive a great deal of pleasure from helping children explore their environment.. It helps them to see the country park in a different light. Not just a playground but a force for nature too.
Talking of nature, our sightings board outside the café is jam packed with the flora & fauna seen during the last few weeks. The warm weather this year has led to a lot of grass snake sightings. They have been breeding in the habitat piles of rotten wood that have been left around the park during the winter clearance work.
These piles also provide food for insects of various types and shelter for the park's amphibians. Of course it follows that the birds will come to feed on the insects and fungi will colonise the wood – an ecosystem in miniature.
Richard, together with some of the volunteers from the Friends Group has been going to Bedford Museum to pick up materials being discarded during their lengthy refurbishment. They have returned with timber and building materials which will be put to good use around the park over the next few months. We also gained two benches from their courtyard that we've placed in some gaps over the far side of the big lake.
Some materials will be used to refurbish the bird hide which is currently being re-felted and painted with wood preservative. After this, new metal cabinets, paid for out of car park donations, are going to be installed inside to house seasonal information for visitors. We hope to complete this over the next couple of months.
In response to visitor comments we have now had the path resurfaced that goes through the woodland next to the café. The sandy surface we had previously was too soft for wheelchairs. Thanks to Jon Powles, our contractor, it is now a pleasure to use for all visitors whatever the weather.
Lynette Hall from Odell W.I. was kind enough to nominate the park for a Landscape Improvement award from the Campaign for the Protection of Rural England. This is for the work done around the whole park by volunteers, Community Payback and staff. They were also interested in our education work, mentoring programme and community involvement opportunities such as the work of our Friends Group.
The judges came out on June 22nd for a tour round. Previously we have won a Highly Commended for setting up the Community Orchard at the back of Horsefair Lane. We won't know whether we've won anything until September so I'll report on their decision then.
We have recently become a stop-off venue for groups of classic car owners. We welcome this wholeheartedly but we ask that if large groups of any sort wish to use the park that they contact us well in advance and book. Two groups appeared at the same time recently and put a severe strain on parking spaces, toilet facilities and the café. If we know you're coming, we can plan your accommodation and let you know whether we are already booked by other groups etc. If the weather is good we will already be busy with general visitors who will be vying for the same facilities. Tel. 01234 720016.
Dates for your Diary
Health Walks
Meet every other Thursday at 10.30am at the café and walk for an hour. There's an option to stop afterwards for a natter over refreshments in the café.
July 7th & 21st and August 11th & 25th
Friends Conservation Tasks
Meet at the café at 10am. Refreshments provided but bring a packed lunch and wear stout footwear and old clothing.
July 25th and August 22nd
For information: There will be an event at Priory Country Park, Bedford on July 17th For more information call Jane Moore on 07920 769689. Janet Munro Ranger
Village Hall NEWS
Celebrations of the Village Hall's 40th Anniversary continue into the summer, with a Summer Bring and Share Family Barbecue on 16th July.
Bring your own meat, and also a salad to share. A bar will be available. Contact Nikki on 720893 for more information.
On Friday 9th/Saturday 10th September the Village Hall celebrates its actual birthday weekend:
Friday 9th September, the Hall bar will be open with a selection of local beers from Hopping Mad Brewery in Olney on sale from 7-11pm. Other drinks will also be available.
Saturday 10th, from 4-12pm: there will be a hog roast, some entertainment for the children, and Hair of the Dog will be performing.
Tickets : £10, or £30 for a family ticket (2 adults and 2 children up to the age of 16).
A selection of beers will be on sale.
Looking further ahead into the autumn: Village Quiz, 8th October – contact Rob Lee
And Melvis returns in November – date to be confirmed nearer the time.
Help Save the Royal Oak Pub in Bridgend in
Carlton
There is a growing movement amongst villagers to challenge the planning application from Charles Wells/GP Builders to change the Royal Oak to a house and build another house on the car park. The Royal Oak Group (ROG) has been set up to save this valuable amenity for the community. We need your help with as many individual objections being sent in as soon as possible. Search, register and comment online at: http://www.publicaccess.bedford.gov.uk/online applications
The Mill Theatre, Sharnbrook
Sharnbrook Mill Theatre, (SMTT) in conjunction with Bedford University Travelling Theatre (BUSTT*) present:
Dead Guilty
A Psychological Thriller by Richard Harris.
September 20
th
– 24
th
:7.45pm
You may think you know what's happening but…….
This production replaces 'Wait until Dark', which has been withdrawn by the copyrighters from performance.
Tickets on sale at:
Sharnbrook Post Office (in person) and Bedford Central Box Office 01234 269519 from 5 weeks before.
2 wheelchair spaces, easier access seating Rows A – C; hearing loop Rows A -E
RAISING FUNDS?

Are you connected to, or involved with an organisation that raises money for charitable purposes? Did you know that by hiring a night of one of our shows you could make a profit of over £1200 in a single evening?!

To find out how, phone Erica Lester (01234) 781210 / email: erical@email.com

Diary

July

2nd 10-4.00 St Peter's, Sharnbrook, Book Fair.

2nd 2.30 -5.00 St Peter's, Harrold, Patronal Festival.

3rd 10-4.00 St Peter's, Sharnbrook, Book Fair.

3rd 11.00 St Peter's, Harrold, Patronal Festival Service.

7th 10.30 Health Walk, HOCP.

12th 7.30 W.I. Village Hall.

13th 10.30 Meeting point at Sarah's, 9 Horsefair Lane.

13th 3.00 Senior Citizens' Summer Garden Party, Rivendell, Horsefair Lane.

16th 9.45am All Saints' Amblers meet at The Bell.

16th Bring and Share BBQ, Village Hall.

18th 7.30pm Parish Council Meeting, Village Hall.

21st 10.30 Health Walk, HOCP.

25th 10.00 Conservation Tasks day, HOCP.

August

8th – 12th 10-12.00 Time Travellers' Holiday Club, Carlton Village Hall.

11th 10.30 Health Walk, HOCP.

22nd 10.00 Conservation Tasks day HOCP.

25th 10.30 Health Walk, HOCP.

27th-29th 12-5.00 Art Exhibition and Sale, All Saints' Church.

Magazine Deadline

Please send all entries for the September magazine to Tricia Hudson (mag1 at odellbeds.net) or Catherine Corkery by August 12th at the latest. May we remind you that the editorial team exercises the right to edit, shorten or alter any items that are submitted. Also, the opinions expressed in the articles are those of the contributors and are not the responsibility of the editorial team.

Alex Stubbs Flooring

Carpets, Vinyls, Laminates, Safety Flooring, Adaptions, Refits, Repairs

Supplied and Fitted

07976 260572

01234 240954

Great local pubs

<![if !vml]>
<![endif]>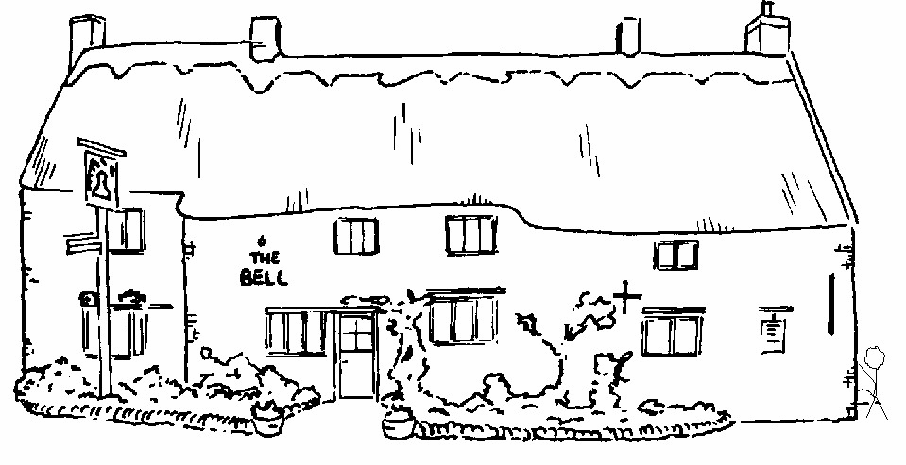 The Bell in Odell
As Featured in the 2010 Good Beer Guide
With the relaxed charm of a village local and a varied menu of
quality, home-cooked food you won't find any gimmicks here
just a Great British Pub!
Abbot Ale, IPA & Changing Seasonal & Guest Ales
Telephone 01234 720254
---
Last revised: June 29, 2011.