ODELL VILLAGE NEWS
February 2010
Senior Citizens' Fish and Chip Lunch
The annual Senior Citizens' Fish and Chip lunch will take place on:
Wednesday 2nd March
at 12.30 for 1.00pm
in the Village Hall.
Please let Jill Cheadle know by Sunday 20th February if you wish to join us -01234 720261.
Birthdays
Happy Birthday to Jack Holden Postles who will be 10 on the 10th, and many happy returns to anyone with a birthday in February!
Round and About
My February Valentine
With Valentine's Day fast approaching people's thoughts will be turning to hearts and flowers and all matters of love and romance. Then, of course, there are the birds!
We are all aware of the message of flowers and their special meaning but how about the message of the birds. According to the ancient practice of ornithomancy, the first bird that an unmarried woman sees on Valentine's Day morning is an omen of the kind of man she is destined to marry.
Ornithomancy - the practice of reading signs from birds - dates back to ancient times and was practised by the Greeks, Romans and other early cultures.
It seems that the tourist organisation in Worcestershire has been consulting with experts in Celtic and European medieval folklore to investigate the practice of ornithomancy with the following results.
If the first bird you see on Valentine's Day is a blackbird then your future partner is likely to be involved in charitable works, possibly as an aid worker or a vicar. A robin will represent a man who earns a living through water, possibly as a sailor or a fisherman. A sparrow foretells work on the land as perhaps a farmer or gardener. A seagull tells of someone who will travel a great deal.
The birds of prey represent people made of sterner stuff: a businessman, politician or a great leader of men. A magpie tells of an entrepreneur, someone quick to spot a great opportunity. The crow, however, comes in the form of advice...to walk away from your current relationship. The pigeon shows a gentler nature and denotes a man who wishes to return to the place of his birth.
If you are looking for someone less driven, perhaps the first bird you see should be a wren, as this is for a man of mild temper with little interest in material possessions, or perhaps you should look to the canary as this is for someone involved in healing as in a doctor, therapist or nurse. The finches represent very sociable people engaged in sales or hairdressing. The nutchatch calls for logic as in a mathematician, a banker or scientist. A pheasant will refer to a hard-working, tenacious character who can turn his hand to anything. A starling means your partner will work wihin a large organisation, but know how to make himself heard. The beautiful swan is for someone engaged in the arts, a writer, dancer or, possibly, an artist...but always loyal. The swift relies upon pace and will probably be engaged in sports.
The owl, of course, is always wise and likely to be involved in research or be an academic. The kingfisher will have done well for himself or, perhaps, inherited money. The goldfinch represents money. The more yellow appears on a finch the richer he will be.
My final selection covers the goose, who will be good at communications as in journalism or teaching. The peacock means your man will take a pride in his appearance. The dove is an omen for a happy marriage and the duck means you will find a stable, homely relationship. If, upon Valentine's Day you have romance in mind....beware the woodpecker. I regret to have to say that if the first bird you see that fateful morning is a woodpecker....then there will be no marriage at all.
Of course, this may all be just a flight of fancy! Barbara Corley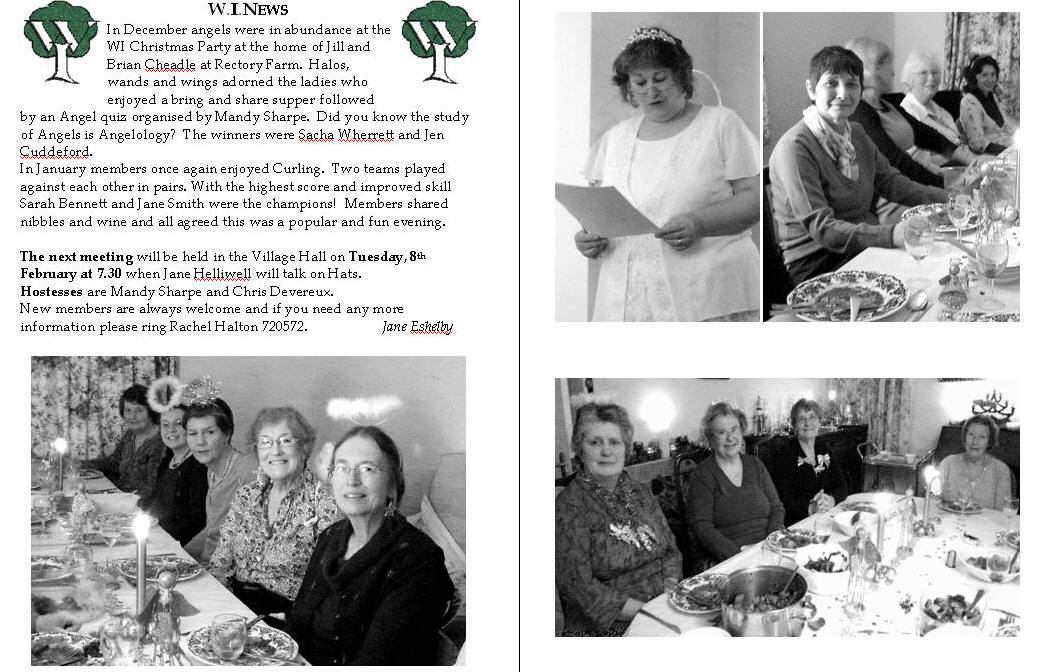 The next meeting will be held in the Village Hall on Tuesday, 8th February at 7.30 when Jane Helliwell will talk on Hats.
Hostesses are Mandy Sharpe and Chris Devereux.
New members are always welcome and if you need any more information please ring Rachel Halton 720572. Jane Eshelby
Harrold-Odell Country Park
Carlton Road, Harrold, Bedford MK43 7DS
Email: hocp@bedscc.gov.uk Website: www.hocp.net Tel: 01234 720016
News From Harrold Odell Country Park
What a winter we've been having! The lakes iced up for a month which is not good news for the birds. Even the river froze over in parts. One enterprising kingfisher moved to the drainage dyke at the back of the large lake by the play area as a number of small fish have taken up residence around the pipe.
Inevitably there have been casualties of the cold. At least two swans have perished and these have been scavenged by hungry foxes and badgers. Nothing is wasted in nature. This is the time of year when we feed extra to the ducks around the café and the visitors who buy grain for them are doing a grand job. Apple cores etc are also a welcome boost for a number of woodland birds like blackbirds and fieldfares.
The cold weather has resulted in a number of unusual wildlife sightings. We had reports of an eider duck on the lake. There have been none reported in Bedfordshire for over 10yrs. There are also waxwings around the area – an unusual Scandinavian migrant.
We have ordered 180 assorted native tree saplings to plant in the nature reserve. They are going in where we have been heavily coppicing willow in recent weeks. The idea is to increase the diversity of the woodland in this area, thus increasing the range of insects living in there. This should attract a wider range of bird species than we currently get. This is the first time in 25yrs that work has been carried out in there so it will be interesting to see what grows in the newly cleared ground. Thinning the trees has also let in a lot more light which will benefit plants like orchids and hellebores. Watch this space.
We are also about to undertake another bout of hedge-laying along the lakesides. Last year's programme worked very well and we had vigorous growth and thickening up with new views of the lake created. We have been harvesting wood suitable for stakes and binders from other areas of the park during the coppicing exercises.
We have now sold out of all the seasoned firewood from last year's coppicing. However, if you want ready-split green willow that you can season yourself then we have plenty. Willow is best used in wood burners as there is a slight tendency for it to spit.
We can still get seasoned hardwood from an outside source that is available in sacks for £3.25 per sack. Large orders of 15 sacks or more can be delivered locally otherwise you can purchase them directly from the shed at the back of the café.
Our chainsaw carver, Carrie Yuen has completed the memorial bench for Phyllis Gershon and it has been moved to a lakeside viewpoint adjacent to the café. It is in the shape of a curled pike, a large fish that is found in our lakes. The design enables one person to sit and look across the lake and another to watch children playing on the equipment in the picnic area. Phyllis was a local councillor who was instrumental in getting the old gravel pits designated as the country park you know and love.
In April, we're hoping to put together an open day for all users of the park to get together. I will let you know more detail nearer the time. Meanwhile, our Health Walks will continue at 10.30am every other Thursday for an hour with the option of coffee and a chat afterwards. They are scheduled for February 3rd & 17th & March 3rd & 17th. The Friends Conservation Days are on February 28th & March 28th. For info about these and any other aspect of the park please tel. 01234 720016 or e-mail janet.munro@bedford.gov.uk Our website can also be visited on www.hocp.co.uk
May we take this opportunity to wish you all a very Happy New Year.
Janet Munro, Assistant Ranger
Health Walks - 10.30am, : February 3rd, 17th, March 3rd 17th,
Friends' Conservation tasks - 10am, :February 28th , March 28th
<![if !vml]>
<![endif]>

It has been a period of change at Odell Parish Council over the past two months. After many years of untiring service Rachel Halton has stepped down as your Chairman and the new position has been a filled by Mr Nick Goodman. I am very pleased to confirm that Rachel is still staying on as one of your Councillors.
Mavis Knight, your previous hard working Parish Clerk has also stepped down and I would like to introduce myself to you as your new Parish Clerk. My name is Nina Bransgrove-Knight (no relation) and I am very pleased to take up the position to serve the Parish of Odell. I am also the Parish Clerk for Harrold and have been for the past three years. Meetings of the Odell Parish Council will continue, for the time being, bi-monthly, the third Monday of the month at 7.30pm in the Village Hall. The next meeting will be the Annual Parish Meeting and will be held on 21st March 2011, again commencing at 7.30pm. All parishioners are welcome to attend the meeting and if you have any village concerns please let me know before this date. I can be contacted by phoning 01234 721812 between the hours of 10am and 12pm Monday to Friday - there is an answer phone which will record your message outside of these hours. My office address is Greystones Court, 22a High Street, Harrold, Beds MK43 7DQ and my email is odellpc@gmail.com If you wish to make an appointment to see me please ring first - thank you.
I hope to bring you more up to date news in the next edition, we have Elections in May and I shall include more details next month. In the meantime if there is anything you would like your Parish Council to be made aware of or if you have any village related questions please feel free to contact me.
Nina Bransgrove-Knight Clerk to Odell Parish Council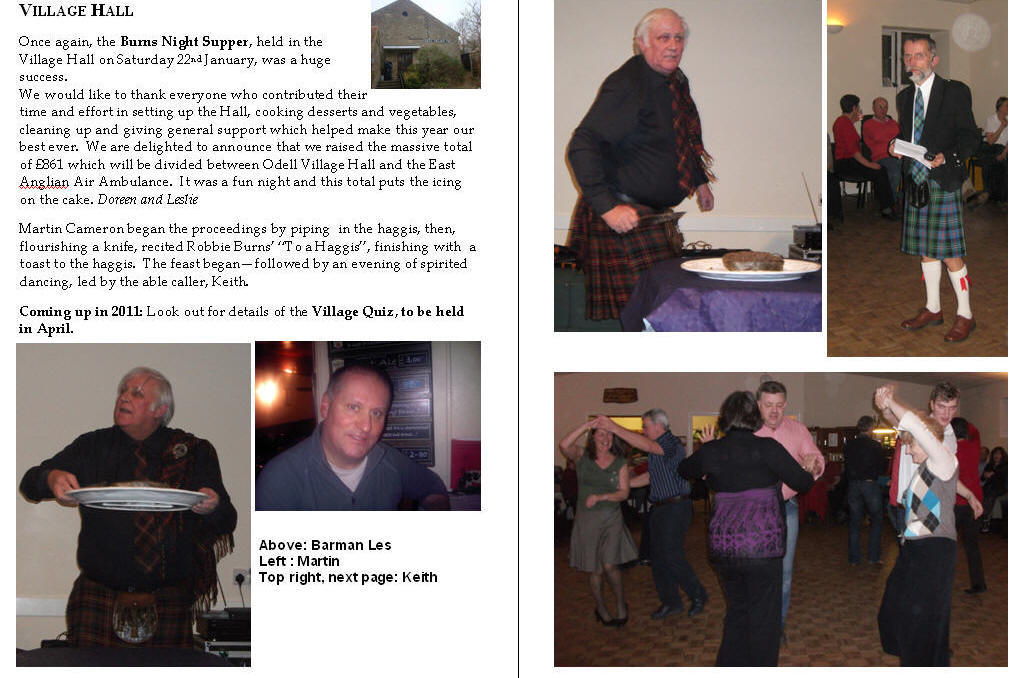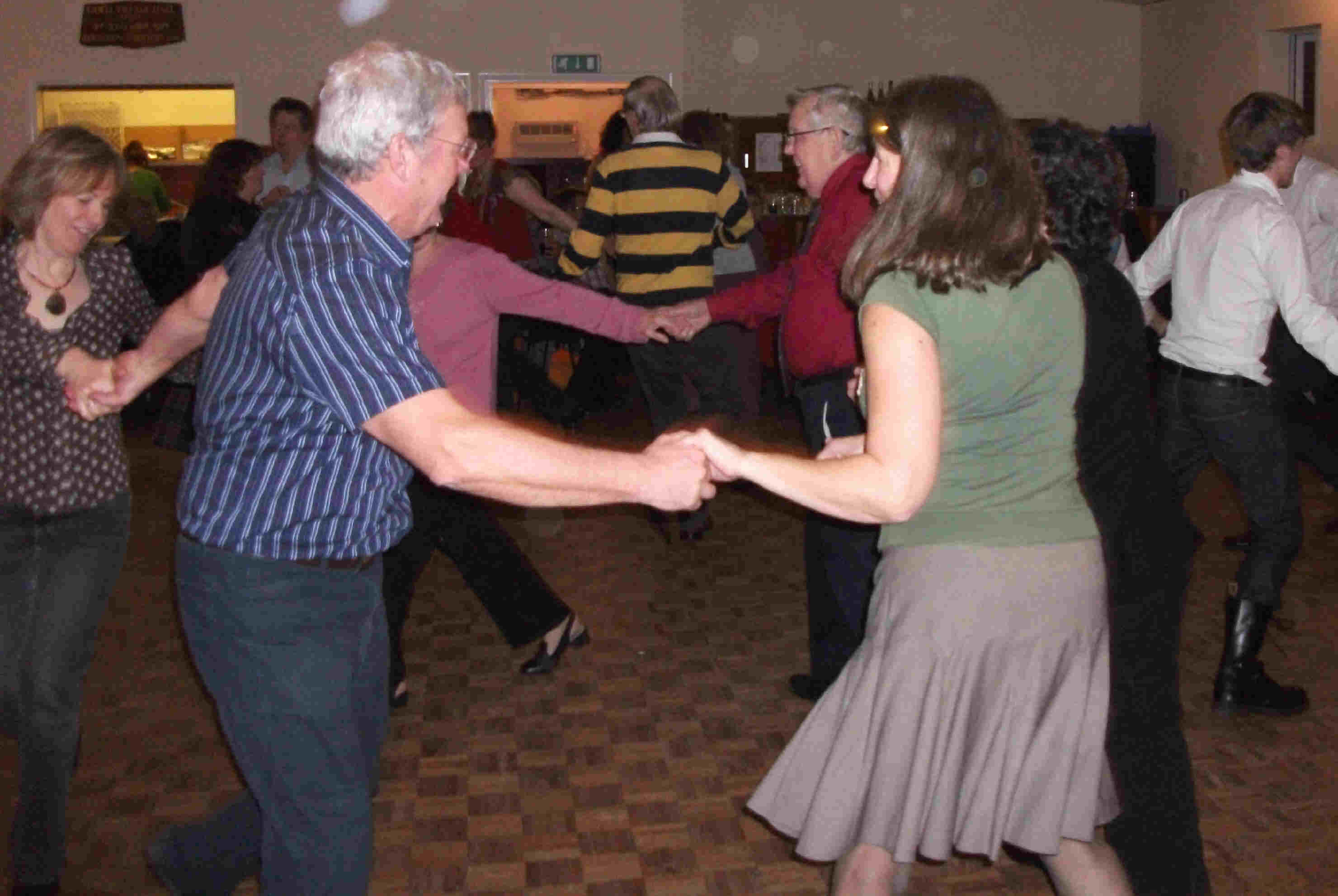 The Mill Theatre, Sharnbrook
Ladies Day – 22nd-26th March, 7.45 pm
...an exuberantly up to the minute comedy. (The Guardian)
This hit comedy by Amanda Whittington follows the adventures of four fish workers when they go to Royal Ascot, which has been relocated to York. Out go the hairnets, the overalls and the wellies as the four "do themselves up" and head to the races for a drink, a flirt and a flutter… an intriguing and poignant insight to their friendships, lives, past histories and future hopes….
Definitely a Must for March!
Tickets available from 14th February at:
Bedford Central Box Office: 01234 269519*
Sharnbrook Post Office (in person)
*2 wheelchair spaces, easier access seating Rows A-C; hearing loop Rows A-E
Advance Booking will be available during Ladies Day

for

The Threepenny Opera

Music by Kirt Weill, text by Bertolt Brecht, English translation by Marc Blitztein

Friday 13th – Saturday 21st May at 7.45 pm

but only at The Mill Theatre

Diary

February

3rd 10.30am Health Walk, HOCP.

8th 7.30pm W.I. meet at Village Hall.

9th 10.30am Meeting Point at Jill's, Rectory Farm, Odell.

17th 10.30am Health Walk, HOCP.

19th 9.45am All Saints' Amblers meet at The Bell.

23rd 10.30am Meeting Point at Eileen's, 24 Church Hall Road, Rushden.

28th 10.00am Conservation tasks day, HOCP.

March

2nd 12.30pm Senior Citizens' Fish and Chip Lunch, Village Hall.

Magazine Deadline

Please send all entries for the March 2011 magazine to Tricia Hudson (mag1 at odellbeds.net) or Catherine Corkery by February 12th at the latest. May we remind you that the editorial team exercises the right to edit, shorten or alter any items that are submitted. Also, the opinions expressed in the articles are those of the contributors and are not the responsibility of the editorial team.

Alex Stubbs Flooring

Carpets, Vinyls, Laminates, Safety Flooring, Adaptions, Refits, Repairs

Supplied and Fitted

07976 260572

01234 240954

Great local pubs

<![if !vml]>
<![endif]>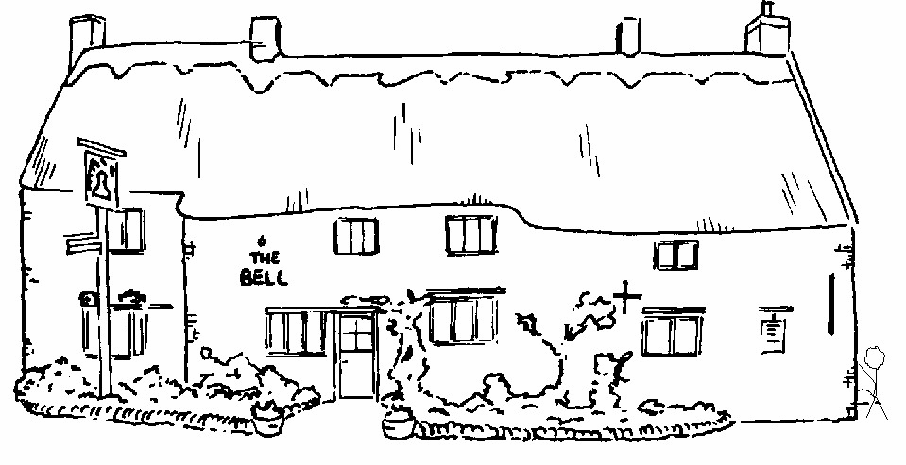 The Bell in Odell
As Featured in the 2010 Good Beer Guide
With the relaxed charm of a village local and a varied menu of
quality, home-cooked food you won't find any gimmicks here
just a Great British Pub!
Abbot Ale, IPA & Changing Seasonal & Guest Ales
Telephone 01234 720254
---
Last revised: February 03, 2011.