ODELL VILLAGE NEWS
December 2011/ January 2012
Sculptor Carrie Yuen's Frog post in the Country Park
Round and About
Magic in the Air
We are fast approaching that special time of the year when we dress our world up in glitter and sparkle We let drop what, for some, is grim reality to fully embrace the festive season. A time of year when we cast our cares aside and give way to fantasy.
"What nonsense" I hear you cry - but just give it a thought!
Who amongst you is going to deny the spirit of Father Christmas, or Santa Claus, and his ability to soar up into the sky on an over laden sleigh drawn by reindeer to circle the world in one night! Who amongst you will find it possible to drag the tiny tots away from the fairy grotto where the elves can be seen busy making gifts for Santa's sack of toys! Who amongst you will not be putting a mince pie on the
mantel piece on Christmas Eve?
When Christmas is over the magic does not fade - indeed, it probably steps up a beat as we enter the season of pantomime. This really is a time when we let reality slip. We take our seat, alongside the children, fully prepared, and expecting, to hiss at the villain and to cheer the pantomime's principal boy and to accept as quite natural the fairyland enchantment that will unfold before us.
Have you ever noticed that Fairyland is peopled by two completely different sets of characters? On the side of good we have fairies, elves and pixies whilst on the side of bad we have gnomes, goblins and imps. Then we have the super-sized baddies of witches and giants. It doesn't matter which pantomime we watch, and we know them all, the fairy folk will fall into one of the categories mentioned above.
Let us take a closer look at these fairy folk that we all know and love so well. Probably the most popular pantomime of them all is Cinderella. This poor girl put upon by her evil step-sisters is in complete despair when she cannot go to the ball for her date with destiny to meet Prince Charming. We all know what is going to happen and we eagerly await to see how it will unfurl. The arrival of the Fairy Godmother who
will put everything right with a wave of her wand, the pumpkin which turns into a magic coach to be drawn by mice which have been turned into milk-white ponies and the lizards which have now become footmen....and we accept it all.
With Jack and the Beanstalk we see another side of panto-land. Magic beans and a pantomime cow! Do we find it hard to believe - no, we accept it all. We know those beans are going to grow up into a land that exists above the clouds where a huge giant lives. We know he owns a golden goose that lays golden eggs. It is just the same with Snow White. We understand that the evil Queen will turn into a witch and we also know that Snow White will find friends in the forest in the form of seven dwarfs - and we can probably name every one of them.
Alice in Wonderland is, of course, a dream, peopled with a cast of such miraculous characters I would not know where to begin, what with dormice, hares and a Cheshire cat. Magic animals are, of course, all a part of pantomime. Goldilocks and her Three Bears, Dick Whittington and his Cat and Mother Goose..
I am, however, talking about fairies and who better to illustrate this genre than Tinkerbell - Tinkerbell, the companion of Peter Pan, the little boy who learnt how to fly. At one point in the story Tinkerbell tells the audience how important it is that they believe in fairies because for every human being who says they do not believe in fairies, somewhere in the world a fairy dies. When Tinkerbell herself is fading away the audience is told that the only way to save her life is for everyone to shout out loudly that they believe in fairies. I challenge any one of you to say that you do not whole-heartedly join in with everyone else in their earnest plea to save her life. The outcome is, of course, that Tinkerbell recovers.
We close with Aladdin and his Genii of the Lamp. When Aladdin tries to clean the lamp by rubbing upon it a massive genie appears and offers him three wishes but cautions him with the warning - to take care what he wishes for.
May I take this opportunity to wish you all a Magical Christmas and a Happy New Year. Barbara Corley
Birthday Thanks
We would like to thank all friends, neighbours and family who travelled from near and far (even Texas ) to join us in celebrating George's big birthday last month. The party was everything we could have wanted ( although rather loud) and because of everyone's kind gifts, George has rather a lot of 'Whiskey and beer' to keep him warm in the winter. Thanks.
Kathy and George Dunn
Engagement.
Kathy and George Dunn are delighted to announce the surprise engagement of John & Abbie whilst on holiday in Turkey. Congratulations from all the family
Walk the woof Dog walking service
House visits to let your dog out
Please call Natalia on
01234 721018 or 07545 305643
Covering Harrold, Carlton & Odell
W.I.News
We all enjoyed making Christmas Cards under the guidance of Doreen. We used brightly coloured paper, ribbons and card creating Christmas trees, baubles, stars and candles using Iris folding. Some lovely and seasonal cards were created which looked very professional.
On Tuesday, 13th December, 7.30pm we look forward to our Christmas Meal at the home of Brian and Jill Cheadle. Members were reminded the theme is 'stars'. At our January meeting we shall be Kurling. Members are asked to bring along nibbles to go with a glass of wine.
Hostesses are Doreen Wheeler and Jane Smith.
New members are always welcome and if you need any more information please ring Rachel Halton on 720572
.
News From The Outreach Committee
In August we held our first BBQ - enjoyed by all who attended but not as well supported as we had hoped. A group of Outreach members also went on a Rhine Cruise in September which was very successful.
Our forthcoming events include Christmas lunch on the 14th December.
We are also arranging a five day trip to Kent in May 2012. This holiday will include the exclusive use of a coach and local pick up points: 4 nights dinner, bed and breakfast : 3 excursions including visits to Leeds Castle and Sissinghurst and the Shepherd Neame Brewery Tour.
If you are interested in any of the above please contact Val Wallbank on 07528 264035.
Odell Parish Council News
Odell Parish Council wishes all parishioners a very Merry Christmas and a very Happy New Year.
Highways: Together with the Borough Councillor, Alison Foster, the Parish Council are working together to ensure the new speed restrictions and safety issues on the village highways are implemented as soon as possible.
Footpaths: Parish Council and Alison Foster have worked together with parishioners to replace the dangerous wooden bridge on FP 14 – this has been replaced by a culvert. We are still pressing Bedford Borough Council to implement other footpath problems within the Parish.
Bus Services: the new public bus services (jointly run by Stagecoach and Grant Palmer) have caused some problems with timetables and general reliability. A public meeting has been arranged by Harrold Parish Council and Alison Foster on Friday 9th December at 7pm in the Harrold Centre (Institute). Everyone is welcome to attend this meeting if you have a concern about the new bus services.
School Transport: the Parish Council is actively opposing the move by Bedford Borough Council to remove the free bus service from Odell to the Harrold Schools.
Bulb planting – held 5th November: thank you to everyone who turned up to help plant the new crocus bulbs, supplied by Pride in Bedford. Odell will look fabulous in the Spring thanks to your hard work.
Village Hall: thanks to Cllr Brian Cheadle for his hard work in laying the new grass seed in the new outside area of the Village Hall. A new village bench will be purchased for this area as the old one was beyond repair.
Police: the local PCSO, Chris Warmington, is available if you need to talk to him about any policing concerns you may have. If you need to contact him please ring 01234 842865, which is the number for Riseley Police Station. Alternatively you can ring 101, which will take you straight through to Greyfriars Police Station.
Planning applications: the Parish Clerk holds copies of all new planning applications. If you would like to see any new plans please contact me. Plans are also on the Bedford Borough Council website www.bedford.gov.uk/searchplans.
Allocations and Designations Consultations: a map of the village with areas hi-lighted for designated open spaces is on the village notice board, together with an information sheet. The Parish Council fully endorsed the areas hi-lighted in the recent Consultation.
Harrold Odell Country Park: lots of work continues in the Park throughout the winter months. The playground area is proving very popular with local children.
The next Parish Council Meeting is scheduled for Monday 16th January 2012, 7.30pm, at the Village Hall. As with all Parish Council meetings, parishioners are always welcome to attend. If you would like to discuss any matter with us please contact the Clerk at least five days preceding the meeting.
If you have any concerns or would like to contact the Parish Council please see one of your Parish Councillors or contact me between 10am and 12 noon Monday to Friday – 07791488080.
Appointments must be made by prior arrangement please. A message can be left on the answer phone outside of these times and I shall get back to you. Alternatively, send me an email – odellpc@gmail.com
Nina Bransgrove-Knight
Clerk to Odell Parish Council
Note: New Odell Parish Council number – 07791 488080
George's Marvellous Medicine by Roald Dahl
Adapted by David Wood 14th – 24th December
This December local professional companies No Loss (Midsummer Night's Dream) and Dumbstruck! Productions (Arthur of Camelot) are working in Partnership with The Place Theatre Bedford to bring you this fantastic tale of mirth and merriment for all the family. Roald Dahl, a firm favourite with children and adults, offers delicious alternative entertainment this Christmas.
When George Kranky's mean old Grandma comes to stay with the family out of the blue his life becomes one big misery. To try to make Grandma better George decides to give her a taste of her own medicine…. or rather his own medicine!
But the side effects of his great cure are more than he could ever dream of and soon it's a race against time to make more of his marvellous medicine.
Details of dates and times www.theplacebedford.org
Tickets available from www.theplacebedford.org
Children £6 Adults £10 under 5's free
Group discounts also available for more information please call 01234 354321
Birthdays
Happy birthday to Charlotte Lloyd on the 24th January and to everyone else with a birthday in December or January.
Obituary: Temperance Alston-Payne 29th July 1920 - 8th November 2011
We recently received an email from Susan Perrett in Queensland, Australia, informing us of the death of Temperance Alston-Payne.
Temperance died peacefully in her sleep on November 8th 2011, at the Wesley Hospital in Brisbane, Queensland, Australia. She was 91.
Some people in Odell will remember Temperance, who had a long association with Odell and was in fact the last person to be born in Odell Castle, in 1920. In spite of living in far-away Australia Temperance had stayed in touch with many people in England and had kept a keen interest in Odell, reading the magazine and often sending letters shedding light on life in Odell in days gone by.
Temperance was always spoken of with great fondness by those who knew her in Odell and Australia.
Harrold-Odell Country Park
Carlton Road, Harrold, Bedford MK43 7DS
Email: hocp@bedscc.gov.uk Website: www.hocp.net
Tel: 01234 720016
Harrold Odell Country Park News
T'is the season to be jolly once again! It's time now to look out for over-wintering birds as you go for your morning constitutional round the park.
On the lakes we're beginning to see shoveler ducks with their elongated beaks. I watched a flock of about 40 teal circling about the other day and we have good numbers of widgeon and tufted duck as well. The otter has been seen occasionally during the quieter periods of the day.
We're hoping that it's not going to be so icy cold this year. Our kingfishers have only just recovered from the prolonged period of frozen lakes we endured last year. They could not fish anywhere but the few areas of river that remained ice free and we suspect that many birds perished from starvation.
In the nature reserve and along the hedgerows look out for the thrushes that fly in every winter from Scandinavia, feasting on our berries as they go. The grey headed fieldfare and the redwings with their distinctive beige eye stripes herald the cold weather to come. We may even be lucky enough to see the odd woodcock passing through. We keep a blackboard outside the entrance to Tea-zels Café with all the sightings listed and there are various quiz and information sheets you can download from our website www.hocp.co.uk if you want to discover more.
The new tern nesting platform is taking shape on the island in the middle of Grebe Lake. A massive thank you is due to two members of our Friends Group, Simon Carter and Trevor Sudds, for all their efforts in its construction. The old rotten one was dismantled and ceremonially burnt. Next season's common terns can now look forward to luxurious maternity accommodation.
A recent tree survey has identified some potentially hazardous branches on some of our trees in various locations. Quotes are being sought from professional tree surgeons to undertake a range of works to make them safe. Some are having the weight taken off certain limbs, others will be pollarded and allowed to re-grow. The safety of our visitors is paramount and as much felled timber as possible will be either seasoned for next year's firewood or stacked into habitat piles for our wildlife to move into. Watch this space.
We are hoping to take delivery of a new tractor shortly. The existing machine is old and unreliable with out of date attachments. The purchase is being funded out of capital money and will be used to mow and move materials around the park as needed.
For the anglers amongst you, we are well into the pike fishing season (Oct. – Mar). Members of Vauxhall Angling Club have been reporting several double figure fish from both lakes and a 13lb barbel was caught in the river. We have pike to 30lb and 6ft in length in the large lake. Anyone wishing to join the club should see the Bailiff, Trevor Smith, in the workshop behind the café where they can purchase a book (cash only) or log on to www.vauxhallanglingclub.co.uk for more information.
Dates for your diary
Health Walks: Meet at the café entrance every other Thursday at 10.30am and walk for about an hour, weather permitting. Dates are in the notice board and on the park website. Leader Janet Munro Tel. 01234 720016
Thursday December 8th
Thursday December 22nd
Thursday January 5th
Thursday January 19th
Friends Conservation Tasks
Meet on the last Monday in the month at 10am in the café. If a bank holiday then we meet a week earlier. Bring a packed lunch, warm clothing and sturdy footwear. Refreshments provided.
Monday December 19th
Monday January 30th
Janet Munro
Ranger

Sharnbrook Mill Theatre - Season 2012
Patrons and Performers
Workshops & Auditions. Wish to take part? Now's your chance!
David Copperfield: March 27th – 31st 2012, 7.30 pm
Adapted from the well loved novel by Charles Dickens, an enthralling dramatization by Matthew Francis. To be directed by David Midlane. For further details, please contact Production Manager Enid Cooper on 01234 708432 or email enid.cooper@virgin.net
I Love You, You're Perfect, Now Change.
May 18th – 26th, 7.30 pm.
Hit musical comedy about the modern day suburban mating game!
Book and Lyrics by Joe DiPietro; music: Jimmy Roberts. Directors: Susan Moore and Cara Sigsworth, Musical Director: Kaye Tompkins.
Workshop 11th January.
Auditions: Sunday 15th January.·
Christmas Get Together: Monday 12th December, a semi social occasion to tell you all about this very funny (and poignant) show. Some discs available). ·
For a Synopsis and further information, please contact Susan Moore on 01933 318318 or email: susanc.moore@ntlworld.com.
Workshops and Auditions for both shows will be at The Mill Theatre.
Please note, all evening performances will henceforth begin at 7.30 pm
Tickets will be available from about 5 weeks before First Night, at:
Sharnbrook Post Office (in person) and
Bedford Central Box Office (269519).
Senior Citizens' Christmas Lunch
The Senior Citizens' Christmas Lunch will take place on
Wed 14th December At 12.30
In the Village Hall
Please let Jill Cheadle know (720261) by 5th December if attending
Coffee Morning at Hobbs Green Farm
Christmas Hamper Coffee Morning on 9th December
at Hobbs Green Farm, Church Lane, Odell
from 10am – 12 noon
Admission free Please bring Christmas fayre
Diary
December
8th 10.30am Health walk HOCP.
9th 10am Christmas Hamper Coffee Morning, Hobbs Green Farm.
10th 12noon Christmas Crib Festival, St Peter's, Harrold.
11th 1pm " " " "
13th 7.30pm W.I. Christmas meal at Jill's, Rectory Farm.
14th 12.30pm Senior Citizens' Christmas Lunch, Village Hall.
17th 10am Church Decorating. (note this is a new date!)
17th 5pm Carols on the Green, Harrold.
18th 10.30am Holy Communion and Reflection, All Saints'.
6.00pm Carols by Candlelight, All Saints'.
19th 10am Conservation Tasks Day, HOCP.
22nd 10.30am Health walk, HOCP.
24th 11.30pm Midnight Service, St Mary's, Carlton.
25th 10.30am Worship Together and Shortened Holy Communion, All Saints'.
January
2nd 9.45am Amblers meet outside The Bell.
5th 10.30am Health Walk, HOCP.
11th 10.30am Meeting Point at Madeline Jeeves', 15 Horsefair Lane.
16th 9.15am Week of Prayer for Christian Unity, meet at Church House, Carlton.
16th 7.30pm Parish Council Meeting, Village Hall.
17th 8pm Week of Prayer for Christian Unity, meet at The Rectory, Odell.
18th 9.30am " " " "St. Peter's, Harrold.
19th 10.30am Health Walk, HOCP.
19th 8pm Week of Prayer for Christian Unity, meet at St. Mary's, Carlton.
20th 6.30pm " " The Parlour, Harrold URC.
22nd 10am " " Service at Harrold URC.
25th 10.30am Meeting Point at Jane Eshelby's, Newton House,
Avenue Rd., Newton Bromswold, Rushden.
30th 10am Conservation Tasks Day, HOCP.
Magazine Deadline
Please send all entries for the February magazine to Tricia Hudson (mag1 at odellbeds.net) or Catherine Corkery by January 12th at the latest. May we remind you that the editorial team exercises the right to edit, shorten or alter any items that are submitted. Also, the opinions expressed in the articles are those of the contributors and are not the responsibility of the editorial team.
The editorial team of the Odell Magazine would like to wish all our readers a very Merry Christmas and a Happy New Year.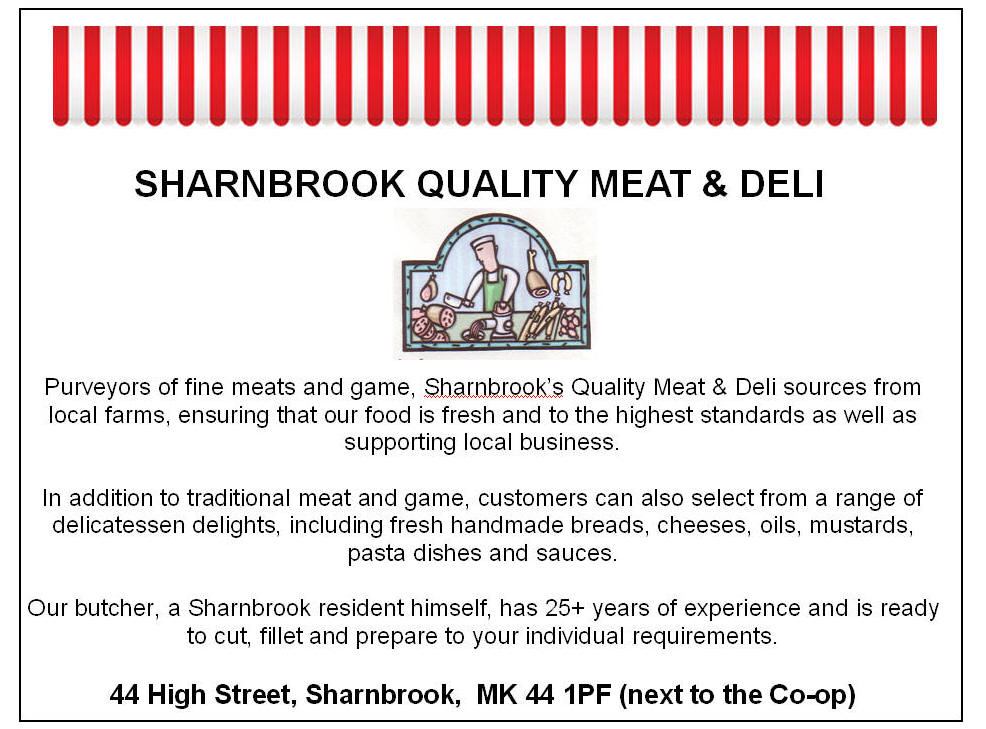 Alex Stubbs Flooring

Carpets, Vinyls, Laminates, Safety Flooring, Adaptions, Refits, Repairs

Supplied and Fitted

07976 260572

01234 240954

Great local pubs

<![if !vml]>
<![endif]>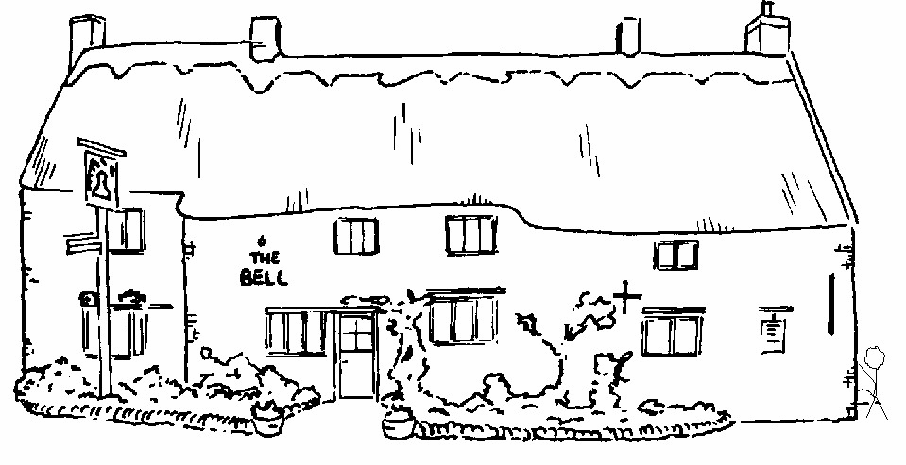 The Bell in Odell
As Featured in the 2010 Good Beer Guide
With the relaxed charm of a village local and a varied menu of
quality, home-cooked food you won't find any gimmicks here
just a Great British Pub!
Abbot Ale, IPA & Changing Seasonal & Guest Ales
Telephone 01234 720254
---
Last revised: December 03, 2011.