ODELL VILLAGE NEWS
September 2010
Visit the Bell website on www.thebellinodell.co.uk/
Harvest weekend - 25th and 26th September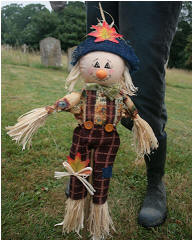 Return of the Odell Scarecrows! A leaflet giving more information about this should be popping through your door soon. In the meantime … make a note of the date, 25th September. In addition to the scarecrow competition, Coffee & Croissants, Tea and Cakes will be served in the church from 10.00am-1.00pm and Cream Teas and other refreshments in the Village Hall from 1.00pm-5.00pm.
Also …. Harvest Supper served in the Village Hall at 7.30pm. Tickets are just £3 a head (£1 for school-age children) as this is a 'bring and share' event - please let Nikki Freeman or Jill Cheadle know by Thursday 23rd what food you can bring along. Licensed bar applied for … plus after supper entertainment from the Bozeat Windmill Singers!
Birthdays in September
We would like to wish the following a very Happy Birthday:
Christy Vyvyan, 11 years old on 13th September
Sarah Jane Holden-Postles , 7 years old on 19th September
Daniel Bridgman whose birthday is on 25th. September
...and 'Happy birthday' to everyone else with a birthday in September!
Latest news on the river bridge
The bridge behind the Bell pub is at last open - many thanks to all who made it possible. We are continuing to collect signatures from people who want to re-establish the walkway through the Bell car park. As reported last month, the Odell Website has been asked to collect statements from walkers over the past 50 years and pass them on to the Highways authority - if you walked freely from HorseFair Lane through the Bell land to the river bridge and are sure of no obstacles or signs indicating 'no right of way' then please email that info to mailto:letters@odellbeds.net with your name and dates. This will be reviewed at the end of September at which time if the case is watertight, the various submissions to landowners and the council will be made.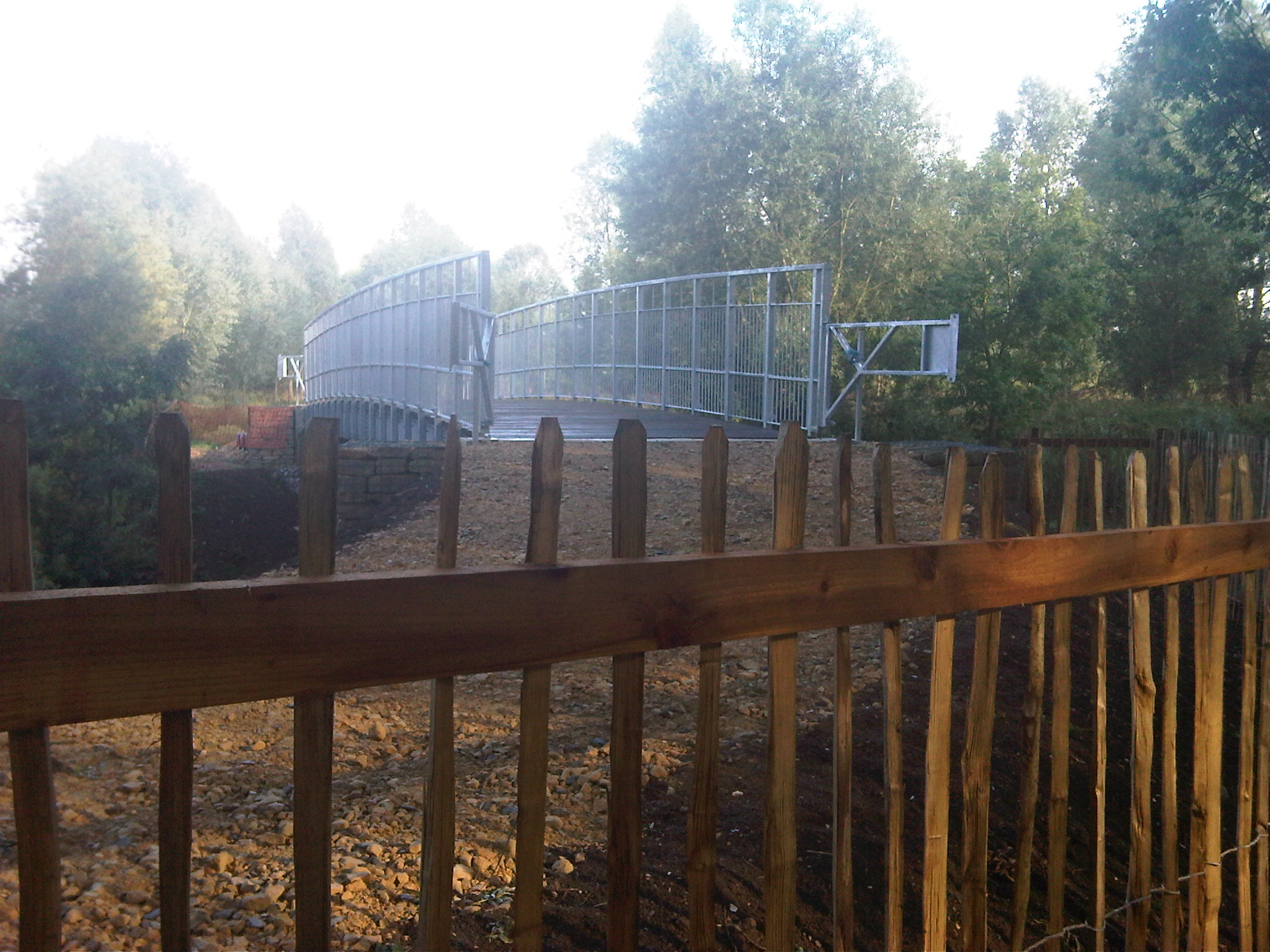 Above: the new river bridge showing the ramp which now provides a steep bank and a wooden fence when approached from the (disputed) path through the Bell
People willing to supply lifts to and from surgeries.
Below is a list of the people currently willing to give lifts, to and from surgeries, to people who can't otherwise get there:
Kim Beardow 721246
Jill Cheadle 720261
Steve Robinson 720113
Marion Senn 721176
Madeline Jeeves 720803
If anyone else is willing to be a volunteer please contact Jill on 720261.
Round and About
Berry Berry Good
In a bygone age, when our forebears needed to treat an ailment or injury, or their rheumatism was particularly bad, they would turn to the herbs and plants of the hedgerows for relief. Their knowledge of these plants enabled them to produce a cure for many of their everyday afflictions. Then people became civilised and along came modern medicine. Doctors frowned upon these earlier measures, declaring such cures to be dangerous and unfit for purpose. There was no place for such primitive practices in modern times.
We now hear, however, that scientists are looking into the properties contained within these old remedies. Research has shown these hedgerow plants are packed with vitamins and antioxidants. Scientists, probing their usefulness for today's medical conditions are increasingly coming to the conclusion that these ancient remedies can be of great benefit to modern day medicine.
For example. Rosehip syrup - the fruit of the rambling dog-rose found in practically every hedgerow, is full of vitamin C and also contains vitamins A D and E together with iron and calcium. Rosehip syrup is now considered to be a great tonic and in a powdered form rosehips are thought to be better than paracetamol as a painkiller. However, the seeds and hairs of the rosehip are a bad irritant and must be carefully removed.
Hazelnuts are also considered to be a good source for nutrients. They are excellent at lowering cholesterol and improving the blood flow. They can lower the risks of heart disease and are considered beneficial in the fight against several cancers.
Sloes - the fruit of the blackthorn - are the ancestors of the cultivated plum. Full of vitamin C and help to lower the risk of heart disease. In the home they have traditionally been used as a tonic to fight flu.
Blackberries have one of the highest antioxidant levels of any fruit and they are rich in vitamin C. The fruit is currently being tested for use against lung cancer. Traditionally blackberry syrup has been used for sore throats.
Hawthorn berries, used modestly, have been proved useful in the aid of heart medication. They have proved helpful in combating chest pain and angina and to lower cholesterol. The berries and leaves have been found effective for high blood pressure.
Traditionally hawthorn syrup has been used as a general tonic.
Bilberries are found mainly on heathland or moorland areas. They have high levels of vitamin C and, again, are being investigated for use against lung cancer. Traditionally bilberry tea has been used effectively in the treatment of sore throats.
Elderberries are rich in antioxidants which have been used to help in the treatment of diabetes and ulcers. They also help to build up the immune system. Traditionally drunk as a cordial to assist with treatment of a sore throat.
Nettles can be found in most environments and September is the month to harvest their leaves. They contain formic acid, neurotransmitter serotonin and histamine. Nettles have long been used to help treat pain suffered in the joints. Nettle tea is also used as a general tonic.
So much scorn has been poured on "old wives' tales" but it seems that, after all, they were not that wrong.
WARNING I am anxious to stress it is not wise to experiment with these remedies. Many of the above-mentioned have toxic or harmful qualities when not treated or prepared in the correct manner. I have purposefully left out the method of preparation as it is highly inadvisable to self-medicate without the correct knowledge of preparation and dosage.
Barbara Corley
W.I.News
July Meeting
We met at the Village Hall Car Park on Tuesday July 13th at 7.00p.m. It had been a rainy day but the skies began to clear as we proceeded to Harrold and Odell Country Park for a walk to explore the many new features which have been installed over the last 18 months. Starting with the Community Orchard we walked past the new play area and along the bridle way admiring the new sculptures as we went. When we reached the overflow car park we turned towards the nature reserve to see the results of all the undergrowth clearing. Emerging on the riverbank we had a quick tour of the new woodland area that Richard is developing and left by the new bridge over the dyke. Afterwards there was an opportunity for us to socialise and round off the evening at Roberta Goodman's. She had provided a magnificent supper for us and we must express our grateful thanks to her and Nick for making us so welcome.
August Meeting
Our August meeting was to be our annual BBQ at the home of Mandy Sharpe. However the weather decided to intervene and after a day of rain and wind we were grateful to accept Christine's offer to relocate to the dining room of the Rectory. Mandy however still managed to BBQ for us as the weather cleared. Thanks to Christine and David for making it into a very enjoyable evening.
September Meeting
We meet in The Village Hall on Tuesday 14th September at 7.30. It is a members' meeting and you are asked to bring a wedding photograph along. It can be of any relative or era especially if it has an interesting story behind it or will spark a conversation about changing fashions etc.
It is hoped that we will also have a short presentation from a representative of the 'Shoebox for Belarus' appeal.
Hostesses
This Month's hostesses are Jenny Cuddeford and Sarah Bennett
If you need any more information please ring Rachel Halton 720572 or Doreen Wheeler 720358
Rachel Halton 720572
Villager Minibus (Sharnbrook) Ltd
Retired? Looking for something extra to do?
Join our team of volunteer drivers to drive our community bus scheduled services. We are looking for more drivers to drive at least twice per month from our base at Sharnbrook Upper School.
· Training will be provided
· You will need category class D1 on your licence
· A clean driving licence
We also need someone to organise the regular maintenance of the vehicle.
For more information please contact Stan Jones on 01234 782071
Meadows Children's Centre Update
Your local Children's Centre is now well established and offering support to families within this area. Our launch party in May was a huge success with high attendance and lovely sunshine. We are pleased to announce that our website is now live and all our up to date information can be found there, including our exciting summer timetable of activities for you and your children to enjoy. The website address is www.meadowschildrenscentre.co.uk
We look forward to seeing you soon at any of our events.
Carla and Michaela
Harrold-Odell Country Park
Carlton Road, Harrold, Bedford MK43 7DS
Email: hocp@bedscc.gov.uk Website: www.hocp.net
Tel: 01234 720016
News from Harrold Odell Country Park
Once again, the year seems to be disappearing at the speed of light. It only seems like yesterday that we were all shivering from the coldest winter/spring for many years. Now, we are all suffering from prolonged heat/drought conditions that have caused us a few problems.
The logistics needed to keep the new trees around the park watered has been a nightmare. We have had help, especially with the Community Orchard in Odell, from the local Fire Brigade and our Friends Group. Special thanks to David Bedborough (and his trusty mini tractor), who has been ferrying water to wherever it's been needed.
Our Bailiff, Trevor Smith has been working hard to remove excessive weed from the fishing swims. This and an outbreak of blue/green algae in the large lake are a direct result of heat and low water levels. Do not allow dogs into the water until this resolves as the algae is detrimental to your dog's health. A good spell of wet weather will redress the balance.
The Park is the proud recipient of a Green Flag Award for the 3rd year in a row. A real mark of excellence! This is purely down to the hard work of the staff and volunteers as we have to show an improvement each time we enter. We have also applied for another award from the CPRE (Campaign for the Protection of Rural England). This is for the Community Orchard at Odell under their Landscape Improvement category. It was created last year from a patch of scrub and nettle covered land behind the houses in Horsefair Lane. There are now 45 heritage varieties of fruit trees of various types growing in there. In years to come we hope to have harvest events using the "fruits of our labours".
On July 24th we held a Love your Park event featuring representatives of our different users groups. This was a national week with events going on countrywide. It was a great success and many visitors took the opportunity to talk to people manning stalls like the Wildlife Trust, Walking 4 Health and the Friends Group.
I am in the throes of organising another event for October 24th. This is a joint venture with Bedford Museum. Called "A Living from the Landscape" we are bringing together crafts people who use natural materials to create things to sell. If you are looking for Christmas presents with a difference then this is the event for you.
So far, we have workers using metal, leather and wood. In addition a bee keeper, dyer, straw plaiter and a chainsaw carver have been invited. The Hemlock Morris Dancers will be along to entertain us. All this will take place between 11am – 4pm. Look out for posters in the noticeboards, telephone the park on 01234 720016 or e-mail janet.munro@bedford.gov.uk to find out more. The Friends Group also run a website www.hocp.gov.uk
From October onwards we will begin the winter work programme. Tasks include coppicing, hedge-laying, dyke clearance and bramble removal. Some of the Friends like to get involved with this but we also use Community Payback workers (via the Probation Service) and individual volunteers. We are also now responsible for some other small sites in the area e.g. Daisy Bank Picnic Site near Felmersham. Some of these sites are in need of some TLC and we will be working in there as man-power allows.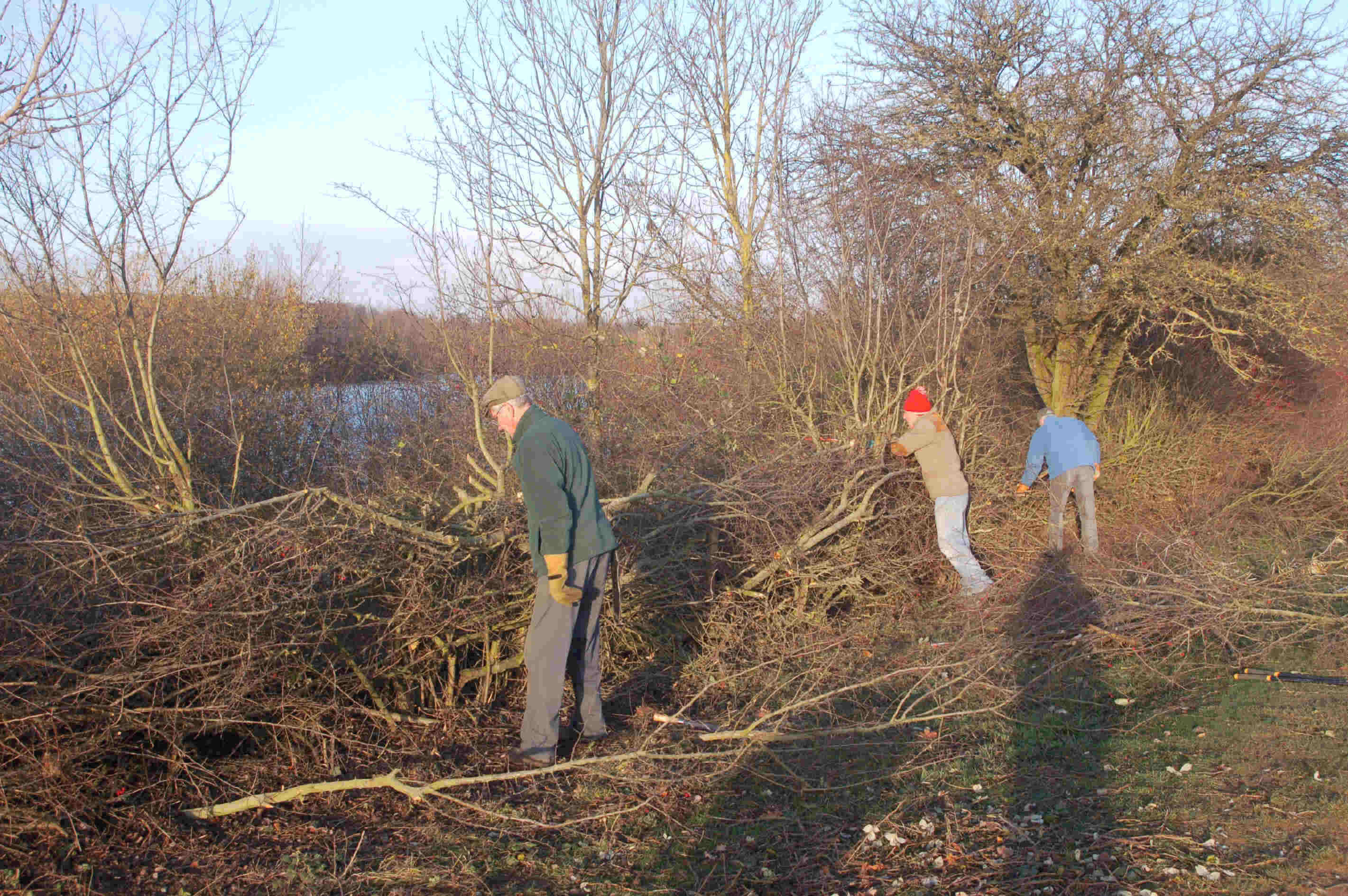 Dates for your diary
Sunday October 24th 11am – 4pm A Living from the Landscape with Bedford Museum. Come and watch various crafts people making use of natural materials to create utensils and decorative goods which visitors can buy. Hemlock Morris Dancers will also be there.
Walking 4 Health – Meets every other Thursday in the car park at 10.30am. Leader Janet Munro. We walk for approx 1 hour to improve your health and vitality and an opportunity to discover what's on your doorstep. Dates are as follows: Sept. 2nd, Sept. 16th, Sept. 30th
Friends' Conservation tasks - 10am 27th Sept
2nd September – Bat Walk – meet in the car park at 7.45pm. Run by Beds. Bat Group. Booking essential as only 20 spaces available. This is already half booked up so speed is vital. E-mail janet.munro@bedford.gov.uk or call 01234 720016.
Janet Munro Assistant Ranger
Village Hall
Harvest Festival Weekend 25th September:
The Scarecrows are back! Look out for posters in the village and leaflets coming through your door giving more information. Tea and coffee will be served in the Village Hall from 1pm – 5pm. Then, the Harvest Supper will be served in the hall from 7.30pm. For more details see page 10 of the magazine.
Future events
Quiz Night 16th October. Usual teams of 6. Contact Rob Lee 720730 to book your table.
Hair of the Dog 27th November. More details nearer the time.
The Mill Theatre, Sharnbrook
Round and Round The Garden, by Alan Ayckbourn
Tuesday 21st - Saturday 25th September, 2010 7.45pm
From the pen of Alan Ayckbourn, "the comic laureate of Britain's middle class" …. the al fresco doings of a disastrous weekend - Hilarious. Simply unmissable!
Tickets

(£8/10) Now available from:

Bedford Central Box Office 269519

Sharnbrook Post Office – in person

Take advantage of ADVANCE BOOKING!

Les Misérables School Edition

Fri. 12th - Sat. 20th November 7.45 pm

"O n e o f t h e g r e a t e s t m u s i c a l s e v e r w r i t t e n "

This edition will be performed by students of 19 years and under

Tickets will be available during Round and Round the Garden, but only at The Mill Theatre.

Diary

September

2nd 10.30am Health Walk, HOCP

2nd 7.45pm Bat Walk, HOCP

6th 5.30pm Odell Monday Club, The Rectory

6th 8pm Handbell evening, St Peter's Harrold

8th 10.30am Meeting Point at Catherine's, Manor Cottage, Harrold

11th 10am Sponsored Bike n' Hike

11th 2.30pm Cream teas, St Mary's Church, Carlton

11th 7.30pm Kaznowski String Quartet, St Mary's, Carlton

12th 2.30pm Cream teas and tower open, St Mary's, Carlton

14th 7.30pm W.I. Odell Village Hall

16th 10.30am Health walk, HOCP

18th 9.45am All Saints' Amblers meet at The Bell

22nd 10.30am Meeting Point at Eileen's, 24 Church Hall Rd., Rushden

24th 11.00am A Living from the Landscape HOCP

25th Scarecrow Day

25th 10am Tea, coffee and cakes in All Saints' for Harvest Weekend.

25th 1pm Cream teas and refreshments Odell Village Hall

25th 7.30pm Harvest Supper in Village Hall

26th 10am Harvest Festival Service

27th 10am Conservation Tasks Day, HOCP

27th 3.30pm Fusion at Harrold URC

30th 10.30am Health Walk HOCP

Magazine Deadline

Please send all entries for the October 2010 magazine to Tricia Hudson (mag1 at odellbeds.net) or Catherine Corkery by September 12th at the latest. May we remind you that the editorial team exercises the right to edit, shorten or alter any items that are submitted. Also, the opinions expressed in the articles are those of the contributors and are not the responsibility of the editorial team.

Alex Stubbs Flooring

Carpets, Vinyls, Laminates, Safety Flooring, Adaptions, Refits, Repairs

Supplied and Fitted

07976 260572

01234 240954

Great local pubs

<![if !vml]>
<![endif]>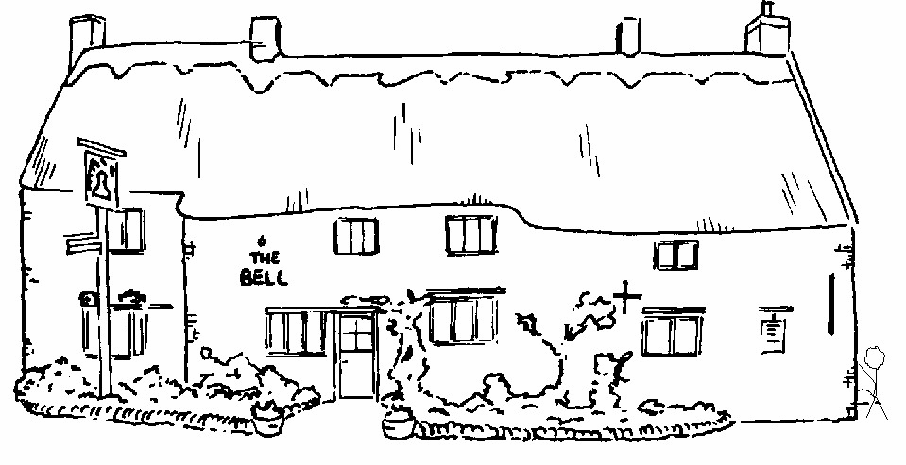 The Bell in Odell
As Featured in the 2010 Good Beer Guide
With the relaxed charm of a village local and a varied menu of
quality, home-cooked food you won't find any gimmicks here
just a Great British Pub!
Abbot Ale, IPA & Changing Seasonal & Guest Ales
Live Trad Jazz first Wednesday night of the month
Telephone 01234 720254
---
Last revised: September 25, 2010.