ODELL VILLAGE NEWS
November 2010
Round and About
The Swans - A Family at Last
Over the summer months I have been watching a family of swans in the Country Park. They raised their brood on the small lake to the left of the bridle path as you enter the park from Horsefair Lane.
This small lake has seen one tragedy after another for about 10 years now. All those years ago a young pair of swans took over the lake and for two years produced young which, no doubt through the inexperience of the parents, failed to survive. About 10 years ago, with the female still on the nest, the male either died or was killed. He lay in the meadow for about a week. The female deserted the nest and spent the remainder of the year, a picture of woe, just sitting in the middle of the lake - her head under her wing – alone - clearly grieving. Thus it remained, solitary and in grief, for the following two years.
Then, one day - a young male dropped in. For two or three weeks the two swans kept company - and then he flew off. Solitary again. The following year he called by again and remained for about two months and then was gone - I assume it was the same male swan.
Then, the following year he was back. They built a nest and sat awhile but nothing happened. They built again the year after that and produced a single cygnet. I saw it just once - and then it
disappeared. They tried again the next year and produced several young but the weather turned, the park flooded and the family must have been swept away.
Whatever happened they were never seen again. For two years running this happened. This sad, unhappy lake, would we ever see a happy family of swans here again? I was not the only one to remark upon the misfortunes of this pair. Many a time I heard people talking about it.
This year, however, it all changed. My gallant pair built a new nest on a different part of the reed bed, and they settled down to brood their eggs. The male took position in the centre of the lake on sentry duty, occasionally driving off the odd heron - he did not like herons, then or later in the year. So patiently he waited - and I watched and I too waited. One morning I was rewarded with a wonderful sight. He sat, as usual, in the middle of the lake - head under wing - oblivious. I then saw the reeds part and the female swan slowly emerged. Yes, indeed, she was followed not by one, or two, but six fluffy little bundles of joy. How proud she looked. Whether she called I cannot say - I certainly didn't hear anything - but, all at once, with a shake of his wings the male was all attention as he bustled across the water to meet his family.
After so many years waiting, this cute little family flourished and grew. This year we had a dry spring and early summer and the little family attracted a great deal of admiration from the various park
users. The swans did try a quick visit to the main lake early on - I saw the little 2/3 week old cygnets bobbing about on the ripples of this larger stretch of water - but the following day the entire family was back on their home-lake and despite the lake seriously drying up over the summer months, remained there right through to September.
I am happy to say that at the end of September they crossed again on to the main lake. They made an impressive sight, a family of eight, sailing across that large expanse of water. The cygnets were learning - there was a larger world than their nursery lake. This new world contained other swans and geese that continually kept arriving and departing in noisy array. They were also learning to fly. You couldn't mistake them. They were the only family of swans with six young and the other swans on the lake made way for them. They appeared to be masters of all they surveyed.
Their gentle, blissful summer is about to end. Soon the family must part. Winter fast approaches and the parents, after all, must prepare to start again next year. Let us hope that, with this successful summer
behind them, that their luck has changed, that next summer is kind to them and once again they raise a successful brood that we may all watch and enjoy. Barbara Corley
Birthdays in November
Happy birthday to:
Georgina Ardley whose birthday is on the 29th
And everyone else with a birthday in November!
W.I.News
Fartlek
Now, did you ever imagine that Odell WI would be using such words?
October's meeting was a very entertaining game of Call My Bluff led by the ever welcome Dot Wigg. We all thought that Fartlek was the mating ritual of the Corncrake, not training for middle and long distance runners, and we all agreed Carminature is a red and menacing seabird and not a cure for flatulence! The evening
proceeded with great hilarity but we weren't all wrong all of the time and at the end the winners were Jill, Margaret, Christine and Barbara who had the edge on the three other teams by using a combination of skill and guesswork. This was a really good evening and an excellent example of how the WI takes you to places which otherwise you would not have considered.
Our next meeting is on November 9th at 7.30pm when Kathy Dunn will be demonstrating how to make Christmas wreaths.
Hosts are Joyce and Jill
Odell Parish Council requires a parish clerk to
undertake all administrative and responsible roles for the parish. The post involves approximately 16 hours of work a month. Meetings take place on the 3rd Monday bi-monthly at 7.30pm.
Salary in accordance with NJC scales LC1.
For further details please contact Cllr R Halton 01234 720572 or by email rhalton49@gmail.com
Goodbye!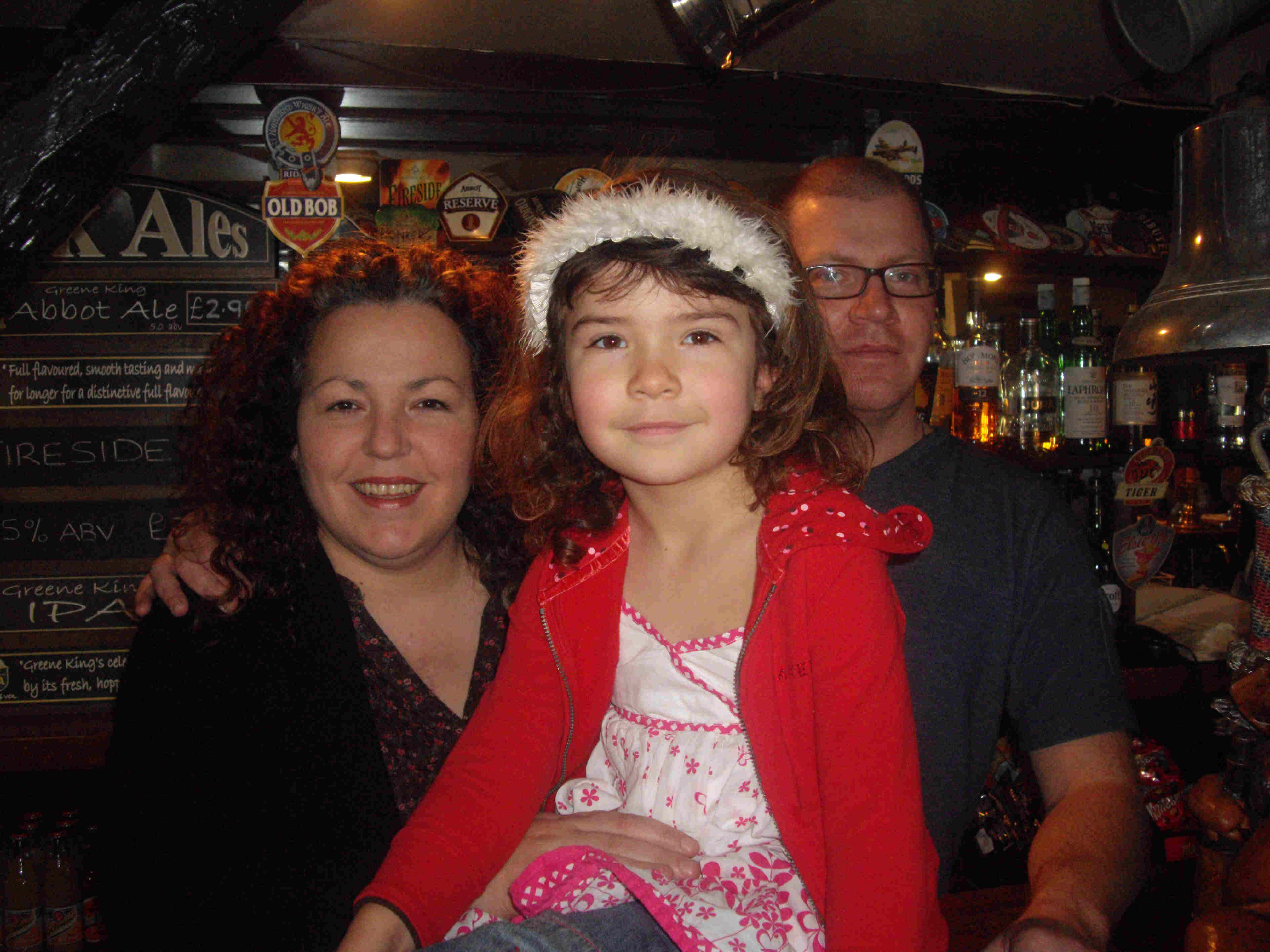 As I am sure that you all know, we will be leaving The Bell on Tuesday 9th November. We would both (and Becca of course!) like to thank all of you for making us so welcome in your beautiful village, and for all of the wonderful memories we have of this lovely place. We have made some great friends here and we hope that you all feel that we have done our bit to protect the future of your great village pub.
Our departure will be bittersweet for the both of us, leaving behind a place that we have called home now for over 5 years. However, we feel that we simply cannot do The Bell justice, whilst also giving our daughter what she now needs. However, we are glad to have been introduced to this part of the world and, as we will be living just down the road, we look forward to spending time with you on the other side of the bar.
Will and Katie will be taking over from us and we wish them every success for the future. We are sure that they will be given the same great welcome, which we received, and we are confident that your pub will be in safe hands.
We will be having a party on Saturday 6th, with a live band. We hope that you will be able to make it. (Please note that we will not be serving food so that Pete can have a night off).
Thank you again, what an amazing place Odell is to live!!! Best Wishes Peter, Rachel & Rebecca xxx
On behalf of the villagers, we want to say a huge 'thank you' to
Peter and Rachel for keeping The Bell going from strength to strength, and for being such friendly and welcoming landlords! We shall all miss them, but wish them every success in their new life. Magazine team
November: Fireworks and Bonfires
As it is autumn and the season of bonfires and fireworks
Please Do:
· Spare a thought for pets and also wildlife in the area. Many animals are terrified by fireworks so it is only considerate to notify neighbours of planned fireworks evenings so that pets can be kept indoors.
· Check there are no hedgehogs underneath the bonfire heap
· If possible, avoid the middle of the day before lighting your bonfire - your neighbours may be working in their own gardens or have washing out and will not appreciate being enveloped in a cloud of smoke and ash!
· Check the wind direction before lighting up – best to wait until it's blowing away from neighbouring properties. Doubly important if you live close to the thatched properties!
Local firework displays:
November 3rd
Major firework display by Kimbolton Fireworks
Gates open: 6pm; fireworks: 8pm
Tickets £9 (£10 on night)
November 5th
The Bedford Rugby Club Followers Association Fireworks Display
Goldington Road
Gates, Funfair and Bars Open 6pm Children's Display 7pm
Main Display Starts 8pm (strictly no more admissions after 8pm)
Adults £6 / Children aged 2-14 £4 / Under 2's FREE
Family Ticket = 2 Adults & 2 Children £15
Tourist Information Centre (St Paul's Sq), Times & Citizen (Mill Street), Blues Club Office
Village Farmhouse Christmas Sale
Thank you to all those who came to the Christmas Sale in October. We raised £208.00 for the charity Independent Age from coffee donations, Christmas card sales and a percentage of the purchases made. Independent Age's focus is on providing support and help to elderly people, so they can remain longer in their own homes.
Nicola Schoenenberger
People willing to supply lifts to and from surgeries.
Below is a list of the people currently willing to give lifts, to and from surgeries, to people who can't otherwise get there:
Kim Beardow 721246
Jill Cheadle 720261
Steve Robinson 720113
Marion Senn 721176
Linda Tringham 720120
Madeline Jeeves 720803
If anyone else is willing to be a volunteer please contact Jill on 720261.
Bedford Messiah Choir presents
Handel's Messiah
On Saturday November 27th 2010 at 7:30 pm
in Bunyan Meeting, Mill Street, Bedford.
Conductor Janet Welsh
Organ Richard Heyes
Trumpet Nigel Doggett
and Soloists from the Guildhall School of Music and Drama
Adults £8.50, Concessions £7.50
Tickets available from:
Barbara Fowler, 01234 720481
Ann Hudson, 01234 720587
Proceeds in aid of Charity
Sharnbrook Upper School Christmas Fair
The Christmas Fair will take place on Sunday 28th November between 1pm and 4pm with around 70 stalls offering a range of goods from jewellery, crafts, books, clothing, food and health products. There will also be a dedicated children's area with Santa's grotto, pets' corner and climbing wall. Christmas café with hot and cold drinks, homemade baguettes and mince pies. Entry to the fair is £1 adults , 50p children and concessions. Free parking!
Harrold-Odell Country Park
Carlton Road, Harrold, Bedford MK43 7DS
Email: hocp@bedscc.gov.uk Website: www.hocp.net
Tel: 01234 720016
News from Harrold Odell Country Park
Now that we're almost into November, we have re-started the winter tasks identified in the management plan within the Nature Reserve.
Visitors will begin to notice us coppicing, and stacking the resulting wood into neat piles to season for next year. Any dead wood is being stacked into habitat piles for over wintering insects, reptiles and amphibians.
Elsewhere, hedge-laying and clearing out areas around the lakes and along the river will be undertaken. This is the time when the leaves are dropping, tree sap is receding back into the roots, the wildlife is no longer breeding and nettles are dying back allowing easier access into the wilder areas of the park.
On Sunday October 24th, we held a very successful event looking at the importance of the landscape in providing the raw materials for every day life. This was a collaboration with Bedford Museum who provided an insight into historic connections and traditional skills with displays of artefacts and a marquee providing family crafts and activities.
Attractions included a bee keeper and skep maker (traditional straw bee hives) a blacksmith, wood turners, dyeing and pole lathe demonstrations. Paul Nicholls set up an area looking at survival skills e.g making fire by friction, preparation of animal skins and making cord and wooden utensils. There were also displays of rocks used to produce cement, bricks and building stones.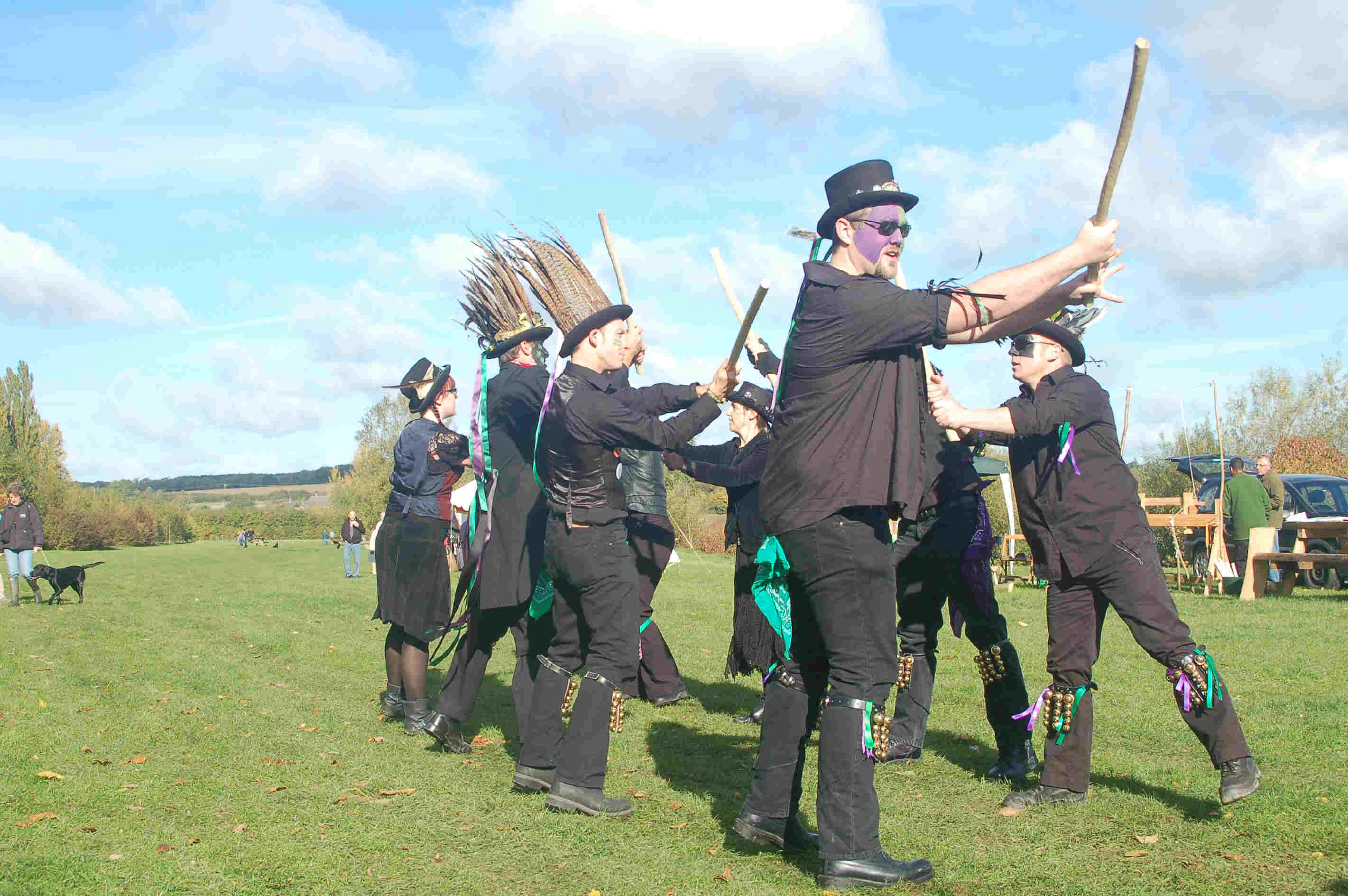 The Hemlock Morris dancers provided entertainment between 1pm – 3pm. We reckon we welcomed 1000 extra visitors on the day as the weather smiled on us. The positive feedback received may make us hold a similar event next year if resources allow.
On December 11th Richard and I have been invited to a ceremony being put together by the Campaign for the Protection of Rural England. We have been nominated for an award for landscape improvement for the Odell Community Orchard at the rear of the houses in Horsefair Lane We don't yet know whether we are winners but watch this space.
We would like to take this opportunity to thank all our volunteers and the Friends group for all the help and support we receive on a weekly basis. Recently they have used some of the car park donations so generously given to buy and kit out a trailer for ferrying goods and equipment round the park. They have also bought me a new chainsaw and will be paying for new wildlife signs for the bird hide shortly once we have finalised what we want.
Finally, we welcome any feedback from visitors on any aspect of the park so please get in touch. You can access information via the Friends website www.hocp.co.uk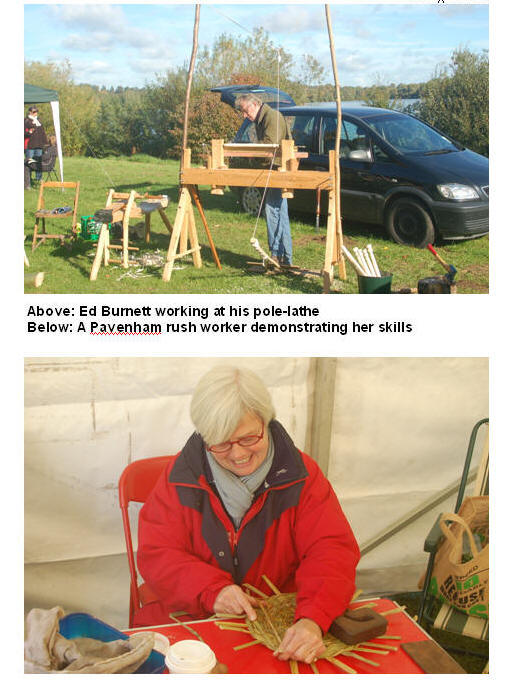 Janet Munro, Assistant Ranger
Walking 4 Health – Meets every other Thursday in the car park at 10.30am. Leader Janet Munro. We walk for approx 1hour to improve your health and vitality and an opportunity to discover what's on your doorstep. Dates are as follows:
11th and 25th November
Friends' Conservation tasks - 10am
Monday 29th November
Village Hall
November event:
27th November 8pm: Irish Night with Hair of the Dog
This spirited Irish Band return to Odell Village Hall to provide an evening of lively popular music and a few Irish jigs. Irish stew will be served.
Early booking for this is advised: the Irish Night featuring Hair of the Dog was a great hit last time it was held in Odell so tickets are expected to sell fast.
Tickets: £8 including Irish stew.
Contact: Rob Lee 720730
Quiz Night 16th October.
There was a strong turnout for the Quiz Evening on 16th October. As usual there was a good combination of fun and challenging questions and a great time was had by all. Many thanks to Rob Lee for compiling the questions and to his group of helpers who kept scores and helped the evening to run smoothly.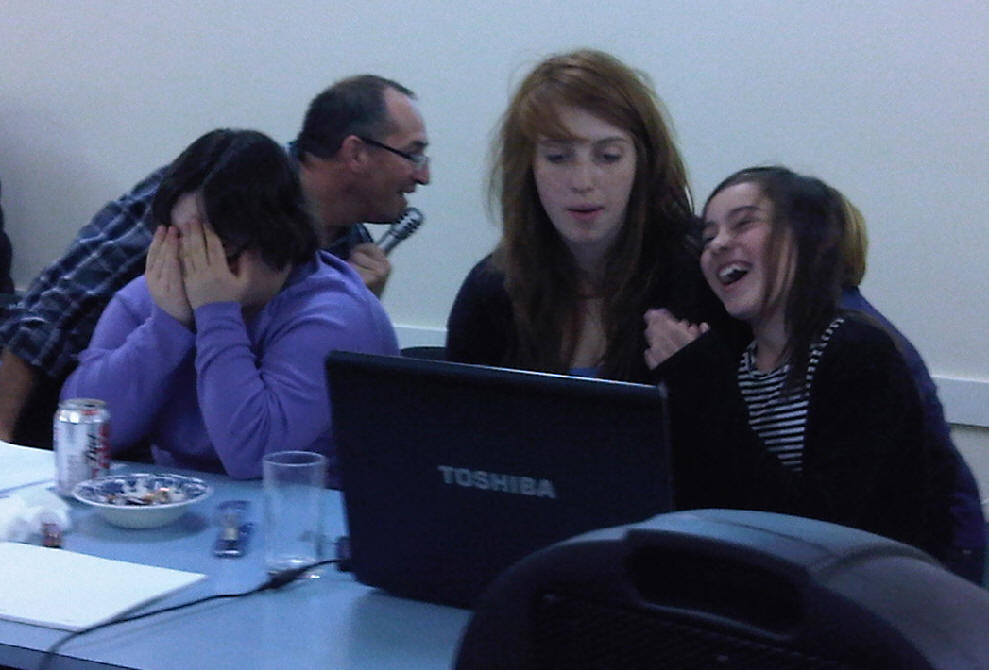 Despairing over the answer sheets?? Rob and helpers at the Quiz!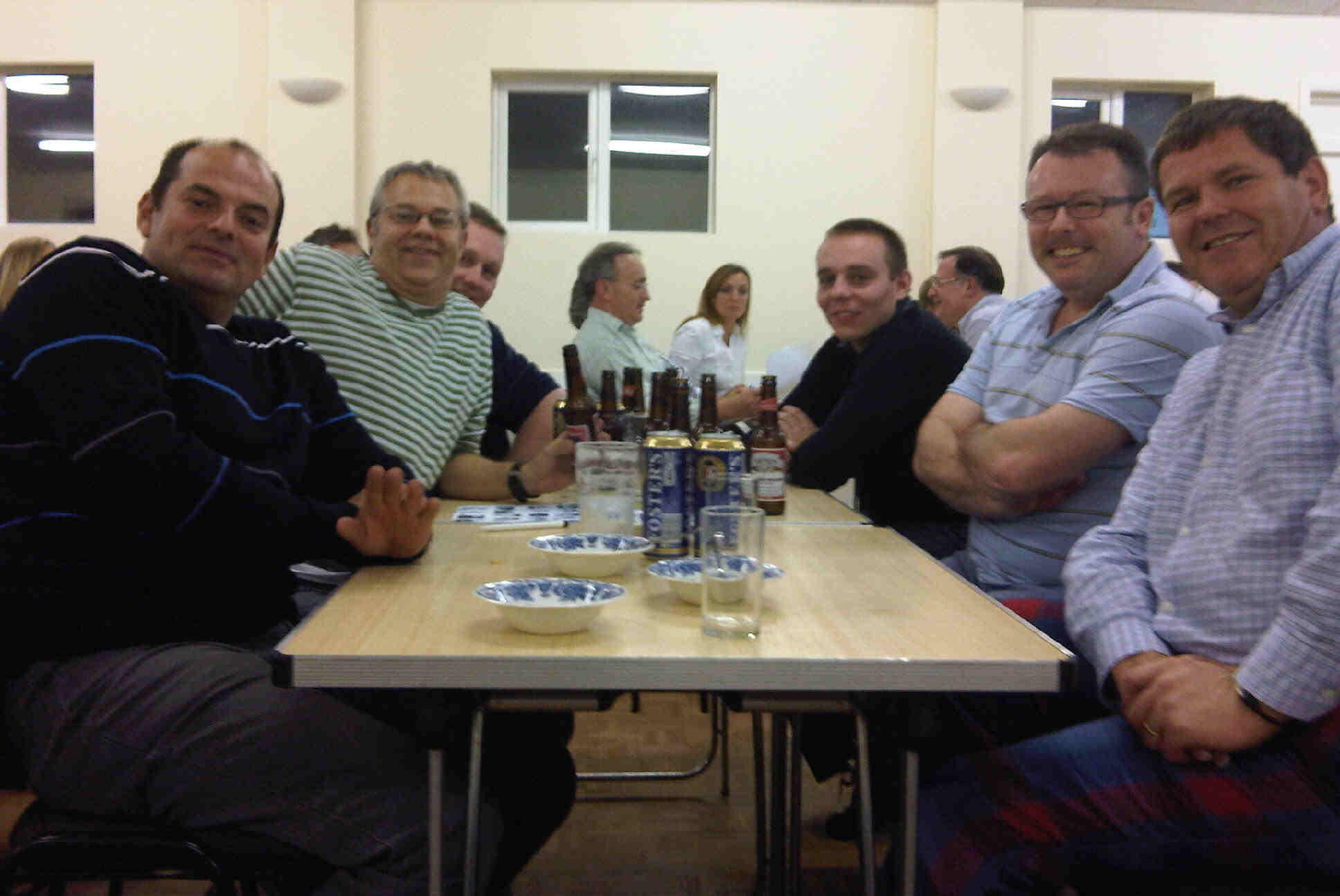 Above, in 1st place: Pyjama Bottoms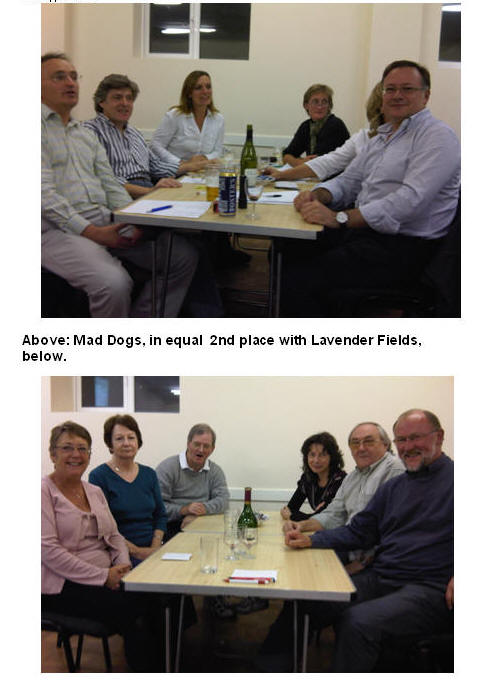 The Mill Theatre, Sharnbrook
Reg. Charity No 242164
£16 to
Les Miserables, School Edition. , 12th – 20th November , 7.45pm
By Claude-Michel Schönberg, Alain Boublil and Herbert Kretzmer
Matinées: Sat. 13th and 20th at 2 pm
"One of the greatest musicals ever written".
This edition of the show is performed entirely by students of 19 years and under.
NB Fri.12th Charity night; no performance Mon 15th
Tickets available at Box Offices from 4th October
Saturday Matinees £9, Tues. – Thurs. evenings £10, Fri.& Sat. evenings £12
Bedford Central Box Office 269519
Sharnbrook Post Office – in person
10% discount 10+ excluding Charity performances. 2 wheelchair spaces and easier access seating; please book*
Les Miserables tickets are selling well – do you have yours?
Due to popular demand - the return of The Mill Theatre's
Christmas Revue
:
The perfect
introduction to the Festive Season!
e
Wednesday 8th to Saturday 11th December, 7.45pm
Tickets on sale from 1st November, £16 including Fish and chip supper. Limited availability.
Diary

6th 2.30pm Churchyard Tidy

9th 7.30pm W.I. Village Hall

10th 10.30am Meeting Point at Jill's, Rectory Farm.

11th 10.30am HOCP Health Walk

20th 9.45am All Saints' Amblers meet at The Bell

20th 11.00am Christmas Bazaar, Carlton Village Hall

24th 10.30am Meeting Point at Jane's, Newton House, Avenue Rd., Newton Bromswold.

25th 10.30am HOCP Health Walk

27th 7.30pm Handel's Messiah, Bunyan Meeting, Bedford

27th 8.00pm Hair of the Dog, Village Hall

28th 1.00pm Sharnbrook Upper School Christmas Fair

29th 10.00am Conservation Tasks Day, HOCP

December

3rd 10.30am Christmas Hamper Coffee Morning, Hobbs Green Farm

Magazine Deadline

Please send all entries for the joint December 2010/January 2011

magazine to Tricia Hudson (mag1@odellbeds.net) or Catherine Corkery by November 12th at the latest. May we remind you that the editorial team exercises the right to edit, shorten or alter any items that are

submitted. Also, the opinions expressed in the articles are those of the contributors and are not the responsibility of the editorial team.

Alex Stubbs Flooring

Carpets, Vinyls, Laminates, Safety Flooring, Adaptions, Refits, Repairs

Supplied and Fitted

07976 260572

01234 240954

Great local pubs

<![if !vml]>
<![endif]>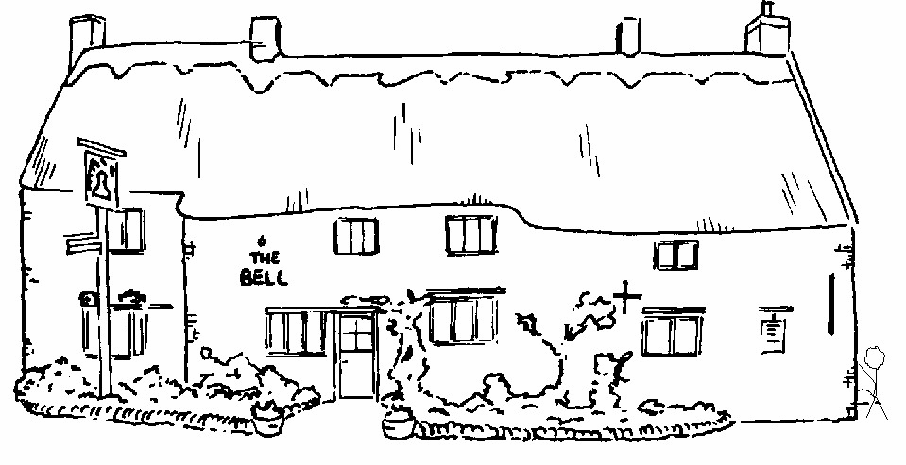 The Bell in Odell
As Featured in the 2010 Good Beer Guide
With the relaxed charm of a village local and a varied menu of
quality, home-cooked food you won't find any gimmicks here
just a Great British Pub!
Abbot Ale, IPA & Changing Seasonal & Guest Ales
Live Trad Jazz first Wednesday night of the month
Telephone 01234 720254
---
Last revised: November 03, 2010.