ODELL VILLAGE NEWS
June 2010
Odell Fete is on Saturday June 12th 2.00pm - The Bell will be open all afternoon
Visit the Bell website on www.thebellinodell.co.uk/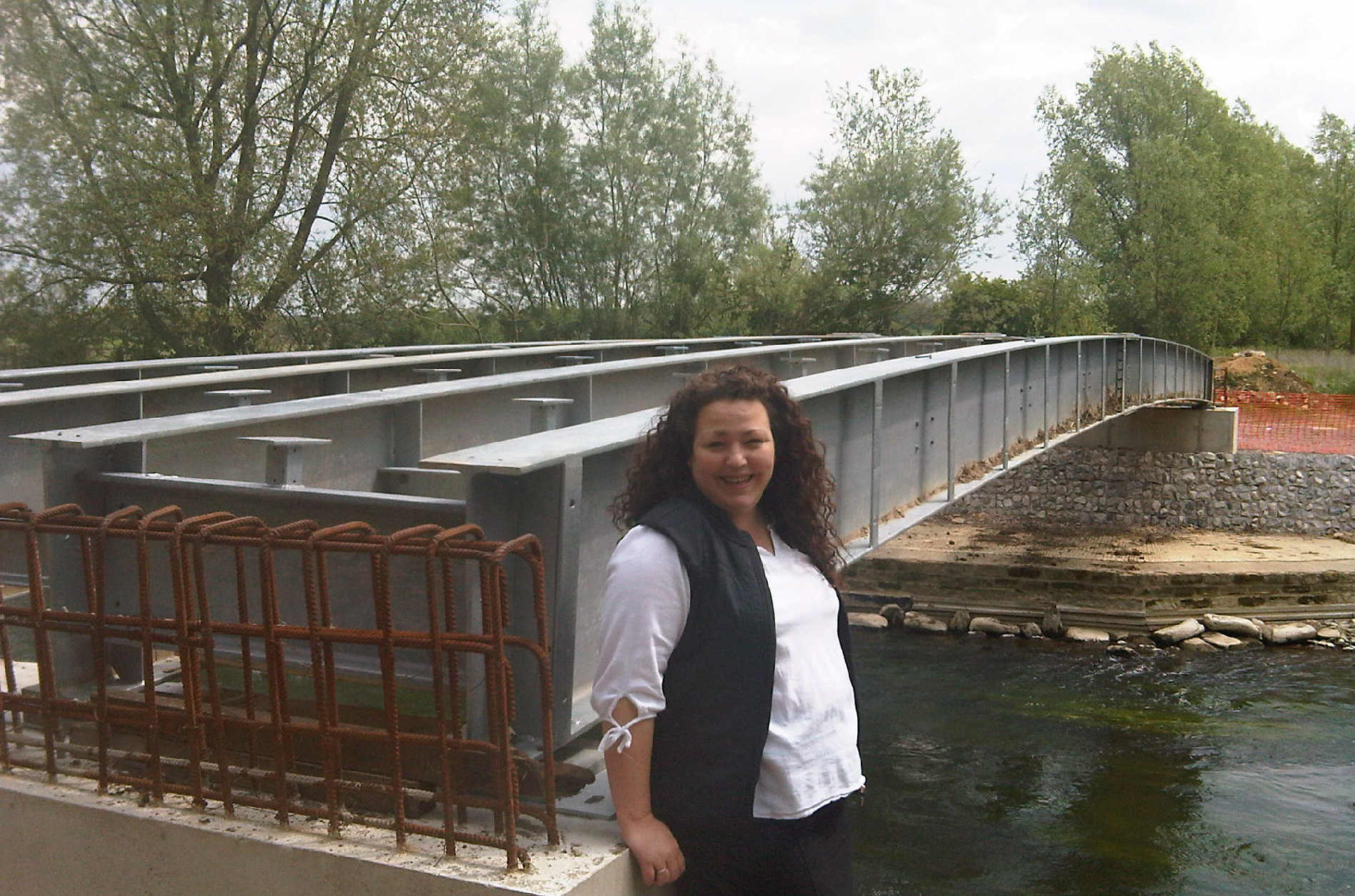 Rachel Causton by the new bridge over the river behind The Bell.
The bridge , replacing the old 'Pooh Sticks' bridge, is nearing completion and should be up and running at the beginning of June
Odell Village Fete
Saturday 12th June 2.00pm
(In the Scout field, Horsefair Lane, Odell)
Entry: Adults £1.50, Children Free
Programme of events
2.00 pm Grand Opening
2.00-4.00pm Dog Show
4.00pm Raffle Draw
Attractions
'Time for Tea'
Wode-Hill Jazz Band
Boys Brigade
Teas Ice Creams
Tombola Cakes Books Refreshments Bottle Stall Coconut Shy Children's Sports
White Elephant Raffle
Produce Gifts Many Side Shows
Dog Show
FAMILY DOG SHOW
(entry fee - £1 per dog per class)
Classes:
1. Children's Handling (14 years and under)
2. Puppies under 1 year
3. Country Sporting Dog or Bitch
4. Best Rescue or Re-homed Dog or Bitch
5. Best Condition Dog or Bitch
6. Dog or Bitch with Most Appealing Eyes
7. Best Cross-bred Dog or Bitch
8. Most Handsome Dog
9. Prettiest Bitch
The Bell will remain open during the afternoon of the fete.
HELP will be needed to set up fete stalls on the afternoon of Friday 11th June, and then dismantle everything after the fete has ended on Saturday 12th. Please come and join in!
Birthdays - HAPPY BIRTHDAY TO:
Mia Vyvyan 9 on 2nd
Eleanor Robinson 17th
Elliot Swift 14 on19th (8 in 2004)
Alex Tringham 18th June
Round and About
The River at Odell
The river at Odell today is usually regarded as a scene for leisure pursuits. A place for a gentle evening stroll on a warm summer's evening, the habitat of fishermen in search of perch, bream and roach - and for those prepared for the struggle - the mighty pike which can sometimes weigh in at up to 20 lb. or more. Children plunge into its cool depths in the heat of summer and canoeists like to shoot the bridge at Odell Mill.
For those with eyes to see, standing motionless in the reeds is the old grey heron, or, a flash of iridescent blue will reveal the presence of the kingfisher. The really lucky observer might even catch a glimpse of the wary otter. All may be found in the gentle surroundings of the River Great Ouse at Odell.
However, it was not always thus. In earlier times the river was not a place for pleasure, it was expected to work for the people, and to work hard.
There has been a water driven mill at Odell since Saxon times and it is mentioned in the Domesday survey as a thriving concern with two water mills and several fishery from the head of the mill ponds to that of Felmersham. The rental of the mill at this time was 36s. 8d. plus 200 eels. Do not dismiss the eels lightly, they were a valuable commodity. Early maps show a number of eel traps ranging upstream from the mill the length of Horsefair Lane.
In early records a number of Odell cottagers are listed as fishermen. The Lord of the Manor owned the fishing rights to the river and granted licences to fish the waters to a number of villagers and also to residents of neighbouring villages. Fish (and eels) would have made a welcome addition to the meagre diet of the local people. The rushes were regularly harvested and used for making a variety of rushwork goods, a useful cottage industry to boost the family income. In later years the willows that dominate the riverside scene at Odell, were harvested for their timber to make cricket bats. The trees, known as cricket bat willows, are still harvested for this purpose.
An interesting historical note can be taken from the work of James Wyatt who created a collection of stories relating to this part of Bedfordshire. He cites reports of the river running dry for 3 miles close to Harrold so that "no course of water did hinder passage on foot". This event was later interpreted to presage the "revolt of the people". This revolt of the people refers to the start of the Wars of the Roses.
A darker side to the river at Odell can be taken from the Coroners Roles and County Records.
In 1269. Following Vespers at Odell Church 6 people planned to cross the river to return to Chellington and Radwell. There were four women in the party and they entered the boat first - when it capsized and sank. Three women survived but the other perished.
In 1271. Four people wishing to return by boat to Chellington entered two boats, one of which sank causing the death by drowning of two people - a brother and sister.
In 1761 the Parish Overseers of the Poor had to pay Mr. Dixie Gregory, the Coroner, 13s. 4d. for "the Boys being drownded".
In 1850 The Coroner registers a little girl called Elizabeth Bailey, drowned.
Sometimes, however, people were lucky. In 1890 Joseph Hall fell through the ice on two consecutive days and apart from missing school, was none the worse for it!
Barbara Corley
W.I.News
May's meeting was our AGM when we were very pleased to welcome a new member, Mrs Jane Smith. Our committee was thanked with a special mention for our president, Rachel Halton, who was still in Australia supporting her daughter following her recent major surgery. In Rachel's absence Doreen chaired the meeting and introduced the resolution. This meeting urges HM Government to introduce clear and mandatory country of origin labelling on all meat, poultry and fish products sold in this country, which, of course, had the full backing of our members. After this the meeting became more light hearted with a quiz which was won by Jane (Eshelby) and Margaret.
Please keep Tuesday March 8th 2011 free and join us for an open evening with the East Anglian Air Ambulance, when we plan to raise funds for this essential service. Meanwhile, please save all your foreign and out of date coins and notes because we are collecting them on the Air Ambulance's behalf.
In addition members are planning to hold a jumble sale in October to raise funds for the East Anglian Air Ambulance and the Tea Point so please save all your surplus clothes and bric-a-brac for this. Date to be announced later.
Next Meeting
Our next meeting is on Tuesday July 13th at 7.00pm (note the time) when we are meeting in the Country Park for a walk led by Janet Munro followed by reviving refreshments in The Bell.
Lynette Hall
People willing to supply lifts to and from surgeries.
Below is a list of the people currently willing to give lifts, to and from surgeries, to people who can't otherwise get there:
Kim Beardow 721246, Jill Cheadle 720261, Jonathan Harrison 721115
Steve Robinson 720113, Marion Senn 721176, Linda Tringham 720120
Madeline Jeeves 720803.
Café-in-the-Tower
The Summer season of 'Café-in-the-Tower' in All Saints' Church, Odell begins over the Bank Holiday weekend, 29th, 30th & 31st May. Drop in between 2.30-5.30pm to sample a delicious range of cakes and cookies to go with your favourite cuppa.
Odell Parish Council
Notes of the Annual General Meeting of Odell Parish Council held on Monday, 17th May 2010 at 7.30 p.m.
Present: Cllr. B. Cheadle [Chair]; Cllrs. P. Crotty, T. Freeman, N. Goodman, S. Robinson. Borough Cllr. N. Charsley
1 Election of Chairman
In her absence but with her consent Cllr. Rachel Halton was
nominated by Cllr. Freeman, seconded by Cllr.Crotty. Cllr. Halton was unanimously elected as Chairman for the forthcoming year.
2 Election of Vice-Chairman
Cllr. Cheadle was nominated by Cllr. Robinson, seconded byCllr. Crotty. Agreed by all.
3 Apologies for absence
Apologies received from Cllr. Rachel Halton.
4 Minutes of last meeting
The Minutes of the meeting held on 15th March were approved and duly signed as a true record of the proceedings.
5 Matters arising:
Bridges update: The work on the main bridge is proceeding well; the main beams are in place and although there is a considerable amount of work still to be carried out, the Contractor is expecting completion before the start of the fishing season.

Playbuilder project: Cllr. Charsley is to confirm that the Borough Council will assume responsibility for the whole area until the Parish Council's new insurance policy comes into force on 1st June. Although the fencing is supposed to be secure, children are still getting in and using the equipment. Cllr. Freeman reported favourable feedback from families using the equipment and it is understood that it is being well used.
Cllr. Robinson had received a complaint regarding noise emanating from the use of the area by some teenagers, but no further information was available so no action can be taken. The issue of benches was again discussed and the foregoing complaint demonstrated just why it was not felt useful to install benches, which would encourage such use further. Ed Burnett has asked the Park Rangers to discourage use until the 1st June, but this does not seem to be working. Ed is hopeful of having a 'dog proof' fence in place by the time the Parish Council takes on the responsibility.With regard to the legal issue attached to the planning permission, Peter Bull has indicated that once he has sufficient information from Ed Burnett regarding the layout etc., he expects to be able to lift the condition.
There was some confusion about the handing over of the scheme, and Hags officially handed over to the Park; following communication between all parties Hags have offered to undertake a second 'handover', but as all the paperwork is in place and available, the Clerk said this would not be necessary. Hags has had a full inspection undertaken so it is now over to the Parish Council to continue with this.
With regard to inspection training, the BATPC is shortly to hold a further Play Management training session and suggested two councillors should be trained, so one could always be available. In house inspection will save considerable time and money, and Cllrs. Robinson and Freeman volunteered to undertake this training, provided an evening session is available. Dates and timing to be confirmed by the Clerk.

Standing Orders: The Standing Orders circulated at the last meeting were approved and adopted as the official Standing Orders for Odell Parish Council. These can be amended at any time if required, and it was agreed to review them on an annual basis.

Risk Assessment: The Risk Assessment document was approved and agreed and again will be reviewed on an annual basis; an audit requirement is that it must be completed and minuted each year.
Village Hall Update
Cllr. Freeman said he had checked the proposed access and found that it would just fit onto the available land; however, the whole of the area would be taken up and with the enormous amount of groundwork and shoring up that would be required, the cost was estimated as being in excess of £30,000. A result would be that the area would no longer be available for use for summer barbecues, wedding parties etc. and this was felt unacceptable, as well as the cost being prohibitive.
The alternative of creating an access from the front was discussed, via a lift to the main door level then continuing round the side to the new disabled facility door. The Clerk to check with the Access Officer [Stuart Odell] if he is willing to visit again and discuss this proposal.
The urgency of this will be stressed as it is not possible to finish the outside area round the new facilities until it can be determined which route the access will take. The Chairman stressed the need to get this area usable at the earliest possible opportunity.
Cllr. Goodman said he will continue to strim the side area of grass until a permanent solution is in place.

Highways
Cllr. Crotty reported; further to his communications with various people, he was promised a visitation on the 13th May and this duly took place at 8 am. when they walked the village. The Highways personnel in attendance were John Gibbons and Sarah Lister. Following this appraisal, Cllr. Crotty was informed that surface dressing will be carried out from Tannery Lane down to The Bell on the 25th May – this to include of course filling in all the potholes along that route. The damage caused by lorries to the kerbing on the bend near the Church was pointed out and the broken kerbs will be replaced, and bollards will be installed on the corner; the effectiveness of the latter against large lorries remains to be seen. With regard to drainage, the problem outside No. 200 High Street was found to be a blockage for a length of about 6 metres; it is hoped this problem has now been resolved. With regard to the further ongoing problem in the High Street, Anglian Water are still investigating this and have said it is due to the water table, and they would return 'when it is dry' and try again. A future problem to be investigated is the flooding at Little Odell; this is believed to be caused because a feeder pipe from Podington feeds into a six inch pipe at this site which blocks up very quickly, and hence causes the flooding.
Bedford Borough matters
Cllr. Charsley said the Boundary Commission has released their proposals for the Ward arrangements, and these can be viewed on their website.
The Allocations and Designations Plan: The map for Odell highlights four areas designated as 'open village spaces'; this does not necessarily mean they are in public ownership. What it does mean is that if adopted, these areas could not be built on except in very exceptional circumstances. A copy of the map for Odell will be on the Odell Parish Council website and everyone is urged to check this urgently, as one particular area designated is the 'Scout field'. Consultation opens on the 31st May for 6 weeks and everyone is urged to submit their comments, particularly if they approve of the plan, as the landowners concerned can also submit their comments, so it is essential that all voices are heard. The red line denotes the 'building line' outside of which there should be no permitted building.
Cllr. Cheadle said there is another Borough Partnership Assembly meeting on the 9th June and he has nominated Cllr. Halton and himself to attend.
Harrold/Odell Country Park
No update in the absence of Cllr. Halton; however it was noted that some benches and a bridge have now been installed in the orchard.
Finance
The annual accounts which were circulated prior to the meeting have been transferred to the official Audit form. The internal audit has been carried out satisfactorily, and the Accounts were approved and duly signed as required. These have to be in to the external auditors exceptionally early this year so hopefully should be ratified and returned by them much sooner.
The Clerk pointed out that among the payments due this month was a request from the Dog Show for a donation of £5 again for a rosette, and this was approved, as was the invoice from R P Green for the decorating of the village hall porch. The addition to the insurance for the play area was also approved.
Correspondence and requests
New councillor training sessions have been arranged at Cardington to be held on 8th July and 28th July, from 7.30 – 9.30 p.m. Cllrs. Nick Goodman and Steve Robinson both elected to attend the session on the 8th July.
Specifically for the Business of the meeting
Cllr. Crotty reported that the proposed wind farm at Podington was being resurrected by Nuon, who intend to challenge the decision to refuse in the High Court. The Secretary of State had looked at the decision and agreed with the Inspectorate's decision; however Nuon do not accept this and is lodging a claim against the Secretary of State, which will be defended.
Cllr. Freeman asked if there would be any objection to him being an official Parish Council substitute for Cllr. Sharpe at Village Hall Committee meetings; in the event it was proposed and agreed that it would be easier if Cllr. Freeman became the official representative of the Parish Council.

Date of next meeting: The next meeting will be held on Monday, 19th July at 7.30 p.m.

There being no other business the meeting closed at 9.40 p.m.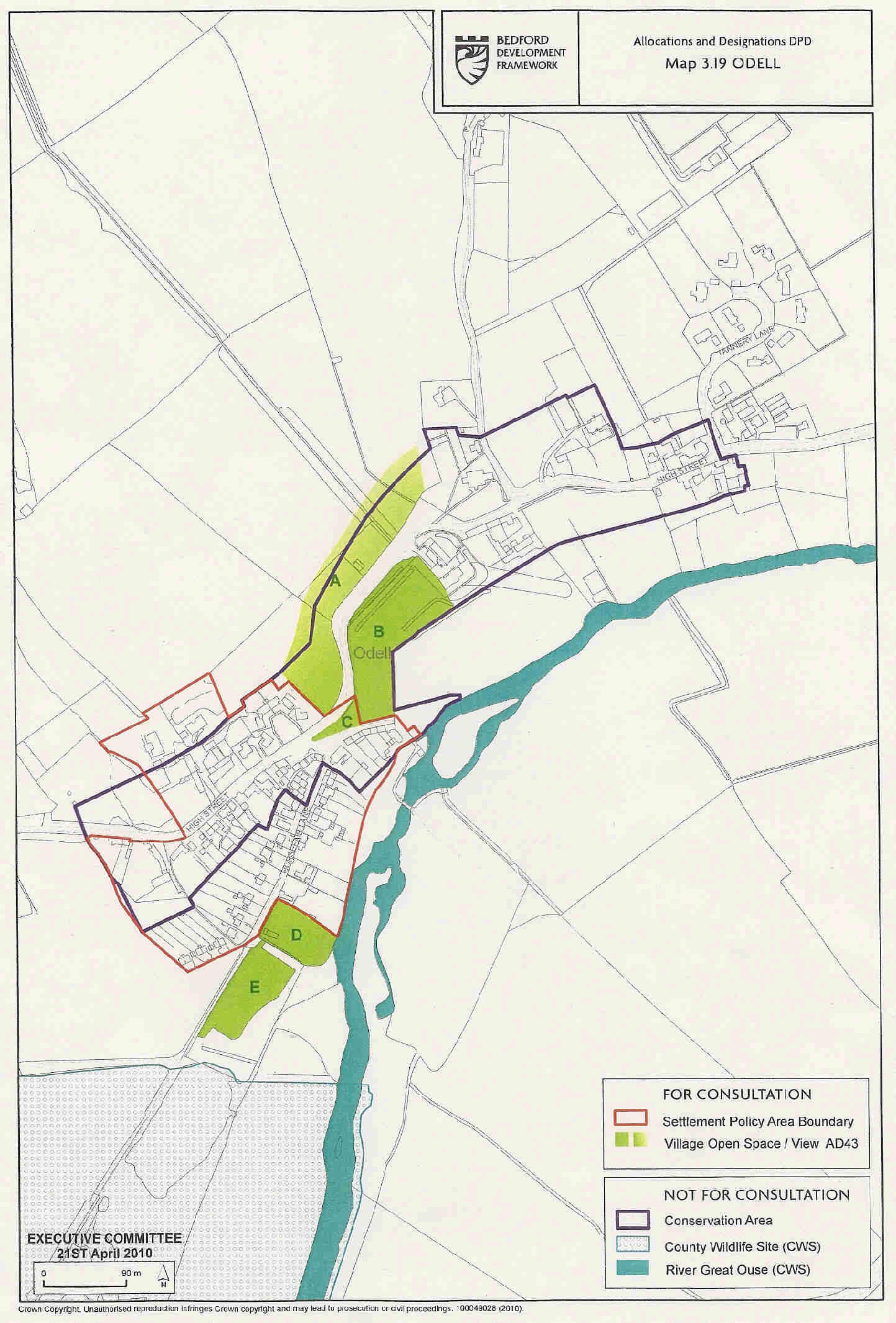 You can also view the plan in more detail, and make comments on the Odell Parish website: www.odell.bedsparishes.gov.uk
Bedford Link What is Link? Link - Local Involvement
Network - is an independent organisation run by experienced volunteers, who gather local people's views about health and social care services and send reports and recommendations to managers of local services on how these can be improved.
LINk can bring about positive changes in health and social care services in Bedford Borough both by sending trained members of Bedford LINk to carry out spot checks to see if services are working well, and by having the power to bring about any necessary changes.
Membership is free and is open to everyone: service users, carers, youth groups, older peoples groups, advocacy groups, faith groups, tenants groups, minority groups, patients groups and you!
For more information on how you can become involved, log on to www.bedfordlink.org.uk, or ring 360510
Olney Raft Race, Sunday 27th June
The Olney Group presents this year's Duck and Raft Races, to be held on Sunday 27th June. We're keen to encourage entrants of all standards. For instance, you might enter to raise sponsorship for a local club or school, to beat your rival pub or maybe just for fun. The day begins with the Duck Race, starting at 1.00pm at the weir in Emberton Park (Emberton, Bucks), where there'll be refreshments plus a PA system laid on for the race commentary. Once the ducks have swum, attention will turn to the raft race, starting from the weir at 2.00pm. The course runs downstream to the Swimming Steps (fields behind Football Club, East Street, Olney, Bucks), where the first rafts should start to arrive at 2.30pm or so. As well as cheering the rafts, we've got a small fair, water zorbs, entertainments, more refreshments and a bar planned at the finish.

Entry to the event is free for both the start and finish locations. However, parking charges apply at Emberton Park.

If you'd like to take part, see the rules or get more information, contact Mark Luckin: phone: 07743 983686, email: mark.luckin@googlemail.com
website: www.olneyonline.com/raft

Harrold-Odell Country Park
Carlton Road, Harrold, Bedford MK43 7DS
Email: hocp@bedscc.gov.uk Website: www.hocp.net Tel: 01234 720016
Harrold Odell Country Park News
The winter coppicing season has now ended, the park is a sea of blossom and the birds are at last breeding. Richard and I will now be busy keeping footpaths clear, managing the orchard and working with the many school parties who come to the park to learn more about the countryside.
We work with a huge variety of groups from tiny tots at pre-school and university undergraduates to Women's Institutes and members of the U3A (University of the Third Age).
We are assisted by many different volunteers, both members of the Friends Group and individuals, from 16yr olds to retirees. We honestly couldn't function without them as they assist with everything from administering the car park donations, conservation work, events and education to litter picking and making picnic benches. We would like to say a massive thank you to everyone involved.
We are in partnership with Community Payback via the Probation Service where regular work parties come to the park to carry out numerous tasks according to the season. They are also used to help manage some of the satellite sites we're responsible for like Daisy Bank Picnic Site, out towards Pavenham.
To reflect this diversity of needs we are holding a Love Your Parks Event on Saturday July 24th between 11am – 4pm where you can come and find out just what goes into making your park tick. The Friends will be there as well as groups like the health walkers who come every other Thursday for an hour's guided walk.
On October 24th we will be staging a People & Landscape event with Bedford Museum. You can get a flavour of what people harvested from the landscape around them and how they made use of the raw materials.. We are still surprisinglydependant on the land today. Watch this space for details nearer the time. You can also have a look at the website that is managed by the Friends Group. Log on to www.hocp.co.uk or look in the noticeboards for information.
The cattle are now back in the river meadow as from May 3rd. They do an excellent job of grazing off last years grass and are a significant management tool in this area. Please keep your dogs with you at all times over the next few months while the livestock is present.
The new playground at the Odell end is completed. We are just waiting for all the snagging to be completed by the installation company before we can officially open it. This shouldn't be long now. There are also a couple of new bits of equipment at the Harrold end in the form of a clatter bridge and ecoboulder for tiny tots. Look out for the new carvings at the entrance and elsewhere in the park paid for out of the Aggregates Levy Fund. Soon to be installed in the café annexe is an interactive computer and new signage is coming in outside in the overspill car park.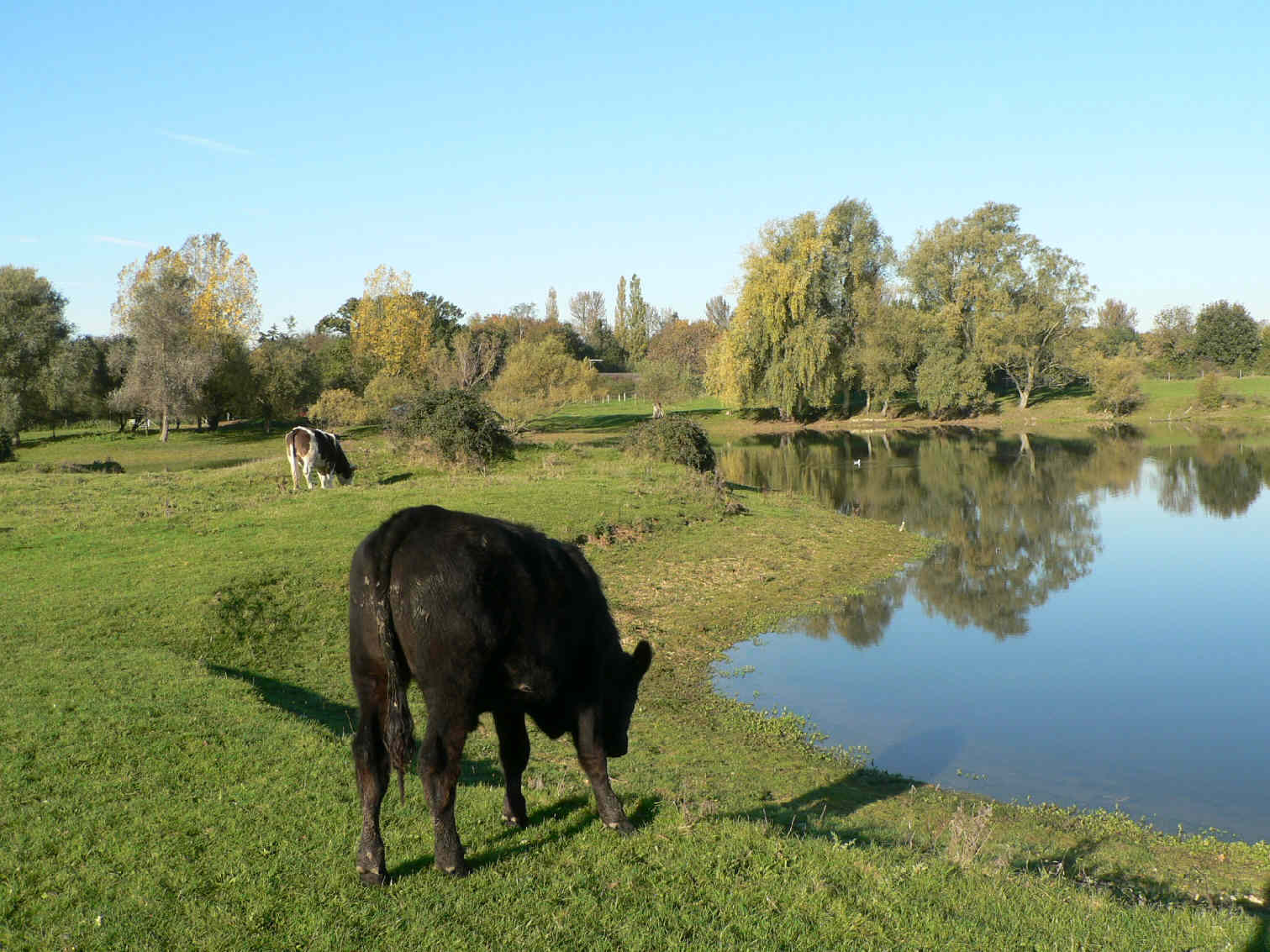 Cattle grazing peacefully in Harrold-Odell Country Park
Dates for your diary:
Health Walks - Every other Thursday in the month meeting at the café at 10.30am. Walk lasts approx 1hr. For more information, contact Janet Munro on 01234 720016. Meetings on June 10th, June 24th, July 8th,July 22nd.
Bat Walk – Tues. 1st June at 8.45pm. Join Beds. Bat Group for a stroll round the park to look for as many species of bat as possible. Places strictly limited to 20 people due to the limited availability of bat detectors. Booking essential. Please tel. 01234 720016 or e-mail janet.munro@bedford.gov.uk
Love Your Parks Day – Sat. July 24th 11am – 4pm. Come and see what goes into making the park what it is. Come and meet the friends. Find out about the wildlife and plants and much more.
Friends Groups Conservation Day:
Come and join in with practical work to enhance the park for wildlife and visitors on the following date: Monday 28th June. All work starts at 10.00am and finishes mid afternoon, but you can stay for as long as you want. Janet Munro, Assistant Ranger
Harrold Volunteer Car Service URGENTLY Needs More Drivers
This service has been set up by Wellingborough Volunteer Bureau in conjunction with Harrold Medical Practice with the help of funding provided by the Friends of Harrold Surgery. It is on the verge of folding due to the lack of local volunteer drivers, leaving those patients who have come to rely on it to try and make alternative arrangements.
This service takes people, mainly elderly or disabled, to essential medical appointments. It is for people without their own transport and where there is no public transport available. The service picks users up at home, takes them to their medical appointment, waits with them and returns them safely home. Drivers are volunteers who use their own cars. Petrol expenses are covered by the passenger. If you have some time to spare and are willing to become a volunteer driver please call The Wellingborough Volunteer Bureau tel no 01933 276933 or contact Harrold Surgery 01234 720225 for more details.
It will be a great pity if we are unable to keep this service going.
Frances Hirst
Chair Friends of Harrold Medical Practice
Village Hall
Events
Latin Dance Evening, June 26th.
Come and learn some simple cha-cha-cha routines and a few simple salsa moves – lots of fun and no pressure!
Cost: £5.00 adult and £2.50 child
Contact: Rob 720730, or Nikki 720893
Church and Village Open Weekend July 10th
On 10th July, following the church open day events there will be a village social at the Village Hall. There will be a bbq (bring your own meat and salads etc) and music.
Start time: 7pm
Contacts: Rob 720730 and Nicki 720893
Summer Quiz, 17th July
Usual teams of 6, contact Rob 720730
Scarecrows!
Following last year's successful scarecrow event in the village, another scarecrow extravaganza is planned to take place in September at the time of the Harvest Festival. More details will follow in the July magazine.
The Mill Theatre, Sharnbrook
We are pleased to announce the auditions for the next two shows at The Mill:
Round and Round The Garden, by Alan Ayckbourn
Tuesday 21st - Saturday 25th September, 2010
will be directed by Susan Moore.
Auditions 2pm on Sunday 30th May .
There are 6 parts: 3 men and 3 women.
For further details, please contact Susan Moore 01933 318 318 or by emailing susanc.moore25@googlemail.com
Les Misérables, School Edition
Friday 12th November - Saturday 20th November, 2010
Director: Paul Wildman.
Are You 19 or under?
Then you can audition for this show -
"O n e of the greatest musicals ever written"
Auditions will be between 1pm & 5pm on Saturday 5th & Sunday 6th June.
If you would like to know more, please contact Paul Wildman by email:
This edition of the show is performed by students of 19 years and under.
Read-throughs and Auditions for both shows will be at The Mill Theatre
Diary

1st 8.45pm Bat Walk, HOCP

9th 10.30am Meeting Point at Catherine's, 40 High St., Harrold

10th 10.30am Health Walk HOCP

12th 2.00pm Odell Village Fete, Horsefair Lane

13th 11.00am Open-air Service for all ages, Fete field

12.30pm Community BBQ.

19th 9.45am All Saints' Amblers meet at The Bell

19th 1.30-5.30pm Flower Festival, St Mary's, Felmersham

20th " " " " " " " " " "

20th 6.30pm Songs of Praise, St Mary's, Felmersham

23rd 10.30am Meeting Point at Jane's, Newton House, Avenue

Rd., Newton Bromswold

24th 10.30am Health Walk, HOCP

26th Latin Dance Evening, Village Hall

27th 2.00pm Olney Raft Race

28th 10.00am Conservation Tasks, HOCP

Magazine Deadline

Please send all entries for the joint July/August 2010 magazine to Tricia Hudson (mag1 at odellbeds.net) or Catherine Corkery by June 12th at the latest. May we remind you that the editorial team exercises the right to edit, shorten or alter any items that are submitted. Also, the opinions expressed in the articles are those of the contributors and are not the responsibility of the editorial team.

Alex Stubbs Flooring

Carpets, Vinyls, Laminates, Safety Flooring, Adaptions, Refits, Repairs

Supplied and Fitted

07976 260572

01234 240954

Great local pubs

<![if !vml]>
<![endif]>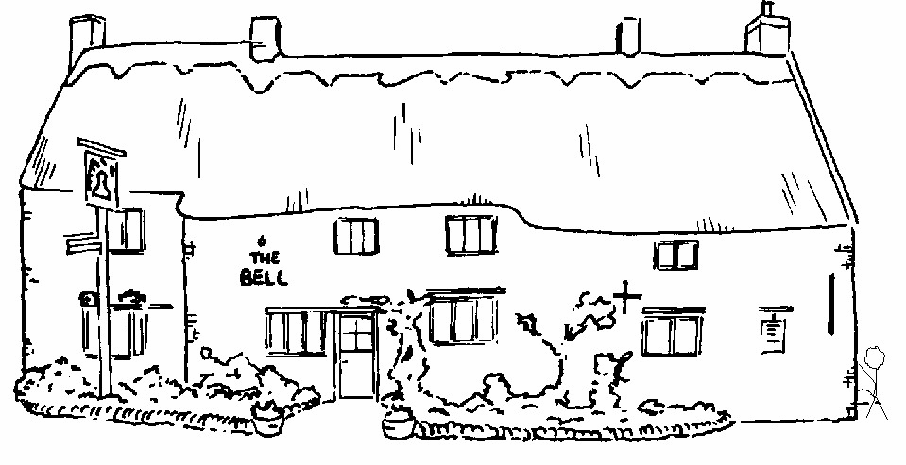 The Bell in Odell
As Featured in the 2010 Good Beer Guide
With the relaxed charm of a village local and a varied menu of
quality, home-cooked food you won't find any gimmicks here
just a Great British Pub!
Abbot Ale, IPA & Changing Seasonal & Guest Ales
Live Trad Jazz first Wednesday night of the month
Telephone 01234 720254
---
Last revised: May 27, 2010.