ODELL VILLAGE NEWS
July and August 2010
Visit the Bell website on www.thebellinodell.co.uk/
Latest news on the river bridge
Beds Council are redoubling their efforts to complete the bridge and apologise for the delays. They pass on their thanks to the landowners and people living close to their works who have been very patient. The bridge is certainly huge! It now needs a ramp to get onto it, and it will potentially be more difficult to access from the Bell public house. Mr Chamberlain who owns some of the Ouse riverbank is trying to discourage the tradition of using the path from Horsefair lane through the Bell premises to the bridge. At the time of going to press it was unclear whether he will convince the council to replace his previous temporary and partial fencing, or persuade Greene King to remove the gate in the fence 3/4 way down the Bell garden. In any event a number of people are preparing to prove their right to continue to use that unofficial right of way which they claim dates back continuously to the 1960s. The Odell Website has been asked to collect statements from walkers over the past 50 years and pass them on to the Highways authority - if you walked freely from HorseFair Lane through the Bell land to the river bridge and are sure of no obstacles or signs indicating 'no right of way' then please email that info to mailto:letters@odellbeds.net with your name and dates.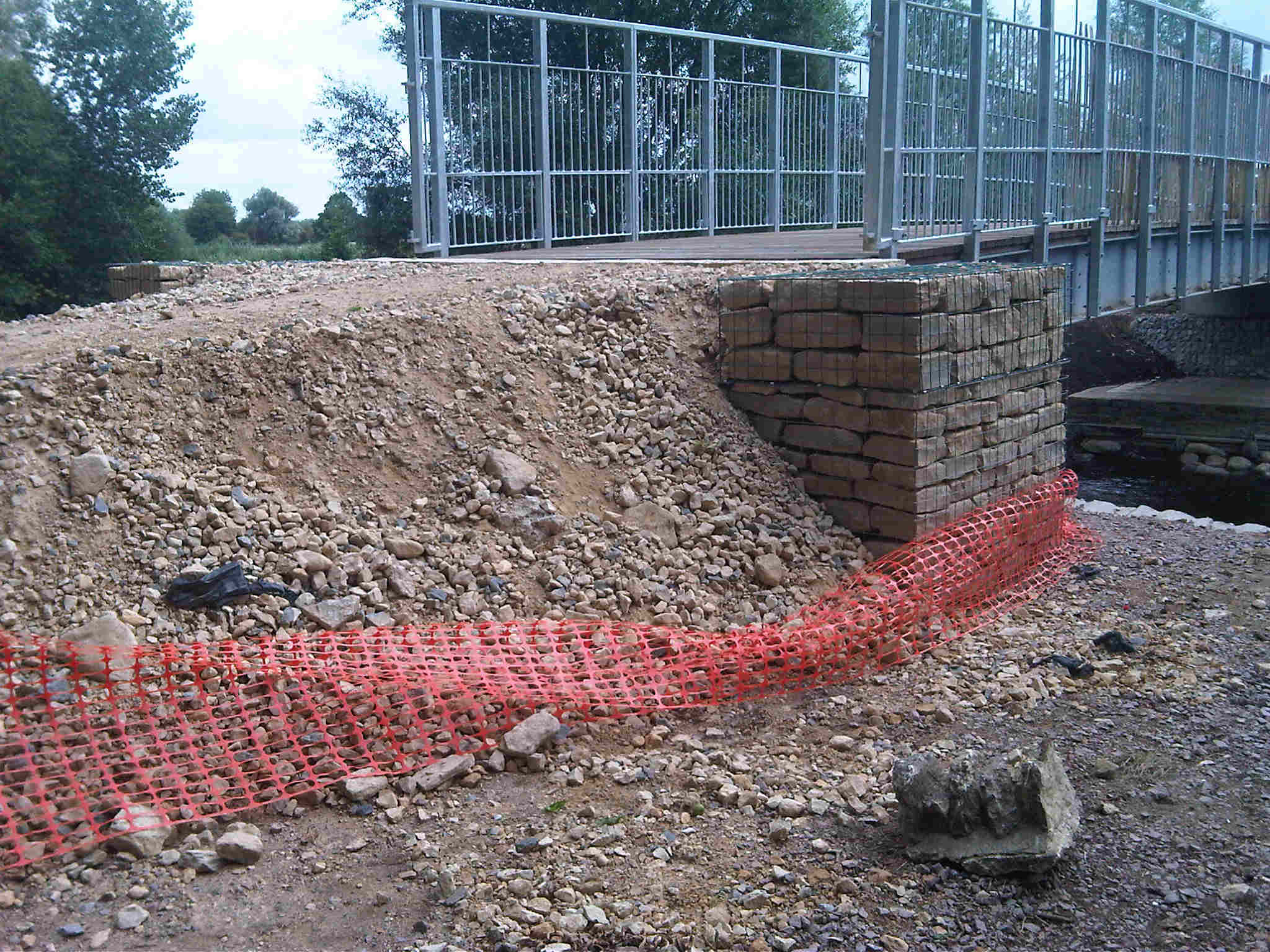 Above: the new river bridge showing the ramp which now provides a steep bank when approached from the (disputed) path through the Bell
Below: the path from the bridge on the undisputed footpath to the Mill and bottom of Mill Lane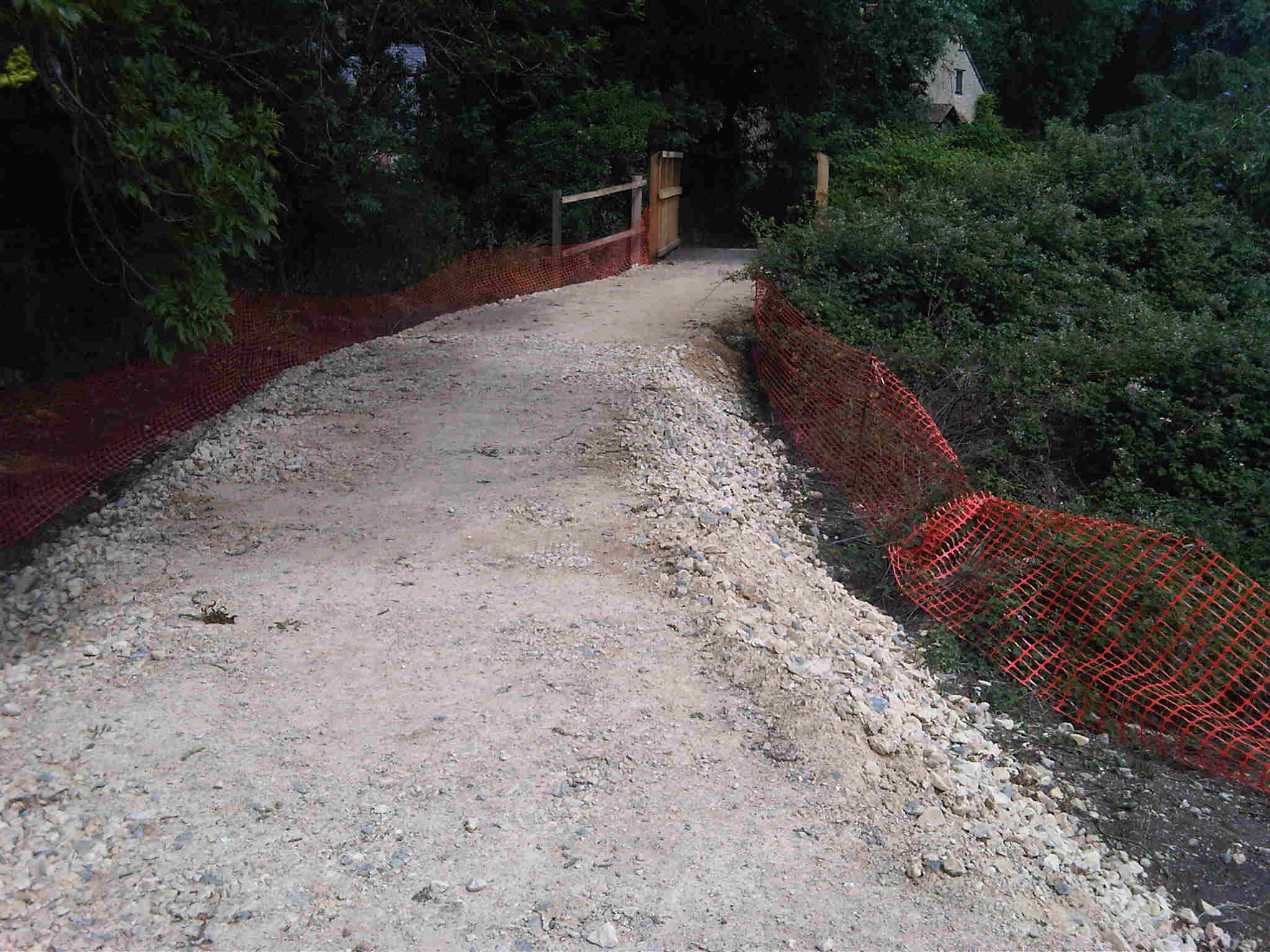 Welcome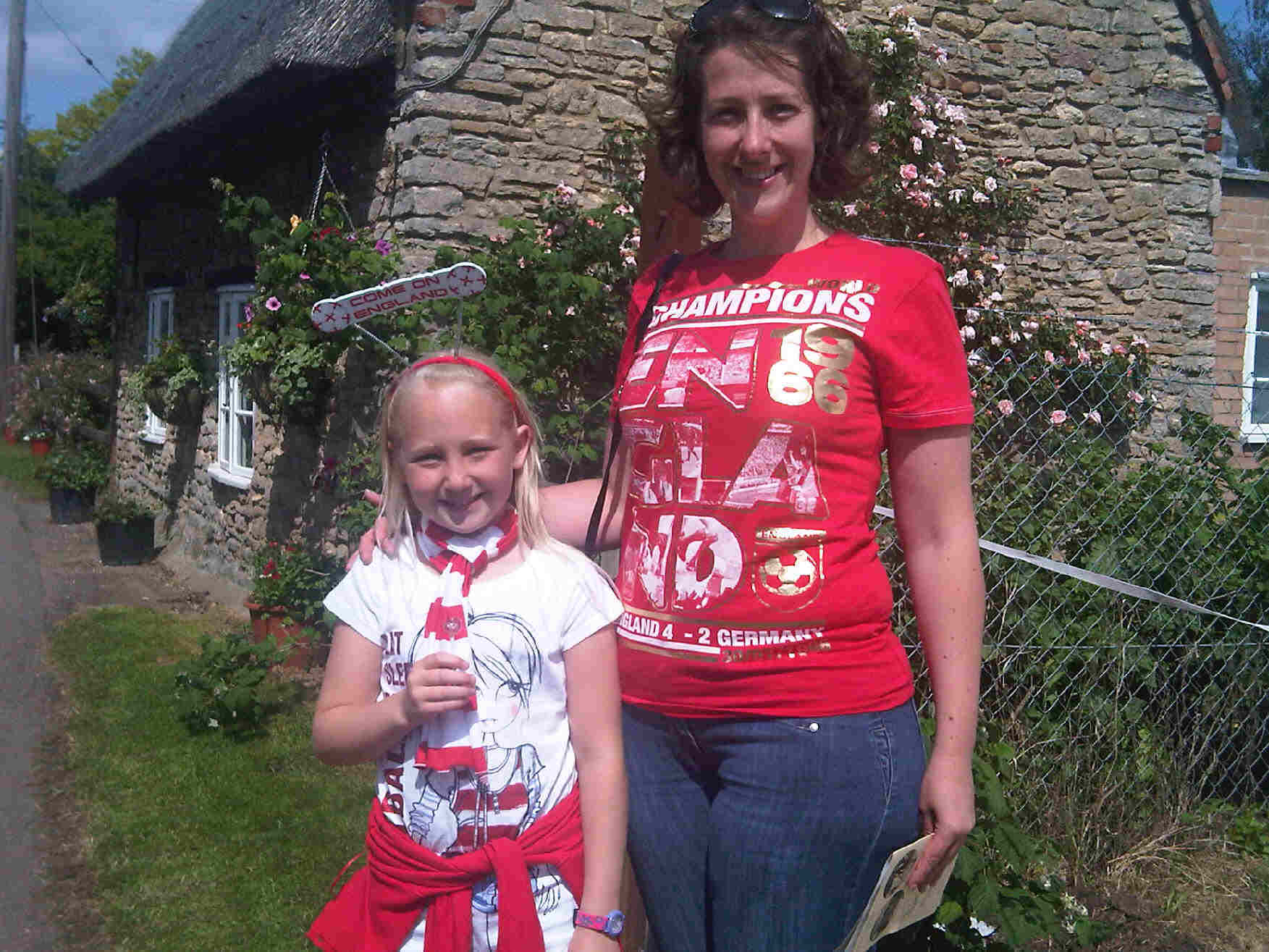 Above: A warm welcome to Claire and Amelia Scholes who have recently moved into Odell.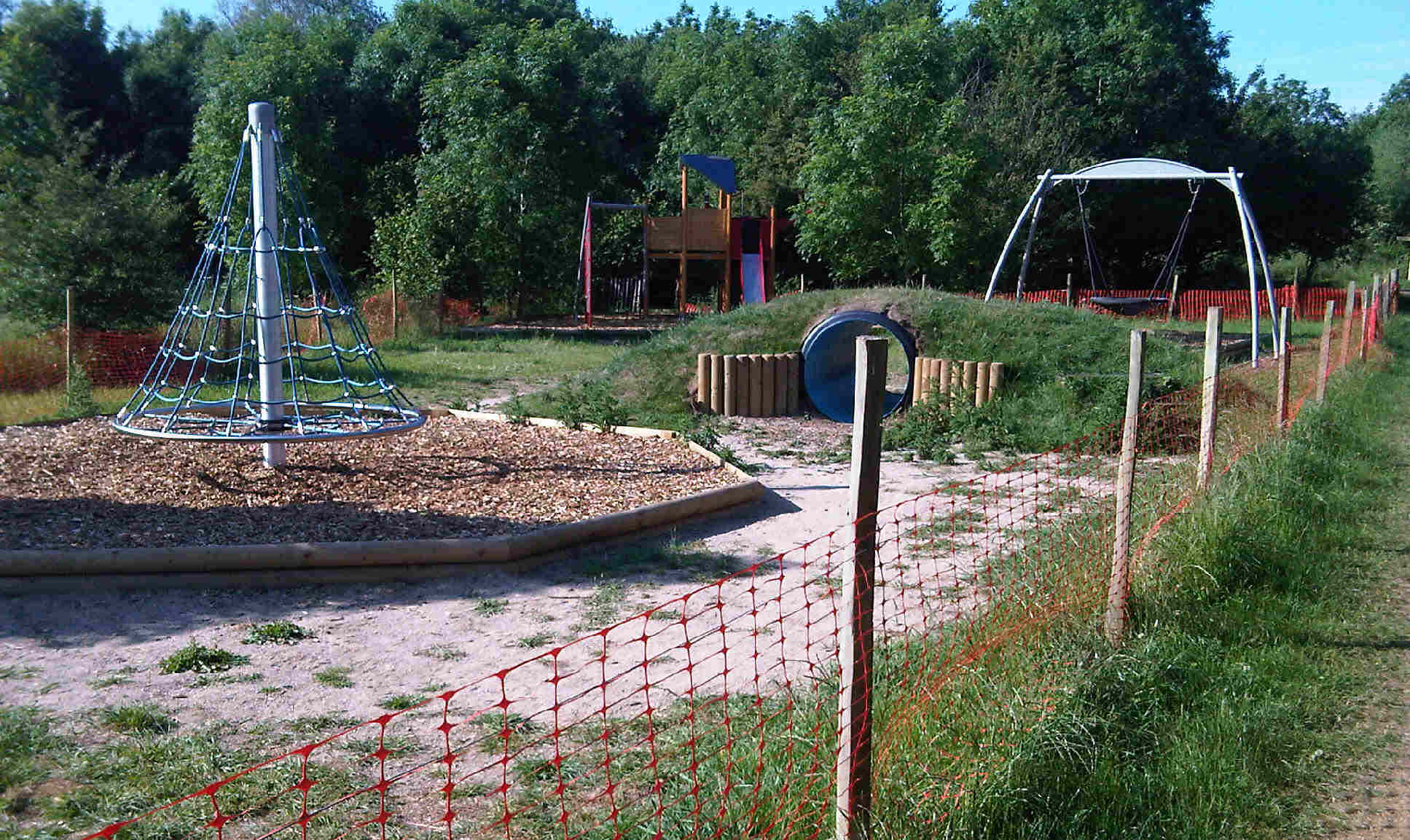 Above: The playground is finished :-)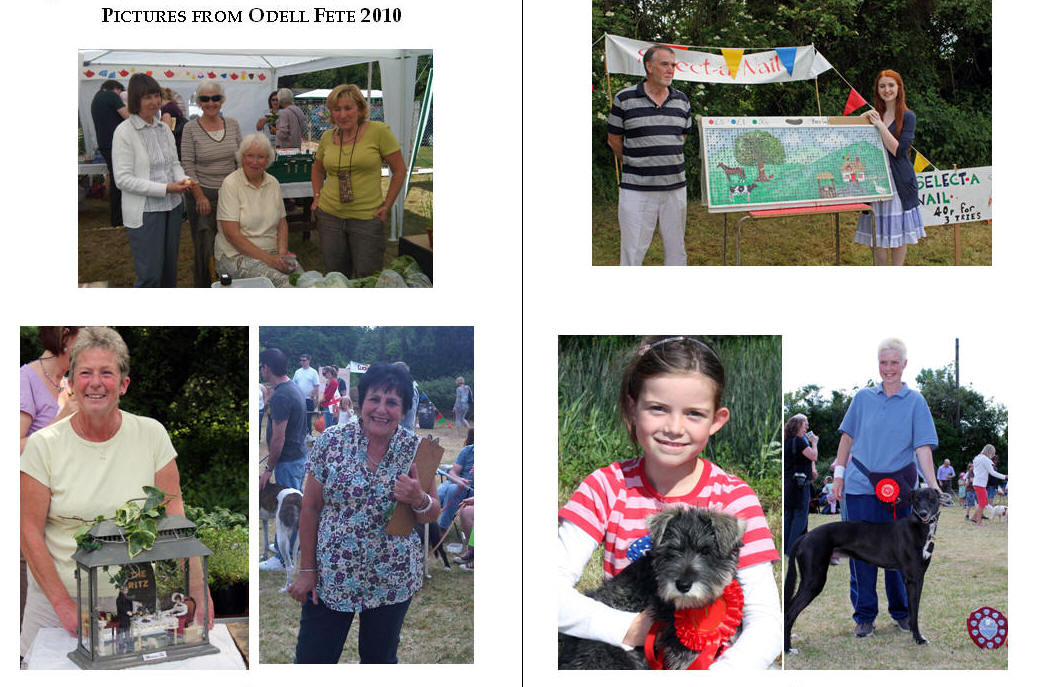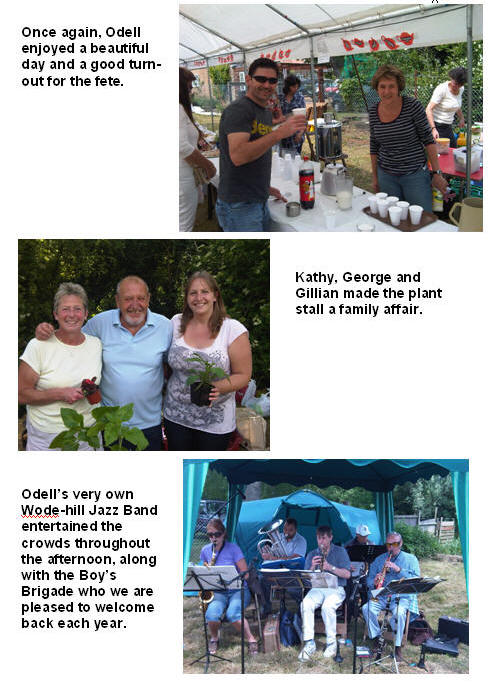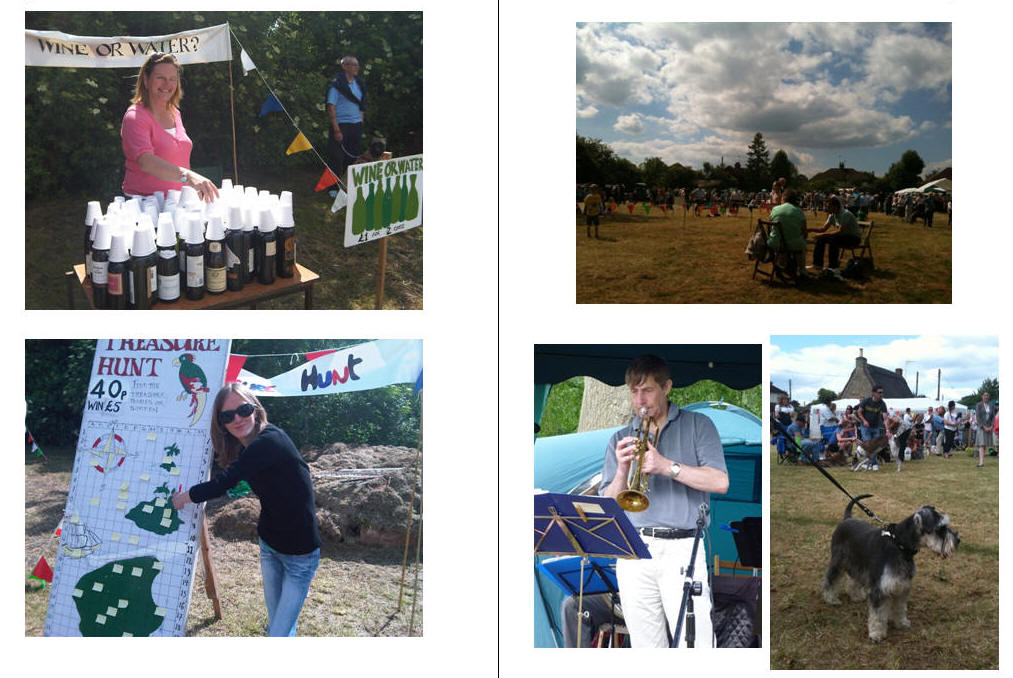 Café in the Tower
Chill out over the August Bank Holiday weekend – call in to 'Café-in-the-Tower' at All Saints Church between 2.30 and 5.30pm on 28th, 29th, & 30th August to sample a delicious range of cakes and cookies to go with your favourite cuppa. If you're feeling fit, climb to the top of the tower for great views over the lovely Ouse valley.
Birthdays
Happy Birthday to Miles Tringham on the 24th August, and to everyone with a birthday in July or August.
Round and About
Strangers in our Midst
Them and us - a familiar phrase - we all use it. "Us" conjures up a warm and friendly "We". "Them" a sense of cold and remote "They". Be it competitive rivalry or just the family next door - Them and Us is a phrase we use on an almost daily basis.
However, what of the strangers in our midst who go largely unrecognized? The aliens that have invaded our shores over the last 2,000 or so years and whom we have come to accept as our own?
Amongst the first to arrive were the rabbits. The invading Roman legions brought the "cony", as it was then called, to this country from the Mediterranean area. Indeed, they introduced the rabbit to just about the whole of Roman Europe. Believe it or not, at that time the rabbit did not thrive in this country and it was not until the arrival of the Norman invaders that their luck changed. The Normans wanted to breed them for meat and contained the "cony" populations in enclosed areas called warrens. They also gave them the French name of rabbit. In warrens they prospered and eventually escaped into the wild where they continued to do well. We, in our turn, introduced the rabbit to Australia - but that is another story.
Britain is now home to seven different varieties of deer, but only two are native to our shores. These are the red deer and the roe deer, all the others have been introduced by man. The fallow deer, so familiar to us now, were first brought here by the Normans to populate their hunting forests for the pleasures of the chase as well as the table. More recently Victorian landowners brought in exotic species to decorate their parks. These include such species as the muntjac and the sika and these deer, inevitably, have escaped into the countryside.
Pheasants are also a species introduced by landowners interested, not only in the decorative appearance of these birds, but also the advantages of shooting them for the table. We have had a number of exotic birds coming to our shores and enriching the content of our natural population. The little owl is another introduction we can place at the door of the Victorians. We also have the ring necked parakeets. It is thought that in the last 50/60 years, since the first escapees, numbers have increased to about 30,000 breeding pairs. We cannot, of course, ignore the exploding population of the Canada geese. There cannot be many parts of the country where these highly successful birds have not yet reached.
Neither can we forget the success of the grey squirrel which has sadly led to the decline of our own smaller, and far prettier, red squirrel. This is due to the fact that the grey squirrel is a carrier for the squirrel pox disease - a virus deadly to the red squirrel but which hardly affects the greys at all. Once again, there are not many places where this clever little animal has not claimed a home.
Do not run away with the idea that it is only invaders of the furry and feathery kind that have claimed a home on these shores. Terrapins can be found in ponds all over the country. They arrive in our shops roughly the size of a penny but quickly outgrow the aquariums into which they are placed. Ill advised people then release the no longer required pet into our ponds where the terrapins continue to grow ... and they can reach quite a size. They soon become predators to our own native wildlife and they can live for up to 70 years. The American signal crayfish is causing a lot of problems as, indeed, are the Chinese mitten crabs.
A great surprise to me, is to learn that the honey bee is also an introduced species. Without the intervention of the Romans we would have to rely upon our native bumble bees alone but, instead of that, we are now playing host to this industrious little creature so necessary and vital for the pollination of our crops and flowers. To say nothing of all that honey.....
I have, of course, only touched upon the number of visitors to our shores who have decided to honour us by making their home amongst us. Who can forget the coypu and the mink. It is said that rats are foreign to our shores having arrived by boat from the Middle East. A trifle more acceptable is the little dormouse and even the red admiral butterfly and the painted lady are fairly new arrivals. Most recently we hear of the harlequin ladybirds and even a colony of scorpions! Small colonies of wallabies, it seems, can be found dotted about the country ... where will it end!!!
Barbara Corley
W.I.News
There was no meeting in June as so many members are involved in the Village Fete.
July Meeting
We meet at the Village Hall Car Park on Tuesday July 13th at 7.00p.m. We will then proceed to Harrold and Odell Country Park for a walk to explore the many new features which have been installed over the last 18 months. Afterwards there will be an opportunity for us to socialise and round off the evening at Roberta Goodman's.
August Meeting
Our August meeting will be our annual BBQ. This year it will be held at the home of Mandy Sharpe starting at 7.30pm. Details will be finalised at the July meeting.
Rachel Halton 720572
Harrold-Odell Country Park
Carlton Road, Harrold, Bedford MK43 7DS
Email: hocp@bedscc.gov.uk Website: www.hocp.net
Tel: 01234 720016
News from Harrold Odell Country Park
The park has been a hotbed of activity during the last couple of months and our feet have barely touched the ground. The Friends Group have been making extra picnic tables to be installed at strategic viewpoints around the park.
At the footpath junction at the Odell end of the large lake, a rustic bench with a "man of the woods" face carved into it has been created by chainsaw carver Luke Wesley. This has a wide spacing so that wheelchair users can park safely within it and enjoy the views with the rest of their family.
Carrie Yuen, our resident chainsaw carver, has sculpted some new posts in the overflow car park. There are now a variety of different animals to look at instead of the manky old cones that were there before. The Friends Group has purchased a green container to enable Carrie to store unfinished work and raw materials. The money has come from the car park donations you so generously put in the money box. They have also bought a large sweet chestnut log which Carrie will carve into a memorial to the late local Councillor, Phyllis Gershon, who did so much for the park.
The new playground at Odell has been well utilised but sadly dog fouling appeared within the perimeter during the first day of opening. The park provides free dog bags and bins at several points around the park. There is no excuse for this! A temporary fence and signs have been erected to keep dogs out but a prettier fence is in the pipeline (once costs have been worked out) with gates at each end. This will be installed as soon as possible.
On Tues 1st June, a very successful evening Bat Walk was run by the Beds. Bat Group. This was filmed by Anglia TV and broadcast as a regional news bulletin at 6.30pm the following day. Another one is scheduled to happen on Sept. 2nd.
We have had an explosion of school visits this year. They have come to study lake life, minibeasts, willow weaving and much more. The kids are aged from pre-school to adults from Dunstable U3A. The largest group from Newnham Middle School, Bedford numbered 150 strong! We are pretty much booked up now until they break up for the summer holidays.
On June 16th we hosted a visit from Mr Daniel Hanbury, High Sheriff of Bedfordshire plus guests. He wanted to come to see for himself the contribution that's been made by the Community Payback Scheme run by the Probation Service. Five years ago, Richard Dowsett, Senior Ranger at the park, was instrumental in welcoming Community Payback workers to help with the heavy work. They have been invaluable to us, enhancing the park at many levels, complimenting work carried out by the Friends Group and individual volunteers. He also planted a grape vine in the Community Orchard at Odell after taking an extended tour of the park. Many thanks to everyone for their interest and assistance.
June 16th also saw the start of the fishing season. The fishing at Harrold is managed by Vauxhall Motors Angling Club. No day tickets are issued and anglers need to be in possession of a current membership book from the club. Our Bailiff, Trevor Smith has books available. He can be found in the workshop at the back of the café. Alternatively log on to www.vauxhallmotors.co.uk for more info. Trevor reports that some really big barbel have come out of the river already and potentially there are carp well over 20lbs and pike to over 30lb in the lakes.
I am on holiday for the first 2 wks of July so there will not be an official Health Walk on the 8th. However, I understand that my regulars are going to lead themselves on that day.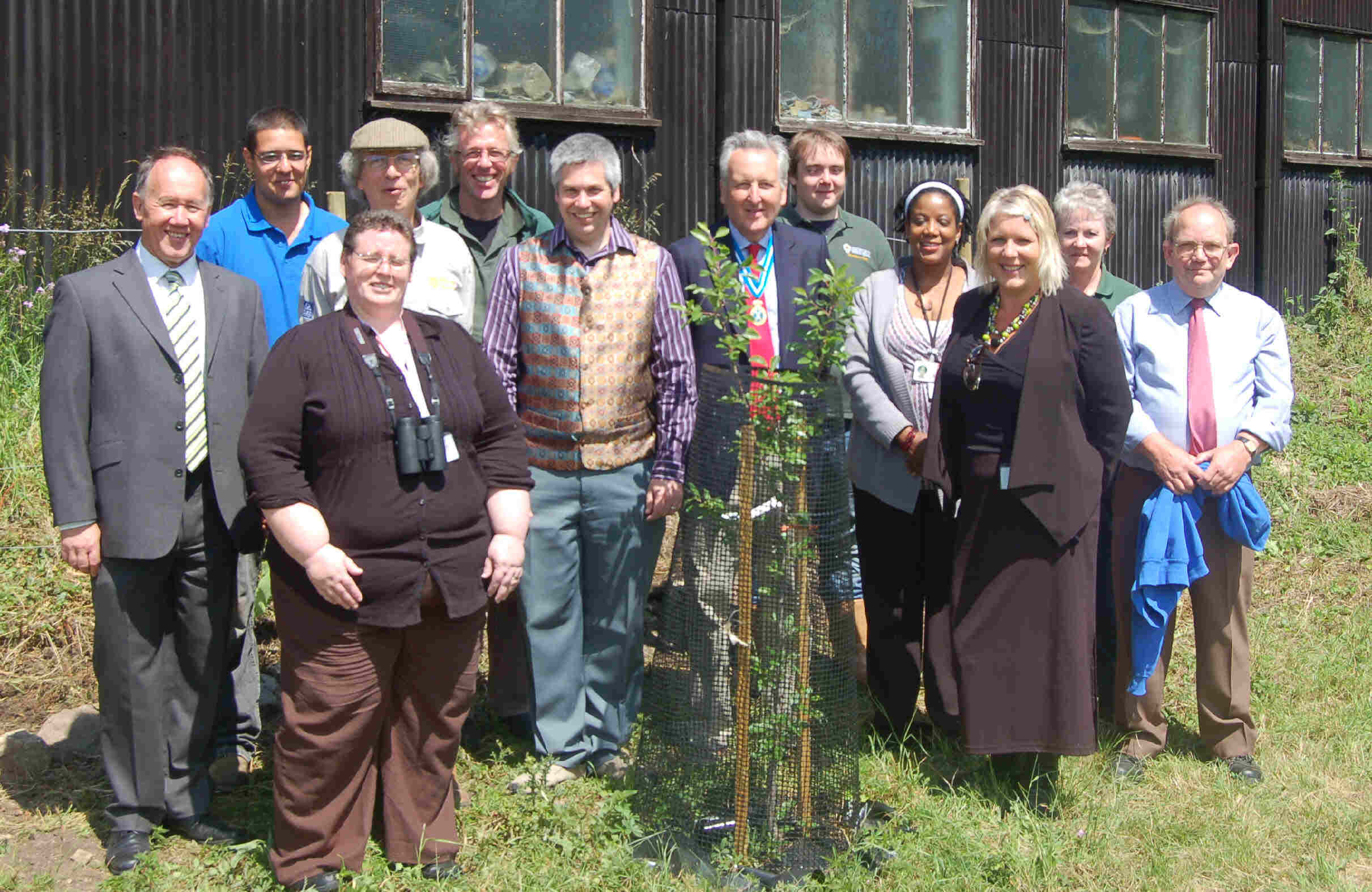 Mr Daniel Hanbury, High Sheriff of Bedfordshire, and guests, at HOCP.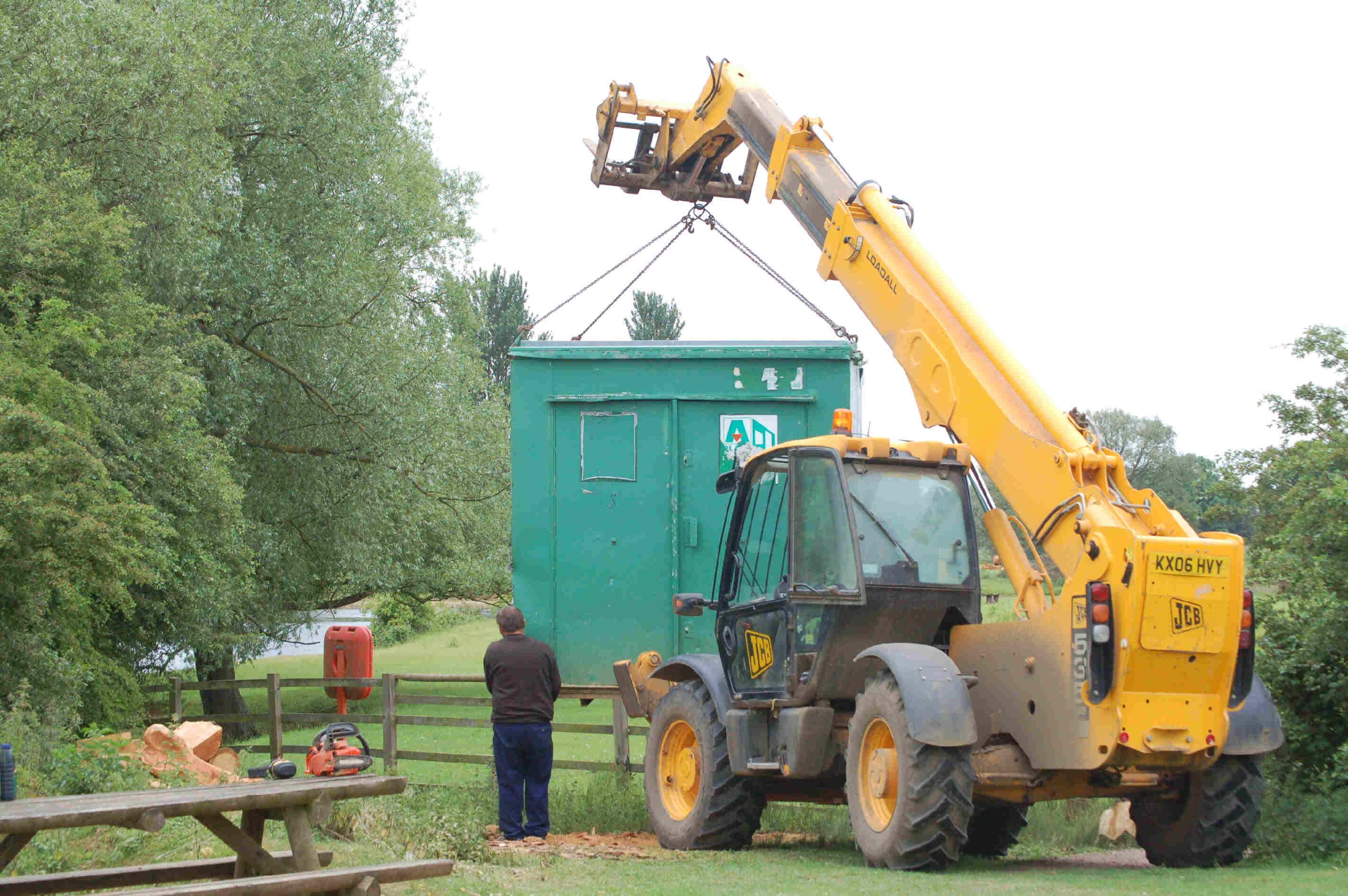 The instalment of the green container for chainsaw carver Carrie Yuen's materials
Dates for your Diary
Health Walks
Every other Thursday at 10.30am. Meet at the café at 10.30am. We walk for an hour to improve your wellbeing followed by a refreshment opportunity. For info please call 01234 720016 or e-mail janet.munro@bedford.gov.uk
8th July – no leader due to holiday
22nd July
5th August
19th August
2nd September
Friend's Conservation tasks - 10am
26th July
23rd August
Sat. July 24th 11am – 4.30pm – Love your Park Day. Come and find out about what makes your park tick. Exhibits from our Health Walkers, The Community Tree Trust, Beds. Geology Group, The Friends of Harrold Odell, and The Wildlife Trust. There will also be demonstrations of the use of natural materials grown in the park by Ed Burnett (basket maker and wood turner) and Carrie Yuen (chainsaw carver). There will be a guided walk about the park led by Richard Dowsett at 2.30pm
2nd September – Bat Walk – meet in the car park at 7.45pm. Run by Beds. Bat Group. Booking essential as only 20 spaces available. This is already half booked up so speed is vital. E-mail janet.munro@bedford.gov.uk or call 01234 720016.
Look out in the park notice boards for guided walks, nature rambles and children's activities throughout the summer break. These will be organised around times when staff are available. They will have to be booked in advance nearer the time.
Janet Munro Assistant Ranger
Village Hall
Church and Village Open Weekend July 10th
On 10th July, following the Church Open Day events there will be a village social at the Village Hall. There will be a barbecue (bring your own meat and salads etc) and music.
Start time: 7pm
Summer Quiz, 17th July
Book your table now for the ever-popular Village Quiz.
Time: 7.30pm for 8.00pm.
Usual teams of 6, £2.50 per person.
Contact Rob Lee 720730
The Mill Theatre, Sharnbrook
Round and Round The Garden, by Alan Ayckbourn
Tuesday 21st - Saturday 25th September, 2010 7.45pm
From the pen of Alan Ayckbourn, "the comic laureate of Britain's middle class"
…. the al fresco doings of a disastrous weekend
Hilarious? Simply unmissable!
Tickets will be available from mid August at:
Bedford Central Box Office 269519
Sharnbrook Post Office – in person
The National Operatic and Dramatic Association (NODA) is the major representative of Amateur Theatre in the UK.

   

Sharnbrook Mill Theatre Trust is a Member of Eastern 
Region, District 2.  Our co-founder, the late Jameson 'Bill' Lilley, who was in the vanguard of the mill-to-theatre conversion, is a former President of NODA; the portrait in the Theatre Clubroom depicts Bill in his chain of office. 
Patrons may have noticed in the corner of our show posters the above masked crest; the coronet is attributed to the Patron of NODA, The Lord Lloyd Webber.
It is the fervent endeavour of The Mill Theatre to perform and to stage productions to professional standards and to the very best of our ability.  You, our audiences, are our judges.  There is, however, another judge.  All member groups invite a NODA representative from another District to critically review their shows, which are then marked to a strict 
standard.  Competition is high.
We hope that we may be forgiven for, occasionally, 'blowing our own trumpet'!  But we would like to share our modest (?) delight, having just won our 3

rd

 Best Drama Award - in 3 successive years!  Notably for: 
Suddenly at Home, 2007; The Importance of Being Earnest, 2008, now Wyrd Sisters 2009.  NODA has introduced a new Award in 2010 for Best Technical Performance, to recognise 'home grown' technical achievement ie set, props, costumes, lighting, sound etc.  This was won for our 
production of Wyrd Sisters.  Oh yes! We also won 'Best Pantomime' in 2008 for our production of Aladdin, which so many of you enjoyed.  All were directed by Enid Cooper; an outstanding personal achievement, fully endorsed by the company. 
We shall strive, with your continued valuable support, 

which

 we never take for granted, to be worthy of such accolades into the future. We hope to see you soon! 
Diary

July

7th 10.30am Meeting Point at Doris's, Goodly Heritage, The Bury, Pavenham.

8th 10.30am Health Walk HOCP.

10th 2.00pm All Saints' Church Open Day

10th 7.00pm Village Barbecue, Village Hall.

11th 2.00pm All Saints' Church Open Day.

13th 7.00pm WI meet at Odell Village Hall.

17th 9.45am All Saints' Amblers meet at The Bell.

17th 10.00am Art and Craft Sale, Carlton Village Hall.

17th 7.30pm Village Quiz, Village Hall.

18th 12.00 Art and Craft Sale, Carlton Village Hall.

22nd 10.30am Health Walk HOCP.

24th 11.00am Love Your Park Day HOCP.

26th 10.00am Conservation Tasks Day HOCP.

August

5th 10.30am Health Walk HOCP.

15th 10.00am Songs of Praise Service, All Saints, Church.

19th 10.30am Health Walk HOCP.

22nd 9.30am All Saints' Church open for prayer and meditation.

23rd 10.00am Conservation Tasks Day, HOCP.

23rd-27th9.30am All Saints' Church open for prayer and meditation.

28th, 2.30pm Café in the Tower, All Saints' Church.

29th, 30th. " " " " " "

September

2nd 10.30am Health Walk, HOCP

2nd 7.45pm Bat Walk, HOCP

Magazine Deadline

Please send all entries for the September 2010 magazine to Tricia Hudson (mag1 at odellbeds.net) or Catherine Corkery by August 12th at the latest. May we remind you that the editorial team exercises the right to edit, shorten or alter any items that are submitted. Also, the opinions expressed in the articles are those of the contributors and are not the responsibility of the editorial team.

Alex Stubbs Flooring

Carpets, Vinyls, Laminates, Safety Flooring, Adaptions, Refits, Repairs

Supplied and Fitted

07976 260572

01234 240954

Great local pubs

<![if !vml]>
<![endif]>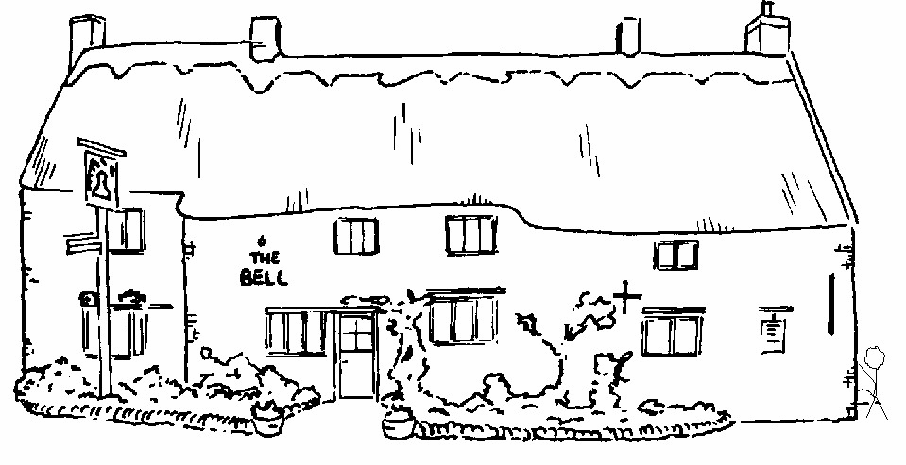 The Bell in Odell
As Featured in the 2010 Good Beer Guide
With the relaxed charm of a village local and a varied menu of
quality, home-cooked food you won't find any gimmicks here
just a Great British Pub!
Abbot Ale, IPA & Changing Seasonal & Guest Ales
Live Trad Jazz first Wednesday night of the month
Telephone 01234 720254
---
Last revised: July 29, 2010.