ODELL VILLAGE NEWS
February 2010
Visit the New Bell website on www.thebellinodell.co.uk/
Please note if you are in any Odell event and someone is taking pictures - make sure you tell them if you don't want to be in the picture!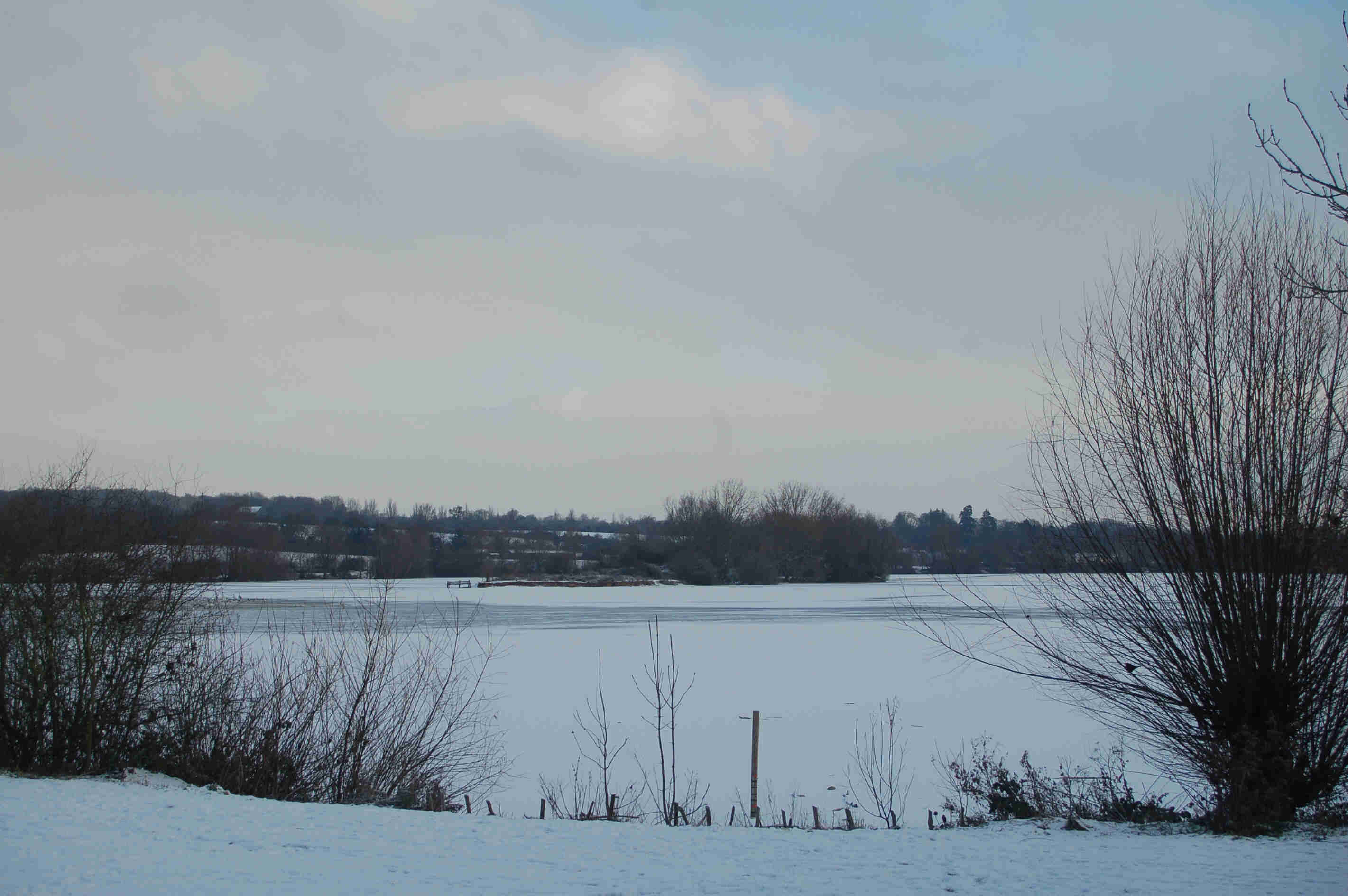 Photo of Harrold/Odell Country Park in the recent snow, taken by Richard Dowsett
An evening of light music with The Ouse Valley Singers
Odell Village Hall on Saturday 27th February at 7.30pm
Refreshments included
Tickets £6 available from Ann Hudson, Abigail House 720587,
Jill Cheadle, Rectory Farm 720261
Steve Robinson, Horsefair Lane 720113.
Book early to avoid disappointment.
Birthdays
Happy birthday to:
Jack Holden Postles, 9 years old on the 10th , and
Victoria Beardow, 14 on the 22nd ,
And to everyone with a birthday in February!
STILL no bridge!
Here is the scene behind the Bell. With the snow gone the new bridge should be finished soon.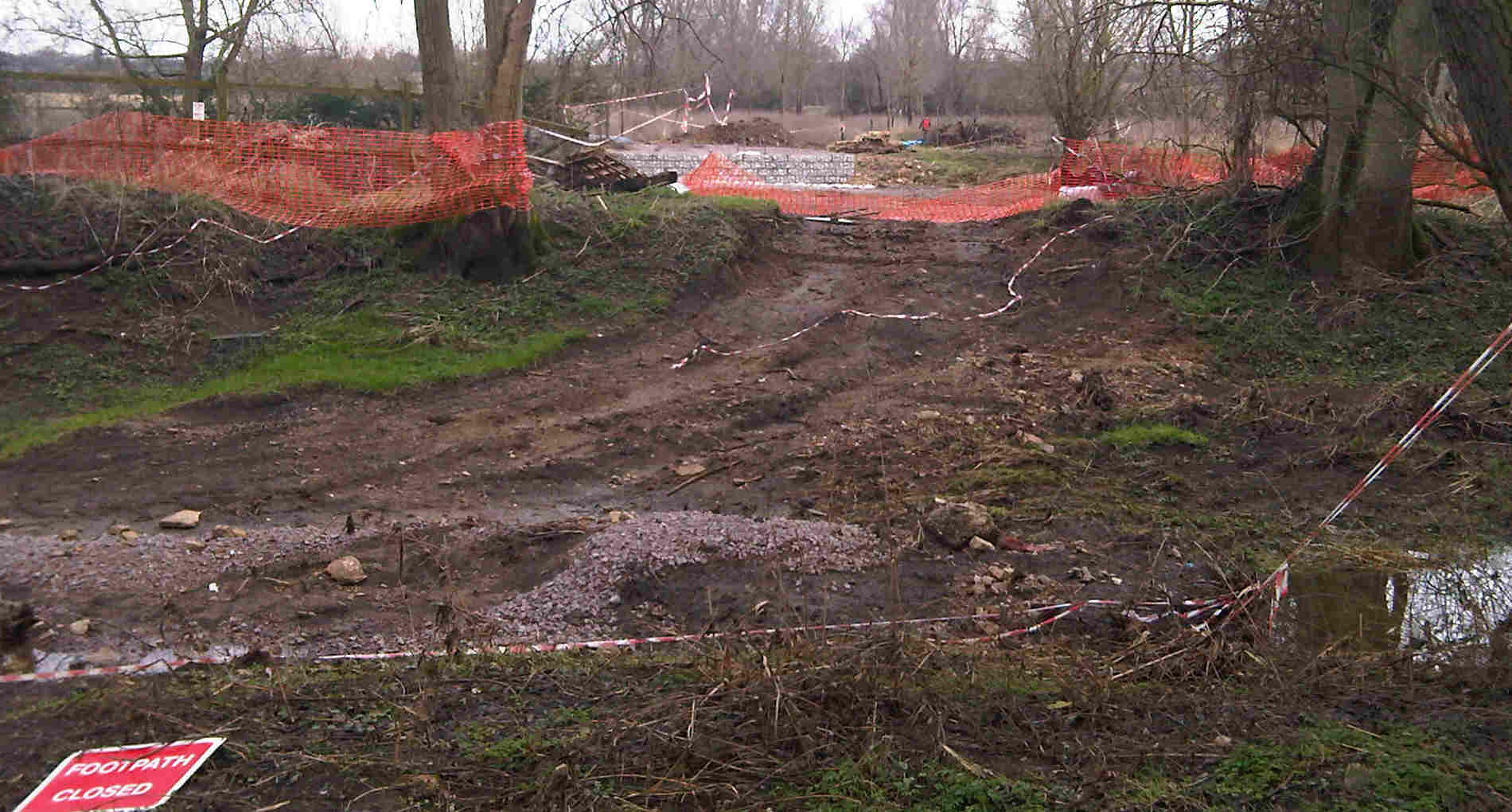 Round and About
When Icicles Hang by the Wall
When I sat down to write this article snow lay on the ground, the temperature seemed to be stuck firmly below zero and getting about meant taking extreme care. Day by day the television news showed footage of blizzards and stranded cars and, with this as a background, I offer the following.
The pundits tell us if this weather continues we are heading for the coldest winter in thirty years and possibly the third or fourth coldest on record......to be mentioned alongside 1947, 1963 and 1977. Well, that may be so but, as we snuggle down with our central heating and roaring log fires, how did people manage in days gone by?
In Britain between the 1500s and the mid-1800s was a period of winters known as the "Little Ice Age" - the coldest series of winters for a millennia, the years 1684, 1740 and 1863
standing out as particularly grim. During this period deep frosts were the norm and the most bizarre sign of the times were London's legendary Frost Fairs - virtually a carnival
taking place on the frozen surface of the iced over River Thames. The longest period that the Thames froze over in this manner was in 1684 when the ice remained solid (or solid enough) for two complete months. The ground was so frozen that no ploughing or planting could take place and affected the following year's produce.
Although there are no records of Ice Fairs being held on the Thames prior to 1608 people had long ventured out on to the icy surface. For example, in 1536 it is recorded that King Henry VIII travelled along the icy river surface in a sleigh from Westminster to Greenwich.
It is now thought that the Thames can no longer freeze over in this way. As the river has now been contained between the solid walls of the Embankment the flow is no longer as wide as it used to be and therefore flows much faster.
The last time the Thames froze over was in 1814 when the largest official Frost Fair took place. There were games played on the ice, booths selling hot food and souvenirs ... even an elephant was led out on to the ice!
We have no way of knowing just how cold it was at these times as records only began in 1914 but some temperature logs do survive. Braemar in Aberdeen hit a record low of 27.2 degrees centigrade in 1895 and repeated this same temperature again in 1982. The whitest winter in Britain was that of 1962/3 when it snowed for 71 days. That is, snow fell in some part of the country every day between Boxing Day 1962 and the 6th March 1963.
All I can say is, if this winter is going to compete with all of that - then it is going to be a long winter!
Barbara Corley
Wode-Hill Jazz Band will be playing at The Bell on Wednesday February 3rd from 7pm.
Sharnbrook Wildlife Trust
Friday 19 February Wildlife Trust – Sharnbrook. "Oh dear, Deer" an illustrated talk by Arnold Cooke. 8pm Methodist Church, Park Lane, Sharnbrook. Members and non-members welcome.
CPRE Awards for Odell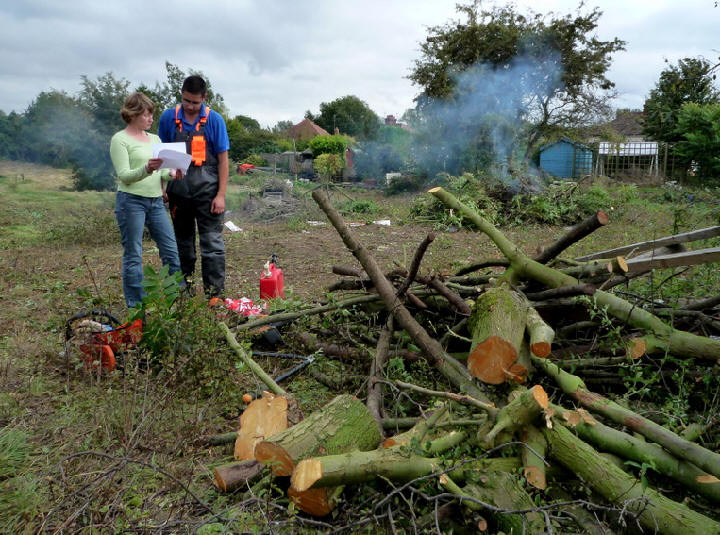 Odell featured prominently in the Living Countryside Awards presented by the Bedfordshire branch of the Campaign to Protect Rural England (CPRE) at the end of last year.
Harrold Odell Country Park received a commendation for the new community orchard development on the formerly neglected piece of land to the west of the village housing. Although the project is still at an early stage, with the ground cleared and saplings only just being planted, the judges thought it a well-conceived landscape improvement idea with a combination of commercial and environmental benefits being carried out enthusiastically by the park staff and volunteers from the Friends of HOCP.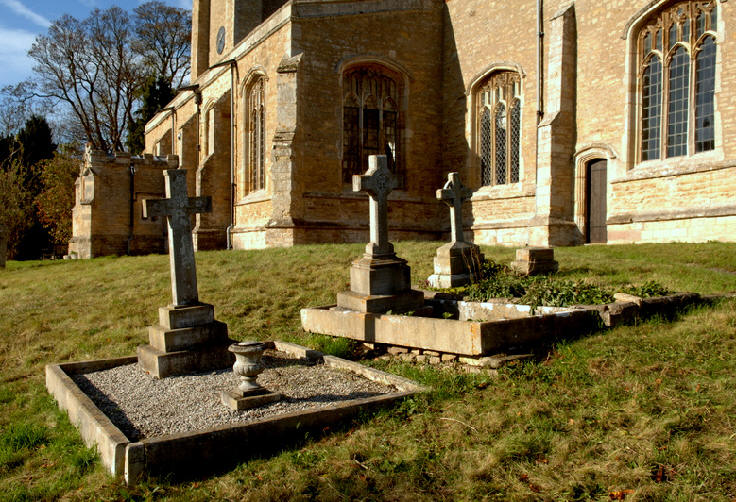 Odell Church was given a silver award in the historic landscape category for the work being carried out to improve the appearance of the churchyard. This requires a careful balance of keeping the site tidy for visitors and at the same time encouraging native flora and wildlife. It was recognised as an excellent piece of community-led conservation, combining biodiversity and historical research, and again made possible by voluntary labour.

Yelnow Farm carried off a CPRE Mark - a gold equivalent - and was cited as a prime example of an authentic organic farm employing traditional methods of agriculture and livestock management in a commercially sustainable manner. Numerous examples of conservation, rural crafts, habitat improvement in ponds, existing woodland and new plantations caught the judges' attention. The educational activities provided for young people were especially praised.

The awards were presented by author and presenter of the BBC TV's 'Coast' series Nicholas Crane, who is also Vice President of CPRE nationally. Representatives of all three of these village projects attended the awards celebration at Milton Ernest on 3rd December.

CPRE is a national organisation which works to raise awareness of rural issues and protect the landscape for future generations. It was for instance instrumental in calling for the establishment of national parks and the introduction of planning laws to guard against urban sprawl after WWII. Whilst it campaigns against damaging proposals, the organisation also seeks to recognise good practice in conservation and sustainable commercial use of the countryside through schemes like the Living Countryside Awards.

Odell Parish Council

Minutes of a meeting of Odell Parish Council held on 18th January 2010 at 7.30 pm in Odell Village Hall.

Present: Cllr. R. Halton [in the Chair]; Cllrs. B. Cheadle, P. Crotty, T. Freeman, S. Robinson, A. Sharpe. Borough Cllr. N. Charsley

In attendance: Mr. N. Goodman; Mr. M. Vyvyan [members of the public]

Apologies for absence Apologies received from Cllr. J.J. Harrison

Minutes of last meeting The Minutes of the meeting held on 16th November 2009 were approved and duly signed as a true record of the proceedings.

Matters arising
Bridges update: an update from the Contractor had been previously circulated. It is quite clear that weather conditions will make it impossible for the work to recommence for some time yet.

Playbuilder Project: considerable time was spent discussing this project. A petition organised by Roma Garon had been previously circulated, and the concerns raised were all noted and discussed. It seems clear that the major [ongoing] concern of car parking has been noted by the Project Leader who stated in his most recent correspondence that signage could be provided stating parking in Horsefair Lane was for residents only. Cllr. Charsley was asked if he could confirm with the Borough Council that this will definitely be possible.
The Chairman outlined the procedures regarding this scheme – which is not Parish Council led – and stressed that full consultation will take place once a definitive scheme has been produced. Until that is to hand, there is nothing concrete to consult on. The original consultation with the children is following the approved project plan procedure, and further

consultation with them will also take place once a scheme has been prepared.
Cllr. Robinson could see no reason why the play area could not be moved to a different part of the Country Park; the Chairman pointed out that the planners had previously approved this site as a suitable alternative to the one now lost at the side of the village hall, and it was extremely unlikely that they would approve a site further away from Odell, as it was primarily for Odell village children. The Chairman will discuss this with the Park

management this week but it is felt highly unlikely that a more suitable location will be found.
The final point to be noted is that either the village has two schemes – the play area and the village hall disabled access – or it has neither.

Village Hall Update
Disabled facility: the position regarding the disabled facility was discussed; although the builders had been at the hall, apparently finishing the facility, on inspection it is clear there are many [although small] items that need finishing or rectification work. Cllr. Freeman had compiled a list which is to be passed to the builder, and in view of the protracted timescale, it was agreed that the builder should be asked to complete by the end of this month, when the facility will again be inspected. Should the work not have been satisfactorily carried out, the Parish Council would then call in another contractor to complete the work and any resultant cost would be deducted from the main contractor's final invoice.

It was agreed the invoice for the 'Extras' would be held in abeyance until Councillors are satisfied with the work.

Budget position: The Clerk reported that the overall budget position with regard to all the projects was little changed from that produced at the last meeting; the only difference was an

additional £162 to be added to the estimated charge of £3000 for the extra work. Overall, the Parish Council was £1000 in credit from these projects, which could be put towards finishing the groundwork outside the new disabled facility.

Official Opening: Officials invited to attend the 'official opening' of the new facility/upgraded hall on the 3rd March and who have accepted are: the Mayor of Bedford, Bedford Borough Chief Executive, Cllrs. Ian Clifton and Nick Charsley, Sue Norman from Beds RCC, Emma Brooks from Wren and Peta Frost from The Bedford Charity. The official ceremony will take place prior to the Luncheon Club's usual fish and chip lunch, and any official invitees who wish to stay to this will be welcome to do so. The ceremony itself will be an 'open house' event for any Odell residents to wish to attend.

Grazing Land
Following the departure from the area of our previous tenant, we now have a new tenant for six months; the situation will be reviewed nearer the end of that period when it is known if this tenancy will be terminated or continued.
Cllr. Freeman said he had had expressions of interest in allotments at this site; this possibility has been extensively researched by the Clerk and currently it would not be viable, due to the large costs involved in the initial setting up, to go down this road.

Highways
Cllr. Crotty expressed his disappointment that no remedial work was carried out by the Highways Department in the autumn. The potholes are now very much worse due to the bad weather. He has again walked with the Highways representative and a planned list of work has been drawn up once funding becomes available in April. In the meantime any potholes classed as 'category 1' will be filled on a temporary basis until the proper work can be carried out in the next financial year. Dangerous potholes can be reported either via the Highways Helpline or by contacting Cllr. Nick Charsley.
It was noted that a replacement salt bin for the broken one was put in very quickly, and some salt bins replenished.

Bedford Borough matters
Cllr. Charsley confirmed the Borough Council has set aside an extra £200,000 for pothole repair. With regard to salt bins, Cllr. Charsley said he will be consulting during February/March with parishes re locations of bins.

Cllr. Cheadle volunteered to attend the Rural Transport meeting on 2nd February, his commitments permitting.

Harrold/Odell Country Park
Cllr. Halton said she had not attended a meeting since the last update, but there is one this week on Thursday. Some fruit trees have been planted in the orchard.

Finance
The Cumulative Account document was circulated with invoices for payment noted. It was agreed the usual payment of £70 should be made to The Villager.

Correspondence and Requests: none this month.

Specifically for the Business of the Meeting
Cllr.Halton expressed her pleasure that both she and the Clerk had this year received a Christmas Card from the Mayor.

Cllr. Crotty referred to the current Public Inquiry into the proposed Wind Farm at Podington. The proposal is now only for 3 turbines, instead of the original 15. He has not personally

attended but said his advisor informed him that a Barrister had represented the Borough, and CLOWD had also instructed a Barrister at a cost of £45,000. CLOWD is asking for a donation from Parish Councils towards the cost of their Barrister. Cllr. Crotty asked if the Parish Council's funds would permit a small donation as requested. It was agreed to postpone a decision on this until the next meeting.

Date of next meeting: 15th March 2010 at 7.30p.m.

There being no other business the meeting closed at 21.30.

People willing to supply lifts to and from surgeries.

Below is a list of the people currently willing to give lifts, to and from surgeries, to people who can't otherwise get there:

Kim Beardow 721246, Jill Cheadle 720261, Marion Senn 721176

Jonathan Harrison 721115, Steve Robinson 720113,

Linda Tringham 720120, Madeline Jeeves720803

If anyone else is willing to be a volunteer please contact Jill on 720261.

"Meadows Children's

Centre Update"

We would like to take this opportunity to introduce Meadows Children's Centre to the community. We will be based at the Sharnbrook Upper School Site, sharing a brand new building with Brook Nursery. We will be serving the villages of Sharnbrook, Harrold, Odell, Kempston Rural, Stagsden, Turvey, Riseley, Podington, Wymington, Pertenhall, Swineshead, Dean, Melchbourne, Yielden, Keysoe, Bolnhurst, Souldrop and Knotting.

We will be a small centre, but will be using our new van to get out and about into the community supporting families, toddler groups and to link local people with children's and family services. Our initial priority will be to support the local toddler groups that are going on, offering some new activities for parents with young babies and to provide family support.

As this goes to press we have organised an introductory lunch for people in the community working with families with young children, and are hoping to make good links and meet local people.

Carla Jenkins is running the centre, and has a background in childcare, children's centres and voluntary work.

Michaela Martindale is the Family Support Worker, and has a background in childcare including special needs and voluntary work.

We are really looking forward to meeting you all and becoming involved in the local community. We hope that our building will be ready in the Spring and we will update you when we have an official opening date!

In the meantime if we can assist your family or group in any way we can be contacted on 07553 348479 or at Carla.jenkins@pre-school.org.uk.

Thanks, Carla & Michaela

W.I.NEWS

We were without our president, Rachel, for our December and January meetings as she was visiting her daughter in Australia, however, our festivities continued without her. We enjoyed a pre Christmas meal at Jill's amid a flurry of red and gold; we had no idea about how colourful we could all be!

The bring and share meal was delicious and exceeded the high expectations of Odell WI and the atmosphere was perfect with our master of ceremonies, entertaining us with a nativity inspired quiz with a sweets theme. The winners were Audrey and Lynette which probably says much about their childhood memories!

Our January meeting went ahead in spite of the wintry weather and we aptly had a curling evening accompanied by nibbles and wine. Again, it was great fun and captured the spirit of our members who certainly know how to enjoy themselves especially when there is a bit of competition involved; the winners were Jenny and Christine with expert instruction given by Doreen. This was especially appropriate as Jenny has rejoined us after a long break and it was good to welcome her back.

We all appreciated all the work carried out on the village hall and remarked that it seemed more spacious, looked attractive and was welcomingly warm so our thanks to everyone who has worked relentlessly to achieve this.

<![if !vml]>
<![endif]><![if !vml]>
<![endif]> <![if !vml]>
<![endif]><![if !vml]>
<![endif]>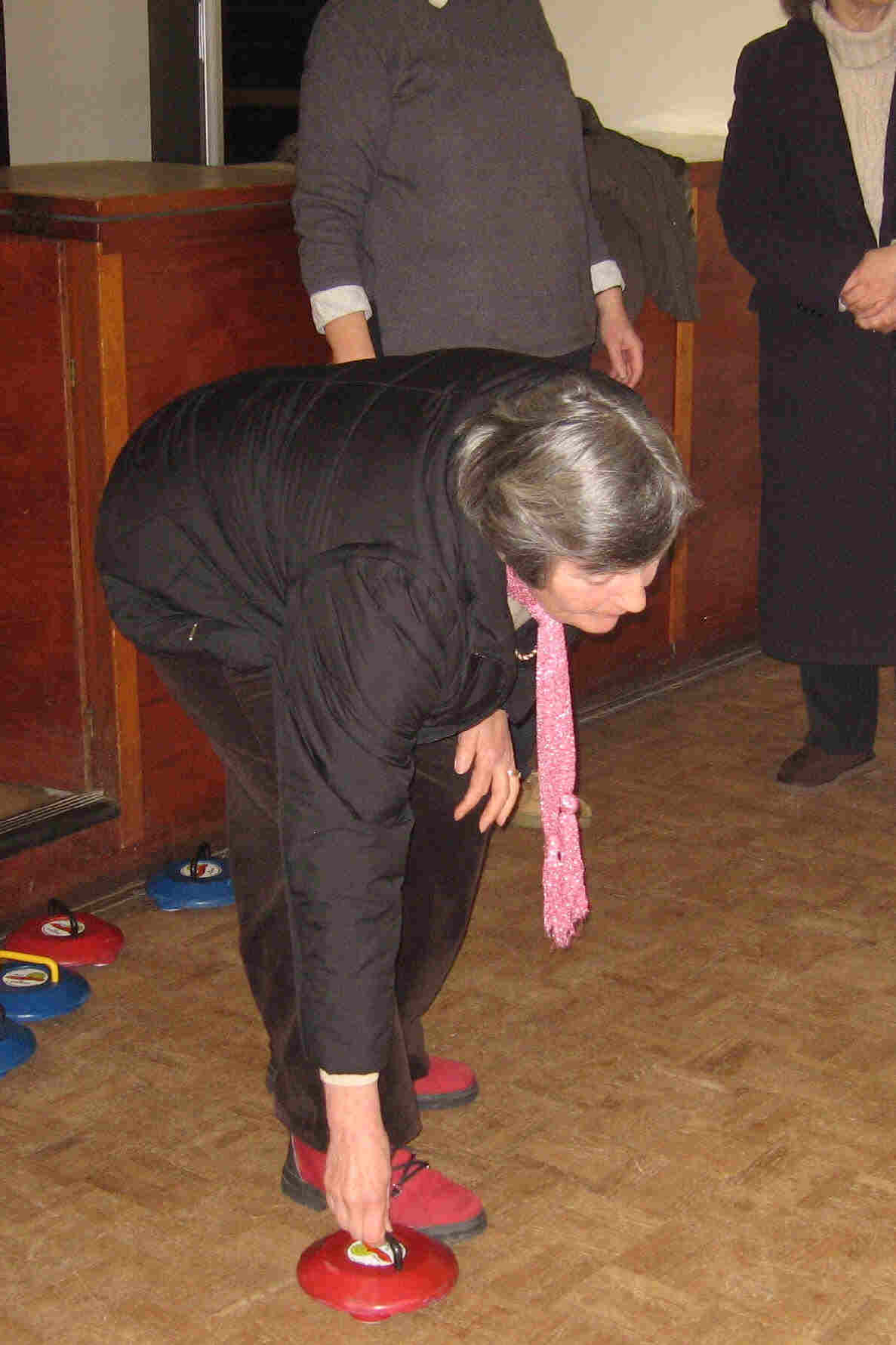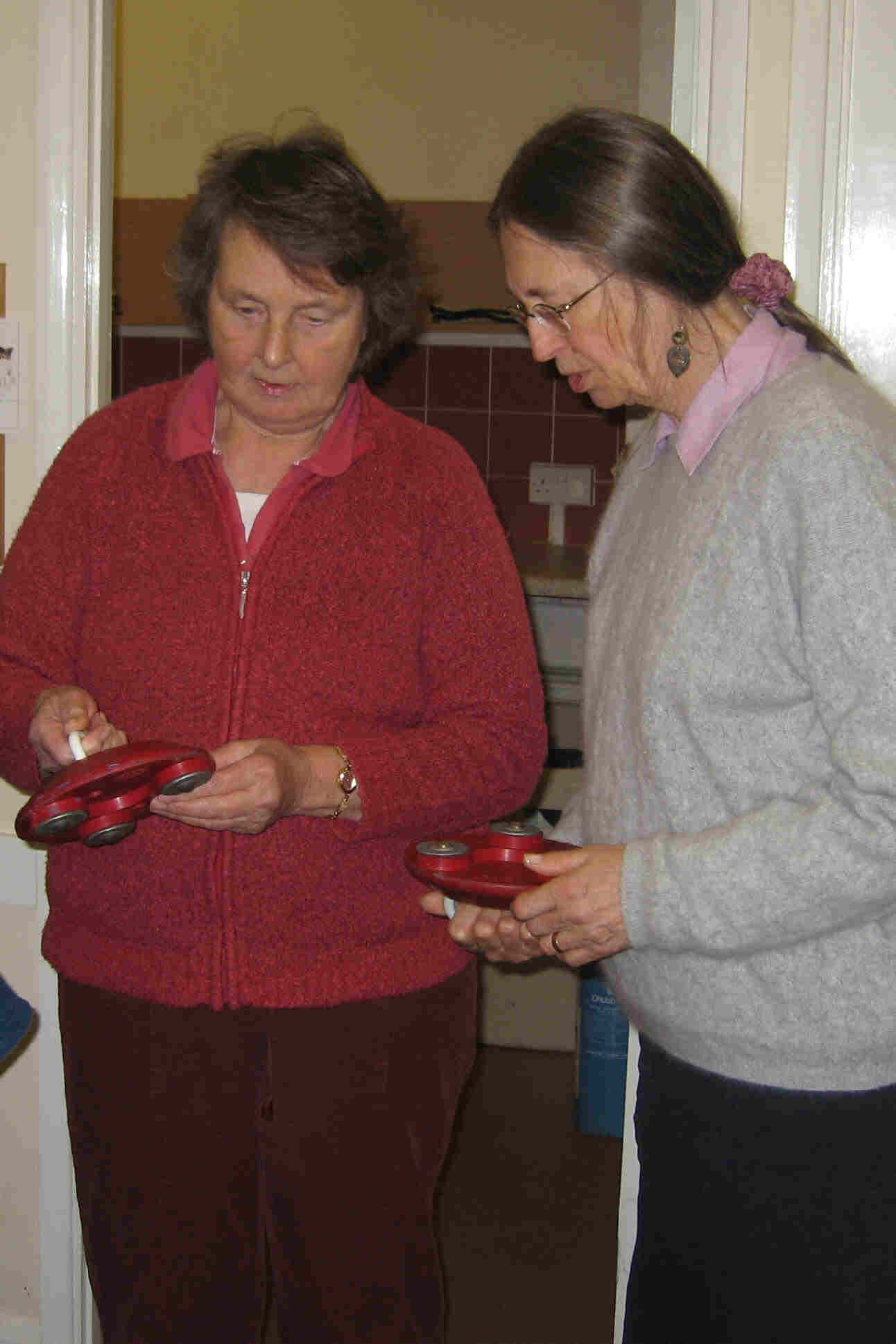 Left: Jane in Action, Right: competition winner Jenny discusses strategies with Christine
February Meeting
Tuesday 9th February: The Life of a River
Competition: A River Poem
Hostesses: Rachel and Christine
Lynette Hall
Harrold-Odell Country Park
Carlton Road, Harrold, Bedford MK43 7DS
News from the Park
Hello and Happy New Year from all the staff at Harrold Odell. What a winter it's been! It has been many years since we've had such prolonged cold weather and it has had an effect on both our management work and the wildlife.
Both lakes have been ice bound since Christmas and the birds have found it very hard. Not only has it restricted their movement it has also meant that they have been unable to find enough food and drink. Many have moved to the river but there have been casualties. A few older, weaker animals have perished. These will provide food for foxes, badgers and other scavengers. The café has donated food scraps, over ripe fruit etc. to help the smaller species. Many woodland birds depend on you feeding them in your own gardens and you are very likely to see unusual species coming to your feeders in hard weather.
Our Health Walk programme has been very well attended (weather permitting) and we will be continuing to lead them at 10.30am for an hour every other Thursday throughout the year. Please contact the park on 01234 720016 or look on the Friends website on www.hocp.co.uk for information on this or any other aspect. The dates for forthcoming walks are as follows:
Feb. 4th, Feb. 18th, March 4th, March 18th
We have had a grant of £18,000 from the Aggregate Levy Sustainability Fund (ALSF). As you know, the park began life as working gravel pits. And the quarry companies are keen to put something back once extraction is completed. We are going to use the money to pay for better interpretation both in the form of internal displays in the café annexe and outside via bespoke display boards.
We also want to install a computer driven display screen for visitors to use to access information about the park. To tie all this together we will be commissioning some chainsaw carvings for the park entrance commemorating its quarrying origins and linking in with man's historical use of the landscape. Exciting times ahead! Janet Munro
Conservation task days
Monday 22 February, Monday 29 March 2010
All tasks start at 10am and finish mid afternoon, but you only need stay as long as you want.
Harrold/Odell Country Park received a commended award from the Campaign for the Preservation of Rural England.
Congratulations to the staff of HOCP who received a commended award for the Community Orchard project even though, at the time of judging, there was only bare ground to see. Significantly, they beat some fully established projects that didn't receive anything.
The first of the trees have been planted, a mixture of plum, apple and pear.
Janet said: "The weather has conspired against us - too dry October/November and too frozen more recently. Richard and I finally got them in the day after Boxing Day. There will be more going in as soon as conditions permit".
Village Hall
The annual Burns Night Supper and celebrationstook place in the Village Hall on Saturday January 23rd. The Village Hall was packed as people came from miles around to join in.
A little bit of Scotland came to Odell as the haggis was ceremonially piped in by Martin Cameron, and cut as he recited Robbie Burns' 'Address To The Haggis', then after a toast to the haggis the feasting and, later, dancing commenced. Once again our 'caller' was Keith Rose who kept us all in the right places at the right time (well, almost!) as the dancing went on well into the night.
Many thanks to everyone who helped to make the event so special: to Leslie and Doreen for organising everything, to Martin and Keith who brought the event alive, and to all the cooks and the helpers in the kitchen!
Below: Martin in full flow on the bagpipes and in praise of the haggis!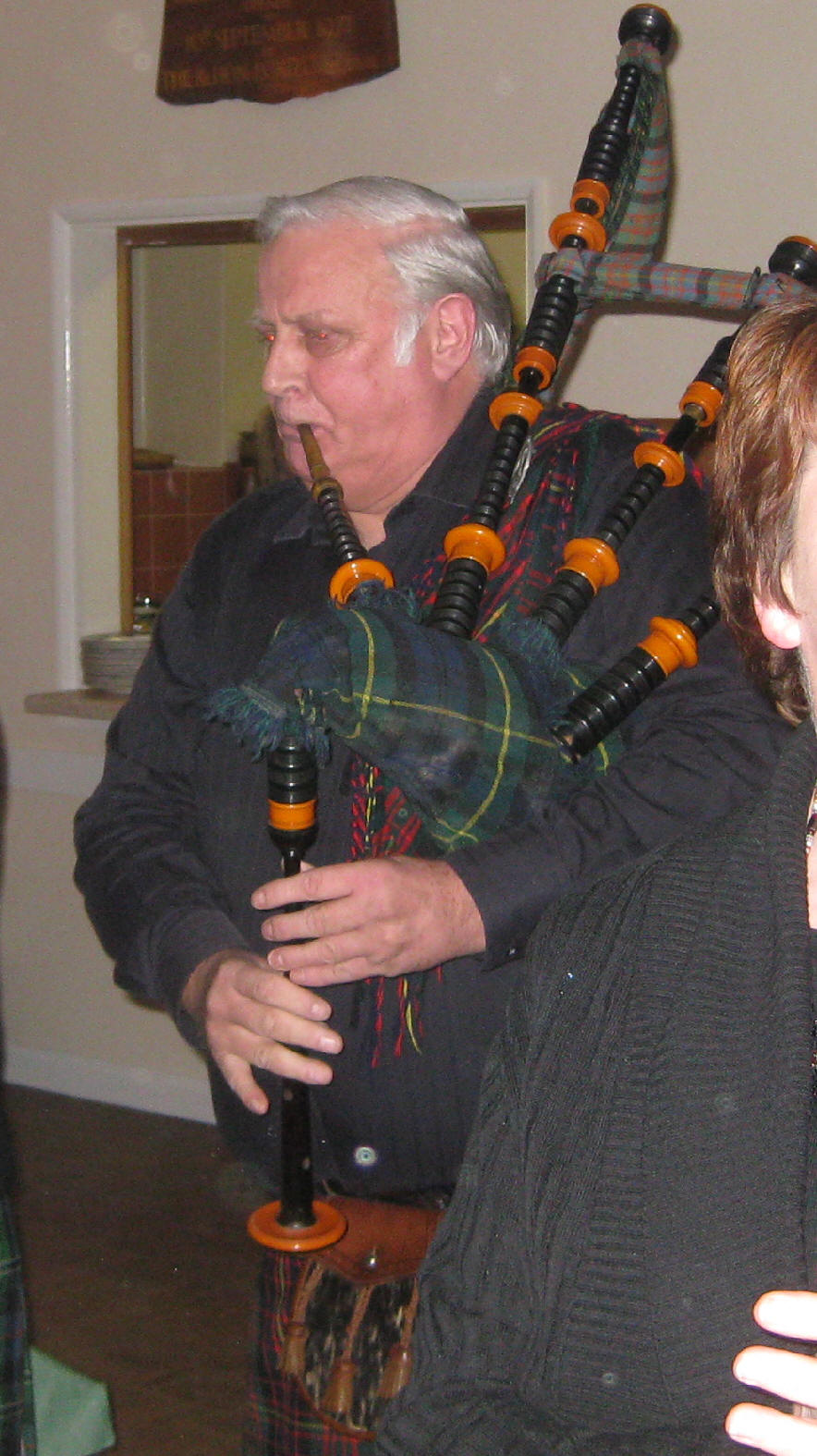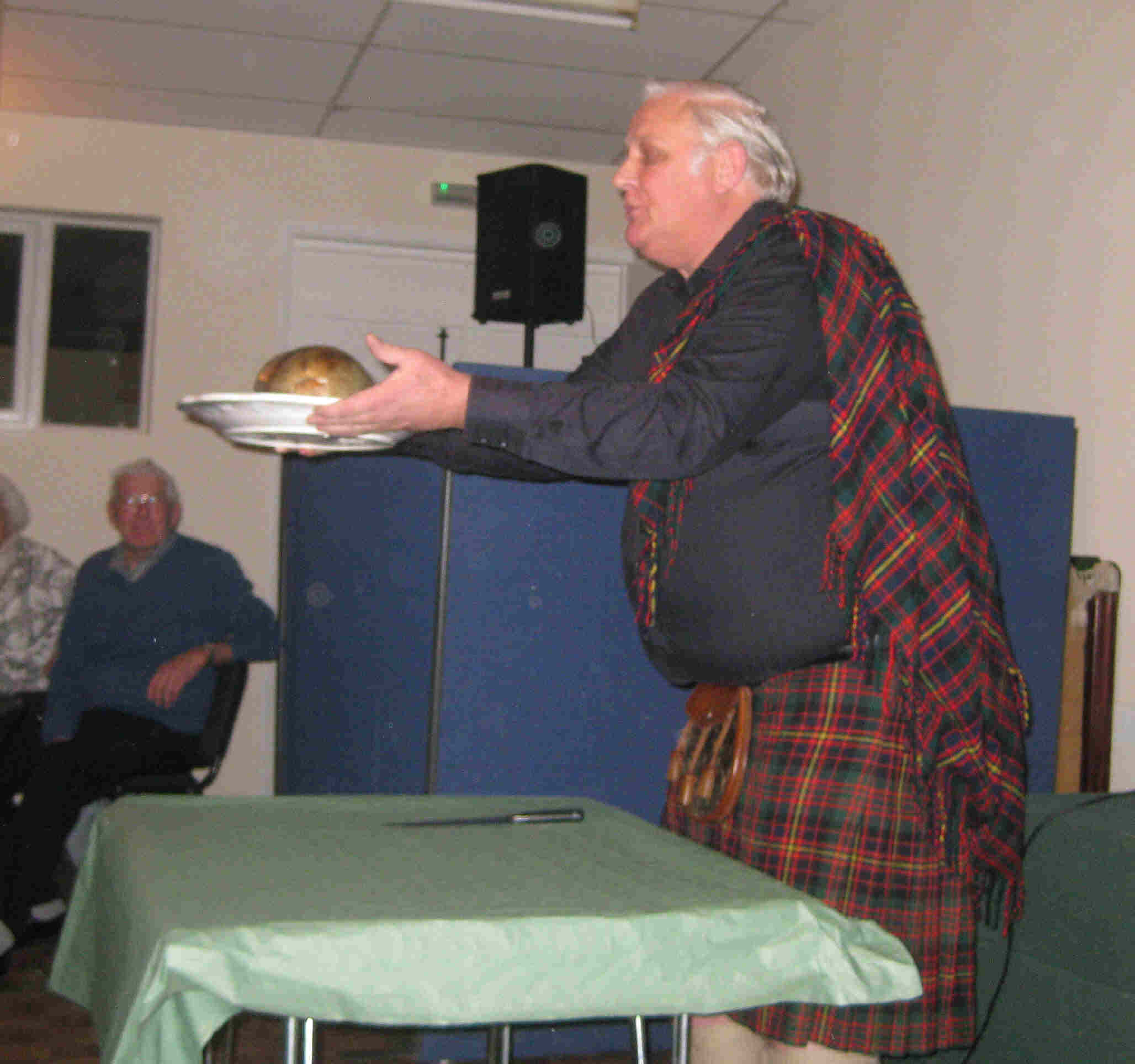 Doreen and Leslie would like to thank everyone who gave assistance at Burns Night. Thanks to those who contributed desserts, peeled vegetables, and helped to set up the venue. Special thanks to Tiff and Cass for stepping in at the last minute and belated thanks to Paul and Rob on the bar, who I forgot to mention on the night—severe head-bashing! It is extremely hard to organise and run Burns Night but it is made easier when we see everyone having a really good time. On that note, I am pleased to announce that we have made £669 profit to be donated to All Saints' Tea Point Fund.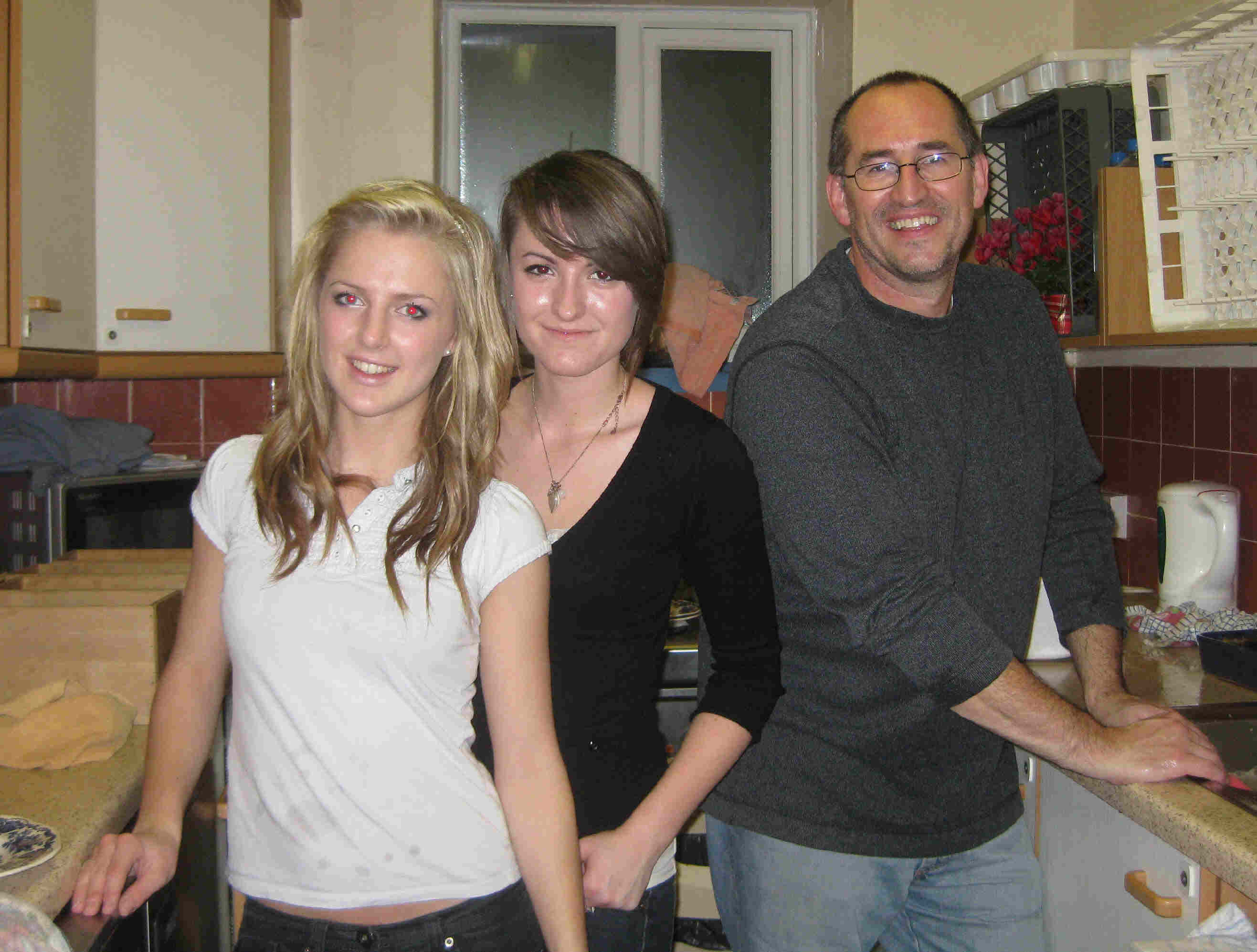 Above: The hardworking helpers in the kitchen: Cassidy, Tiffany and Rob
Below: Left: Dancing! Right: Our caller, Keith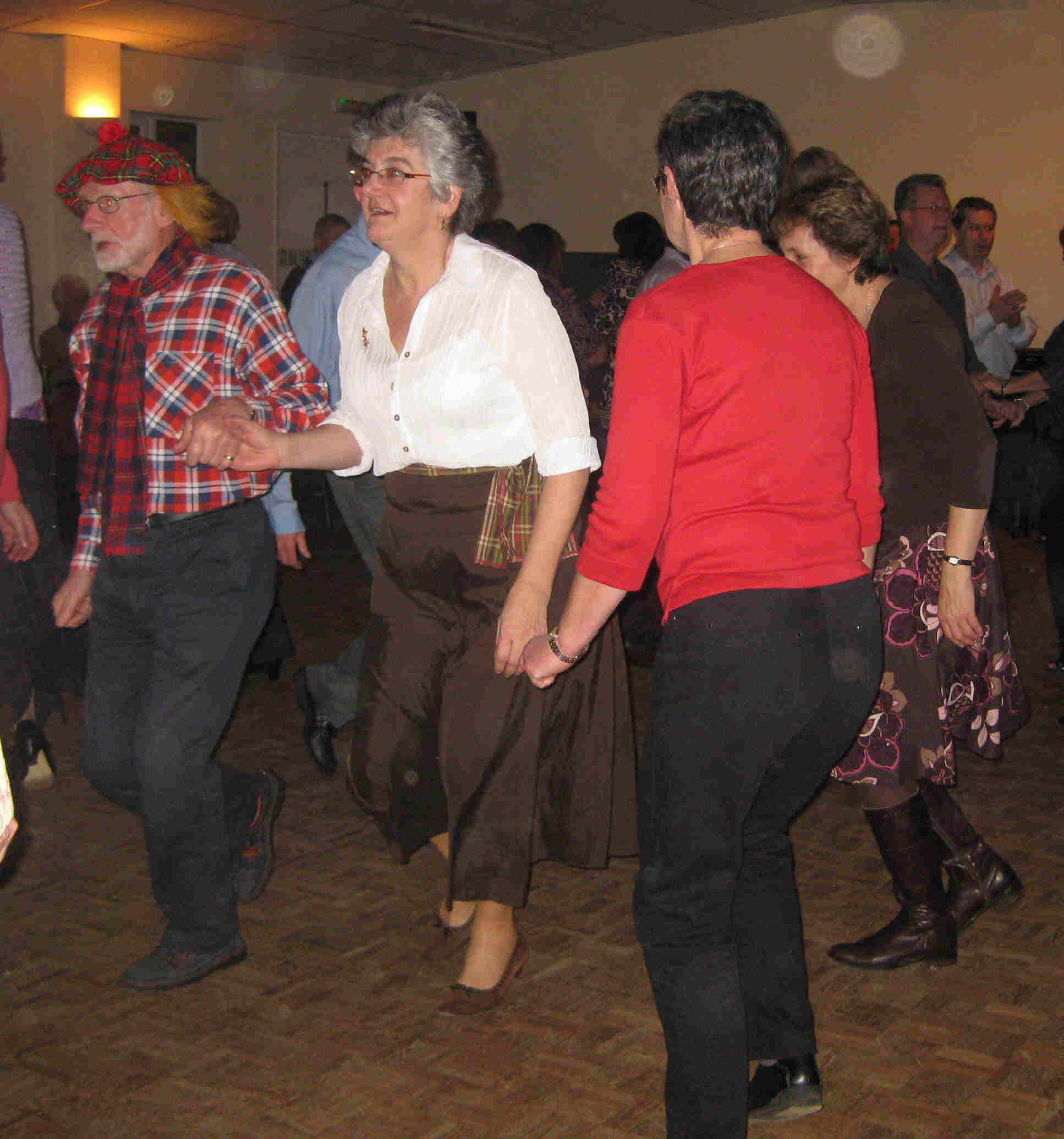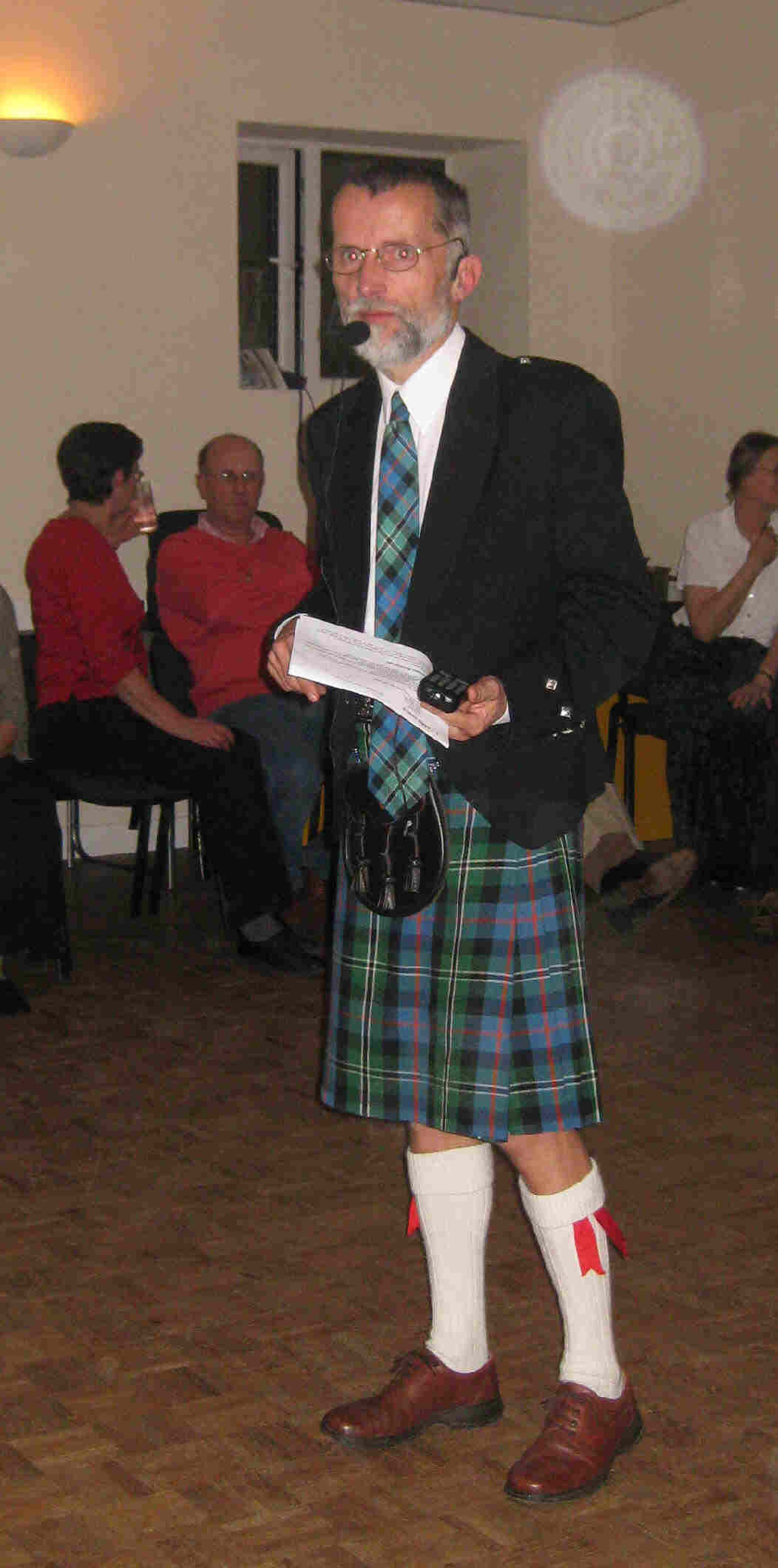 Once again, many, many thanks for your support.
Doreen and Leslie
The Mill Theatre, Sharnbrook
Play On - Tuesday 16 - Saturday 20 March 7.4 5 p m
The actors are squabbling, the tech goes awry, the author keeps rewriting the script! A recipe for a hit? Definitely not, but it is a recipe for side-splitting belly laughs.
Rick Abbott's hilarious comedy, about the trials and tribulations of an amateur drama group rehearsing and performing a murder mystery play, illustrates perfectly the old theatrical adage – if it can go wrong, it usually does!
A 'must' for March!
Take advantage of Advance Booking!
During the above, Tickets will be available, but only from the Mill Theatre, for
Man of La Mancha - Friday 14 - Saturday 22 May
An evening of moving, captivating theatre. A musical within a play.
The story of Don Quixote … and his 'Impossible Dream'.
Tickets
Sharnbrook Post Office (in person) or Bedford Central Box Office 269519*
Allocated parking, Lift; 2 wheelchair spaces (please book through Central Box Office*), A - E
Diary

February

3rd 7.00pm Wodehill Jazz Band at The Bell.

4th 10.30am Health Walk HOCP.

9th 7.30pm W.I. Village Hall.

10th 10.30am Meeting Point at Catherine's, Manor Cottage, Harrold.

18th 10.30am Health Walk HOCP.

20th 9.45am All Saints' Amblers meet at The Bell.

22nd 10.00am HOCP Conservation Tasks day.

22nd 7.30pm Lent Group, 3 Copperbeeches, Emmaus Village.

23rd 8.00pm Lent Group, 46 Harewelle Way, Harrold.

24th 10.30am Meeting Point at Jane's, Newton House, Avenue Rd., Newton Bromswold, Rushden.

24th 1.30pm Lent Group, 32 Rectory Close, Carlton.

24th 7.30pm Lent Group, 30 Orchard Lane, Harrold.

25th 10.30am Lent Group, 87 High St, Harrold.

27th 7.30pm Ouse Valley Singers at Odell Village Hall.

Magazine Deadline

Please send all entries for the March 2010 magazine to Tricia Hudson (mag1 at odellbeds.net) or Catherine Corkery by February 12th at the latest. May we remind you that the editorial team exercises the right to edit, shorten or alter any items that are submitted. Also, the opinions expressed in the articles and the pictures provided are those of the contributors and are not the responsibility of the editorial team.

Alex Stubbs Flooring

Carpets, Vinyls, Laminates, Safety Flooring, Adaptions, Refits, Repairs

Supplied and Fitted

07976 260572

01234 240954

Do you look after someone who is frail, ill or disabled?...

...that makes you a carer.

For information, support and advice you can now ring the Bedfordshire Carers Helpline: 0300 0123435

Great local pubs

<![if !vml]>
<![endif]>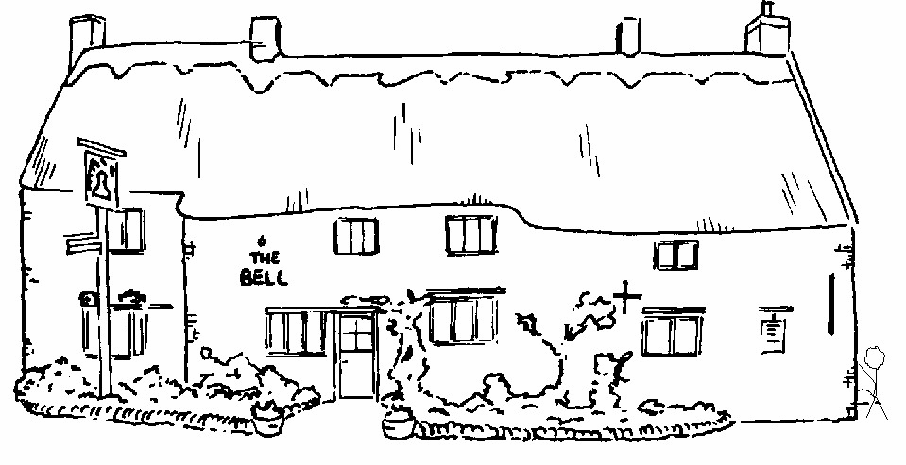 The Bell in Odell
As Featured in the 2010 Good Beer Guide
With the relaxed charm of a village local and a varied menu of
quality, home-cooked food you won't find any gimmicks here
just a Great British Pub!
Abbot Ale, IPA & Changing Seasonal & Guest Ales
Live Jazz first Wednesday & Quiz night last Sunday of the month
Telephone 01234 720254
---
Last revised: February 05, 2010.