ODELL VILLAGE NEWS
April 2010
Visit the New Bell website on www.thebellinodell.co.uk/
Odell Fete Saturday, 12
th
June 2010
HELP will be needed to set up fete stalls on the afternoon of Friday 11th June, and then dismantle everything after the fete has ended on Saturday 12th. Please come and join in!
Fete Committee Painting Day
Painting of signs etc. for the fete will take place at Jim and Doreen Wheeler's, Linden House, High Street, Odell, on Monday 3rd May from 10.00am.
There will be a lunch time bar-b-q for helpers – please let Doreen know (720358) or Jane (01933 410959) if you wish to stay for this. Bring your own meat. Salad and puddings will be provided.
Birthdays
Happy birthday to…Rebecca Causton on the 3rd , Tania Fulford on the 5th , and to everyone with a birthday in April.
Round and About
All Fools Day
Due to the time of the year I found myself looking up the stories and legends surrounding "April Fools Day" or, as some people prefer to call it, "All Fools Day". Am I naïve?, I never realised that the jollifications at this time of the year had a religious background, or that they go so far back into history or, indeed, that they are celebrated right across the world.
So, what are the origins of this somewhat light hearted celebration ?- the problem is, of course, that there is no way of being absolutely certain. So, on the basis that I am going to totally ignore any such doubts - here is what I have discovered.
Some people believe the rejoicing marks the change in the season or, if you prefer, the arrival of spring, while others believe it arises from the adoption of the new calendar. In 1582 Pope Gregory introduced the Gregorian calendar which called for the dates of Christmas and the New Year to be altered. The New Year would now start on January 1st.
According to the old Julian calendar, however, New Year was celebrated on April 1st. and many people refused to recognise the new calendar and continued to celebrate on April 1st. No doubt there were many people who failed to even hear about the changes. It appears to have become rather popular for supporters of the new calendar to make fun of, or even ridicule, those who refused to accept January 1st.. People were sent on false (or fools) errands or had all manner of tricks played upon them as a means of persuading the traditionalists to accept the new calendar.
There are problems with this idea as various countries across Europe accepted the new calendar at different times. England did not accept the Gregorian calendar until 1752. April Fools Day, however, was well established in the country at this date. Other ancient cultures, including Roman and Hindu, celebrated New Year at or around April 1st. The date closely follows the Vernal Equinox - a time much celebrated throughout Europe. In medieval times the Feast of the Annunciation (March 25) was observed with much merrymaking as it marked the beginning of spring.
Another suggestion dates back to the Emperor Constantine which claims to put the whole idea down to the court jesters (or fools) in the Court of Constantine. The jesters told the Roman Emperor that they could do a better job of ruling the Empire than he could. Constantine, apparently, was so amused that he appointed one of his jesters, Kugel, to be King for a Day. Kugel promptly introduced a new law calling for the observance of a Day of Absurdity and from that date the custom became an annual event. Certainly in earlier times court jesters were allowed to be King for a Day at Christmas across many European countries, including France, and became a custom in England after the Norman invasion.
Many cultures celebrate a day of foolishness. The Romans had a festival named Hilaria, the Hindu observed Holi and the Jewish calendar has Purim. All celebrate around the turn of the months of March into April.
Perhaps, with the departure of winter, the season just lends itself to a period of light hearted foolishness echoing down the ages from a time more accustomed to innocent and simple pleasures and pastimes.
Barbara Corley
W.I.News
We were pleased to welcome Dennis Rowley from the Driving Standards Agency to speak to us this month. His topic was 'Arrive Safely'. He is a test examiner from Luton and his first item was to see how up to date we were with current legislation. It is constantly changing and he stressed how important it is to keep up to date. He then dealt with some common scenarios that confront us and how to drive safely through them. His overwhelming message was to drive within your own capabilities but with thought for other road users; drive slowly but give faster drivers the opportunity to pass. It was a thought provoking evening.
April Meeting
We meet in the Village Hall Tuesday April 13th at 7.30p.m. Rosemary Barrett from the Friends of Harrold and Odell Country Park is our speaker.
Competition
A Spring Posy.
Hostess
Margaret Jones is this month's hostess. Rachel Halton 720572
Sharnbrook Wildlife Trust
Friday 16 April Wildlife Trust – Sharnbrook. A short AGM to be followed by "Resplendent Costa Rica" an illustrated talk by Marion Hession. 8pm Methodist Church, Park Lane, Sharnbrook. Admission £2 (inc. tea/coffee). Members and non-members welcome.
People willing to supply lifts to surgeries.
Kim Beardow 721246, Jill Cheadle 720261, Jonathan Harrison 721115,
Steve Robinson 720113, Marion Senn 721176, Linda Tringham 720120 and Madeline Jeeves 720803.
Odell Parish Council
Notes of the Annual Odell Parish Meeting held on Monday, 15th March 2010 7.30 p.m. in Odell Village Hall.
Present: Cllr. R. Halton [in the Chair]; Cllrs. B. Cheadle, P.Crotty, S. Robinson,A. Sharpe. Mr. N. Goodman [co-opted].
Borough Cllr. N. Charsley [part time]
In attendance: Mr. R. Hall [Member of the Public]
Chairman's Report 2009-2010
The Parish Councillors are myself, Mrs. Rachel Halton (currently Chairman), Mr. Brian Cheadle (Vice Chairman), Mrs. Amanda Sharpe, Mr. Paul Crotty, Mr Nick Goodman, Mr T. Freeman and Mr Steve Robinson. The Borough Councillor is Mr. Nick Charsley and our clerk is Mrs Mavis Knight.
I now propose to give a brief summary of our work during the past year. This will bring together the information given to you in the reports in the Parish Magazine throughout the year.
We received the resignation of Cllr Jonathan Harrison this year. He felt he was unable to give sufficient time to his role because of ongoing health problems. We thank him for all his hard work in the past. He was Chairman for many years and the village owes him a debt of gratitude for all his efforts on their behalf. We were pleased to welcome Mr Goodman to fill the vacancy. I am pleased to say that Odell Parish Council now has its own website odell.bedsparishes.gov.uk. It lists details of our meetings, the minutes, and since the beginning of last year details of planning applications and their outcome. It gives links to other useful information and will continue to be developed over the coming months.
Village Hall
During the last year the council has been very busy behind the scenes carrying out the work that the generous grants from the landfill charitable trusts of Wren and Sita have enabled us to do. The disabled toilet project was started in July and despite many frustrations along the way we were in a position to have our official opening on March 3rd, when we were pleased to welcome the Mayor of Bedford. The upgrade of the windows, new insulation and new canopy for the Village Hall was started in September. The Village Hall Committee took the opportunity to install new lighting and heating. Both applications were conditional on the applicant raising 11% of the total cost of the project and we are grateful to the Rural Grants committee of Bedford Borough Council and the Pilgrim Trust for helping us raise this for our Wren bid and to theVillage Hall Committee for agreeing to fund the 11% needed for the Sita bid.
Our thanks are due to our clerk Mrs Mavis Knight for all her hard work in preparing these bids and the applications to the planning department and her ongoing clerical support during the project.
Our thanks are extended to Mr Bridgeman for upgrading the current disabled access. This has made wheelchair access to the Village Hall so much easier and safer. We made the final payment for the car park and it is now the property of the Parish Council.
It is not our intention to go ahead with the disabled access to the rear and side of the building at present as the planning authority is insisting that a new replacement play area is put in place first and change of use of the land concerned is applied for before work can start.
A site for a play area has been identified in the Harrrold and Odell Country Park. We were fortunate to secure a grant from the Playbuilder project of 35 thousand pounds. At the present time play providers are being identified and when a specific plan is available the children and residents of Odell will have an opportunity to comment. Unfortunately some Odell parishioners have objected to the siting of the new proposed play area but there appears to be no suitable alternative space.
Highways
Cllr. Crotty continues to undertake the duty of Parish Liaison Officer with the Borough Council's Highways representative. Meetings have been undertaken in order that problems can be discussed and resolved, but we are disappointed that all the work promised is not being carried out. This year's work has included some patching of the road surface where necessary but little else. We were however pleased to see that repairs were made to the crumbling edge in Horsefair lane and the footpath in the centre of the village. The Highway's Partnership Scheme was not continued despite promises that it would be. We continue to report the flooding problem outside 198 High Street in Little Odell and the additional problem that is occurring outside 220 High Street Little Odell to Bedford Borough Council Highways Department but have had no resolution as yet.
We are investigating the possibility of having the speed reduced to 30 miles per hour between the village of Odell and Little Odell, but yet again we were informed that due to a lack of funds the relevant surveys could not be undertaken and the project would be deferred till the next financial year.
Cllrs Robinson and Crotty undertook training on the mobile Speed Indicator Device and Cllrs Crotty and Sharpe undertook three sessions using it. Their findings indicated that the key times for motorists failing to obey the speed limits are at school times.
The light outside the Old School House, which was demolished in an accident 2 years ago, was at last reconnected, thanks to our clerk Mrs Mavis Knight for her perseverance.
We have noted and reported the lack of gritting over the prolonged wintry conditions..
Village matters
Having investigated the options for grass cutting we are staying with our existing contractor but may use other contractors for specific jobs.
Work started on the long awaited repair to the Odell bridges, however due to unforeseen problems we are still awaiting its completion. Work is not expected to recommence till April due to the condition of the ground and the continuing bad weather.
The grazing at the Parish fields has been let to a new tenant. We investigated the possibility of providing allotments for villagers to rent in this area. However our research showed that the cost of work to upgrade the area to be suitable for this was not within our budget.
Yet again we are indebted to the Swift family for the Christmas lights that give a festive atmosphere to the village.
It was decided to support the Odell Luncheon Club with a donation of £300 as Councillors considered this a worthwhile community project.
Warmingtons, on behalf of the owners, have put forward two pockets of land within Odell to be included in Bedford Borough Council Allocation and Designation plan. At the present time the plan has not been issued for consultation.
Planning
Various planning applications have been discussed over the year and the decision of the Parish Council reported back to the B.B.C. planning department. Nuon had submitted a new application for the wind turbines at Podington and this went to a public enquiry. We have just heard that the Appeal against the original Bedford Borough Council decision has been dismissed. We have also been consulted on the Nun Wood development, but this has yet to come before Council.
Councillors undertake various duties and attend meetings throughout the year on behalf of the Parish Council and I thank them all. Cllr. Halton continues to liaise with the Harrold and Odell Country Park management and Cllr Crotty liaises with the Highway's Dept.
This time last year we were wondering what changes would occur on becoming part of a unitary authority. It has not been easy and although there have been some improvements we have been disappointed at the lack of communication with many of the new departments. We hope that these are teething problems. We will however continue to do our best for the parishioners of Odell.
This concludes the Chairman's Report for 2009-2010. Many thanks
Apologies for absence received from Cllr. T. Freeman
Co-option of New Councillor
Mr. N. Goodman was welcomed to the meeting and signed the Declaration of Acceptance of Office.
Minutes of last meeting
The Minutes of the meeting held on 18th January were approved and duly signed as a true record of the proceedings.
Matters arising:
Playbuilder Project: The Chairman updated the meeting on the progress of this project; she had attended a meeting in Bedford with the leaders of the project where proposals from several play providers were presented. It was decided not to position the play area near the dyke for safety reasons, and to keep the height of all equipment under 4 metres. Seating areas were removed from the proposals as these were a cause for local concern but we had little influence over which contractor was eventually chosen. The proposal now tabled indicates what can be provided within the relatively small sum [for a play scheme] of £35,000 but within this limit we have tried to both provide what the children were asking for as well as addressing some of the concerns of residents. We have been given an extremely tight timescale in which to complete this project, due entirely to the inability of Bedford Borough Council to get to grips with it when it was first introduced. The Borough admits it dragged its heels for 4 months, blaming generally the change to Unitary authority; the end result is that unless the projects can be completed within the original timescales given to local councils, the money could be withdrawn so we have no choice but to go along at this pressured pace to ensure our play scheme's installation. No reminder is needed that the play area is a planning condition that must be fulfilled before we can even think of constructing the external disabled access at the village hall.
To enable the required public consultation to take place, the village hall will be open on Saturday morning, 20th March from 9.30 – 11 am when the Chairman will be available to oversee the viewing of the plans and answer any questions from residents. A note has been prepared for delivery to all households and councillors are asked to assist with the delivery of these in their particular areas. For residents who cannot get to the village hall, all councillors have a copy of the proposals. The latest update on this follows in italics...
Consultation over new play area
At the Parish Council meeting on 15th March, a plan for a proposed play area at the bottom of Horsefair Lane, just inside the Country Park, was considered. The provision of a new playground is a requirement imposed by the Borough Council as part of the Parish's ongoing effort to develop a disabled access at the village hall. Concerns already raised by residents were thoroughly discussed. The Parish Council wants to keep the area of development to a minimum and take account of residents wishes but needs to fulfil the requirements of the Borough Council. We have been assured by the park ranger that there will be minimal effect on the local ecology and any problems arising from parking will be dealt with on an ongoing basis; extra signage is being considered by the highways department of Bedford Borough Council.
Concern was raised about the limited time given to the Parish Council to consult with residents over the proposal. Letters were hand delivered by councillors inviting parishioners to see the plans on Saturday 20th March at the village hall. We appreciate that this was short notice for those who may have weekend commitments, but the Council had no choice, given the schedule dictated by the Borough. Councillor Halton met some 22 residents from all corners of the village, some of whom took the opportunity to raise other matters during their visit. People seem generally pleased with the play proposals although some concerns remain over parking. The Council will continue to work for the best interests of the village as a whole and try and ensure everyone's concerns are addressed.
Village Hall Update
'Official Opening' Report: The event went very well and our grant supporters were well represented. About 90 people attended the fish and chip lunch, to which most of our guests stayed, and the elderly ex-residents who were invited to this lunch remarked on the great improvement the new facility and hall upgrade had made. A few of the many photographs taken of the event by Barry Halton are on the Parish Council's website.

Groundwork/fencing: At present the exterior is cordoned off with the contractor's fencing, but this cannot remain indefinitely. The Chairman said a decision must be made on how to proceed – whether a minimum of work is carried out while we try to fund raise again, or the area is more permanently upgraded and we look at the possibility of using the path at the front as the access point. The possible actions were discussed including hiring a Surveyor. The Clerk was asked to contact Cllr. Freeman to see if he can advise on the options before the next meeting. If access via the front path is possible and viable, the Parish Council would then engage a Surveyor to prepare a detailed plan. In any event, the area must be made safe and usable in the near future.
Highways
Cllr. Crotty said there were two major areas of concern – drainage and the state of the roads. He and the Highways representative have walked the ground several times and agreed what needs to be done, but budgetary constraints have meant that much of the work has not been carried out. Cllr. Crotty has been assured that we are at the top of the list as soon as funds are released. With regard to the drainage problems, Cllrs. Crotty and Cheadle met with Martin Freeman from Amey to view the problem areas; the meeting was at a useful time as the water table was high and the flooding quite evident. Although there was a week or so of considerable activity, including an Anglian Water workforce, no resolution to the problems appear to have been made and it is believed the root of the main problem near the bend in the High Street has not been sourced although there may be a spring causing the major flood. There has been no sign of activity outside no. 220 and although a promise was made of a plan of action from Amey, this has not yet been forthcoming. The water has dried up and until further heavy rain ensues, it will not be possible to determine if any rectification work has been successful.
Cllr. Crotty was in receipt of a Highways Satisfaction Survey which was completed by councillors at this point.
Bedford Borough Matters
Borough Cllr. Charsley referred to the Ward Fund of which a request for £450 for the Luncheon Club has been submitted. The remaining £450 is available to the Parish Council now or can be deferred and added to Odell's allocation of the next financial year's Fund, which he expects to be somewhat less than this year. With regard to the Rural Grants dispensed by the Borough, and which have been greatly beneficial to Odell over the last few years, Cllr. Charsley stated there is a suggestion that the handling of these grants may be passed over to a third party partner.
Planning: An application was tabled for the erection of a flagpole at Harrold/Odell Country Park; no objection to this.
Harrold/Odell Country Park
Cllr. Halton gave an update; the annual application for the Green Flag award has been submitted. A few small structures have been installed for young children – these include a very small [up to 3 years] climbing frame. Work is continuing on vegetation clearance and this is revealing a number of new species of plants.
Finance
The bi-monthly cumulative account statement was tabled and any questions relating to it answered by the Clerk. The Clerk reminded councillors of the requirement to review annually the adequacy and effectiveness of its internal audit procedures, which were once again considered and approved as satisfactory.
Parish Council Policies
Councillors were given copies of a draft set of Standing Orders and a Risk Assessment; the latter is a statutory requirement that Parish Councils have to undertake and Minute annually. The Standing Orders are basically the rules by which the Council operates, and the Clerk has been unable to determine that any have ever been in existence. Councillors were asked to study these and bring any comments to the next meeting.
Correspondence and requests
None received this month; however the Clerk said she was asked by one of the principal guests at our recent Launch to highlight the use of the Villager bus. As a volunteer driver of this for several years, the guest commented that over time the use by villages had changed quite significantly, and he was somewhat dismayed to note that Odell residents were the lowest users of the service on any route. He asked if this could be publicised as obviously "if you don't use it, you lose it". Cllr. Robinson volunteered to produce a report on The Villager for publication.
Specifically for the business of the meeting
The Chairman said that Mr. R. Hall [who had attended but left the meeting] was being kept informed of the progress on the bridges. All planning permissions are now in place for the project and work will re-commence as soon as the weather allows.

Cllr. Crotty asked if some form of traffic calming could be considered for the bottom of the hill leading from The Bell up to the church. Lorries appeared to be hitting the kerbstones at the bend and breaking them up, and if something could be done to slow them at this point it would be helpful. It was suggested that Cllr. Crotty should discuss this with the Highways representative.

Cllr. Cheadle reported on the recent Transport Workshop which he attended. This was a consultative meeting and considered the subsidies paid to the bus company in respect of rural routes.
Currently the Harrold route is proving the most expensive in the area and consideration is being given to ways in which the costs might be reduced. The Borough has many minibuses at their disposal which are available at certain times of the day, and they are looking to see if there is any way these could be put to use to cut the current costs; whatever happens, Cllr. Cheadle believes it is inevitable that buses on this route will be lost.

Cllr. Cheadle also attended the Police Action Group meeting held at Sharnbrook. This was a follow up meeting where they were discussing the results of their "5 A Day" action plan. Burglary was at the top of the list, followed by speeding; there will be more speed checks carried out.

Borough Cllr. Charsley stated that in the near future a consultation process is to be held to discuss school transport, with a view to identifying routes which are now considered safe for children to walk to school. It appears the criteria for deciding on whether or not a route is 'safe' has changed – hence the proposed review.
Date of next meeting
The Annual General Meeting of Odell Parish Council will be held on Monday, 17th May commencing at 7.30 p.m.

There being no other business, the meeting closed at 10 pm.
Parish Council Celebrates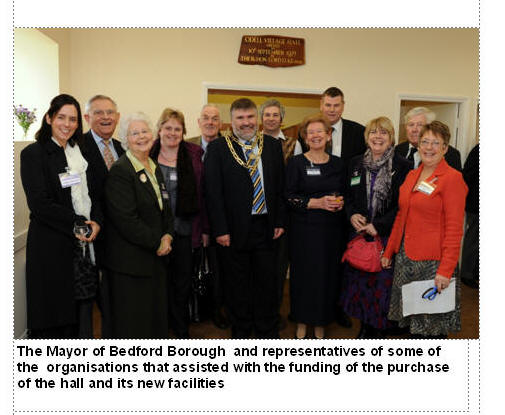 The Parish Council were delighted to welcome the Mayor of Bedford Borough and other guests to help them celebrate the end of the four year project to purchase and upgrade the facilities of Odell Village Hall.
Chair of Odell Parish Council Cllr Rachel Halton took the opportunity to thank the sponsors, some of whom were represented, who had made it all possible. She expressed thanks to Bedford Borough Council for their generous grant from the Bedford Borough Council Rural Grant Committee, which allowed the purchase of the Hall.
She continued by thanking WREN - who awarded a generous grant to have the disabled facility built - and SITA - for another splendid grant which enabled the internal improvements
Neither of these grants would have been possible if third party funding hadn't been obtained. Appreciation was expressed to these other donors for their financial contributions. They include our own Village Hall Committee - who have fully supported us throughout the last four years and have carried out a very successful programme of fund-raising events.
- The Bedford Charities
- The Ibbett Trust
- The Horace Gale Trust
- The Major Simon Whitbread Charitable Trust
- Several other donors who wish to remain anonymous.
-And not least - the continuing support of Bedford Borough Council.
Special thanks were extended to her fellow councillors, in particular Councillor Brian Cheadle and the clerk to the Parish Council Mrs Mavis Knight, who have both done so much to support this venture. The Parish Council would like to thank the ladies of the Senior Citizens Luncheon Club for all the help they extended to make this such a successful event.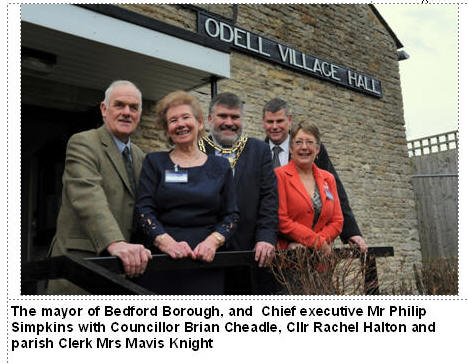 Rachel Halton Chair Odell Parish Council
Odell Senior Citizens Luncheon Club
The annual Senior Citizens' Fish and Chip Lunch took place on Wednesday 3rd March at the Village Hall. The lunch is not only open to present senior citizens of Odell but also ex-senior citizens.
This year the guests were joined by the Mayor of Bedford Borough who was joining Odell Parish Council in their celebration of the end of this stage of the Village Hall refurbishment
The lunch gives a valuable opportunity to catch up with old friends and reminisce about past times and bring them up to date with life at present.
The hall was alive with the sound of voices and the occasion was enjoyed by all.
Thanks must be extended to the ladies of the committee who work so hard to make it happen.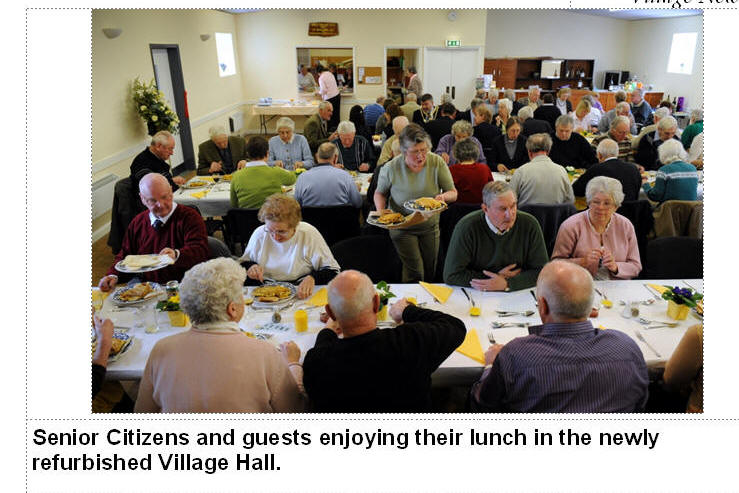 Harrold-Odell Country Park
Carlton Road, Harrold, Bedford MK43 7DS
Email: hocp@bedscc.gov.uk Website: www.hocp.net
Tel: 01234 720016
Events in the Country Park during April
Easter Egg Quiz Trail. Friday 2nd (Good Friday)
Times: 10.30am -12.30; 1.30pm-3.30pm. Free to enter.
Sponsored by Tesco. Collect a quiz sheet, follow the trail around the big lake and look for the clues. Fill in your answers and all correct entries will receive an Easter Egg. Participants must book. Only 25 places in the morning & 25 in the afternoon. Please call: 01234 720016 or e-mail janet.munro@bedford.gov.uk to register
Easter Colouring Competition: Saturday 3rd – Saturday 10th (Runs all week)
Collect a picture, colour it in and write your name, age and telephone number on the back. Give it in at the park office. All winners will be notified during the week after the closing date and their pictures displayed in the cafe annexe.
Easter Egg Decorating with Jean: Easter Monday April 5th
Time: 1pm – 4pm
Decorate your own Egg. Come and choose your own hard boiled egg and decorate it any way you like to take home 1pm - 4pm or while stocks last.
Fire and Rescue Day: Sunday 11th April
Time: 11am or 12 – to be confirmed
Come and see how the Fire Brigade rescue people trapped in their cars: a demonstration by Harrold Fire Brigade.
Meadows Children's Centre Buggy Walk: Friday April 23rd
Time: - 10.30am More Information Soon
Health Walks
Dates: Thursday 1st ,15th & 29th April 10.30am
Health walks are being run fortnightly on Thursdays in each month. Meet at 10.30am at the Visitor Centre.
You can book beforehand or simply meet on the day.
Friends Groups Conservation Day: Monday 26th April 10am - Come and join in with practical work to enhance the park for wildlife and visitors.
Janet Munro, Assistant Ranger
Village Hall
Book your table now for the ever –popular Village Hall Quiz
Date: 24th April.
Time: 7:30 for 8:00pm
Tickets: £2.50 per person - Contact: Rob, tel. - 720730-to book a table, (6 per table).
BLOT, Nun Wood Wind Farm Action Group
You might be forgiven for thinking that this wind farm had gone away. Unfortunately it has just gone quiet because the planners, amongst other things, asked for proper wildlife surveys which take nearly a year to do. However, they have now had time to complete those surveys and we suspect that Npower were waiting for the outcome of the Podington appeal. Now that appeal has been dismissed it is likely that Nun Wood will start up again.
One thing that is clear is that the decision on the application will not be made until after the general election. That could prove important for us because the Conservative policies relating to onshore wind farms are far more people-friendly. They are to allow planning authorities to designate where wind farms should be, to reduce the level of subsidies for onshore wind farms and to require that projects should have genuine community involvement rather than the phoney "consultation" that developers currently carry out before ploughing ahead with the maximum profit design that they had intended to use all along.
Further afield, the Petsoe End wind farm is now under construction, the Burton Wold Extension seems to be moving slowly forwards and the New Albion wind farm near Rushton was approved by Kettering in January. In Bedfordshire there is an application for 12 turbines at Biggleswade and a single turbine at Marston. In Northamptonshire there are four other wind farm applications awaiting a decision and at least six in the wings. The Stoke Goldington site with 18 turbines is the only one that I am aware of in Buckinghamshire. This all means that Nun Wood is no longer important to achieve targets – weakening Npower's hand.
Another important recent event was our second ASA ruling against Npower's latest edition of Wind Power News. Npower were found to have breached the rules on truthfulness and substantiation. This was more than a point scored against Npower – it shows that their only attempt at "consultation" with us over this application was misleading. As repeat offenders at Nun Wood, the ruling was deemed worthy of a news item on BBC East.
The mood for onshore wind is changing. With Denmark not getting carbon savings despite having 19% of their electricity from wind and Spain having to import more gas to support wind in their grid, the case for wind is falling apart. When you add to that the fact that the planning system is drowning in planning applications and the big power companies are overwhelmed by farmers wanting to get their share of the gold rush by hosting a wind farm, the current situation is close to breaking point. If we can hold out long enough we can win!
You still need to object
If you have not already done so, it is important that you object. The easiest way is to go to our website and click on Nun Wood – How to Object and fill out the forms that will send an email to each of the three planning authorities.
Alternatively, you can write to all three planning authorities quoting the appropriate planning reference and either post it to them or send it by email. Don't forget to include your name and address as well as the planning reference numbers. The details for each of the three local authorities are:
Mr W Campbell, Planning Applications Office, Town Hall, St. Paul's Square, Bedford MK40 1SJ Email: WCampbell@bedford.gov.uk Planning ref: 09/00137/MAF
Mr M Kilpin, Principal Development Control Officer, Council Offices, Swanspool House, Wellingborough, NN8 1BP Email:
MKilpin@wellingborough.gov.uk Planning ref: WP/2008/0603/FEIA
Mr A Mills, Development Control Environment, PO Box No 125, Civic Offices, 1 Saxon Gate East, Central Milton Keynes, MK9 3ZJ Email: alan.mills@milton-keynes.gov.uk Planning ref: 08/02118/FULEIS/AM
Please register with us. If you have not already done so, please register with us. The more members that we have, the greater weight is given to our input. Also, if this application is withdrawn, we will be able to alert you to any future application. The easiest way to register is to use the web site. If we have your e-mail address we can also send you our eNewsletters to keep you up to date with any developments. Brian Skittrall www.bozeatwindfarm.org.uk
(We are interested to hear any other points of view on this subject, Ed).
The Mill Theatre, Sharnbrook
Man of La Mancha
Friday 14th – Saturday 22nd May 7.4 5 p m
Powerful, moving, captivating theatre A musical within a play….
The author Cervantes, imprisoned by the Spanish Inquisition, defends himself before a self-appointed prisoners' court by presenting the tale of Don Quixote, a dying old man whose 'Impossible Dream' takes over his mind ….
The songs will live in your thoughts and soul;
Don Quixote's Dream will become your dream, his adventures your adventures …
Tickets will be available from about 5 weeks before opening night at:
Sharnbrook Post Office (in person)
or Bedford Central Box Office 269519*
NB Advance Tickets for Alan Ayckbourn's comedy 'Round and Round the Garden' 21 – 25 Sept, will be available, only at the theatre, during the interval of the above.
Diary

March Holy Week Services

29th 8.00pm Pieces of Silver - St.Peter's Church, Harrold

30th 8.00pm A Bottle of Perfume – All Saints' Church, Odell

31st 8.00pm The Cock Crows – St.Mary's Church, Carlton

April

1st 10.30am HOCP Health Walk

1st 6.30pm Agape Supper, Harrold United Reform Church

2nd 10.30, 1.30 Easter Egg Quiz Trail HOCP

2nd 2.00pm Service of meditation, All Saints' Church

3rd 10.00am Decorating All Saints' Church for Easter

3rd – 10th Easter Colouring Competition HOCP

4th 10.00am Easter Day Holy Communion for all ages, All Saints'

5th 1.00pm Easter egg decorating, HOCP

11th tbc Fire and rescue demonstration HOCP

13th 7.30pm W.I. Village Hall

14th 10.30am Meeting Point at Doris's, Goodly Heritage, Pavenham

15th 10.30am HOCP Health Walk

16th 8.00pm Sharnbrook Wildlife Trust, Methodist Church

17th 9.45am Amblers meet at The Bell

23rd 10.30am Buggy walk, HOCP

24th 7.30pm Quiz at Village Hall

26th 10.00am HOCP Conservation Tasks day

27th 10.30am Meeting point at Eileen Shakespeare's, Rushden

28th 8.00pm Annual Parochial Church Meeting and Parishioners' Meeting, All Saints' Church

29th 10.30am HOCP Health Walk

Magazine Deadline

Please send all entries for the May 2010 magazine to Tricia Hudson (mag1 at odellbeds.net) or Catherine Corkery by April 12th at the latest. May we remind you that the editorial team exercises the right to edit, shorten or alter any items that are submitted. Also, the opinions expressed in the articles are those of the contributors and are not the responsibility of the editorial team.

Alex Stubbs Flooring

Carpets, Vinyls, Laminates, Safety Flooring, Adaptions, Refits, Repairs

Supplied and Fitted

07976 260572

01234 240954

Do you look after someone who is frail, ill or disabled?...

...that makes you a carer.

For information, support and advice you can now ring the Bedfordshire Carers Helpline: 0300 0123435

Great local pubs

<![if !vml]>
<![endif]>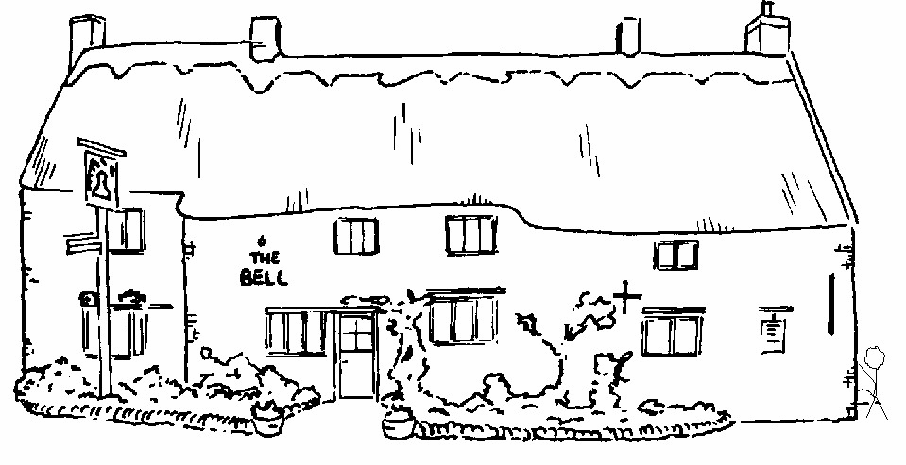 The Bell in Odell
As Featured in the 2010 Good Beer Guide
With the relaxed charm of a village local and a varied menu of
quality, home-cooked food you won't find any gimmicks here
just a Great British Pub!
Abbot Ale, IPA & Changing Seasonal & Guest Ales
Live Trad Jazz first Wednesday night of the month
Telephone 01234 720254
---
Last revised: April 02, 2010.