ODELL VILLAGE NEWS
March 2000
Round and About
I had intended to write about the sun and the stars this month – but it was raining outside! The more I tried to concentrate on the sun the more aware I became of the rain rattling against the window, driven on by the gale-force winds. It had been raining the day before and the forecast for the next day was for more of the same. The English, however, are renowned for coping with the weather – particularly when it is raining.
According to statistics it rains in England once in every three days in any one year, on average. Any nation that has to put up with weather conditions like this requires a remarkable tolerance for the wet.
As a nation we are a resilient lot. We are inured to our social events being rained on, but do we ever consider cancelling? Certainly not! What would a Bar-B-Q be if we did not have raindrops sizzling amongst the sausages? What kind of a picnic would it be if we did not have to run for shelter under the nearest tree just as the food had been laid out to its best advantage, and how could we really enjoy our village fete if we didn't have to squelch about in the mud, huddled beneath an umbrella?
Of course there are other countries across the world with a higher rainfall but we are considered to be a wet country and as a result our landscape is lush and green.
The English long ago accepted that rain plays an important part in our lives. There is nothing we can do to change it and so we are inclined to get on with our lives in spite of it. Visitors from overseas, however, cannot understand how, as a nation, we can keep so cheerful under our continually overcast skies. The Romans, for example, hated our weather and when writing home continually complained about the harsh conditions they endured in this savage land with its even more barbaric weather.
Our wet climate has probably gone a long way to shape the national character. Despite our best made plans we anticipate that heavy rain will do its best to wreck the event, but this does not stop us. No – we just make contingency plans, which means that we are a resourceful race. Despite the pessimism of anticipating disaster surely we must be a race of optimists, refusing to be put off by a few reverses. No matter what the weather throws at us we shall still convince ourselves that the day was not ruined just because of a bit of rain.
Just think about those 'Concerts in the Park' with various celebrity singers, mostly held in the rain, with most of the audience happily wearing bin–bags for protection against the elements. Where else but in England would you find Cliff Richard giving an impromptu concert at a rain-soaked Wimbledon with the packed crowds enjoying every rain-soaked minute of it.
We seem to have an in-built instinct to rise above our climatic disasters and almost take a pride in it. Indeed it is probably the weather that gave the English their offbeat sense of humour. How can we possibly take ourselves seriously when the wind blows our umbrella inside-out, leaving us to get soaked to the skin, or some passing vehicle hits a puddle and hurls the displaced water all over us.
Should you find yourself suffering either of the above indignities please do try to bear in mind the line from the song:-
'On every life a little rain must fall sometime'.
Barbara Corley
Millennium Book of Odell
Realising that our book met the required qualifications for submitting an application for a Millennium Grant we hastily obtained the paperwork and sent off our application earlier in the year.
The Millennium Festival Awards Scheme have now announced their latest allocation and I am delighted to tell you that the Odell Book has received a full grant of £5,000 to cover the costs of printing and publication. This grant will now enable us to fulfil our wish to put one free copy of the History into every home in the parish. Anyone requiring additional copies, or who live outside the parish will, however, be requested to purchase.
Barbara Corley
W.I. News
Mr Hucket started his talk by telling us why and when he had become interested in English Porcelain and China. It began when he and his wife brought a platter to hold a large Christmas turkey from a white elephant stall, and grew till he was spending many a weekend trading at antique fairs around the country. He retired from this last year. He then gave us a short but interesting introduction to the history of English China and Porcelain from its beginnings, in the middle of the 18th century, which he followed with a slide show, which illustrated many of the points he had made.
Mr Hucket was an interesting and informative speaker, who told us a little about the pieces brought along by some of the members. He then judged our competition, which was won by Jenny.
Next Meeting: this will be on Tuesday 14th March in the Village Hall when our speaker will be Mr. P. Chubb with his talk entitled 'A Cook's Tour'. All welcome. If you are interested please ask any member or just turn up.
Competition: Home made biscuits.
Hostesses: Jill Cheadle and Valerie Streater.
Date for your diaries; On Tuesday April 11th Odell W.I. are holding a fashion show by 'Y' Fashions to which all are invited. It will take place at 7.30 in the Village Hall. Cost: £3.00 to include a glass of wine and nibbles.
Rachel Halton 720572
Odell Village Hall

Burns Night Supper

Saturday January 29th.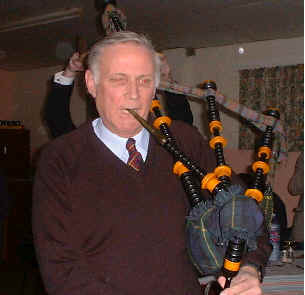 Once again the Burns Night Supper in Odell Village Hall was an event not to be missed – and once again the event was a sell-out!
The evening's celebrations were launched to a rousing start by Martin Cameron as he 'piped in' the haggis. Martin then delighted us all with his heart stopping rendering of 'To a Haggis' by the great bard, followed by snippets from several other favourite Robbie Burns poems. We were transported to wild heather-clad moors and peat bogs as Martin created for us pictures of Burns' life in all its harshness. Having paid our respects to both poet and haggis we launched into a hearty meal of haggis (with a vegetarian version for the squeamish!), bashed neaps and tatties followed by apple pie and the traditional dram of whisky.
An excellent address was given by Bob Shearer, Master of Ceremonies, which was expertly countered by Debbie Gould on behalf of all the lassies, then it was time to push back the tables and strike up the fiddles. Enlivened by the whisky we danced reels and jigs until the early hours of the morning, led by our patient caller Liz Dodwell and accompanied by the 'Hudson Clan Band'.
A most enjoyable evening was spent by all, and such was the enthusiasm of the dancers, band, cooks and hosts alike that Odell could have been a wee village in the heart of Bonnie Scotland, keeping out the cruel cold of winter by the warmth of its celebrations.
Thank you to everyone involved in the cooking, music-making, serving, washing-up, bar duties, cleaning and organising – a great job was done by all!
Click here for more pictures of Burns night
Forthcoming events:
Saturday March 4th Quiz Night.
Teams of up to 6 members at £2 per member (children's teams - £1 per member). Book your place now! Contact Sue Knowles 721332, Pat Asbery 720594 or Rob Lee 720730.
Coming up in April – an evening of folk music and song. Watch this space!
Odell Parish Council
Parish Council Meeting 18th Jan 2000
Mrs Mavis Knight has been appointed Clerk.

We have deferred signing the Lease of the Playground for 2 reasons:
1.It was only for 2 Years
2.We need to know the wishes of the people of Odell concerning the Playground. Do we wish to retain it? I hope you will make your feelings known.
We decided to approach the Beds County Council to see if we could lease a plot of land at the western end of Horsefair Lane. It lies between the lane and Tom Hudson's barn. The purpose of this is to see if it might be possible to re-site the Playground there.

Millennium mugs are still available at £2.00 each. See me or
Mr Robert Lee, Parish Councillor.
Bedford Borough Council want to award certificates for young persons doing voluntary work. Anyone wishing to be so recognised should refer to Mrs Rachel Halton, Parish Councillor.

The Parish Council is again considering placing gates at either end of the Village in order to discourage speeding.

The new improved bus service was commended by a Parishioner present at the meeting. Attention is drawn to this improvement, in the hope that the bus service will be well used, lest the bus companies withdraw it for want of custom.

The Bedfordshire County Council drew our attention to their Highways partnership scheme, under which the sum of £1,500 had been allocated to Odell specifically for the purpose of improving the footways. It was decided therefore to request that the footway to the south of the High Street, and east of Church Lane should be repaired. This has now been done.

The attention of the Bedfordshire County Council Highways Dept has been drawn to the state of the road surfaces in Church Lane, outside the Bell PH, and on Hartles Hill. We are assured that these will be dealt with.
The next meeting is to be on March 21st (not March 20th as previously advertised) at 8 pm in the Village Hall. This will be the Annual Meeting, and everyone is invited.
Jonathan Harrison, Chairman
The Mill Theatre, Sharnbrook
Run For Your Wife Monday 6th - Saturday 11th March
"Multi-marriage, mugging, mix-up, mayhem – prepare to laugh 'till you ache!" This much acclaimed comedy in the tradition of the Whitehall farces stars Matthew Baker as John Smith – a London cabbie who intervenes in a mugging. In the ensuing investigation we discover that he has two wives…one in Streatham and one in Wimbledon! This leads to hilarious complications.
'Run For Your Wife' ran in the West End for about six years starring Richard Briers and Bernard Cribbins.
Tickets: Mon 6th, Tues 7th £6; Wed – Sat £7.
Tickets are available for all performances from one month before performance, from:
Bedford - Central Box Office, Harpur Suite - tel: 01234 269519
Wellingborough - The Castle Box Office - tel: 01933 270007
(Both of the above accept credit card bookings).
Sharnbrook -by returning your booking forms in person to The Village Trader, 28 High Street.
Group Sales - Alison Bean - tel: 01234 781372 - concessions for parties of 10 or more.
Enquiries/Mailing list 01234 782377
All performances start at 7.45pm. Seats can be reserved.
Friends of St. Mary's Stevington Theatre Group
Trips to the Royal Theatre, Northampton
These popular outings have been running for many years and are open to anybody. Please contact Helen or Richard Miller on (01234) 822475 or write to us at Church View, Church Rd., Stevington Beds MK43 7BQ for more details.
Dangerous Corner – book by 27th March
J.B.Priestley's thriller based on the idea that if it were possible to bypass that "dangerous corner" where unpleasant truths can be confronted or denied, which would we choose: the corner or the by-pass? An exciting and thought-provoking play.
We are going on 17th April.
Three Tall Women – book by 24th April
This play by Edward Albee charts how we change and become noticeably different people through the course of a lifetime. Albee makes no secret of the fact that the play is a reckoning with his own painful relationship with his adoptive mother. We see the mother at three different stages of her life. Her/our journey is vividly and wittily charted. This play is regarded by many as an even better play than 'Who's Afraid of Virginia Woolf?'.
We are going on the 15th May.
Recipe
March madness, the world marches on, 2000 has come and already seems as if it has half gone. After all the excitement, the preparations and the realisation that a new era had arrived I for one seem to have sunk back into normalcy, or at least this household's version of it. Perhaps it is time to get out the candles left over from Christmas, lay the table with starched napkins and treat yourselves with some good friends, pleasant conversation and a bottle of chilled white wine. If you are so inclined then perhaps this recipe for a smoked salmon and scallop starter will be of interest.
Mixed leaf Salad
Brown bread
Lemon
Butter
Pinch of Salt
White Wine
Smoked Salmon
Scallops
On each plate place a little mound of the mixed leaf salad and arrange as little or as much smoked salmon as you like, on and around the salad, carefully building the pile. Butter the brown bread edge and cut into triangles and place two or three pieces on each plate. Slice some lemon and cut each slice half through, so that you can garnish each plate with a twist. All the above can be done some time ahead and the plates covered with cling film and left in the refrigerator. When you are nearly ready to serve, melt a little butter into a pan or wok. Add the scallops, a pinch of salt and a generous dash of white wine. Use a high heat to quickly reduce the stock, turn the scallops gently and pile a few on each plate with a dribble of the stock. Serve immediately.
As you can see there are very few measurements as I feel that the amount of fish to salad ratio is very much down to personal taste. This recipe can also be used to make a light supper so the size of each portion would depend again on individual taste. Having said that when used as a starter I use about a quarter of a pound of scallops and about half a pound of salmon to serve four. Enjoy.
Mandy Sharpe
Home Watch
Be aware of crimes taking place in our area:
Pertenhall–Wymington-Sharnbrook-Blunham
Trend Padlocks cut on Workshops/ Large farm buildings.
When Night time.
What Gardening equipment stolen from one location. Quad bikes stolen from another.

Suspects 3 white males.

Extra info. Disturbed in a four door Vauxhall car.

Advice Get registered with Farm Watch for up to date bulletins. For details contact PC Martin Anstee at Riseley Police Station on 01234 275176 or 275177.

Code CIS 6/5 020200
Ring 275225

with any information no matter how small.

The Odell Website

We now have over 100 colour pictures of recent events in Odell on the website. Even if you don't have internet, tell any friends and relatives who do that they can see life in Odell on www.kbnet.co.uk/odell

The Odell website is on:

http://www.kbnet.co.uk/odell/ Jon Hudson, tel 721112, fax 721004

March Diary

1st 11.00am Slide Show Holy Land Acorn Library.

3rd 10.00am Women's World Day of Prayer URC Harrold.

4th 7.00pm Village Hall Quiz Night.

7th 11.00am Meeting Point Pancake Lunch, Jane Eshelby's,

Newton House, Newton Bromswold.
8th 11.00am Slide show Holy Land Acorn Library.

8th 8.00pm Lent Studies (Holy Communion).

14th 7.30pm WI Village Hall.

15th 8.00pm PCC Meeting Rectory.

15th 11.00am Slide Show Holy Land Acorn Library.
21st 8.00pm Parish Council AGM Village Hall.

22nd 10.30am Meeting Point, Jill Cheadle's, Rectory Farm.

22nd 11.00am Slide Show Holy Land Acorn Library.

22nd 8.00pm Lent Studies, Rectory.

25th 10.00am Journeying – Bromham Baptist Church.

25th CLOCKS FORWARD ONE HOUR

28th 8.00pm Deanery Service for Sick, URC Harrold.

29th 11.00am Slide Show Holy Land Acorn Library.

29th 8.00pm Lent Studies, Rectory.

April

5th 12.30 Lenten Frugal Lunch, Liz Dodwell's.

11th 7.30pm WI Fashion Show, Village Hall.

Magazine Deadline

Please send all entries for the April magazine to Tricia Hudson (triciahudson@kbnet.co.uk), Anne Turner, Mandy Sharpe or Catherine Corkery by March 12th at the latest. May we remind you that the editorial team exercises the right to edit, shorten or alter any items that are submitted. Also, the opinions expressed in the articles are those of the contributors and are not the responsibility of the editorial team.

Electronic mail address


triciahudson@kbnet.co.uk

FAX number
01234-721004

Back to the Odell Home Page
---
Last revised: February 27, 2000.