CHURCH NEWS - September 2009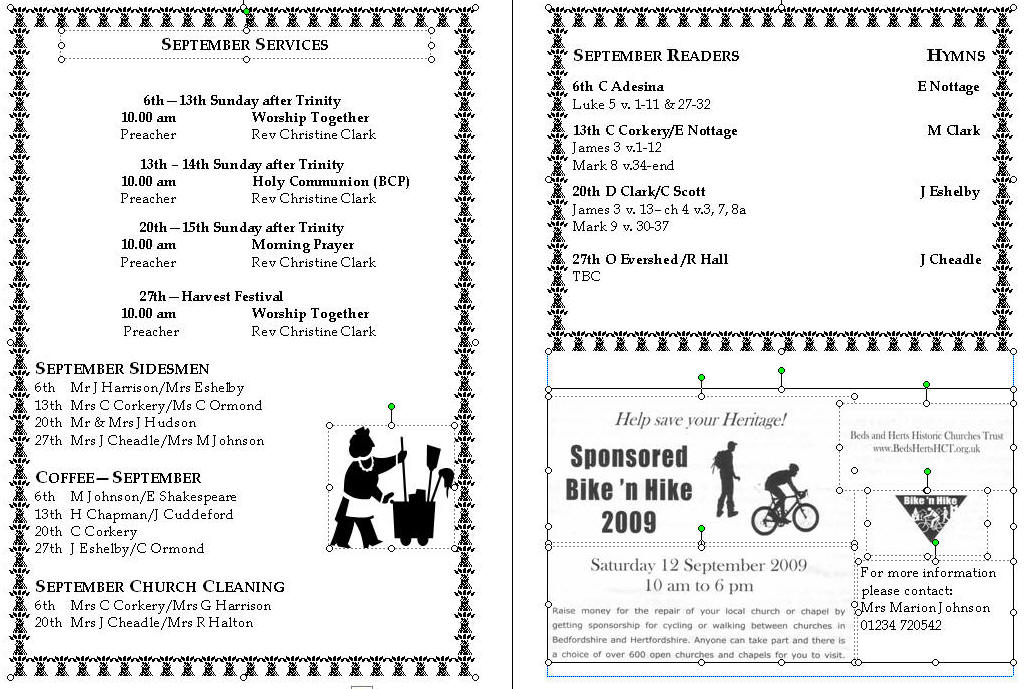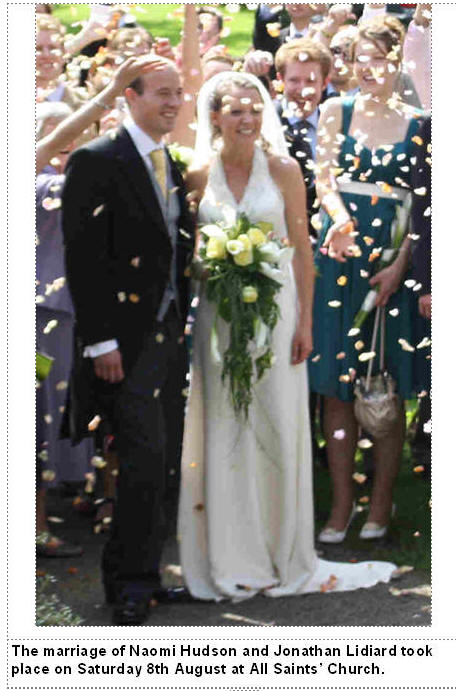 Photos courtesy Mel Scott see also http://www.odellbeds.net/c9jl.htm
September 2009
Dear Friends,
Did you see the skiers in Odell – in July … and the fisherman, and the karaoke singer? See also http://www.odellbeds.net/v9jl.htm
As dusk fell on Friday 10th, the population of the village mysteriously increased as new 'residents' in all sorts of guises began to appear. By morning many locals and visitors were our and about, marvelling at the inventiveness, humour and skill that produced around 40 scarecrows for our first Odell Open Weekend. It was a great response, and our thanks must go to the Village Hall Committee for coming up with the idea and arranging it – along with Barbara's Village Trail (did anyone manage to get all the answers?), cream teas, Pimm's etc. and the Saturday Bring & Share BBQ – very welcome after all the hard work!
In church - lots of people enjoyed tea and cakes, going up the tower, watching Nikki's flower demonstrations or just chilling out to the music provided by Toby Hudson on organ, the Wodehill Jazz Band and guest vocalists, and Pink Gin, an all-girl close-harmony group.
The VHC generously donated the majority of their takings to All Saints' Church, to help boost our 'loo fund' and we are deeply grateful to them, and to all of you who contributed to a very enjoyable weekend and a true community event.
Occasions such as these make us realise how blessed we are to live in a responsive and caring community, where people are quick to help one another out and there have been many evidences of that over the past year. Preparing for Harvest Thanksgiving is a good time to be thankful for our local community, but also to remember many other communities in other parts of the world who have to struggle just to try and exist from one day to the next.
The Bishop's Harvest Appeal this year is for 'Water Action', a Christian Aid partner, working to bring clean, piped water to small villages in Ethiopia. A regular water supply near at hand makes an immense difference to people's lives, especially the women, who otherwise have to make lengthy journeys every day to collect water where they can, very often unclean. The Harvest Supper – with a return performance by Pink Gin – will help to raise funds for Water Action, or you can make a donation direct by contacting Jill Cheadle (720261) or myself (720234).
We are also inviting you to support the Shoeboxes for Belarus again – see details elsewhere in the magazine. The simple contents in these boxes bring much pleasure to children in Belarus orphanages and hospitals who look forward to this annual treat. So plenty to think about and get involved in this month!
With love and prayers, Christine.
The Prayer Group
What is the Prayer Group? It is made up of members of All Saints' Church who undertake to pray regularly, on an individual basis, for people who ask us for prayer support.
Who do we pray for? Anyone whom we are asked to remember; these might be people from our church, from our local community or others known to us.
What do we pray about? Anything which you would like brought before God; maybe anxiety due to illness, stress or loneliness. You can also tell us of a special day you wish to be remembered – perhaps for an interview or an exam. Any information will be treated in strictest confidence.
How can you let us know if you would like us to pray for you? You can either telephone Christine (720234), or drop a note through the Rectory door, or complete a card (anonymously if you wish) and place it in a box kept near the church door. Prayer requests will be collected from the box each Sunday morning after the 10.00am service.
Christine
Pilgrims
Are you someone who:
enjoys a good discussion with others?
· has questions about faith you've always wanted to ask?
would welcome the opportunity to do so outside of a church setting?
Pilgrims - an informal, relaxed group that meets fortnightly to explore issues of faith together restarts on Monday Sept. 14th More details from Christine on 720234.
Did you miss…
the talented all-girl close harmony group
*** Pink Gin ***
when they sang at the Open Weekend in July?
You have another chance to hear them at this year's Harvest Supper
in the Village Hall from 7pm Saturday 26th September
Tickets £2.50 each (no charge for school-age children)
available from Nikki Freeman (720893) or Jill Cheadle (720261). Please bring a dish of something to share, either sweet or savoury, & let Nikki or Jill know what it will be.
- Licensed Bar -
Collection for the Bishop's Harvest Appeal 'Water Action' bringing clean piped water to villages in Ethiopia
Update on the All Saints Tea-Point & Toilet Project
We've had a fantastic response to our Appeal so far, and are very grateful to so many of you for your support in this venture. Here's a short summary of how we're doing since the launch of the Appeal just over 4 months ago:
Donations & pledges to date £10,420.00
Gift-aid tax recovered £1,600.00
Grants awarded so far £10,500.00
Fundraising so far (approx) 4,000.00
(profits from the August Art Exhibition yet to be added in)
Decisions are awaited on grant applications already made (£20,000) and further grant applications are in the pipeline.
Further donations are always welcome, and if you are a UK tax-payer and wish to donate, please ask us for a gift-aid form as this increases the value of your gift by 20%.
Christine Clark
Odell Fete
After various expenses, the profit from the Odell Fete and Dog Show this year was £3,191.36. £1,600 has been allocated to the Tea-Point and Toilet Fund and the remainder to the General Fund to pay for ongoing repairs and maintenance of the church building.
AMBLERS – if you would enjoy a walk in the country followed by a pub lunch, do join us on our next walk on Saturday 19th September – meet at 9.45am outside The Bell.
THE ODELL RECIPE BOOK – have you got your copy?
If not, you can buy it from any church member, The Bell pub or Tea-Zels Café in the Country Park - price £6.00.
Swine 'Flu – drivers needed to deliver drugs!
Volunteers are required for a temporary home delivery service for antiviral drugs to people in the Bedford area who do not have 'flu friends' able to collect on their behalf. There will be no contact with any symptomatic patients and mileage will be recompensed. If you can drive, have a driving licence, MOT, insurance, breakdown cover and a mobile 'phone and you would like to help by being included on a call-out rota, please e-mail emergency@centralbedfordshire.gov.uk
Left in Church after the Open Weekend – a brown walking stick. If you think it may be yours, please contact Christine on 720234.
Christian Aid Collection Results
The total raised for Christian Aid during Christian Aid Week, 10th – 16th May, was £371.94. The money will go to support the essential work done by Christian Aid in helping poor communities, and also that done by over 600 partner organisations around the world. Thank you to all who donated.
Ken Shellard
Many of you will have heard the sad news that Ken Shellard, formerly of 97 High Street Odell, passed away on 19th August at 'The Willows' Nursing Home, Bedford. As he requested, a funeral service will take place in All Saints' Church - on Wednesday 16th September at 11.00am.
Eden: A Place in the Heart
The Eden Project is a development of the most wonderful landscape seen anywhere. It is owned by the Eden Trust, a registered charity (Bodelva, St Austell, Cornwall PL24 2SG). It was created in 1999. The land where the Visitors' Centre now stands slid like a giant blancmange into the bottom of a pit. In little over three weeks 43 million gallons of water poured in and brought the team to the verge of total despair. They cannot tell you how proud they were to roll up their sleeves and pitch in: they would not admit defeat because they believed that what they were doing was important. The object of the exercise was to create, understand and celebrate the world we live in, and also inspire us to action.
Eden isn't so much a destination but a place in the heart. It is also a statement of our passionate belief in an optimistic future for Mankind. The scale of the ambition is moving, the beauty is awe-striking. It has a highly entertaining approach and is different from anything you could ever imagine and gives an insight into the world in which we live.
I can recommend it; it is well worth a visit.
Afterword: I noticed in 'Bedford on Sunday' last week that it has just been bought by a new company – long may they prosper.
Visit www.edenproject.com Sarah Bennett
Odell Monday Club
for children aged 5-8 years old
New term starting on
Monday September 7th
5.30 - 6.30pm
at The Rectory, 3, Church Lane, Odell.
Games, Activities, Crafts, Bible stories, Music, Drama
Encouraging children to think about the world they live in,
their contribution to it and where faith fits in - while having fun!
For an application form contact Christine Clark Tel: 720234, or
Carol Ormond Tel: 720409.
Meeting Point
September
9th 10.30am at Catherine's, Manor Cottage, Harrold.
Our Giving in September is to St Dunstan's
St Dunstan's is a UK charity which provides specialist training and assistance to enable blind ex-service men and women regain independence and optimism. As a 'lifelong partner', the charity teaches new skills, helps with housing problems and benefit claims, creates a thriving social and sporting network and gives the whole family all the support they need.
Thank you!
We would like to thank everyone who helped to make Naomi and Jonathan's wedding on 8th August so special, particularly Christine for the lovely service and Jill, Doreen and Margaret for their very beautiful flower arrangements. We were very touched by the many offers of help from people in the village and beyond – especially by the army of enthusiastic ladies from Felmersham who rallied round with support and great ideas! We were also overwhelmed by everyone's good wishes and by their willing help to make the church and marquee look so beautiful, adorned in yellow and white flowers. To top it all, after a week of rain it was a glorious summer's day! Amazing! Jon and Tricia Hudson
St. Mary's Church Carlton
Sunday 6th September
Concert in the Church 7.30pm
"Saxofunix"
A Saxophone Quartet with a lively programme of varied music
from jazz, well-known tunes to popular classics
Tickets £7 on the door
The Rev Douglas D F Smith ALCD,. B D (Lon).
1928 – 2009
Douglas Smith was born in Beckenham, Kent on the South East border of London. There as a child he came under the ministry of the Rev Guy King who was Vicar of Christ Church Beckenham and in particular the Sunday School. One of Douglas' favourite memories was the century he scored for the Sunday School as a teenager. Douglas was a very good bat. It is appropriate for clergy to play cricket according to the late Bishop J C Ryle of Liverpool. Ryle was one of the founders of the Inter Varsity fixture between Oxford and Cambridge. Ryle's opinion was that cricket built character.
It was not just cricket that influenced Douglas. He came under the convicting power of the Holy Spirit and was by God's grace converted and called to the ministry of the Church of England. He trained at the London College of Divinity where Archbishop Coggan was Principal. He served his curacy at Fulham where he met Molly and they were married. Further ministry followed in Manchester and then Church Brampton where ill health overtook him and forced him into early retirement. This finished his full time ministry but as health permitted he became a great helper and encourager of local Churches, both parish and independent.
This led him to Odell in 1998, where working with the Rev David Streater as minister in charge Douglas became Assistant Honorary Curate.
Increasing frailty led him to withdraw in 2003 but many of the congregation will remember both Douglas and Molly for their encouragement and help at this time. His final service was in September 2003 when Douglas celebrated fifty years in the ministry. The Rt Rev J B Taylor of St Albans had promised to attend but was prevented at the last minute, sending a message to be read in the service.
Our prayers go to Molly and the family and for those involved with gratitude for Douglas' unstinting help and service at Odell. We remember the words of the Saviour, ' I am the resurrection and the life says the Lord. He who believes in me will live even though he dies and whoever lives and believes in me will never die.' John 11, vv 25/6. Douglas is with the Lord whom he loved and served.
Senior Citizens' Autumn lunch.
Odell Senior Citizens Lunch Club invites you to the Autumn Lunch on
Wednesday October 14th
From 12.30 in Odell Village Hall
RSVP to Jill Cheadle - 720261 - by Sunday October 4th
All Saints' Flower Rota
6th Jeanette Roche
13th Sarah Bennett
20th Rachel Halton
26th Decorate church for Harvest Festival
Birthdays in September
Happy birthday to Christy Vyvyan who will be 10 on the 13th September.
And happy birthday to everyone with a birthday in September!
The wedding of Gillian and Gary.
The families of Gillian and Gary Clark would like to thank everyone who helped to make their wedding day the wonderful and enjoyable day it was. The whole of the village looked beautiful and the church was spectacular, adorned with country and hedgerow flowers. The bells rang out and glorious sunshine completed the perfect day. What a lovely beginning to married life. Thanks to all.
Diary
September
2nd Wodehill Jazz Band play at The Bell.
3rd 10.30am Health walk, HOCP
6th 2.30pm Cream teas and open tower, St Mary's, Carlton.
6th 7.30pm Saxophone concert, St Mary's, Carlton.
7th 5.30pm Odell Monday Club meets, The Rectory.
8th 7.30pm W.I. Village Hall.
9th 10.30am Meeting Point at Catherine's, Manor Cottage, Harrold.
12th 10am Bike 'n Hike.
14th 'Pilgrims' meet, The Rectory.
14th 7.30pm Parish Council Meeting, Village Hall.
16th 11.00am Ken Shellard's funeral at All Saint' Odell
17th 10.30am Health walk, HOCP.
18th 8pm Wildlife Trust, Sharnbrook Group, talk at Methodist Church.
19th 9.45am All Saints' Amblers meet at The Bell.
19th Viking Day, HOCP.
26th 7pm Harvest Supper in Village Hall.
28th 10.00am Conservation tasks, HOCP.
October
3rd 2pm W.I. Jumble Sale, Village Hall.
14th 12.30 Senior Citizens' Autumn Lunch, Village Hall.
Magazine Deadline
Please send all entries for the October 2009 magazine to Tricia Hudson (mag1@odellbeds.net) or Catherine Corkery by September 12th 2009 at the latest. May we remind you that the editorial team exercises the right to edit, shorten or alter any items that are submitted. Also, the opinions expressed in the articles are those of the contributors and are not the responsibility of the editorial team.
2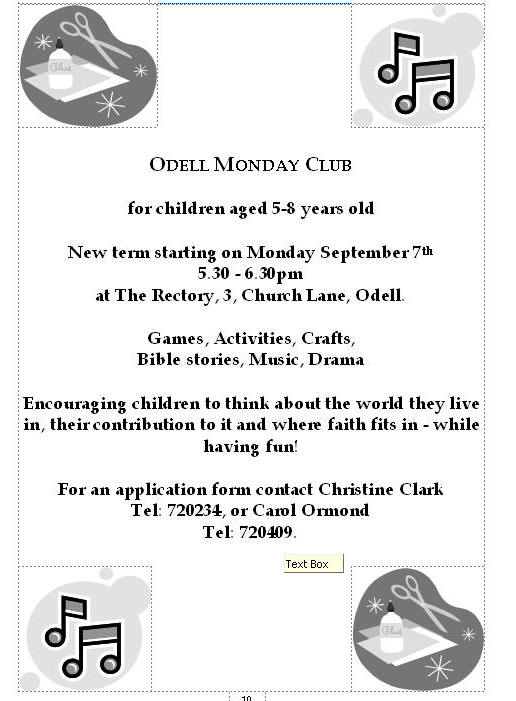 ---
Last revised: August 30, 2009.