CHURCH NEWS - March 2009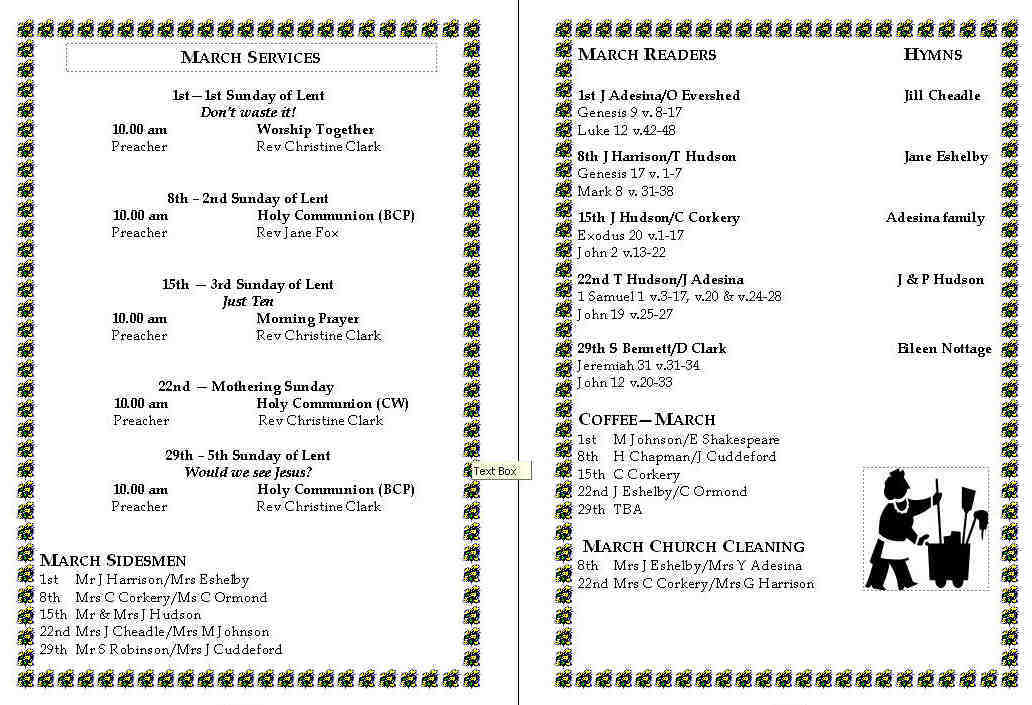 March 2009
Dear Friends,
On our way up to the Wirral to look after grandchildren in half term, we stopped at a service station for a quick coffee. As we were leaving, our attention was caught by a newspaper headline "Christian values seen as 'mad' says Sentamu."
In the article, Dr. John Sentamu, Archbishop of York, claimed that practising Christians are living a 'counter-cultural' life motivated by charity and compassion rather than the reckless pursuit of money. A recent report by The Children's Society found that many children suffer at the expense of their parents' over pre-occupation with their own agenda and personal ambitions. And as we're all painfully aware at the moment, the recession we now find ourselves in is due in most part to an excess of credit beyond our means, driven by ambition, greed and the desire for 'must-haves' beyond our parents' wildest dreams.
I don't believe the picture is as black and white as this – I come across many who would not reckon to be churchgoers who are living responsibly and who show practical concern for others. But I do think the traditional Christian values we hold dear have much to teach us as a nation, as a society and as individuals.
In the Christian year we are now observing the season of Lent – a time of self-denial and restraint. Is this just another 'mad' idea, pointless, outdated and irrelevant? Or does it offer a helpful and positive antidote to much of the prevailing culture of 'me first'? Dr Sentamu believes that as the shockwaves of the recession start to bite and affect us in different ways, it could lead us to re-discover what is important in life, giving us a fresh appreciation of what really matters to us. The Lenten discipline of fasting can also help us to see things in a clearer perspective. It's about so much more than just giving up biscuits or chocolate – it's about abstaining voluntarily from many of the unnecessary things we clutter our lives up with, making a space we don't normally have, which allows us to re-appraise what we really need to sustain our lives. It's about remembering, and identifying with, the hardship and suffering that Jesus willingly underwent in the wilderness, to strengthen his faith and trust in God. It's also about taking time to explore new opportunities to do something positive for others. (For more about this, visit www.livelent.net)
Is this all 'madness'? – or a valuable lesson that can enrich our lives and the lives of those around us? May each one of us re-discover in 2009 the blessings of a well-kept Lent.
With love and prayers,
Christine.
The Prayer Group
What is the Prayer Group? It is made up of members of All Saints' Church who undertake to pray regularly, on an individual basis, for people who ask us for prayer support.
Who do we pray for? Anyone whom we are asked to remember; these might be people from our church, from our local community or others known to us.
What will you pray about? Anything which you would like brought before God; maybe anxiety due to illness, stress or loneliness. You can also tell us of a special day you wish to be remembered – perhaps for an interview or an exam. Any information will be treated in strictest confidence.
How can I let you know if I would like you to pray for me? You can either telephone Christine (720234), or drop a note through the Rectory door, or complete a card (anonymously if you wish) and place it in a box kept near the church door. Prayer requests will be collected from the box each Sunday morning after the 10.00am service.
Our Giving in March is to 'Mission to Seafarers'.
Lent Groups
Subject: These Three… Faith, Hope and Love
Starting week of 2nd March 2009 for 5 weeks
Monday evening – 3 Copper Beeches, Emmaus
7.30 – 9.00pm
Host: Helen Jago
Leader: Garry Allan
Wednesday evening – 15 Beeby Way, Carlton
7.45 – 9.30pm
Hosts: Dean and Helen Marston
Leader: John Tusting
Thursday morning – 23 Pavenham Rd. Carlton
10.30 – noon
Host: Ann Molesworth
Leaders: Marge Bingham and Marjorie Coleman
Thursday afternoon – Honey House, 19 High St, Harrold
1.15 for 1.30 start – 3.00pm
Host: Laura Murdoch
Leader: Ruth Templeman
(Children welcome)
Meeting Point
March
Wed 11th 10.30am at Sarah's, 9 Horsefair Lane
Wed 25th 10.30am at Catherine's, Manor Cottage, Harrold.
April
Wed 8th 10.30am at Jill's, Rectory Farm, Odell.
All Saints' Amblers
Our February walk was cancelled owing to the very soggy conditions under foot after the great melt. But … step into Spring … and join us for a walk in the country followed by a pub lunch on Saturday March 21st. Meet outside The Bell at 9.45am - transport provided to start of walk if needed. Everyone welcome, including children and dogs on leads!
Discover and Enjoy the Power of God in Your life.
Power is something everyone seeks in one form or another. God has placed a desire within each of us to be powerful, but many who are not in a right relationship with God seek power in the wrong ways. They seek to have power over people, in the business world, in promotions and also in world affairs, even wars.
As Christians, we should seek the power that comes only from God. Christians generally don't think they should be powerful, and if they are weak minded they get a feeling of "I can't". Yet there is nothing too hard for a person with the power of the Holy Spirit in this life. Knowing who we are in Christ and recognising that you have God's power behind you helps you to get rid of this attitude of "I can't".
It is important that we make the right decisions, have a pure heart full of faith, trust in God and walk in love – always trying to help others develops character and virtue. The Beatitudes in Matthew 5, v.3-11 list Christian virtues that have a special blessing attached to them. The Bible teaches us that with these virtues in our lives we will be blessed. God left His peace with us to be powerful in our lives.
Sarah Bennett
Coffee Morning in aid of All Saints' Tea-point and Toilet Appeal.
A coffee morning will be held at Rectory Farm on Saturday 23rd May from 10.30am. Bedding plants will be on sale. All proceeds will go to the Tea-point and Toilet Appeal.
World Day of Prayer
(Interdenominational)
Harrold URC Chapel, Friday March 6th 10.00am
This service has been prepared by the Christian women of Papua New Guinea
In Christ There Are Many Members Yet One Body
Speaker – Revd Christine Clark
Over 3 million men, women and young people worldwide will be praying and worshipping together on Friday, March 6th. They will be using an order of service prepared by Christian women from Papua New Guinea.
96% of the 5.8 million of the population are Christians. Discovered by the Portuguese in the early 16th century, controlled by Australia at the end of World War I, Papua and New Guinea gained independence in 1975. Women were the root of society and backbone of stability and sustainability, but gender inequality is now of great concern for them, as they are given a low status in society, especially in rural villages.
However, a higher percentage of women are now employed in positions previously dominated by men.
The Women's World Day of Prayer meetings contribute to strengthening the dignity of women.
We look forward to seeing you at the Chapel to help us join in this worldwide day of prayer.
Tea-Point & Toilet Project
Applications for grant funding
The overall amount of money that we need to raise to connect to main drains/water and install our new disabled toilet and tea-point is around £65,000. So, with the help of others, we've spent much of these last few weeks gathering all sorts of information to enable us to complete various application forms. We have applied for grant funding to the St.Alban's Diocese, All Churches Trust, Wixamtree, Beds Borough Council and SITA, and a further application will be made to the National Churches Trust.
Going through this process has made us think hard about the church's role in the community and how we can improve and develop on what we offer. The PCC gave up half a day on Valentine's Day (Aaaah!) to pray, discuss and plan, and came up with some fresh ideas about what we can do to help make All Saints' Church more accessible and available to everyone. So watch out for announcements about this year's programme of activities and events. First off the blocks is ….
Café in the Tower over the Easter weekend – more details to follow in next month's magazine – but do make a note to drop by some time during the weekend to enjoy a selection of teas, coffee, hot chocolate, soft drinks – and delicious cakes!
(NB: We hope to have the 'Recipes from Odell' in print by then, so do keep those wonderful recipes rolling in please!)
Senior Citizens' Fish and Chip Lunch
The annual Senior Citizens Fish and Chip lunch will take place on
Wednesday 4th March
at 12.30 for 1.00pm
in the Village Hall.
Return visit of Ouse Valley Singers
Those who enjoyed the concert given by Ouse Valley Singers in 2007 will be pleased to know that they will be returning to All Saints' on the evening of May 16th next. Make a note in your diary and tell your friends about it. More details next month.
All Saints' Flower Rota, March
1st J Eshelby
8th J Roche
15th D Wheeler
22nd Mothering Sunday
29th E Shakespeare
Birthdays
Happy birthday to:
Liane Fulford, whose birthday is on the 4th and to everyone else with a birthday in March.
Baptism and Confirmation of Olivia Evershed.
Congratulations to Olivia Evershed who was both baptised and confirmed in the month of February.
Her baptism took place on 1st February, in All Saints' Church, Odell. Olivia, pictured below, was confirmed along with a number of others on 19th February by the Bishop of Bedford at Harrold URC.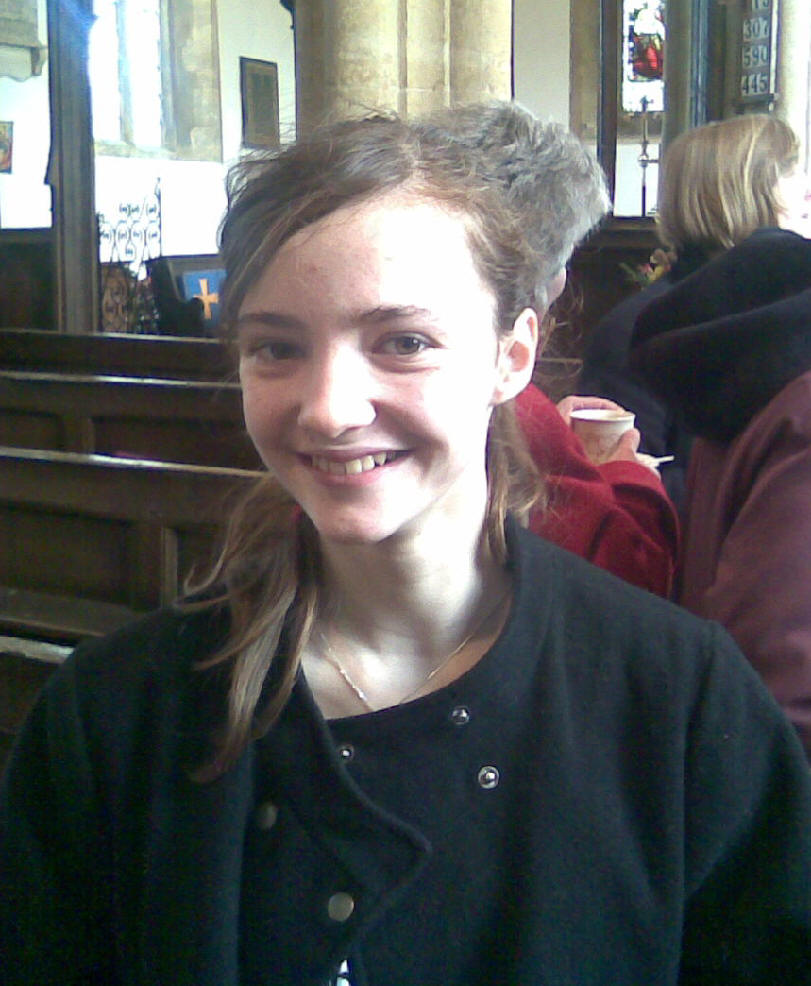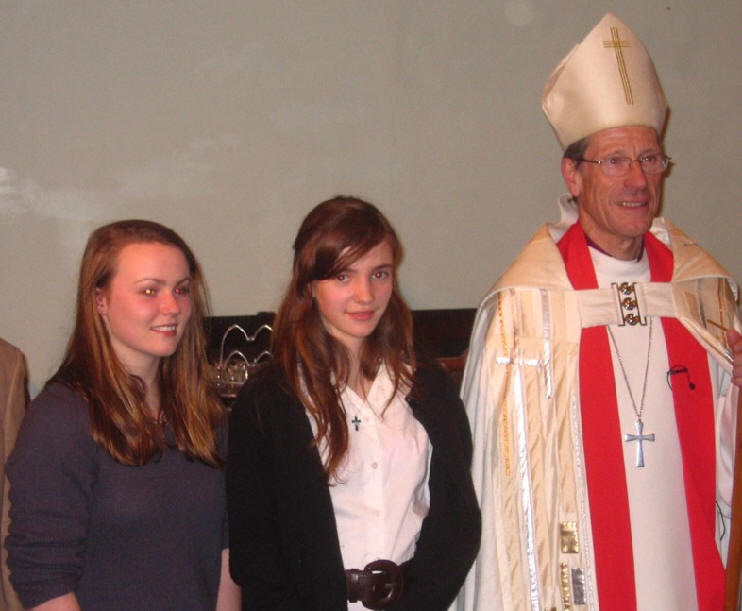 Oak for All Saints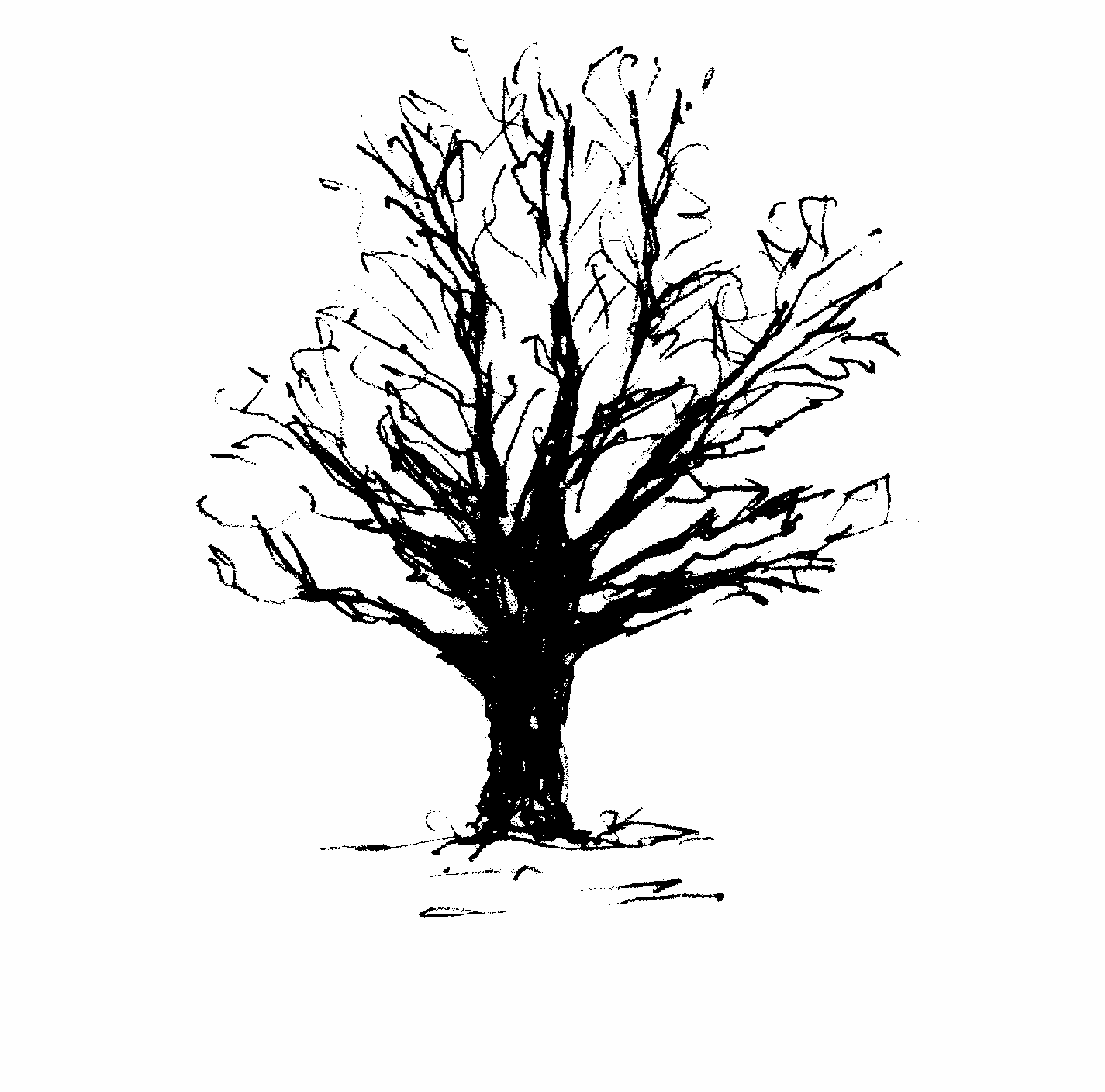 When Odell's wode-hill empty stood
Back in the mists of time,
Empty excepting for grasses and wood
A place to shoot and climb,
Did a feudal lord once stand
With his trusted man and serf
Surveying the plot where he had planned
To build there on the turf?
Stone from a local quarry he'd need
After he'd made his plan,
But oaks from his own estate would lead
To talks with his timber man.
Oaks that were old when he was a boy
And stood then in prime and glory,
Were measured and numbered for him to employ
As he started on Wodehill Church story.
After the trees were selected and chosen
Two-handled saws were all sharpened.
The sap must be down before felling begins
And winter skies may have been darkened.
Then the sharp axes with handles of ash
With their swinging and chopping, loud sounded,
A moment of silence before the great crash!
When each noble giant lay grounded.
The logs would be trimmed of their branches and tops,
Then left until frost made the ground strong
Enough for the horses and levers and props
To move the great oaks there before long.
The pole timber-waggon was made for such loads,
It was low, long and hand wrought from oak.
Its wheelwrights' great wheels were for where there's no roads
With strength in each ash shaven spoke.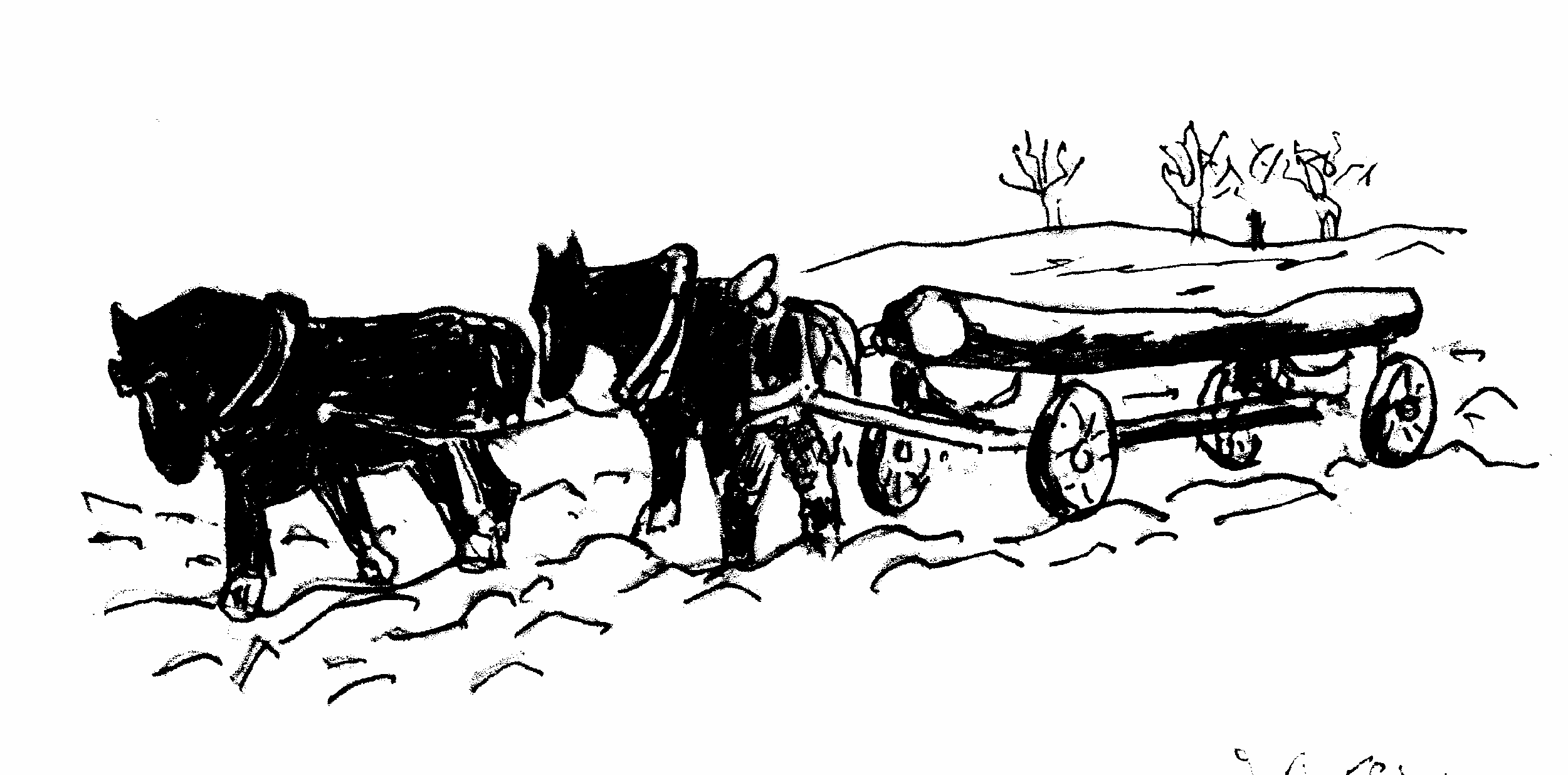 Using levers and tripods and pulleys and chain
The horsepower would get the log moving.
Slowly but surely they'd load it and strain
Every muscle and shoulder blade shoving.
Those powerful horses with huge feathered feet
Hauled the timber and cart to the sawpit,
Where men using ring-dogs now roll it to meet
The position the sawyers require it.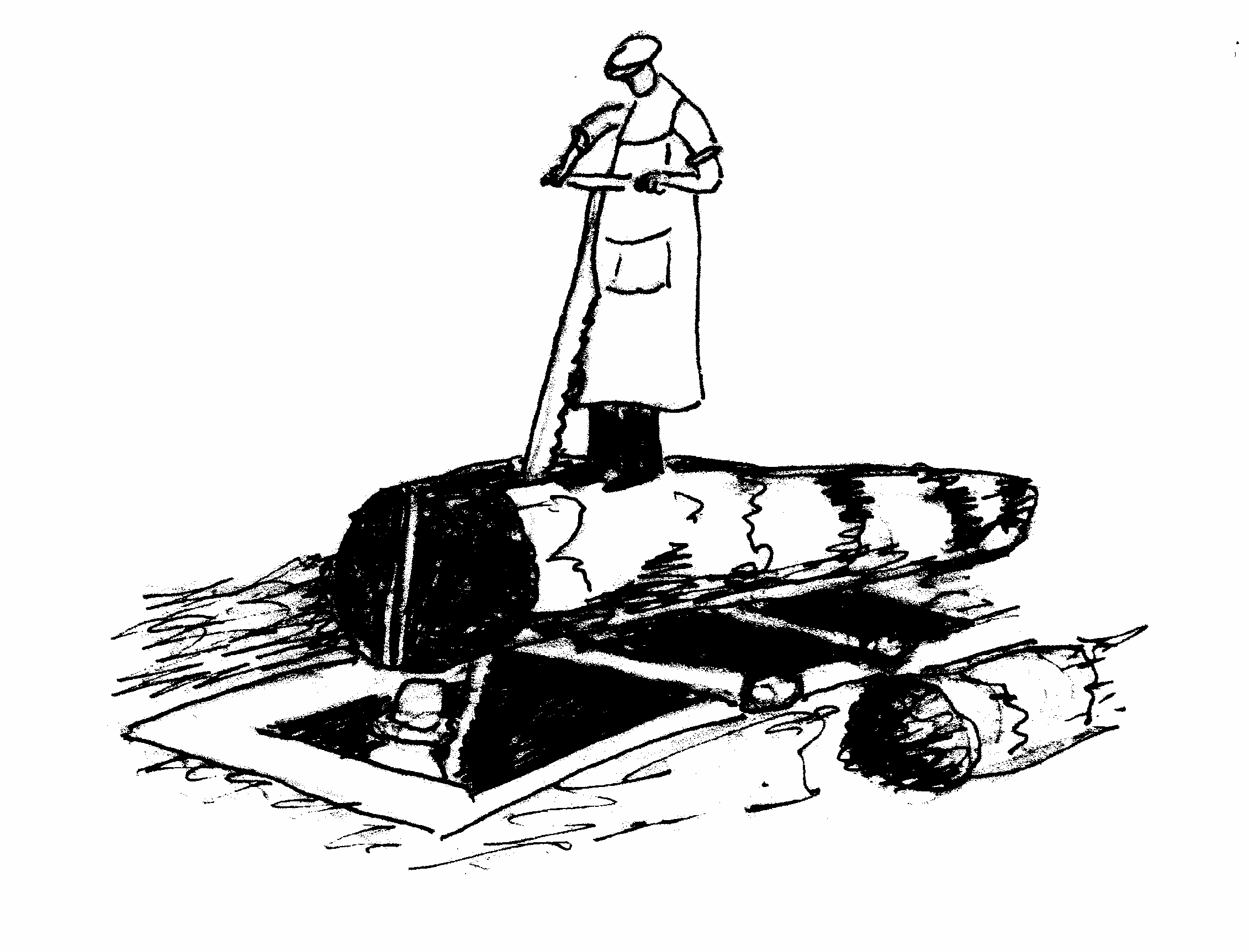 The two-handled pit-saw, the sawyers combine
Above and below start the cut.
The thrust of the saw follows on the chalk line
And skilfully they square up the butt.
The straight sided beams now need to be loaded
Again on those wagons with horses.
They'll drag and they'll pull and they'll snort and be goaded
Right up the hill where their course is.
With pillars and porch now the stonework awaits
For oak beams and lintels and cladding.
With ropes and with tapes the builders and mates
On their scaffolds are measuring and adding.
Then with levers and pulleys and clattering chain
The timbers are steadily raised.
The building that stands now beside our Church Lane
Was erected for God to be praised.
Remember today when the church you look round
Those men with their pole, perch and rod,
As well as the horses on difficult ground
Who toiled for this building, that God
Might be praised by the village in corporate prayer
In a place, using natural provisions and where,
Through their striving, their skills, their smiles and their tears,
It would stand here till now through those hundreds of years.
Roger Jackson
Diary
March
2nd 7.30pm Lent Group meet at 3 Copper Beeches, Emmaus.
4th 12.30 Senior Citizens' Fish and Chip lunch, Village Hall.
4th 7.30pm Wodehill Jazz Band at The Bell.
4th 7.45pm Lent Group meet at 15 Beeby Way, Carlton.
5th 10.30am Lent Group meet at 23 Pavenham Rd., Carlton.
5th 10.30am HOCP Health Walk.
5th 1.15pm Lent Group meet at 19 High St., Harrold.
6th 10.00am Women's World Day of Prayer, Harrold URC Chapel.
9th 7.30pm Lent Group meet at 3 Copper Beeches, Emmaus.
10th 7.30pm W.I., Village Hall.
11th 10.30am Meeting Point at Sarah's, 9 Horsefair Lane.
11th 7.45pm Lent Group meet at 15 Beeby Way, Carlton.
12th 10.30am Lent Group meet at 23 Pavenham Rd., Carlton.
12th 1.15pm Lent Group meet at 19 High St., Harrold.
14th 10.00am Willow weaving, Yelnow Farm.
16th 7.30pm Lent Group meet at 3 Copper Beeches, Emmaus.
18th 7.45pm Lent Group meet at 15 Beeby Way, Carlton.
19th 10.30am Lent Group meet at 23 Pavenham Rd., Carlton.
19th 10.30am HOCP Health Walk.
19th 1.15pm Lent Group meet at 19 High St., Harrold.
21st 9.45am All Saints' Amblers meet at The Bell.
21st Dr Busker, Village Hall.
23rd 7.30pm Lent Group meet at 3 Copper Beeches, Emmaus.
25th 10.30am Meeting Point at Catherine's, Manor Cottage, Harrold.
25th 7.45pm Lent Group meet at 15 Beeby Way, Carlton.
26th 10.30am Lent Group meet at 23 Pavenham Rd., Carlton.
26th 1.15pm Lent Group meet at 19 High St., Harrold.
30th 10.00am HOCP Conservation tasks.
30th 7.30pm Lent Group meet at 3 Copper Beeches, Emmaus.
April
1st 7.45pm Lent Group meet at 15 Beeby Way, Carlton.
2nd 10.30am Lent Group meet at 23 Pavenham Rd., Carlton.
2nd 1.15pm Lent Group meet at 19 High St., Harrold.
Magazine Deadline
Please send all entries for the April 2009 magazine to Tricia Hudson (mag1 at odellbeds.net) or Catherine Corkery by March 12th 2009 at the latest. May we remind you that the editorial team exercises the right to edit, shorten or alter any items that are submitted. Also, the opinions expressed in the articles are those of the contributors and are not the responsibility of the editorial team.
---
Last revised: February 28, 2009.