CHURCH NEWS - June 2009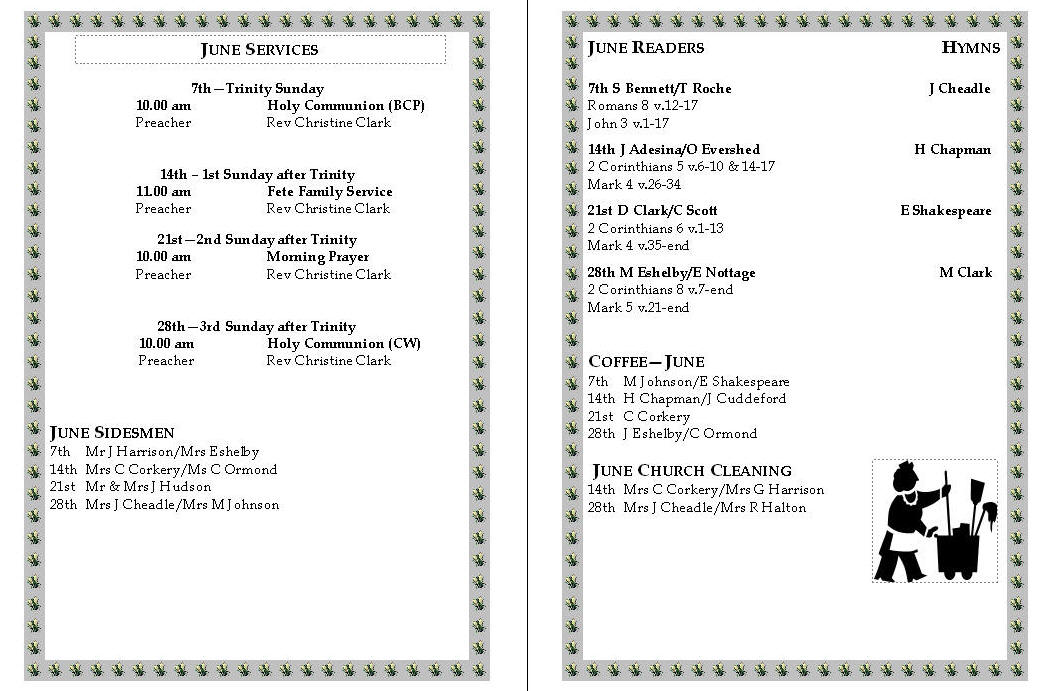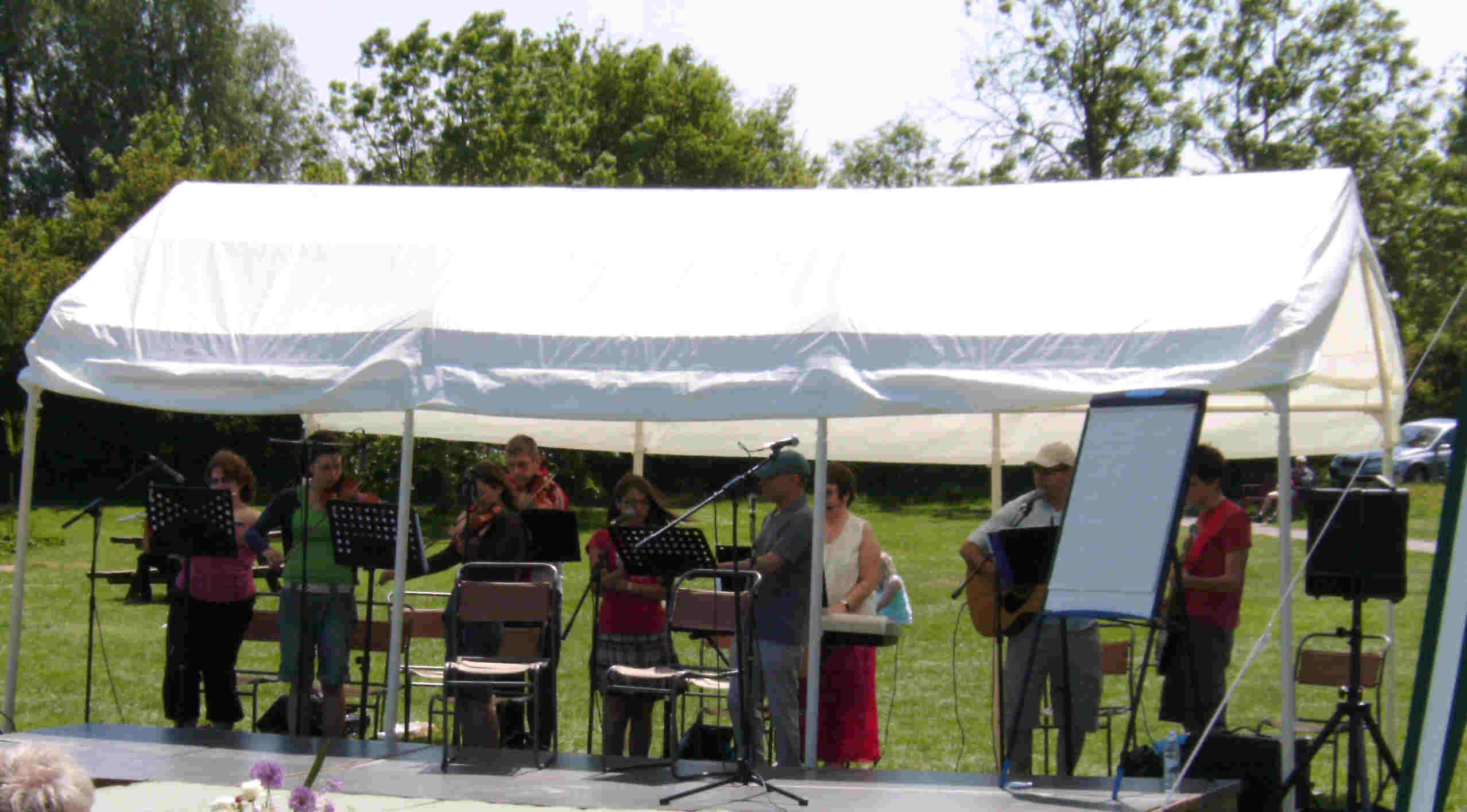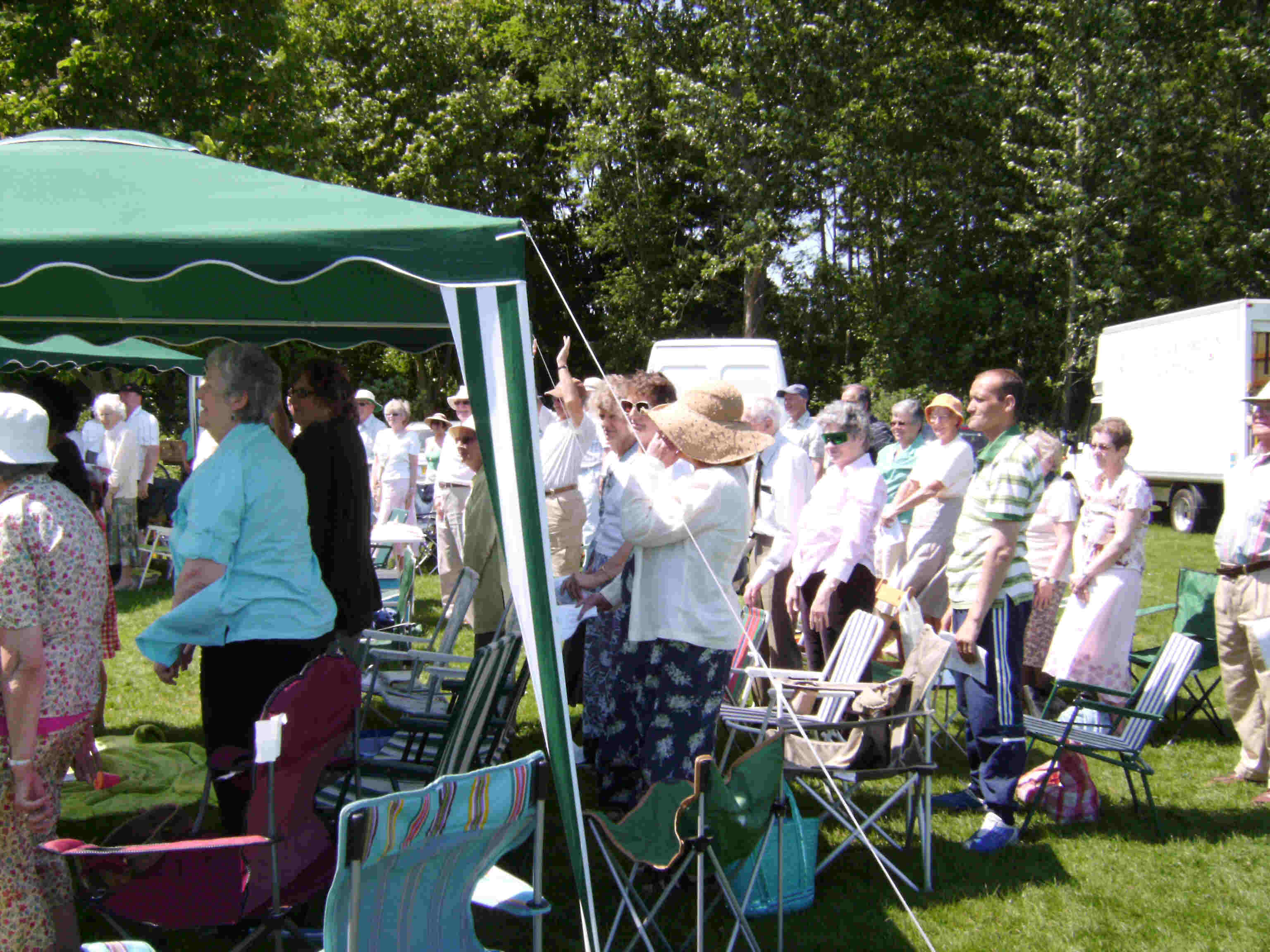 Above - Pentecost in the Park - May 31st 2009
Dear Friends,
The process of applying for grants to help fund our development project has deeply challenged us as a church. We quickly found that grants normally available to churches for restoration or repairs are not available to churches wanting to install such basic facilities as toilets and refreshment areas. To qualify for a grant, these projects have to show that they will benefit the community as a whole, and not just those who attend church on a Sunday.
This led us to some critical re-examination of the role of the church in the local community, and made us face the question – what are we doing to benefit the local community and how can we build upon and improve that?
In the Old Testament we read how the people God called to follow him were given special instructions on how they were to live, including a charge to care for their neighbour, irrespective of race, and to promote the well-being of the communities in which they lived. Jesus expanded our understanding of this in the Sermon on the Mount and in his parables, and the letters written by the apostles to the early church give plenty of practical examples.
The church is not here to serve its own ends, or just to attend to the needs of the worshipping community. Jesus taught explicitly that he came amongst us as one who serves, and that we are to follow his example, serving one another in humility and love.
Traditionally, the church has come alongside people as they mark the important occasions in their lives – times of birth, marriage and death. In the past churches were places of sanctuary and shelter, even civil defence – and always places of prayer, as countless generations have knelt before God seeking healing and wholeness for themselves, their local communities and the nation.
In our own day, All Saints' church continues this vital ministry, along with a variety of activities aimed at making the church more accessible to people, and improving our welcome and hospitality in Christ's name. We are deeply grateful to all of you who are sharing in this task with us, by donating to the building project, by your goodwill and practical support in so many ways.
May God bless each and every one of you, and this village community in which we live and serve.
With love and prayers,
Christine.
The Prayer Group
What is the Prayer Group? It is made up of members of All Saints' Church who undertake to pray regularly, on an individual basis, for people who ask us for prayer support.
Who do we pray for? Anyone whom we are asked to remember; these might be people from our church, from our local community or others known to us.
What do we pray about? Anything which you would like brought before God; maybe anxiety due to illness, stress or loneliness. You can also tell us of a special day you wish to be remembered – perhaps for an interview or an exam. Any information will be treated in strictest confidence.
How can you let us know if you would like us to pray for you? You can either telephone Christine (720234), or drop a note through the Rectory door, or complete a card (anonymously if you wish) and place it in a box kept near the church door. Prayer requests will be collected from the box each Sunday morning after the 10.00am service.
Christine
Tea-Point and Toilet Project
Donations have been steadily coming in during May. With amounts donated or promised, and the extra amount we can re-claim from the taxman through gift-aiding, we are now approaching around £9,000, a wonderful and encouraging start to our appeal – Thank You!
We have also received a further grant of £1,000 from the Gale Charity Trust. Our applications to Wixamtree and SITA trusts for grants are due to be considered in June, and we are exploring other possible avenues of grant funding.
Please see the notice about our half day of prayer and special gift day elsewhere in this issue of the magazine.
Christine
Amblers – if you would enjoy a walk in the country followed by a pub lunch, do join us on our next walk on Saturday 20th June – meet at 9.45am outside The Bell.
Adopt a Grave – thanks to all who regularly tend the graves in our lovely churchyard. There are still some old graves that have no one to tend them and which are sadly neglected. If you could spare an odd half hour every few weeks to care for one of these old graves, we would be most grateful. Contact Christine (Tel: 720234) or any church member.
THE ODELL RECIPE BOOK – have you got your copy?
If not, you can buy it from any church member, The Bell pub or Tea-Zels Café in the Country Park - price £6.00.
Errata! Please note on page 8, the quantities in Doreen Wheeler's Mushroom Soup should read ¾ lb mushrooms and ¾ pint of stock – please accept our apologies for the error.
Art and Craft Exhibition and Sale
All Saints' Church – 29th, 30th and 31st August
If you would like to exhibit and/or sell art, craft or photographic items please contact Catherine Corkery, (Tel: 720348, email: catherinelcorkery@yahoo.co.uk) for an application form. Entry fee £2 per item and 15% of any sale to go towards our Tea-Point and Toilet Project.
All Saints' Church
Special Services during June 2009
Thursday 4th June
The Church will be open for prayer from 4.00-9.00pm.
You are welcome to come and sit in church and use this time of prayer, with intervening periods of silence, as you wish.
Prayers will be led from the front at the following times:
4.00-4.30pm - Prayers of thanksgiving
5.00-5.10pm and for 10 minutes on each hour following, prayers for the church's future role and its continuing ministry in the local community.
8.30-9.00pm – Act of dedication and re-commitment
Sunday 7th June
Gift-Day for our Tea-Point and Toilet Project. You are invited to bring your gift to the 10.00am service, or if you prefer, in the afternoon between 2.00-6.00pm when someone will be available in church to receive it.
Sunday 14th June
11.00am Open-Air Service at the Fete Ground
Everyone welcome to this service for all ages, which will be followed by a Community BBQ from 12.30pm. Bring your own cutlery and plates.
Meeting Point
June
3rd 10.30am at Catherine's, Manor Cottage, Harrold.
17th 10.30am at Jill's, Rectory Farm, Odell.
July
1st 10.30am at Sarah's, 9 Horsefair Lane, Odell.
Pentecost
It is Pentecost, when the Holy Spirit refreshes and fills the heart with new love and inspiration which puts a whole different look on the face of things.
World chaos and catastrophes in recent months seem to be unending, also the dishonesty in the Houses of Parliament makes one realise what chaos the world is in.
At Pentecost God sent the Holy Spirit to dwell in us and direct the lives of human beings. Whatever our status in life is - whether lowly, mighty or powerful –the hunger for a Living Almighty God should be paramount.
To receive the Spirit we need to spend quality time with God, then we are equipped to carry away from His presence the answers needed by all of us.
This may seem a daunting aspiration on the face of it but if we are honest with ourselves we should realise the world-wide need is obvious and whether we like it or not we are all involved in this.Each individual may achieve this aspiration by grasping the full meaning of Pentecost – that is, the indwelling of the Holy Spirit.
We pray for those who risk their lives in helping others in the world's chaos. May we be richly blessed and encouraged to serve Our lord and be filled with the Holy Spirit.
Sarah Bennett
Odell Village Fete And Dog Show
SATURDAY 13th JUNE - 2 PM
(In the Scout field, Horsefair Lane, Odell)
ENTRY Adults £1.50, Children Free
Programme of Events
2.00 pm Grand Opening
2.00-4.00pm Dog Show
4.00pm Raffle Draw
ATTRACTIONS:
Festival of Flowers Boys Brigade Teas
Wode-Hill One-Steppers Jazz Band Children's Ice Creams Tombola Cakes Books Refreshments
Bottle Stall
Coconut Shy White Elephant Produce Gifts
Many Side Shows Raffle Dog Show
Family Dog Show
(entry fee - £1 per dog per class)
Classes:
1. Children's Handling (14 years and under)
2. Puppies under 1 year
3. Country Sporting Dog or Bitch
4. Best Rescue or Re-home Dog or Bitch
5. Best Conditions Dog or Bitch
6. Dog or Bitch with Most Appealing Eyes
7. Best Cross-bred Dog or Bitch
8. Most Handsome Dog
Prettiest Bitch
Festival Weekend Family Service Sunday June 14th
A family service will be held in the main tent at the fete field, at 11.00am on Sunday 14th June. This is always a special occasion in Odell, so do come and join in—everybody is welcome!
Following the family service there will be a Community Bar-be-que, from 12.30pm. Everyone is welcome, but please bring your own cutlery and plates!
Songs for a Summer Evening, Saturday May 16th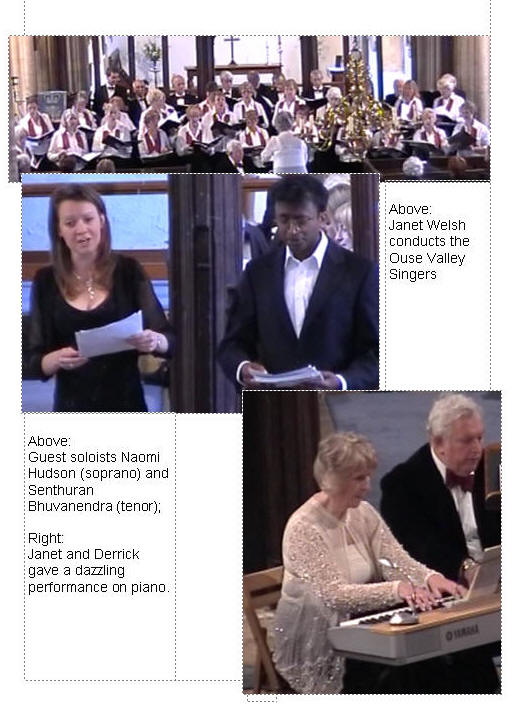 On Saturday 16th May an audience in All Saints' Church enjoyed a sparkling evening of song, performed by the Ouse Valley Singers, conducted by Janet Welsh and accompanied by Derrick Robinson on piano. The choir sang a range of songs, including a Zulu marching song, 'Can't Help Lovin' Dat Man ' from 'Showboat' and the more modern 'Fields of Gold'. Guest soloists Naomi Hudson (soprano) and Senthuran Bhuvanendra (tenor) delighted us with arias from the opera 'Don Giovanni' and two duets: 'Landliches Lied' by Schumann and 'Summer Afternoon' by Eric Coates. Derrick and Janet also brought variety to the evening with duets and solos on the piano.
During the interval delicious refreshments were served. The concert made £520, all of which the performers have generously donated to the Tea-Point and Toilet Project.
All Saints' Flower Rota
June
7th Jane Eshelby
14th Fete weekend
21st Tricia Hudson
28th Sarah Bennett
Birthdays in June
Happy birthday to:
Mia Vyvyan who will be 8 on the 2nd
Eleanor Robinson whose birthday is on the 17th and
Elliot Swift who will be 13 on the 19th
…and 'Happy Birthday' to everyone with a birthday in June!
Our Giving in June is to CPAS (Church Pastoral Aid Society).
The work of C.P.A.S. is to give aid to both churches and individuals in such wide-ranging areas as evangelising, training for clergy and laity, youth work, holiday activities for young people, provision of resources (books, courses etc.), working with older people and specialised ministry to both men and women. However, their primary goal is supporting the mission of the local church in taking the gospel to the poor. Please give generously to this worthwhile charity.
Diary
June
3rd 10.30am Meeting Point at Catherine's, Manor Cottage, Harrold.
3rd 7.30pm Wode-Hill Jazz Band at The Bell.
4th 4pm-9pm All Saints' Church open for prayer.
7th 11am-3pm Springwatch Activity Day
7th 2pm-6pm Gift Day for Tea-Point and Toilet Project (Church also open during morning service, 10-11am).
11th 10.30am HOCP health walk.
13th 2pm Odell Fete, Horsefair Lane.
14th 11am Open air service fete ground.
12.30pm Community BBQ.
17th 10.30am Meeting Point at Jill's, Rectory Farm.
17th 11am-3pm Local History Picnic HOCP
20th 9.45am All Saints' Amblers meet at The Bell.
25th 10.30am HOCP Health Walk.
29th 10am HOCP conservation tasks.
July
1st 10.30am Meeting Point at Sarah's.
11th Village and Church open weekend.
12th " " " " " "
14th 7.30pm W.I. in Rectory garden.
20th 7.30pm Odell Parish Council meeting, Village Hall.
Magazine Deadline
Please send all entries for the joint July/August 2009 magazine to Tricia Hudson (mag1 at odellbeds.net) or Catherine Corkery by June 12th 2009 at the latest. May we remind you that the editorial team exercises the right to edit, shorten or alter any items that are submitted. Also, the opinions expressed in the articles are those of the contributors and are not the responsibility of the editorial team.
---
Last revised: June 01, 2009.