CHURCH NEWS - April 2009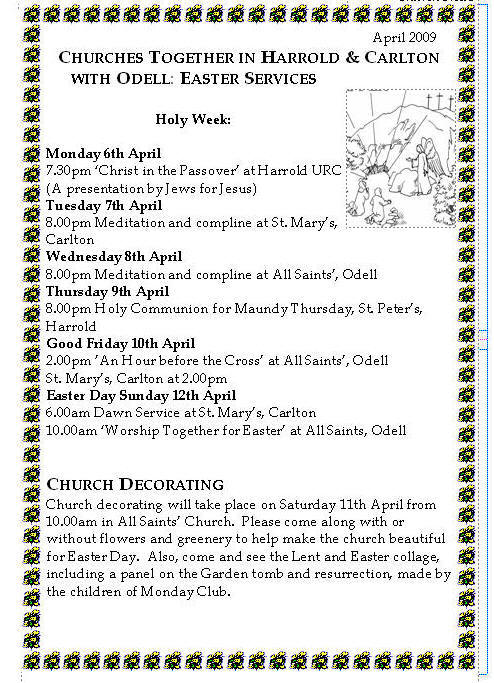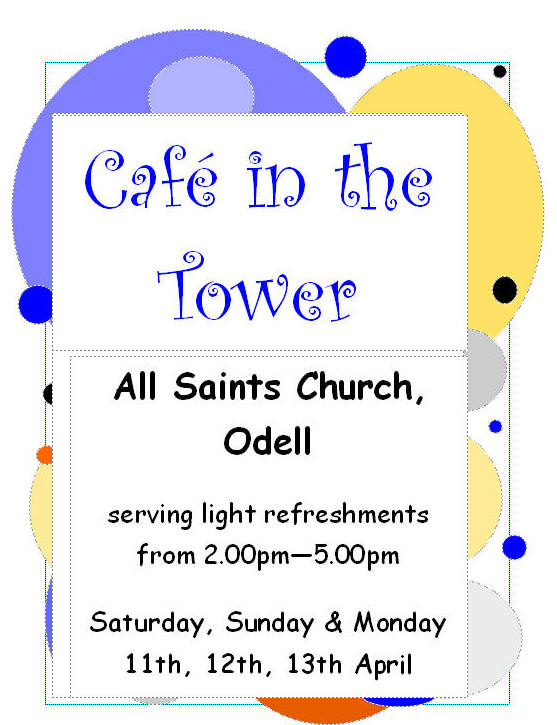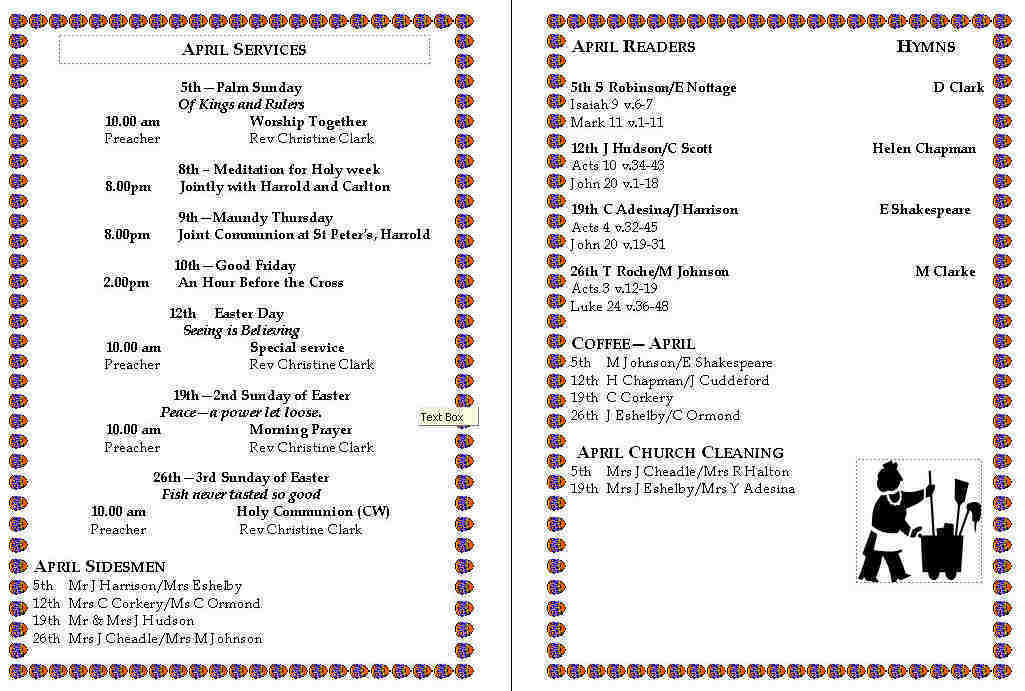 April 2009
The Rectory,
3 Church Lane,
Odell, Beds. MK43 7AA
Tel: 01234 720 234
e-mail: cmclark9@btconnect.com
Dear Friends,
All Saints Tea-Point & Toilet Project – Appeal for funds
If you have been to one of our services or events, it's quite likely you were offered a cup of tea or coffee at some point. What you may not have realised is that the church has no access to mains water or drains, so all our water, whether for refreshments or flower arrangements, has to be brought to church in containers – and any waste water taken away afterwards.
We should like to have more events such as concerts, art exhibitions, open weekends including tower trips, but the lack of basic facilities makes this difficult. It is embarrassing when visitors come from a distance for a wedding or funeral, and the only toilet we can offer them is up at the Rectory, at some distance from the church and with no wheelchair access. If we are to enhance our welcome to visitors, and explore ways in which our beautiful building can be made more accessible and used for a variety of events, we need to take action.
The new tea-point and disabled toilet will fit within an existing screened-off space inside the church – do let me know if you would like to see the plans. Because we have to connect to the mains the overall cost is likely to be around £68,000 – a huge sum for a small church to find! Applications for grants are being made to various trusts and we await the outcome. There will be a number of fund-raising events during the coming months (watch the parish magazine for details), but I am writing now to ask you to consider making a personal donation.
I firmly believe that All Saints church does not just belong to those who worship here on a Sunday, but to the local community as a whole. We want to offer a welcome and hospitality to all who visit for whatever reason, and we want to do so to the best of our ability, but we are a small rural congregation and we cannot do it alone. If you would like to help, please complete the reply slip below and return it to me with your donation, or, bring it along to church on Sunday 7th June, which we are marking as a gift day for our appeal.
With grateful thanks,
Christine
If you'd like to help than please send a cheque to All Saints Odell PCC, c/o Christine Clark, The Rectory, Odell Bedford, England UK MK43 7AA together with the following information
-----------------------------------------------------------------------------------------------------------------
To the Parochial Church Council of All Saints Church, Bedfordshire
I/We should like to support the proposed new Tea-Point and Toilet project, and enclose a gift
of £………… Name: Address:
If you would like Gift-Aid your donation, and will pay an amount of UK Income or Capital Gains Tax at least equal to the tax we reclaim on your donation in this tax year, please also sign below
Please treat my donation as a Gift Aid donation. Signed: ……………………………………
Easter Saturday 11th
Churches Together - Good Friday Holiday Club on Friday 10th April for children in Years 1-6 at Carlton Village Hall from 10.00am to 12.15. This is a fun-filled morning of crafts, stories, songs, and games, helping children prepare for Easter. Application forms from Christine (Tel: 720234) or e-mail cmclark9@btconnect.com.
The Prayer Group
What is the Prayer Group? It is made up of members of All Saints' Church who undertake to pray regularly, on an individual basis, for people who ask us for prayer support.
Who do we pray for? Anyone whom we are asked to remember; these might be people from our church, from our local community or others known to us.
What will you pray about? Anything which you would like brought before God; maybe anxiety due to illness, stress or loneliness. You can also tell us of a special day you wish to be remembered – perhaps for an interview or an exam. Any information will be treated in strictest confidence.
How can I let you know if I would like you to pray for me? You can either telephone Christine (720234), or drop a note through the Rectory door, or complete a card (anonymously if you wish) and place it in a box kept near the church door. Prayer requests will be collected from the box each Sunday morning after the 10.00am service.
A Meeting of Parishioners - to elect churchwardens, and the Annual Parochial Church Meeting to elect PCC members will take place in All Saints' Church at 8.00pm and 8.15pm consecutively on Thursday 2nd April. Everyone who resides in the village is welcome to attend.
Annual reports on the various activities of the church will be presented, along with the church accounts and an updated copy of the church electoral roll. Light refreshments will be served at the end of the meeting.
All Saints' Amblers
Eaten too many Easter Eggs? – work it off by joining us for a walk in the country followed by a pub lunch on Saturday April 18th. Meet outside The Bell at 9.45am - transport provided to start of walk if needed. Everyone welcome, including children and dogs on leads!
Adopt a Grave – thanks to all who regularly tend the graves in our lovely churchyard. There are still some old graves that have no one to tend them and which are sadly neglected. If you could spare an odd half hour every few weeks to care for one of these old graves, we would be most grateful. Contact Christine (Tel: 270234) or any church member.
Meeting Point
April
Wed 8th 10.30am at Jill's, Rectory Farm, Odell.
Wed 22nd 10.30am at Eileen Shakespeare's, 24 Church Hall Road, Rushden.
Prayer
Being in touch with God daily in prayer, believing He is in control and oversees and rules our lives, we know that all our human fragility, our feelings, our disappointments are His concern. He clearly cares for us deeply.
In days of deep despair where, humanly speaking, there is no way out, the outer man dies every day – but the inner man may be renewed every day through prayer. Prayer is a life-changing experience. To realise this we need only study The Bible – God's own written word.
To be able to join in Bible study meetings is so beneficial and is a great privilege in this fast-moving and changing world we live in. When I read of days fast approaching when we may be punished for proclaiming our faith, it was a huge awakening and truly hard to believe. However, in retrospect I believe we would do well to prepare ourselves for this now – and so be ready to stand firm in our belief when it is challenged.
God bless, Sarah Bennett
Odell Fete
Saturday June 13
th
2009
The theme this year is a' Fanfare of Flowers'. We are asking all those helping at the Fete to decorate stalls and side shows with flowers and there will be a winner for the best display. We would be delighted if any children or young people came to the fete dressed up as flowers; there will not be a competition for best outfit, but the fete would be very colourful!
Help will be needed to set up fete stalls on the afternoon of Friday 12Th June, and then dismantle everything after the fete has ended on Saturday 13th. Please come and join in.
Festival Weekend Family Service Sunday June 14th
11.00am in the Main Tent at the Fete Field
Everybody welcome
Fete Committee Painting Day
Painting of signs etc. for the fete will take place at Jim and Doreen Wheeler's, Linden House, High Street, Odell, on Monday 4th May from 10.00am.
There will be a lunch time bar-b-q for helpers – please let Doreen know (720358) if you wish to stay for this. Bring your own meat; salad and puddings will be provided
Coffee Morning in aid of All Saints' Tea-point and Toilet Appeal.
A coffee morning will be held at Rectory Farm on Saturday 23rd May from 10.30am. Bedding plants will be on sale. All proceeds will go to the Tea-point and Toilet Appeal.
All Saints' Flower Rota
April
5th Roberta Goodman
11th Decorate for Easter
18th All help to clear
26th Lynette Hall
Songs for a Summer Evening
at All Saints' Church, Odell
Saturday May 16
th
at 7.30pm
An evening of light music will be presented by The Ouse Valley Singers with soloists Naomi Hudson (soprano) and Senthuran Bhuvanendra (tenor).
Refreshments and a glass of wine are included.
Programmes £7.50 will be available from Ann Hudson Abigail House, 117 High Street, Odell 720587, Jill Cheadle, Rectory Farm, High Street, Odell 720261 and Steve Robinson, Horsefair Lane 720113.
Book early to avoid disappointment.
The non-threatening medium of radio provides a unique opportunity for hundreds to learn of the way of life which can free them from the shackles of a religion which offers no hope. Making and broadcasting programmes in dozens of different languages is time consuming and costly. Please give what you can so more people can hear the Good News.
Days are getting Longer
Days are getting longer
When the clocks move on.
Even if it still feels cold
The longest dark has gone.
Even if we lose an hour
For sleeping in our bed,
The sunlight's with us longer
As the daylight goes ahead.
When total darkness covered
The face of our earth with night,
The devil surely stood abashed
From the words,"Let there be light".
Those golden rays and longer days
We still rely upon.
Days are getting longer
When the clocks move on.
Roger Jackson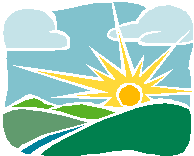 Birthdays in April
Happy birthday to:
Rebecca Causton 4 years old on the 3rd
Tania Fulford 13 years old on the 5th
And Alex Swift on the 11th
Diary
April
2nd 10.30am Health walk HOCP
2nd 8.00pm Parishioners' Meeting, All Saints' Church
8.15pm Annual Parochial Church Meeting, All Saints'.
6th 7.30pm 'Christ in the Passover' at Harrold URC
7th 8.00pm Meditation and compline at St. Mary's, Carlton
8th 10.30am Meeting Point at Jill's, Rectory Farm, Odell.
8th 8.00pm Meditation and compline at All Saints', Odell
9th 8.00pm Holy Communion for Maundy Thursday, St. Peter's, Harrold
10th 10.00am Good Friday Holiday Club, Carlton Village Hall.
10th 2.00pm 'An Hour before the Cross' at All Saints', Odell
An Hour before the Cross at St. Mary's, Carlton
11th 10.00am Church decorating All Saints'.
11th 2.00pm Café in the Tower, All Saints' Church
12th 6.00am Dawn Service at St. Mary's, Carlton
10.00am 'Worship Together for Easter' at All Saints', Odell
12th 2.00pm Café in the Tower, All Saints' Church
13th 2.00pm Café in the Tower, All Saints' Church
14th 7.30pm W.I., Odell Village Hall.
16th 10.30am Health Walk HOCP.
18th 9.45am All Saints' Amblers meet at The Bell.
18th 7.30pm Quiz night, Village Hall.
22nd 10.30am Meeting Point at Eileen's, 24 Church Hall Road, Rushden
25th Harrold Pit Run
27th 10.00am Conservation tasks, HOCP.
29th 9.30am Harrold Pre-school open morning.
30th 10.30am Health walk, HOCP.
Magazine Deadline
Please send all entries for the May 2009 magazine to Tricia Hudson (mag1 at odellbeds.net) or Catherine Corkery by April 12th 2009 at the latest. May we remind you that the editorial team exercises the right to edit, shorten or alter any items that are submitted. Also, the opinions expressed in the articles are those of the contributors and are not the responsibility of the editorial team.
---
Last revised: March 29, 2009.