CHURCH NEWS - November 2008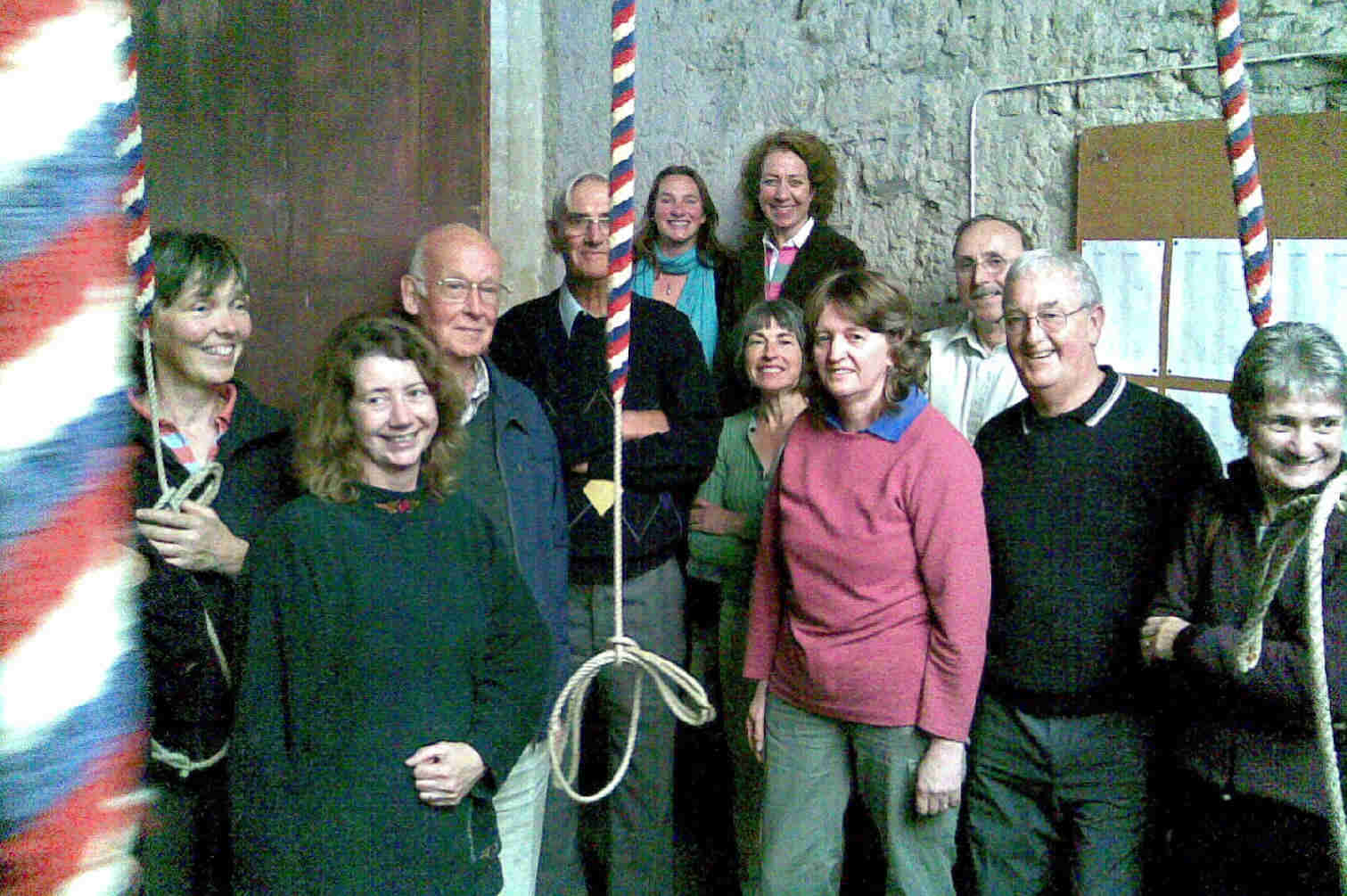 You may have heard the church bells ringing out on the afternoon of Saturday 18th October? Bellringers from Bottisham and Swafham Bulbeck toured six churches on that day, including All Saints', Odell.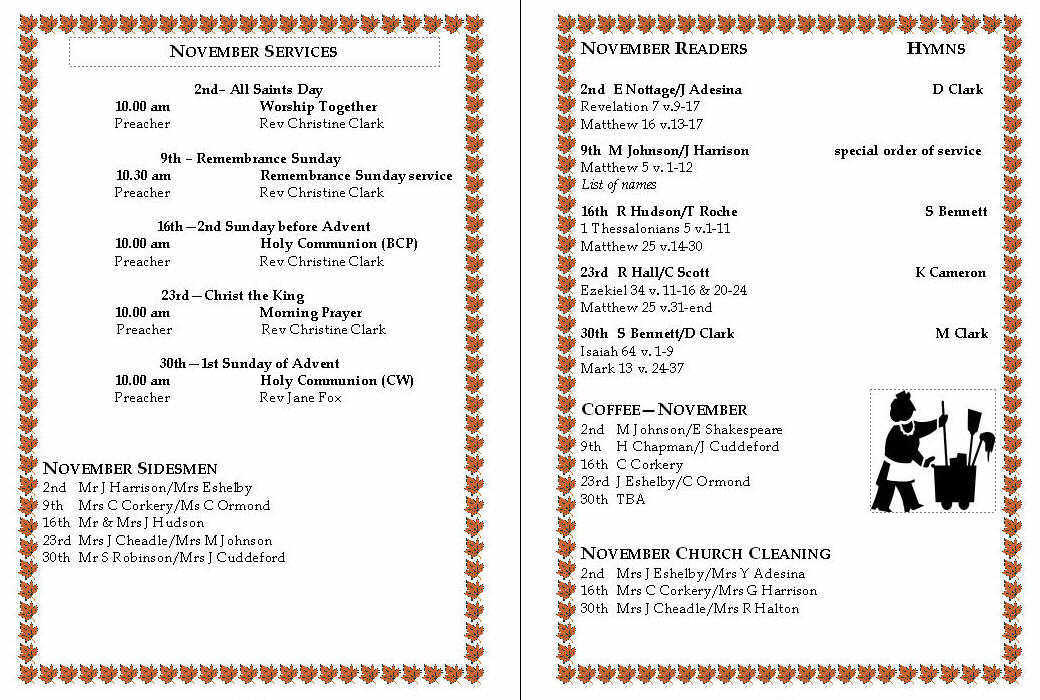 Fairtrade Cafe
Saturday 1
st
November between 10.00am – 12 noon
at Odell Village Hall High Street, Odell
Delicious drinks & eats, plus wide selection of Fairtrade Christmas goodies and gifts for sale
Admission £1.50 - includes refreshments
Brenda & Lionel Mayoh will be bringing their usual amazing collection of goods from around the world, many of them hand-made. Stock up from Teresa's food stall. Shop ethical!
Also – on the same day
at Harrold URC
Charity Christmas Card Sale
Visit both for all your Christmas requirements!
Dear Friends,
I love weddings – and one of the things I most enjoy about being a vicar is working with couples to plan and prepare for their marriage service. Of course, it is not me who marries them, it is the pledging of their vows to one another before God and in the presence of family and friends, supported by prayer, and sealed with the giving and receiving of a ring that effects the marriage. Without exception, it is a solemn, beautiful and deeply moving occasion.
Since 1994, it is possible to make your vows in a civil marriage in a wide variety of places now licensed for marriage, but 34% of couples still opt for a religious service. Research carried out recently by the Church of England's Wedding Project also found that 53% of the general population believes that church is a more proper place in which to be married. A quarter of those who get married say they would have had a church wedding if they had known it was possible, with 29% of those saying they would like to make their vows before God – all of which suggests that people still regard the spiritual element as important.
Sadly, many couples assume that because they haven't been baptised, or because they don't attend church regularly, they can't get married in one. The general rule has been that a couple can marry in a church if one of them lives in the parish or one of them is on the church's electoral roll. New measures that take effect from 1 October 2008 have gone much further. Now a couple can marry in church even if neither of them now live in the parish, but one of them was baptised, or prepared for confirmation in that parish, or if one of them has lived in the parish for at least 6 months at any time. It is also possible to be married in the parish church if one of their parents has lived or regularly attended normal services there for at least six months (during the bride/groom's lifetime), or if one of their parents or grandparents was married in that church.
Even if none of the above applies, it is still sometimes possible to be married in a parish church by Special Licence if there are substantive reasons.
So far, we have two weddings booked in for next year … if there is anyone else out there planning a wedding and who would like to be married in church, I would be delighted to hear from you!
With love and prayers, Christine.
The Prayer Group
What is the Prayer Group? It is made up of members of All Saints' Church who undertake to pray regularly, on an individual basis, for people who ask us for prayer support.
Who do we pray for? Anyone whom we are asked to remember; these might be people from our church, from our local community or others known to us.
What will you pray about? Anything which you would like brought before God; maybe anxiety due to illness, stress or loneliness. You can also tell us of a special day you wish to be remembered – perhaps for an interview or an exam. Any information will be treated in strictest confidence.
How can I let you know if I would like you to pray for me? You can either telephone Christine (720234), or drop a note through the Rectory door, or complete a card (anonymously if you wish) and place it in a box kept near the church door. Prayer requests will be collected from the box each Sunday morning after the 10.00am service.
Pilgrims
Are you someone who -
enjoys a good discussion with others?
has questions about faith you've always wanted to ask?
would welcome the opportunity to do so outside of a church setting
Pilgrims is an informal, relaxed group that meets every 2 or 3 weeks to explore issues of faith together.
More details from Christine on 720234
Meeting Point November
Wed 5th 10.30am at Christine's, The Rectory, Odell.
Wed 19th 10.30am at Catherine's, Manor Cottage, Harrold.
December
Wed 3rd 10.30am at Jane's, Newton House, Avenue Rd., Newton Bromswold, Rushden.
St Mary's Church, Carlton
Christmas Bazaar
Carlton Village Hall
Saturday 15th November, 11am - 3pm
Homemade soup lunches from 12noon – 2pm
Grand Draw at 2.30pm
Entry £1 (including coffee and biscuits)
In aid of St Mary's new toilet and kitchenette
All Saints' Amblers
Would you enjoy a walk in the country followed by a pub-lunch? We'd be glad for you to join us on Saturday 15th November for our next walk. Meet outside The Bell at 9.45am – transport provided to start of walk if needed. Everyone welcome, including children and dogs on leads!
Shoe Boxes For Belarus
A big thank you to everyone who filled shoe boxes with gifts for the deprived children in Belarus. The boxes are currently being sorted and prepared for their journey - the lorry will collect them from Emmaus in November and drive them directly to the designated orphanages and hospitals in Belarus.
Act of Courage.
We all love to remain in our comfort zone, but to make a change takes an act of courage, strength of character and a real desire to change.
It's a positive challenge to make a change to anything habitual in your life. Some have more important changes to make, such as dealing with drug or alcohol problems and it must take a huge act of courage,
commitment and realisation to move out of the comfort zone that keeps someone addicted, and to acknowledge the truth about themselves - but the truth will set us free.
Before the truth sets us free it usually puts us through the wringer, because the truth about ourselves is not some thing we like hearing about. We will be tested again and again.
We have to be strong, and it helps to have a strong faith to carry us through whatever act of courage we have embarked upon, to see its fulfilment and the heights we thought were beyond us. Victory has its rewards, and it takes brave men and women to win them.
Drug and alcohol addictions are not the only problems that need us to recognise self truths before we can embark on an act of courage to truly fight them. We can all be guilty of staying in our comfort zone. We forget on the Sabbath to spare an hour to attend church and worship
together as Jesus has taught us. To see All Saints' in Odell filled to the door would be the delight of the older members of the church who themselves have achieved their act of courage. Parents, older people and children could all benefit from activating an "act of courage" to attend their church and to carry on the tradition of hundreds of years that has been faithfully handed on to us. The garden and the chores and all those other competing activities can wait!
Sarah Bennett
People willing to supply lifts to and from surgeries.
Below is a list of the people currently willing to give lifts, to and from surgeries, to people who can't otherwise get there:
Kim Beardow 721246
Jill Cheadle 720261
Jonathan Harrison 721115
Steve Robinson 720113
Marion Senn 721176
If anyone else is willing to be a volunteer please contact Jill on 720261.
Our Giving in November will be shared between the British Legion Poppy Appeal and the Ex-Services Mental Welfare Society. Many still depend on these two organisations for all kinds of help including medical care and your generous giving enables continuous support for those damaged in body, mind and spirit by the ravages of war.
Birthdays
Happy birthday to:
Georgina Ardley on the 29th
And to everyone with a birthday in November!
Christmas Hamper
Coffee Morning
In support of Christian Family Care
Friday 5th December
Hobbs Green Farm
Church Lane, Odell
From 10.00am to noon.
Admission Free
Diary
November
1st 10.00am Fairtrade Café, Village Hall.
1st 10.00am Charity Christmas card sale, Harrold URC.
5th 10.00am Work Gifts Sale, Village Farmhouse.
5th 10.30am Meeting Point at Christine's, The Rectory.
5th 7.00pm Trad Jazz at the Bell.
11th 7.30pm WI meeting in Odell Village Hall.
15th 9.45am All Saints' Amblers meet at The Bell.
15th 11.00am St Mary's Church Christmas Bazaar, Carlton Village Hall.
19th 10.30am Meeting Point at Catherine's, Manor Cottage, Harrold.
22nd 7.30pm Dance Night, Village Hall.
24th 10.00am HOCP Conservation Tasks.
29th 7.30pm Handel's Messiah, Bunyan Meeting Free Church.
30th 1.00pm Christmas Decoration Making, HOCP.
Magazine Deadline
Please send all entries for the joint December 2008/January 2009
magazine to Tricia Hudson (mag1 at odellbeds.net) or Catherine Corkery by November 12th 2008 at the latest. May we remind you that the editorial team exercises the right to edit, shorten or alter any items that are submitted. Also, the opinions expressed in the articles are those of the contributors and are not the responsibility of the editorial team.
---
Last revised: October 26, 2008.