CHURCH NEWS - March 2008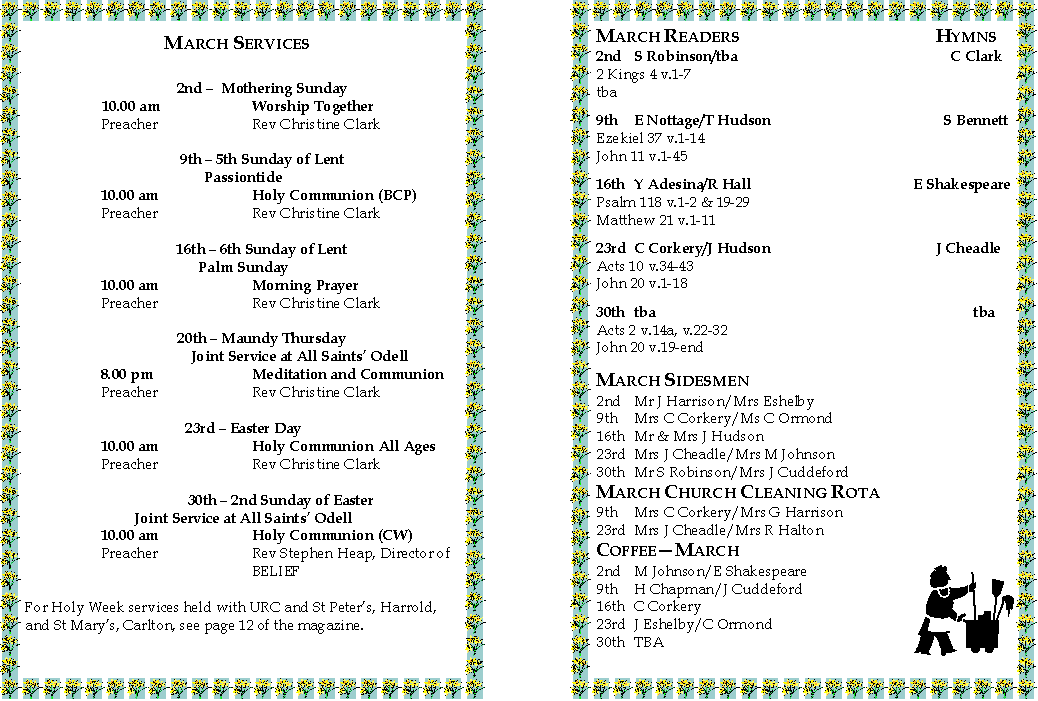 March 2008

Dear Friends,

In last month's letter I spoke about the impact of climate change and why we should all be concerned enough to do something about it. I also mentioned that during Lent my Sunday sermons would focus on Jesus' relationship with the earth. This has been an interesting journey, not least in noticing the earth's response to the events of Jesus' death and resurrection.

In Matthew's Gospel we read that at the moment when Jesus gave up his spirit and died, the earth quaked and the rocks split. And again, on the first Easter morning as an angel from heaven rolled away the great stone to reveal the empty tomb, there was a violent earthquake.

At Easter, Christians rejoice that the way for us to be fully reconciled with our Heavenly Father, to receive forgiveness for our own sins and to seek the grace to forgive others, is now opened to us through the saving work of Jesus on the cross. His resurrection announces that the power of death is broken, and though this life we have now will one day come to an end, death is not the end, but the beginning of something far better.

This is wonderful news indeed – but, amazingly, only part of the story! A closer examination of the scriptures reveals a number of references to the universal restoration of all things. For those events of Good Friday and Easter Day not only offer us fallen human beings a means of salvation, but the whole cosmos! As Paul reminds us in his letter to the young church in Rome, the earth groans and waits for that to be realized.

Jesus himself spoke about the ultimate renewal of all things at a future time of judgment, when (he) the Son of Man will be revealed in his glory.

In the light of all this, it would be tempting to dodge our responsibility as stewards of the earth, and to sit back and just wait for that day when it will all be put right. But Jesus has not left that option open to us. "Your kingdom come, your will be done on earth as it is in heaven" he taught us to pray – and to live.

So as the preparation time of Lent gives way to Easter joy, let us rejoice indeed at the glorious salvation Christ has won for us. But may we also commit ourselves to pray and live in a way that honours God and brings his kingdom in, here on the earth.

With love and prayers, Christine

All Saints Amblers

The next walk and pub lunch will be on Saturday 15th March. Meet outside The Bell at 9.45am – transport will be provided to the start of the walk if needed. Everyone welcome, including children and dogs on leads.

Recycle

your old inkjet and laser toner cartridges

Your used printer cartridges could help provide education for children in the Dominican Republic, through Christian Aid's inkjet cartridge recycling project.

And that's not all….

Cartridge recycling helps to reduce carbon emissions, a major cause of global warming, conserves resources and reduces waste.

Recycling bags and a cartridge collection point are available in Church or from The Rectory, 3 Church Lane (Tel: 720234).

The Prayer Group

What is the Prayer Group?

It is made up of members of All Saints Church who undertake to pray regularly, on an individual basis, for people who ask us for prayer support.

Who do we pray for? Anyone whom we are asked to remember; these might be people from our church, from our local community or others known to us.

What will you pray about? Anything which you would like brought before God; maybe anxiety due to illness, stress or loneliness. You can also tell us of a special day you wish to be remembered – perhaps for an interview or an exam. Any information will be treated in strictest confidence.

How can I let you know if I would like you to pray for me? You can either telephone Christine (720234), or drop a note through the Rectory door, or complete a card (anonymously if you wish) and place it in a box kept near the church door. Prayer requests will be collected from the box each Sunday morning after the 10.00am service.
Church toilet block and tea room project
As the All Saints' PCC has not received any comments objecting to the proposed toilet and tea room area in the church, they will proceed with discussing the plans with an architect.

Water for Zimbabwe

– as well as taking part in the Carbon fast this Lent, members of All Saints Church are raising funds to pay for a large water tank to be installed on church premises in Bulawayo, the capital of Zimbabwe. This will ensure that a local community has secure access to clean water – a rare commodity in Zimbabwe these days. Many people are reduced to collecting water from the open sewer outlet,

increasing the risk of death and disease, but water is available to those who have suitable tanks to store it in. Our aim is to raise £500 by Easter and to send it to Tearfund, a well established aid charity, who will arrange installation.

If you would like to contribute please ring Christine (720234)

A Pathfinder Group

for young people has just re-started at Abigail House, High Street, Odell. If you are aged between 13 and 15 years old and would be interested in meeting up with other young people to explore what the Bible has to say to us today, then please contact Ann Hudson on 720587.

The group meets on a Thursday from 4.30-5.30pm.

Date for your diary! - April 12-13th

All Saints' Church will be holding an Open Weekend. Trips up the tower – displays in church – teas, and in the churchyard, the best display of primroses and violets in North Beds! To round off the weekend, a choir from St.Oswald's Church, Croxley Green, Herts (Christine's previous church) will lead us in service of Evening Praise at 6.00pm.

Look out for more details in next month's magazine.

Churches Together in Harrold & Carlton with Odell: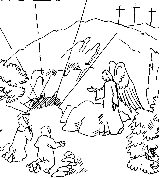 Services for Holy Week
During Holy Week there will be daily joint services of Compline with a Meditation for Holy Week which we are invited to join at 8.00pm as follows:
Monday 17th - A journey of anger – URC, Harrold
Tuesday 18th - A journey of tricky questions - St Mary's, Carlton
Wednesday 19th -A journey of hospitality - St Peter's, Harrold
Thursday 20th - Re-enactment of the Lord's Supper- All Saints' Odell
Friday 21st - An Hour at the Cross – URC, Harrold (2.00pm).
Easter Sunday 23rd
We will be celebrating Easter Day in All Saints' with a service of Holy Communion for all (Common Worship) at 10.00am.
Reverend Christine Clark will preach.
Church Decorating
Easter Saturday 22nd
Church decorating will take place from 10.00am in All Saints' Church. Please come along with or without flowers and greenery to help make the church beautiful for Easter Day. Children are invited to come along and help create the Easter garden in the church.
All Saints' PCC
The next PCC meeting will take place on Monday, 31st March, at 7.45pm at the Rectory.
PCC AGM – Advance Notice
The PCC AGM will take place on Tuesday 22nd April in the Church from 7.30pm.
Meeting Point
March
Wed 5th 10.30am at The Rectory.
Wed 19th 10.30am at Jill's, Rectory Farm, Odell.
April
Wed 2nd 10.30am at Eileen's, 24 Church Hall Road, Rushden.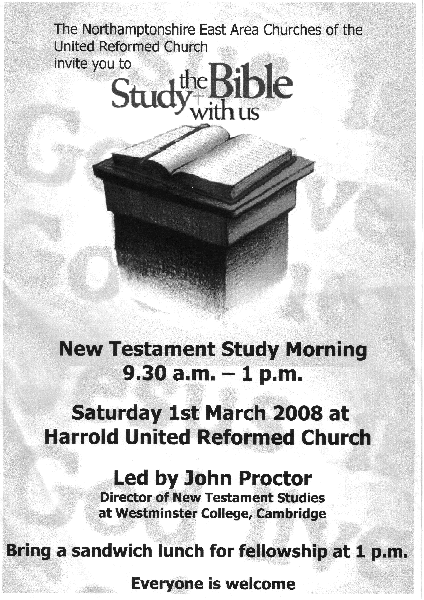 World Day of Prayer
(Interdenominational)
Harrold URC Chapel, Friday March 7th 10.00am
This service has been prepared by the Christian women of Guyana
God's Wisdom Provides New Understanding
Over 3 million women worldwide will be praying and worshipping together on Friday, March 7th. They will be using an order of service prepared by Christian women from Guyana. In the British Isles, there will be well over 6000 prayer services in different places.
Many women of Guyana still bear the marks of those who experienced and fought against slavery and the system of indentured labour, with the imperialism and discrimination which that involved. In recent years, women of Guyana have been Prime Minister, President, Chief Justice and Director General of the Foreign Affairs Ministry. However, HIV, domestic violence and human trafficking remain problems in the country. The Women's World Day of Prayer meetings contribute to strengthening the dignity of women.
We look forward to seeing you at the Chapel to help us join in this worldwide day of prayer.
New Testament Study Morning 1st March
For now we see through a glass, darkly; but then face to face: now I know in part; but then shall I know even as also I am known."
1 Corinthians 13 v. 12
Time.
As I sit here this magnificent sunny morning and try to equate and revalue this wonderful earth we are so privileged to be part of for a short period of time, I think how 'Time' means an immensely different thing to us than to our Creator. The hymn 'Oh God Our Help in Ages Past' says: 'A thousand ages in Thy sight are like an evening gone'. What a thought—we as simple human beings cannot comprehend such an amazing expanse of thought and cannot begin to explain the mystery of the duty we have been given to fulfil a role on this earth.
All the dutiful efforts we make every day on common ground, to achieve some goals, are very commendable. Some individuals do a superb job of dedication, giving their time and patience for Church charities; people ministering in all kinds of ways both abroad and in our home land, fulfilling their role on this earth.
Those who choose to be parents and raise a family have been given a great privilege and duty, devoting their Time to a very rewarding goal. We learn something of what "Time" and eternity mean, and the greatness of a superior power all around us.
May we all acknowledge fully, in the multitude of choices we make and pathways we tread each day, our awareness of our Creator, and that we have this great role to play and heights of joy and expectancy to fulfil.
Sarah Bennett
Fete Committee
The Odell Village Fete has been part of village life for many years.
People from far around make a point of attending the fete every year and many have said how special the event is. Behind the fete though is a body of people making it happen, and master minding it all is of course the Committee. In recent years numbers on the Committee have dropped so low that now the Fete is in jeopardy. Can you give some of your time to keep this tradition (and source of much needed income for the village) alive? If you are willing to join the Committee and do your bit for the village call Steve on 720113.
Our Giving in March is to 'Mission to Seafarers'.
This charity supplies chaplains in every major seaport all over the world, providing for both spiritual and physical needs of sailors arriving in harbours often very far from home.
Coffee Morning in aid of St. John's Hospice
Exclusive South African Jewellery and Accessories
Phoenix Cards and Stationery
Coffee and Cakes in aid of:
St John's Hospice, Moggerhanger
On
Thursday 6th March from 10.30 am to 1 pm
At
Rose Cottage, The High Road, Felmersham
Telephone: Caroline Scott
01234 782094
Odell Church Flower Rota
2nd Mothering Sunday
22nd Decorate the church for Easter Day
29th All help to clear
The Children's Society
In March I open all the collecting boxes held in the village. Please would box holders give their boxes to me, bring them to church on a Sunday or telephone me to let me know when it would be convenient to collect them.
Many thanks. Catherine Corkery, 720348
Birthdays
Happy birthday to:
Liane Fulford on the 4th
And to everyone with a birthday in March.
Diary
5th 10.30am Meeting Point at The Rectory
5th 12.30 for 1.00 Senior Citizens Fish and Chip lunch, Village Hall
6th 10.00-1.00pm HOCP making obelisks
6th 10.30am Coffee Morning for St. John's Hospice, Rose Cottage, Felmersham.
7th 10.00am Women's World Day of Prayer Harrold URC
11th 7.30pm W.I. Village Hall
15th 9.45am All Saints' Amblers, meet at The Bell
15th 7.30 for 8.00pm Time of Our Lives Music Theatre, Village Hall
17th 8.00pm 'Journey of anger', service at URC Harrold
17th 8.00pm Odell Parish Council Meeting, Village Hall
18th 8.00pm 'Journey of tricky questions', St Mary's Carlton
19th 10.30am Meeting Point, Jill's
19th 8.00pm 'Journey of hospitality', St Peter's, Harrold
20th 8.00pm The Lord's Supper, Re-enactment, All Saints' Odell
21st 2.00pm An Hour at The Cross, URC Harrold
22nd 10.00am Church Decorating, All Saints'
23rd 10.00am Easter Sunday Holy Communion for all, All Saints'
23rd 2-3.00pm HOCP Easter Egg Hunt
31st 10.00-3.00pm HOCP Conservation Tasks
31st 7.45pm PCC Meeting at The Rectory
Magazine Deadline
Please send all entries for the April 2008 magazine to Tricia Hudson (mag1 at odellbeds.net) or Catherine Corkery by March 12th 2008 at the
latest. May we remind you that the editorial team exercises the right to edit, shorten or alter any items that are submitted. Also, the opinions
expressed in the articles are those of the contributors and are not the
responsibility of the editorial team.
Are you seeking a challenge?
Mid Beds Citizens Advice Bureau is looking for volunteers who would like the opportunity to learn new skills and develop existing ones.
Located at offices in Biggleswade, Ampthill and Chicksands, CAB advisers interview clients face to face and on the telephone. They advise on a wide range of issues including debt, benefits, housing, employment and family matters.
Advisers receive free formal accredited training with all expenses paid. As well as advice-giving, the service has volunteering roles in support of fundraising, publicity and recruitment.
All sorts of people volunteer for the CAB, but one thing that unites them all is that they find it challenging, rewarding and varied – and you never stop learning.
If you would like to join a friendly team, please contact Jenny Hedges, Bureau Manager on 01462 819570.
---
Last revised: March 02, 2008.