CHURCH NEWS - June 2008
Festival Weekend Family Service
SUNDAY JUNE 15
TH
11.00 am
in the Main Tent at the Fete Field
EVERYBODY WELCOME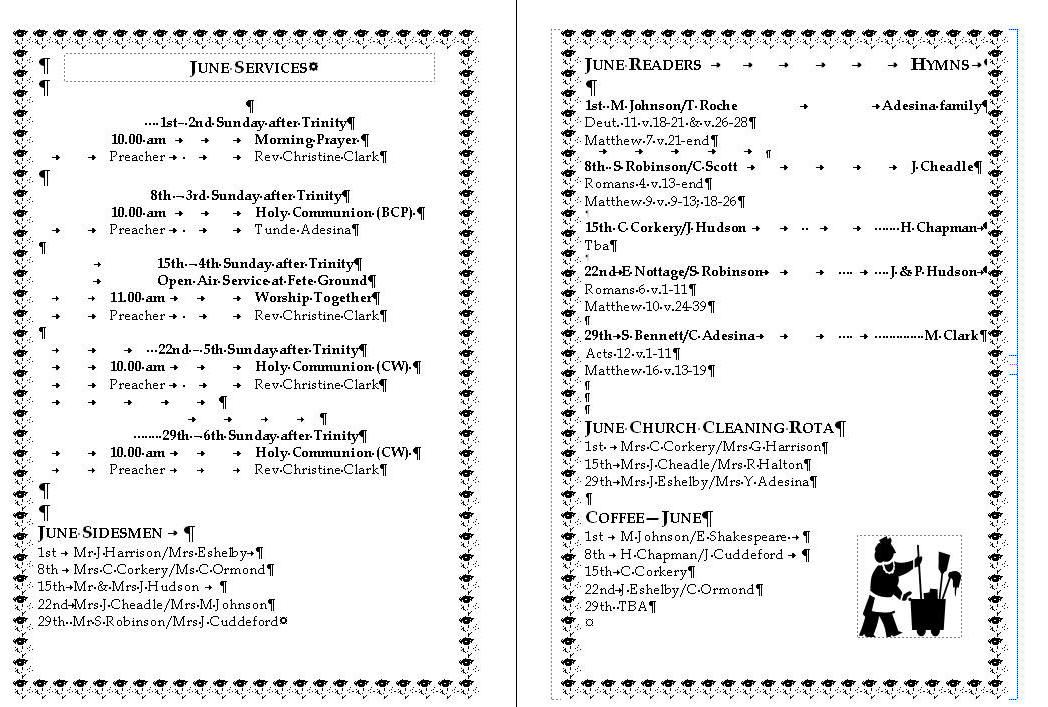 June 08
Dear Friends,
A few weeks ago an old friend came to stay with us. We had not seen Rosemary for several years, but we go back a long way and it only took a moment of conversation for us to pick up where we left off.
Soon we were recalling times long forgotten, laughing together at ridiculous moments we had shared, remembering all the escapades our four boys got up to, and how they all used to camp in our garden and help on the farm. Other memories were not so happy – and we didn't talk of those so much. But both our families had experienced the pain of watching one of our children go through a marriage break-up followed by divorce. Rosemary had nursed and cared for her husband who suffered and subsequently died from a debilitating illness.
Sometimes her boys had stayed with us while John was in hospital. We particularly remember one sad Christmas when all of us wondered whether he would survive (which he did, living on for several more years). We remembered too an earlier Christmas, when having been given an enormous turkey, Rosemary and I spent most of Boxing Day making turkey pies for the freezer.
Shared memories, shared experiences are very precious, giving us a sense of kinship and unity with other people. The deeper the experience shared, the deeper the bond that unites us. When God wanted to show his solidarity with us, and communicate his great love for us in a tangible way, he sent his Son to live among us, to share our life with all its ups and downs.
The disciples walked with Jesus for three years, during which they witnessed the healing of many blind, lame and sick people. They were right there with him when he blessed a young boy's lunch, giving it back to the disciples so that they could feed a huge crowd of over 5,000 people. They spent hours listening to his teaching, hearing the stories and parables, and they saw Lazarus brought back to life after he was dead and buried.
We are sometimes tempted to think that it was so much easier for the disciples to have faith. After all they had seen and heard and shared together with Jesus, how could they not believe? Isn't it harder for us who have not seen and heard in the same way?
Well perhaps …. but the day finally came when Jesus' presence on earth came to an end, and on a hillside outside Jerusalem he bid farewell to the disciples and was taken up into heaven. With only their memories to comfort them, his friends returned to the city, to hide behind locked doors, and wait as they had been told.
Then, on the day of Pentecost, they received the amazing gift of the Holy Spirit – Jesus' own presence to be with them for ever, living within them, living through them, in a union closer than they would have ever dared to think or imagine.
And that same Spirit of Jesus is available to us today. He longs to draw close to us, and like a dear friend, to be there with us in all our life experiences, good or bad. If we invite him into our hearts and lives, he will come - to rejoice with us, weep with us, and strengthen us for the journey. During his earthly life Jesus could only be with a limited number of people for a limited time, but by his Spirit, he can be with each one of us – for ever.
Will you welcome him as your friend?
With love and prayers, Christine.
A
LL
Saints Amblers
– The Amblers will be meeting at The Bell at 9.45am as usual, on Saturday 21st June,. for a walk followed by a pub lunch. Children and dogs on leads welcome.
Found
A pair of binoculars (Vanguard) were left in church on the Saturday of the Open weekend.Enquiries to Christine at The Rectory (tel: 720234)
PILGRIMS – is a new group meeting fortnightly at The Rectory for informal discussions about the Christian faith. A place to share your views, ask questions and find out what others think. You are welcome to come along and find out more at 8.00pm on Mondays 2nd, 16th and 30th June. Phone Christine on 720234 if you would like to know more.
ADOPT A GRAVE – Most of the more recent graves in our churchyard are tended with care and their flowers and plants contribute to the beauty and peace of our lovely churchyard. But we also have a number of very old graves that have no one to tend them, and some of these have become overgrown with weeds. We would like to clear these and plant them up with wild flower seeds which we have been given, but it will take some time to get round them all. Please let Christine know (720234) if you would like to help with this task by 'adopting' a grave to look after.
Recycle your old inkjet and laser toner cartridges
Your used printer cartridges could help provide education for children in the Dominican Republic, through Christian Aid's inkjet cartridge recycling project.
And that's not all….
Cartridge recycling helps to reduce carbon emissions, a major cause of global warming, conserves resources and reduces waste.
Recycling bags and a cartridge collection point are available in Church or from The Rectory, 3 Church Lane (Tel: 720234).
The Prayer Group
What is the Prayer Group? It is made up of members of All Saints Church who undertake to pray regularly, on an individual basis, for people who ask us for prayer support.
Who do we pray for? Anyone whom we are asked to remember; these might be people from our church, from our local community or others known to us.
What will you pray about? Anything which you would like brought before God; maybe anxiety due to illness, stress or loneliness. You can also tell us of a special day you wish to be remembered – perhaps for an interview or an exam. Any information will be treated in strictest confidence.
How can I let you know if I would like you to pray for me? You can either telephone Christine (720234), or drop a note through the Rectory door, or complete a card (anonymously if you wish) and place it in a box kept near the church door. Prayer requests will be collected from the box each Sunday morning after the 10.00am service.
Meeting Point
June
Wed 11th 10.30am at Sarah's, 9 Horsefair Lane.
Wed 25th 10.30am at Eileen's, 24 Church Hall Road, Rushden.
Fete Committee – Help Needed!
The Odell Village Fete has been part of village life for many years.
People from far around make a point of attending the fete every year and many have said how special the event is. Behind the fete though is a body of people making it happen, and master minding it all is of course the Committee. In recent years numbers on the Committee have dropped so low that now the Fete is in jeopardy. Can you give some of your time to keep this tradition (and source of much needed income for the village) alive? If you are willing to join the Committee and do your bit for the village call Steve on 720113.
Our Giving in June is to CPAS (Church Pastoral Aid Society).
The work of C.P.A.S. is to give aid to both churches and individuals in such wide-ranging areas as evangelising, training for clergy and laity, youth work, holiday activities for young people, provision of resources (books, courses etc.), working with older people and specialised ministry to both men and women. However, their primary goal is supporting the mission of the local church in taking the gospel to the poor. Please give generously to this worthwhile charity.
Odell Village Fete and Dog Show
Saturday 14th June 2.00pm
(In the Scout field, Horsefair Lane, Odell)
ENTRY: Adults £1.50, Children Free
PROGRAMME OF EVENTS
2.00 PM Grand Opening
2.00-4.00PM Dog Show
4.00 PM Judging of Children's Competitions
4.30 PM Raffle Draw and Prize Giving
ATTRACTIONS
Wodehill Jazz Band
Harrold Priory School Band
Boys Brigade
Teas Children's Tombola Ice Creams
Tombola Cakes Beat the Goalie
Books Refreshments Bottle Stall
Coconut Shy Children's Sports White Elephant
Produce Gifts Many Side Shows
Raffle
Dog Show
FAMILY DOG SHOW
(entry fee - £1 per dog per class)
Classes:
1. Children's Handling (14 years and under)
2. Puppies under 1 year
3. Country Sporting Dog or Bitch
4. Best Rescue or Re-home Dog or Bitch
5. Best Conditions Dog or Bitch
6. Dog or Bitch with Most Appealing Eyes
7. Best Cross-bred Dog or Bitch
8. Most handsome Dog
Prettiest Bitch
Children's Competition – Design an Olympic Flag!
The competition is to design a bright and cheerful flag based on the Olympic theme. Paper flags and sticks will be provided at the fete.
Help will be needed to set up the fete stalls on the afternoon of Friday 13th June, and then to dismantle everything after the fete has ended on Saturday 14th. Please come and join in!
Odell Fete Weekend.Following the Church Service on Sunday 15th June there will be a BBQ. Please let Mandy Sharpe 720414 know if you are able to come.Meat and salads will be provided, but please bring your own crockery, cutlery and drinks. If you are able to contribute a salad please speak to Mandy
RSPCA
The recent house-to-house collection in the village raised £92.01. This money is spent at the discretion of the local Branch for animal welfare in north Bedfordshire. Thank you to all who contributed. If anyone is willing to assist with the collecting in the future please contact Ann Hudson (720587)
Pentecost
It is Pentecost, when the Holy Spirit refreshes and fills the heart with new love and inspiration and puts a whole different look on the face of things. World chaos and catastrophes are occurring such as the earthquake in China and the recent cyclone in Burma and the prevention of aid getting through. We must spend quality time with God, then carry away from His presence the answers needed by those around us.
This may seem a daunting aspiration on the face of it but if we are honest with ourselves the worldwide need for this is paramount. Whether we like it or not we are involved in this and each individual can assist by praying: it is the most powerful weapon we have. We can pray for financial aid and physical help which is so important, and also we can pray for guidance and the power of the Holy Spirit to work in the midst of such disasters and for protection for those who so bravely risk their lives to help others.
May we be richly blest and encouraged to serve the Master, and be filled with the Holy Spirit. Sarah Bennett
Birthdays
Happy birthday to:
Mia Vyvyan who will be 7 years old on the 2nd June.
Eleanor Robinson on the 17th, and
Elliot Swift who will be 12 on the 19th
and to everyone else with a birthday in June.
Diary
2nd 8.00pm Pilgrims meet at The Rectory
11th 10.30am Meeting Point at Sarah's, 9 Horsefair Lane.
14th 2.00pm Odell Fete, Horsefair Lane.
15th 11.00am Church Service in Fete field.
16th 8.00pm Pilgrims meet at The Rectory
21st 7.30pm Midsummer Supper, Village Hall.
25th 10.30am Meeting Point at Eileen's, 24 Church Hall Road, Rushden
28th 10am Wild Flower Identification.
30th 10.00am Conservation Tasks, HOCP
30th 8.00pm Pilgrims meet at The Rectory
Magazine Deadline
Please send all entries for the Joint July/August 2008 magazine to Tricia Hudson (mag1@odellbeds.net) or Catherine Corkery by June 12th 2008 at the latest. May we remind you that the editorial team exercises the right to edit, shorten or alter any items that are submitted. Also, the opinions expressed in the articles are those of the contributors and are not the responsibility of the editorial team.
---
Last revised: June 08, 2008.