CHURCH NEWS - July/August 2008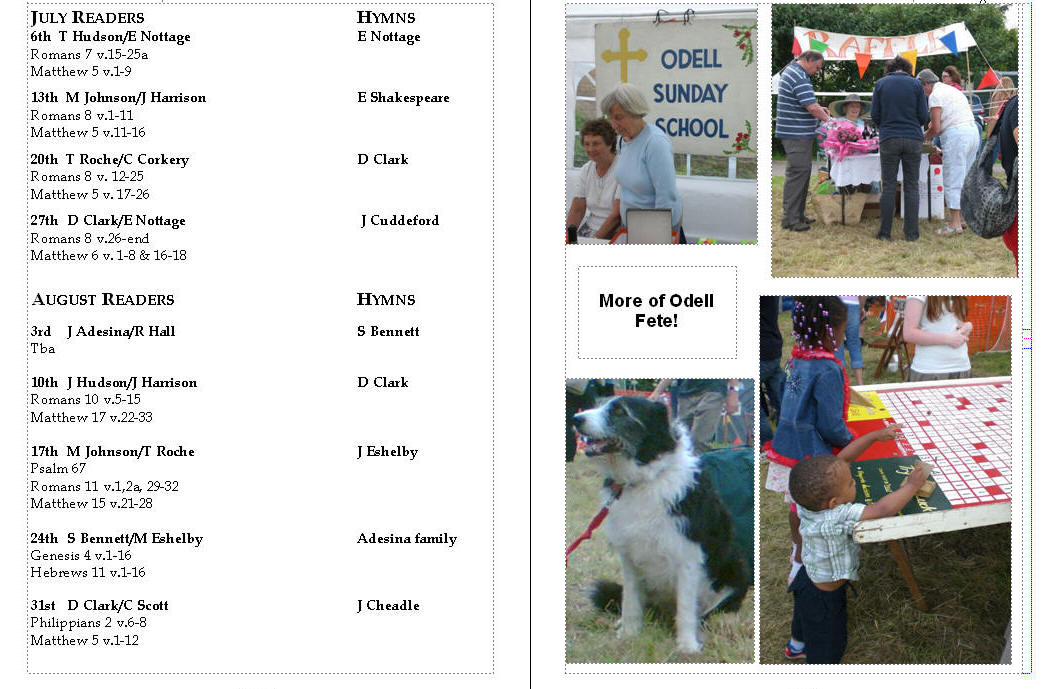 More pics on July/Aug 08 Village News
July 2008
Dear Friends,
This year David and I decided to take our annual holiday in Ainsa, a small Aragonese town in the Pyrenees, with an historic past, that sits at the northern end of a broad basin where the rivers Cinca and Ara meet. Within a thirty mile radius were spectacular limestone gorges, alpine meadows grazed by cattle and sheep, lower fertile slopes rising up from the turquoise rivers, and an abundance of wild flowers wherever we went. Exploring the numerous small villages entailed much driving along narrow roads, ascending or descending round impressive hair-pin bends. With frequent stops to admire the scenery, take photos or try to identify the profusion of flowers it took us ages to get anywhere, and often by the time we arrived it was siesta time, with no sign of human activity anywhere.
Every small village has its church, usually occupying the highest point, and in the countryside around are many other small chapels and hermitages, only accessible by rocky footpaths.
Clearly this part of Spain has a rich Christian heritage, and many stories and songs tell of the valiant battles of old, against the invading Moors, who never did gain a foothold in this area.
St. George is the patron saint of Aragon (as well as of England) and features prominently in the annual festival in Ainsa, when everyone dresses up and re-enacts the battle scenes, before dancing and celebrating well into the small hours.
But the sad thing is, despite this rich heritage, nearly every church was closed, offering only occasional services on feast days and funerals as required. Obviously it is no longer economically possible to provide sufficient priests in such small communities, where often there is no school and no shop.
On our return home we read about the "Save our Churches" campaign initiated by the Sunday Telegraph, with broad support from many quarters. The writing is definitely on the wall. On average two UK churches a week are closing, with a fifth destined for closure within a generation. In rural areas, where villages have already seen their schools, shops, post offices and pubs closing, the church is often the last remaining communal building.
While not ruling out a Christian revival, the Telegraph sees the potential for churches to become focal points in the local community - as nurseries, cafés, arts & crafts centres etc. and they are calling for government grants to be made available for repairs and adaptations, and for VAT on church repairs to be lifted – all of which sounds sensible and positive.
None of this precludes the church continuing to serve its original purpose as a centre for Christian worship and mission, teaching and pastoral work. In our own Diocese, such diversity of ministry is being actively encouraged under 'Vision for Action' initiatives, and interestingly, where churches have developed new multi-function roles, spiritual refreshment and growth has often followed.
So what possibilities might be open to us here in Odell? I would be interested to hear your views!
With love and prayers, Christine.
All Saints Amblers
– Join us on 19
th
July for a walk in the country followed by a pub-lunch. Meet outside The Bell at 9.45am – transport provided to start of walk if needed. Everyone welcome, including children and dogs on leads!
PILGRIMS – is a new group meeting every 2 or 3 weeks at The Rectory for informal discussions about the Christian faith. A place to share your views, ask questions and find out what others think. Coming up in July - "Whatever happened to Hope?" Phone Christine on 720234 for more information.
ADOPT A GRAVE – Most of the more recent graves in our churchyard are tended with care and their flowers and plants contribute to the beauty and peace of our lovely churchyard. But we also have a number of very old graves that have no one to tend them, and some of these have become overgrown with weeds. We would like to clear these and plant them up with wild flower seeds which we have been given, but it will take some time to get round them all. Please let Christine know (720234) if you would like to help with this task by 'adopting' a grave to look after.
CONFIRMATION 2008
The next confirmation service in this deanery is planned for Tuesday 25th November. If you would like to be confirmed, or if you are not sure but would like to know more about what is involved, please ring me on 720234 or e-mail me cmclark9@btconnect.com. Christine.
Recycle your old inkjet and laser toner cartridges
Your used printer cartridges could help provide education for children in the Dominican Republic, through Christian Aid's inkjet cartridge recycling project.
And that's not all….
Cartridge recycling helps to reduce carbon emissions, a major cause of global warming, conserves resources and reduces waste.
Recycling bags and a cartridge collection point are available in Church or from The Rectory, 3 Church Lane (Tel: 720234).
The Prayer Group
What is the Prayer Group? It is made up of members of All Saints Church who undertake to pray regularly, on an individual basis, for people who ask us for prayer support.
Who do we pray for? Anyone whom we are asked to remember; these might be people from our church, from our local community or others known to us.
What will you pray about? Anything which you would like brought before God; maybe anxiety due to illness, stress or loneliness. You can also tell us of a special day you wish to be remembered – perhaps for an interview or an exam. Any information will be treated in strictest confidence.
How can I let you know if I would like you to pray for me? You can either telephone Christine (720234), or drop a note through the Rectory door, or complete a card (anonymously if you wish) and place it in a box kept near the church door. Prayer requests will be collected from the box each Sunday morning after the 10.00am service.
Yarl's Wood Befrienders
Who would you turn to …?
I was a stranger .. I needed clothes .. I was sick .. I was in prison .. and you came to visit me
An increasing number of asylum seekers are being detained in custody pending the outcome of their request to be allowed to stay in the UK. About 400 women, including families, are being held in custody at Yarl's Wood Immigration Removal Centre (just north of Bedford) at any one time. Some are detained for only a brief time before removal to the country they came from. A number however are kept for months; some for over a year.
Yarl's Wood Befrienders are a group of about thirty trained visitors "of all faiths and none". We visit weekly on a 1:1 confidential basis as many detainees who ask for help as we can. Such comfort as can be given is mostly listening, sometimes helping them to contact families, sometimes helping to find or chase lawyers and independent doctors. Those in need of help so often feel insignificant or ignored by the authorities. Our emphasis is on caring; seeing each individual as a whole person with a right to be heard. For many, the Befriender is the one person who has taken time to support them and they are deeply grateful. But the more we do, the more we realise we need extra people and extra training to do this work better.
Although the material conditions of detention are not a major problem, the lack of a consistent quality of legal advice and health care gives cause for real concern. The detainees' ability to cope varies widely. They do not understand why the country they have turned to for help has responded by locking them up. Those with inner strength or faith can rise above the situation but many, already traumatised by the past, become depressed by the present and are very fearful for the future.
We would be so grateful for your prayers, for any financial contributions you feel able to make and for any who are interested to know more, to get in touch. Please consider making a response to this deep need God has placed with us.
For more information please ring Heather Jones on 01234 708710 or emailadmin@ywbefrienders.org.
Meeting Point
July
9th 10.30am at Christine's, The Rectory, Odell.
23rd 10.30am at Catherine's, Manor Cottage, High street, Harrold.
There will be no Meeting Point in August.
The Fete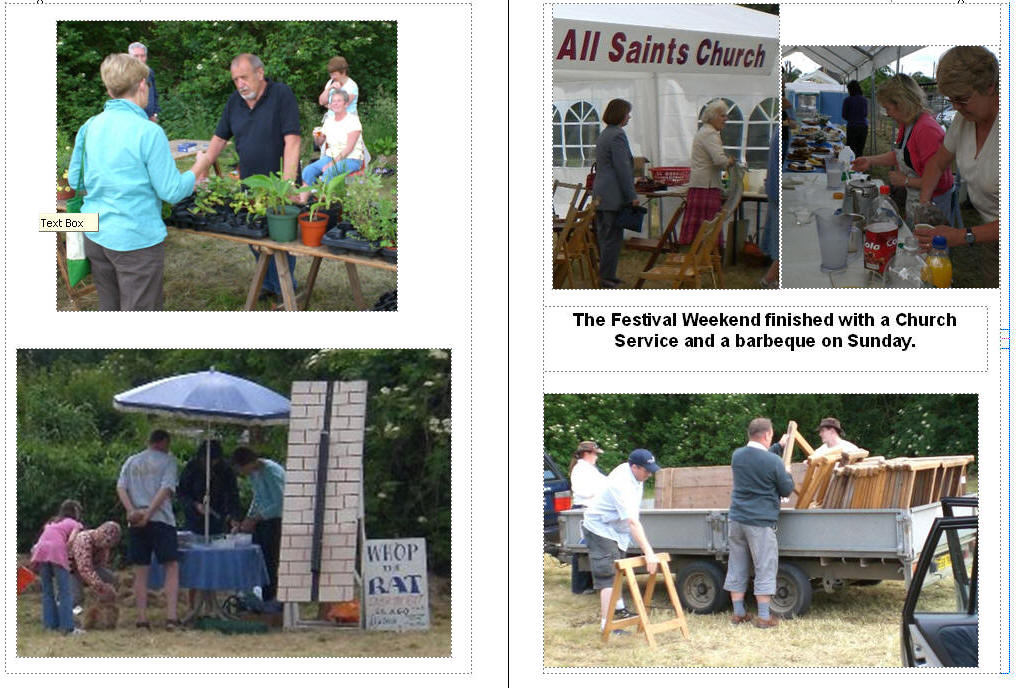 More pics on July/Aug 08 Village News
In spite of showers all around the day, the afternoon of the Fete remained dry until the Fete had finished. Numbers attending were very good again and the event was very successful. Many thanks to everyone who helped to make it happen.
The raffle prizes from the following tickets were unclaimed: If you have any of the following tickets please ring Jill Cheadle on 01234 720261:
354 Peach £50 first prize.
240 Peach
204 Peach
41 Peach
There is also an unclaimed Family Swimming Ticket for 2 adults and up to 3 children to go to Oasis Swimming Pool. If you would like to make an offer for this, or if you hold any of the above raffle tickets please contact Jill Cheadle on 01234 720261. Any proceeds from the swimming ticket will go to the fete profit.
Request for return of new Mission Praise Hymn Books
The church is missing quite a lot of the new edition of Mission Praise Hymn books. It is thought that members of the congregation have taken them home to choose hymns for the services. If you have a copy at home please return it to the church as it is much needed. Thank you.
Our Giving in July is to 'Open Doors',
an Evangelical Society which supports the persecuted church and Christians worldwide, providing Bibles and teaching materials, training for church leaders and practical and financial help. It also initiates and supports literacy programmes and community development projects.
Our giving in August is to Mercy Ships, an American Christian charity which provides free operations and sends teams of dentists to local hospitals in impoverished parts of the world. It gives talks to local villages about AIDS and develops teaching projects and projects aimed at helping women in these areas to help themselves. It is also responsible for the building of new schools and orphanages and gives follow-up nursing for ex-patients. All who work on these ships contribute financially.Please give generously to these two very worthwhile charities.
Birthdays
Happy birthday to;
Miles Tringham on 24th August……and to everyone with a birthday in July and August.
Diary
July
3rd 10am Friends of HOCP AGM, Visitor Centre.
8th 7.00pm W.I. Stepping Out Walk from The Bell.
9th 10.30am Meeting Point at Christine's, The Rectory, Odell..
11th 7.00pm Wodehill Jazz Band at The Bell.
12th 10am Art and Craft Exhibition and Sale , St. Mary's Church, Carlton.
13th 1.00pm " " " " " " " " "
16th 3.00pm Senior Citizens' Garden Party, Linden House, High St.
19th 9.45am All Saints' Amblers meet at The Bell.
20th 12 noon 'Make Your Own Walking Stick', HOCP
23rd 10.30am Meeting Point at Catherine's, Manor Cottage, Harrold.
28th 10am Conservation Tasks, HOCP.
28th 10am-2pm Climbing tower, HOCP.
August
26th 8pm Bat Walk, HOCP.
Magazine Deadline
Please send all entries for the September 2008 magazine to Tricia Hudson (mag1 at odellbeds.net) or Catherine Corkery by August 12th 2008 at the latest. May we remind you that the editorial team exercises the right to edit, shorten or alter any items that are submitted. Also, the opinions expressed in the articles are those of the contributors and are not the responsibility of the editorial team.
---
Last revised: July 05, 2008.