CHURCH NEWS - April 2008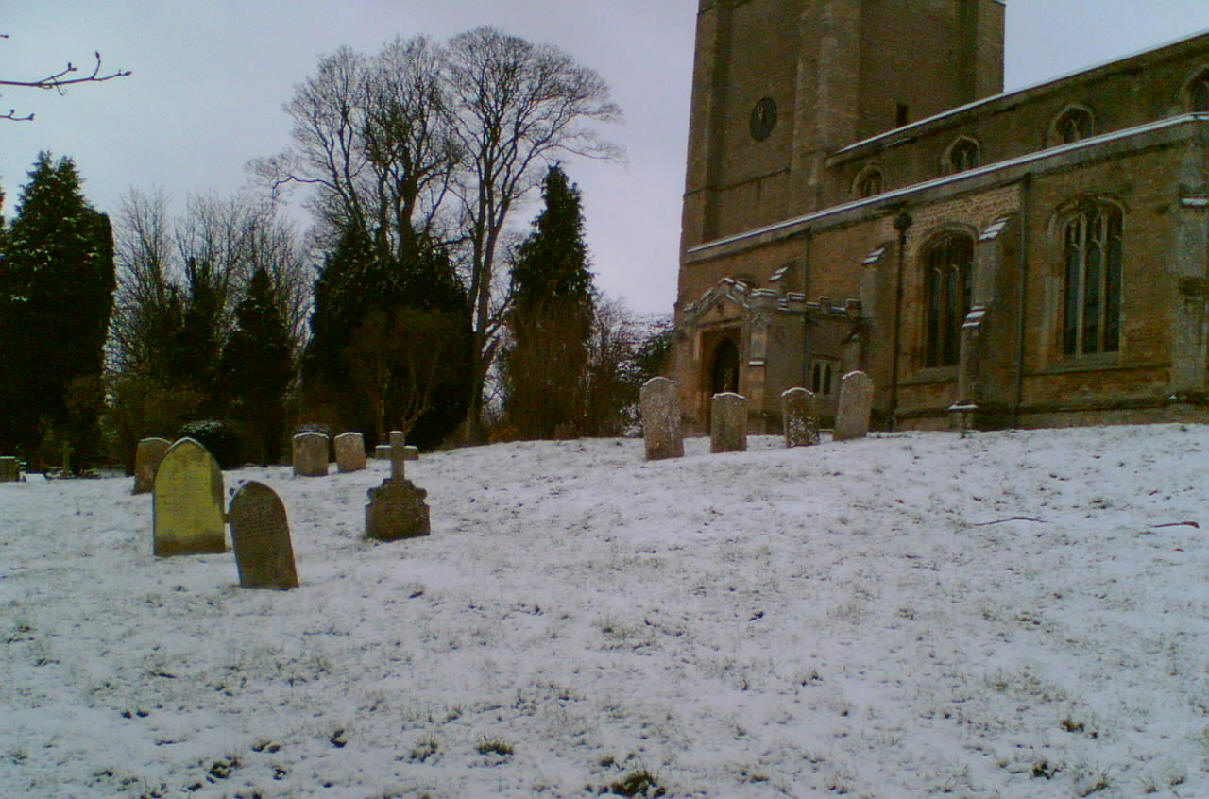 All Saints' Church under snow on Easter Day.
With Easter being so early this year we were bound to see colder
temperatures, but what a surprise when snow arrived!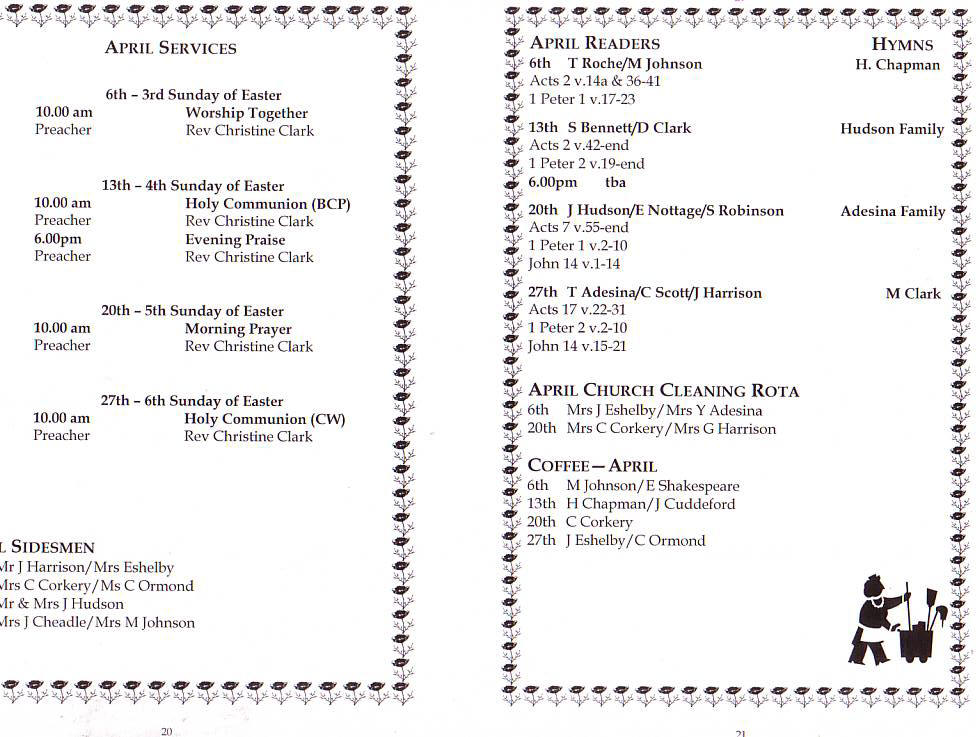 April 2008
Dear Friends,
Last April David and I visited another church just over the border in Northamptonshire. They were holding an open day, encouraging visitors to come and enjoy the profusion of spring flowers growing in their churchyard, to buy plants from their stall, enjoy a cup of tea with homemade cakes – and make a donation to church funds. We came home, and wandered around our own churchyard here, and looking at the profusion of primroses and violets all around us, thought "We can do that!"
So when the PCC were discussing how we could raise sufficient funds to install the planned disabled toilet and new tea-point (with running water!) we put the idea forward … and like Topsy, it just grew and grew. One or two people started to suggest ideas for various displays inside the church, and having been up the tower myself on Easter Day 2007, I was keen that others should have the opportunity to enjoy the marvellous views from the top.
Then towards the end of 2007, talking with friends from my previous church who were wanting to come and visit the church, I suggested that a good time to come would be 12th or 13th April, which by now was fixed in the diary for our Open Weekend. It just so happened they were enthusiastic choir members, whose immediate response was "Would you like us to lead a service of Evening Praise?" – it was an offer too good to refuse, and I'm glad to say the rest of the choir have agreed to come with them. So we look forward to this special treat to round off what we hope will be a very enjoyable weekend.
And yes, while it is about fund-raising, and we welcome your donations whether large or small – it is also much more. It is an opportunity to rejoice and give thanks for the glorious heritage that has been handed on to us, faithfully nurtured and tended by previous generations. Not just the heritage of a beautiful building and a peaceful churchyard graced with flowers, but the heritage of a lively faith, lived out in the hearts and lives of the men, women and children who have made Odell their home. It is because of their foresight and generosity, their faithful work and prayers, that we too have a place to which we can come, seeking the beauty and peace, the healing and salvation that faith in the living Lord Jesus Christ can bring to our lives. And that's why, amongst the displays, you will discover a quiet corner where you can come and be still, and make your own prayer to God, in your own way.
At the moment, we're busy baking cakes, discussing displays, planning the special Evening Service, and recruiting the fit and able to conduct those tower trips – all we need is you, to come and enjoy it all – oh, and for the primroses and violets to keep on flowering, and the sun to shine!
We look forward to seeing you there. With love and prayers,
Christine.
All Saints' Amblers
All Saints' Amblers venture forth again on Saturday 19th April for a walk (around 4-5 miles) followed by a pub-lunch. Meet outside The Bell at 9.45am – children and dogs on leads welcome. Transport to start of walk available if needed.
Recycle your old inkjet and laser toner cartridges
Your used printer cartridges could help provide education for children in the Dominican Republic, through Christian Aid's inkjet cartridge recycling project.
And that's not all….
Cartridge recycling helps to reduce carbon emissions, a major cause of global warming, conserves resources and reduces waste.
Recycling bags and a cartridge collection point are available in Church or from The Rectory, 3 Church Lane (Tel: 720234).
The Prayer Group
What is the Prayer Group? It is made up of members of All Saints' Church who undertake to pray regularly, on an individual basis, for people who ask us for prayer support.
Who do we pray for? Anyone whom we are asked to remember; these might be people from our church, from our local community or others known to us.
What will you pray about? Anything which you would like brought before God; maybe anxiety due to illness, stress or loneliness. You can also tell us of a special day you wish to be remembered – perhaps for an interview or an exam. Any information will be treated in strictest confidence.
How can I let you know if I would like you to pray for me? You can either telephone Christine (720234), or drop a note through the Rectory door, or complete a card (anonymously if you wish) and place it in a box kept near the church door. Prayer requests will be collected from the box each Sunday morning after the 10.00am service.
Meeting Point April
2nd 10.30am at Eileen Shakespeare's, 24 Church Hall Road, Rushden.
16th 10.30am at Doris's, Goodly Heritage, The Bury, Pavenham.
30th 10.30am at Jane's, Newton House, Avenue Rd., Newton Bromswold, Rushden.
THE BLACKBIRD
The Springtime blackbird singing crystal clear.
Pictured by my mortal eye
'Gainst wondrous blue of endless sky.
There upon his leafy limb
He poured his mellow throaty hymn.
My human temple heard and thrilled
As avian glory over spilled,
But in my soul, which higher claims,
The song immortal touched on names,
Of God and Son, of Holy Three
And spoke of immortality.
Roger Jackson.
Discernment
We all need discernment: with so many weird doctrinal fads floating around, we shouldn't believe all we hear! We need to weigh and examine everything we hear, and that requires truth (discernment). Ask for discernment - God will give us a discerning heart (1 Kings 3:9 NIV) to be able to distinguish between right and wrong. That is what is so important about discernment – it acts as an umpire…blows the whistle on the spurious…doesn't fall for fakes or mess with phonies; it doesn't walk with deceivers.
It has been said that a Christian without discernment is likened to a loaded 747 trying to land in dense fog without instruments or radios: lots of noise, lots of power and good intentions until disaster strikes. That says it all and sums it up well. Discernment is the hallmark of spiritual maturity. Take your stand against foolish schemes with the belt of truth (discernment) fastened securely around you. You can only find it on your knees, having God's input in your lives before making life's important decisions. If you need wisdom ask God and it will be given to you (James 1:5). His laws make us much wiser and give us better understanding instead of following a way that leads to trouble (Psalm 119: 98-101 CEV). We can find wisdom too by hanging out with discerning people. Wise friends make you wise…you only hurt yourself by going around with fools! (Proverbs 13:20 CEV), since you become like the company you keep. Pick your friends carefully!
Sarah Bennett
PCC AGM – Advance Notice
The PCC AGM will take place on Tuesday 22nd April in the Church from 7.30pm.
The non-threatening medium of radio provides a unique opportunity for hundreds to learn of the way of life which can free them from the shackles of a religion which offers no hope. Making and broadcasting programmes in dozens of different languages is time consuming and costly. Please give what you can so more people can hear the Good News.
In Memory of Joan and Diana Hansford
My aunts Joan & Diana Hansford lived in Odell at Castle Farm for many years where Joan worked as the estate manager and Diana as a milliner of some repute. Their family home was opposite the farm and then called The Nothe (now Greylag House) where they grew up. Sadly both passed away late last year in Weymouth and I am trying to contact anyone else who may remember them or the family from their days in Odell, to advise that a short memorial service, at which their ashes will be interred, will be held at All Saints' Church on Tuesday 15th April at 1230.
Anyone that I have not been able to contact who may remember them and who would like to attend this service, would be more than welcome, and I would appreciate it if you could contact me at either markhansford@btinternet.com or on telephone 01462 733166 or via the Revd. Christine Clark who will be conducting the service.
Joan and Diana had many fond memories of their time in Odell, as do my brothers and I when visiting them and their brother who ran the post office in Sharnbrook, so All Saints', where their Mother is also buried, will be a fitting resting place.
Thank you.
Mark Hansford
Birthdays
We would like to wish the following a very 'Happy Birthday':
Rebecca Causton, 3 on 3rd April,
Tania Fulford 12 on 5th April, and
Alex Swift who will be 16 on 11th April.
Diary
2nd 10.30am` Meeting Point at Eileen Shakespeare's, 24 Church Hall Road, Rushden
8th 7.30pm W.I. Village Hall
12th 2-5.30pm Saints' Open Day.
12th 7.30pm American Theme Night, Village Hall.
13th 2-5.30pm All Saints' Open Day.
13th 6pm Evening Service, All Saints'.
16th 10.30am Meeting point at Doris's, Goodly Heritage, The Bury, Pavenham.
19th 9.45am All Saints' Amblers meet at The Bell.
19th Harrold Pit Run
22nd 7.30pm PCC AGM, All Saints' Church.
28th 10-3pm HOCP Conservation Tasks.
30th 10.30 Meeting Point at Jane's, Newton House, Avenue Rd., Newton Bromswold, Rushden.
---
Last revised: March 29, 2008.