CHURCH NEWS - October 2007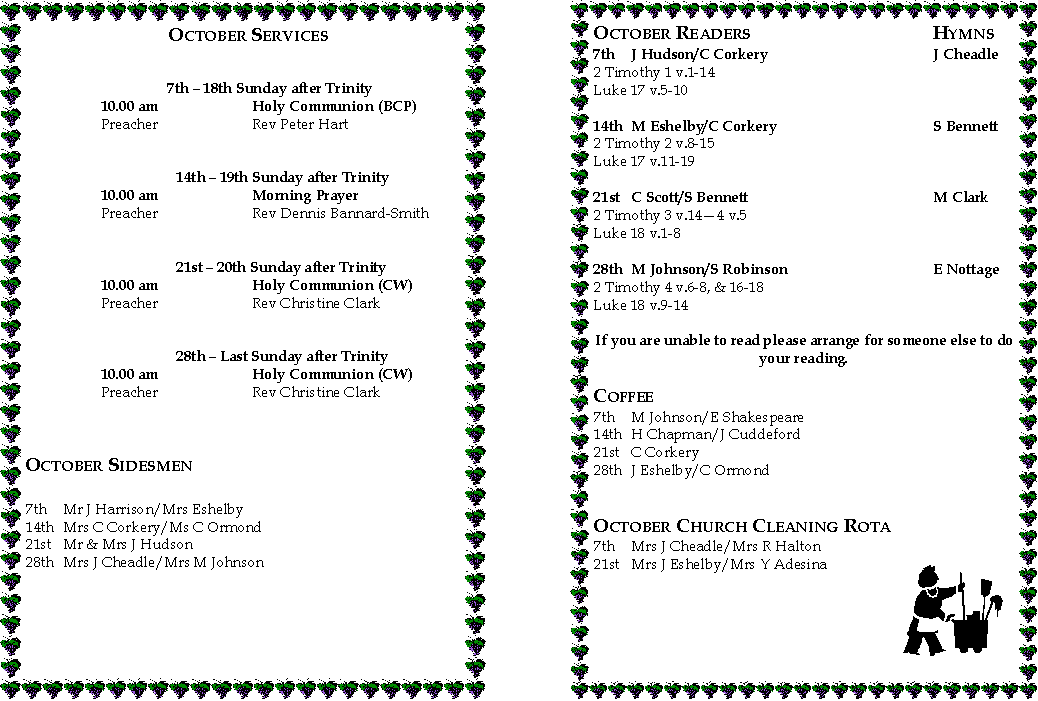 October 2007
Dear Friends,
There has been much speculation in the world's money markets in recent months, with fears of a widespread recession, the effects of which could have far reaching consequences. This might affect our own savings and investments, the value of our homes, or even our jobs. It's an uncomfortable thought, perhaps even more so, because for the most part we have enjoyed relative prosperity and security for many years.
But imagine something worse – a civil war which forces you to flee your home, your country. Imagine returning, some years later, to find your former home in ruins and the land on which you relied for a living lying barren and untended. You want to start again – you have a family to feed – but with no tools, no seeds to sow, and little or no money you face an uphill task. Imagine that somehow, against all the odds you manage to get going again, only to be hit by Hurricane Stan in 2005,
losing everything all over again. Imagine you are an ordinary farmer in El Salvador, formerly a refugee in Nicaragua.
Imagine meeting someone from 'Procares' a training and support programme who can provide you with seeds and training, clean water and access to credit so you can start to build up your livelihood once more. Imagine being given saplings to plant on your land – orange, lemon, passion fruit and coconut – providing nutritious fruit for your family and a cash crop for future years.
Imagine being given some loroco saplings. You won't find loroco on UK supermarket shelves – it's unique to El Salvador, and is one of the new crops that Procares gives to communities to help them increase the range of things they grow. Loroco produces edible flowers which are used to add flavour to everyday maize dishes such as pupusa – a type of pastry which can be filled with cheese, refried beans or meat.
(See later in the magazine for the recipe!)
Imagine the difference such help can make. Imagine the difference you and I could make by donating –
·

60p to buy a loroco seedling, or

·

£2.50 to pay for an orange tree sapling, or

·

£11.50 for enough seeds for a whole family.

Compare what you and I spend at the garden centre in a year - £73.00 would provide saplings, seeds, tools and training in new skills for a family, for a whole year.

The Bishop's Harvest Appeal for 2007 is supporting the work of Procares in El Salvador. As we celebrate Harvest Thanksgiving once again, with grateful hearts for all the good things we have received and enjoy, let's remember those less fortunate than ourselves in a very practical way. If you would like to donate to the appeal, there will be an opportunity to so at both the Harvest Supper in the Village Hall on 29th September, and at our Harvest Festival service the following morning, or you can send your donation to me at the Rectory.

With love and prayers,

Christine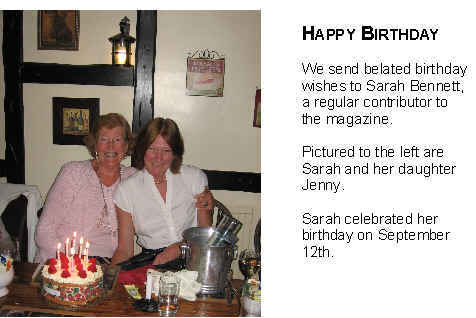 Recipe for Pupusa
(see this month's letter from Christine)
Pupusa is a type of pasty filled with cheese, refried beans or meat which is a popular food in El Salvador.
Simple method - buy flour tortillas, fold in half with filling (see below) inside and fry without oil for 1-2 minutes on each side, until crisp on the outside.
Traditional method – buy corn meal (masa harina – not cornflower/cornstarch which is used for thickening sauces) and mix with water as directed on the packet, to make a moist but firm dough. Cut out small, thick circles, spread your chosen filling on half of them, using the other circles to complete your sandwich. Squeeze the edges together to seal, then fry without oil for 1-2 minutes on each side, until crisp on the outside.
Fillings

Pupusas de queso grated cheese, or a mixture of grated cheese with mozzarella.

Pupusas de chicharrones grind or shred one cup of cooked bacon and mix with a little tomato sauce

Pupusas de frijoles refritos tinned refried beans

Pupusas revueltas a mixture of all the above!

Pupusas de queso y loroco grated cheese & loroco flowers

(loroco not available in the UK, so use finely chopped spring onion or green

peppers instead)

Be careful! Do not eat flowers!
Recycle

your old inkjet and laser toner cartridges

Your used printer cartridges could help provide education for children in the Dominican Republic, through Christian Aid's inkjet cartridge recycling project.

And that's not all….

Cartridge recycling helps to reduce carbon emissions, a major cause of global warming, conserves resources and reduces waste.

Recycling bags and a cartridge collection point are available in Church or from The Rectory, 3 Church Lane (Tel: 720234).

CONFIRMATION SERVICE IN NOVEMBER

A Confirmation Service is planned for Tuesday 27th November at 7.30pm in the Sharnbrook Deanery – venue to be announced at a later date. If you would like to consider going forward for confirmation, or if you want to know more about what is involved in preparation, please contact Rev'd Christine Clark on 720234 for more information.

The Prayer Group

What is the Prayer Group?

It is made up of members of All Saints Church who undertake to pray regularly, on an individual basis, for people who ask us for prayer support.

Who do we pray for? Anyone whom we are asked to remember; these might be people from our church, from our local community or others known to us.

What will you pray about? Anything which you would like brought before God; maybe anxiety due to illness, stress or loneliness. You can also tell us of a special day you wish to be remembered – perhaps for an interview or an exam. Any information will be treated in strictest confidence.

How can I let you know if I would like you to pray for me? You can either telephone Christine (720234), or drop a note through the Rectory door, or complete a card (anonymously if you wish) and place it in a box kept near the church door. Prayer requests will be collected from the box each Sunday morning after the 10.00am service.

All Saints' Amblers

Meet as usual outside The Bell at 9.45am Saturday 20th October. Everyone welcome, including children and dogs on leads.

Meeting Point

October

Wed 10th 10.30am at Eileen's, 24 Church Hall Road, Rushden.

Wed 17th 10.30am at Jill's, Rectory Farm, Odell.

Wed 31st 10.30am at Doris's, Goodly Heritage, The Bury, Pavenham.
What If?
All worries and cares begin with "What if?" - and then we proceed to contemplate various future scenarios, none of which we have any control over and all of which entice us to live tomorrow before we have finished living today. It is appropriate to recognise the issues of tomorrow, but if we lose sight of what we know today, we have begun to worry.
It has been said (by Bishop Malcolm Smith) that worry is fearing that God is insufficient. I think that is a workable definition. Paul's exhortation in Matthew 6, 27-34 (NLT) is the Bible's lengthiest and most compelling discussion on worry delivered by Jesus during His sermon on the mount:
Do not be anxious for your life, for what you will eat, what you will drink or what you will wear. Consider the birds; think about the flowers. Your Father watches over the birds, clothes the flowers and cares more for you than He does for either the birds or the flowers. Why be anxious?
This leads me to an observation: the chill wind occurs from time to time, yet throughout the morning the sparrows have landed on my windowsill to eat the seed I put out for them. They do not seem any more anxious about today's chill than they were about yesterday's relative warmth. Below the windowsill, in the flowerbed, the pansies seem unaffected.
Isaiah wrote: 'Take courage, fear not'. Consider the pansies and the sparrows; bolster your courage and arm yourselves against any worry.
These are tangible and simple testimonies that God is sufficient for them and will be for you.
Determining to trust God is not sticking your head in the sand. It is wise to assess the circumstances of your life and consider the challenges you may face, but remember your Heavenly Father cares for you. Take courage. His grace is more profound than any potential problem that you may have.
'Father, I give You the big things and the little things; the things I can see and the surprises. I give You others around me and I give You myself. I give You my hopes and dreams and I give You this moment. I ask You to enable me to trust You more.
Whatever tomorrow holds I will be prepared for whatever action Your sufficiency will manifest to bolster my trust in You and lead me in the triumph of Your grace'.
Sarah Bennett
Our Giving in October is to C.M.S.
This month we are giving to our mission partners in the Church Missionary Society, to aid them in the very worthwhile projects they undertake for C.M.S. C.M.S. is committed to proclaiming the gospel through a wide range of ministries. Their fundamental motivation for proclaiming the gospel is to bring glory to God.
Odell Church Flower Rota
6th All help to clear from Harvest.
14th Doreen Wheeler
21st Rachel Halton
28th Kathy Dunn
Christmas Shopping on your Doorstep!
A coffee and cake morning

in aid of

St. John's Hospice, Moggerhanger,

will be held at

Rose Cottage, High Road, Felmersham,

on Tuesday October 2nd

from 10.00am-1.00pm.

Everyone welcome.

Exclusive jewellery and accessories

Phoenix Cards and Stationery

Aid for Romania

As you know we work with this charity that has been helping people in Romania since the revolution in 1989. Although they are now members of the EU this doesn't mean that things have improved for the poor

families that we support, nor is it any easier for those with Special Needs to whom our charity gives wheelchairs and other vital equipment.

We shall be in Buzau, Romania between October 1st and 12th and we would be particularly grateful for your prayers at that time. While we are there our job will be to:

· assess all the 20+ families we help

· judge how much support and sponsorship they still need

· check all the arrangements especially concerning finance

· hold the AGM of our Romanian Foundation

· visit the Homes for Children with Special Needs

· check on individuals who need/have our wheelchairs etc

Can you imagine just how much it means to these families, whose whole civilisation was almost destroyed by the communists, that there are people here who want to assist in rebuilding their lives, educating their children and basically helping them to walk tall again?

For us it is an immense privilege to be able to love and help these people and hopefully demonstrate a little of God's affection for them.

Thank you to everyone who helps our work and particularly those who pray for our Romanians and what we're doing. There'll be a newsletter after we get back so please look for it in church, or ask us for a copy.

Liz and Tim Dodwell

Birthday Greetings To:

Lottie Robinson on 18th October

and to anyone else with a birthday in October.

Monday Club

Monday Club - a club for 5-11 year olds— meets at the Rectory, 3 Church Lane,

every Monday from 5.30pm to 6.30pm.

Games, Activities, Crafts, Bible stories, Music, Drama

Encouraging children to think about the world they live in,

their contribution to it and where faith fits in - while having fun!

For details contact: Sue Robinson 720113 or Christine Clark 720234

Diary

October

2nd 10.00am Coffee and cakes in aid of St John's, Rose Cottage, Felmersham.

10th 10.30am Meeting Point at Eileen's, 24 Church Hall Road, Rushden.

3rd 12.30 Senior Citizens' Harvest Lunch, Village Hall.

6th 10am Harrold Craft and Food Fayre, Harrold Centre.

9th 7.30pm W.I. Village Hall.

13th 2.00pm W.I. Jumble Sale, Village Hall.

13th 7.30pm Quiz, Village Hall.

17th 10.30am Meeting Point at Jill's, Rectory Farm.

20th 9.45am All Saints' Amblers meet at The Bell.

21st 1.00pm Charcoal Making and Drawing, HOCP

29th 10.00am Conservation Tasks Day, HOCP.

31st 10.30am Meeting Point at Doris's, Goodly heritage, The Bury, Pavenham.

November

3rd 10.00am Fairtrade Café, Village Hall.

17th Irish Night, Village Hall.

19th 8.00pm Parish Council Meeting, Village Hall.

26th 10.00am Conservation Tasks Day, HOCP.

Magazine Deadline

Please send all entries for the November 2007 magazine to

Tricia Hudson (mag1 at odellbeds.net) or Catherine Corkery by October 12th 2007 at the latest. May we remind you that the editorial team

exercises the right to edit, shorten or alter any items that are submitted. Also, the opinions expressed in the articles are those of the contributors and are not the responsibility of the editorial team.
---
Last revised: October 07, 2007.