CHURCH NEWS - May 2007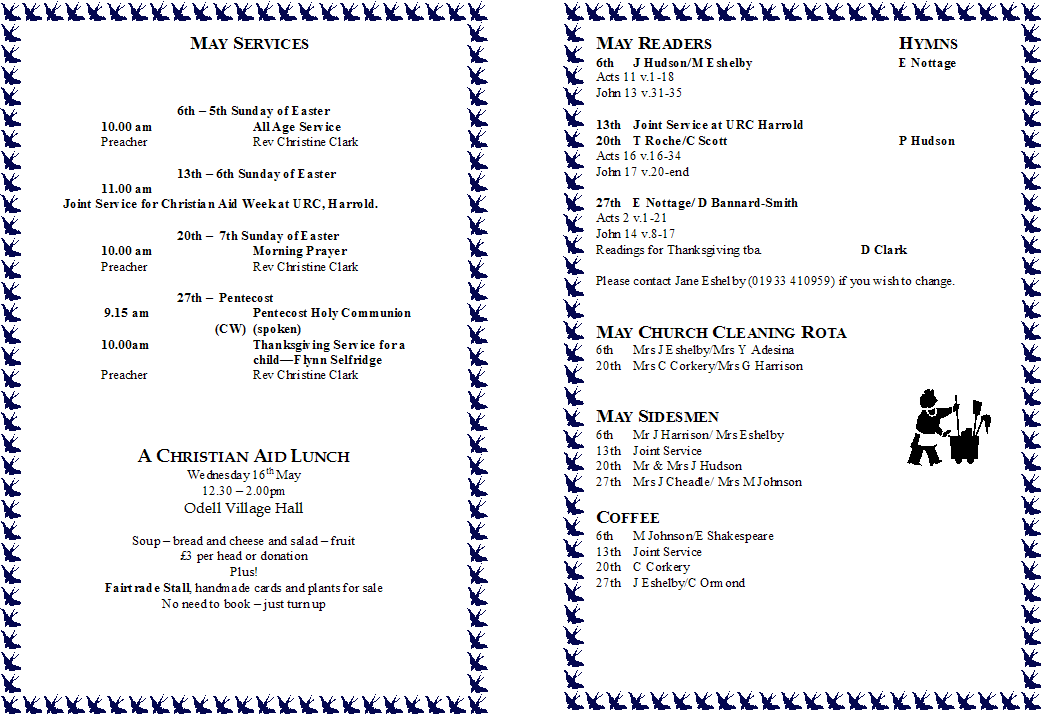 May 2007
Dear Friends,
Included in this month's magazine is an envelope inviting you to make a donation towards the work of Christian Aid, particularly during the week of 13th-19th May which has been designated as Christian Aid week. Also, on 16th May there is an opportunity to join with others in a Christian Aid lunch, here in the Village Hall.
Christian Aid is of course only one charity amongst many, and most of us have our favourite ones - so why should we support this one? I should like to commend it to you for two reasons. Firstly, it delivers 'aid'- not just engaging in the sort of relief programmes that can lead to an unhealthy dependency on yet more handouts, but in the true sense of the word:
helping (a person to do/in doing);

promote (recovery etc.)'
[The Concise Oxford Dictionary]
Christian Aid is active amongst some of the world's poorest communities in more than 50 countries. The stated aim is to "act where the need is greatest, helping people to tackle problems they face and build the life they deserve"; in other words, identifying with the need, coming alongside and working with people to help them help themselves.
Secondly, it is "Christian" in its foundation, and in motivation and practice. Many people perceive Christianity as a religion that offers an individual piety, a particular pattern of spirituality, a good moral code, or even a set of doctrines. While all these can be found within Christianity, it is so much more than this. It is about belief in, and allegiance to a risen Saviour, God's own Son who came amongst us as a servant, and through whose sacrifice of totally unconditional love we can find the way to the Father - his Father and our Father. Those who would follow him are called to pray for the coming of God's kingdom - which means being prepared to do whatever it takes to make that prayer a present reality. Christians are called to be the salt and the light that make a difference, and to confront injustice and evil with the loving, lifegiving power of God.
Christian Aid does this admirably, through its various campaigns which raise awareness and bring pressure to bear in the political, national and international arenas - to alleviate poverty, to promote fairtrade and to reduce the impact of climate change. It's starting point is the value and dignity of each man, woman and child, made in the image of God, and Christ's call to love one another with the same selfless love with which He has loved us.
I do hope that you will feel able to give your support during this year's Christian Aid week in whatever way you can.
Christine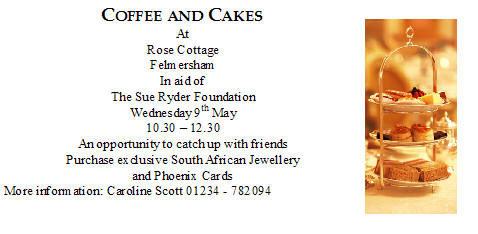 The Prayer Group
What is the Prayer Group? It is made up of members of All Saints Church who undertake to pray regularly, on an individual basis, for people who ask us for prayer support.
Who do we pray for? Anyone whom we are asked to remember; these might be people from our church, from our local community or others known to us.
What will you pray about? Anything which you would like brought before God; maybe anxiety due to illness, stress or loneliness. You can also tell us of a special day you wish to be remembered – perhaps for an interview or an exam. Any information will be treated in strictest confidence.
How can I let you know if I would like you to pray for me? You can either telephone Christine (720234), or drop a note through the Rectory door, or complete a card (anonymously if you wish) and place it in a box kept near the church door. Prayer requests will be collected from the box each Sunday morning after the 10.00am service.
All Saints' Amblers
The next walk will be on Saturday 19th May. If you would like to join us please meet outside The Bell at 9.45am.
The Children's Society Collection
This has now been completed and I have been able to pay in £236.74. A big thank you to everyone who holds a box or has given a donation.
Catherine Corkery 720348
Our Giving in
May is to The Church Army.
The Church Army is an International Evangelical Movement, based on Biblical teaching, with a mission to meet human needs, without discrimination, in the name of Christ. Their far-reaching work includes preaching the Gospel, working in hospitals, prisons, eventide homes, hostels and counselling, to name but a few examples. Wherever there is poverty or need, the Church Army is there. Please give generously to this movement which is very generous with its time and love.
Events over the Fete Weekend in Odell:
Friday 8th June
Don't miss the setting up 2.00 – 7.00pm on Friday 8th June
Everyone welcome – come whenever you can!
-if not-

see you all on Saturday for a wonderful family day at our

traditional village fete – by the riverside
also
Sunday 10th June
All Age Church Service at the fete ground followed by a magnificent BBQ to thank Horsefair Lane residents and all the helpers and their families.
Saturday 9th June at 2.00pm
Odell Village Fete and Dog Show
In Scout Field, Horsefair Lane, Odell
Entry Adults £1.50, Children Free
Attractions
Stantonbury Brass Band
Boys Brigade
Teas Children's Tombola Ice Creams
Tombola Cakes Beat the Goalie
Books Refreshments Bottle Stall
Coconut Shy Children's Sports White Elephant
Produce Gifts Many Side Shows
Raffle Dog Show
Programme of Events
2.00pm Grand Opening by Mrs Noreen Sturridge
2.00-4.00pm Dog Show
4.00pm Judging of Children's Competitions
4.30pm Raffle Draw and Prize Giving
Family Dog Show
(entry fee - £1 per dog per class)
Classes:
1. Children's Handling (14 years and under)

2. Puppies under 1 year

3. Country sporting dog or bitch

4. Best rescue or re-home dog or bitch

5. Best condition dog or bitch

6. Dog or bitch with most appealing eyes

7. Best cross-bred dog or bitch

8. Dog or bitch the judge would most like to take home

9. Best in show
Fete Committee Painting Day
Painting of signs etc. for the fete will take place at Jim and Doreen Wheeler's, Linden House, High Street, Odell, on Monday 7th May from 10.00am.
There will be a lunch time bar-b-q for helpers - please let Doreen know (720358) if you wish to stay for this. Bring your own meat, salad provided.
Christian Aid Week, 13th – 19th May
Christian Aid Week this year is from 13th to 19th May. In the past Odell has given very generously to this charity and we hope it will be well supported again. Enclosed is an envelope for donations; if you would like to make a contribution please return the envelope to Jill Cheadle at Rectory Farm, Ann Hudson at Abigail House or Sue Robinson at 32 Horsefair Lane, no later than 19th May. Thank you.
Jill Cheadle.
A Calm Retreat
On the icy lake near my home in the Harrold-Odell Country Park are ducks. Wearing their own downy insulation, they do not seem to mind the wintry conditions.
Sometimes, for us, the icy atmosphere of the world is at odds with God, it cuts into our spirits. It is easy to feel the chill when, for example, we work with colleagues who gossip or blaspheme, and when the spiritual atmosphere we live in day by day lacks the warmth of Christian fellowship. Is it then possible to stay unaffected?
Pointer.
Proverbs 15.15 gives us a pointer. It speaks of two types of people in hard conditions: those who give up hope and allow anxiety to prevail become wretched; those who remain positive and cheerful in their service for God find continual contentment. So, there is a way to be insulated from the spiritual climate in which we live – a way to carry with us, whatever our circumstances, the warm atmosphere of heaven. It is in finding a place in Christ, such as Hugh Stowell describes:
From every stormy mind that blows,
From every swelling tide of woes,
There is a calm, a sure retreat.
'Tis found beneath the mercy seat.
A yo-yo
Knowing this is one thing, but consistently living in that place is another! For a while I seemed to be going in and out of this place of rest. I'd find my spirit ruffled by frustrations or opposition; I'd turn to God in prayer and find spiritual calm – for a time – but then some new situation would disturb my inner peace. Surely God does not mean or intend us to be such a spiritual yo-yo!
Fragrance
It was EH Taylor who illuminated one aspect of the hiding place in Christ:
"If you work all day in a perfume factory you carry a fragrance; if you work in a cow shed you carry the smell that goes with it. This inner peace is not one which you visit from time to time, but one in which you live.
If you dwell there you carry the atmosphere in which you dwell. In God we live and move and have our being. You become saturated in God. Thus HIS FRAGRANCE flows out. In Him our spiritual mind dwells."
I'm learning that finding this place of inner tranquillity is not only a matter of prayer. It is also the attitude of a mind fixed on Christ. Brother Lawrence wrote of "practising the presence of Christ"; another spoke about "living under a twenty-four hour anointing". Such a condition is a blend of the grace of God and the action of a mind and will turned to and fixed on Him.
So, we can work, battle and be active for God, yet continually experience a state of well being, which both brings us peace and honours Him.
Sarah Bennett
Ouse Valley Singers
A little more information is now available for the summer Concert:
'Songs for a Summer Evening' by The Ouse Valley Singers will be performed in All Saints' Church, Odell, on Saturday 30th June at 7.30pm.
Tickets £7.50 to include a glass of wine and light refreshments
Ann Hudson 720587
Meeting Point
Wed 9th 10.30am at Eileen's, 24 Church Hall Rd., Rushden.
Wed 23rd 10.30am at Jill's, Rectory Farm, Odell.
June
Wed 6th 10.30am at Catherine's, Manor Cottage, Harrold.
Odell Church Flower
Rota
6th Caroline Scott
13th Rachel Halton
20th Jill Cheadle
27th Carol Ormond
Florence Shellard
We were sorry to hear of the death of Florence ("Florrie") Shellard on the 14th April, following a fall. Florence lived in Odell for many years and during that time became involved in all aspects of village life. She was a very well-known and popular figure who took an interest in the lives of everyone in the village. In more recent years Florence was very restricted by illness and was unable to get out and about, but still liked to keep informed about village news. She will be very sadly missed. We send our sympathy to Ken.
A private funeral is to be held, but there is to be a Service of Thanksgiving in All Saints' on Thursday 10th May at 2.30pm.
We hope to be able to publish a fuller obituary in the June magazine.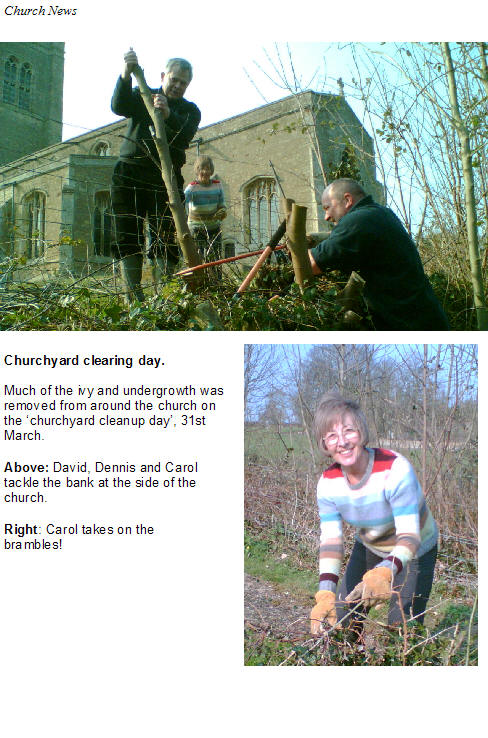 Odell Monday Club
a club for 5-11 year olds
5.30pm – 6.30pm

at The Rectory
3, Church Lane, Odell
Games, Activities, Crafts,
Bible stories, Music, Drama
Encouraging children to think about
the world they live in,
their contribution to it and where faith fits in - while having fun!
For details contact: Sue Robinson 720113 or Christine Clark 720234
DIARY
Mon 7th 10.00am Fete Working Day, Doreen Wheeler's.
Tues 8th 7.30pm WI AGM Village Hall.
Wed 9th 10.30am Meeting Point at Eileen's, 24 Church Hall Rd., Rushden.
Wed 9th 10.30am Sue Ryder coffee morning, Rose Cottage, Felmersham.
Sat 12th 10.00am Alistair Burt surgery, Harrold Centre.
Wed 16th 12.30pm Christian Aid lunch Village Hall.
Sat 19th 9.45am All Saints' Amblers meet at The Bell.
Mon 21st 10.00am HOCP conservation tasks.
Mon 21st 8.00pm AGM Parish Council, Village Hall.
Wed 23rd 10.30am Meeting Point at Jill's, Rectory Farm.
Sun 27th 1-4pm Countryside Crafts, HOCP.
Magazine Deadline
Please send all entries for the June 2007 magazine to Tricia Hudson (mag1@odellbeds.net) or Catherine Corkery by May 12th 2007 at the latest. May we remind you that the editorial team exercises the right to edit, shorten or alter any items that are submitted. Also, the opinions expressed in the articles are those of the contributors and are not the responsibility of the editorial team.
Electronic mail address
email is mag1 at odellbeds.net
---
Last revised: May 04, 2007.