CHURCH NEWS - July/August 2007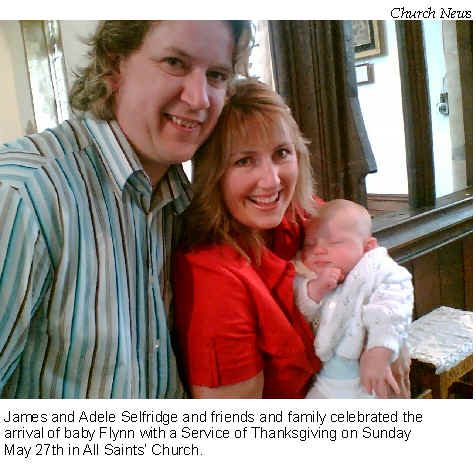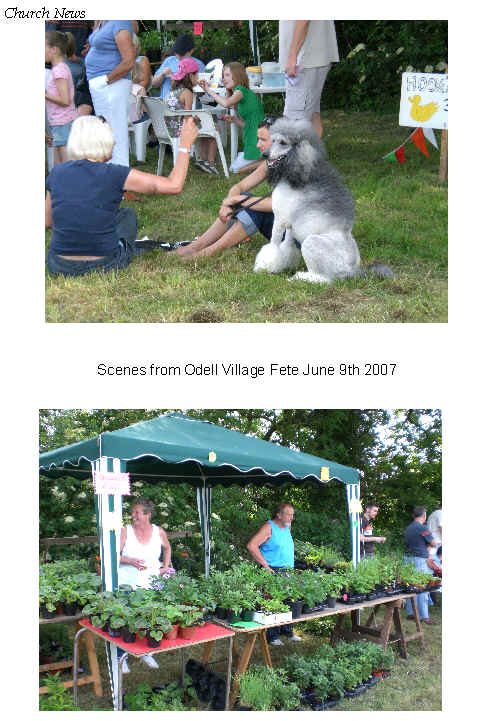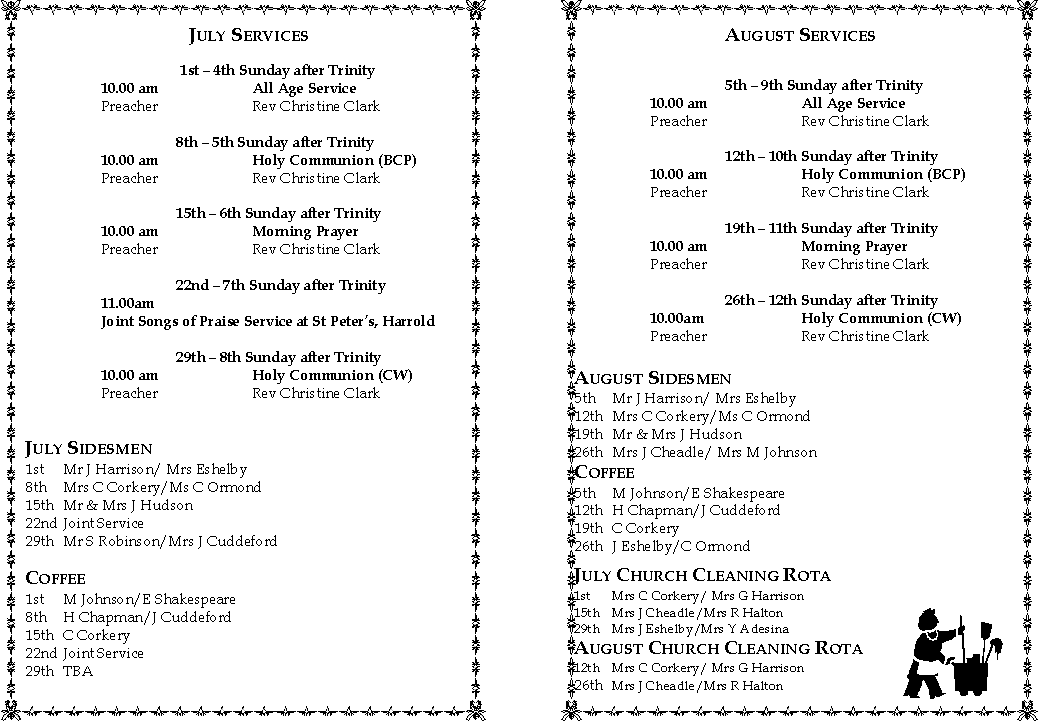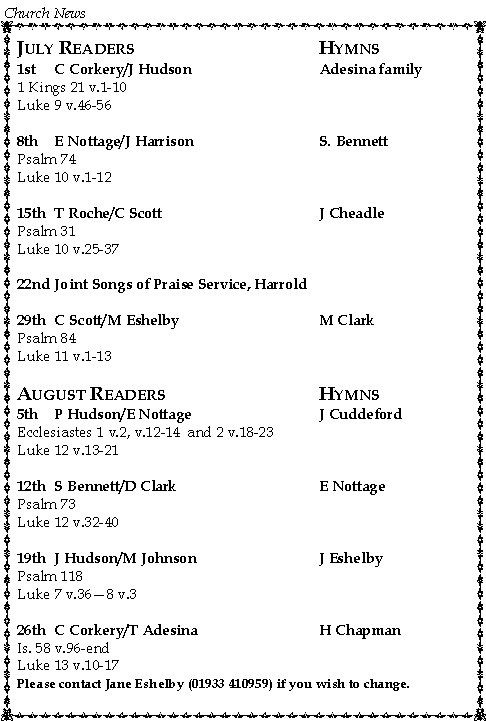 Dear Friends, July 2007
May and June have been busy months – demanding our attention in house and garden, responsibilities at work, exams at school and all the preparations for the village fete. With the passing of midsummer's day, we 'turn the corner' of summer and our thoughts begin to turn towards holidays and annual leave, towards that well earned break we've promised ourselves. Cue for a bit of theological reflection on the subject of rest!
In our modern western culture we have been conditioned to thinking of rest as time off from work – a time to recover, to recharge our batteries so that work, the 'real' business of life can begin again. When I worked in the civil service, our staff manual stated that annual leave was intended for rest and recuperation and that whilst on annual leave we should not engage in activities that would go against that.
It may surprise you to know that there are significant differences between this commonly held view of rest, and the view of rest that we find in Genesis. Rest is an essential part of God's creation. The seventh day is blessed and made holy - those who observe the divine command to rest will enjoy God's blessing and fruitfulness.
"Created in the image of God we are created both for responsibility and rest. Time and space for worship, leisure activities, play, developing relationships with family and friends are not optional extras but at the heart of being human."
Not only is fruitfulness associated with rest, but being made holy, it is given a special status – in fact it is the pinnacle of the creative act. It is interesting to reflect on why God himself rested – it begs the question why. Surely God does not get weary as we do? What the Biblical account shows us is that the fruit of rest is appreciation and delight. Like a great artist, God delights not only in the great creation process, but also in what has been accomplished – "and behold it was very good".
So whether you find yourself this summer, sitting on the beach, in your garden, or just at home in your favourite chair, take time to 'rest' in the biblical sense, to appreciate and delight in the fruits of your work. Take time not only to delight in the beauty of God's creation which surrounds us, but your own share in it, and the precious gift of life which each one of us has received from our creator God. Christine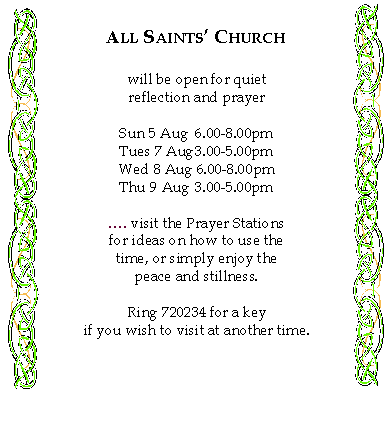 The Alpha Course

run in churches of all denominations, all over the world, will be running again right here in Odell, on Tuesday evenings at The Rectory, Church Lane, from September 11th through to November 20th. Exploring the basic beliefs of Christianity, each session begins with supper at 7.30pm followed by a talk and informal discussion and is an ideal opportunity to ask all those questions you always wanted to. This is a 'Churches Together' event in partnership with Harrold & Carlton. Further details and application forms are available from Rev'd Christine Clark (720234) or Jenny Quillen (720673).

Confirmation Service in November

A Confirmation Service is planned for Sunday 25th November at 7.30pm in the Sharnbrook Deanery – venue to be announced at a later date. If you would like to consider going forward for confirmation, or if you want to know more about what is involved in preparation, please contact Rev'd Christine Clark on 720234 for more information.

The Prayer Group

What is the Prayer Group?

It is made up of members of All Saints Church who undertake to pray regularly, on an individual basis, for people who ask us for prayer support.

Who do we pray for? Anyone whom we are asked to remember; these might be people from our church, from our local community or others known to us.

What will you pray about? Anything which you would like brought before God; maybe anxiety due to illness, stress or loneliness. You can also tell us of a special day you wish to be remembered – perhaps for an interview or an exam. Any information will be treated in strictest confidence.

How can I let you know if I would like you to pray for me? You can either telephone Christine (720234), or drop a note through the Rectory door, or complete a card (anonymously if you wish) and place it in a box kept near the church door. Prayer requests will be collected from the box each Sunday morning after the 10.00am service.

All Saints Amblers

– continue to enjoy our monthly walks followed by a pub lunch. Walks – which can be local, or further afield, take place on the third Saturday of each month. We meet outside The Bell at 9.45am to arrange car sharing. Everyone welcome, including children and dogs on leads.
Odell Fete 2007
A huge THANK YOU! to everyone involved in helping before, during and after the Fete – and to all of you who spent your hard earned cash!

The final figures are not available yet, but it looks like a record-breaking year – which will benefit both Church and Village Hall funds.

Fete Draw – First Prize Unclaimed

The first prize in the Fete Draw has not yet been claimed – Yellow ticket, number 160. Please contact Jill Cheadle (01234 720261) if you own this ticket!

Meeting Point

July

Wednesday 11th 10.30am at the Rectory.

August

Meeting Point will take a break in August and resume in September.

Our Giving in July is to CMS (Central Funds).
Proclaiming the gospel involves more than you think!
Ask anyone what is the first thing they think of when they hear the words 'proclaiming the gospel', and they will probably imagine a person standing on a street corner preaching loudly with a Bible in hand.
Depending on your point of view, it is either a compelling or an amusing image. But the truth is that proclaiming the gospel involves a lot more. 'Gospel' language in Paul's letters covers a whole range of activities.
People need to hear the gospel to become Christians at first, but they also need to hold on firmly to the gospel to grow in their faith and be part of congregations which are ready for the return of Christ.
CMS is committed to proclaiming the gospel through a wide range of ministries. Its fundamental motivation for proclaiming the gospel is to bring glory to God. It is the divine intention that on the final day 'at the name of Jesus every knee shall bow…and every tongue confess that Jesus Christ is Lord, to the glory of God the Father'.
Founded in 1799, CMS has attracted upwards of nine thousand men and women to serve as mission partners during its 200-year history.
Today there are about 150 mission partners in 26 countries in Africa, Asia, Europe and the Middle East. A budget of £5.75 million a year is needed to maintain and expand this work.
Our Giving in August is to the Tiger Kloof School
The Tiger Kloof School provides a Christian education and plays an important role in the much needed process of social integration in South Africa.
Christian Aid Week Results.
Thanks to all who gave so generously to Christian Aid in May. The frugal lunch made a profit of £152, while collections came to £65.50, making a total of £217.50 to go to this charity.
Odell Church Flower Rota
July
1st Nikki Freeman
8th Jill Cheadle
15th Sue Robinson
22nd Margaret Jones
29th Sarah Bennett
August
5th Faith Hartwell
12th Lynette Hall
19th Georgina Harrison
26th Eileen Shakespeare
Diary
July
Wed 4th 3pm Senior Citizens' Garden party, Linden House.
Sun 8th 2-4pm Making kitchen tools, HOCP.
Tues 10th 7.30pm W.I. trip to Yelnow Farm.
Wed 11th 10.30am Meeting Point at the Rectory.
Mon 16th 8.00pm Parish Council Meeting, Village Hall.
Wed 18th 8.00pm Bedford Morris Men at The Bell
Mon 30th 10am HOCP Conservation tasks.
August
Sun 5th 6-8pm All Saints' open for prayer.
Tues 7th 3-5pm All Saints' open for prayer.
Wed 8th 6-8pm All Saints' open for prayer.
Thurs 9th 3-5pm All Saints' open for prayer.
Tues 14th 7.30pm W.I. barbecue Linden House.
Fri 24th 6.30pm Wodehill Jazz Band at The Bell.
Mon 20th 10am HOCP conservation tasks.
Sat 25th 8pm –late Moth identification HOCP.
Magazine Deadline
Please send all entries for the September 2007 magazine to Tricia Hudson (mag1 @ odellbeds.net) or Catherine Corkery by August 12th 2007 at the latest. May we remind you that the editorial team exercises the right to edit, shorten or alter any items that are submitted. Also, the opinions expressed in the articles are those of the contributors and are not the responsibility of the editorial team.
Electronic mail address
email is mag1 at odellbeds.net
---
Last revised: June 30, 2007.